Think back to 2010. Remember how bad United international business class used to be? Fast forward to present day, and that *exact* same product is arguably one of the best domestic first class experiences we have.
Long story short, United has an entire sub fleet of Boeing 777-200s dedicated for domestic use only. These aircraft feature that same horrible 2-4-2 lie flat business class product that we all hated with a passion (and avoided like the plague) back in the day.
Now, it's called 'domestic first class.' And we like it. Funny how that works…
UA1930
Washington DC (IAD) – San Diego, CA (SAN)
Tuesday, August 29, 2023
Aircraft: 777-222
Registration: N777UA
Duration: 4 hours 24 minutes
Seat: 3L (First Class)
My full review of United domestic 777-200 first class from Washington DC (IAD) to San Diego
Yep. You are reading this right. United operates one daily Boeing 777-200 between IAD and SAN. Pretty wild, eh? Don't get excited though – it only exists as retaliation for Alaska Airlines launching IAD-SAN service of their own. Once Alaska Airlines exits the market (or United realizes that resistance is futile), they will surely drop the 777 from the schedule.
Either way, this was a pretty fun way to get a ride on the domestically-configured United 777.
Arrival at IAD
The scheduled departure time for this flight to San Diego was a very ambitious 8:30 AM. I do consider myself to be a morning person and all, but flights that depart at the crack of dawn (or within range of it) are never easy. I did my best and managed to hobble through the main entrance at IAD by 7 AM. It was a respectable entrance given the circumstances.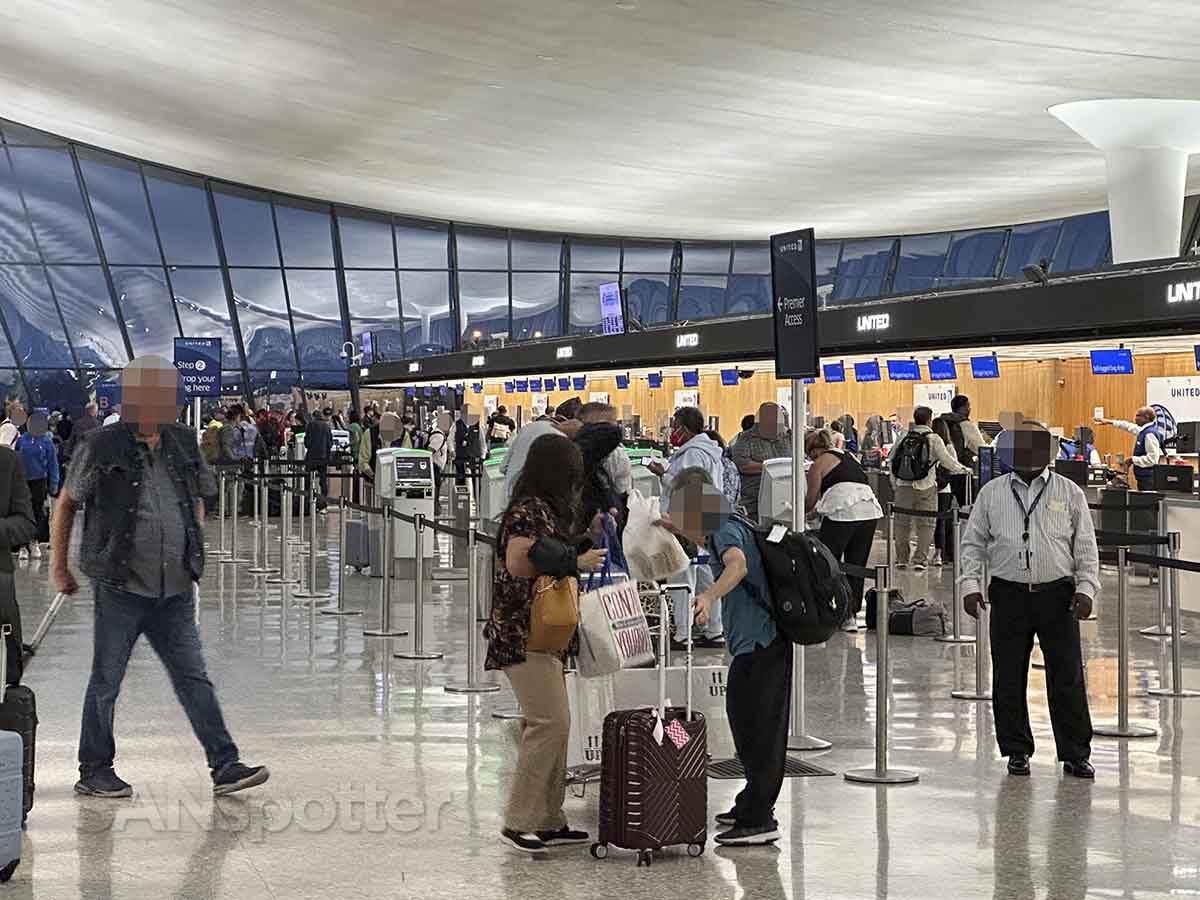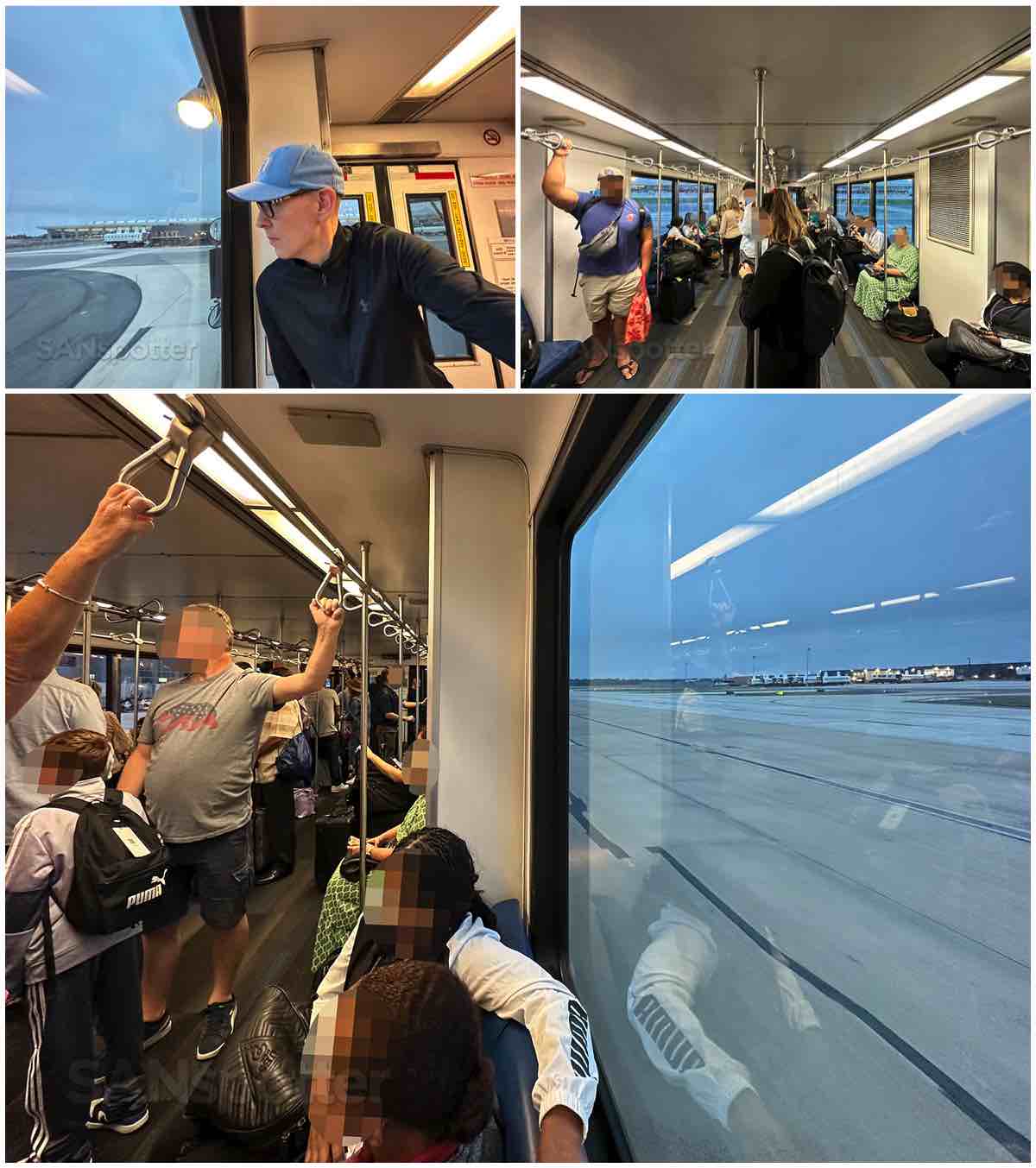 The boarding process for flight number 1930 to San Diego
One of two scenarios was playing out right before my eyes in the moments leading up to the boarding process. The first was the realization that United made a huge mistake by putting a high-density Boeing 777 on the schedule between Washington DC and San Diego. The second was the realization that I might very well be one lucky son-of-a-bitch.
Basically, the gate area was a literal ghost town. There were maybe 50 people total waiting to get on this airplane, and that's being generous. Despite how weird this was, it's always a great feeling to know (ahead of time) that there's going to be plenty of room to stretch out once onboard!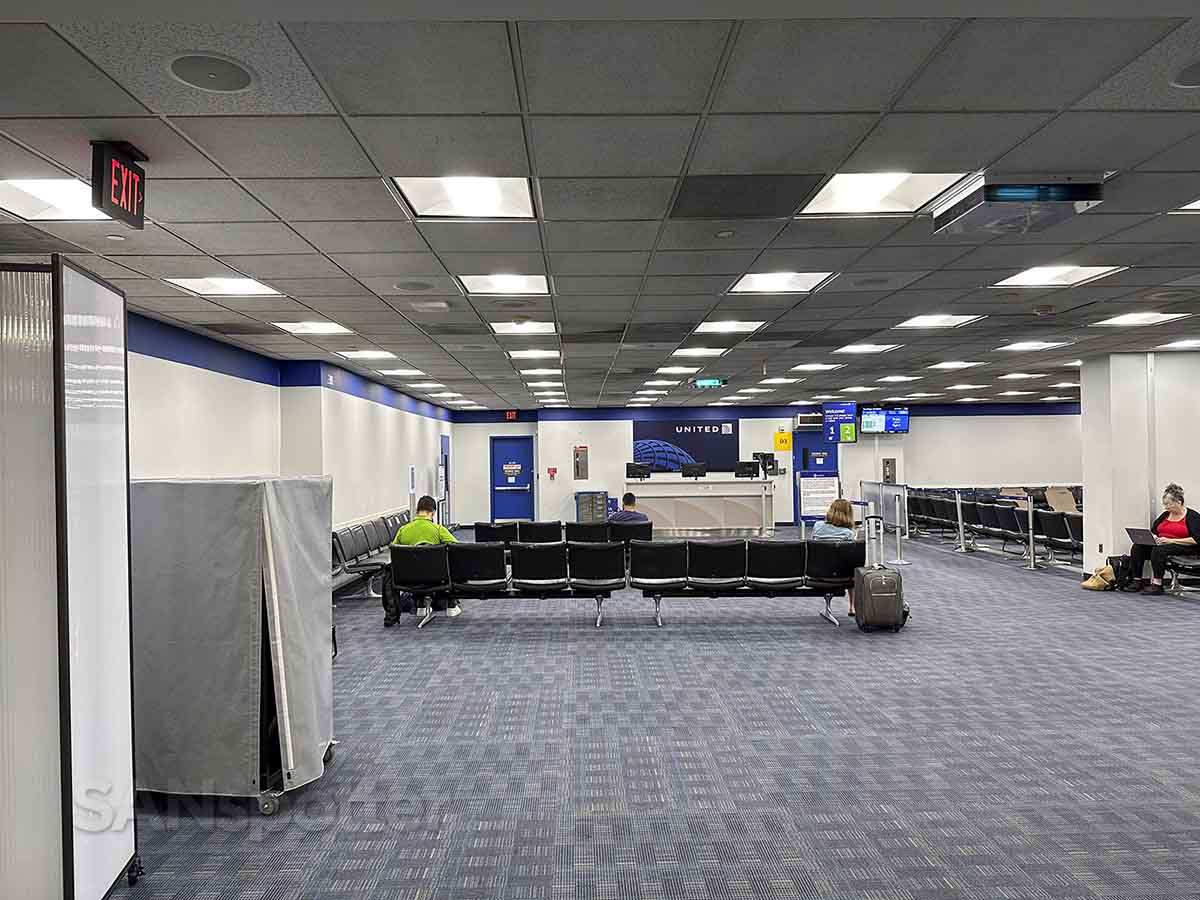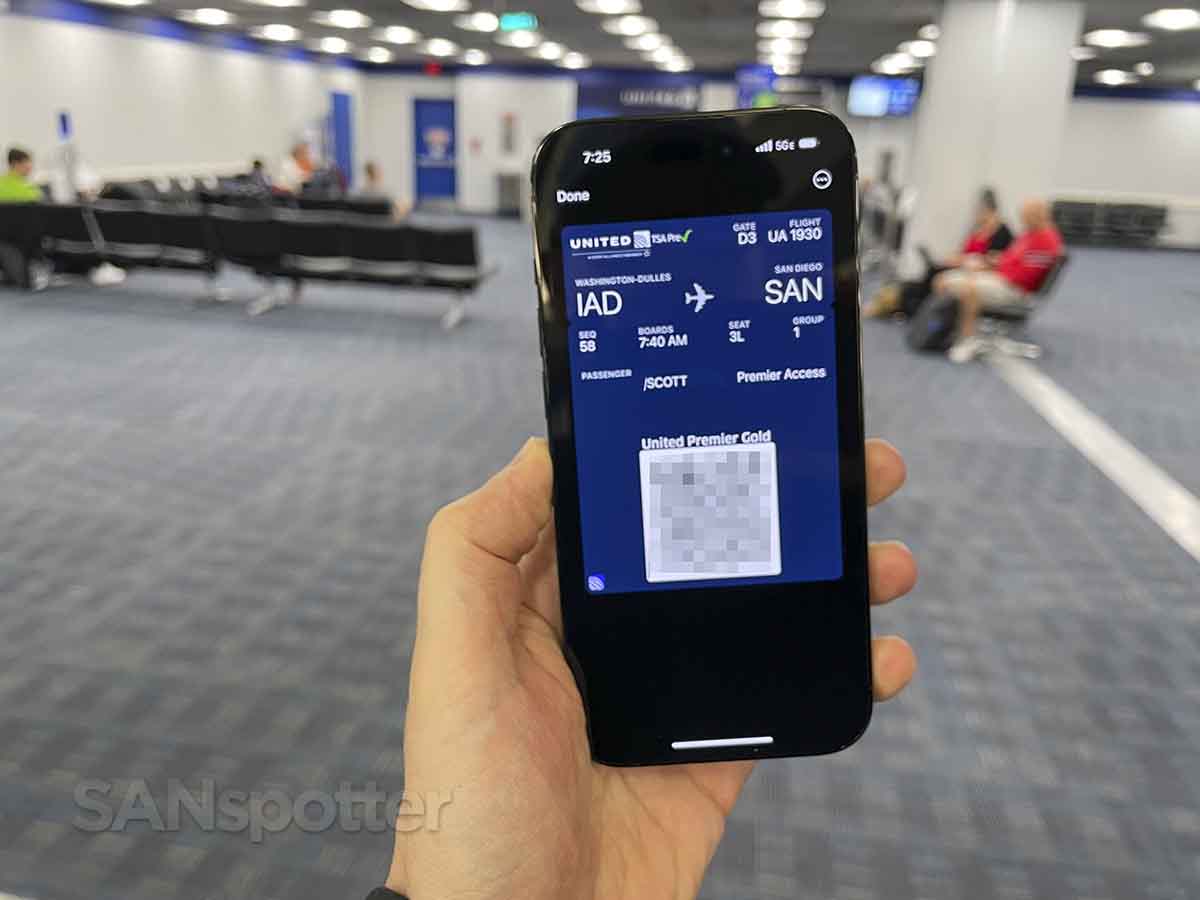 My first impressions of the United domestic 777-200 first class seats
Honestly, this was more of a reunion than a first impression. I know these seats well. One of the very first airline reviews I wrote here on sanspotter.com was for United 777-200 BusinessFirst from Hong Kong to Chicago (back in 2015).
The same extremely narrow – and very deep – lie flat seats you saw in that review are exactly what you're going to see in this one. Nothing has changed (except for the food – and possibly the amount of hair remaining on my head).
It's worth noting that United sometimes uses aircraft with the internationally configured Polaris business class seats on domestic routes as well. You can read my United 777-200 Polaris business class review to see what that's like – but just know that you're most likely to get the seat you see in these pictures for domestic routes.
The departure out of a Washington Dulles
Would it surprise you to learn that we were delayed 25 minutes pushing off the gate? Considering the age of this aircraft, it shouldn't.
Essentially what happened was that there was "a warning light issue" that wouldn't be able to be resolved quickly. The best fix for whatever it was was to file a new flight plan which limited cruising altitude to 28,000 feet (and thus required taking on extra fuel). All of that takes 25 minutes apparently.
In-flight entertainment
Unlike some of my other recent United lie-flat (fancy pants) seat reviews, the in-flight entertainment product on these domestic 777-200s isn't quite as good. Sure, it's quite good by domestic first class standards – but it's extremely dated when you compare it to their latest international business class offering. You can read my United 767-300ER Polaris business class review to make the comparison for yourself.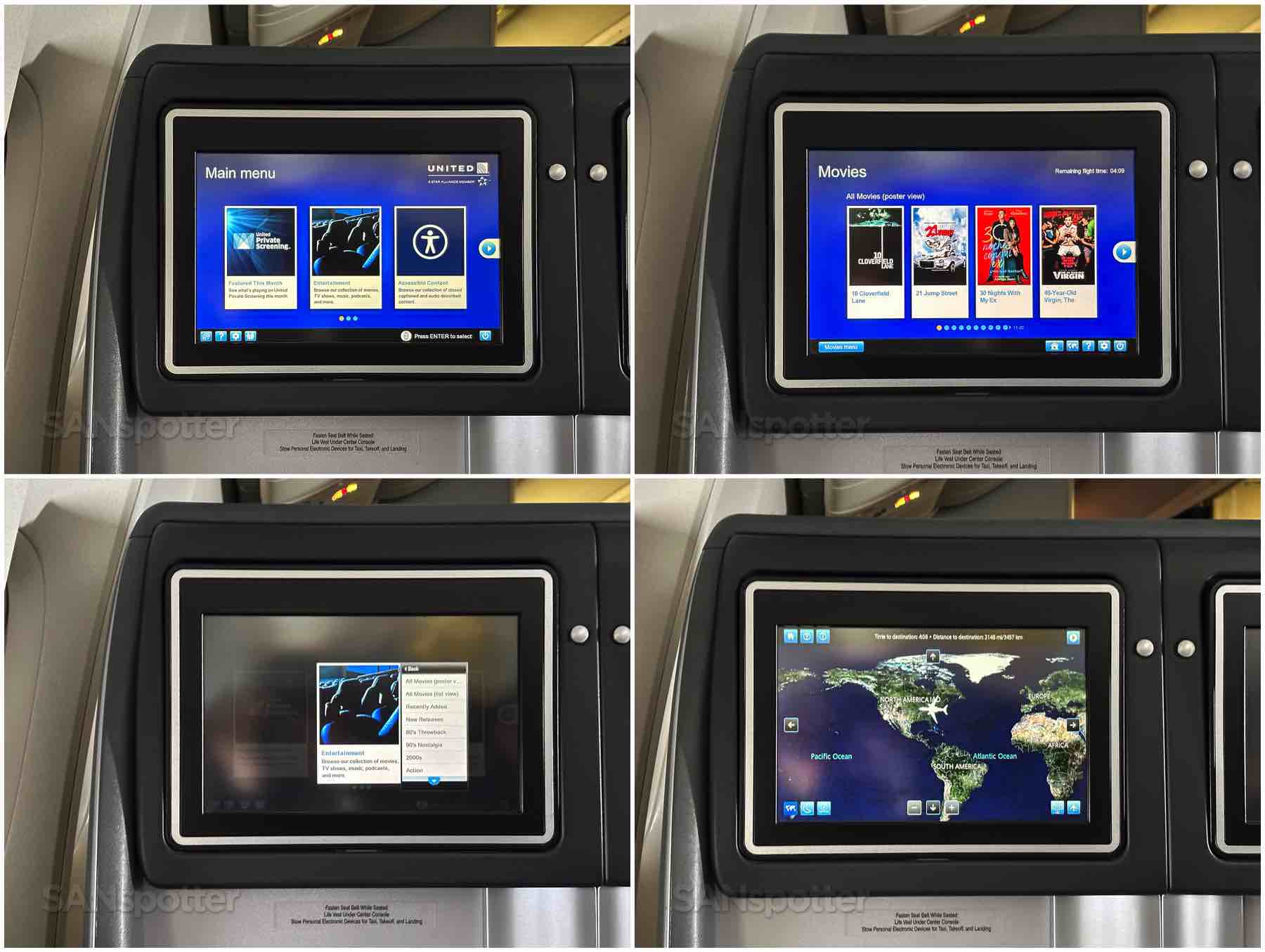 The food
Although this is easily the best domestic first class seat in the entire United Airlines fleet, the food is exactly what you would get on any other aircraft. Choosing the 777-200 in hopes of getting better food would be foolish. You'll certainly be more comfortable while you're eating, but it'll still be the same slop they're serving everywhere else.
Seat comfort
Is it even possible to say something bad about a fully lie flat seat (especially on a domestic route)? Lie flat or not, I like these seats because of how deep they are. It feels like sitting in a squishy La-Z-Boy recliner (much like how the old British Airways 747-400 Club World experience was like) – and it's nothing short of glorious. What's not to like about a seat that cradles your buttocks as delicately as a fluffy cloud would?
A few words about the lavatories
There are a total of 8 lavatories on the domestically-configured United 777-200 (4 in first class and 4 in economy). Pro tip: use the ones in economy class. They're much larger, and thus so much less annoying.
The descent and arrival into San Diego
It's not very often that I get the opportunity to fly into the San Diego Airport on a large aircraft. Doing it in Japan Airlines 787-8 business class was fun. Edelweiss A340-300 economy was pretty wild as well (and not only because the seats were wildly uncomfortable).
Our 25 minute delay out of IAD (combined with the fact that we never climbed above 28,000 feet) resulted in a 43 minute late arrival into SAN. And you know what? I was cool with that. I will gladly accept any consequences that are the result of flying on a United 777-200 into San Diego.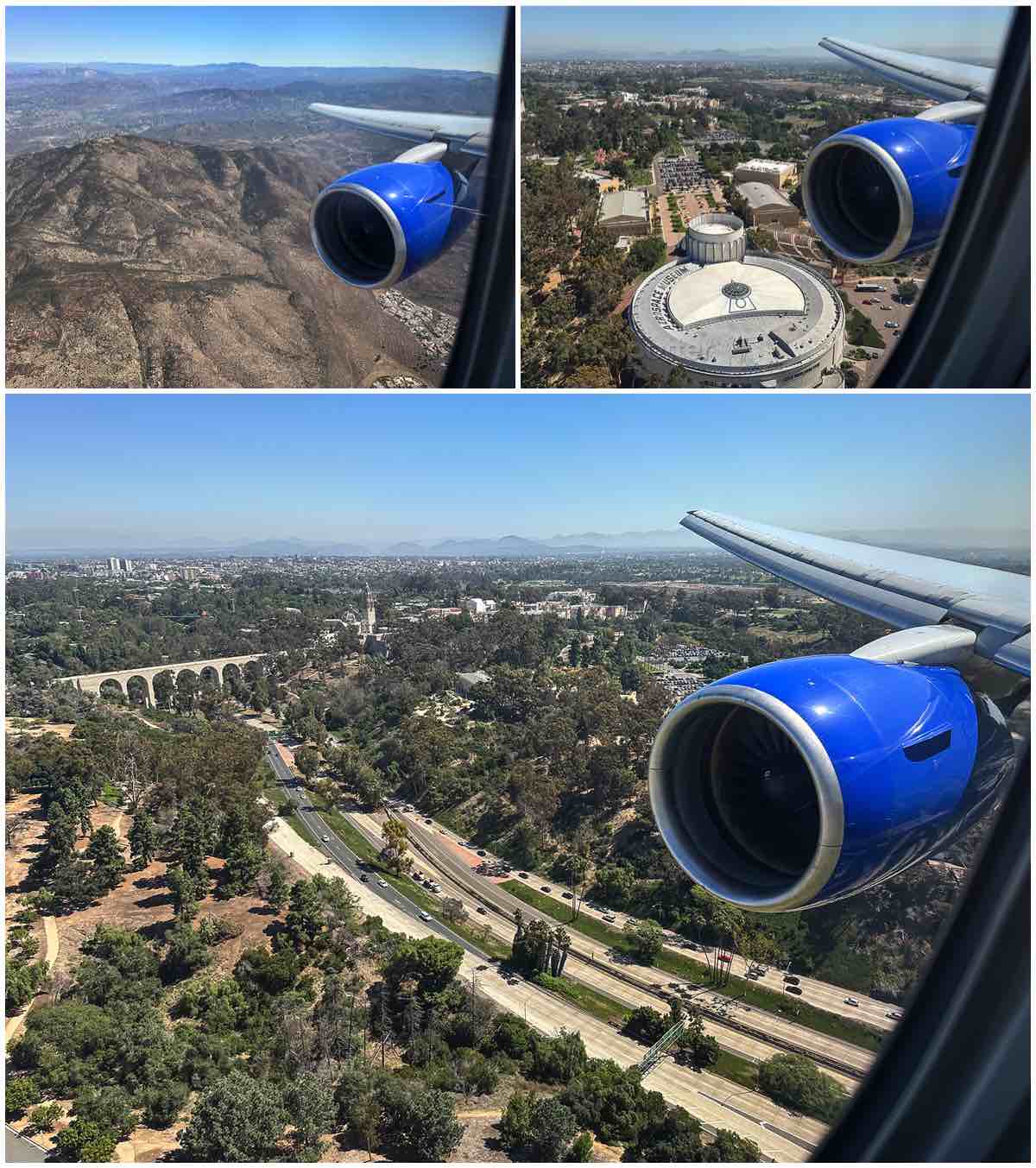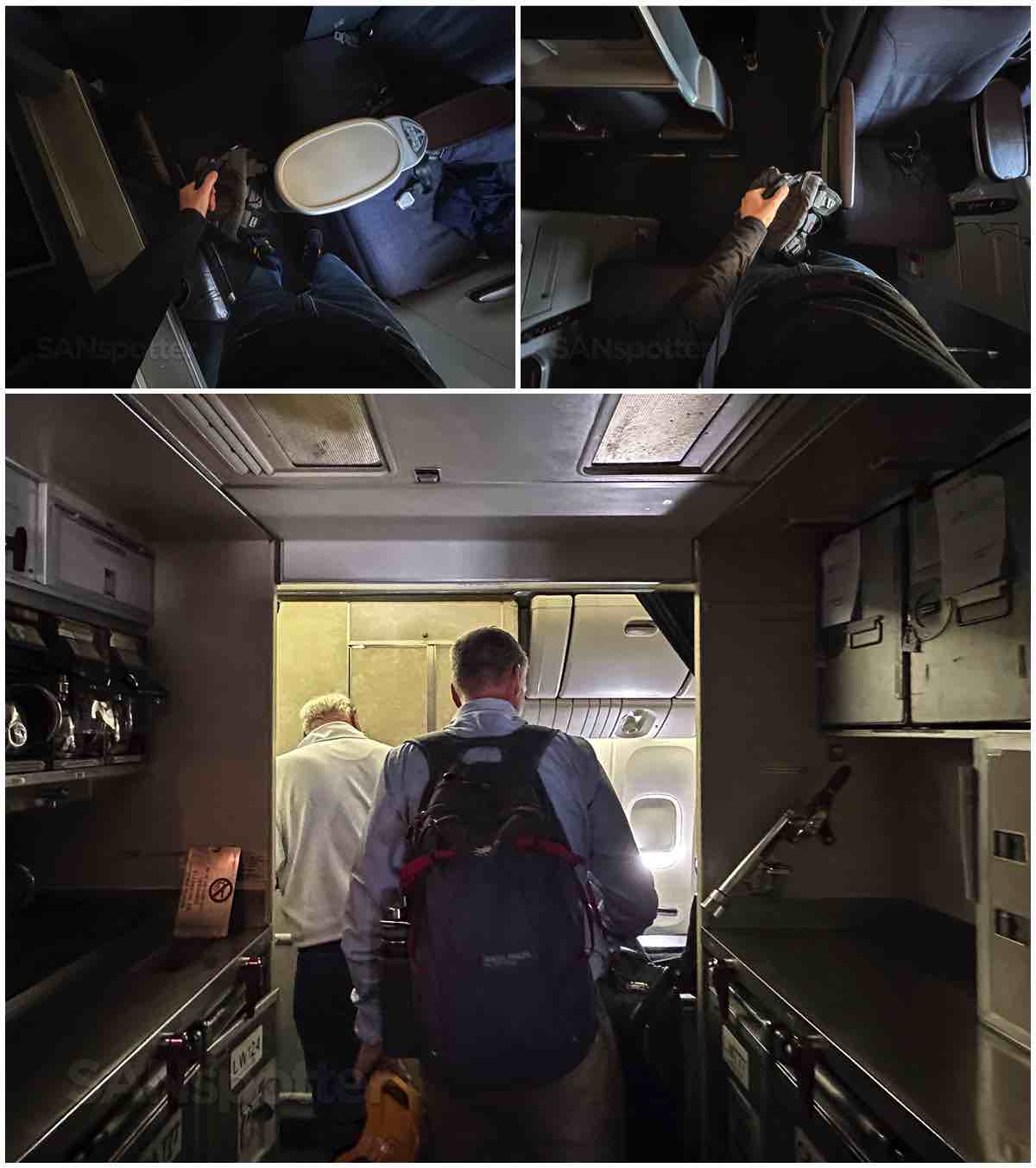 Pros and cons of the domestic United 777-200 first class experience
15 years ago, I never would've imagined admitting to liking the super-dense seating configuration of the UA 777-200. I guess this means that things change, time heals all wounds, etc. Basically, however I want to justify it, it's not hard for me to say (proudly) that I can't wait to experience these seats again on a transcontinental flight across the US soon.
Pros
At the time of this writing, these are easily the softest and squishiest domestic US first class seats in existence.
Comfort in the fully lie flat position is excellent. I consider them to be more comfortable to sleep on than many modern international business class seats.
Window seat passengers won't have much of an issue getting access to the aisle. It does require stepping over your seatmate's legs if they are sleeping, but it's a fairly low hurdle.
Cons
The 2-4-2 seating configuration is obnoxiously dense. There are premium economy cabins with less density than that these days for crying out loud.
The seats are a bit difficult to get in and out of (due how far down you sink into them).
Half of the seats face backwards. I personally have no problem with this, but there are a lot of people that find them to be disorientating.