I was pretty excited about starting another big international adventure as the Uber driver was whisking me down to SAN this evening, but more than anything, getting a second chance at a British Airways 747-400 Club World trip report was a really good feeling.
You see, it wasn't until two months AFTER I returned from my June 2013 BA Club World trip out of SAN that I made the commitment to write much more detailed trip reports – so while I had plenty to say about that experience in words, I had very few pictures (and no video) to fully document those flights. It was a rather dry and uninformative trip report that I've been embarrassed about for quite some time.
But I'm happy to say that this trip report will make up for that in a big way. Get ready folks – this is going to be my biggest and most complete airline review yet, so I'd suggest that you use the restroom now if you feel the need, and you might consider grabbing a snack or your favorite beverage before coming back and digging into this one. It's a doozie.
BA272
San Diego, CA (SAN) – London, England (LHR)
Saturday, October 15, 2016
Aircraft: 747-436
Registration: G-CIVH
Duration: 9 hours 35 minutes
Seat: 13K (Club World / business class)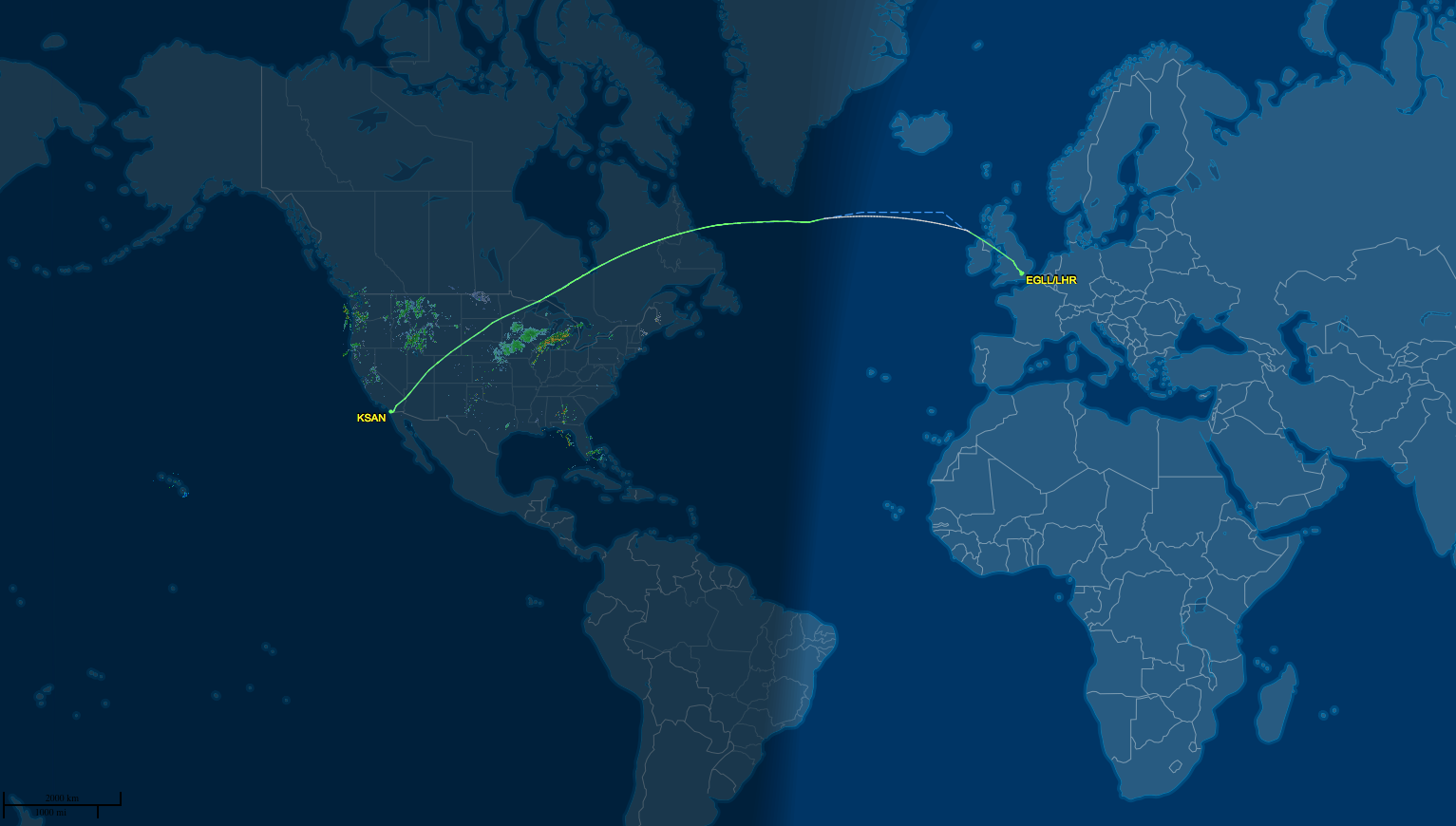 First, let's start with the video for those of you who like that sort of thing. Yes, I shot a lot of footage from this flight, and it ended up being a fairly decent representation of what the entire experience was like:
And now, on to the pics and words…
My arrival at SAN was way early (three hours to be exact), but that was all part of the plan. I wanted to have plenty of time to get pics and video, grab a quick bite to eat, and relax a bit before the flight. The relaxation part was actually the most important. This flight was scheduled to depart at 8:45pm, and that doesn't work so well for me – I'm very much a morning person, and by that time of night I'm pretty much spent with very little energy left. Yeah, I'm old.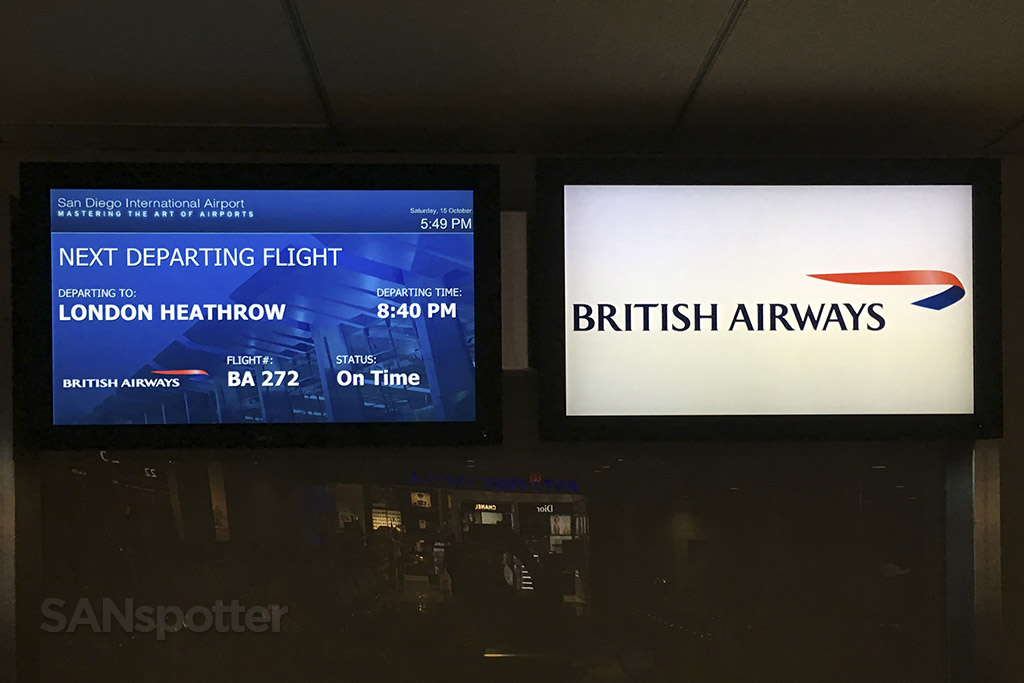 By the time I finished getting all the pics and video I needed for the pre-flight, I found myself with about an hour and a half before the boarding process was to begin. I used that time to grab a quick snack, and to relax and enjoy the moment of getting ready to jet off to London.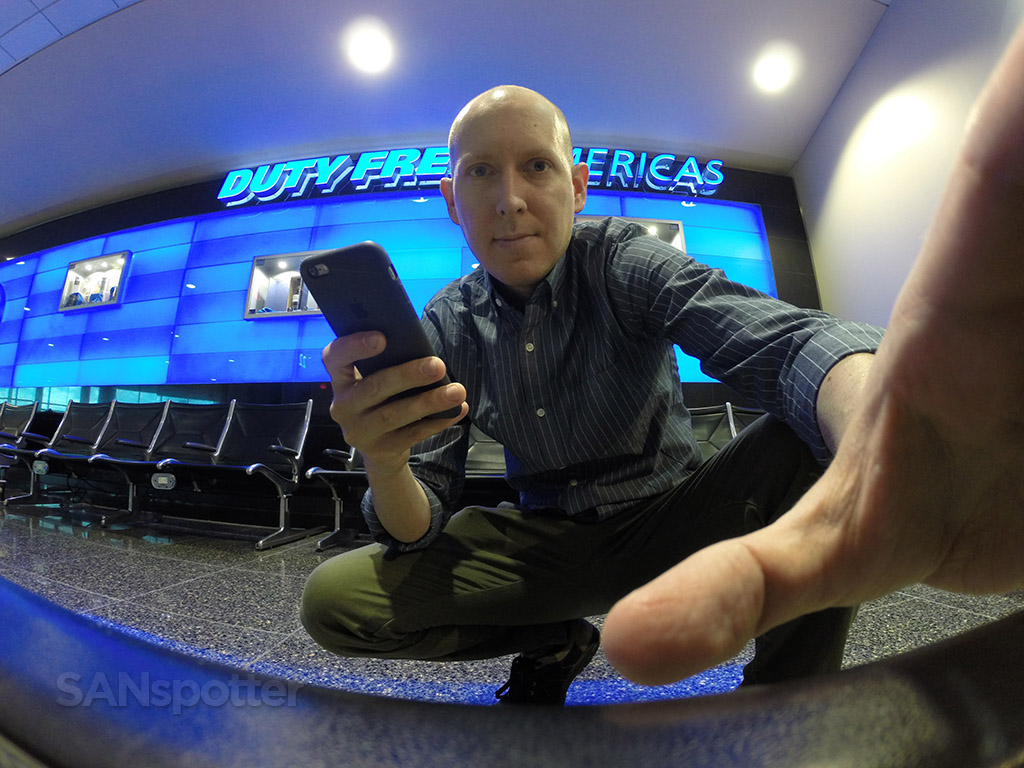 This British Airways flight out of San Diego is notorious for delays (it's not uncommon for delays to stretch into the wee morning hours), and true to form, the boarding process was delayed by about 20 minutes. Considering how late this flight is much of the time, I considered that to be acceptable and nothing out they ordinary. Hey – it's always best to expect the worst when traveling!
Once boarding began, they utilized all three gates here at the end of terminal 2 east. 21 and 22 were for first and business class passengers, while 20 was for premium and standard economy. It didn't really seem all that organized though, since nearly everyone rushed the gate doors as soon as first class was called.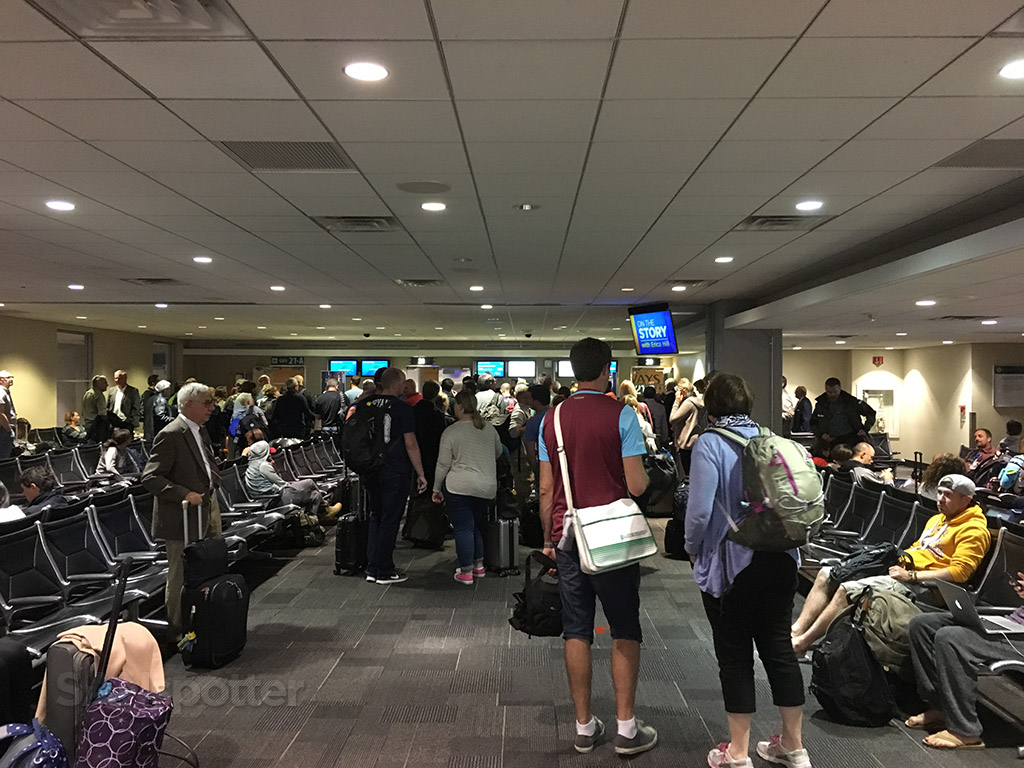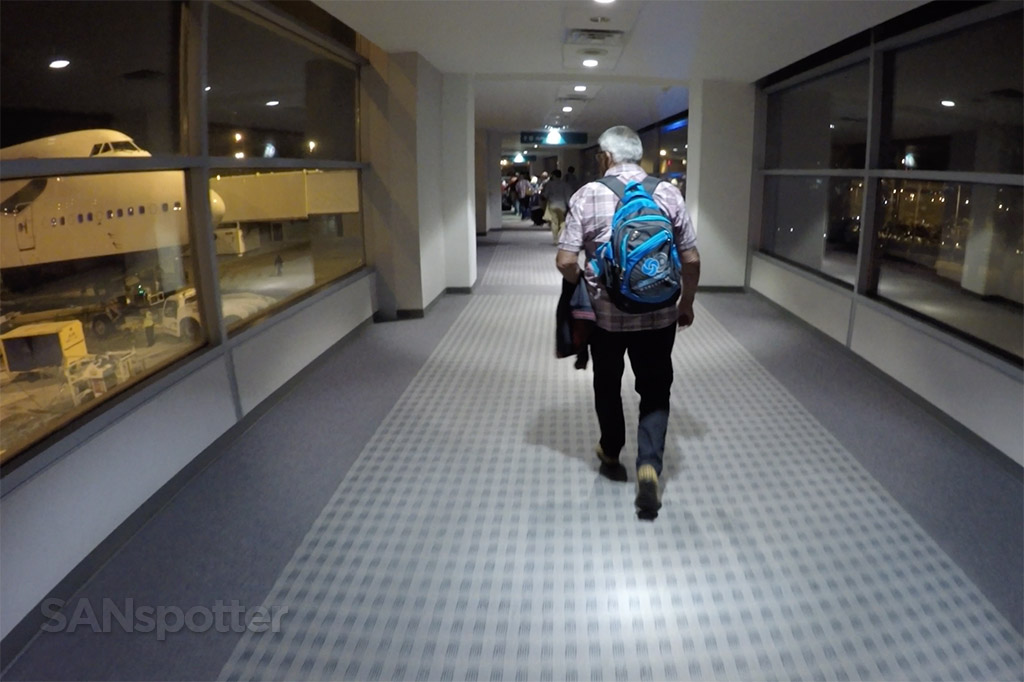 Once onboard, it felt oddly good to be back in British Airways Club World again. This is a business class product that seems to get a lot of hate from frequent travelers, mostly due to how tight the seating configuration is. But I don't mind so much – especially the window seats.
The window seats are some of the most private in the sky IMHO, and I find them to be more comfortable than a lot of other international business class products I've tried. For example, I consider United 777-200 BusinessFirst to be a very tight premium cabin layout, making Club World seem dreamy and spacious in comparison.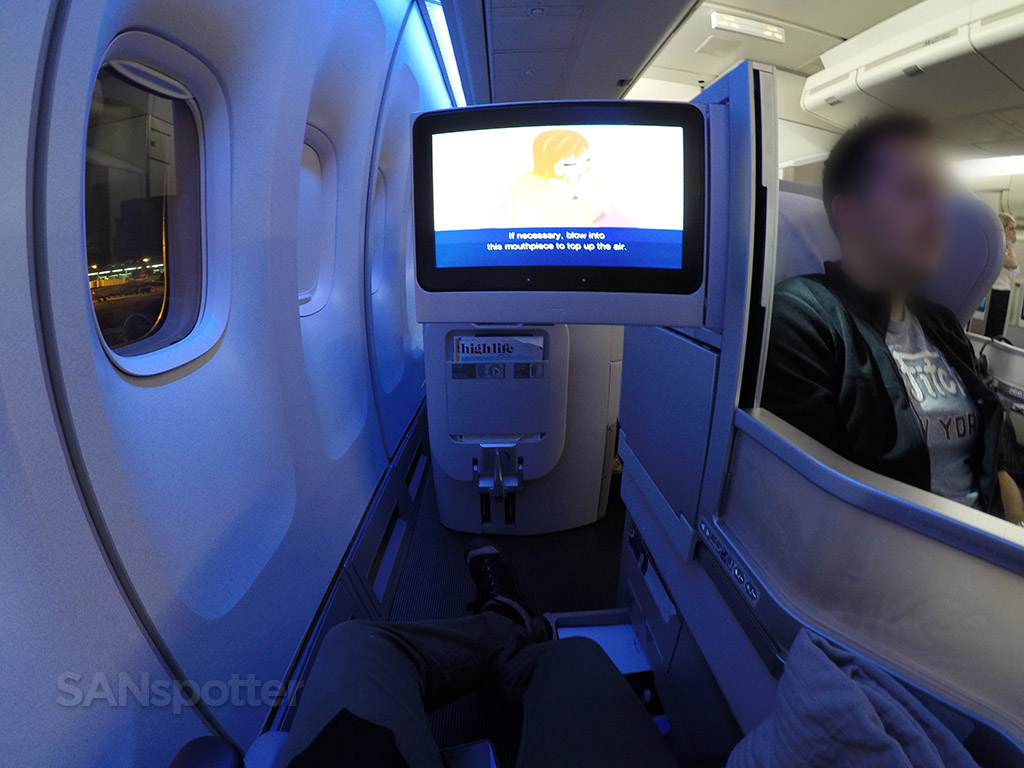 I was offered a drink as soon as I reached my seat, but I asked if she could come back in 5 minutes after I got myself situated and seated. She cheerfully agreed, but I never saw her again. Part of that, I'm sure, was because everything seemed rushed – we were delayed slightly, and I could tell they were trying to expedite the boarding process in a big way. I felt like I hadn't even been situated fully yet before we started pushing back from the gate.
UK Immigration cards were distributed while on the ground, but once again I was ignored. It was then that I was starting to think that perhaps these window seats were a bit TOO private and segregated from the rest of the cabin. It's very difficult to get direct eye contact with the FA's from these seats.
Taxing out to the runway in large wide body aircraft here at SAN is an interesting process. The taxiways are too narrow to accommodate large wingspans, so it's necessary to cross over the active runway (near the control tower) to the north side to continue the rest of the way to the threshold of runway 27. It was pretty much impossible to get pics of this procedure due to the fact that that cabin lights were on and it was dark outside. Window reflections galore!
Hot towels were distributed immediately after departure, but once again, I was ignored when they came back around to pick them up. Finding a place to put it wasn't so easy in these cramped seats! It was at this point I was starting to wonder if they would even remember to serve me dinner…
One of the biggest things I remember from my Club World experience back in 2013 was how cold the cabin was all night long – especially seated so close to the cabin wall in these window seats. Because of that, I came well prepared with a wool undershirt beneath my normal button-up. But my plan seemed to have backfired, at least for the first portion of the flight – it was very warm. Too warm, in fact and I was quite uncomfortable.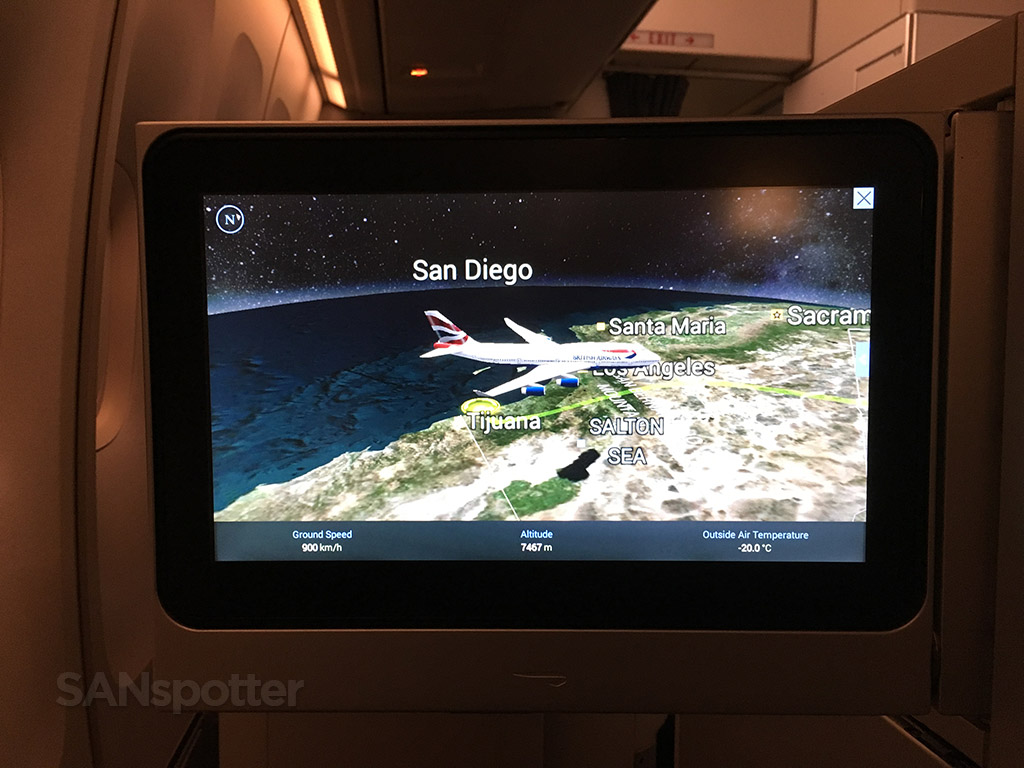 The meal service started within 25 minutes of departure, and it was so rushed that it seemed as if the preliminary snack/beverage service was part of it. Speaking of the snack, all we got was a bag of nuts with our drink. A bag. Really? I remember Club World being a little more upscale than this, but I'm not complaining all that much. I was still having a good time!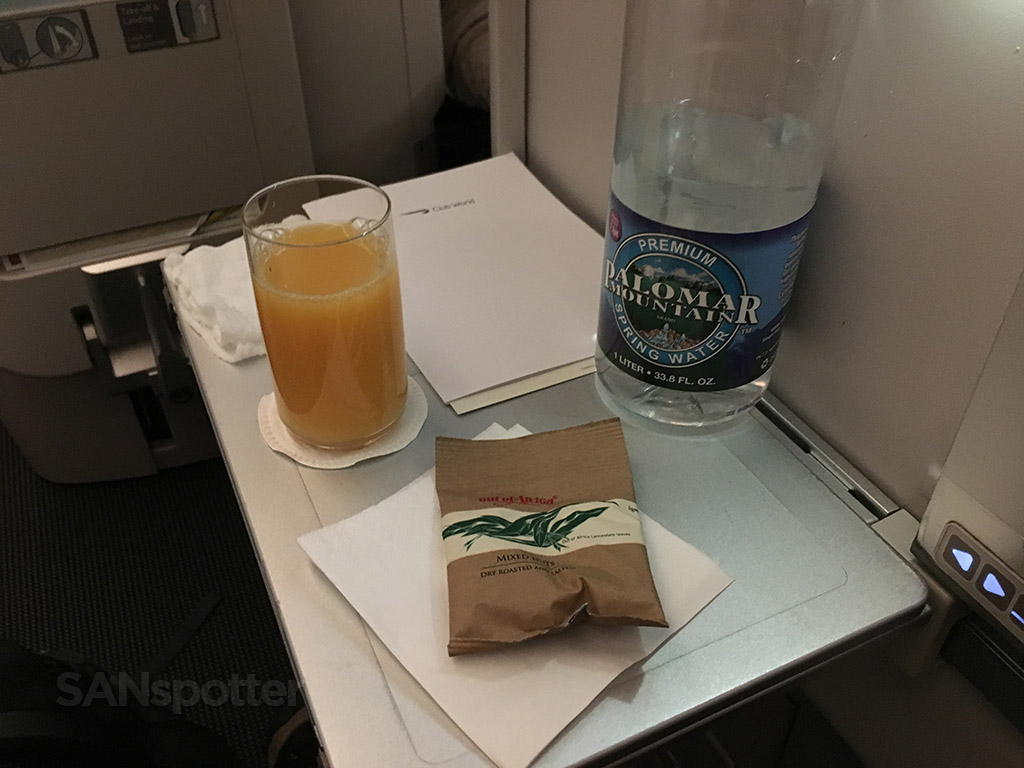 The dinner service soon followed, and I'll just say that I wasn't very impressed. The appetizer was good (and it looked nice), but the presentation of the main course was something straight out of economy class. Dry, overcooked, and thrown on my tray table with no effort in making it look appetizing. It did taste ok, but that was the saddest-looking business class meal I have ever been served.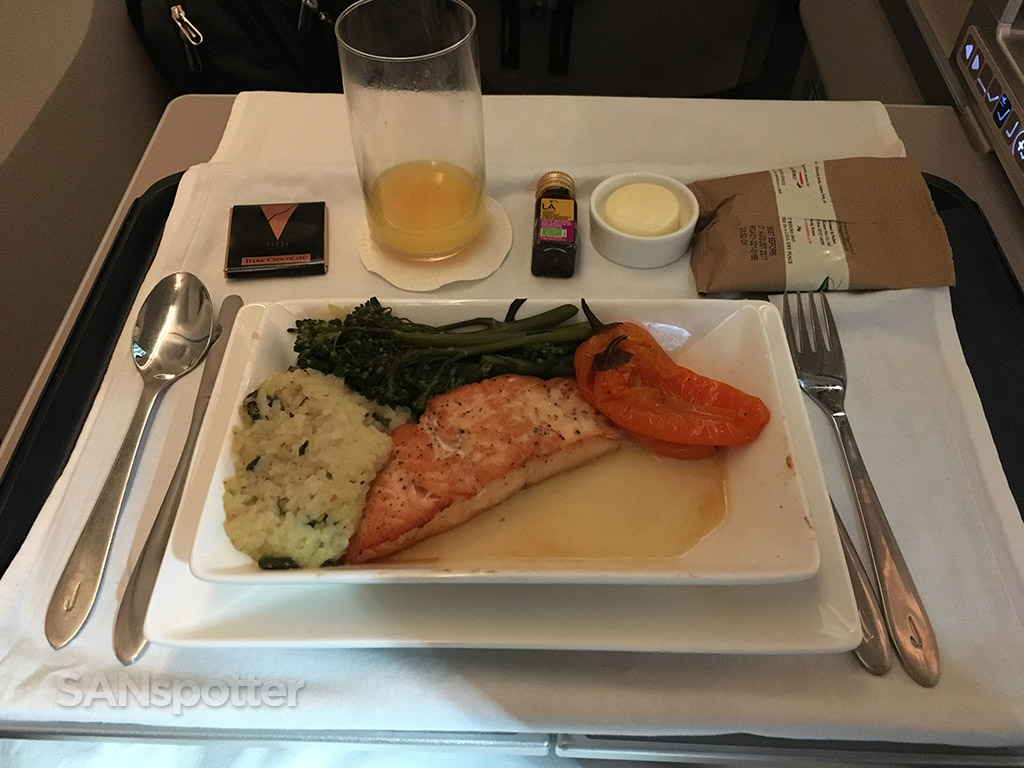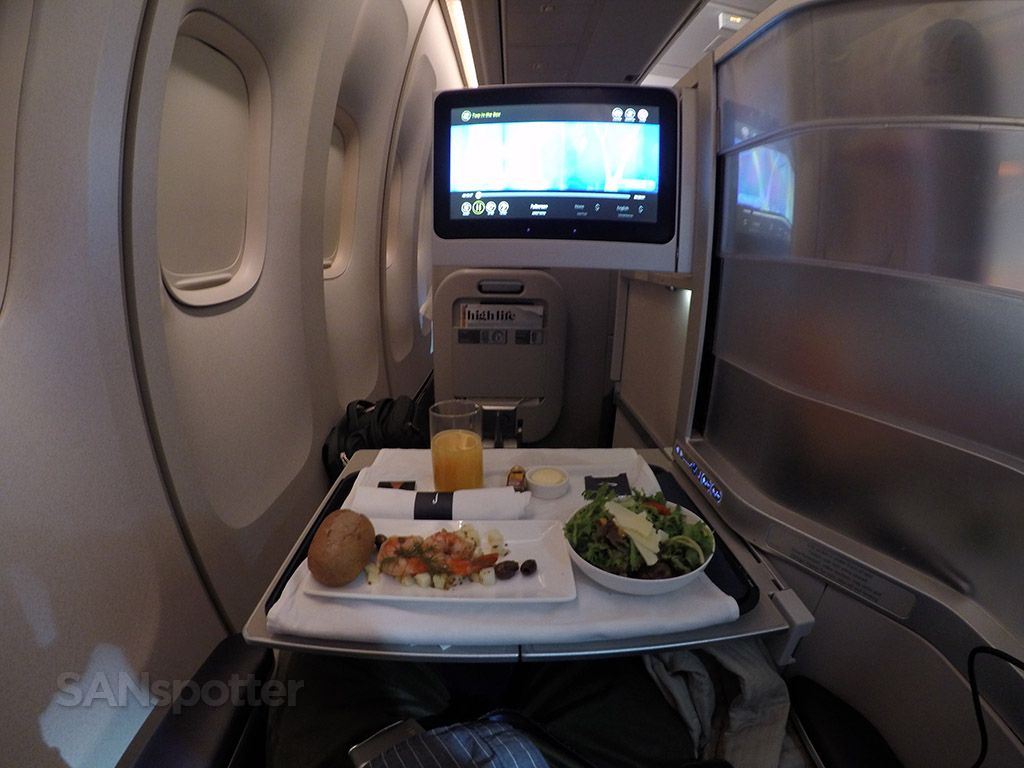 One odd thing to note about the dinner service was the fact that the purser came by to welcome me (by name) and introduce himself as I was just finishing up my main course. It was a nice gesture, though a bit odd in the timing.
Remember that scene from the movie "Airplane!" where the doctor opens the door to the cockpit and says "I just want to tell you both good luck – we're all counting on you" to Striker and Elaine after the plane had already landed? That's how out of place this greeting felt.
Two and a half hours had passed by the time the meal service had finished and I put the seat into the lie flat position to try and get some sleep. I didn't sleep all that well though – the seat was perfectly comfortable, but it was starting to get cold and I think I still had too much excitement built up inside me to be able to drift off to sleep fully.
I spent the next 5 hours trying my best to nap, interrupted with a few walks to the galley to stretch my legs and use the lavatory. Each and every time the FA's seemed to be sitting around not doing much (which is perfectly acceptable at this stage of flight when everyone is sleeping IMHO), but several seemed very cold and disinterested whenever I saw them.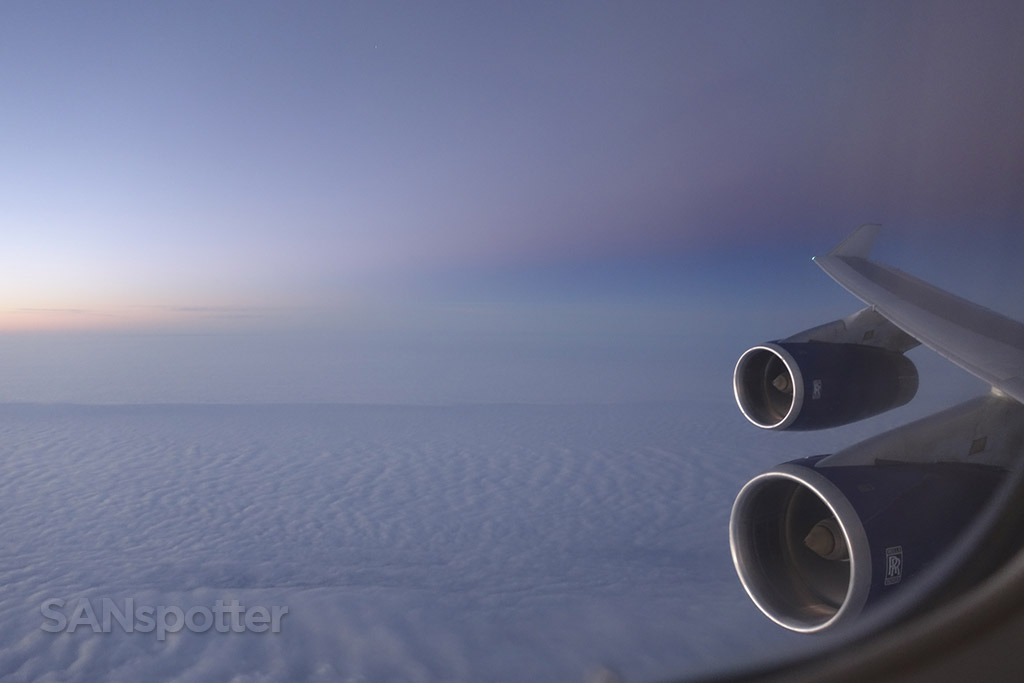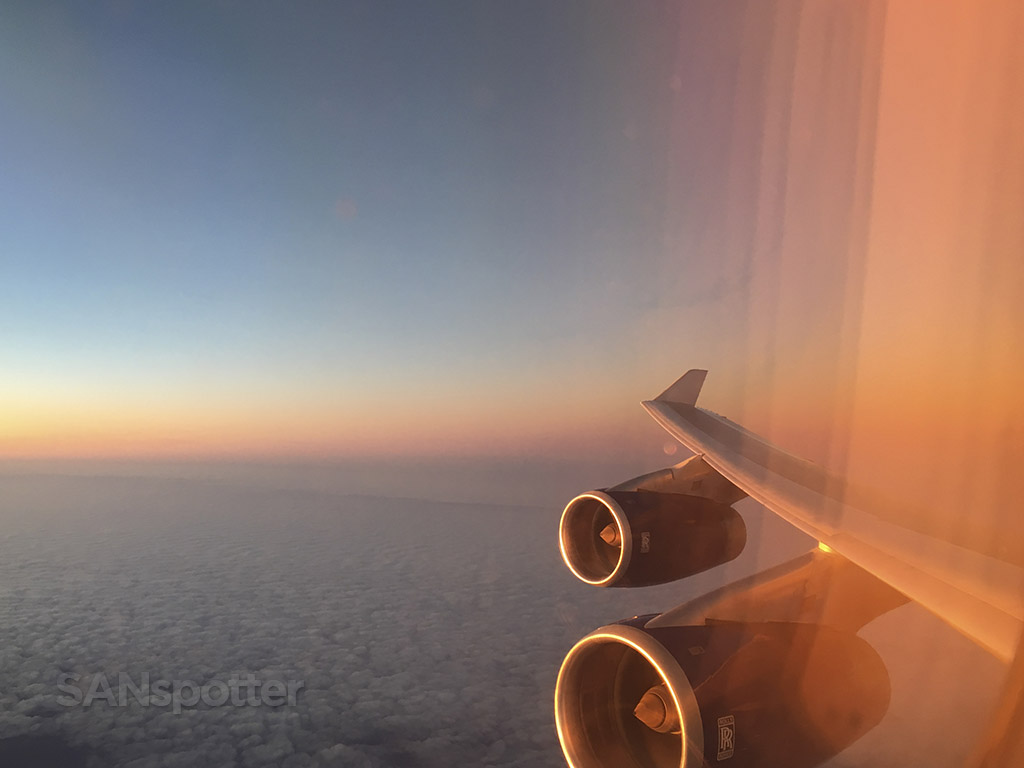 The cabin lights were turned on with one and a half hours of flying time remaining, and the flight attendants began taking breakfast orders.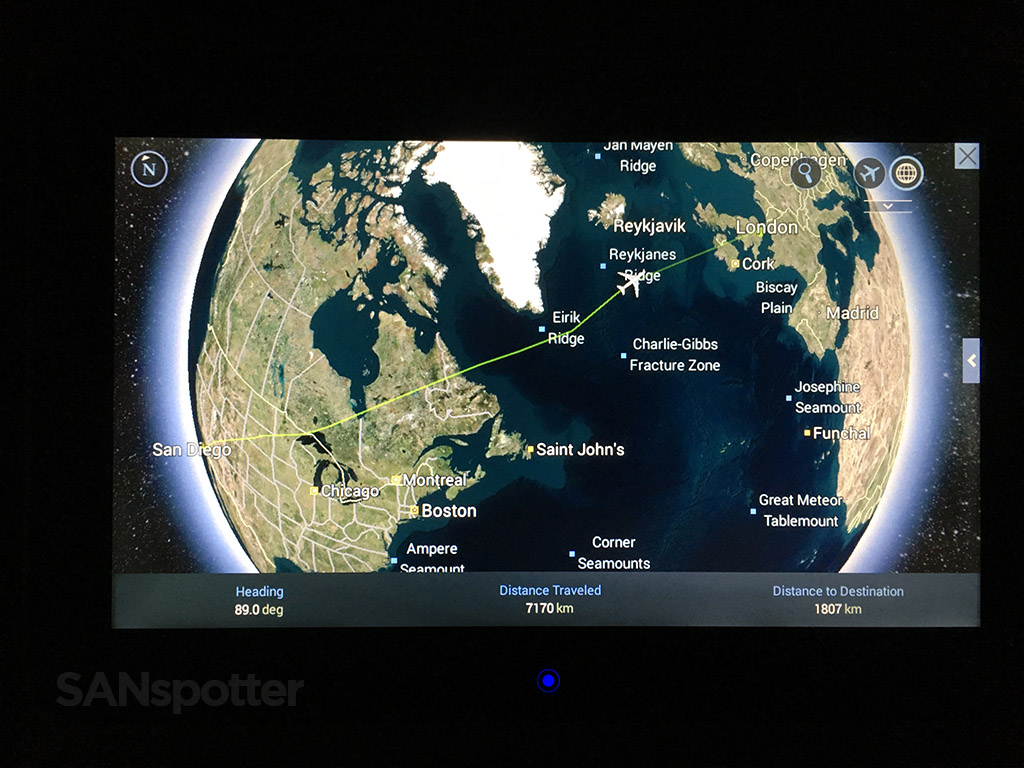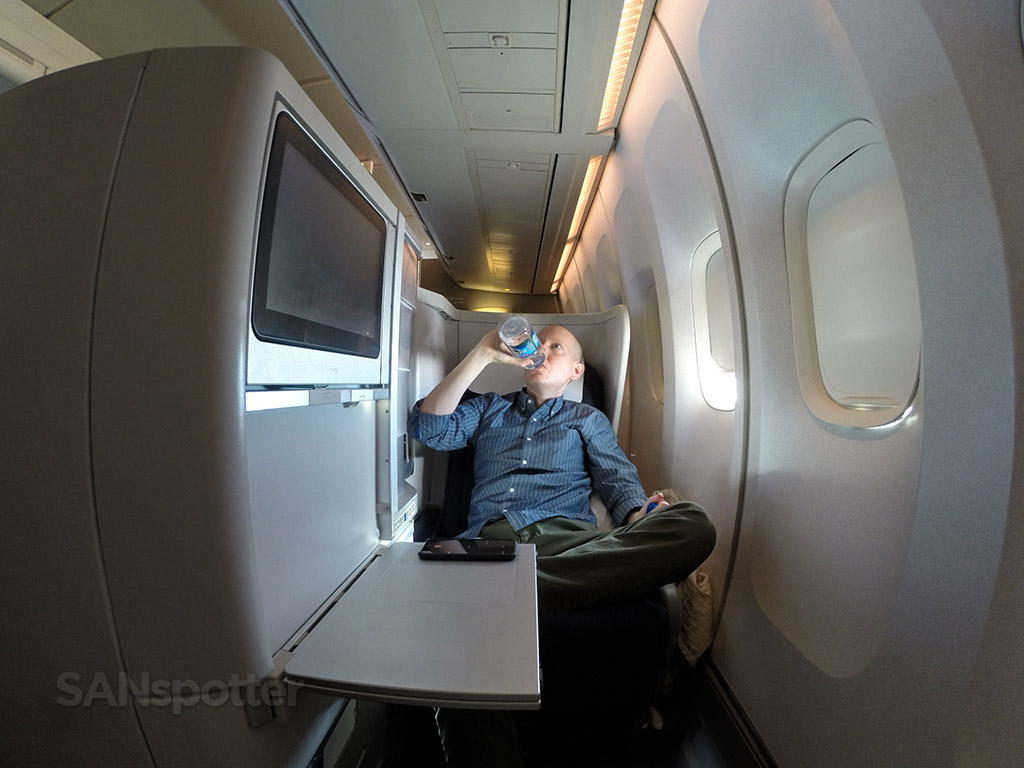 I chose the omelette for breakfast, but she returned 5 minutes later asking me if I wouldn't mind choosing something else. I wasn't quite sure if she was asking or telling me, but it did seem like I had the option to stand firm on the omelette if I really wanted to. But it wasn't that big of a deal so I switched to the traditional English breakfast instead.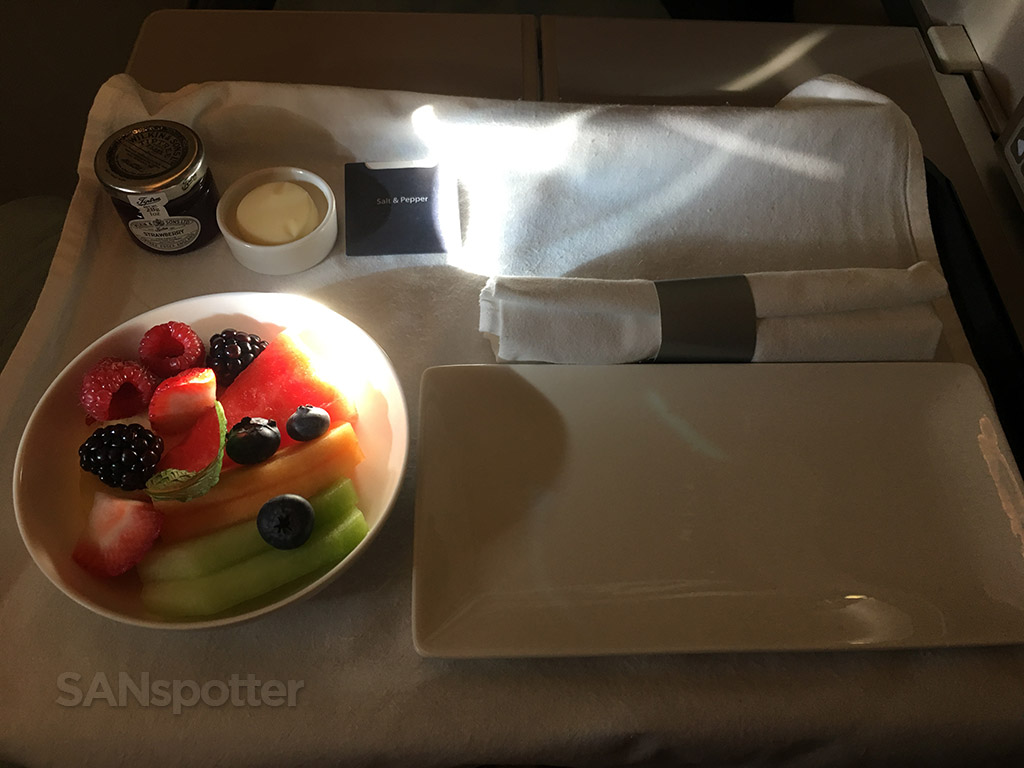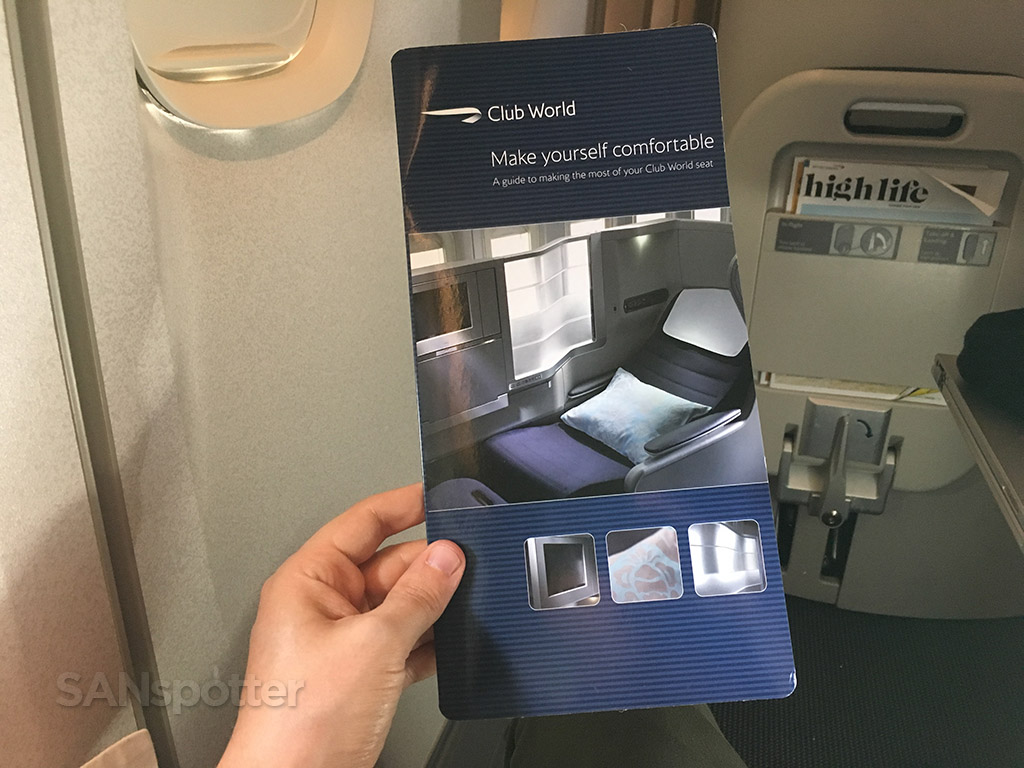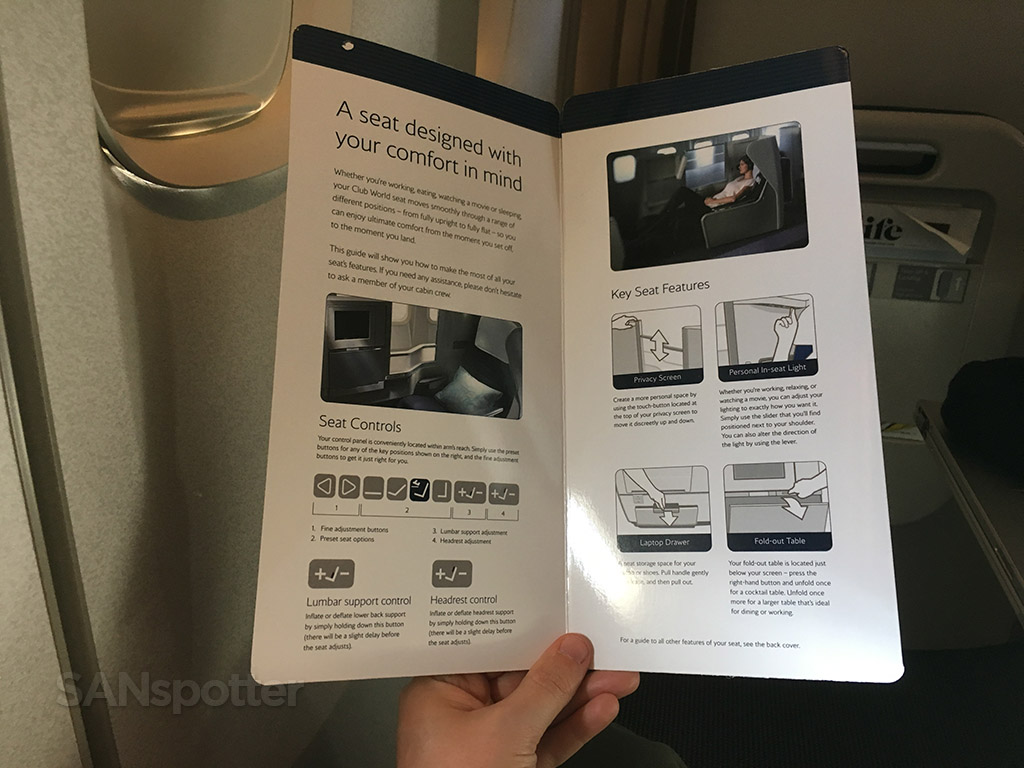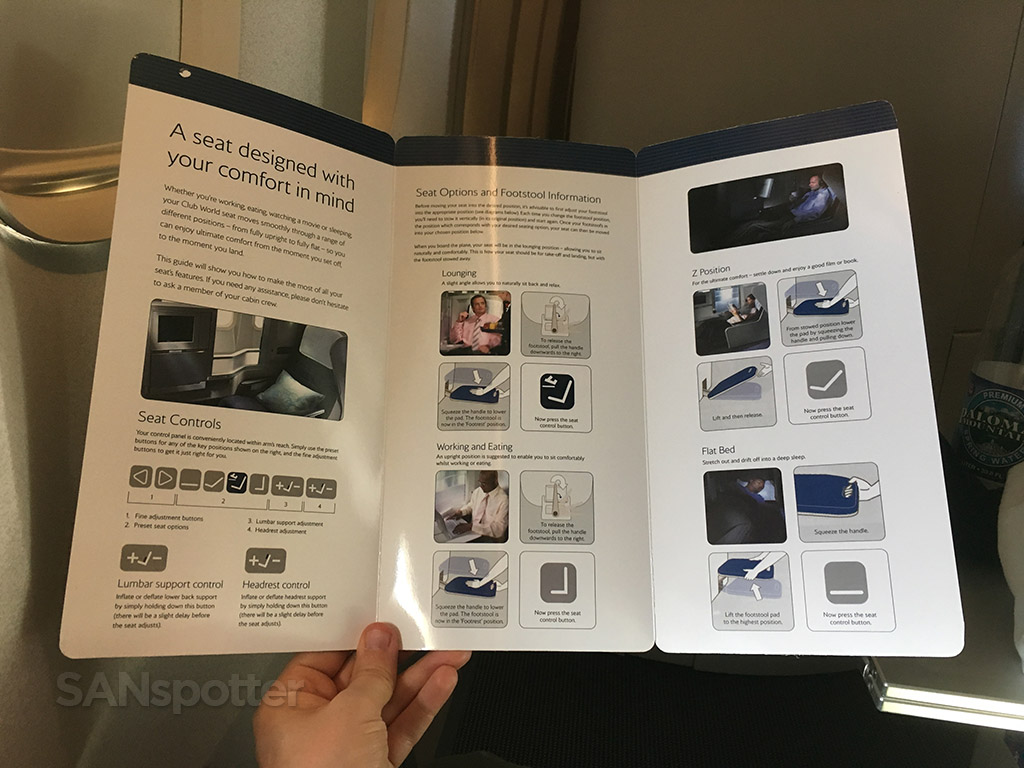 We had started the descent into LHR by the time they cleared away my breakfast tray (no, they didn't forget me this time), and it was a beautiful approach and landing into London's Heathrow Airport. We were even in a holding pattern for a bit, which offered some really nice views of the English landscape below as we circled our way in.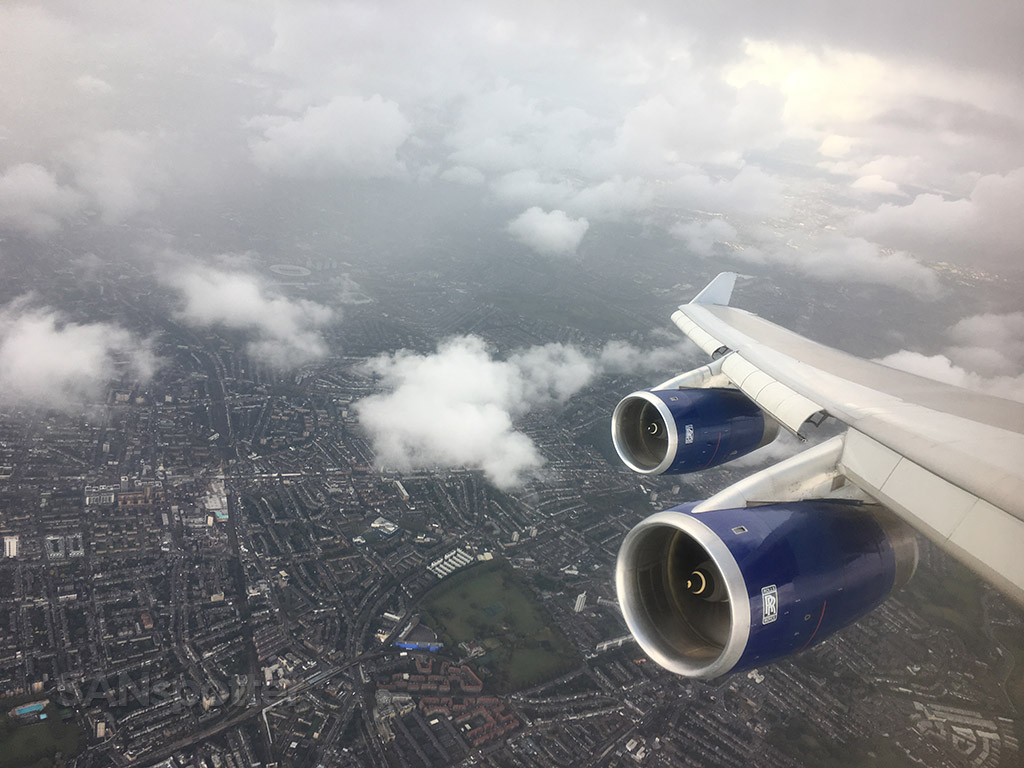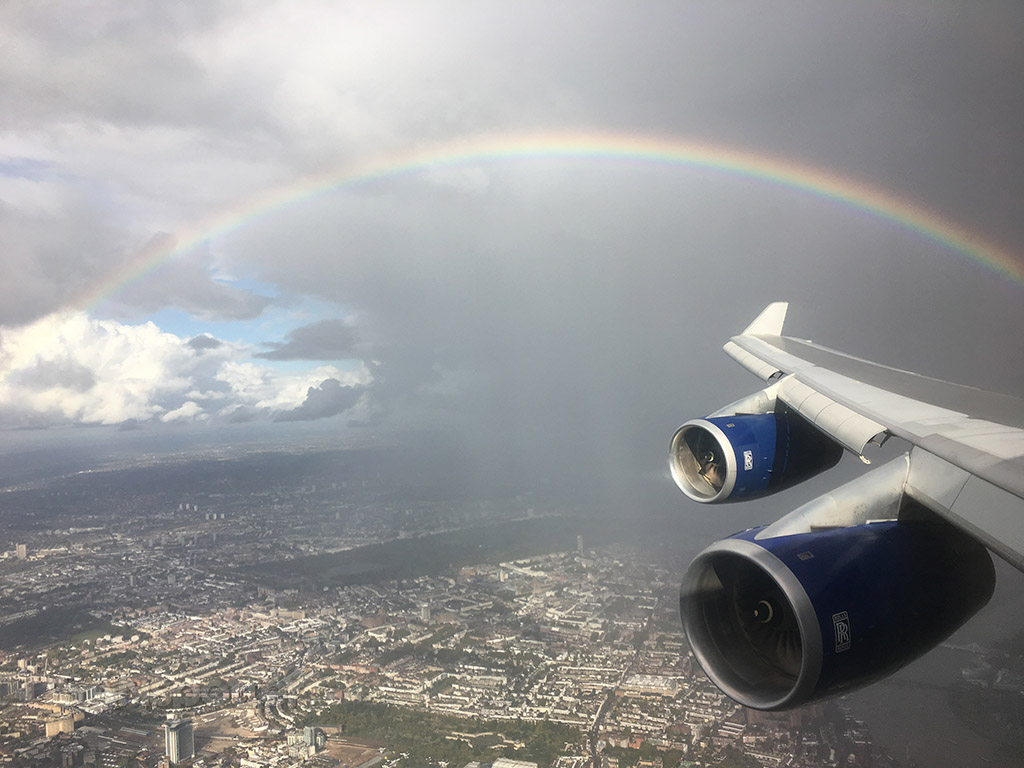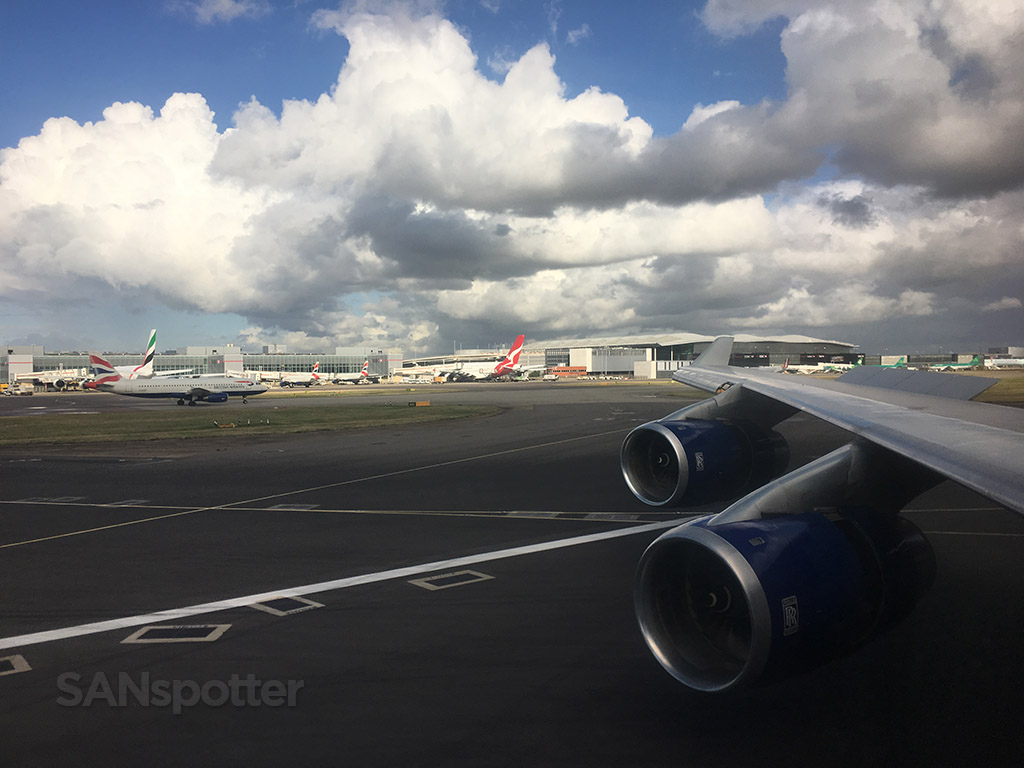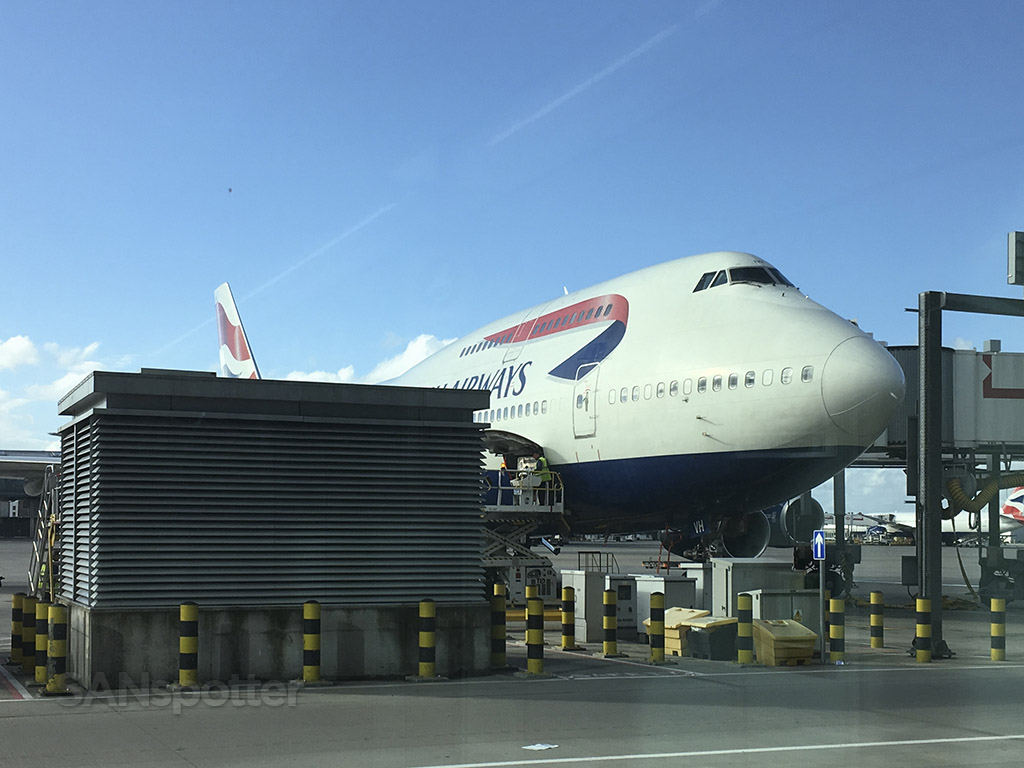 So there you have it. A full SANspotter trip report for British Airways 747-400 Club World out of San Diego. You have no idea how badly I've been wanting to write this review, so I hope you found it entertaining and useful!