For many people planning a trip across the Atlantic, the British Airways vs American Airlines debate is a big one. Which of these two airlines is the better choice?
Assuming that both airlines are flying exactly to where I need to go, I am more likely to choose British Airways. The main reason for this is that American Airlines is notorious for offering inconsistent levels of service across all their product offerings (first class, business class, premium economy and economy). In my experience, I always know what to expect with British Airways.
That's not to say that British Airways is the best airline in the world or anything. All I'm saying is that I know exactly what to expect every time I fly with them. And besides – James Bond always flew British Airways, so that has to count for something.
Ultimately, the choice between American Airlines a British Airways comes down to your personal needs. The following is an incredibly detailed (and perhaps dorky) comparison between two of the most competitive airlines in the world.
British Airways vs American Airlines: a brief summary of all the similarities and differences
Of all the airline comparisons I've done so far, British Airways vs American Airlines just might be the one that makes the most sense (even more than a Virgin Atlantic vs British Airways comparison). After all, there is a significant amount of overlap across all of the services that they offer. When it comes to transatlantic air travel, there may not be two other airlines that are more alike.
Similarities
Both American Airlines a British Airways are core members of the Oneworld Alliance.
Both airlines have significant transatlantic operations between the US and the UK. American Airlines serves several cities in the UK from approximately 18 US cities, while British Airways serves 25 US cities from the UK.
There are significant code share agreements between both of these airlines. This means that anyone flying to the USA on British Airways can seamlessly connect to an American Airlines flight to get to their final destination. The same thing happens for American Airlines passengers arriving in London (Heathrow Airport).
Although both airlines work together in most situations, they compete heavily on the New York to London route. JFK-LHR is a very important route for both American and British Airways.
Both airlines offer a highly competitive business class product on services across the North Atlantic.
On some routes (such as JFK-LHR), they both offer a first class product as well.
The long-haul fleet of both airlines consist mostly of Boeing aircraft.
Differences
American Airlines is much bigger than British Airways. American Airlines has a fleet of over 850 aircraft serving 350 destinations, while British Airways has a fleet of 250 aircraft serving 180 destinations.
British Airways is a dominantly international airline, whereas American Airlines is primarily domestic.
A massively oversimplified history of both airlines
Before I delve into what makes each airline unique, it's important to highlight their  origins and how they evolved into the modern international travel powerhouses they are today.
A brief history of British Airways
British Airways was founded in 1935. Following the merger between the British Overseas Airways Corporation and British European Airways in 1974, it quickly grew into the massive international airline that we know today.
The next major growth spurt for British Airways came in 2011. This is when they merged with Iberia, thus creating IAG (the International Airline Group). Despite both airlines operating completely separately, they are technically one under the IAG umbrella.
Read about the full history of British Airways on Wikipedia
A brief history of American Airlines
American Airlines was founded in 1926 in Chicago, Illinois. That same year, Charles Lindbergh flew the airline's first flight from St. Louis to Chicago. American Airlines began its commercial operations in 1936. Its formation resulted from the merger between Robertson Aircraft Corporation and Colonial Air Transport.
Although the airline company's initial services revolved around delivering mail across the nation, they eventually switched their operations to transporting passengers through the efforts of C.R. Smith and the  construction of the Douglas DC-3.
From there, American Airlines has grown steadily over the years through mergers and acquisitions with airlines such as Reno Air, TWA, and USAirways (among others).
Read about the full history of American Airlines on Wikipedia
British Airways seats vs. American Airlines seats
Comparing the seats on British Airways and American Airlines is relatively easy. They both offer similar seat types on routes which they compete against one another – something that made my Jetblue vs American Airlines comparison difficult. The seat types on those two airlines are vastly different.
For the record, I'm only going to talk about the seats on internationally-configured aircraft. American Airlines and British Airways don't compete on domestic routes, so there's no point in talking about seat configurations which don't fly internationally.
British Airways seats
Remember what I was saying before about how consistent British Airways is? Well, it's especially true when it comes to the different seat types that they offer.
First class
First class on British Airways is pretty much the Holy Grail of air travel. There aren't very many first class products that are better than this, and it'll be the experience of a lifetime if you can somehow figure out a way to nab yourself one.
The downside, of course, is that there aren't very many British Airways aircraft that feature a first class product. They are limited to certain routes only.
That being said, it's a fantastic seat. It's a very large (fully enclosed) suite featuring a very comfortable lie-flat bed and hotel-quality bedding.
As I said, it's pretty much the pinnacle of premium air travel.
Business class
Known as Club World, British Airways business class is one that has received a lot of criticism in the industry over the years. Yes, it has always been a very private lie-flat seat experience, but it was often criticized for being small and cramped. The good news is that the all-new British Airways business class product is a huge improvement over the old style.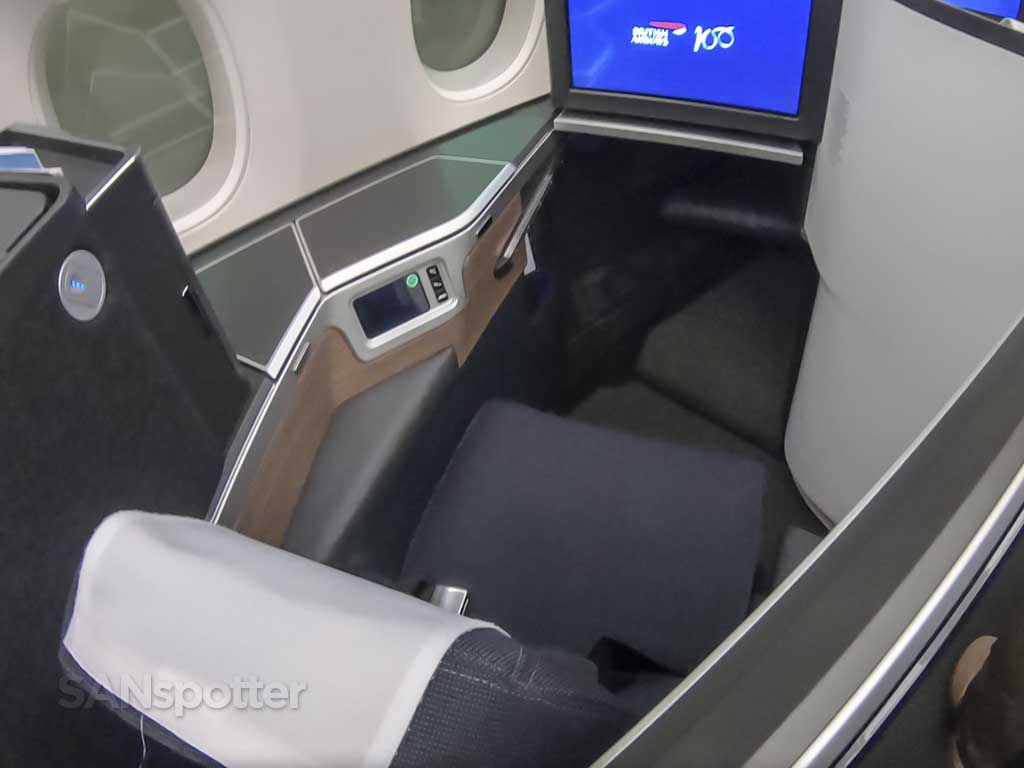 Personally, I quite like the latest British Airways Club World seats, and I'd choose one any day of the week over what American Airlines offers in their business class.
Premium Economy
British Airways premium economy is getting really good. It's a decently sized seat that offers a notable amount of recline. Think of it like a domestic first class seat on any US airline.
Economy
Truthfully, British Airways economy seats on long-haul aircraft are just OK. Which is fine, because they aren't necessarily any better than American Airlines long-haul economy seats. Don't worry though – you'll get all the basics such as USB power ports, a large video screen, and a decently comfortable blanket and pillow.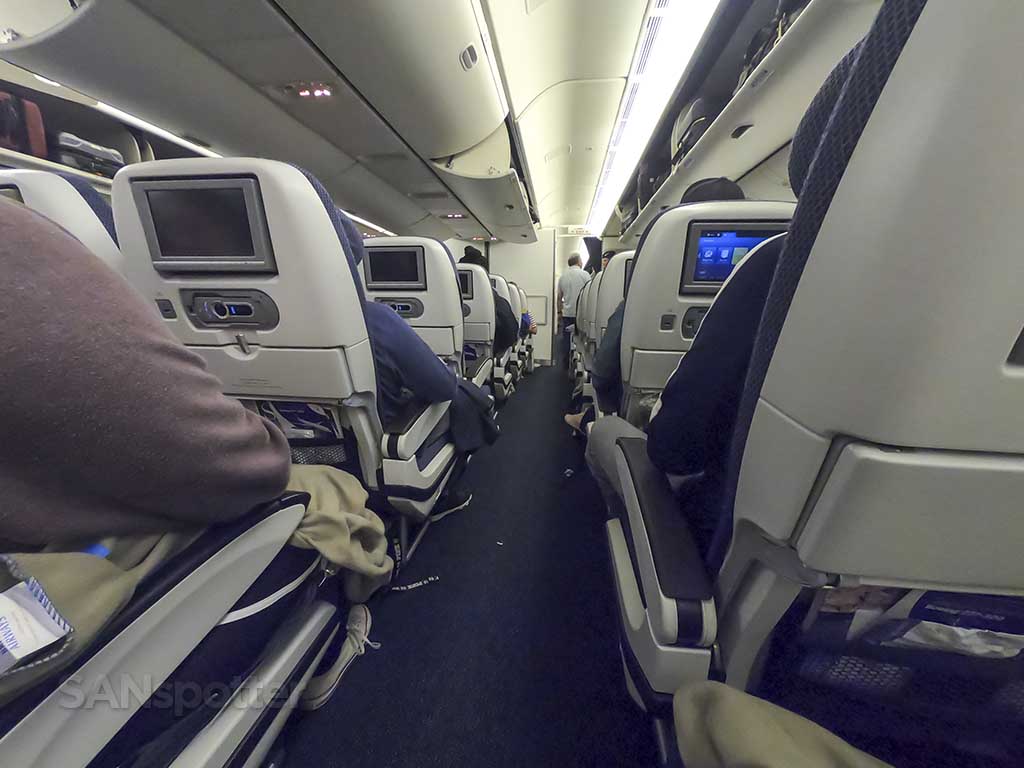 American Airlines seats
I hate to talk negatively about American Airlines, but it's their inconsistency that rubs me the wrong way. Inconsistency across their entire fleet makes planning international travel difficult, and it's one of the main reasons why I prefer British Airways.
First class
Just as it is on British Airways, American Airlines first class is rare (but good). Think of it like a larger business class seat that's fully enclosed. Not only that, American Airlines first class seats are usually in a cabin of their own, so it feels like a much more exclusive experience.
Business class
Whereas British Airways takes pride in offering a consistent business class product across all aircraft types, American Airlines is all over the place.
For example, American Airlines 787 -9 business class is pretty good. American Airlines 777-300 business class is pretty good too. The problem is that they are two completely different seat types, and some people prefer one over the other. Personally, I prefer the seat on the 787 since it feels a bit more spacious.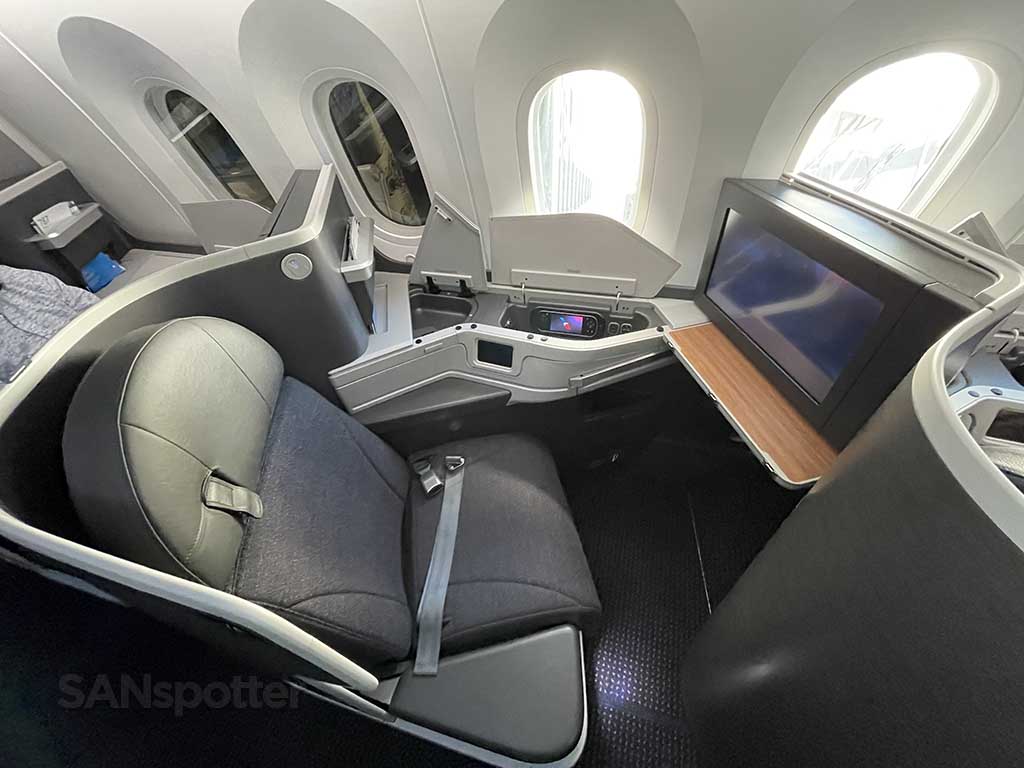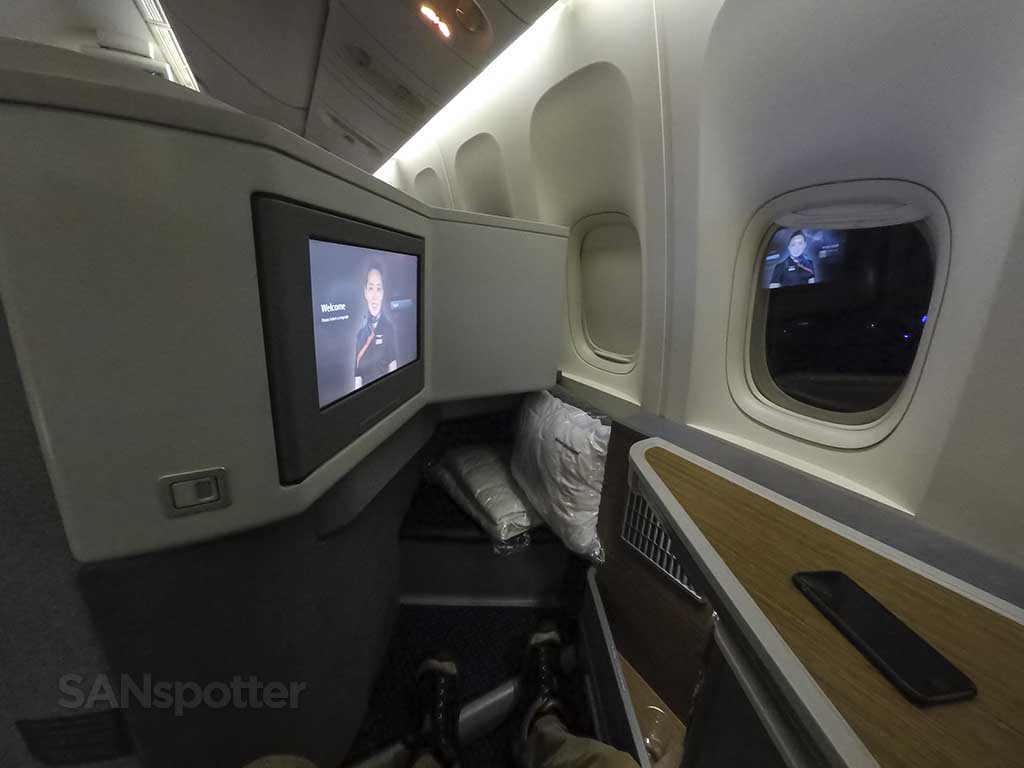 Premium Economy
The good news is that American Airlines international premium economy is finally catching up with what British Airways is offering. The bad news is that it's still relatively hard to find and they don't yet offer it on all aircraft types. Which is a shame, because it's really good.
Economy
Meh. Compared to British Airways, American Airlines long-haul economy seats are fairly simple and not all that luxurious. However, they do offer a bit more space compared to normal domestic economy seats, so they at least have that going for them.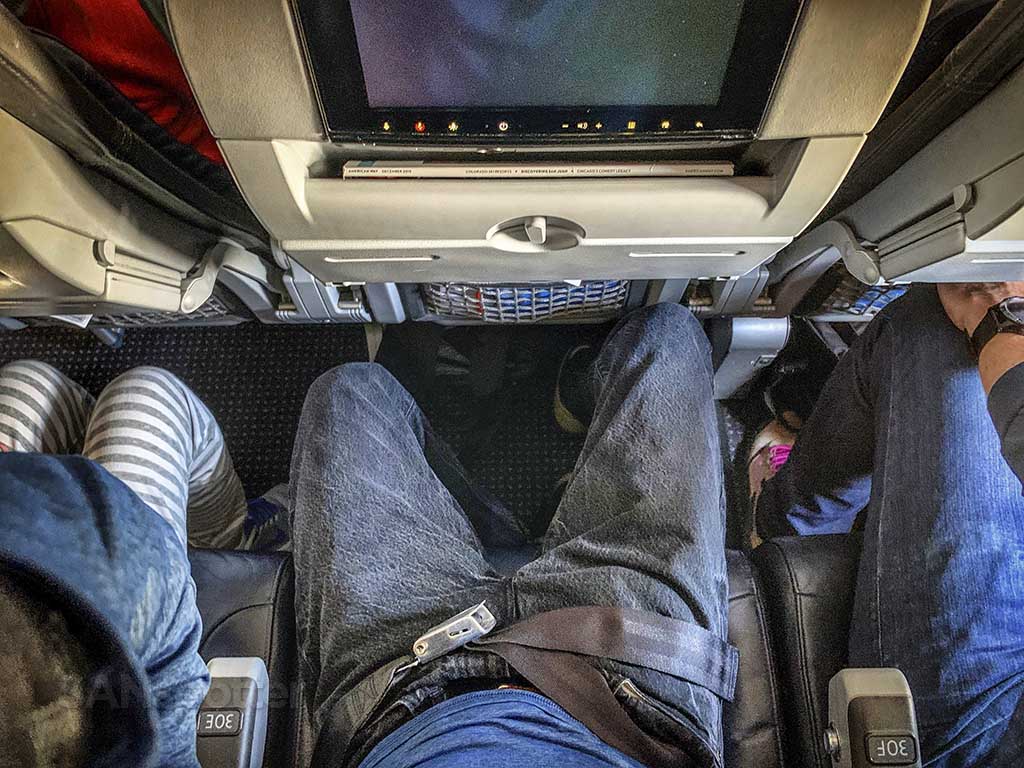 British Airways food vs. American Airlines food
I'm not a picky eater or anything, but food is one area in this American Airlines vs British Airways comparison that turns the tables around. Yup – I actually prefer American Airlines food over the slop that British Airways usually serves.
British Airways food
For the record, it's been rare for me to get a decent meal on British Airways. I'm not really sure if it's because of unfortunate bad luck, or if it's more of a widespread  problem. Maybe I'm just overly picky?
First class
First class food on British Airways is about as good as it's going to get. I wouldn't go as far as to call it "restaurant quality", but it gets awfully close. I'm certainly not going to turn it away if I'm really hungry.
Business class
One of the worst airline meals in my life was in British Airways business class. It was a flight from San Diego to London, and despite it being an overall great travel experience, the food really let me down.
Premium Economy
Despite the doom and gloom about food so far, I will have to say that I quite enjoyed the meal that I was served on a recent British Airways premium economy flight. It was surprisingly fresh and highly tasty. Perhaps it's a sign of things to come?
Economy
Long story short, it's not very wise to get your hopes up when it comes to British Airways long haul economy food. Depending on the timing of your flight, you may be served either a hot (microwave-reheated) meal served on a tray – or a prepackaged snack box of some kind.
If you're curious, I was once on a British Airways flight that left Dubai at 4 AM, and we were served an Italian-style wrap of some kind (served in a sticky bag, of course). So yeah – you will get fed in British Airways economy class, but it's hard to tell exactly what you're going to get.
American Airlines food
American Airlines food isn't all that much better than British Airways food. However, I've had some exceptionally good meals in American Airlines business class before. That hasn't yet happened to me on BA.
First class
Flying first class on American Airlines for the sole purpose of getting better food is pointless. In my experience, the food they serve in first class isn't all that much different than what they're serving in business class. All you're really paying for is a slightly better seat and more attentive service.
Business class
As I just mentioned, I've had some really good meals in American Airlines business class before. You may recall that I couldn't stop talking about how good the food was in my American Airlines 777-300 business class review (a flight from Hong Kong to Los Angeles). It was very well presented, and there was loads of it. I basically felt like a fat (but very satisfied) blob afterwards.
Premium Economy
Long-haul premium economy food on American Airlines is decent. As the name suggests, you can expect a meal that is slightly better and more substantial than the standard economy class meal. But it's not quite as good as what they're serving up in business class.
It's also important to note that you will receive better service as well, as the flight attendants will come around regularly to check up on you offering things like bread and/or drink refills.
Economy
In my opinion, there's really no difference between American Airlines economy class food and British Airways economy class food. It all sucks anyway, so you're not going to get anything better by choosing one airline over the other.
Comparing British Airways and American Airlines in-flight entertainment
Just 10 years ago, it would've been really frustrating to talk about in-flight entertainment in an American Airlines vs British Airways comparison. there simply wasn't much to talk about back then, but the good news is that things have changed.
Both airlines offer a solid in-flight entertainment system these days (in all classes of service), and you won't be bored.
British Airways in-flight entertainment
British Airways offers several in-flight entertainment options. Not everyone is into staring at a screen just mere inches from their face for 10 hours, so I appreciate that they give passengers a variety of options:
There are digital newspapers and magazines published in dozens of languages that cover a wide variety of topics of interest. These can be accessed on your personal device through the onboard WiFi.
The catalog of on-demand music is impressive – I'm going to go on record as saying that it'll be impossible for to to NOT be able to find something fun and interesting to listen to.
I'd recommend pre-planning your entertainment consumption before boarding your flight. British Airways makes this easy by listening all current in flight entertainment options (including what TV shoes and movies) on the Highlife Entertainment website.
It's also important to note that they provide games, movies, television, and audiobooks targeted at younger demographics.
American Airlines in-flight entertainment
Similar to what British Airways is offering, American Airlines provides seatback video screens for all passengers. Not only that, all content is available to be streamed to your personal device (phone, tablet, or laptop) at no additional charge.
American Airlines does a pretty good job of keeping their content offerings up to date as well. Expect to be faced with a difficult decision of trying to choose which current Hollywood movies you want to watch in lieu of quality sleep.
It's also worth noting that American Airlines includes Apple Books, Apple Music, and Apple TV Plus as part of their complimentary WiFi streaming service.
Comparing the British Airways and American Airlines frequent flyer programs
The really neat thing about trying to decide between British Airways and American Airlines is that it's not all that big of a deal.
Yes, you should definitely focus on one frequent-flier program over the other, but with the generous codeshare agreements between the two, it's easy to redeem your points for travel on either of these two airlines.
British Airways Executive Club
British Airways' Executive Club lets passengers collect BA Miles or Avios when they book a flight, stay at a hotel, or use a car rental through their services or their partners.
Just as it is with other frequent flyer / loyalty programs of other major airlines (including the American Airlines loyalty program), there are different levels of Executive Club membership.
Gold and silver memberships permit you access to business or first lounges, free seat selection during booking, and priority boarding.
Basically, all you need to to know is that there are few advantages of being an Executive Club member instead of an American Airlines AAdvantage member. Especially since both airlines are part of the Oneworld Alliance and it's easy to use the points of one program to redeem awards for the other.
That being said, you can earn Avios points with an Executive Club membership, which gives you more options when it comes to redeeming travel on other airlines.
Get the latest information about British Airways Executive Club
American Airlines AAdvantage
The nicest thing about the American Airlines' AAdvantage program is that it allows frequent fliers to use AAnytime Awards – which have no restrictions when it comes to redeeming points for travel.
Just as you can do with a British Airways Executive Club membership, you can use miles to upgrade seats to first or business class. You can also redeem miles for hotel stays, rental cars, vacation packages, and other products or services.
The biggest downside to being an AAdvantage member over an Executive Club member (for me anyway) is that I can't earn Avios points (which greatly expand the opportunities for award redemptions on other airlines). Other than that, there aren't very many differences between these to frequent flyer programs.
Get the latest information about the American Airlines AAdvantage program
Comparing the route networks
American Airlines and British Airways are vastly different when it comes to looking at their overall route networks.
American Airlines is based in the US, while British Airways is based in the UK. Both airlines to serve roughly the same types of destinations around the globe, but they are highly competitive on routes across the North Atlantic.
British Airways route network
British Airways has over 170 flight destinations in over 70 countries. Although there might not be as many hubs and focus cities compared to American Airlines, British Airways does serve more destinations across the globe.
Major hubs and focus cities:
London Heathrow (LHR)
JFK International Airport (New York, NY)
American Airlines route network
The main difference American Airlines has over the British Airways route network  is the fact that they fly to a far greater number of destinations. American Airlines serves over 350 destinations in over 50 countries.
Since most of American Airlines route network consists of domestic US flights, You're more likely to have to make a connection somewhere along the way.
Major hubs and focus cities:
Charlotte Douglas International Airport (CLT)
Dallas/Fort Worth International Airport (DFW)
O'Hare International Airport (ORD)
Miami International Airport (MIA)
Philadelphia National Airport (PHL)
Phoenix Sky Harbor International Airport (PHX)
JFK International Airport (New York, NY)
Los Angeles International Airport (LAX)
London Heathrow (LHR)
Why would you choose American Airlines over British Airways (and vice versa)?
As I've already mentioned, choosing British Airways over American Airlines (or vice versa) for your next international trip is a personal choice. These are massive airlines, and either one could be a very good fit for you depending on your particular needs.
I know. I said the exact same thing in my United Airlines vs American Airlines comparison, (as well as my Emirates vs Qatar Airways comparison) but it really does come down to individual preferences.
Choose British Airways if:
You're based in the UK and you travel around Europe frequently
You prefer knowing exactly what kind of seat you're going to get when you book a flight. Comparatively, American Airlines is awfully inconsistent in this regard.
You want to be able to earn Avios points (which I find to be highly valuable)
Choose American Airlines if:
You're based in the United States, or you travel around the United States frequently
You want better food. You're not going to be eating like a king on American Airlines, but it's likely to be better than whatever British Airways is serving.