For those who haven't flown either, a Virgin Atlantic vs British Airways comparison probably sounds easy. I mean, how different could two airlines based in London possibly be?
As a seasoned traveler who has flown both a number of times, I'm here to tell you that it's so easy. It's kind of like comparing Fiat with Ferrari. Sure, both are Italian auto makers, but one is massively more hip and edgy than the other.
(My sincerest apologies to British Airways for referring to them as the "Fiat" of the airline industry)
Virgin Atlantic vs. British Airways: a brief summary of all the similarities and differences
Virgin Atlantic and British Airways were born from different origins and continue to evolve in different directions. However, despite their differences, there are some similarities between the two airlines.
Similarities
Both airlines are based in London with their primary hub being Heathrow Airport (LHR)
The Airbus A350 is the flagship aircraft of both airlines
Both British Airways and virgin Atlantic offer what are arguably some of the best premium airline seats in the business
Both airlines have a large presence at the John F Kennedy airport in New York (JFK). For both, it's their most important international destination.
Differences
British Airways uses the Boeing 777 more than any other aircraft type for long-haul operations. Virgin Atlantic, on the other hand, operates a very diverse fleet (featuring a mix of Airbus and Boeing aircraft types).
The cultures of both airlines are vastly different. Virgin Atlantic prides themselves and being hip and cutting edge, while British Airways excels in areas of professionalism and class (well, they try anyway).
British Airways is a much larger airline than Virgin Atlantic. They have a fleet of over 254 aircraft with destinations to 183 countries, compared to the 38 aircraft and 30 destinations of Virgin Atlantic.
British Airways is part of the Oneworld Alliance. Virgin Atlantic is not part of any airline alliance, though they do have codeshare and partnership agreements with a variety of other airlines.
An oversimplified history of both airlines
The differences between Virgin Atlantic vs. British Airways begin with their wildly different histories. British Airways has a longstanding history of official support, and Virgin Atlantic set out to be the antithesis of British Airways and everyone like them. Here's how the two airlines came to be:
A brief history of Virgin Atlantic
In 1984, Virgin Atlantic took to the air as the underdog in the airline industry. When most air travelers had to choose between a limited selection of expensive options, Virgin Atlantic set out to stand out from the crowd. Chairman Richard Branson's general philosophy of, "Screw it, let's do it," informed much of Virgin Atlantic's progress.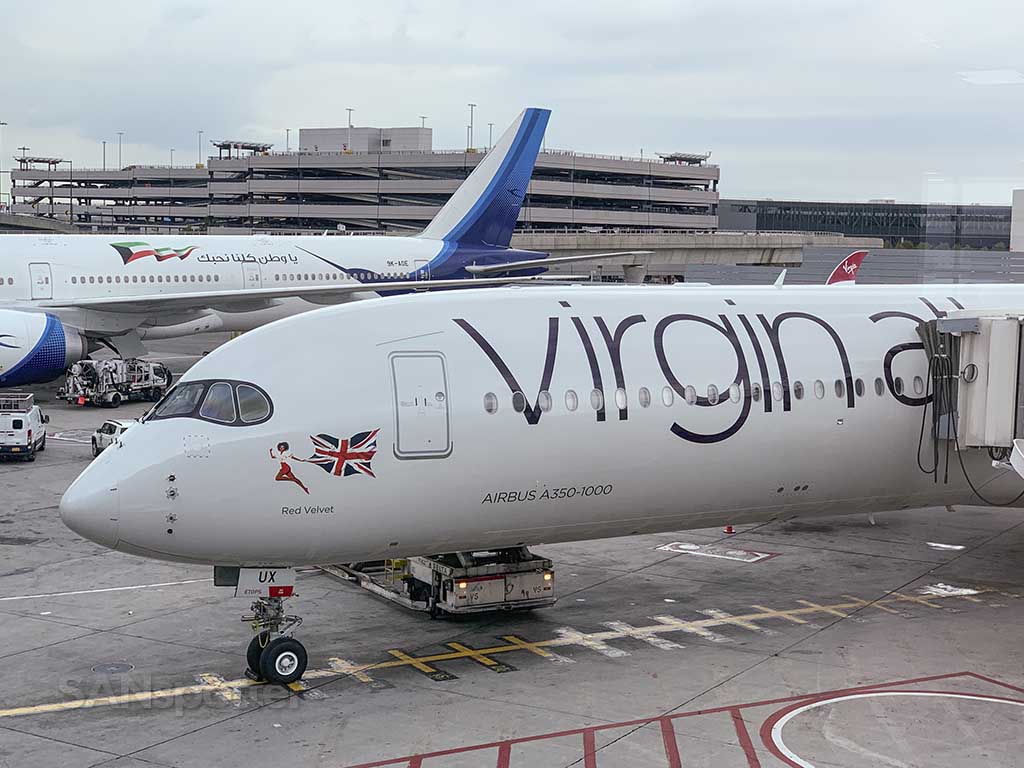 The airline offered novel luxury services like in-flight entertainment and massages, paired with edgy catchphrases like, "BA [British Airways] doesn't give a shiatsu." Over time, more established airlines began offering similar amenities, and Virgin Atlantic started to tone down its flamboyance. But Virgin Atlantic still prides itself on its independence.
A brief history of British Airways
British Airways was founded in 1924 as Imperial Airways, the government's "chosen instrument of air travel." As an official government transportation provider, Imperial Airways initially offered limited service to destinations in Europe and selected English colonies. Eventually, Imperial Airways merged with British Airways Limited, itself a product of four merged private airlines.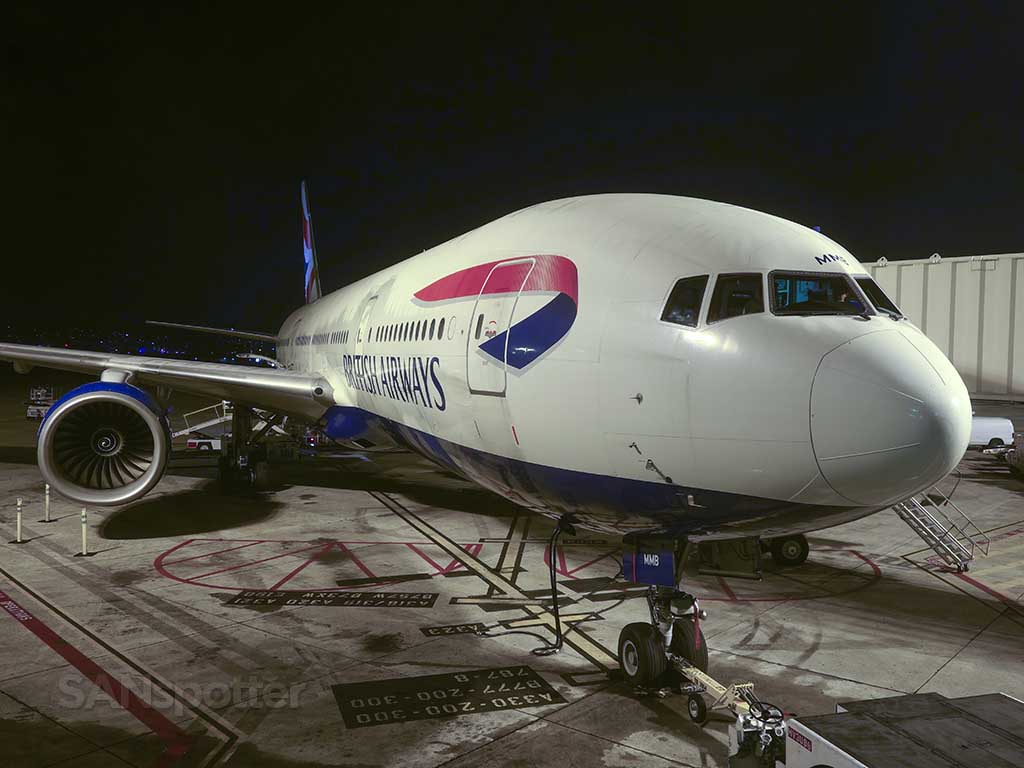 The British Airways that we know today is a combination of those early airlines and the successor government airlines that formed later. Virgin Atlantic prides itself on independence and flair, British Airways prides itself on its long, official legacy of government service and technological innovation.
Virgin Atlantic seats vs. British Airways seats
Virgin Atlantic and British Airways both offer various tiers of seating comfort and multiple levels of accommodation within Economy class. When comparing class to class, the airlines' seat widths are relatively similar. However, based on my experience, paying for a higher class with British Airways doesn't necessarily guarantee you a bigger seat.
Virgin Atlantic seats
Every Virgin Atlantic booking class offers unique amenities that elevate your travel experience. There are even different accommodation levels within the economy booking class, offering travelers a truly customized flight experience.
Upper Class
Booking a seat in Virgin Atlantic's Upper Class cabin guarantees you the most comfortable experience available with this airline. Every leather seat in this cabin lies flat for maximum comfort. Seats are 20-22 inches wide and offer over 6.5 feet of room to stretch out in.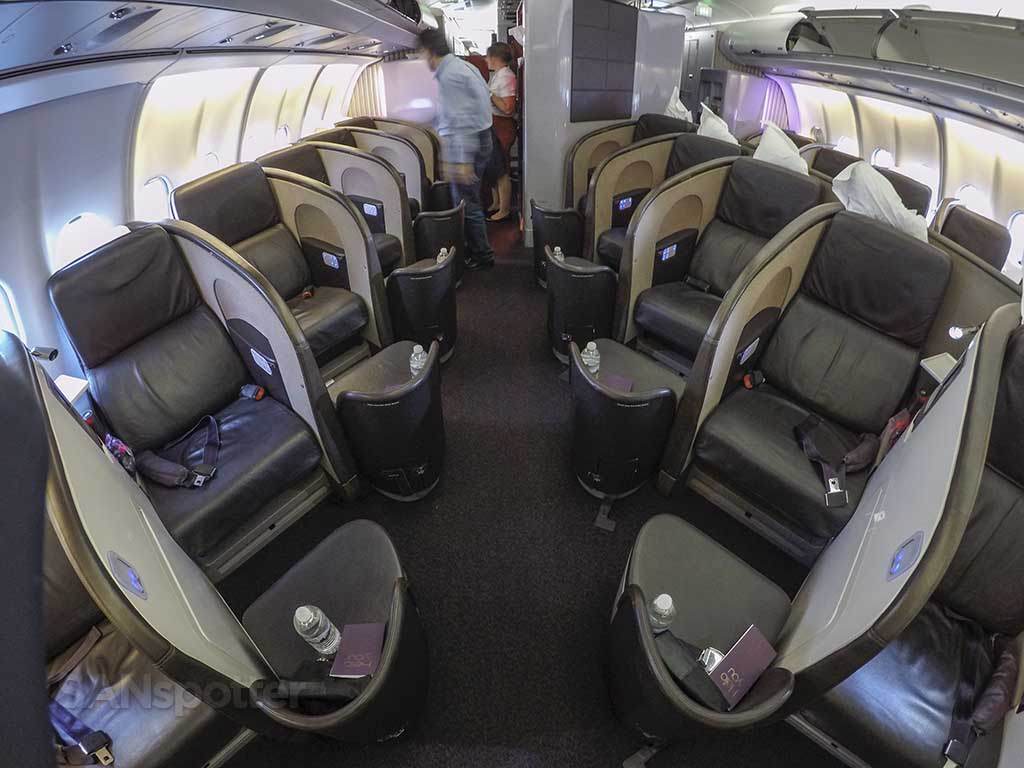 Premium Class
Virgin Atlantic's premium cabin features cozy leather seats with headrests and footrests. These seats have built-in power outlets to charge your gadgets and are more spacious than any of the seats in Economy. Seats are 18-21 inches wide; recline 7-8 inches, and pitch up to 38 inches.
Economy
The Virgin Atlantic Economy cabin has three tiers of service available – Economy Lite, Economy Classic, and Economy Delight. In addition to other amenities described below, the higher tiers come with extra wiggle room.
Economy Lite – seat width 17-17.4 inches; seat recline 4-6 inches; seat pitch up to 31 inches
Economy Classic – seat width 17-17.4 inches; seat recline 4-6 inches; seat pitch up to 31 inches
Economy Delight – seat width 17-17.4 inches; seat recline 4-6 inches; seat pitch up to 34 inches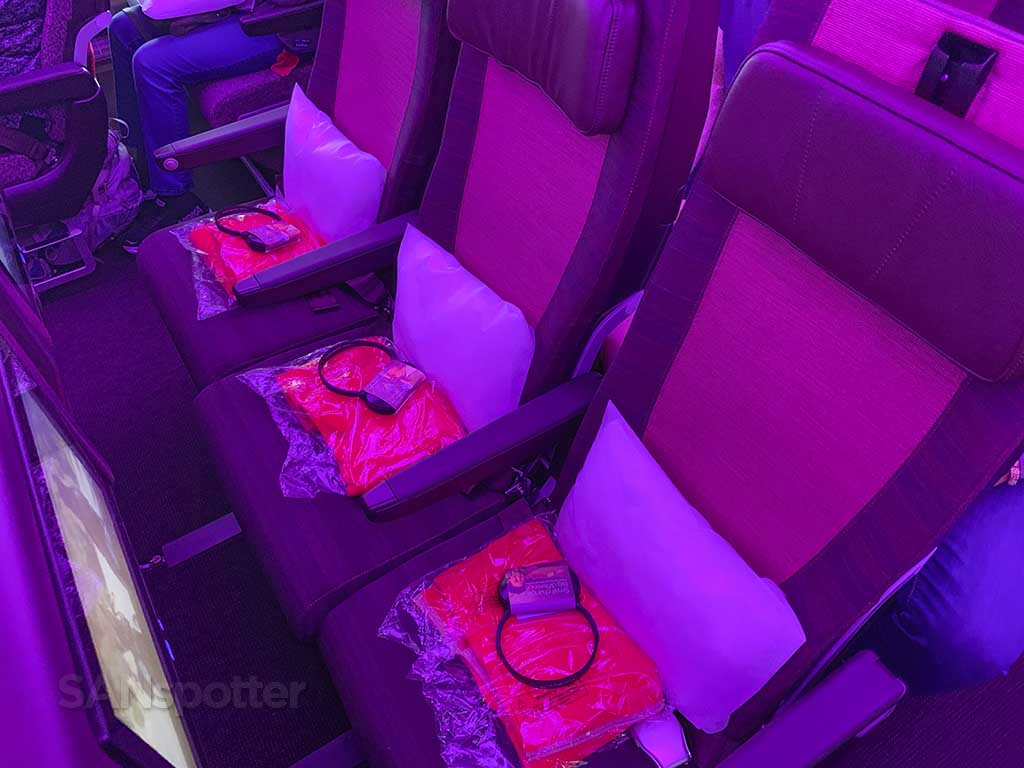 British Airways seats
British Airways offers multiple tiers of seating comfort on both long-haul and short-haul flights. Most seats, regardless of class, offer AC power, except for some short-haul economy seats.
First Class
First Class seats with British Airways are called "contoured individual units" for maximum comfort and privacy. These seats are 22 inches wide and lie flat for sleeping or lounging. All seats offer AC power outlets for charging laptops and other personal devices in flight.
Business Class
The size of Business Class seats depends on whether the flight is considered long-haul or short-haul. Long haul seats are 19-20.5 inches wide. All Business Class seats on long haul flights lie flat, with 72 inches of room. Short-haul flights have 18-inch-wide seats, and some lie flat, but not all. The ones that don't lie flat offer 30 inches of seat pitch. Regardless of the length of the flight, all seats in Business Class with British Airways are powered.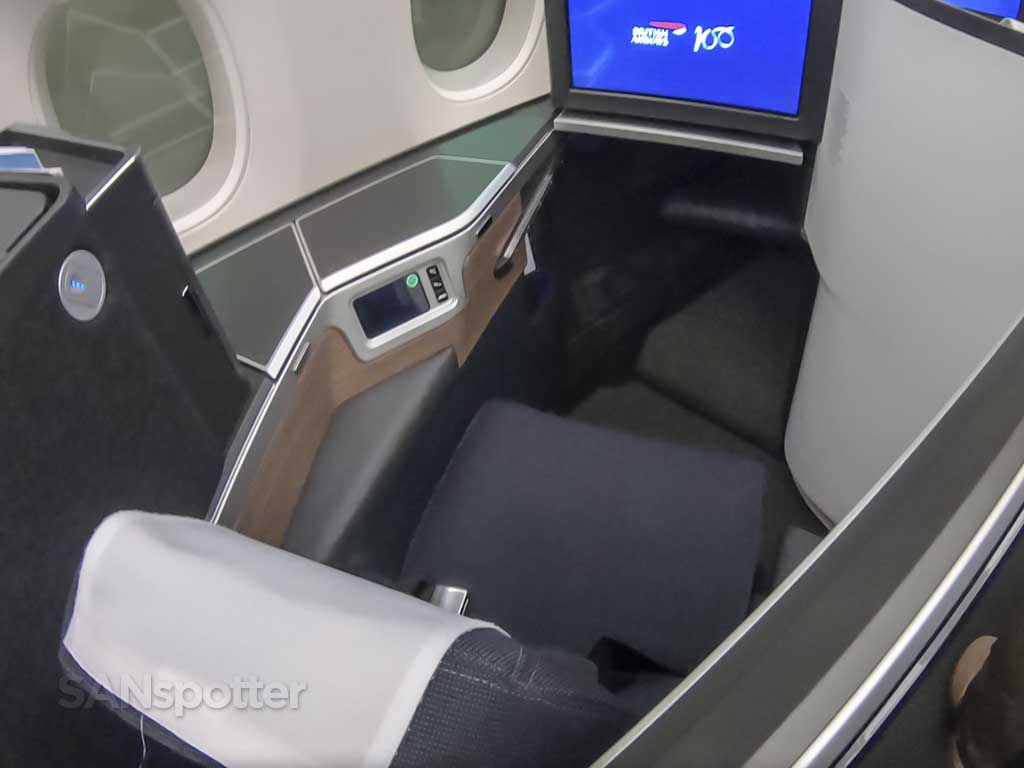 Premium Economy
Premium economy on long haul British Airways flights is nothing to shake a stick at. They've come a long way over the years, and they offer a competitive product featuring all the perks you'd expect in a premium economy seat. Things like: an adjustable foot rest, power ports, deep recline, and more.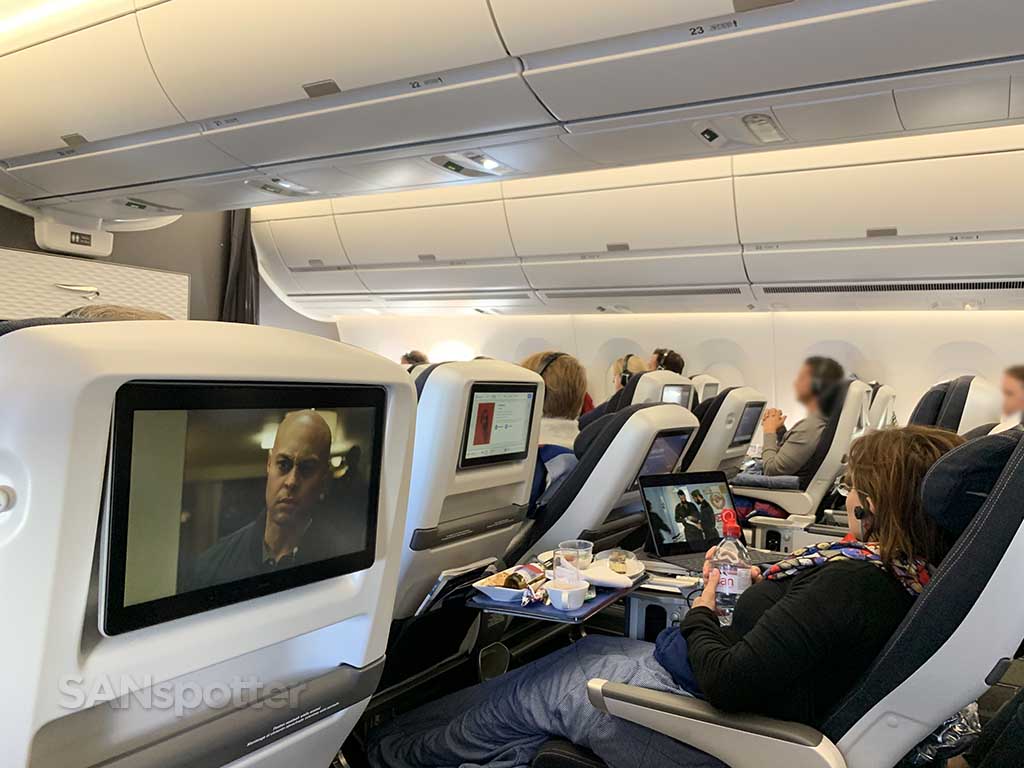 Economy
British Airways Economy Class seat size varies depending on the length of the flight.
Premium Economy (long haul) – seat width 18.5 inches; seat pitch up to 38 inches; some have AC power
Economy (long haul) – seat width 17-18 inches; seat pitch up to 31 inches; some have AC power
Economy (short-haul) – seat width 17-18 inches; seat pitch 29-31 inches; no power
Virgin Atlantic food vs. British Airways food
Both Virgin Atlantic and British Airways offer a variety of snack and meal options to their passengers. From complimentary snacks and beverages to full-service meals, you won't disembark hungry from either airline. They may not be entirely satisfied, but they won't be hungry.
Virgin Atlantic food
Virgin Atlantic offers a full meal service to all passengers on all flights – more than most other airlines, including British Airways. Special dietary considerations can be accommodated with advance notice.
Upper Class
Upper Class passengers with Virgin Atlantic can enjoy a full-service meal in the lounge at the airport before boarding (the Virgin Atlantic Clubhouse at LHR is fantastic, by the way). On the plane, you'll receive a welcome glass of champagne, hot and cold menu choices based on time of day and destination, and luxury table settings.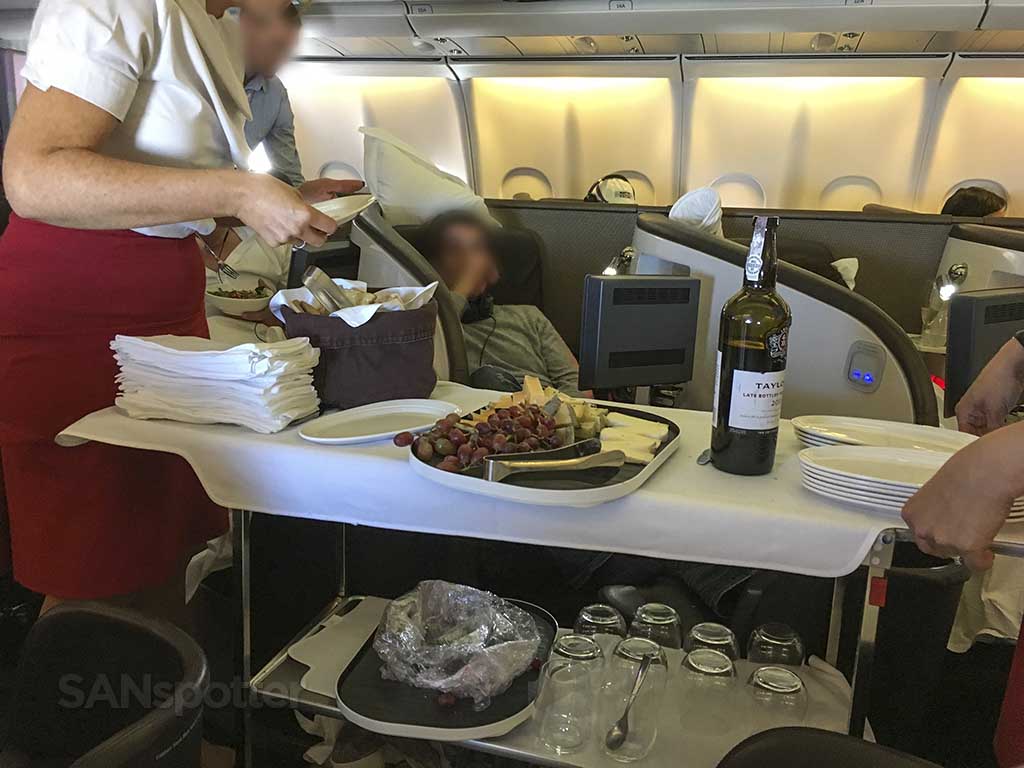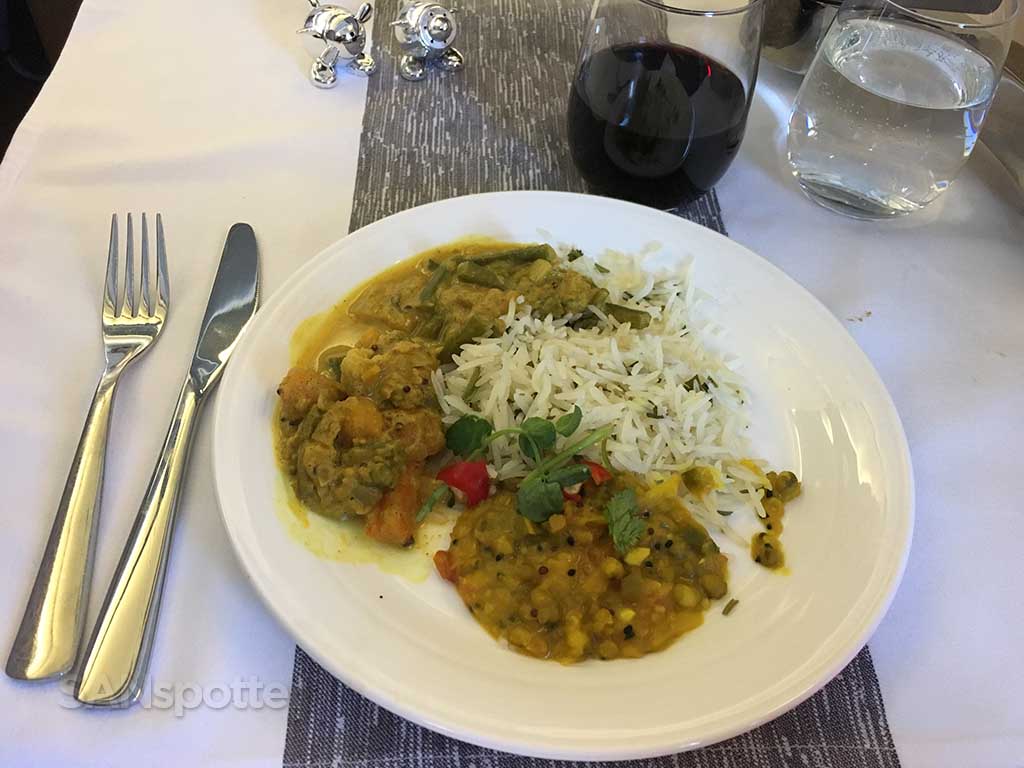 Premium Class
Passengers in Premium Class enjoy an upgraded meal service, which they call "a restaurant experience in the sky." In addition to one of three gourmet meal selections (one vegetarian), Virgin Atlantic Premium passengers can select snacks from the Wander Wall, a help-yourself snack station. Also included are a glass of bubbly upon boarding, wine with the in-flight meal, and after-dinner coffee and liqueur.
Economy
Economy passengers on Virgin Atlantic enjoy full meal service, with a choice of three entrees (one vegetarian) and red or white wine with dinner. Meals also include pudding, cheese, and biscuits. Snacks, soft drinks, and alcoholic beverages are available to Economy passengers throughout the flight, as well.
It should be noted, however, that I've found Virgin Atlantic economy class food to be nothing short of terrible. Portions are small, and it's not very tasty. You have been warned.
British Airways food
British Airways offers various food options to all of its passengers, though Economy Class passengers may have to pay for a la carte menu items beyond traditional airplane snack fare. Passengers may request special dietary accommodations in advance of their flight, including vegan, non-allergenic, and gluten-intolerant.
First Class
First Class service on British Airways flights offers all the pleasures of a meal service, served as you like it throughout the flight. Their a la carte menu allows you to select dishes to be served on-demand, plus snacks, beverages, and even cocktails throughout the flight.
Business Class
Business Class passengers enjoy a full meal, with expanded options available on longer flights.
Short-haul – Business class flights feature a full meal service for breakfast, lunch, afternoon tea, or dinner.
Long haul – British Airways Business Class flights offer expanded meals, including starters, desserts, cheese, and tea on select flights. When it's not mealtime, passengers are provided snacks, hot and cold beverages, and alcoholic drinks.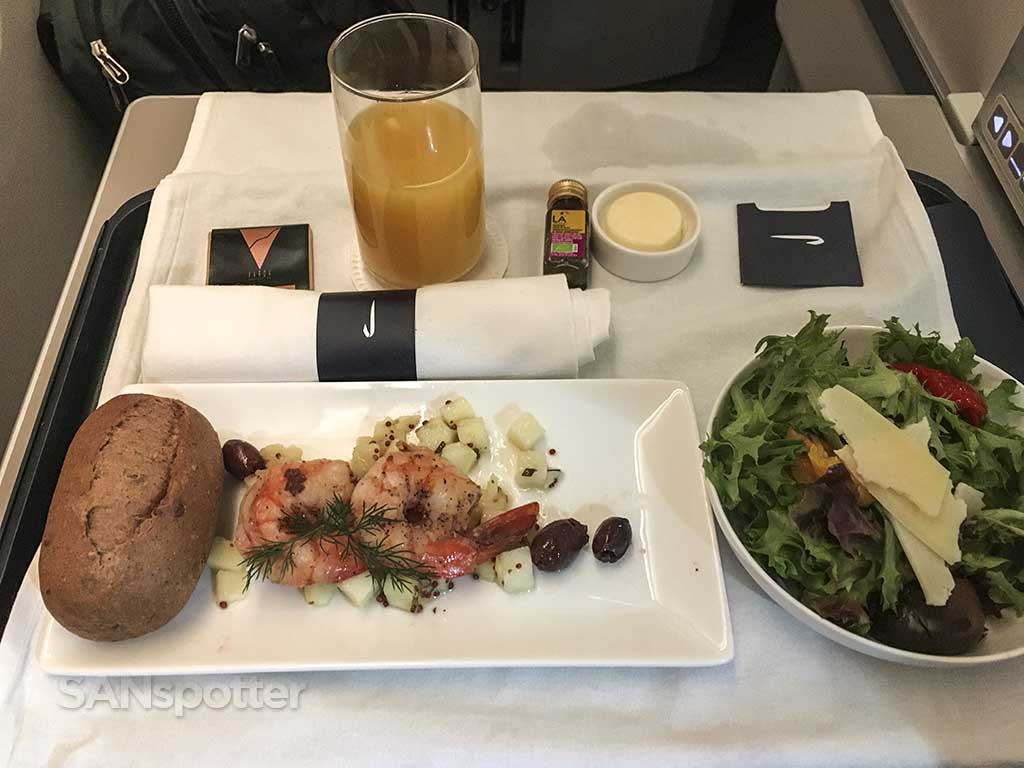 Premium Economy
Believe it or not, I've had better food in British Airways premium economy recently more than I have in business class. The food you'll get in premium economy is a mix of what the experience is like in both economy and business class. You'll get business class food quality, but it'll be served on a single tray just as it is in economy.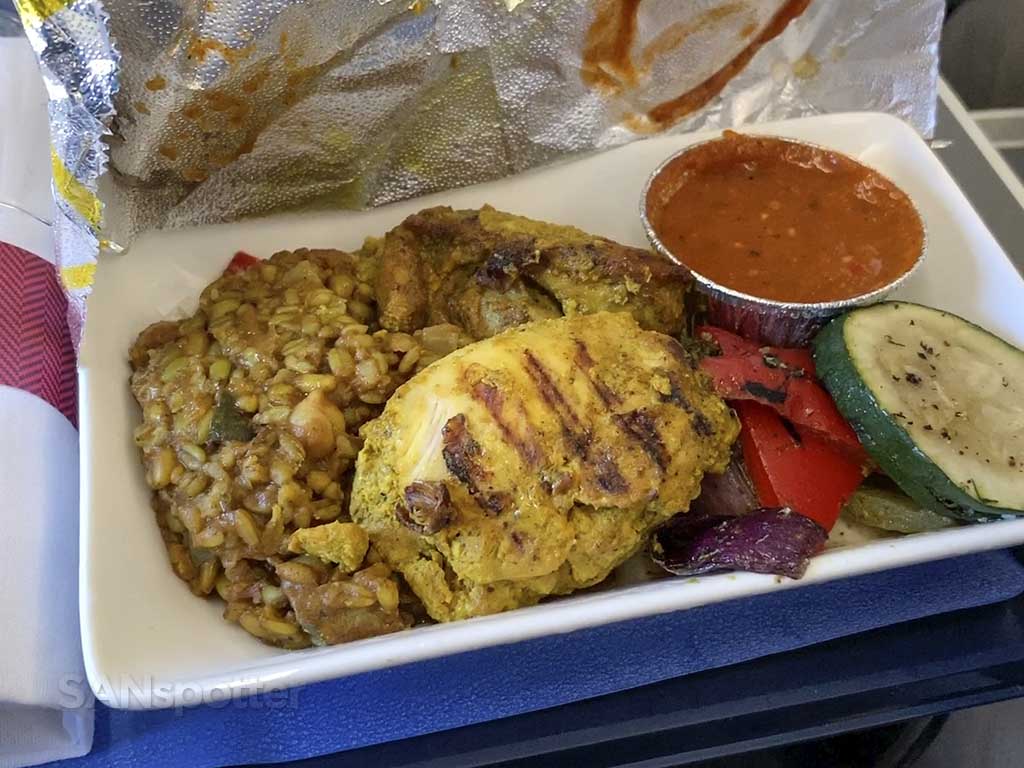 Economy
British Airways Economy passengers can enjoy snacks, beverages, an a la carte cafe menu, or meal service, depending on the length of the flight.
Short-haul – British Airways offers its short-haul Economy passengers a complimentary bottle of water and snack in-flight. For more filling options, passengers can take advantage of the SpeedBird Cafe service. This service offers snacks, sandwiches, beverages, and combos available for pre-purchase and delivered to passengers' seats.
Long Haul – passengers enjoy at least one full meal with starter and dessert, beverages, snacks between meals, and a second complete meal on longer flights. Premium Economy passengers on long haul flights get the same meal options, plus a glass of sparkling wine after take-off and additional beverages throughout the flight.
Comparing Virgin Atlantic and British Airways in-flight entertainment
Regardless of booking class, all passengers can enjoy a wide variety of in-flight entertainment on all Virgin Atlantic and British Airways flights. From television to movies to music, there's a vast selection of entertainment options for child and adult passengers of both airlines.
For the record, I have found the in-flight entertainment onboard both British Airways and Virgin Atlantic to be quite good. Especially on newer aircraft.
Virgin Atlantic in-flight entertainment
Virgin Atlantic offers its passengers a curated selection of hit movies and bingeable television series to enjoy in the air. There's also a selection of music from a wide variety of genres, plus specially considered entertainment items for kids. Whether passengers are in the mood to party or wind down to sleep, there won't be a moment of unwanted boredom.
British Airways in-flight entertainment
Before boarding, British Airways passengers can browse the airline's own High Life travel magazine and even pre-select items for purchase from the High Life Shop to be delivered to their seats when they board. Once in the air, you can choose from a variety of newspapers and magazines in multiple languages, as well as TV, movies, and music programming for adults and children alike.
Comparing the Virgin Atlantic and British Airways frequent flyer programs
Despite all the differences between the two airlines, the Virgin Atlantic Flying Club and British Airways Executive Club are remarkably similar programs. Earning, redeeming, and selection of rewards are broadly similar, with some subtle differences between the two.
Virgin Atlantic Flying Club
The Virgin Atlantic Flying Club allows members to earn points from flights and other travel experiences. Points are redeemable on rewards such as chauffeur service, free and reduced-price flights, spa services, and other partner programs.
Flying Club members will also earn points toward Virgin Atlantic Flying Club tiers, which offer additional benefits to members as their membership tier increases. Members earn more points per flight at higher levels and get bonuses like free seat assignment, extra luggage, and Clubhouse access.
Benefits over British Airways:
Earning points is more straightforward than the British Airways frequent flyer program – no outside spending necessary.
Measurable benefits for each membership tier climbed.
British Airways Executive Club
The British Airways Executive Club allows passengers to earn points called Avios on flights, hotel stays, and car rentals with certain British Airways partners, which can be spent on flights and flight upgrades. These points can be pooled with up to five other members of the member's household for more rewards.
As Executive Club members earn and spend Avios, they also earn Tier Points toward higher tiers of Executive Club membership. Higher tiers offer more significant benefits, including priority boarding, lounge access, and cabin upgrade vouchers.
Benefits over Virgin Atlantic:
Household sharing of Avios means you can earn and spend rewards as a family.
Avios only expire after years of inactivity, so there's no rush to spend.
Comparing the Virgin Atlantic and British Airways route networks
In terms of destinations, comparing Virgin Atlantic vs. British Airways couldn't be more different. Virgin Atlantic's independence and unique atmosphere comes at a cost, as they serve only a fraction of the destinations reached by British Airways.
Virgin Atlantic route network
Virgin Atlantic offers a much more limited route network as compared to British Airways. Virgin's routes extend to major cities in the U.S. and tropical vacation destinations in South and Central America, with a few destinations in Africa, Asia, and the Middle East. Passengers can connect with other Virgin partners to reach additional destinations.
British Airways
British Airways operates a worldwide network of destinations and hubs, ensuring that passengers can get to wherever they want to be (when they need to be there). With routes traveling to six continents, the British Airways route network covers nearly every corner of the globe.
The best way to compare the British Airways route network to the Virgin Atlantic route network is to say this: British Airways is a global business airline, while Virgin Atlantic is more of a leisure airline.
Why would you choose Virgin Atlantic over British Airways (or vise versa)?
Depending on whether you prioritize having a variety of destinations, or an extensive selection of snacks and entertainment, here's why you might choose Virgin Atlantic over British Airways (or the other way around):
Choose Virgin Atlantic if:
You care more about a stylish and hip experience rather than something more traditional (and arguably higher class, depending on the class of service that you are flying).
You want to fly on something other than a Boeing 777 every now and then. The Virgin Atlantic fleet is very diverse.
You typically fly the same routes.
You want a better lounge experience at the airport. FYI, virgin Atlantic Clubhouses are phenomenal.
You want an experience to remember. To be honest, it would be hard for me to remember my past British Airways experiences if I didn't write airline reviews for a living.  However, thanks to all that hot pink mood lighting and ultra hip vibes, all of my Virgin Atlantic experiences have been etched into my brain permanently.
Choose British Airways if:
You value industry experience over perks.
You enjoy the traditional airline in-flight experience.
You want access to the Oneworld Alliance and all of the benefits that come with it.
You want an airline with more flight options. British Airways is a much bigger airline than Virgin Atlantic (which is very important for business travelers).
You fly American Airlines a lot. FYI, American Airlines and British Airways work very well together, and it's easy to earn points and status on both. If that sounds appealing, be sure to check out my American Airlines vs British Airways comparison to find out more…