Flying British Airways premium economy (World Traveler Plus) has been a long time goal of mine, and I've been scouring the interwebs for years trying to find a cost-effective opportunity to make it happen – which isn't easy on BA.
Long story short, I finally stumbled across a great deal on their brand new A350 (BA017), and I jumped on it as fast as I could. So – for the second time in three weeks, here we go with another SANspotter review of a flight departing London for parts unknown.
Well, the place I'm headed isn't exactly uncharted territory or anything, but I like the way that sounds so I'm not going back and editing it. Sorry.
BA107
London, England (LHR) – Dubai, UAE (DXB)
Wednesday, September 18, 2019
Aircraft: A350-1041
Registration: G-XWBA
Duration: 6 hours 18 minutes
Seat: 24A (World Traveler Plus / premium economy)

The video
Since I'm still a bit behind on my written reviews, chances are pretty good that you've already seen the video I created for BA107. Well, only if you aren't royally annoyed by my editing style and quit watching my videos long ago that is.
The music in this video comes from Epidemic Sound, a service I recommend for YouTubers of all genres. If you want to learn more, I'd recommend reading the full review I wrote about it several months ago. I've listed out all the pros and cons, and I hope it'll help you make an informed decision about whether or not it's a service that's right for you!
Arriving at LHR for my first ever British Airways premium economy experience
So yeah. I'm in London again! Terminal 5 at LHR to be exact, and I'm just 2 hours away from checking out the new British Airways A350 on a 6 and a half hour flight down to Dubai.
Today I'm flying in world traveler plus, which, is the fancy name for the British Airways premium economy product.
And yes. I spent the entirety of my pre-flight time trying to learning how to say that with a thick British accent. And no, it didn't go well, so that's why you didn't get to hear it in the video.
Inside Terminal 5 at Heathrow Airport
Terminal 5 here at LHR is incredibly impressive with it's glass architecture and high ceilings. It's also slightly annoying because of how crowded and loud it can be. There are very few places to find peace and quiet in the main building.
Of all the times I've flown in and out of London over the years, I do believe this is the only time I've done it under clear blue skies. It was perfect weather for plane spotting.
Boarding BA107 to Dubai
Passengers holding a World Traveler Plus boarding pass get to board in group 3. A somewhat awkward group number teetering right on the edge between "spectacularly special" and "nauseatingly normal".
However, once they finished boarding groups 1 and 2, it seemed as if half the plane was loaded and I wasn't feeling special anymore. Story of my life really.
Can I just say that gate C61 here at LHR is the longest in the world? It sure felt like it.
British Airways premium economy: first impressions
It's important to keep in mind that my only two British Airways experiences up until this point have been in Club World (business class) on both the 777-200 and 747-400. World Traveler Plus was a completely new concept for me at this exact moment.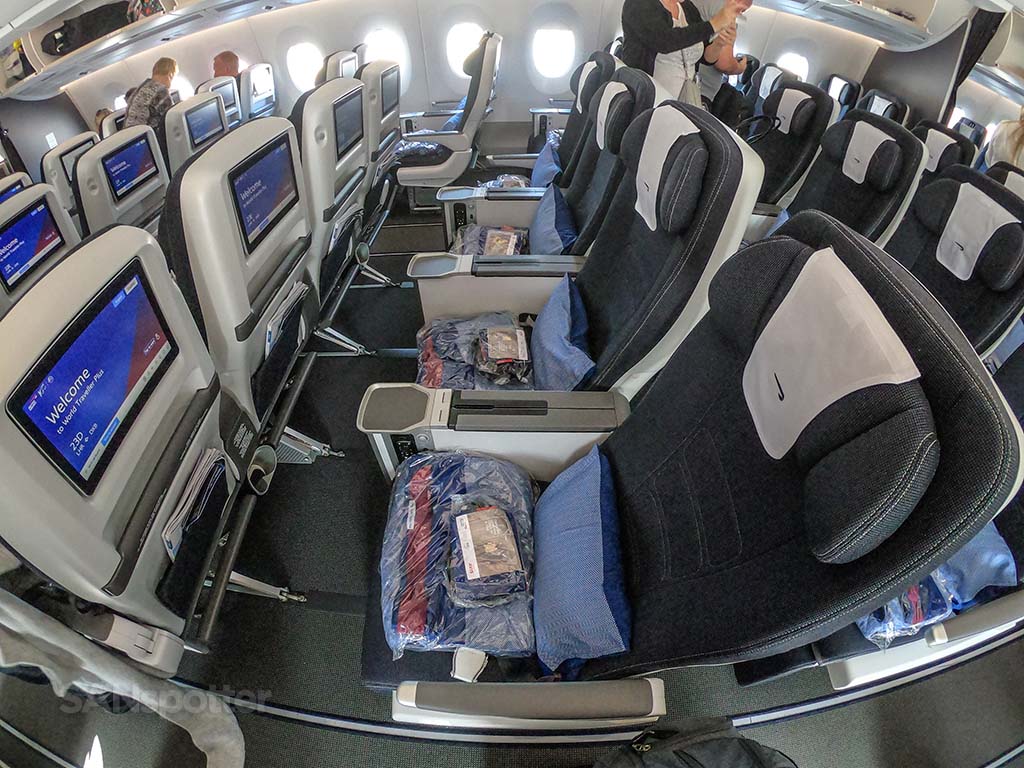 If you've ever wondered what kind of amenities you get in World Traveler Plus here on British Airways (more particularly for BA107), here it is packaged in one compact (and convenient) bundle:
It's worth noting that noise cancelling headphones aren't always a guarantee when flying long haul premium economy these days (for example, I only got cheap ear buds when I flew Lufthansa long haul premium economy). It's nice to see British Airways being one of the airlines that provides them.
Overall I was quite impressed with the look of World Traveler Plus here on the A350. Colors are a bit muted in typical British Airways style, and pretty much the polar opposite of the visceral slap in the face I got when stepping onboard the Virgin Atlantic A350-1000.
The cabin crew came by with menus just as I was bent over filming the recliner button of my seat, which was an awkward moment. Even more awkward, in fact, than trying to open the menu with one hand. Graceful and suave I am not.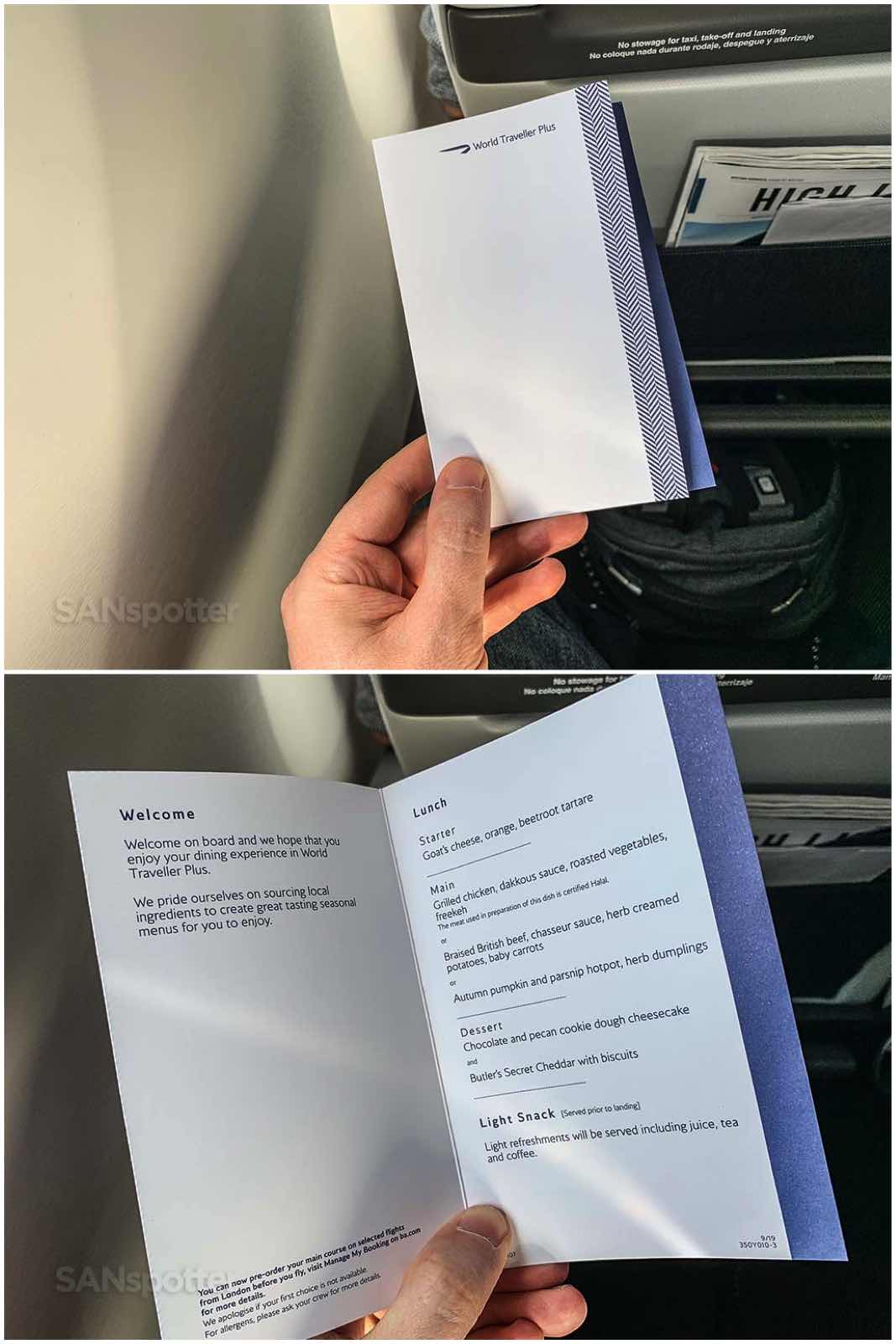 Good news and bad news just before departure
Not unexpectedly, the captain had good news and bad news for us as we were pushing off the gate.
The good news: BA107 is ready for departure and we're pushing off the gate now.
The bad news: We're gonna go sit in the taxiway for 45 minutes to wait for an open departure slot. I'll spare you any footage of that and keep this part as brief as possible.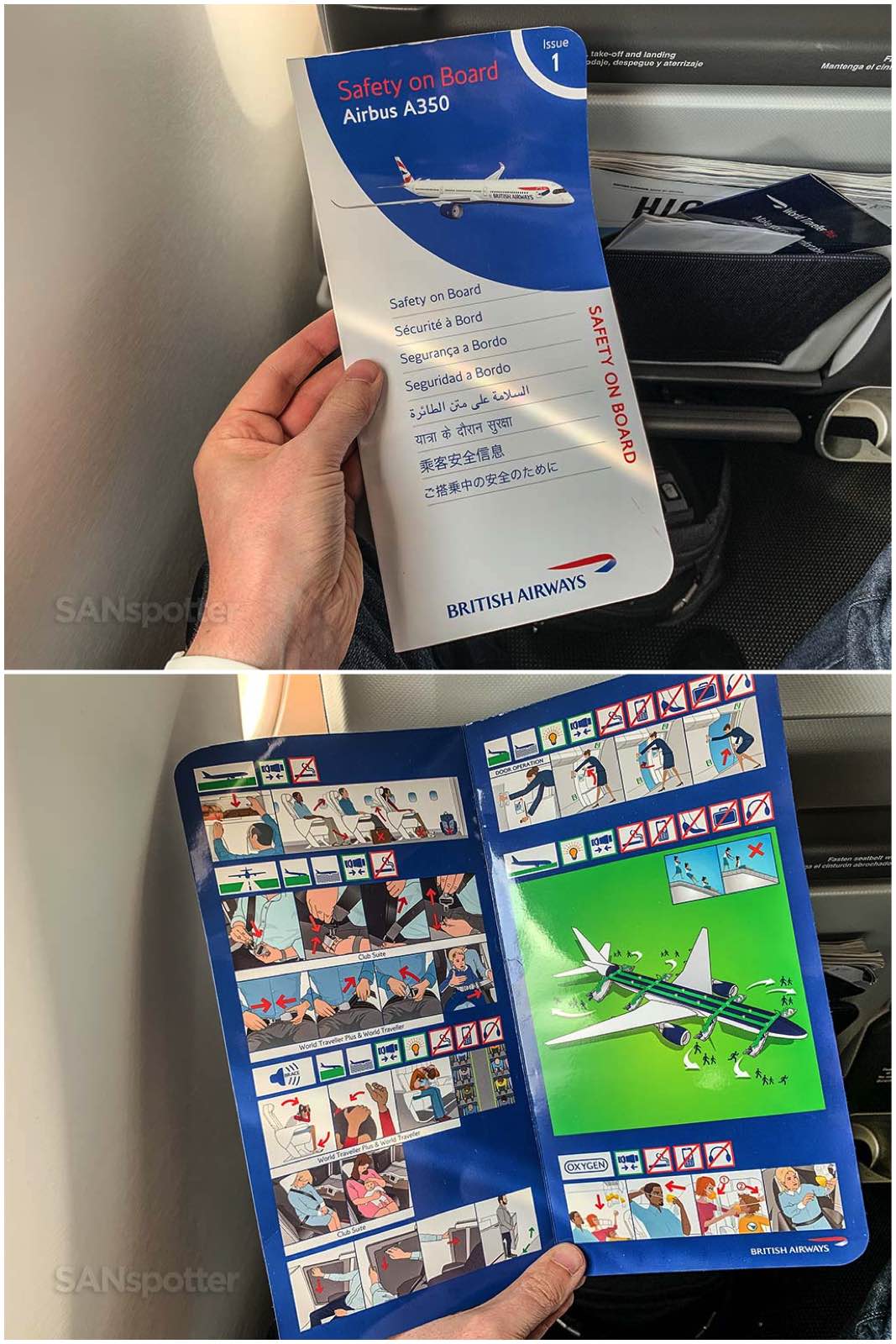 Thankfully that 45 minute wait was whittled down to just 20 minutes, and I couldn't help but wonder how the captain was able to negotiate that. No matter how he did it, it earned a coveted double fist bump from me.
What's the cabin service like?
Since I was fully expecting food (and lots of it) to be coming soon, I figured now was as good opportunity to peck at the video entertainment system. As you can see (below), it's a really clean looking user interface. I liked having the flight information right on the main screen, which can easily be dismissed to get into the movie and tv catalog.
Ok. You wanna know what my biggest gripe bout these World Traveler Plus seats are? It's the USB and electrical outlets located in the darkness down in between the seats (remember that upside down pic I showed earlier?).
Since I'm complaining about stuff, I might as well voice my displeasure about the sour cream and chive pretzels they tossed at us. It wasn't really what I was in the mood for.
Oops. I was actually so excited to be on the A350 (and BA107) that I completely forgot to take the amenity kit out of the package earlier. It's not like there's much to show anyway, since it was a typical amenity kit fit filled with the usual stuff that I always give away to friends and family.
The first meal service
It's been a while since I've flown a premium airline product, so it's not hard to understand why I was feeling especially…special….as I peeled back the cover of my meal.
My initial impression? I thought it looked really good. And the fact that it was served on *real* dish ware that klinked and clacked whenever I touched it with the fork was a huge plus.
Fast forward 30 minutes, and I've got to say that was easily one of the best airline meals I've had in a good long time. I'm just so glad that the person in front of me was respectful enough not to fully recline as I was eating.
Stuff that happened before the next meal service
Is there nothing more amazing than flying off into the sunset towards a place that's *nothing* like your own culture back home? Flight BA107 is a special one indeed.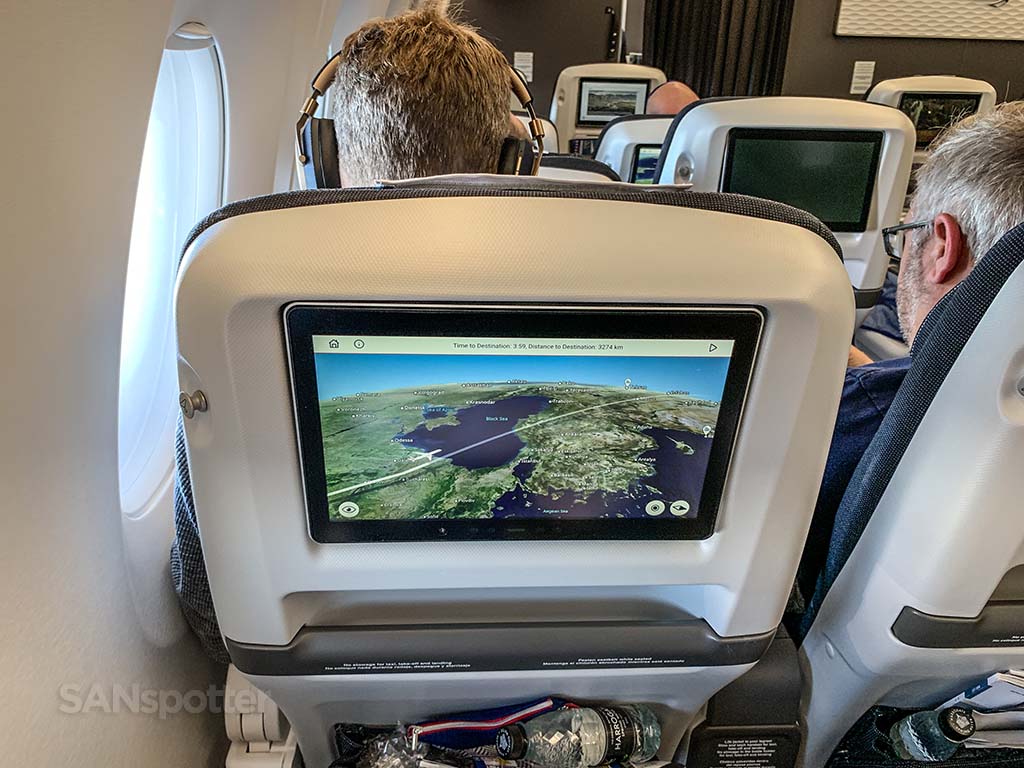 Since I couldn't think of anything witty and creative to do in the loo this time (eeew), I'd like to take this opportunity to five you my thoughts on the British Airways A350 economy class product:
The second meal service
Not that I'm complaining or anything, but what is it with pizza being the default pre-landing meal served on all flights to and from the Middle East? BA107 is no different from the rest.
As I ripped open the cover, I couldn't help but to have flashbacks to the pizza they used to serve in elementary school. Isn't it funny how (after all these years) that disgusting elementary school pizza is still how I guage the quality of all pizza today?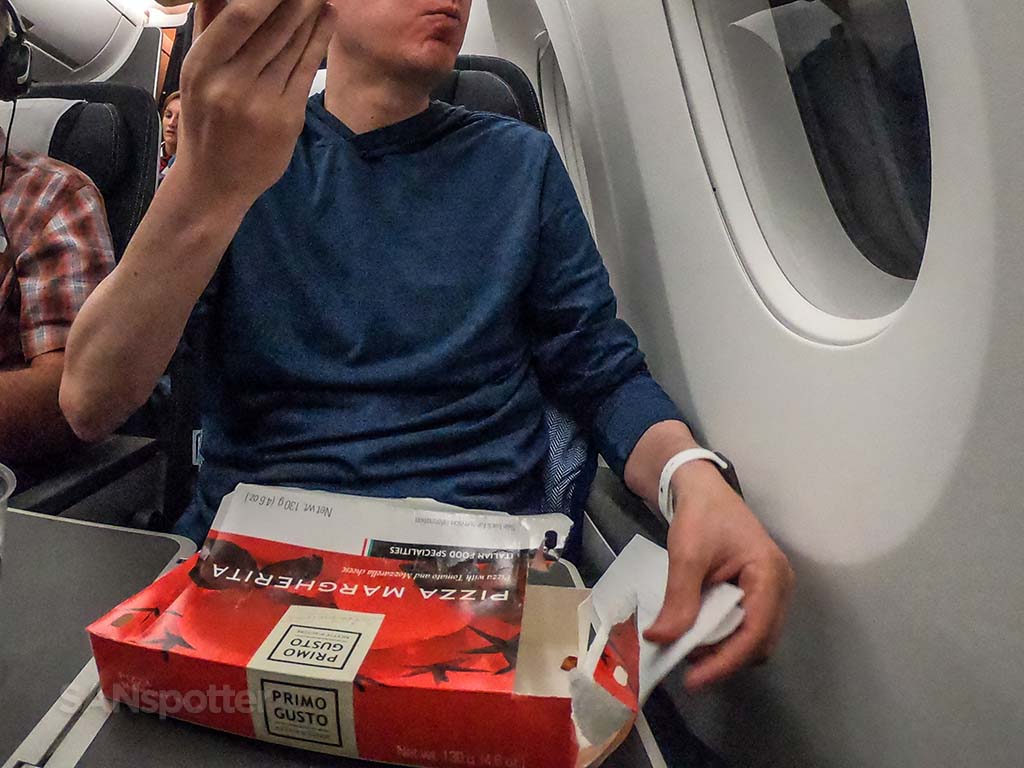 The descent and landing into Dubai
Less than an hour to go now, and…would it kill them to dim the cabin lights a bit? Oh well.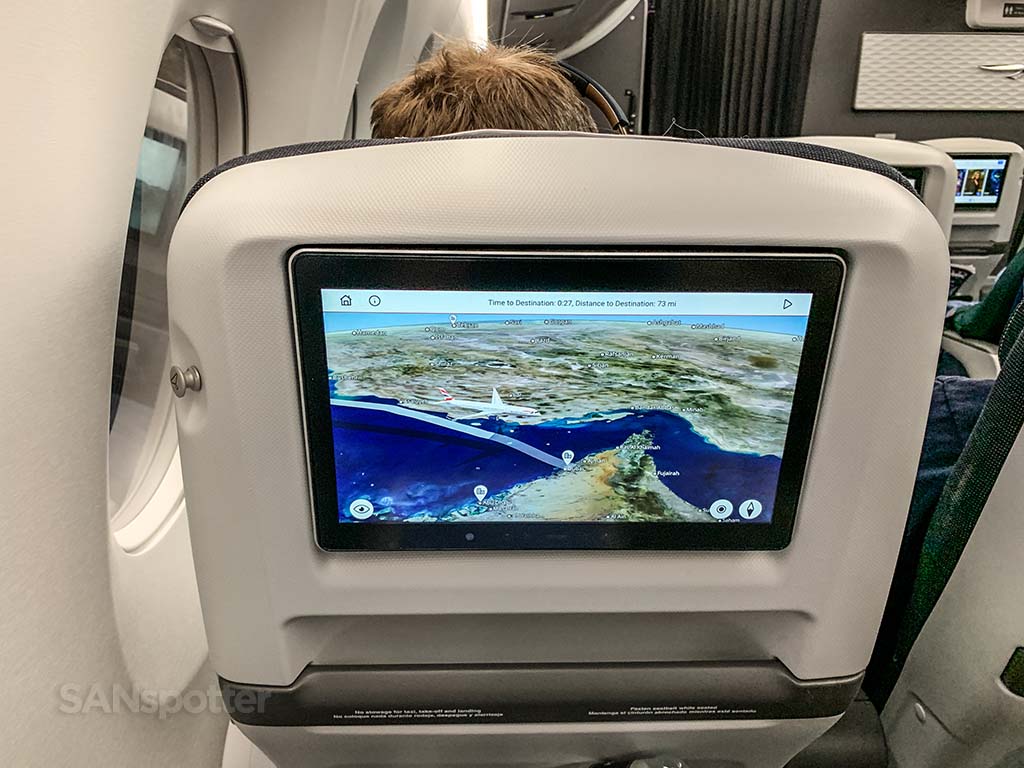 The glaring lights didn't exactly ruin this World Traveler Plus experience for me, though I was hoping to spend the second half of BA107 bathing in deep blue British Airways mood lighting.
Our approach and landing into Dubai would have been a lot more amazing if it were daytime still, but it still felt really good to see this place once again. DXB is easily one of the most amazing airports in all the world, and it was unfortunate that I couldn't see any of it when we arrived.
There is some brief footage of our arrival in the video, so do be sure to check that out if you're feeling like you just gotta see it.
Thanks for coming along with me on this British Airways A350 (BA107) down to Dubai tonight, and I hope I've given you a pretty good sense of what this premium economy product is all about.
British Airways A350-1000 premium economy FAQs:
Since the British Airways A350 is such a hot new product at the moment, I thought that it might be beneficial to end this with a FAQ about this premium economy product.
Is it worth paying for premium economy over regular economy?
Yes – especially on any flight over 4 hours since you'll get a full meal served at a relaxed and professional pace. It's also enough time to fully enjoy the added recline of these seats. Which leads me directly to the next question:
Do British Airways premium economy seats on the A350 recline more than standard economy seats?
Yes. Quite a bit more actually. While not completely lie-flat (or angle-flat), they will recline far enough to be a massive nuisance to the person behind you if they are eating or working.
Is there direct aisle access from every seat in the premium economy cabin?
No. The World Traveler Plus configuration on the A350-1000 is 2-4-2, and seat pitch isn't generous enough to be able to access the aisle from an interior seat. Those seated at the window or in the middle of the center section will have to ask the person next to them to move. However, I suppose you could crawl over that person if you're really good at talking your way out of awkward situations.
What's it like to sleep in British Airways premium economy?
For short(ish) flights such as London to Dubai, I'd say that it's perfect for sleeping. For longer flights (where you'd want a full nights sleep after the meal service), the limited recline of these seats (compared to business class) will make deep sleep difficult. Note, however, that the blankets and pillows they provide are of very good quality.
Is the food in premium economy better than business class?
In my personal experience, yes. I've flown BA business class (Club World) several times (most recently from San Diego to London), and the food I got here in premium economy / World Traveler Plus was far better in my opinion. I do need to emphasize that my latest Club World experience was several years ago, so maybe things have changed since then. All I know is that I was extremely impressed with the first meal service on this particular flight in regards to both quality and quantity.
How do these premium economy seats compare to Virgin Atlantic premium economy seats?
As I mentioned in my British Airways vs Virgin Atlantic comparison, I slightly prefer the Virgin Atlantic premium economy seat because of how stylish it is. The BA premium economy seat is perfectly fine, but good looks are important! Functionally, both seats are the same.