This JetBlue vs American comparison couldn't have come at a better time. I'm right in the middle of planning a trip to visit my parents in Florida, and I've narrowed it down to either JetBlue or American Airlines.
There are definitely pros and cons to each, and maybe (by writing this all out), I'll be able to make an informed decision. Maybe. I Hope.
JetBlue vs American: A Brief Summary of all the Similarities and Differences
If you're deciding between American Airlines and JetBlue for your next trip (like I am at this very moment), it's probably important to know the differences between them. Some may seem obvious – like airline size and route availability – but others are less well known. Here are some of the basic similarities and differences between the two:
Similarities
They both compete head-to-head on the ultra-premium transcontinental market between New York and Los Angeles/San Francisco. American Airlines does this with a really good first class product on the A321T, and JetBlue does it with Mint (business class) on the A321.
Both fly domestically and internationally (although American is much more global in their reach)
Both airlines have hubs at JFK airport in New York
Although I wouldn't qualify this as a direct similarity, it's important to note that both JetBlue and American are getting rather tightly intertwined with generous codeshare agreements. They definitely understand how much added value they can provide by working together.
Differences
American Airlines is a global airline serving destinations all over the globe. JetBlue is primarily based in the United States, although they do fly to London, the Caribbean, and Canada.
American Airlines has a varied fleet of over 800 aircraft consisting of all types and sizes. JetBlue only has three aircraft in it's fleet: the Airbus A320 series, the Airbus A220, and the E190.
American Airlines offers first class on nearly every flight. JetBlue's premium product is only available on select flights (mostly transcontinental and international routes).
JetBlue is technically a low-cost carrier
JetBlue offers unlimited snacks and cheaper meal options
American has more in-flight entertainment options
For the record, American and JetBlue are very different types of airlines. American is a more established carrier catering to global business travelers, while JetBlue has a better hold on the domestic leisure market. It's fairly simple to highlight the differences (unlike how it was in my American Airlines vs United comparison).
An Oversimplified History of Both Airlines
American Airlines and JetBlue have a surprising amount in common. While American is much older than JetBlue, both airlines are at the top of their fields and have received prestigious awards. American is one the largest airlines in the world, while JetBlue ranks seventh in America.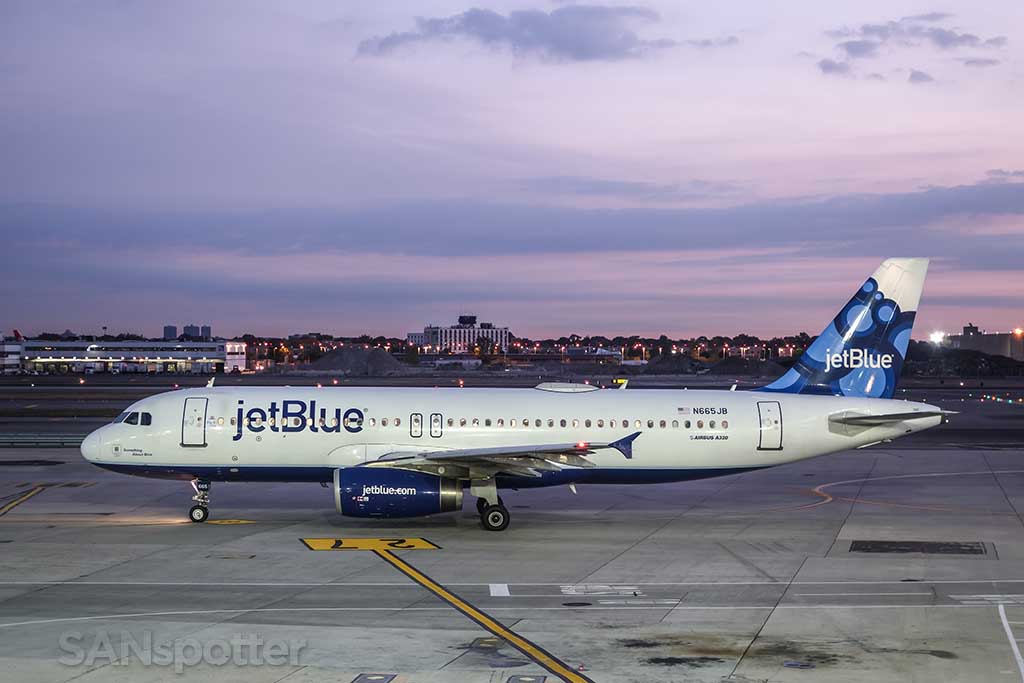 However, the airlines announced in 2020 that they would be working together. The new alliance works to create more JetBlue flights into the American northeast and expand existing flights for both airlines. Eventually, frequent flyer points and loyalty rewards will cross over for both airlines.
A Brief History of JetBlue
JetBlue is the seventh-largest airline in the United States and one of the primary low-cost airlines. Founded in 1999, they are a relatively young airline. JetBlue has many codeshare agreements, which are a way for smaller airlines to partner with larger ones and increase their route networks. The large number of codeshare agreements with other airlines is how they have been able to grow so fast.
While JetBlue is a newer airline, it is known for maintaining a reliable schedule (as well as it's speed of growth). From 2000 to 2010, it was one of the fastest-growing airlines in the industry and even worried potential investors. However, JetBlue continues to grow and recently moved its base of operations from New York to Los Angeles.
A Brief History of American Airlines
American Airlines was founded in 1926 as a mail carrier airline. After almost a decade of mail-carrying, the airline began to transition to passenger operations. It became the first commercial flight from Chicago to New York because of its pioneering use of the DC-3 airplane for most commercial flights.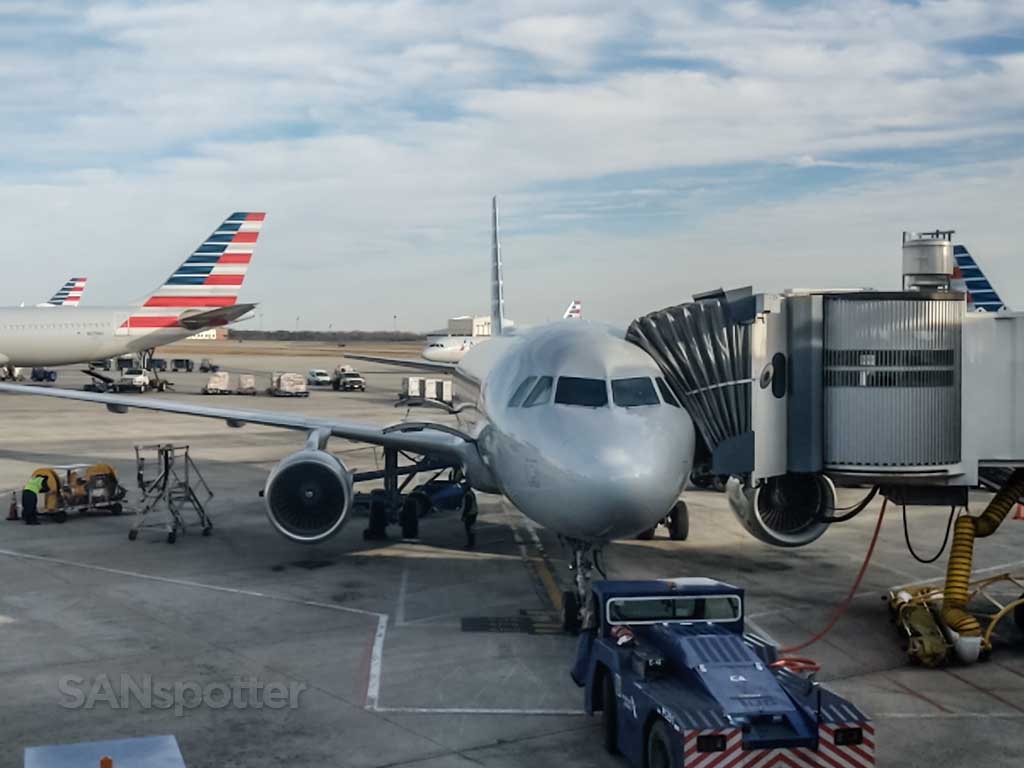 American Airlines has many "firsts" under their belt: first non-stop overseas commercial flight, first African American pilot hired, first airline loyalty program, and first stewardess education program. With almost a thousand commercial airplanes, American Airlines has the largest fleet in the world.
JetBlue Seats vs American Airlines Seats
An airline's history is fascinating, but when you're flying, what you want to know about is comfort. The seats are what will affect you as you travel and help you decide which airline to travel with. How do the seats on JetBlue and American compare?
JetBlue Seats
JetBlue economy seats are 17.8″ wide with a 34″ of leg room. The most significant amount of leg room of any American commercial airline, this added space allows for a bigger personal item (and more comfortable feet). The newest JetBlue aircraft have even wider seats with more legroom / distance between the seats. Avoid the older aircraft if you can.
First-class seats are better than economy seats, of course. JetBlue's first-class Mint seats are fully lie-flat and are separated individually from other seats.
In addition, JetBlue Mint customers can fly in individual suites, complete with a closing door and room for a guest. JetBlue seats are some of the most spacious in the industry, no matter where you sit.
American Airlines Seats
American Airlines' economy seats range up to 17.8″ wide, depending on which seat it is. They have 30″ foot space. They have headrests that fold out to accommodate napping. American Airlines has four different kinds of seats, with varying comfort levels:
Main Cabin (standard economy)
Main Cabin Extra
Preferred Seats
Elite Seats
To get a better seat (whether it has more legroom, is wider, or not a dreaded middle seat), having status with American Airlines pays off. Elite members get the first pick, so everyone else might not get the seat they want without having to pay more money for it. If it's even available to them at all.
In terms of what you can expect on long haul / international flights with American Airlines, it breaks down like this:
Economy seats are basically the same as the ones you'd get on domestic flights. Yes, there is a bit more leg room, and they have a bit more padding, but they are still very much economy seats.
The business class seats are fully lie-flat and comparable with the JetBlue Mint product
First class seats aren't all that better than the business class seats (IMHO) – you'll get slightly better food and more personalized service, but the seats themselves aren't worth the upgrade.
JetBlue food vs American Airlines Food
Most airlines offer a complimentary snack and drink, and these two are no exception (duh). However, the menu has a different price range for JetBlue and American, and the variety of snacks changes vastly between flights.
JetBlue Food
JetBlue's in-flight food options are varied. When it comes to the free snacks, you can pick from several different items (and there are quite a few to choose from). Snacks and drinks on JetBlue flights are unlimited, so you can get as many as you need for the entire duration of the flight.
Paid food is cheap as well – expect to pay $9 for a Snack Box. While they don't have the more substantial meals you may want on longer flights, JetBlue's food is less expensive than American Airlines. They cater to food allergies or sensitivities better than American as well (at least that's been my experience.
The food you'll get in business class (Mint) is some of the best food you'll ever eat on an airplane. And just as it happened in my JetBlue vs Delta comparison, JetBlue easily wins the premium food competition against American Airlines.
American Airlines Food
American Airlines' domestic flights usually offer passengers a choice between pretzels or cookies for free. They also have a selection of soft drinks or juices to choose from and a more extensive paid selection of alcoholic beverages or meals. The paid meals range from $9-$16 and are not offered on every flight.
However, most transcontinental flights come with a free meal and options for more paid food. They offer snacks several times throughout long flights.
As far as premium food goes on American Airlines, it's ok.
On shorter domestic flights under 2.5 hours, you'll usually get the choice of something light (like a sandwich or fruit and cheese platter).
On domestic flights longer than 2.5 hours, you'll get a full meal served in courses (which isn't as good as what you'll get in JetBlue Mint).
On long haul international flights, food in American Airlines business class and first class is pretty good. Expect a full meal service (from appetizers to desserts) – though I've never found it to be as good (or interesting) as what's served in JetBlue Mint.
Comparing JetBlue and American Airlines In-Flight Entertainment
Entertainment is another important aspect of flying. It is impossible for me to sit in an airplane for hours without doing anything, and some quality entertainment always makes the time go by faster. Both JetBlue and American Airlines offer various in-flight entertainment options, and they go about it in different ways.
JetBlue In-Flight Entertainment
Every one of JetBlue's seats has a video screen. You can stream DirectTV, Sirius XM radio, and a selection of movies. Some flights also offer access to Amazon Prime or another streaming service on your device. JetBlue also offers free Wi-Fi on all their flights – which I've always found to be insanely fast.
While you can stream on your phone during a JetBlue flight, some aircraft don't come with a built-in charger. If you are on a long flight, you might end up limited to the in-flight movies and tv options. However, newer aircraft offer a seatback touch screen with more movie options and channels than before, as well as a charging port.
American Airlines In-Flight Entertainment
American Airlines have moved past the days of seatback screens and offer various in-flight entertainment options streamed directly to your phone. You can watch tv, movies, or listen to music. They have even teamed up with Oprah's Book Club to provide free book downloads for the flight duration.
Wi-Fi on American Airlines is not complimentary, however. They will allow you to connect to their approved sites and entertainment options, but you won't be able to check email or social media during the flight unless you upgrade to a paid plan.
Comparing the JetBlue and American Frequent Flyer Programs
American Airlines is known for offering the first rewards program and pioneering frequent flyer miles. Their plan is extensive and covers several different levels of loyalty. JetBlue's regular flyer program is more straightforward but still offers perks for travelers who want to start racking up points towards free flights.
JetBlue TrueBlue
JetBlue has an extensive rewards program called TrueBlue. It's easy to sign up for and gives you two points for every dollar you spend on tickets – meaning that you will eventually be able to earn a free flight. A family can bundle their issues or make purchases at qualified JetBlue partners (such as Amazon).
Once a customer reaches 15,000 base flight points, they are eligible to join JetBlue Mosaic (the highest level of TrueBlue membership). This program's perks include:
more points per flight
free checked bags
no-fee cancellations
early boarding
complimentary alcoholic drinks on board
Members can also earn these rewards by using a JetBlue credit card.
American Airlines AAdvantage
Because American Airlines serves so many destinations, the opportunity for frequent flyer miles with the AAdvantage program is very high. Members earn points back on every flight and discount packages for vacations, hotels, car rentals, and cruises. Reward points can be achieved while flying with any of their partner airlines as well.
American Airlines is always offering a credit card of some kind as well, so you can earn points towards flights while buying things other than airline tickets. They have several different tiers of rewards, but all offer points back on dining, hotels, and credit card purchases. Perks include:
free checked bags
pre-boarding
mileage bonuses depending on the membership level
American Airlines vs JetBlue Route Networks
JetBlue and American Airlines both fly to most major American cities. However, beyond that, their route networks look vastly different. American has the advantage of almost 75 years of flying experience and the largest fleet globally – it's no wonder they have a more extensive route than the less-established JetBlue.
JetBlue Route Network
JetBlue flies out of most major American cities. The airline has five significant hubs and focus cities located in:
New York City
Los Angeles
Orlando
Washington-Dulles
Long Beach
They mostly fly throughout the southern and western United States and Central America, making them a popular choice for vacation destinations. JetBlue also has fewer flight options, making it harder to fly at certain times of the day.
JetBlue does offer limited international flights. In addition to Canada and the UK, they serve many destinations in Latin America. In its various partnerships with other airlines (including American Airlines), JetBlue can send its passengers through more cities and countries.
American Airlines Route Network
American Airlines has partnered with Oneworld to create one of the most extensive route networks in the world. They travel to over 55 countries and have ten significant hubs in the United States alone:
Charlotte
Chicago
Dallas
Los Angeles
Miami
New York – JFK
New York – LaGuardia
Philadelphia
Phoenix
Washington, D.C. – National
In the United States, American serves 95 different destinations. With their codeshare partners, that number is exponentially increased.
Because of its massive fleet, American Airlines can fly multiple planes on a single route. They offer several flights a day for their most popular destinations, which increases traveler flexibility.
This flight availability is a huge advantage for American Airlines when compared to JetBlue – when a customer needs to fly within a specific schedule, American can probably find them a flight.
Why Would You Choose JetBlue over American Airlines (Or Vise Versa?)
So – which is the better airline? American and JetBlue both have their advantages and disadvantages. Ultimately, it comes down to your individual needs – you should pick whichever airline best suits your budget, traveling needs, and flexibility.
Choose JetBlue If:
You want more legroom
You like the idea of unlimited snacks
You want free Wi-Fi
You fly coast-to-coast a lot and want the best domestic first class seat available (JetBlue Mint is really good)
You want live TV at every seat on every flight
Choose American Airlines If:
You want to comfort of knowing you're flying one of the largest airlines in the world (which is helpful when delays and cancellations occur, since they'll be able to reroute you relatively easily).
You want an airline with seamless integration into the Oneworld Alliance
You like the simplicity of flying one airline to nearly any major city in the world
You like the luxury of sitting in a lounge as part of your premium travel experience. As a reminder, JetBlue does not offer lounge access for its premium customers.
Which of these two airlines would I choose?
The bottom line is that I'm a really big fan of both JetBlue and American. Given the choice in most situations, I'd prefer to fly JetBlue if I could. Simply put, they feel a lot more casual and "niche" compared to the stale "mega-corp" vibe that American Airlines gives off. That may not be important to you , but it is to me.
Anyway, so about that trip to Florida I was planning: In the end (even though I have a preference for flying JetBlue), I chose American Airlines for this trip. Only because I found a very low fare in business class on a internationally configured 777-200 from Dallas to Miami.
Remember – I write airline reviews for a living, and I've got to go with the most interesting airline and route combinations I can find. Truth be told, is this blog didn't exist, there's a pretty good chance that I'll be flying JetBlue to visit mom and dad this time. I gotta do what I gotta do.