On paper, a Southwest vs JetBlue comparison seems like it would be a pretty easy one to make. After all, both airlines have extremely loyal cult followings, they both serve many of the same destinations, and they both give the big three mainline US carriers an equal amount of heartburn on a daily basis. However, it's a little more complicated than that.
Southwest vs JetBlue: a brief summary of all the similarities and differences
It's really easy to make the assumption that JetBlue and Southwest are more similar than they are different, but I had to do a lot of head scratching to try and prove that assumption correct. Once I started listing out all of the similarities and differences, it was clear that these two airlines are far more different than I assumed them to be.
Similarities
Both airlines operate a fleet of narrowbody aircraft exclusively
Both airlines operate similarly, in the sense that they utilize both the hub-and-spoke and point-to-point business models for their flight networks. They aren't limited to one way of doing things.
Differences
Southwest has a vast flight network covering a majority of the United States. JetBlue is focused primarily on the eastern half – although they do fly from coast to coast between key business markets.
Southwest operates an all-Boeing 737 fleet. JetBlue is an Airbus and Embraer operator currently operating the A220-300, A320, A321 (various models), and the Embraer 190.
JetBlue offers a premium seating option on some flights (mostly transcons). Southwest does not.
Unlike JetBlue, Southwest has an open seating policy (meaning that there are no seat reservations). You can sit anywhere you want as you board the plane.
Although both airlines serve international destinations in Mexico and the Caribbean, only JetBlue flies transatlantic to London.
An oversimplified history of both airlines
In terms of their age, both JetBlue and Southwest are considered babies in the airline industry. They haven't been around as long as the legacy US carriers have, but they are quickly reaching maturity. For what it's worth, I consider them to be classified as legacy already.
Southwest Airlines history
You know you're on to something good when others try and shut you down even before you start. Yup – there were 3 separate airlines that tried to block Southwest Air Co from even launching back in 1967.
Herb Kelleher and Rollin King (the founders) discovered a loophole which allowed them to undercut the prices of the competition by limiting their service to intra-Texas routes. It was perfectly legal, and the other airlines didn't like it at all. It gets better though, so I recommend reading the Southwest Airlines Wikipedia page to read all about it.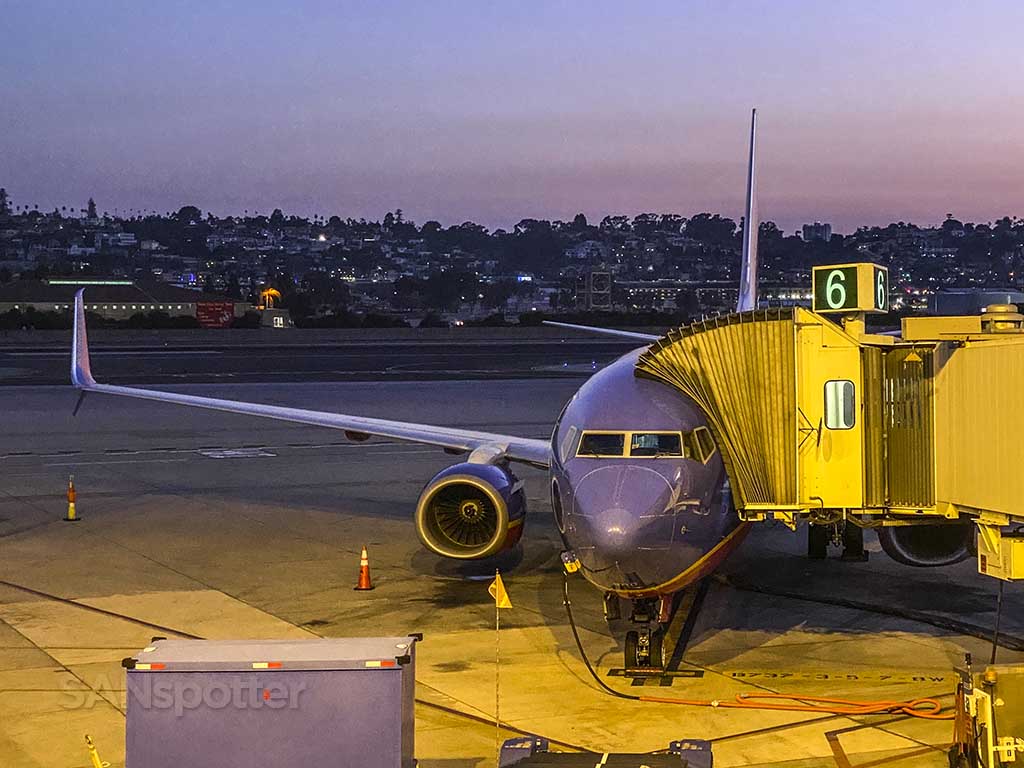 Compared to the way that JetBlue started, Southwest was far more careful and strategic about their plans for expansion. It wasn't until 1979 that they started flying to other states.
JetBlue history
Unlike the way that Southwest Airlines got off the ground (no pun intended), JetBlue started out with a very clear business plan. David Neeleman (the founder) had a very clear vision for what JetBlue was going to be, and he had no issues getting the funding required to begin operations.
Fun fact: the original plan was to call this airline "Taxi" – complete with a bright yellow livery to go with the name. How weird would it have been if it was actually JetBlue that had an obnoxious yellow livery – and not Spirit Airlines? That would've totally changed the tone of my Spirit vs JetBlue comparison for sure.
Anyway, I highly recommend reading the full history of JetBlue over on the JetBlue Wikipedia page whenever you get the chance.
JetBlue vs Southwest in flight experience
There's really nothing significant to note about the Southwest vs JetBlue in flight experience comparison. There are a few minor differences though – which I'll explain below.
Seats
In general, the seats on both airlines are the same. You're not going to find either one of these airlines to be far more comfortable than the other.
I also need to point out that there will be no mention of JetBlue Mint in this comparison. It's arguably the best domestic first class (and has been for years). Southwest Airlines doesn't offer anything close to that. So – I'll just leave talk of premium seating out of this section for the sake of simplicity.
Southwest Airlines seats
What can I say about the seats on Southwest Airlines (other than what I already said in my Southwest Airlines 737 MAX 8 review)? Southwest prides themselves on being a simple airline offering friendly service with great fares. One of the ways they can offer great fares is by keeping their aircraft cabins simple (without frills).
Simple seats (which don't feature video screens or power outlets) are easy to clean. And that's especially important for Southwest Airlines, as they are notorious for very short turn times between flights. They need to get their cleaning crews on and off the aircraft as quickly as possible.
The other thing worth mentioning is that there are no seating assignments on Southwest Airlines. You can sit anywhere you want, which is both a blessing and a curse.
It's a blessing because it allows you to keep your distance from sketchy-looking people as you board the plane
It's a curse because you may not get the seat you want if you're not one of the very first on board
JetBlue seats
In my opinion, the seats in JetBlue main economy are better than what you'll get on Southwest. No, they aren't any more comfortable, but they do offer two features which will make the majority of people happy:
Video screens (yay!)
Power ports (woo-hoo!)
If video entertainment is important to you on a flight, this Southwest vs JetBlue comparison ends here. Especially if you have kids and you need to keep them entertained on that 5-hour flight to grandma's house.
And even though I said I wasn't going to mention the Mint business class product again, I'm going to do it anyway. For those that don't know, this is JetBlue's phenomenally good business class product (which is featured on a sub-fleet of their A321 aircraft).
In summary: the nice thing about JetBlue is that you can pay more for a better seat. You can't do that on Southwest, and it's just one of the ways in which JetBlue and Southwest are more different than they initially appear.
Food
Leaving what you'll be served in JetBlue Mint out of the equation, the food you'll be served in the JetBlue main cabin vs Southwest is slightly different.
Southwest Airlines food
Long story short, if you want to eat on Southwest Airlines, it behooves you to pack your own meal. All you're going to get on board is a complementary drink and a bag of snack mix. And for what it's worth, even American Airlines beats Southwest when it comes to food (as I pointed out in my in-depth American Airlines vs Southwest comparison).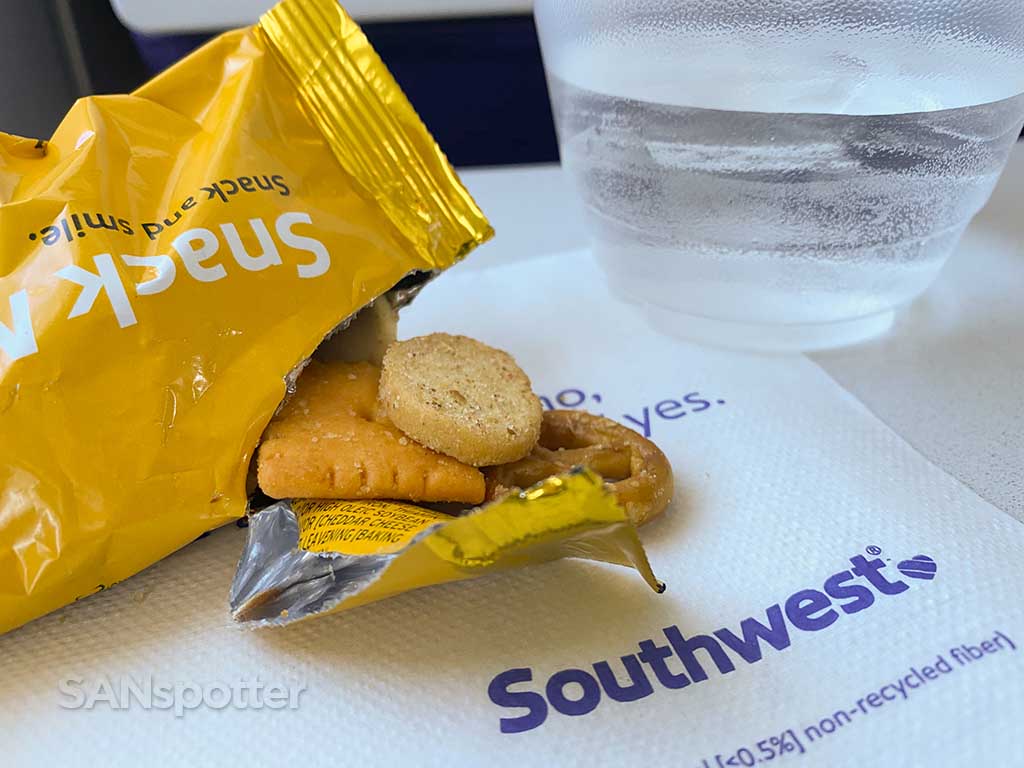 Alcohol is available for a fee (unless you splurge for a Business Select upgrade), and it'll add up fast if you're a nervous flyer and you need a buzz to take the edge off.
JetBlue food
Just as you would experience on Southwest, you'll get a complementary drink and a bag of snack mix on JetBlue.
However, the main difference compared to Southwest is that there's a food for purchase menu – which is actually fairly decent.
I wouldn't go as far as to say that the menu is amazing or anything, but it does offer items that can be qualified as "real" food. This can be a total lifesaver on flights longer than three hours – especially if you didn't have time to get something to eat before the flight.
In flight entertainment
Believe it or not, Southwest (despite lacking video screens in the seats) holds its own against JetBlue when it comes to in flight entertainment. They offer a robust streaming service on many flights, and it's actually pretty good. The only caveat is that you have you use your own device.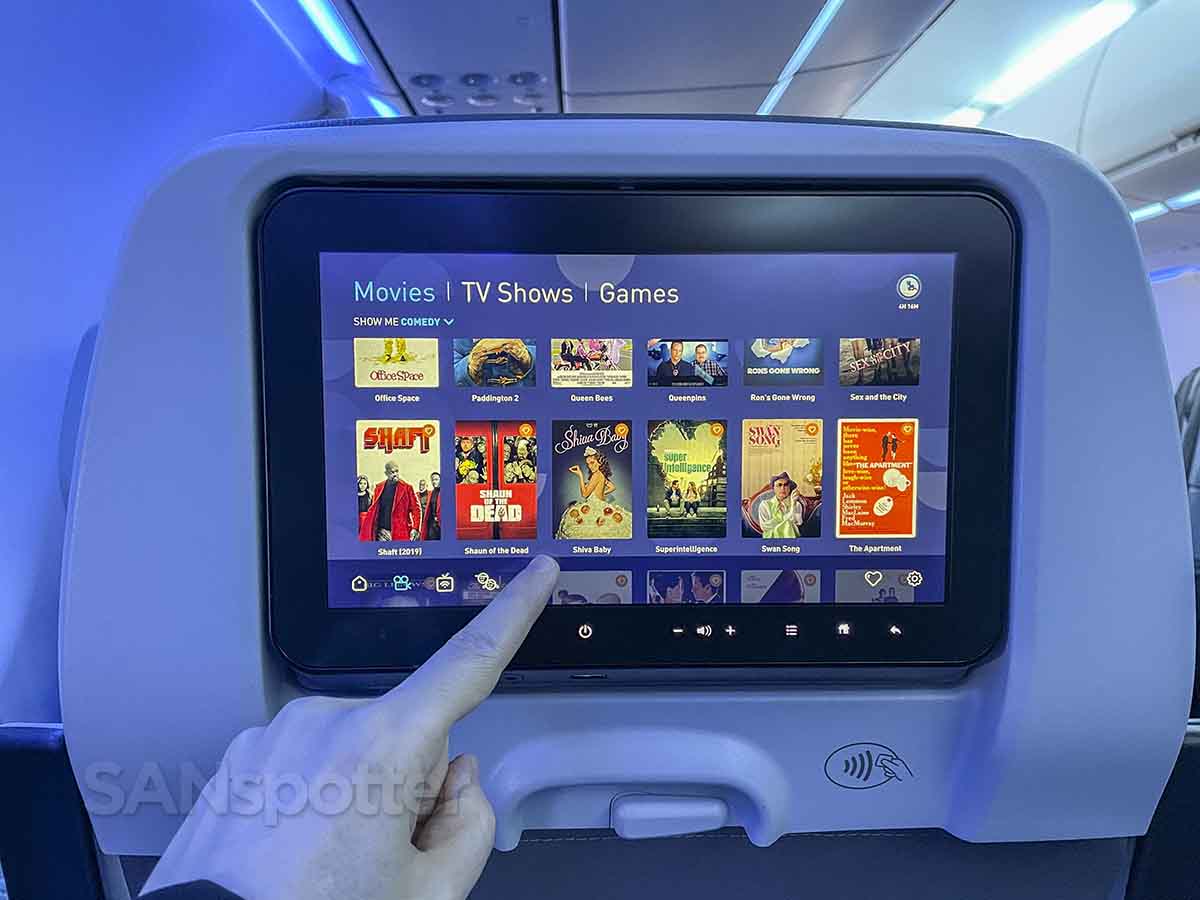 Comparing the Southwest and JetBlue frequent flyer programs
Both JetBlue and Southwest have frequent flyer programs that are quite good – and extremely competitive. So much so that they are one of the reasons why they both have such strong and loyal cult followings.
Southwest Rapid Rewards
The Southwest Airlines frequent-flier program is a little different then the JetBlue frequent flyer program. The main difference (for me anyway) is that there are no partnerships with other airlines. It's impossible to earn and redeem points on any airline other than Southwest, and that's one of the main reasons why I don't fly with them very often. I like to have options.
I'd recommend reading the full program rules about Southwest Rapid Rewards to get a better understanding of how it might (or might not) be a fit for your travel needs. It's not for everybody, but it is more than sufficient for most.
JetBlue TrueBlue
JetBlue's frequent-flier program it's a lot more traditional in the sense that there are a multitude of ways to earn (and burn) points other than by flying JetBlue.
Compared to Southwest, the rate at which you can earn and burn points is relatively the same. It changes from time to time to keep in line with market trends, so be sure to read the latest JetBlue TrueBlue program page to get a feel for how it might work for you.
The fact that I can earn and spend points on a multitude of other airlines with JetBlue TrueBlue makes it a better choice for me. In contrast, a JetBlue vs American Airlines comparison is a lot more difficult since the frequent flyer programs are so similar.
Why would you choose Southwest over jetBlue?
There's a reason why both of these airlines have very strong cult followings: simply put, they have both carved out their own little niche in the air travel space, and they execute on it magnificently.
Choose Southwest if:
You're more of the "carefree" type of person who likes picking any seat you want as you board the plane
You like having more flight options. Southwest offers far more flights on a daily basis than JetBlue does (to a far greater number of destinations)
You want a flight that goes directly to your destination city without having to make a connection. This is much more likely to happen on Southwest with their robust poin-to-point flight network.
You want to go to Hawaii. At the time of this writing, JetBlue does not fly out to the islands.
Choose JetBlue if:
You want a video screen with live TV at your seat
You want the option to pay for real food on your flight
You like the idea of spending your hard-earned points on a really fancy business class upgrade someday
You want to fly on an airline which gives you the option of earning (and spending) points on other airlines
You want an airline which can take you to London
A few final words about making a direct comparison between Southwest and JetBlue
Personally, I don't think it's necessary to make this is a choice that you have to make a long-term commitment to. I actually enjoy flying both of these airlines. I have small points balances with both, and I'd gladly fly either one depending on the situation.
However, I know plenty of other travelers who exclusively fly one or the other. There's no right or wrong answer here. Just just have to weigh the pros and cons of each and decide what fits better for your particular needs.
If you have trouble deciding, you can always use the results of my livery comparison above to make that decision for you. I mean, the plane you fly on is gotta look good, right?