When it comes to airline comparisons, it just doesn't get any better than Qatar Airways vs Emirates. Arguably the two best airlines in the world, you really can't go wrong with either one.
I've had the opportunity to fly both a number of times each, and quite honestly, it's not easy to choose a clear winner. Emirates does some things better than Qatar Airways, and Qatar Airways does some things better than Emirates. How's that for a vague start to this comparison?
Don't worry. I'll compare all the different components of these airlines below, and you'll be able to see how each of them differ on specific things. $20 bucks says you still won't be able to decide once you reach the end though…
Qatar Airways vs. Emirates: a brief summary of all the similarities and differences
On the surface, it would seem that both Emirates and Qatar Airways are nearly identical airlines. After all, they're both long-haul airlines based in the Middle East with massive fleets consisting of the latest and most technologically advanced aircraft.
However, just as you saw in my American Airlines vs United comparison (two airlines that also seem very similar), it's easy to spot the differences once we list them all out:
Similarities
Both Emirates and Qatar Airways employ diverse cabin crews. This means that you'll see crew members from a wide variety of nationalities on your flights. For example, on my last Emirates Flight, they announced that the cabin crew was capable of speaking more than 26 different languages.
Both airlines fly long-haul routes exclusively. Yes, they do short haul routes every now and then, but the vast majority of their networks are long-haul flying.
Both airlines are based in the Middle East. Emirates is based in Dubai, and Qatar Airways is based in Doha.
Both airlines are government owned entities, and they receive significant financial support from their respective governments from time to time.
Both airlines are consistently ranked very highly by passengers for the quality of service in all cabins.
Differences
Qatar Airways is part of the Oneworld Alliance, however Emirates has chosen to stay independent.
Emirates has a slightly larger fleet of aircraft, totaling over 252 at the time of this writing. The Qatar Airways fleet is currently at 235.
The flagship aircraft of the Emirates fleet is the Airbus A380. The flagship aircraft in the Qatar Airways fleet is the Airbus A350. Qatar Airways is getting rid of their A380s, while Emirates does not have (and has no plans to get) any A350s.
A brief history of Qatar Airways and Emirates
Both of these internationally known airlines are fairly new compared to other major global carriers. While they're similar in many aspects, each has its own story on how they became what they are today:
History of Qatar Airways
Of the two airlines, Qatar Airways is the newest. The royal family of Qatar launched this airline in 1993, but by 1997, they relaunched the airline under new management. By 2010, they were one of only a few airlines to have destinations to six continents.
Qatar Airways has won the "World's Best Airline" five times since its launch in 1997 – an achievement I fully agree with.
History of Emirates
Emirates is almost ten years older than Qatar Airways. This United Arab Emirates (UAE) airline launched in 1985 with a flight from Dubai to Karachi and Mumbai.
By 1992, Emirates became the first airline to install video entertainment systems at all seats. In 2000, it became the first airline to order the Airbus A380.
Just like Qatar Airways, Emirates is no stranger to wining awards. As a matter of fact, they've consistently been named the "World's Best Airline" for their innovation of the flying experience.
Qatar Airways seats vs. Emirates seats
Look. As I said in the intro to this comparison, you really can't go wrong choosing Emirates over Qatar Airways (or vice versa) when it comes to seats. The primary role of both of these airlines is to shuttle people to all points of the globe via thousands of long-haul flights daily, so they know a thing or two about long-haul seat comfort.
Qatar Airways seats
Qatar Airways offers three seat options for most of their flights, but you have a fourth option to choose from (Qsuite) on some routes.
1. First class
Traveling first class on Qatar Airways is about as luxurious as air travel can get. Most planes in Qatar's fleet have first class flatbeds. The seat pitch for the flatbed seats is 79 inches with a width of 22 inches. The open-suite version (which is still limited at this time) has a seat pitch of 83 inches and a width of 23 inches.
2. Qsuite
An upgraded version of business class is called "Qsuite" (which is only available on a select number of aircraft). The quad setup consists of four seats facing one another, two on each side. The seat pitch is much higher than other cabins at 103 inches or 79 inches. Regardless of which Qsuite seat you choose, your seat will be 21 inches wide.
3. Business class
These luxurious seats recline further than economy seats, letting you stretch your legs as comfortably as you can in first class. Seats in their business class cabins have a seat pitch of 60 or 80 inches, depending on the plane. The width ranges from 20 to 22 inches. As you saw in my Qatar Airways business class review, these are some seriously good seats.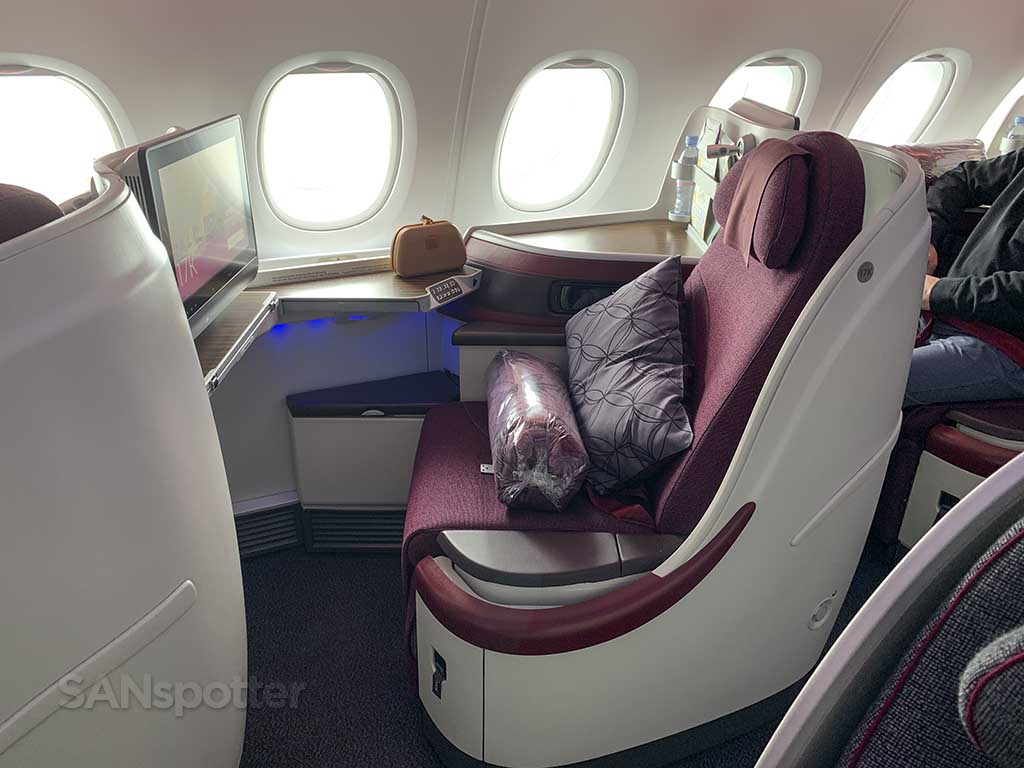 4. Economy
Economy cabin seats on Qatar Airways are some of the widest seats in the industry. The seat pitch and width vary depending on the plane you're on. The seat pitch ranges from 31 to 33 inches, but 32 is the average. The seat width ranges from 16.9 to 18.9 inches, but most of their planes have 17 to 17.5 inches.
Do yourself a huge favor
Travel the world in style on Qatar Airways
Hands down, they offer one of the best airline experiences in the world (in all classes of service).
Connect in Doha (DOH) - one of the most interesting airports I've ever been to.
It'll be a flight you remember - every flight I've taken on Qatar Airways has been nothing short of amazing. Even in long haul economy!
Book Now
Note: I may earn a commission if you make a purchase, at no additional cost to you.
Emirates seats
When booking a ticket on Emirates, you'll have the choice between four different seat options. They range from economy to first class, but even their economy option feels luxurious (at least compared to the economy seats of other airlines).
1. First class
On Emirates, flying first class is as close as you can get to flying on a private jet without actually Flying on a private jet. The seats are similar to business class seats in the sense they can lay flat and are very comfortable, but they're all closed suites. The seat pitches are either 69 or 86 inches. The 69-inch seats have a width of 20.5 inches, and the 86 inch seats have a width of 23 inches.
2. Business class
In business class, you'll have a private seat without anyone next to you. The seats lay fully flat (as you would expect them to). The seat pitches are either 48 or 60 inches, and the widths are 18.5 and 20.5 inches, respectfully.
3. Premium economy
These seats provide you with extra legroom, a wider seat, and a raised leg rest. Premium economy seats recline further than economy seats, and the seat pitch and width are the same as the seats in the economy cabin.
4. Economy
Depending on the airplane you're on, Emirates set the seats up in a 3-4-3 or 3-3-3 configuration. All seats recline, and they have a seat pitch that ranges from 32 to 34 inches. The width ranges from 17 to 18 inches.
Qatar Airways food vs. Emirates food
Personally, the discussion of the food is my favorite part of this Emirates vs Qatar Airways comparison. While both of these airlines serve excellent food in all classes of service, I'm of the opinion that there are a lot of other airlines that do it better. Yes, the food you get on both Qatar Airways and Emirates will be good, but I always felt like I was expecting more.
Qatar Airways food
You'll find more than simple chicken and pasta dishes on Qatar flights. The cuisine options onboard are crafted by chefs who bring different flavors of the world to your seat. Who wouldn't love that? They're also able to accommodate special dietary requirements, unlike some other major airlines.
1. First class
When you arrive at your seat, you'll receive a complimentary glass of champagne before take-off. You'll have access to the first class lounge and bar where you can drink and eat fresh fruit and other snacks. You'll be served several small appetizers and have the choice between several main course options.
2. Qsuite
Something unique about Qatar Airways' Qsuite business-class cabin is their dine on-demand option. Passengers can order food anytime they please via an a la carte menu. You'll also have a pre-flight signature drink you can enjoy before taking off.
Just as they do in first class, the cabin crew will dress your tray table with linen and mood lighting, and dishes are served on real plates instead of plastic/paper packaging.
3. Business class
Even if you're not sitting in a "normal" business class seat, you'll have all the same culinary luxuries as those in a Qsuite.
4. Economy
Passengers are given the option for their main meal. You'll get to choose your main course out of three options, and it will come with a salad, fruit, and dessert. Beverages are complimentary in this cabin. Even on four to five-hour flights, you'll have two rounds of meal service.
Emirates food
The food you'll receive on Emirates flights is inspired by the places you're traveling to. For example, your meal may reflect mashed potatoes, veggies, and lamb if you're flying to Australia. If you're traveling on Emirates Airways to the Middle East, your meal will be a unique combination of Arabic flavors.
1. First class
You'll have all the same dining features as the other premium cabins, but in first-class, you can order anything you want whenever you want. Basically, if you're craving another main course at any point during the flight, you can expect to be served that meal pronto (severed with a smile).
2. Business class
In business class, you'll have multiple meals served throughout your flight. Drinks are complimentary, and you have full access to the onboard lounge (featuring pastries and fresh fruit paired with champagne and wine). All your meals in this cabin are served on fine bone china.
3. Premium economy
While the premium economy cabin offers more legroom, the dining experience is the same as in the standard economy cabin.
4. Economy
Drinks, alcohol included, are complimentary throughout your flight. The food you'll eat showcases the culture of your destination. Your main dish comes with salad or fruit, cheese and crackers, and a dessert.
Comparing Qatar Airways and Emirates in-flight entertainment
Since the majority of both Qatar airways and Emirates flights are long-haul, they've invested a lot of money (and effort) into making their in-flight entertainment options great. Spoiler alert: I think both options are fantastic.
Qatar Airways in-flight entertainment
Whatever way you like to entertain yourself on a flight, Qatar Airways can help. Every passenger has a large video screen on the seatback in front of them where they have access to hundreds of movies that are regularly being updated to include new releases.
These screens also allow you to play a selection of music, and there are even a collection of high-quality games to choose from.
Oryx Online Communications is available on some flights, and allows you to use your cell phone or laptop to send and receive emails and text messages while you're flying. This service is only offered on select airplanes, though.
If you want Wi-FI to browse the internet on your phone or laptop during your flight, they offer Super Wi-Fi for purchase. Anyone in any cabin can purchase this service, and it costs $8 USD before your flight, or $10 USD once you've boarded.
Emirates in-flight entertainment
Emirates' in-flight entertainment system offers passengers 4,500 channels with movies, tv shows, and other entertainment. You're able to listen to music, audiobooks, and even podcasts if that's more your speed.
If you're an Emirates Skywards member, Wi-Fi is free on any flight. But if you're not, you can still access Wi-Fi for a price.
Unlimited access to texting apps ranges from $3 to $6 USD depending on the length of your flight. Wi-Fi ranges from $10 to $20 USD.
Something unique about Emirates' in-flight entertainment is that they've partnered with uTalk. uTalk allows passengers to learn phrases from 140 languages, so they're prepared for wherever their travels take them.
Comparing the Qatar Airways and Emirates frequent flyer programs
Being a frequent flyer on either Emirates or Qatar Airways is a good thing. Both of these airlines belong to major network alliances, which means that they are partners with other top-tier airlines from all over the world. Again, the decision of which one is better ultimately comes down to the kind of flying you do and where you go in the world.
Qatar Airways Privilege Club
Just like the loyalty programs of other global airlines, Qatar Airways Privilege Club has four tiers you can move through. Each one brings more rewards than the previous (they aren't all that innovative with the perks IMHO). The lower tiers don't provide as many benefits as the lower levels on Emirates' frequent flyer program, but they still offer great rewards.
And since Qatar Airways is a member of the Oneworld Alliance, you'll be able to earn and redeem awards on those partner airlines.
Emirates Skywards
With Emirates Skywards, you'll earn miles for Emirates and flydubai flight you take. You'll also earn points on any of their partners' flights. You're able to spend these miles on new flights and flight upgrades.
Just as it is with Qatar Airways, their frequent flyer program has four tiers. As you progress up the tiers, the greater the benefits. Once you reach the platinum tier, you'll have unlimited access to priority seat selection, your miles don't expire, you'll get complimentary lounge access, and more.
Unfortunately, Emirates is not part of any global airline alliance, so you won't be able to earn (and redeem) awards on a large network of partner airlines like you can on Qatar Airways.
Also, it's a fairly predictable award system, and if I'm being honest, it doesn't look all that much more attractive to me than the Qatar Airways Privilege Club (minus the lack of a major alliance, that is).
Comparing the route networks
Even though both airlines fly to over well 100 destinations, they are some differences between the airlines' route networks.
Qatar Airways route network
Qatar Airways doesn't fly to as many destinations as Emirates, but they still offer passengers plenty of options. They fly to 28 destinations in Asia and the Pacific, 18 in the Middle East, 23 in Africa, 36 in Europe, and 13 in the Americas. Most flights originate or terminate at the Doha International Airport (DOH) in Qatar.
Emirates route network
Emirates flies to more destinations than Qatar Airways. At the time of this writing, there are 157 destinations in the Emirates network. Of those, 22 are in Africa, 47 in Asia and the Pacific, 42 in Europe, and 15 in the Americas. Most flights originate or terminate at the Dubai International Airport (DXB) in Dubai.
Why would you choose Qatar Airways over Emirates (or vice versa)?
Still feeling a bit confused? I told you this wasn't going to be as easy as an American Airlines vs British Airways comparison! Both Qatar Airways and Emirates are excellent options for anyone who needs to travel around the world as comfortably and efficiently as possible.
Here's a detailed breakdown of why you might choose one over the other:
Choose Qatar Airways if:
You prefer the Airbus A350 over the A380. Qatar airways has a growing fleet of a 350s (and trust me), that's a fantastic aircraft for ultra long-haul flights. For the record, Emirates has no A350s.
You prefer the Doha airport over the Dubai Airport. All connecting flights on Qatar Airways go through Doha.
You have specific dietary requirements for allergy or religious reasons.
You want Wi-Fi for a lower price.
Choose Emirates if:
You like flying on A380s. Emirates has the largest fleet of Airbus A380s of any airline in the world, and there's a pretty good chance that an A380 will be the aircraft used at least on one of your flights.
You want to do a stopover in Dubai. I understand that Dubai isn't for everyone, but it's neat to see at least once. For the record, I really enjoyed my first visit to Dubai, but I have no burning desire to go back.
You're flying economy and prefer an extra inch of leg room
You want more flight options. Emirates has a larger fleet (and a more expansive route network) than Qatar Airways, which makes it easier to find an available flight going to your specific destination.
Don't feel frustrated if you're still not sure which one to choose. Personally, I'm perfectly happy flying both Qatar Airways and Emirates. For me, it all comes down to price and schedule. I'll always choose whichever one fits my itinerary the best.