Even long before writing this Emirates A380 economy class review, I knew exactly how I was going to start it. The plan was to start out with a funny joke about being woken up from a very deep sleep by my blaring iPhone alarm at 5am, only to immediately realize that I had to go sit in economy class for 16 hours.
It was going to be hilarious since it's basically the kind of situation I hate most about traveling, and I knew that mixed with a bit of dry SANspotter sarcasm, it could have been my best into ever. It was going to be perfect.
Unfortunately, I edited the video for this flight and posted it to YouTube a week prior and it went viral (yay!)…but for all the wrong reasons (boooo!).
If you haven't seen it yet, it was just a typical video in my usual style, showing the entire flight experience from start to finish to the beat of music – with a bit of dry humor thrown in to keep things entertaining. Despite how seemingly sterile it was, nearly half off the 250,000 people who watched it thought I was an egotistical prick with a vile hatred for Emirates – even though at no point in the video did I ever say anything negative about the airline. I may have overemphasized my lack of desire to sit in economy class for that long, but come on – it was supposed to be funny!
I've never received so much hate for a video ever, and it eventually reached the point where the comments were far more entertaining and funnier than the video itself:

Do I even dare starting out this trip report saying that I wasn't looking forward to sitting in economy class for 16 hours (Emirates or not)? At the risk of starting another ****storm, no, I will not.
EK215
Dubai, UAE (DXB) – Los Angeles, CA (LAX)
Wednesday, May 30, 2018
Aircraft: A380-861
Registration: A6-EOG
Duration: 15 hours 24 minutes
Seat: 60H (economy class)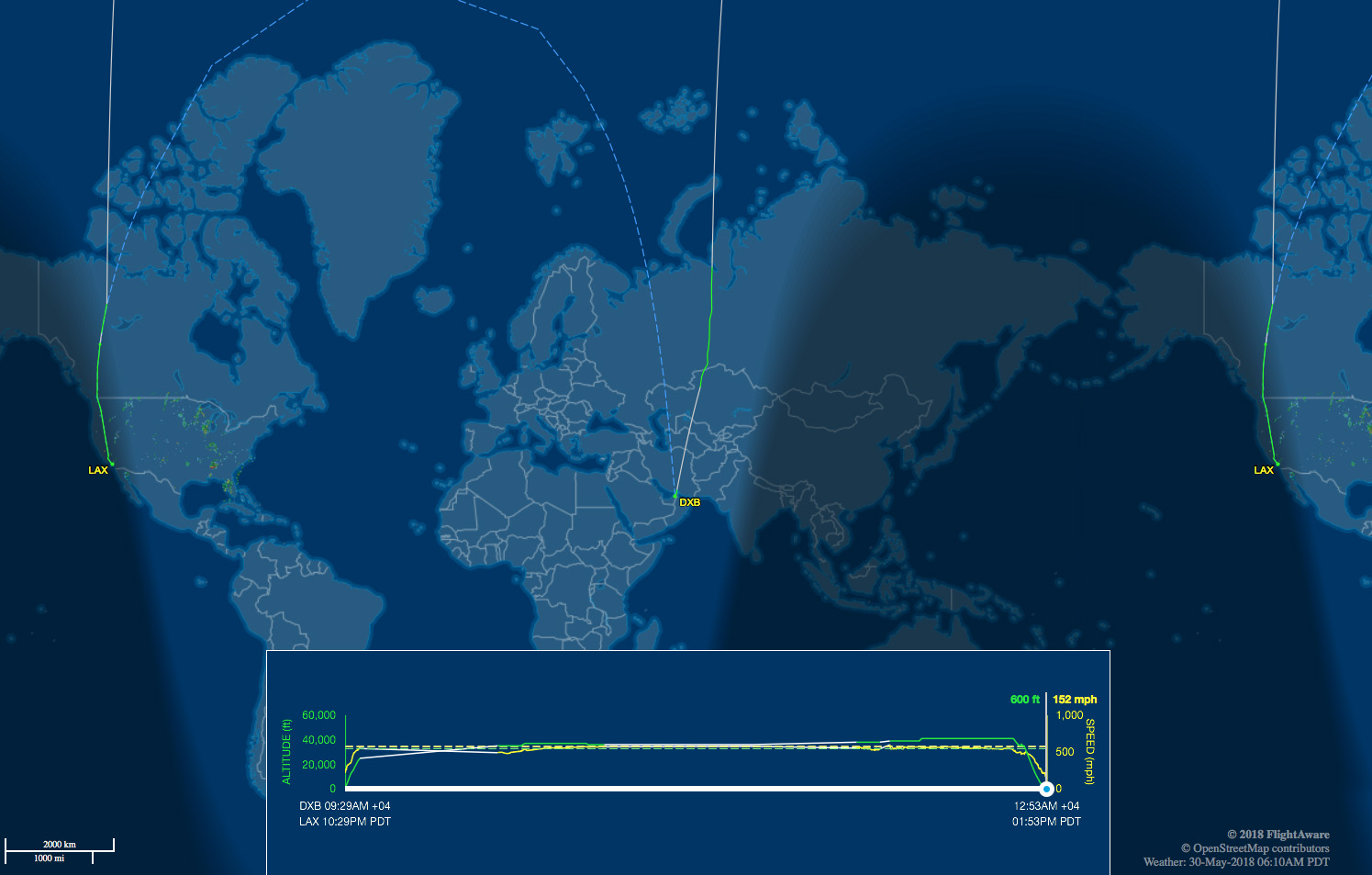 A word of warning before you click on the video below: It may be the most offensive thing you've ever seen on YouTube, full of bigotry and hatred, and totally insulting to anyone who has flown economy class before. It's just awful: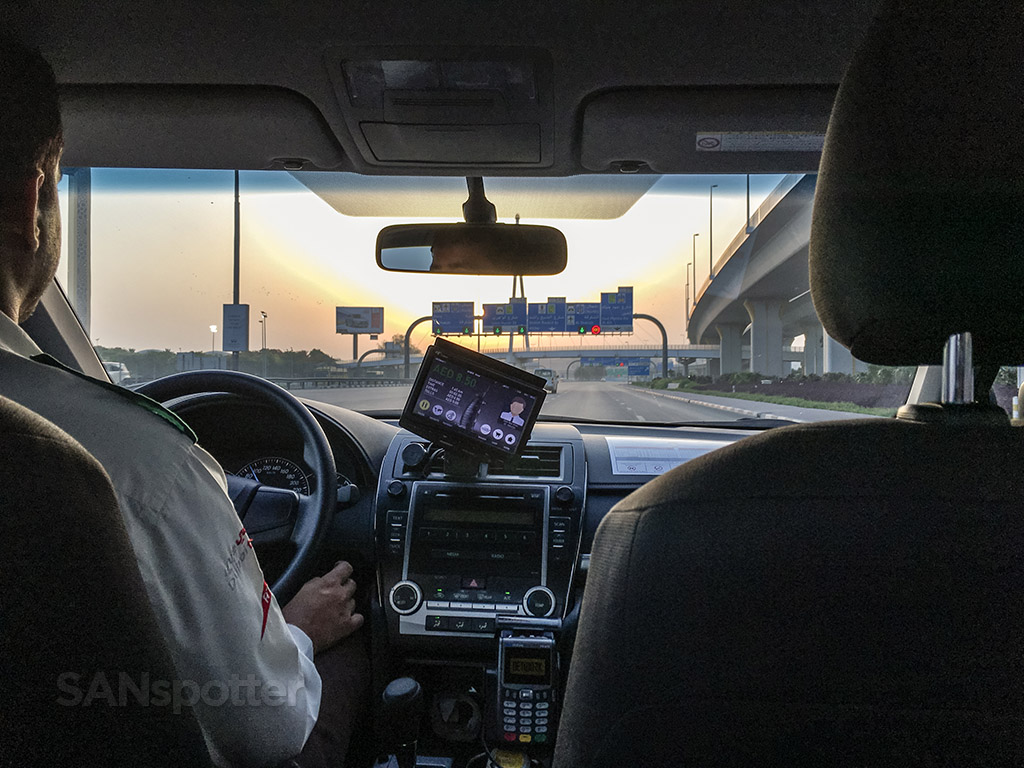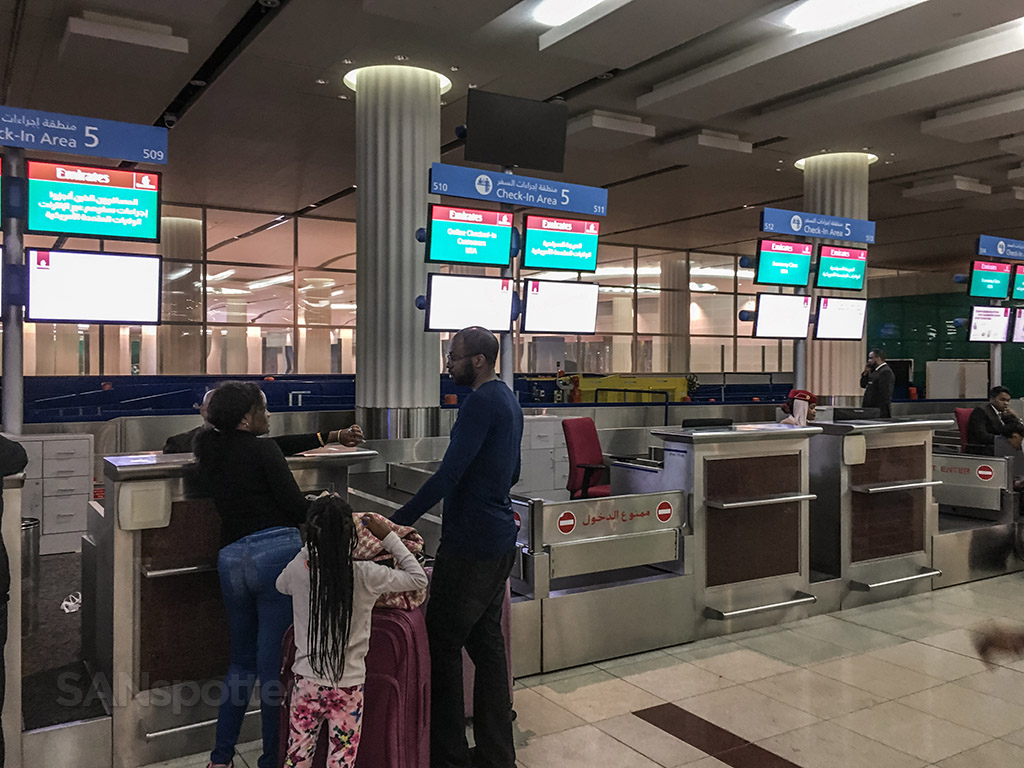 One of the most interesting things about Emirates is how massive of an airline they are. The fact that they have a fleet of over 130 A380s at the time of this writing is simply hard to fathom from my US centric perspective, where all of the airlines in my world are not interested in flying anything larger than a 777.
And even then, they only want a small number of them to (lightly) augment their fleets of hundreds upon hundreds of boring little regional jets. Yeah, Emirates is pretty much the exact opposite of how the US airlines operate, and I think it's pretty darn cool. Whether or not they're actually profitable or not is anyone's guess…
Despite having over 130 different A380s in their massive long haul fleet, I was absolutely floored when I walked up to the window and saw that the A380 that would be taking me home to LAX was the exact same one which brought me here to Dubai just a few days ago. Calculating the odds of something like that happening gave me a lot to think about as I walked down the stairs to the gate area to go through the secondary security screening required to board this flight.
I should probably also mention that I want very badly to write about how much I was not looking forward to boarding this flight, but I'm having flashbacks of all those brutal comments which were flung at me over on YouTube over the past week or so and I don't want to ignite that inferno again. Emirates supporters are a feisty bunch, and I don't dare say anything which would imply that I wasn't interested in kissing the feet of the ground staff as a way of saying "thanks" for granting me permission to fly thier favorite airline. I love flying of course, but the thought of sitting in economy class for 16 hours never gives me a good feeling no matter what airline it is.
The boarding process was very smooth and organized if I'm being honest, and I thought it was weird that nobody rushed the gate as soon as boarding was called. Everybody was generally very well behaved and remained seated until their zone was called – which was really nice and a refreshing change of pace from the way that it normally goes back home in the US.
I was also very impressed once onboard and situated into my seat way down there in the bowels of that big and burley A380. See pitch was fantastic actually, with plenty of room to move my legs in a variety of positions that didn't involve bashing my knees against the seat in front of me. Also nice to see was that huge video screen right in front of my face, which may have possibly been the biggest video screen that I have ever seen in economy class on any airline.
Just as I was sitting there thinking about how nice these economy class seats were, the flight attendants upped the ante in a big way by coming through the aisles with amenity kits. I was totally not expecting that, and it ended up being a really nice surprise. Keep in mind that most of my long haul economy class flying experience is with US airlines, so it doesn't take much to impress me.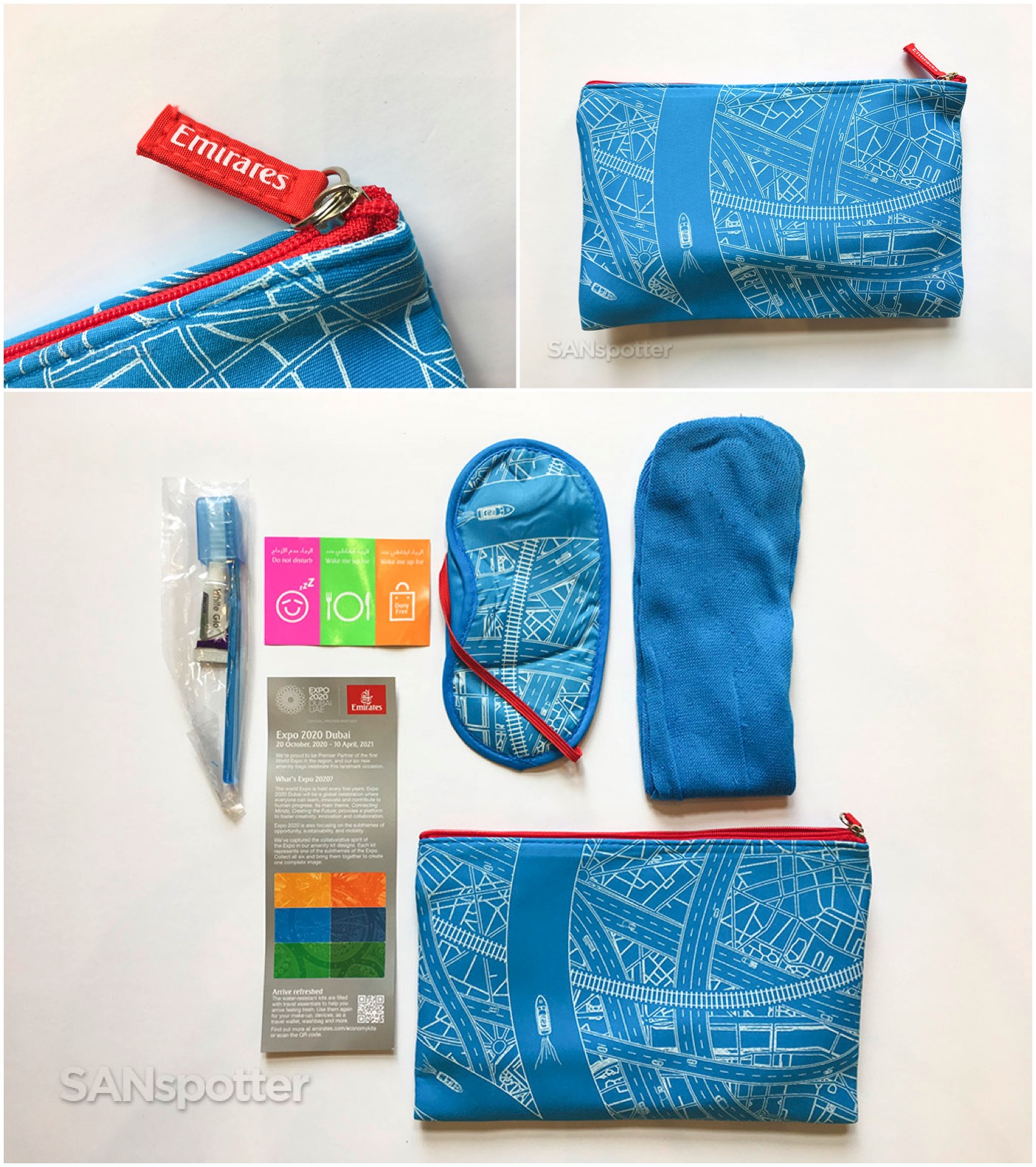 And just when I thought that I had won the economy class lottery, the menus came next – which revealed that there would be three full meal services on this flight. Wow! I was expecting two, but the addition of the third was just yet another little unexpected thing which made me realize that choosing Emirates for this trip was the right choice. See? I'm actually saying nice things about Emirates and we haven't even pushed off the gate yet!
I was so pleasantly surprised with the way that things had been going so far that I didn't even care that there was a 15 minute delay to wait for connecting passengers from other flights. I had plenty of legroom, a nice amenity kit to rummage through, and some thinking to do about the coming meal service (mostly just thinking about what I was going to choose to drink to complement each selection). While we were waiting, the flight attendants announced that there were 17 crew members on board speaking a total of 16 different languages. Just another little detail which makes Emirates such an interesting airline.
Just as we were starting the takeoff process, I started to feel like I might be coming down with a cold. You know that feeling you get just before you get sick? The sore feeling in the back of your throat that doesn't feel quite normal, mixed with a few sniffles…a clear indication of a really annoying week ahead. To be honest I didn't even really care about coming down with a cold, just as long as I could make it through this flight without feeling completely miserable.
That amazing and multicultural Emirates cabin crew wasted no time getting the service started after departure, and I had breakfast sitting in front of me no later than 20 minutes after takeoff. It consisted of a rather generic airline-style omelette, which I paired with a glass of orange juice and "Daddy's Home 2" on the video screen in front of me. The omelette and the orange juice hit the spot, but the movie left a lot to be desired and the only thing I could think was that I might have enjoyed it a lot more if I saw the first one. And remember what I said about making sure to choose a movie that won't embarrass you once you realize that everyone can see you watching it? I think made the wrong choice.
I switched over to listening to podcasts after the meal service, which eventually made me tired enough to feel compelled to actually give sleeping a try. I can barely sleep in lie flat business class seats, so getting any meaningful sleep in an economy class seat was going to be a challenge. Somehow I did it though, and I managed to get a few hours of shut eye that was mostly satisfying other than waking up with a very sore neck from having my head lay limp the entire time like a half-inflated balloon tied to the end of a stick.
Lunch was served exactly 3 hours after the breakfast service, and even though I wasn't very hungry I still had no problem eating everything on the tray. It was a pretty good lunch as far as economy class meals go, and just as I did with the breakfast service, I paired it with another really crappy movie. This time I watched "Father Figures" (what's with the dad theme anyway?), mostly because I couldn't find anything else that I wanted to watch. I just chose something (anything) because I just wanted to start eating instead of browsing the in-flight entertainment system.
There was absolutely nothing else to do after the meal service other than sleep again, so I did my best and tried to drift off into something that was somewhat related to meaningful slumber. Unfortunately, my body was having none of it and it was really difficult to get comfortable enough to drift off into A380 dreamland.
I got up and walked around about once every hour for the next five or six hours, and each time it wasn't hard not to notice how empty this flight really was. Up towards the front section where I was sitting seemed to be crowded, but it was completely wide-open way back towards the rear – nearly everybody had an entire row to themselves. I was totally jealous of that since I didn't have an empty seat next to me, but at least my seatmate was very quiet and not the least bit annoying so all in all it didn't really matter that much.
I wasn't sleeping at all during this phase the flight, so I took advantage of the fact that the flight attendants were coming through the aisles with drinks on trays every 30 minutes or so. I slammed back a water or two every time they came through, so at least I felt hydrated and not like I was dying of thirst or anything. I also tried listening to podcasts again but I was pretty much tired of flying at this point and all I wanted to do was arrive at LAX already. I would've kept knocking on the cockpit door asking "are we there yet?" over and over again if wasn't worried that it would get me thrown in jail or something.
The cabin lights finally came back on with about two hours and 40 minutes of flying time remaining, and that meant it was time for another meal and a movie. This time the meal was a lot simpler, consisting of a piece of greasy pizza – which seemed a bit heavy for the final meal of a 16 hour flight. However, I finally made a good movie pick this time with "Into the Fire" – which just so happened to be another last-minute choice that I didn't put much thought into, and it ended up being a really good movie that had my full attention all the way until the end. And it was actually a "cool" movie too, something that I wasn't ashamed to watch with so many other people sitting nearby judging my film preferences.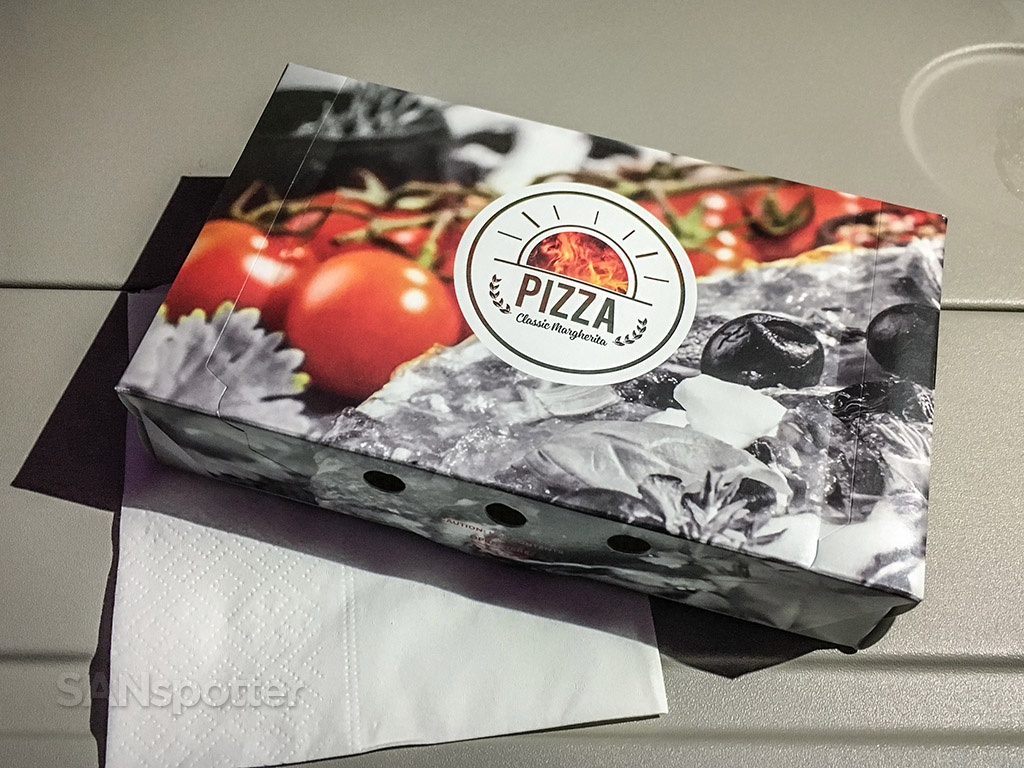 We all got hot towels with about 45 minutes to go before landing, which was especially welcome after handling that gooey pizza. As I sat there wiping all that pizza gunk off my hands, I couldn't help but to think that I was feeling surprisingly good for having spent such a brutally long time in economy class. My back didn't hurt as bad as I thought it would, and I could actually still feel my toes – which was a good thing because I would need those toes to get me off this airplane when we landed in about 45 minutes or so.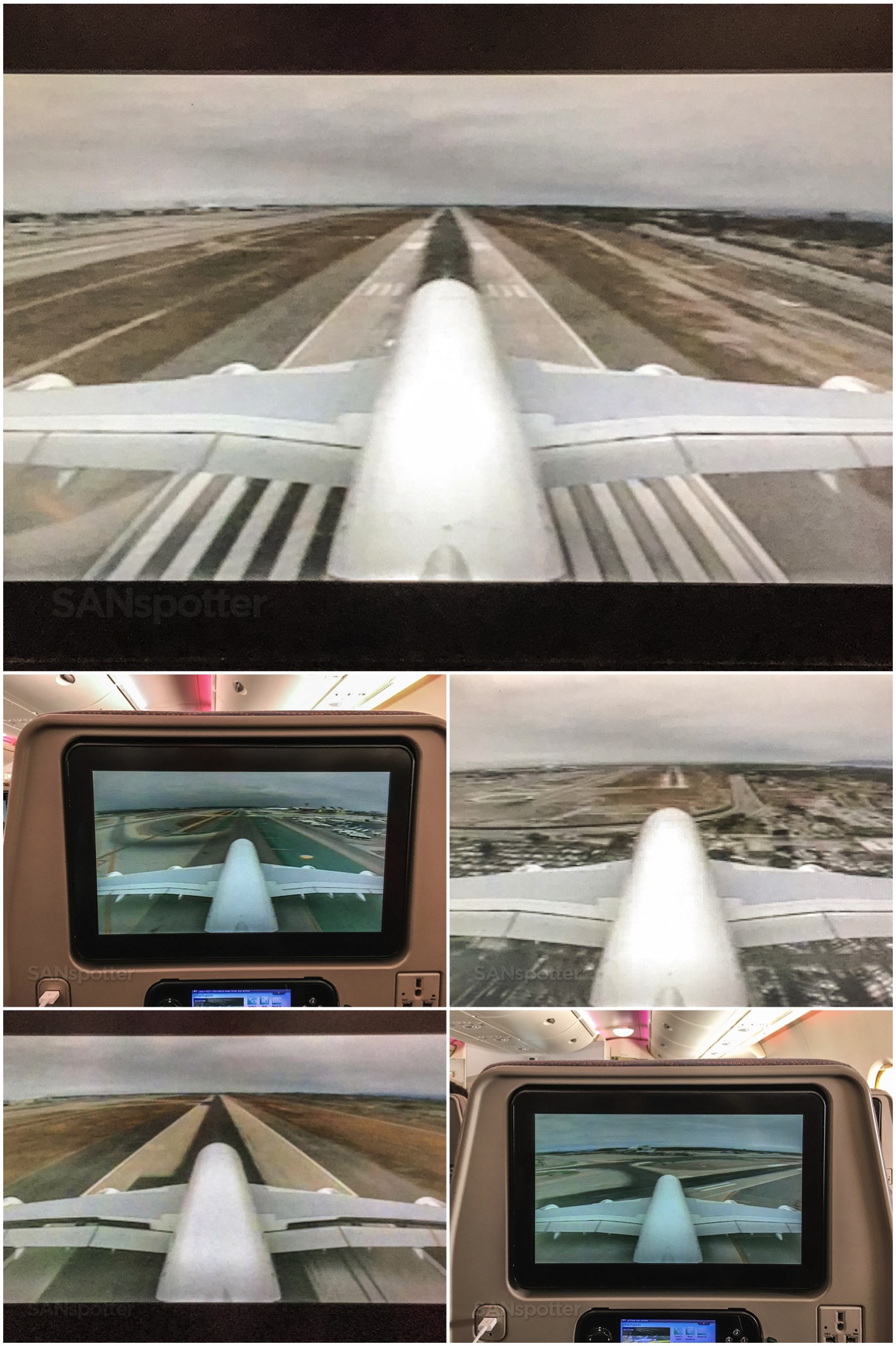 So what do you think? Did it sound like I was complaining too much or was that an informative and impartial Emirates A380 economy class review? Despite all the moaning I did about having to spend 16 hours on airplane in economy class, I'd like to state for the record that it was probably the best long haul economy class flight that I've ever been on. And it's a good thing too considering that long-haul international flights are pretty much all that Emirates does, so it would be completely shocking and somewhat appalling if I wasn't able to put them at the very top of the list of airlines that I want to fly again as soon as possible.
Anyway, before I wrap this up, I think it's only appropriate to end it on a few more choice comments from the video:

Sadly, I suspect that very few (if any) of those who slaughtered me over on YouTube are ever going to read these words. That's ok I guess – my goal isn't to please everyone, and I would much prefer to be myself without worrying that my humor is going to come off (incorrectly) as egotistical complaining.
SANspotter trip reports are definitely an acquired taste, and those of you who have been reading my content for a while deserve a long and hearty round of applause. Thank you so much for all of your support – it really does mean a lot to me!