I'm not the kind of guy who thinks very highly of himself on a day-to-day basis, and as a matter fact I spend a lot of time beating myself up for not being as giving and selfless as I aspire to be. Of course I feel like I am a very kind and generous person, but there's always room for improvement, right?
Unfortunately, days like today are detrimental towards my progress to becoming a perfect saint. You see, when I'm at LAX walking from terminal 7 over to the Tom Bradley to catch a ride on an Emirates A380 in business class, it's hard not to look down on everybody else and chuckle at each and every one of them knowing that I'm totally going to be having a much better flight then they will today.
These feelings are especially strong when walking past the United Express baggage drop and looking at all the faces of those poor souls on their way to somewhere infinitely less exciting than Dubai. "Have fun in Fresno you guys! I'll be thinking of you as I'm putting my seat into it's lie-flat position a few hours from now somewhere over the Northwest Territories!"
EK216
Los Angeles, CA (LAX) – Dubai, UAE (DXB)
Saturday, May 26, 2018
Aircraft: A380-861
Registration: A6-EOG
Duration: 14 hours 50 minutes
Seat: 15D (business class)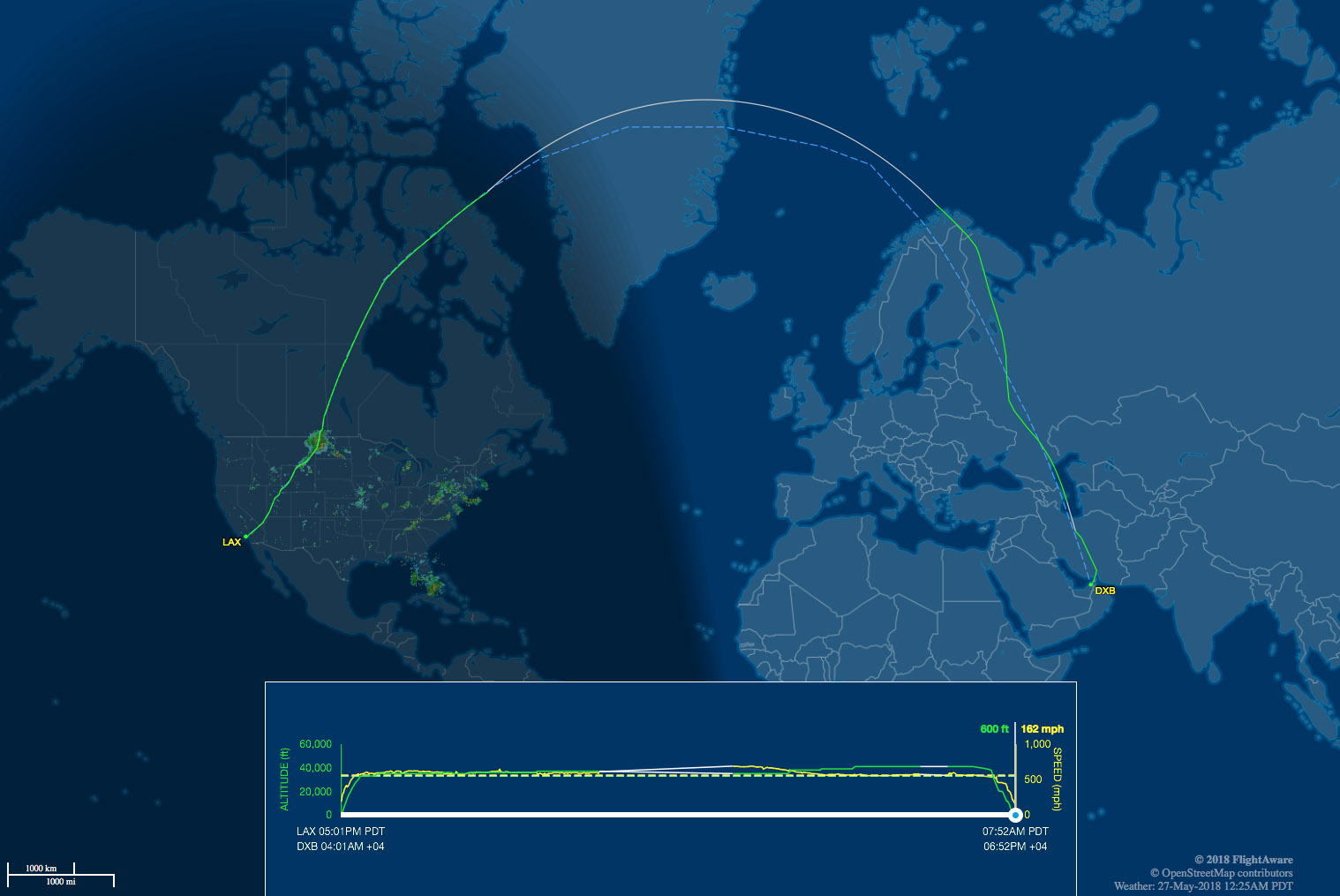 And I'm so nerdy that I even created a video for this flight as well (with a soundtrack courtesy of Epidemic Sound, of course):
I originally booked this entire itinerary in economy class, but Emirates offered me a discounted upgrade to business class when I was checking in online. I grabbed it in a way which was borderline irresponsible for someone who had just quit his job and has no steady source of income at the moment.
I justified it as a business expense, and at the time of this writing I still think it was the right decision. After all, can you really call yourself an airline-focused travel blogger if you haven't reviewed Emirates A380 business class?
Despite already having my boarding pass and seat assignment, I decided to stand in line at the Emirates check in counter just to see if they could wrangle a window seat for me.
There were none available when I checked in, but I was crossing my fingers that something had opened up in between the time when I left the house this morning and now. Long story short, they didn't have anything for me, so I had to stick with my original aisle seat reservation which was 15D. Oh well. You can't win them all.
One of the downsides of those discounted (El-cheapo) business class upgrades is the fact that they are ineligible for lounge access. Emirates has a lounge here at LAX that I was looking forward to trying out, and then there's also the Star Alliance business class lounge which is nice as well. However, not having lounge access didn't phase me at all because I was very much looking forward to trying my new Priority Pass membership to the very first time – a huge perk which came with my American Express Platinum card.
How I pay for all my travel expenses
The American Express Platinum Card
100,000 welcome points (woo-hoo!)
Earn 5x points on flights and prepaid hotels
$200 hotel credit + $200 airline fee credit + $155 Walmart credit + $240 digital entertainment credit (and much more)
Transfer points to a wide variety of global airline and hotel partners
Sign me up!
Note: I may earn a commission if you make a purchase, at no additional cost to you.
The only Priority Pass lounge here in the Tom Bradley International Terminal at the moment just happens to be one of the best actually: the Korean Air (KAL) lounge. This is a lounge that I've been very much wanting to try for a long time, as I've heard rave reviews about it from nearly everybody who has reviewed it. And it only seems fitting that I would get to access it on the same day that I would also get to try Emirates A380 business class. Exciting!
How I get into airport lounges
Access 1300+ airport lounges worldwide with Priority Pass
Access to over 1300 airport lounges around the world, regardless of airline flown or class of ticket.
Complimentary snacks, drinks, and meals.
Digital entry for instant access through the dedicated Priority Pass app.
Check it out!
Note: I may earn a commission if you make a purchase, at no additional cost to you.
Unfortunately, I tend to be a little bit disorganized at times, especially on busy travel days such as this. Guess what I forgot? That's right – my damn Priority Pass card. The kind ladies at the KAL lounge seemed sympathetic to my plight, but they were strict as school marm's and they weren't going to let me in without that little piece of plastic with my name on it. Dang. That meant that I'd have to slum it out in the main terminal instead (with all the people I laughed at earlier who were headed to Fresno on United Express).
Hanging out in the brand new Tom Bradley International Terminal isn't so bad actually, and I found a nice quiet spot to sit and relax with a tiny little bento of $16 sushi while I waited for the flight to board. It gave me a lot of time to sit and think about how I shouldn't be spending $16 on tiny meals when I don't have any money coming in at the moment.
Gate number 148 was ours for the flight to Dubai this afternoon, and I've got to say that it's a weird one with no real place to stand in line and wait to board. It's kind of tucked away in the corner, and it just seemed like a total free-for-all when they called for the start of the boarding process and people seemed generally confused and needed a lot of help to figure out where to stand.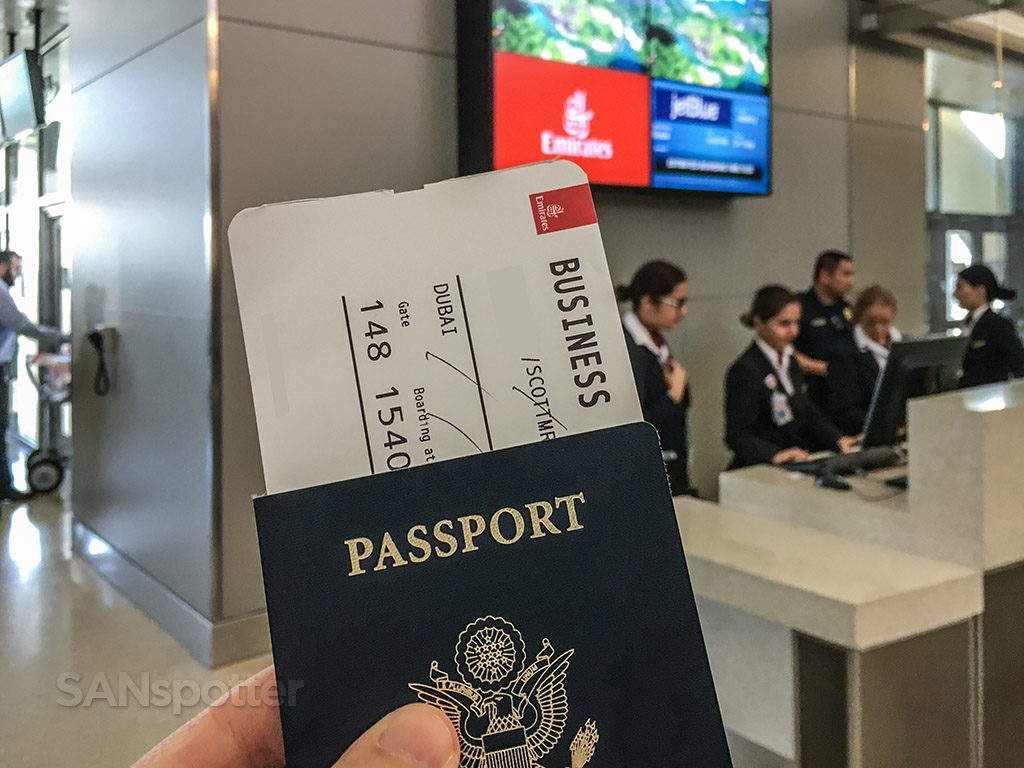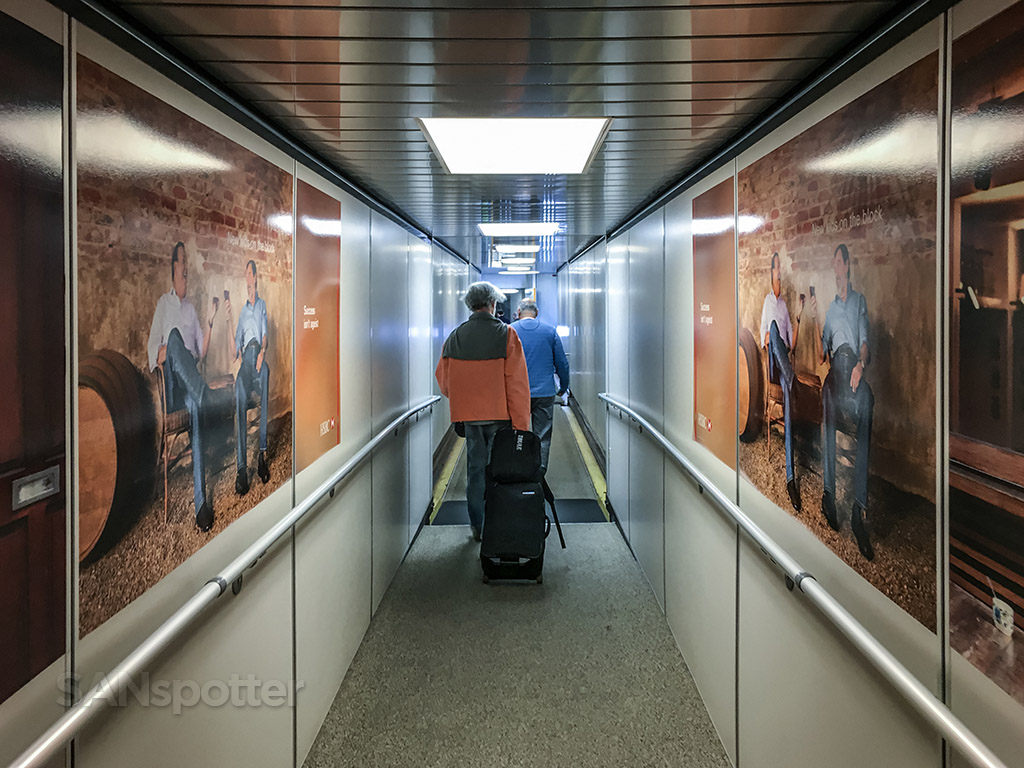 I've read enough Emirates A380 business class reviews to know exactly what to expect even before stepping on board, and once I was there it was just like being home. It looked really nice of course, but I've seen it a million times before which made it seem not so impressive unfortunately.
That was a total bummer, because the Emirates business class experience is all about being hit over the head with borderline tacky ridiculousness, and I wasn't getting any of that vibe in my first few moments. It looked pretty cool though. A bit over-the-top, yes, but still a very nice looking business class product.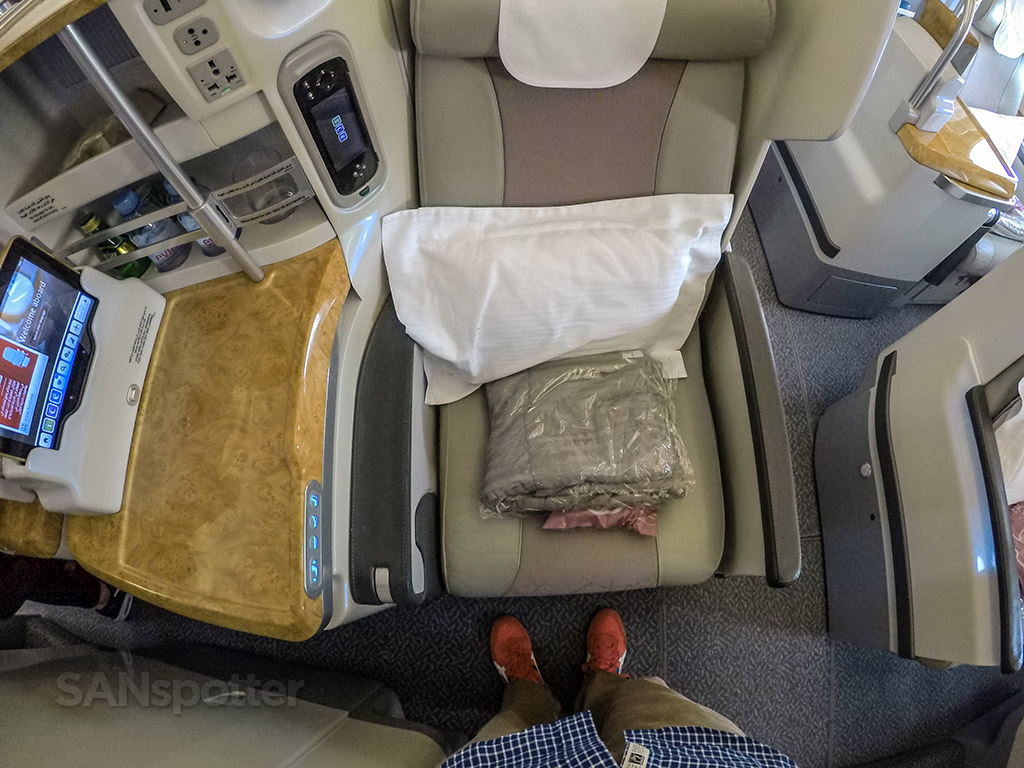 Champagne, orange juice, and apple juice were distributed on trays during the boarding process, and I was slightly bummed that they weren't offering any water. Hey – you should know how I feel about drinking water on airplanes by now, so you can't loathe me too much for craving water as a pre-deaprture drink. It's a SANspotter tradition!
Menus and the wine list came next, which occupied my time for a while. I wanted to make sure that this Emirates business class experience was going to be the best it could possibly be for me, so the dinner choice had to be perfect and I just couldn't make any mistakes. I mean, hey – I honestly don't know when it'll be when I'll get to try Emirates business class again, so I had to get it right the first time!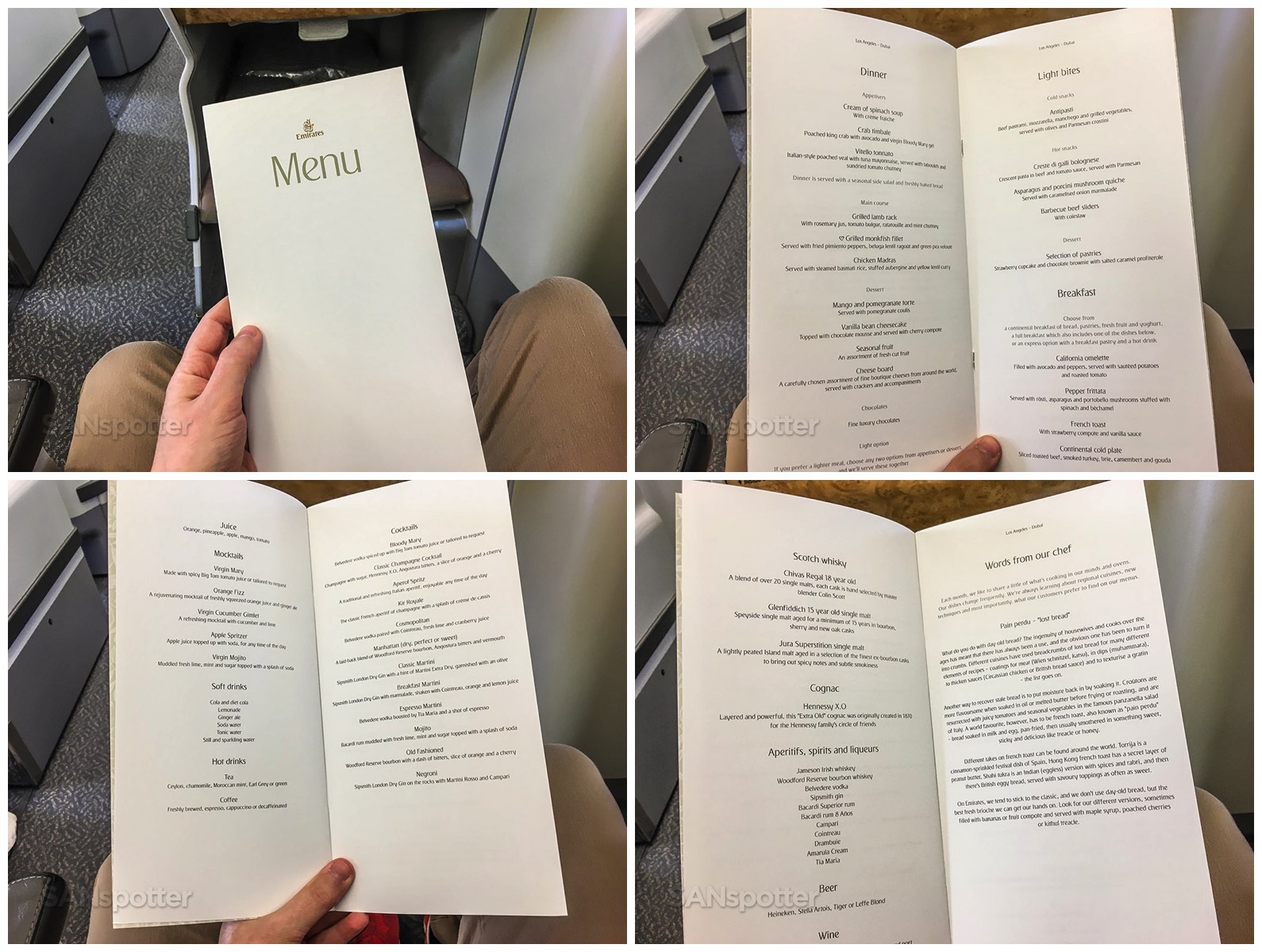 Hot towels came next, and from there I switched over to the live external camera on the very large video screen to watch our departure out of LAX. I'm normally a window seat guy for long international flights like this, but I've got to say that having a very large video screen with multiple camera views to the outside world was really nice and made sitting in an aisle seat not so bad actually.
t could've been a fake 3-D animation for all I cared, but just having that visual connection to the outside world when you're sitting at the center of a huge aircraft like this helps a ton.
The flight attendants started coming around with drink and dinner orders within 10 minutes of takeoff, and I thought it was interesting that they were using what looked like their own personal mobile phones to take orders.
I don't know if they were supplied by Emirates or not, but each flight attendant had their own personal pink and/or frilly case on it which seemed to imply that it was indeed their own personal device. That struck me as being a little bit odd – and perhaps a bit out of character in such a prestigious airline product such as this. Or maybe I'm just too old and crusty to understand.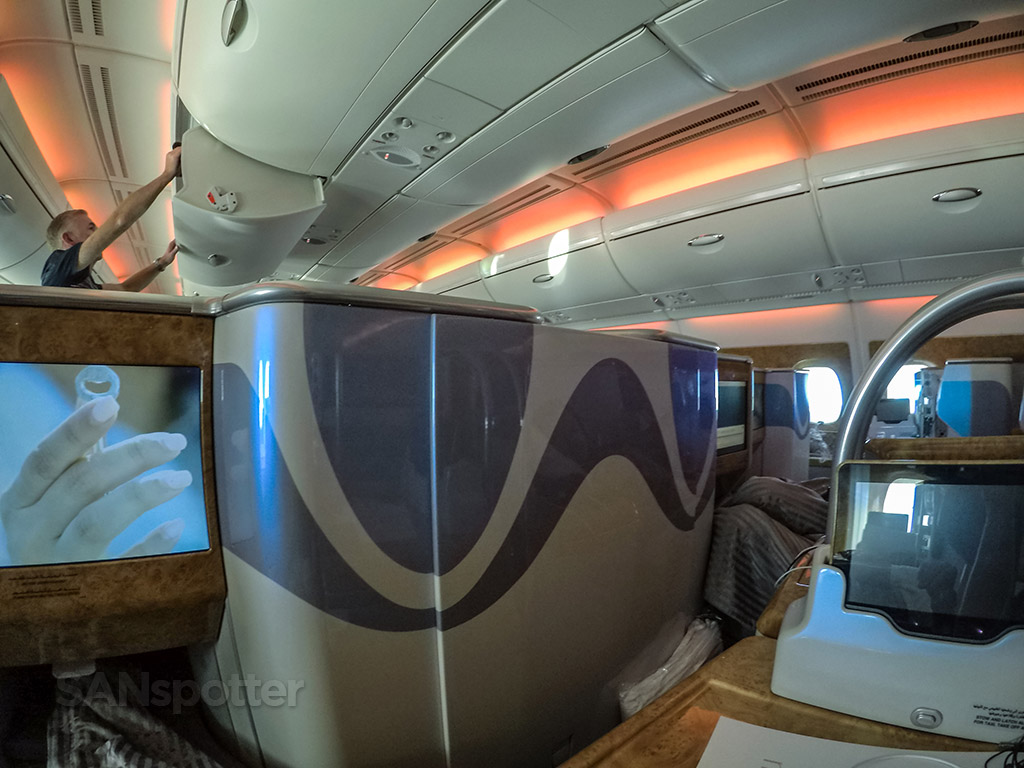 Cabin crew professionalism spiraled downhill faster and with more vigor than an industrial-strength toilet when the flight attendant approached me to take my dinner order. She looked at me, holding her pink and frilly-cased mobile device at the ready, and just waited for me to say something. There was no greeting, or instructions on how to order off the menu. She was simply staring at me blankly expecting me to tell her what I wanted for dinner.
Because I had no idea what she was asking for, I assumed that she was only interested in what I wanted for the entrée. In all of my international business class experience over the years, all of the appetizers are usually included, and it's typically only the entrée that needs to be chosen. Seems logical to think that was what she was asking for, right? I chose the Chicken Madras, and she still stood there looking at me looking like "and…?" after I declared that as my dinner choice.
I finally had to ask her if there was something else that I should pick off the menu, and she simply said "sure, pick whatever you want." That was even more confusing to me, because I thought she was implying it was ok to have another entrée as well. I ended up replying with "I'll just have chicken…and a glass of the merlot to go with it please." Little did I know that she took that way too literally.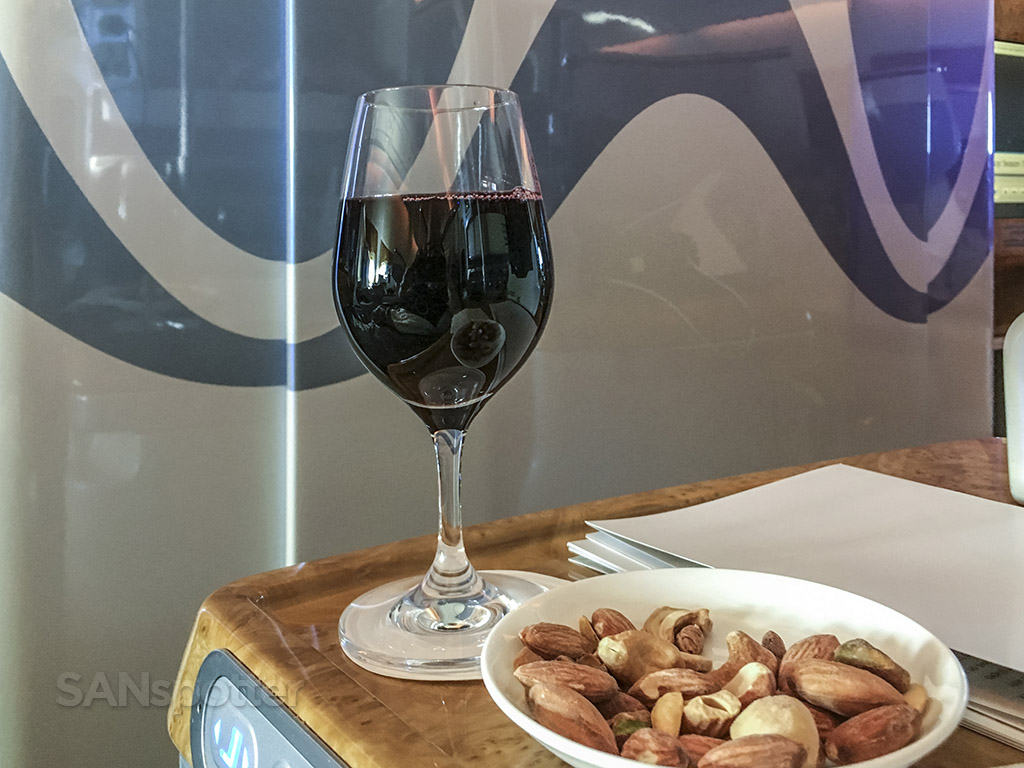 20 minutes later, the flight attendants started coming through the aisles once again delivering the appetizers to everyone around me. One by one, each and every person sitting around me got their appetizers – but they weren't even paying attention to me at all. At first I thought it was because I was a low life on a cheap upgrade who didn't even have cardboard status on Emirates, but I realized what had happened when that same flight attendant who took my dinner order came by and put down the chicken entrée in front of me – skipping the appetizer altogether.
What the hell? I guess I should have chosen an appetizer when she took my order initially, but I had no way of knowing that because she didn't tell me that was what I needed to do. At first I was a little bit irritated about her sub par presentation and communication skills (English was her primary language by the way), but I easily let it go considering that it's never healthy to eat too much on airplane anyway and I certainly didn't need that appetizer. Bon appétit.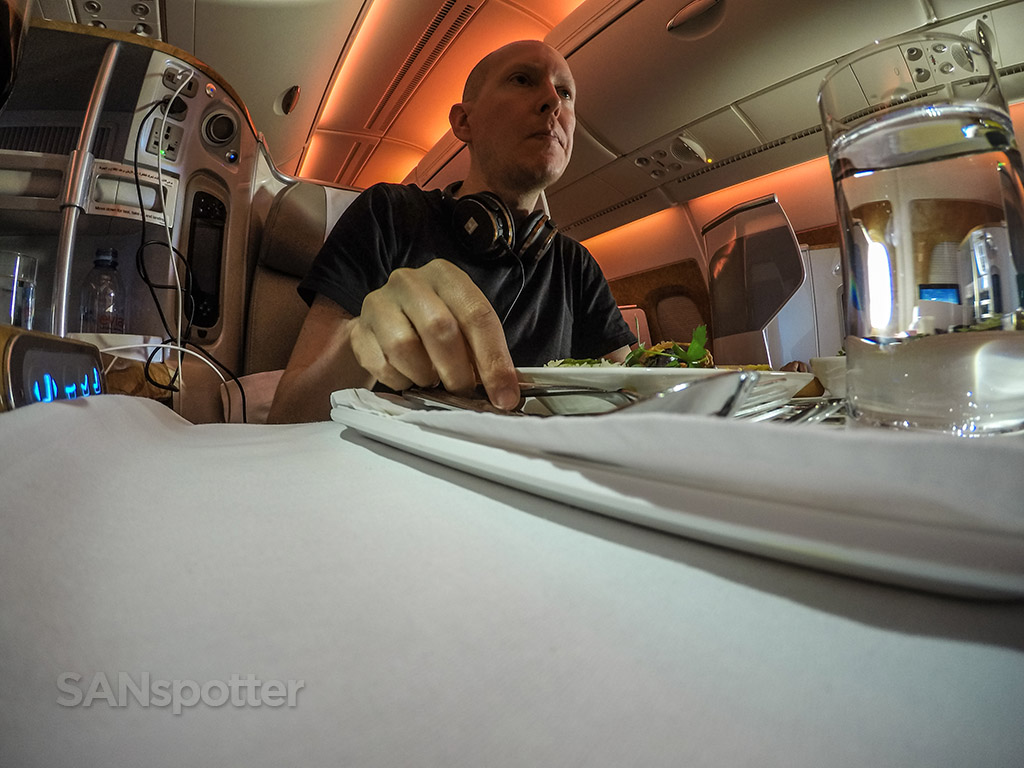 By the time I was finishing my meal, I was starting to wonder if I should've ordered dessert as well. I mean, of all the flights I've ever been on, I've never had to order dessert with the initial meal order. This was bizarre.
Thankfully, the flight attendant asked me if she took my dessert order as she was clearing my tray, relieving me from the awkwardness bringing it up myself. I told her that no, as a matter of fact she didn't take my order (in a nice way of course), and she seemed somewhat apologetic and promised to bring me a cheese plate.
So yeah – that was probably the worst meal service I've ever experienced in international business class. The food was decent of course, but the presentation and interaction with the flight attendant was just downright weird.
The guy next to me slept through the entire meal service, and ultimately it was his window shades which were the only ones left open in the entire cabin. With all that bright sunshine coming in, it was getting annoying and I asked a flight attendant if she wouldn't mind closing them. She had no issues with it, and reached over to his tablet and pressed a button to make the screens close automatically. Problem solved!
Another round of hot towels came by 30 minutes later, and as I sat there wiping my hands, I was still thinking about how cool it would have been to have a window seat so that I could play with those fancy window shade controls.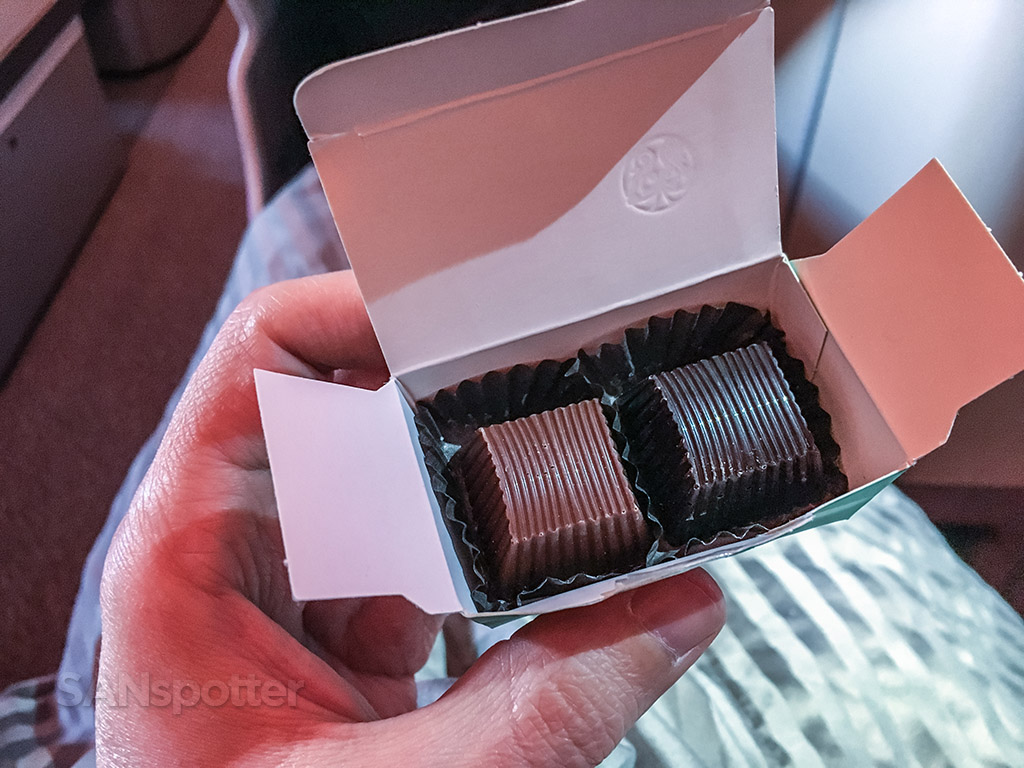 Before getting some sleep, I wanted to go back to the rear of the aircraft and check out that world-famous Emirates A380 lounge. Unfortunately, the flight attendant who was manning the bar was the same one who served me dinner, so it was a dry and awkward interaction. Even though she seemed cold and not very talkative, I asked her if I could take a picture of the bar (wincing a bit as I did it).
The look on her face told me that it was a request that she's heard many times before, because she didn't even say anything and just told me to stand behind the bar and she'd take my picture for me. That was totally not what I was asking (because I wasn't looking for a dorky picture of myself standing behind the bar), but her and I had been having major miscommunications for the entire flight so far so I just did what she said and pretended to look like I was having fun.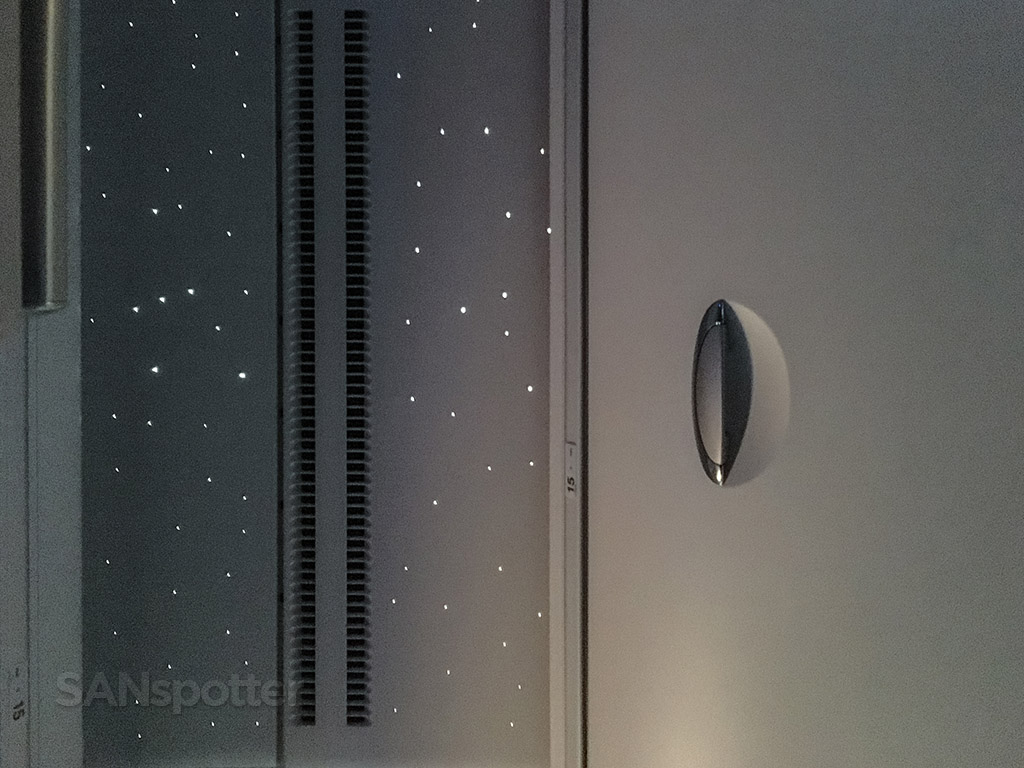 Somehow I managed to get seven solid hours of deep sleep after returning to my seat, despite the fact that there was a mega-huge snorer nearby. But there always is, isn't there? My Asiana business class flight from LAX to ICN a couple years ago featured one of the most annoying snorers that I've ever heard, with my recent Lufthansa flight from San Diego to Frankfurt coming in a close second place.
I wouldn't mind a snoring seatmate so much if I could do that myself. I can only imagine the bliss of sleeping like a baby on long flights! Come to think of it, the best I ever slept on a flight was from Hong Kong to Chicago in United 777-200 BusinessFirst, so I do have it in me. That was pretty good sleep (10 hours!), but most of the time I'm just tossing and turning for the most part.
Waking up over Russia with about four hours of flying time remaining meant that I missed the mid flight snack entirely – which kind of bummed me out a little since I was still hungry from the abbreviated meal service earlier on. And despite still feeling quite sleepy, I decided the proper thing was to stay awake for the rest of the journey since it would be evening when we landed in Dubai and I needed to have enough energy depleted by then so that I would be able to sleep that night.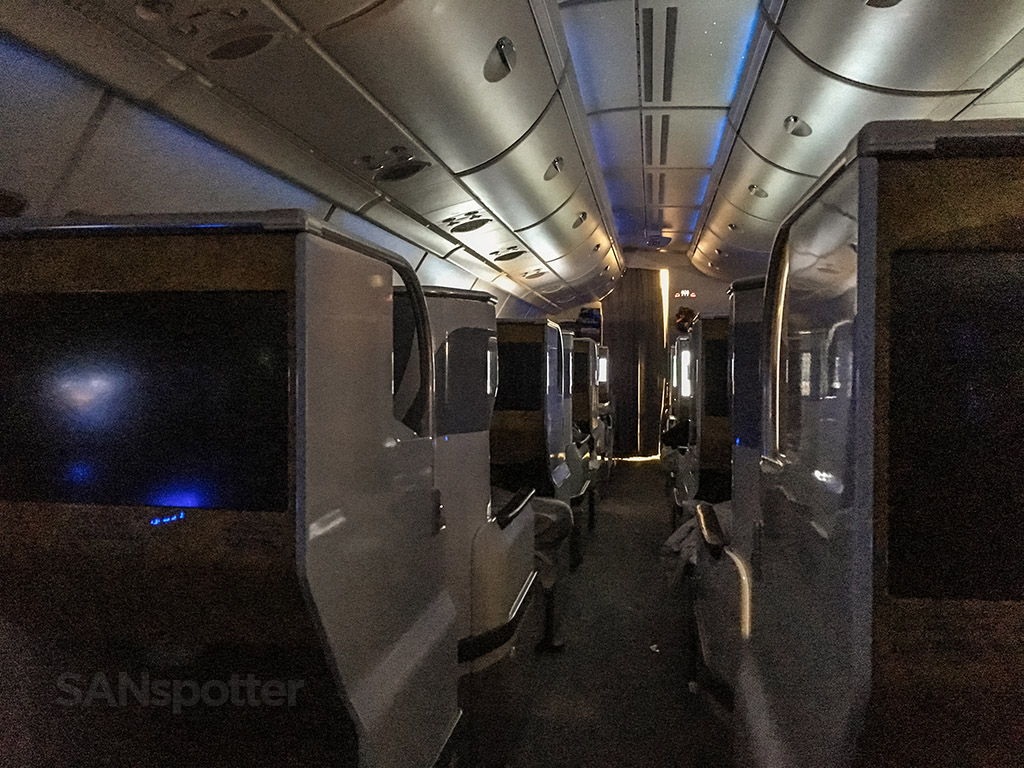 The lights came on with approximately two hours to go, and the flight attendants started coming through the aisles with medium warm towels. And wouldn't you know it? The same flight attendant that I had been having very weird interactions with on this flight so far was serving me once again. Normally there are crew changes for flights of this length, but I guess they were working the entire leg. Perhaps that's why she was so salty?
The breakfast service was really quick actually, which was a good thing because I was getting very excited about arriving in the Middle East for the very first time in my life, and I couldn't wait to get off this airplane and start exploring. Well, the exploration wouldn't start until the next day, but still – just being in a completely new place for the very first time is an exciting feeling all it's own and I was totally ready for it.
The descent into Dubai came exactly 7 minutes after the breakfast trays were cleared (is that a completely nerdy stat or what?), and my eyes were glued to that video screen in front of me as we dropped into the Martian-like landscape that is the United Arab Emirates. And again, as much as I would have preferred being in a window seat, that high resolution video screen with those cameras to the outside world was super cool and I felt like I was seeing most everything that I wanted to see.
So there you have it! My very first experience on Emirates, and I wish I could tell you that it was the most amazing flight that I've ever had and that I cannot wait to do it again. While the feeling to do it again is quite strong, I've got to be honest when I say that I found the service on this flight to be overall mediocre and nowhere near on the same level as an Asian airline such as Asiana or JAL.
I will admit that part of the disappointment is completely my fault, because I hadn't been paying too much attention to Emirates business class reviews lately, and it turns out that that complaints about mediocre service has been a common theme from others as well. Emirates business class is not necessarily known as being the gold standard when it comes to onboard service, which is something that I didn't know before going into this flight.
Is it worth avoiding all together? Oh hell no. The Emirates A380 business class hard product is fantastic (though it's borderline over-the-top and gaudy), which to some is the most important element of a long haul business class experience. And I have to be fair when I say that the entire crew wasn't all that bad actually – they just weren't up to the standard that I had been expecting them to live up to in my mind.
If anything, this experience has made me come to realize that I will probably think a little bit more highly of the people standing in line at the United Express check-in counter at LAX when I'm on my way to another Emirates business class flight in the future. Emirates is nice, but nowhere near nice enough to justify looking down on mere mortals on their way to Fresno on a CRJ-200.