It wasn't all that long ago when making an Alaska Airlines vs Delta comparison would've been considered pointless. Both of these airlines stayed out of each other's way for years, but they are increasingly intruding on each other's turf (in very aggressive ways).
Not only that, Alaska Airlines is very similar to the way that Delta was 30 years ago. It's easy to forget that Delta started out as a smaller niche carrier in the south eastern United States and slowly grew outwards. Alaska Airlines is currently in the process of growing outwards from the Pacific Northwest, and I am sensing big things to come…
Alaska Airlines vs Delta: a brief summary of all the similarities and differences
Quite frankly, this is one of the most exciting airline comparisons that I've done yet. There's a lot about Alaska Airlines which is different than Delta, but there is also quite a bit that is the same. Although they may not admit it publicly, the core values of these two airlines are remarkably similar.
Similarities
They both have focus cities in Seattle and Los Angeles
Both airlines have codeshare partnerships with a wide variety of airlines all over the world
Both airlines are in a fierce battle with one another to be the dominant carrier in Seattle
Most importantly, both are ranked very highly in customer satisfaction surveys
Differences
Although Delta is primarily focused in the eastern half of the United States, they have very good coverage across the entire country. Alaska Airlines is still focused primarily in the west (but is slowly expanding eastward).
Alaska airlines is part of the Oneworld Alliance. Delta is part of SkyTeam.
Delta has a vast international network covering nearly all areas of the globe. The only destinations Alaska Airlines serves outside of the United States are Mexico, Canada, Costa Rica, and Belize.
Delta's primary hubs are Atlanta, Detroit, Minneapolis, and Salt Lake City. Alaska's primary hub is Seattle.
The Alaska Airlines fleet of aircraft consists mostly of the Boeing 737. They do have a few Airbus aircraft, although they will be leaving the fleet soon. In comparison, Delta's fleet is varied with a large number of both Boeing and Airbus Aircraft.
An oversimplified history of both airlines
Alaska Airlines isn't that much younger than Delta Air Lines. Although both Alaska and Delta were two of the first airlines in the United States, Alaska has only started growing (aggressively) within the last 40 years or so. Despite the differences in growth timelines, the ways in which they both started were very similar.
Alaska Airlines history
Most people don't know it, but the history of Alaska Airlines traces way back to 1932. Founded by a guy named Linious "Mac" McGee (the coolest name for an airline founder ever), he boldly named his airline after himself (McGee Airways). Then, once that was firmly established, he launched service between Anchorage and Bristol Bay.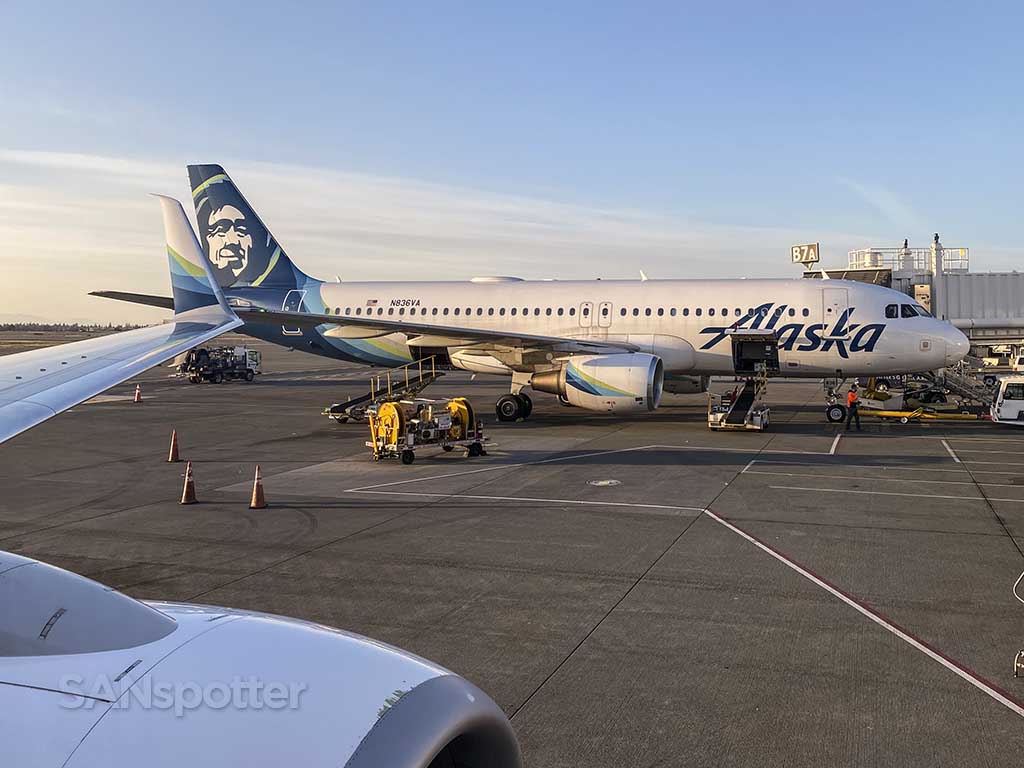 The airline had its ups and downs over the years (pun totally intended), and after a series of acquisitions and mergers with other Alaska-based airlines, they officially became Alaska Airlines in 1942.
Similar to Delta Air Lines, the Alaska Airlines fleet went through many changes over the years. Aircraft such as the Convair 880, Boeing 727, Lockheed L-100, and MD-80 (among others) were it's most common types. It's first 737 (a 737-400) entered the fleet in 1992.
I'm only scratching the surface though. The most important takeaway from all this is that the history of Alaska Airlines is complex and lengthy. Do be sure to read the full history of Alaska Airlines over on Wikipedia to get the full scoop.
Delta Air Lines history
Delta Air Lines began life just 7 years before Alaska Airlines did. Launched in 1925 as Huff Daland Dusters, the carrier actually started as a crop dusting service out of Macon Georgia. The airline became "Delta Air Service" in 1928, and passenger service began in 1929. Smart move, considering how it is now one of the largest companies in the world.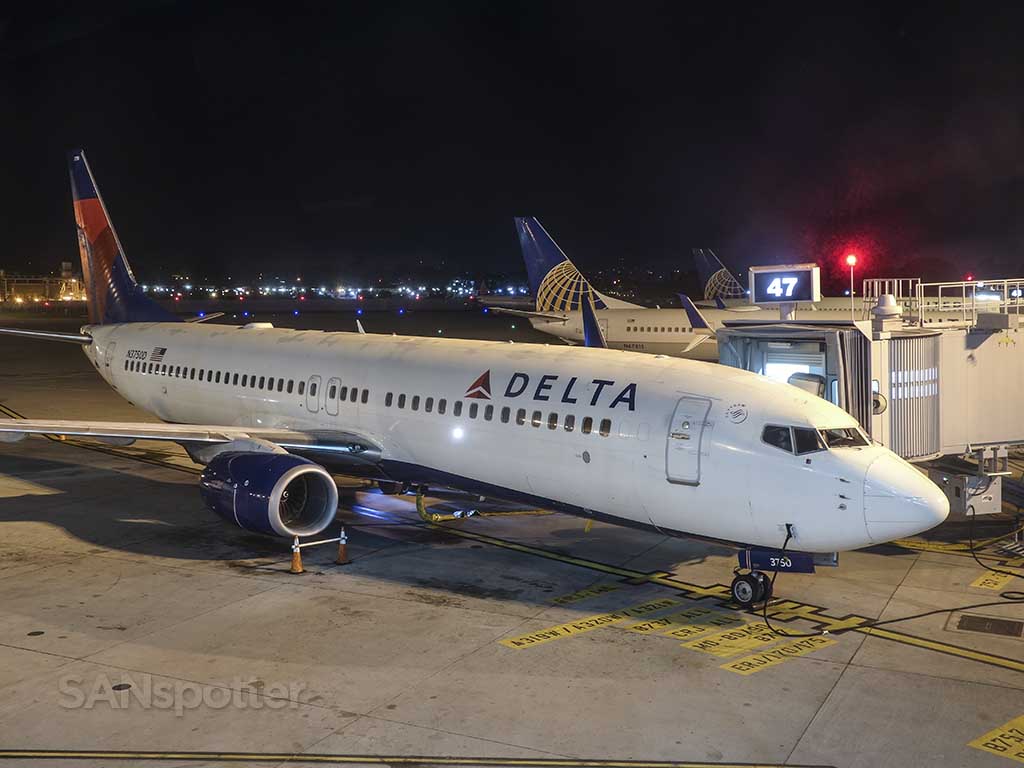 Oddly enough, the Delta Air Lines Wikipedia page is only a fraction of the size of the Alaska Airlines page. It's entire history was summed up in roughly 600 words, whereas the history of Alaska Airlines was (as the time of this writing) pushing 3000 words.
Considering that Wikipedia is crowdsourced content, what does that tell us about the fanbase of each airline?
Delta Air Lines vs Alaska Airlines in flight experience
Because Alaska Airlines does not serve international destinations (the overseas kind), I'm going to focus this Alaska Airlines vs Delta comparison on domestic routes only. This is the only area in which they compete, so there's no point in telling you about how amazing Delta international premium economy is. It is amazing by the way.
Seats
Both Delta and Alaska Airlines feature 3 individual seat types on every mainline aircraft:
First class
Premium economy
Regular economy
Keep in mind that both the first class and premium economy seats on both airlines aren't all that amazing. They are completely different kinds of seats compared to their counterparts on internationally-configured aircraft. If you want a real first class or premium economy seat, only Delta offers that, and you're going to have to fly internationally.
Alaska Airlines seats
In my opinion, Alaska Airlines seats are some of the best in the business. They are relatively spacious, they're always clean, and the style of seats that they use in their newest cabin configurations look great.
First class seats on Alaska Airlines are very similar to what you would get in first class on the Hawaiian Airlines A321. It's basically the same seat wrapped in different materials – and I think it looks great.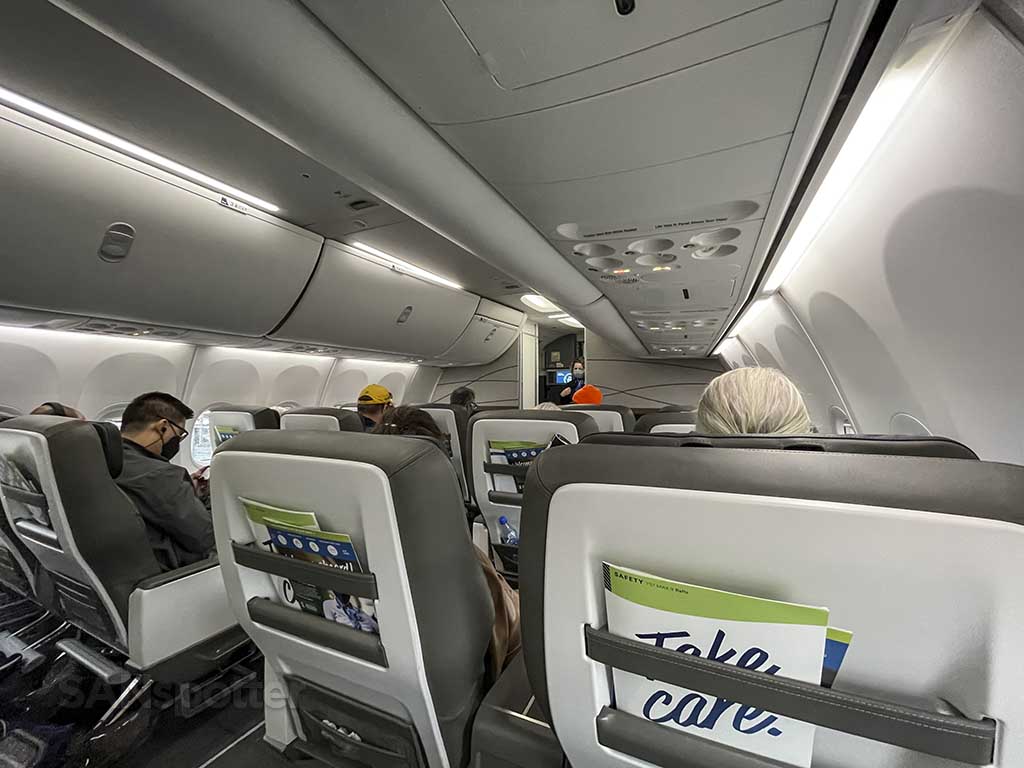 Alaska Airlines premium economy seats are exactly the same as their main economy seats with one main difference: more space! It should be noted that members of Alaska Airlines Mileage Plan will automatically be updated to the seats for free (if available).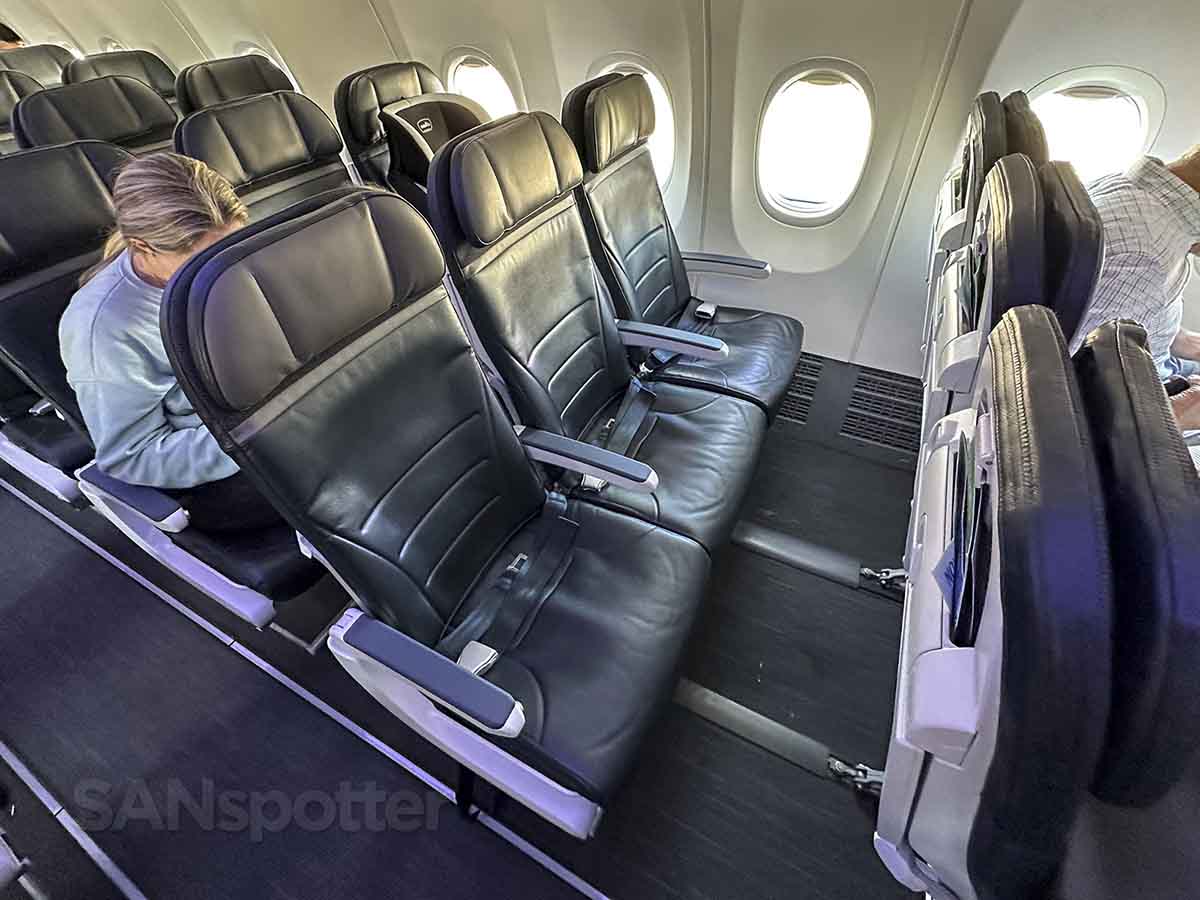 As far as the regular economy seats go, they are just as good as what you would find in Delta Air Lines regular economy. The only difference being that there are no video screens.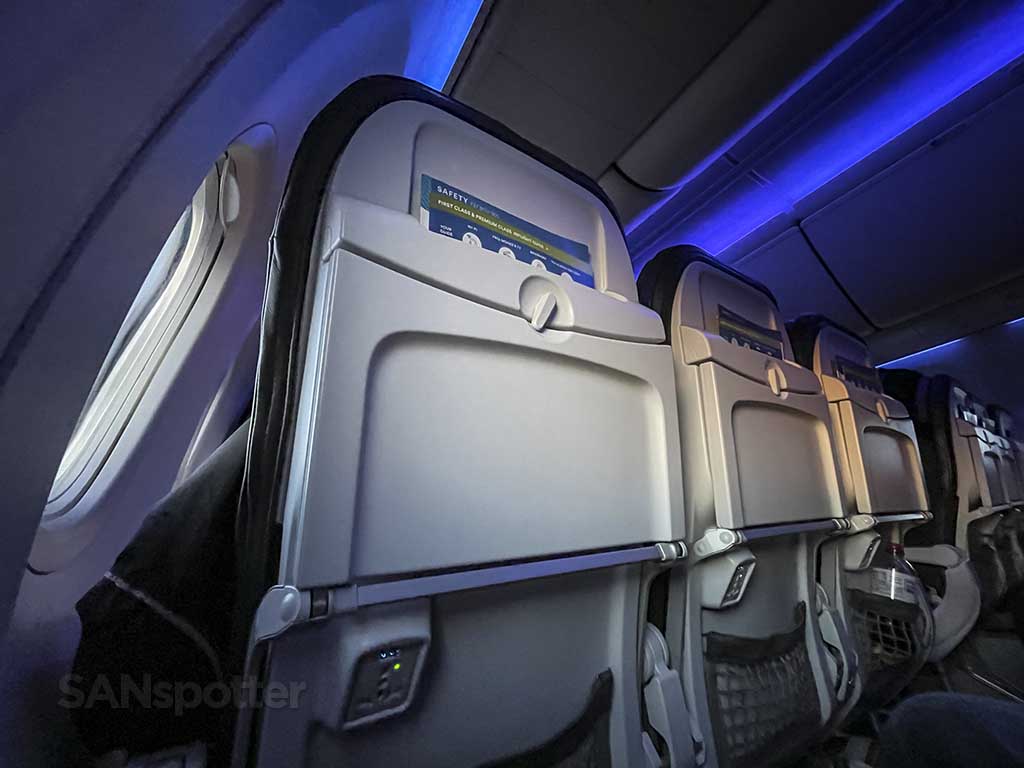 Keep in mind that Alaska Airlines does offer onboard entertainment. Although they don't supply the video screen, they offer a very well-stocked (and reliable) streaming service stuffed with lots of great TV shows and movies.
Delta Air Lines seats
Simply put, Delta is the best in the US when it comes to the quality of their aircraft interiors. You'll get a video screen at every seat, no matter what class of seat you're sitting in. Leg room is pretty good as well.
The only advantage that Delta has over Alaska Airlines in first class is that Delta has a fleet of internationally configured widebody aircraft that they occasionally put on domestic routes. The first class seats on those airplanes (technically business class seats) are phenomenal. But it's irrelevant for this comparison. Sorry to get your hopes up.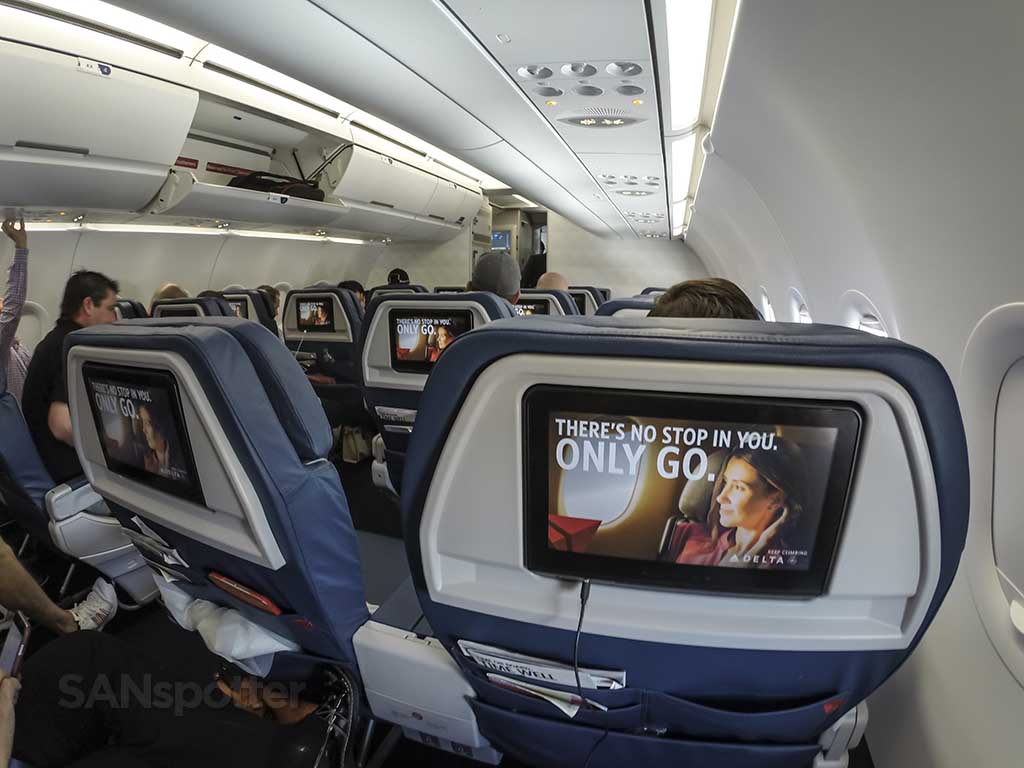 In terms of the Delta Air Lines first class seats which compete directly with what Alaska Airlines is offering, those are pretty good too. However, it's important to keep in mind that (because Delta operates a very large fleet of different kinds of aircraft) they don't have a consistent first class seat across all aircraft types. For example, you're likely to find the old style (large and fluffy) La-Z-Boy type seats on older aircraft such as the 737-800.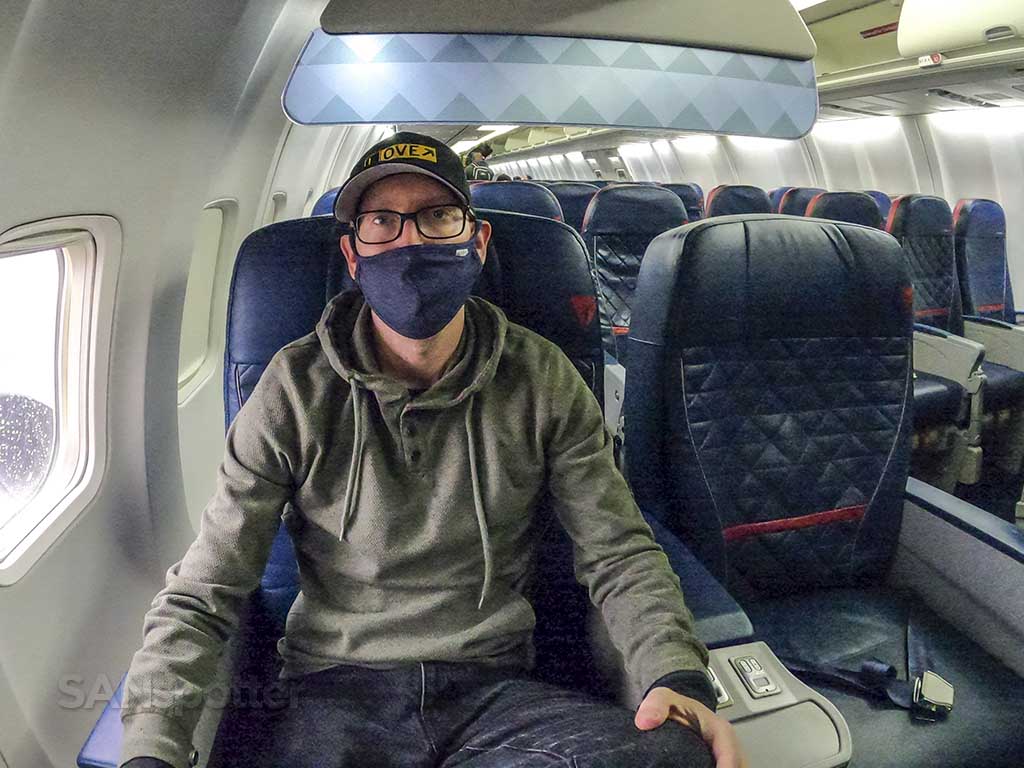 Premium economy on Delta is pretty good. However, unlike Alaska Airlines, the seats are differentiated with subtle stitching which identifies them as premium economy. Other than that, they are pretty much the same as regular economy but with far more legroom.
Regular economy seats on Delta are slightly better than what you would get on Alaska Airlines. This is because you'll not only get a large video screen, but you also get a USB power port as well. Not all Alaska Airlines aircraft feature power at every seat.
Food
Finally! We have reached the fun part of this Alaska Airlines vs Delta comparison. Both of these airlines offer pretty good snacks and food-for-purchase items on every flight. Spoiler alert: Delta does it better – but you won't go hungry on Alaska Airlines.
Alaska Airlines food
Alaska airlines has been working really hard in recent years to improve the quality of its first class food. It used to be pretty terrible – equivalent to what you would expect in Sun Country Airlines first class, but it's reached the point where they have reached Delta-level qualities of catering.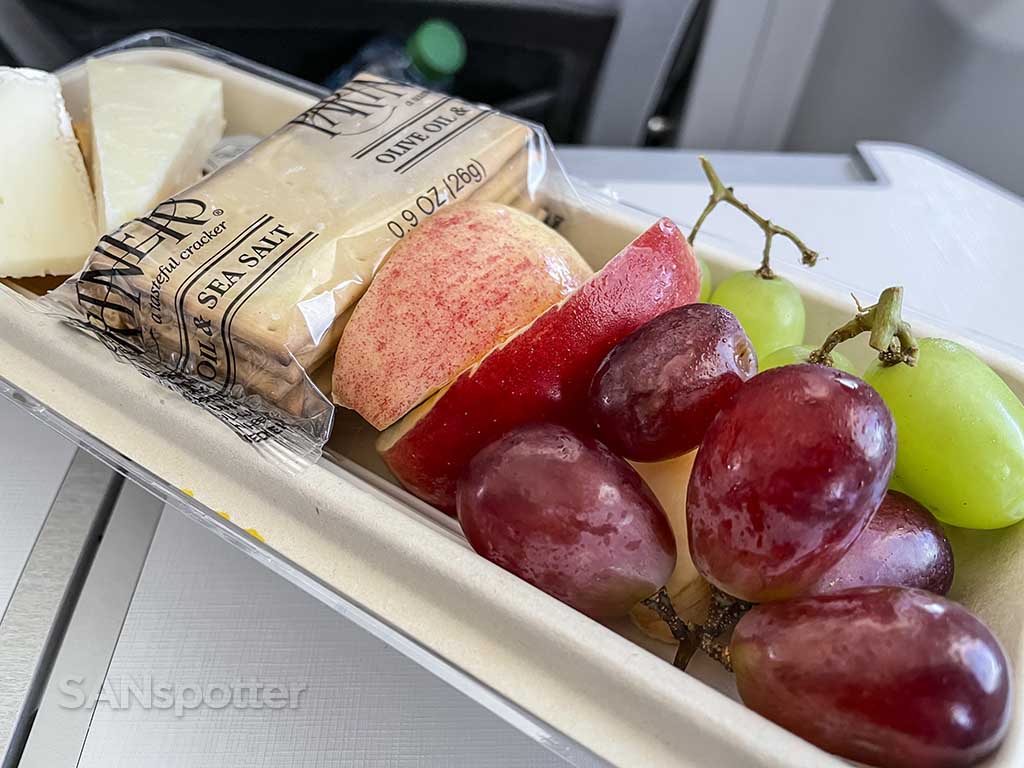 In economy class (whether it's premium economy or regular economy), you'll get a free drink and a bag of snack mix. However, they do offer a food-for-purchase menu on some flights, and the quality of that food is pretty good. I highly recommend the fruit and cheese platter.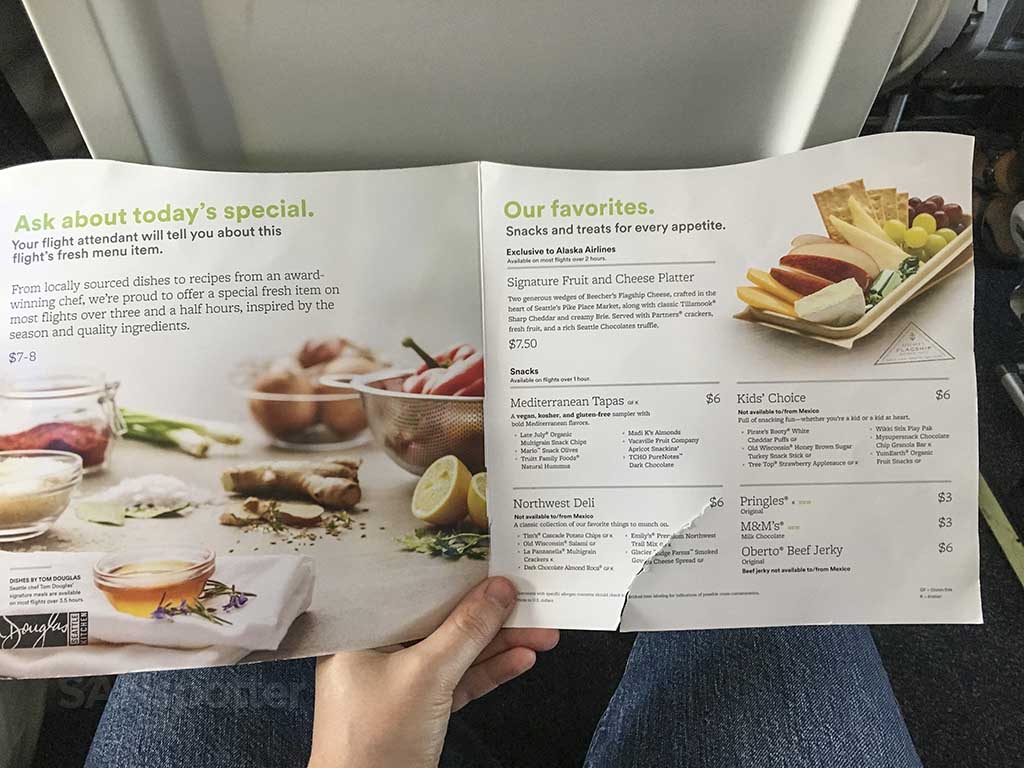 Delta Air Lines food
Delta has always been really good with food. Not only in first class, but in economy as well. No, they don't serve free food in economy class anymore, but they're always generous with the snacks and they'll be happy to give you a handful of stuff if you ask politely for it.
First class food on Delta domestic flights has always been the best in my opinion. Most of the stuff that I've been served has been restaurant-quality, and it's always what I've compared other airlines to.
Back in economy and premium economy, you'll get complementary snacks and a drink. The food-for-purchase menu (which is available on flights longer than three hours), is fairly well-stocked.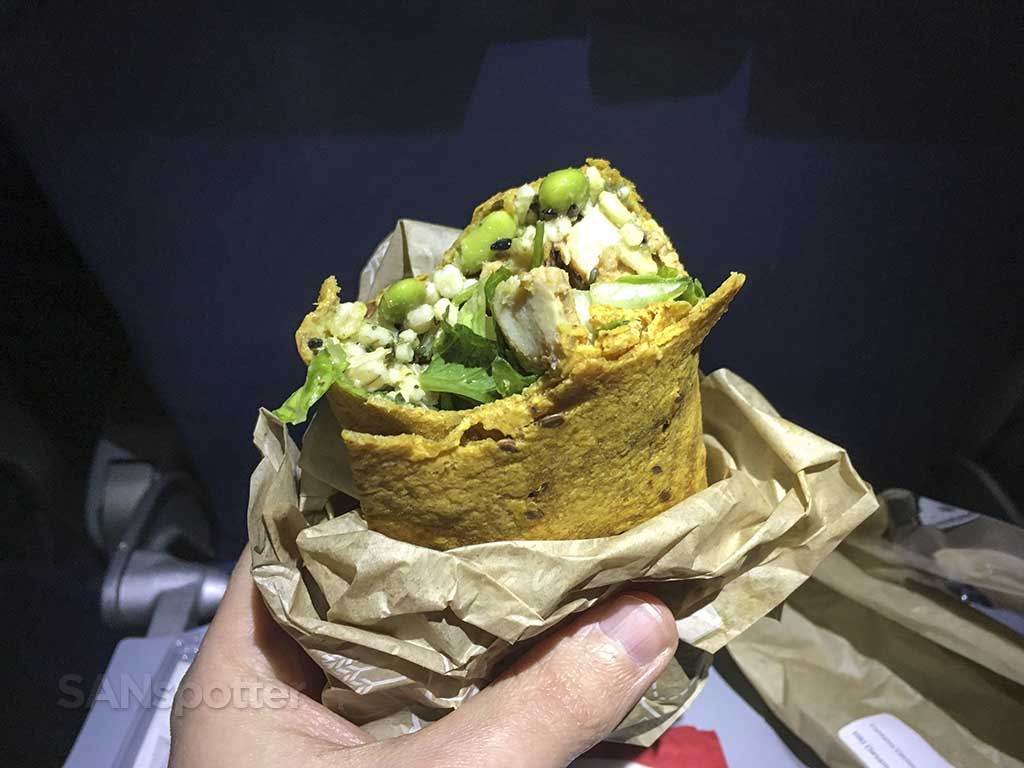 There are far more options than what you will find on Alaska Airlines, and I will say this: the fruit and cheese platter is not as good as what you would get on Alaska Airlines.
Comparing the Delta and Alaska frequent flyer programs
Remember what I was saying earlier about Alaska Airlines being where Delta was about 30 years ago? It's extremely apparent when comparing the frequent flyer programs of the two.
Alaska Airlines Mileage Plan
Alaska Airlines Mileage Plan is arguably the most generous and easy to use in the United States. The way you earn points is very similar to the way you do other airlines. However, the main difference is that:
It's very easy to find award availability
You'll never find yourself stuck with points that you can't use
Not only that, Alaska Airlines has partnered with a handful of really great global Airlines. Remember that QANTAS 787-9 premium economy flight that I did a couple years ago? That was purchased with 55,000 Alaska Mileage Plan points. And it was totally worth it.
Changes are a brewin' though. It behooves you to check out the latest information on the Alaska Airlines Mileage Plan page to see what's new.
Delta SkyMiles
The Delta SkyMiles program is very similar to Alaska Airlines Mileage Plan in the sense that it's very easy to accumulate points. However, the main difference is that it can be a total pain in the *** to redeem them.
Delta is not ashamed to charge upwards of 600,000 SkyMiles points for one business class seat from the United States to Europe (one freaking way too!). That's flat out robbery, and precisely the reason why the SkyMiles program gets so much hate in the industry.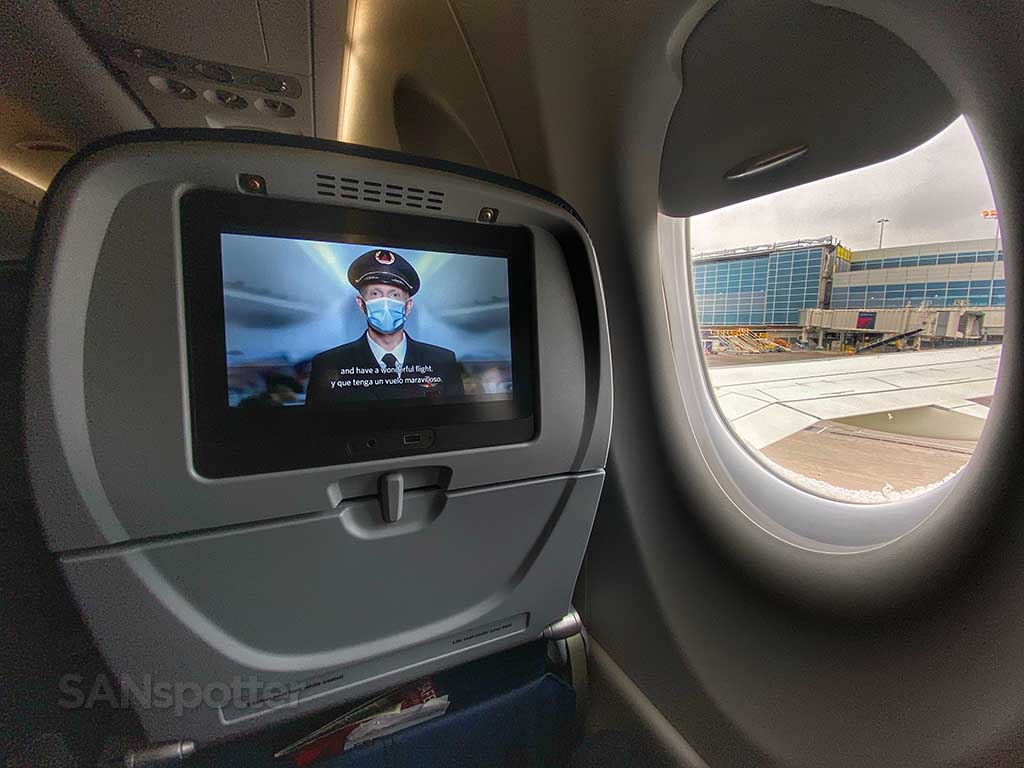 However, SkyMiles is a very good value for redeeming rewards for flights within the continental United States. And because we are comparing Delta Air Lines against Alaska Airlines here, this is very important.
Finding award availability for domestic flights in the United States on Delta using SkyMiles is incredibly easy and often a very good value. The regular price for a one-way economy seat award is 25,000 SkyMiles. However, it's not uncommon to see them offer sales which drives the price down to as low as 15,000 SkyMiles. It's an incredibly good value, and that alone makes it worth participating in the SkyMiles program.
It should also be noted that (just like Alaska Airlines), you can redeem SkyMiles points on a number of partner airlines. It's easy, and you can do it right from the Delta website. As a matter fact, that's exactly how I obtained a really nice seat in China Eastern business class back in 2020.
If you want to learn more about this program,, I recommend reading the official SkyMiles page over at delta.com.
Why would you choose Delta Air Lines over Alaska Airlines?
Choosing one of these airlines over the other is becoming increasingly difficult. Personally, I love both of them. They have served me quite well over the years, and I always look forward to flying both. Here's how to choose one of the other:
Choose Alaska Airlines if:
You live on the West Coast (and a majority of your travel is to destinations in the western half of the United States)
You want to be part of an airline loyalty program which is simple to use and offers tons of great award availability
You like Boeing 737's. Because within a few years, that's all you're going to get on Alaska airlines.
Choose Delta if:
You want a video screen at every seat
You you want a large international airline which can take you to points all over the globe
You're more comfortable flying on an airline with an incredibly dense network of flights (which can be to your advantage in times of flight cancellations and delays)
A few final thoughts on this Delta vs Alaska Airlines comparison
As I mentioned in the beginning of this post, I'm getting the sense that Alaska Airlines is on the verge of becoming a large global carrier. Heck, we're even starting to see JetBlue expanding internationally these days, so it's not hard to think that Alaska isn't too far behind.
Are we going to be seeing Alaska Airlines flying A350s with a really swanky business class product all over the world within the next 30 years? Only time will tell…
If that ever happens, Delta it's going to have to fight hard to fend them off. The battle is already getting fierce in places like Seattle, but it's going to get downright gnarly if it expands elsewhere.
Maybe even a little bloody? Now that would be an airline comparison worth reading!