I'd love to tell you that my recent 4.5 hour flight in Alaska Airlines 737 MAX 9 Premium Class was one of the most underrated air travel experiences I've had in a while, but I don't think I could do that with a straight face. It was just OK.
Sure, the leg room was excellent. I appreciated the free alcohol (even though I didn't take them up on it). Being in the first economy class group to board the plane was pretty sweet as well.
Honestly? Considering that I still had to pay for food in what was essentially a tiny (and notably firm) economy class seat, it left me feeling that I could've saved a few bucks and sat in regular economy instead. I'm basically too short (and sober) to fully appreciate the benefits of Premium Class.
AS777
San Diego, CA (SAN) – Washington DC (IAD)
Monday, August 28, 2023
Aircraft: 737 MAX 9
Registration: N936AK
Duration: 4 hours 34 minutes
Seat: 9A (Premium Class)

My full review of Alaska Airlines 737 MAX 9 Premium Class from San Diego to Washington DC (IAD)
Those of you with eagle eyes (and a crap ton of 'AvGeek' in your soul) no doubt raised an eyebrow upon reading the flight number of this flight up above in the description. '777' didn't happen by accident. Here's how it all went down:
In early 2023, Alaska Airlines announced new service from SAN to IAD.
United (the dominant – and only – airline on that route) was none too pleased to hear the news. In retaliation, they immediately announced that they would be upgauging one of their daily IAD flights to a Boeing 777-200 (with lie flat first class seats).
Alaska Airlines essentially said "bring it mofos!" while simultaneously announcing '777' as the flight number for their new SAN-IAD service. Hilarity ensued, and the battle for IAD was on.
Arrival at the airport
I arrived at the San Diego International Airport exactly 2 hours before what would be my 3rd ever Alaska Airlines Premium Class experience. I didn't need to arrive that early considering that I had checked in online (and I already had my boarding pass), but I'm of the opinion that it never hurts to be punctual.
Besides – had I waited, I'd just be sitting at home wishing that I was at the the airport instead. The grass is always greener, right?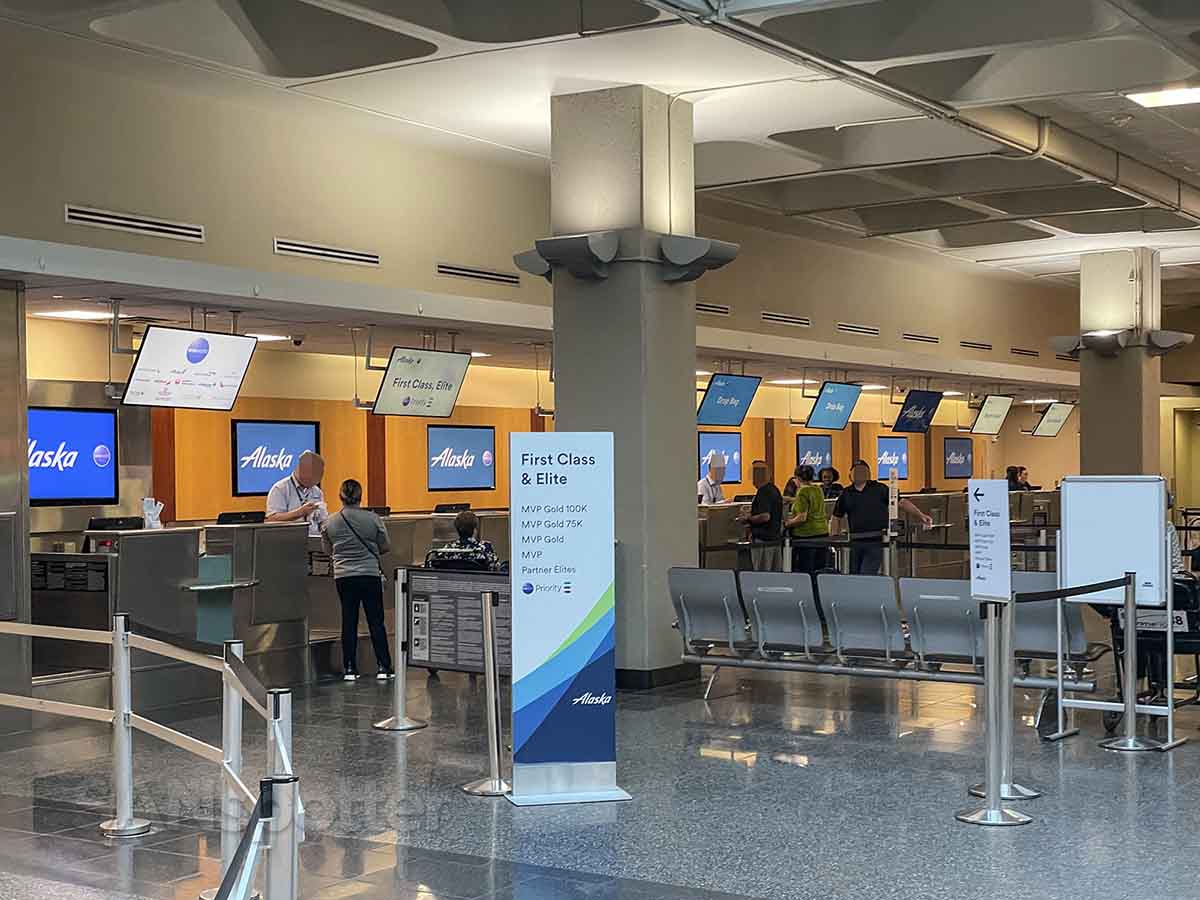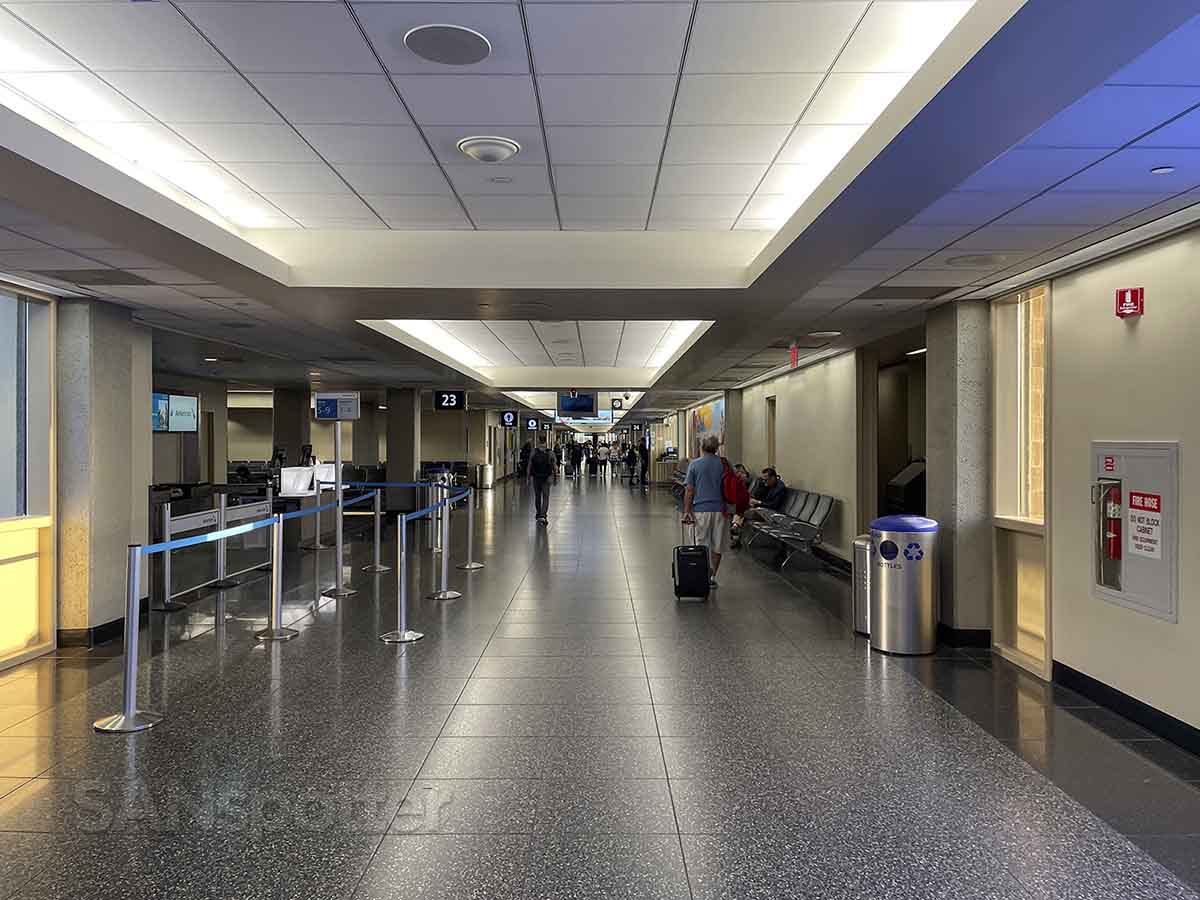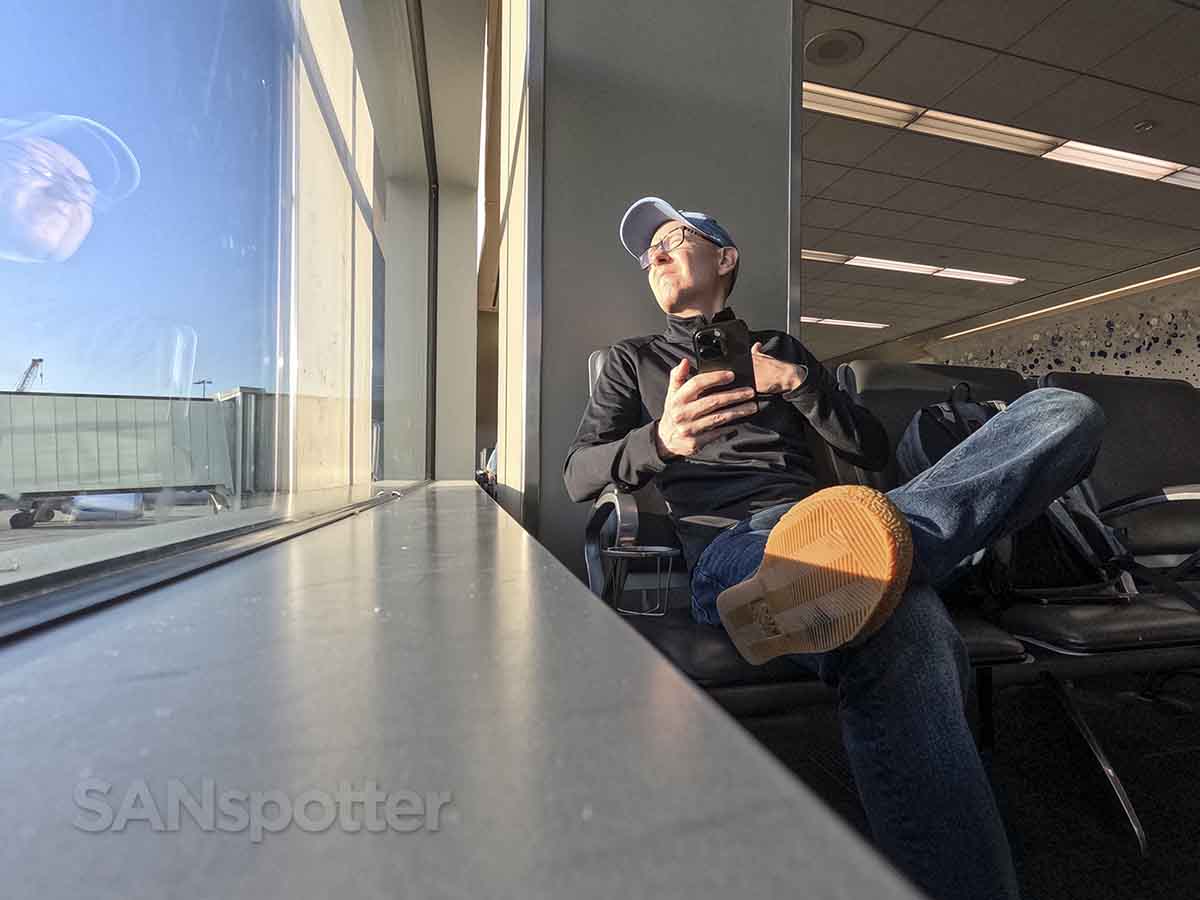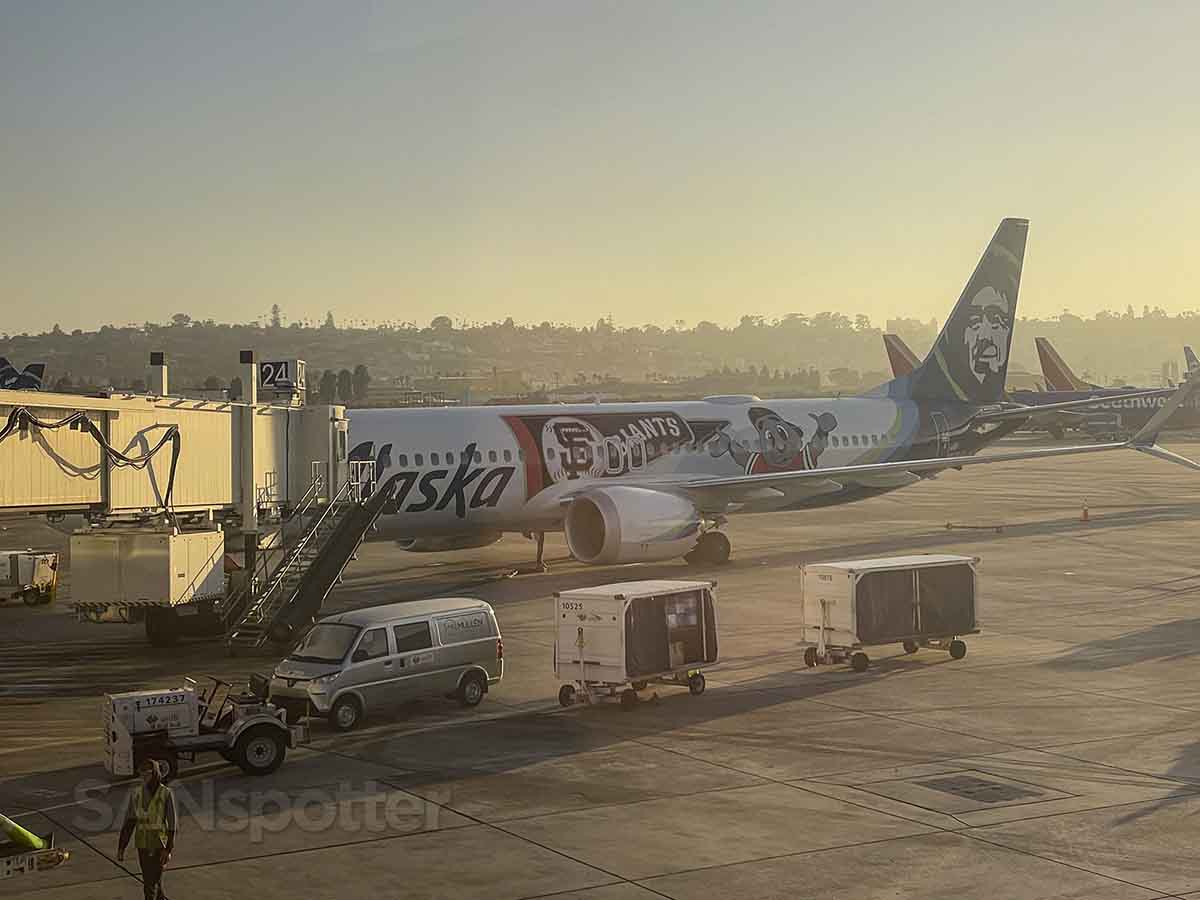 The boarding process for AS777 to Washington Dulles
Alaska Airlines Premium Class passengers board with Group B. Not only does that require waiting until Group A (first class) boards, it requires additional patience for letting active duty military, families traveling with small children, and Alaska Airlines Plutonium-Crusted Elite passengers to go first.
Looking around the gate area led me to believe that it was going to be a fairly full flight. Perhaps Alaska Airlines has been holding their own against United? Well, read on. What you're about to see might be cause for some concern…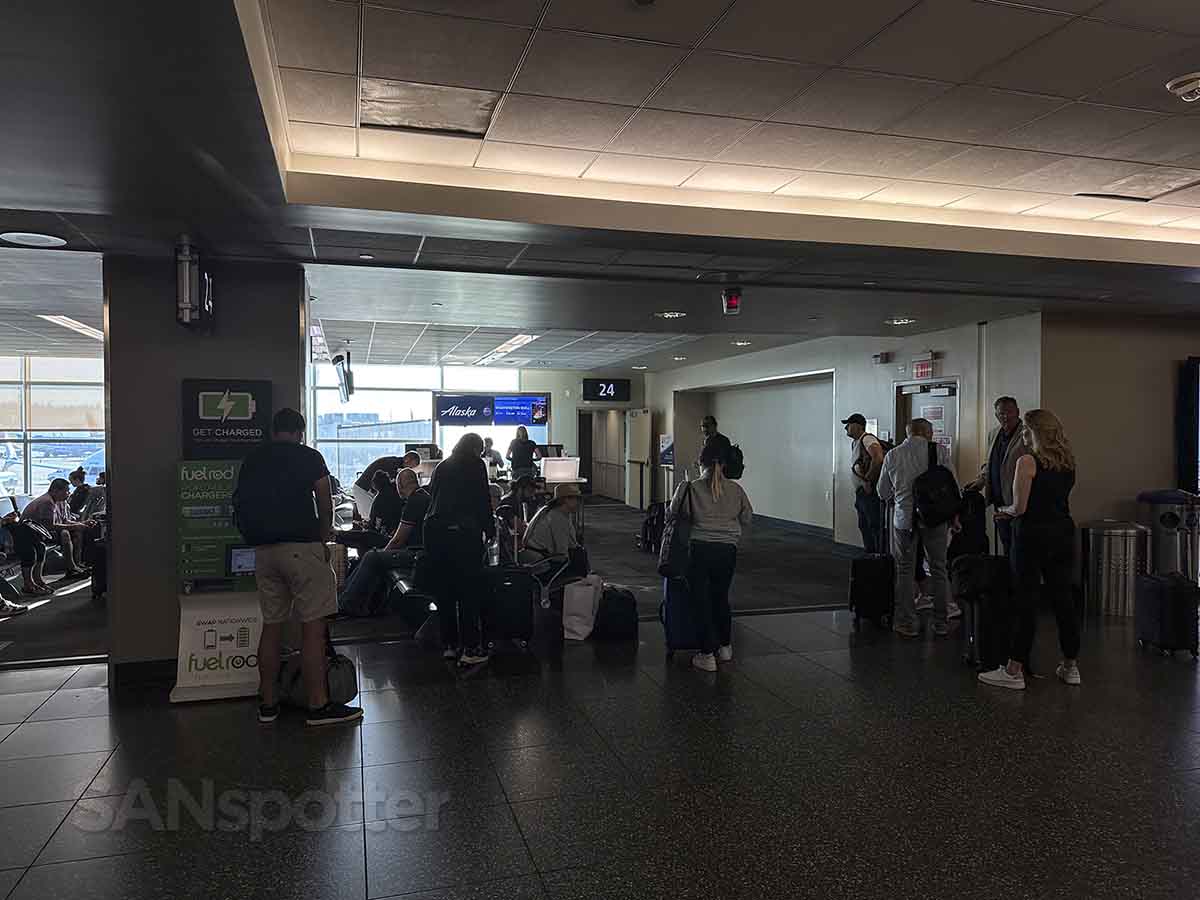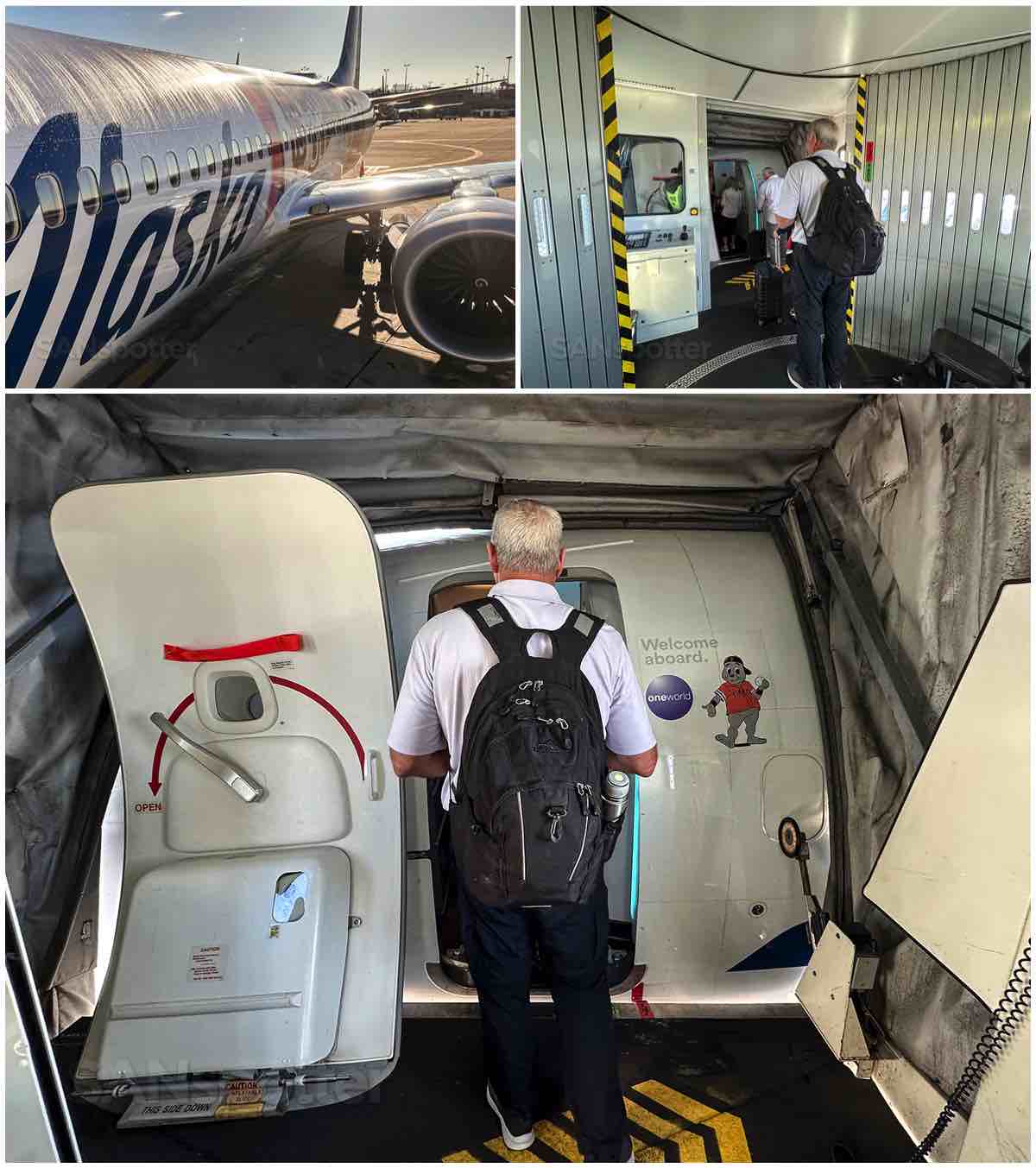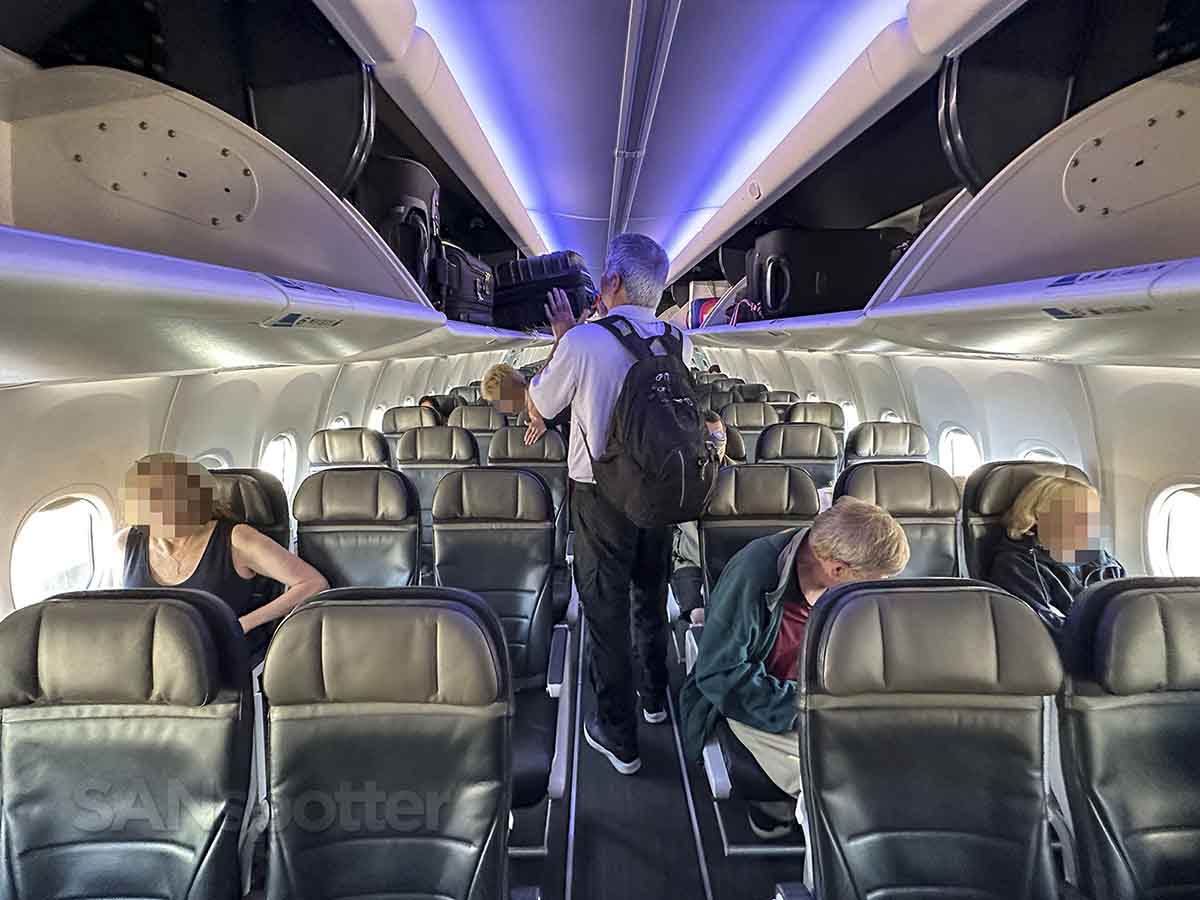 A closer look at the Alaska 737 MAX 9 Premium Class seats
The simplest way to describe Alaska Airlines 737 MAX 9 Premium Class is to say that it's essentially economy class with extra legroom. Go ahead – call it premium economy if you want (especially since it comes with other perks such as free alcohol and priority boarding). Be warned though. The aviation community on social media is quick to correct annihilate anyone who refers to these seats as such. Tread carefully.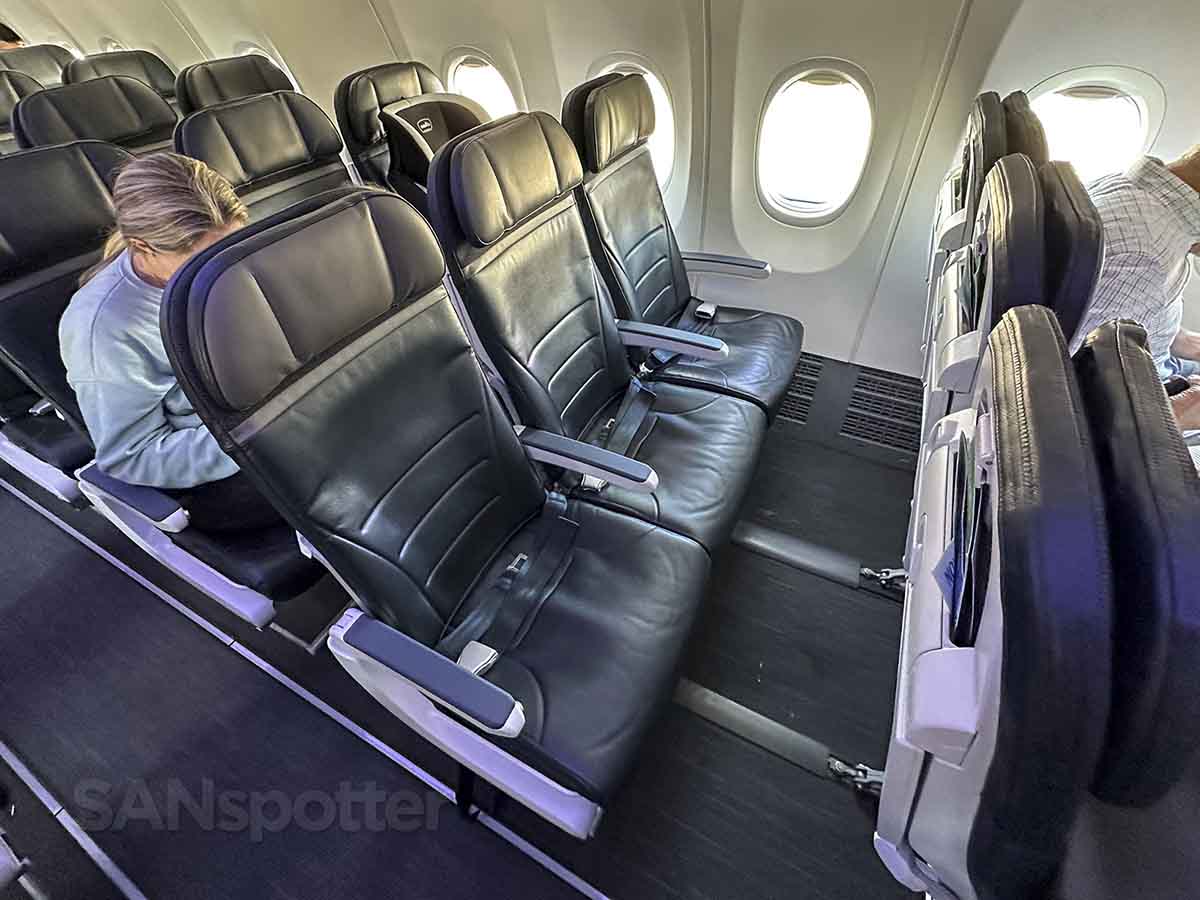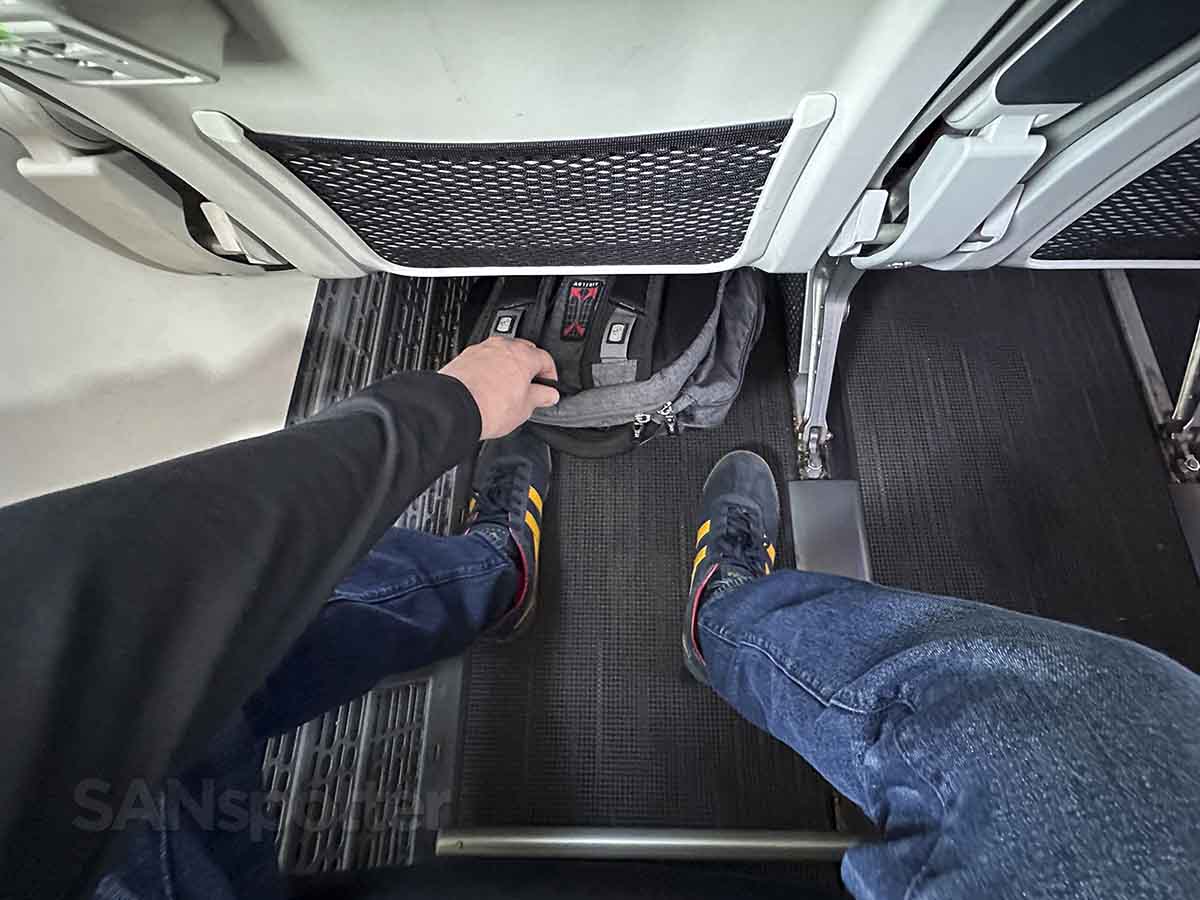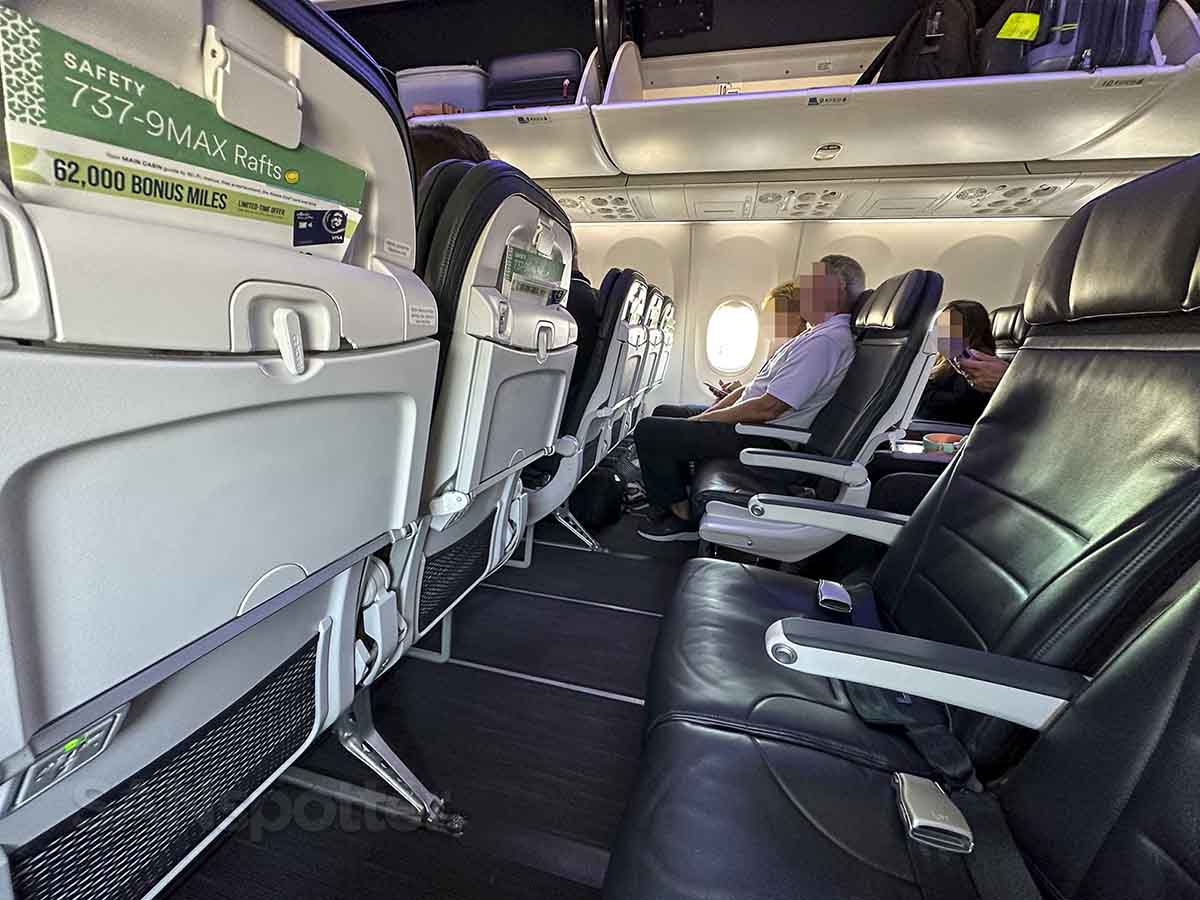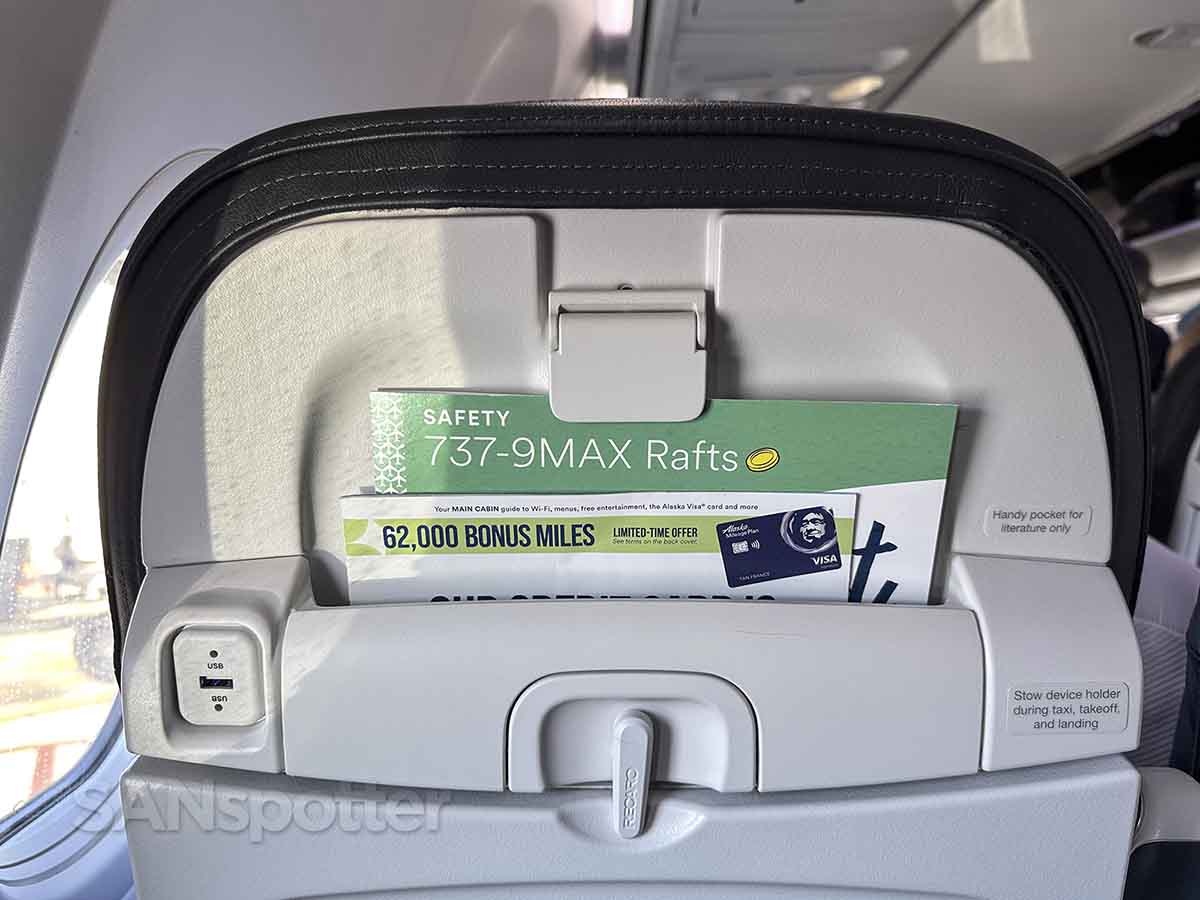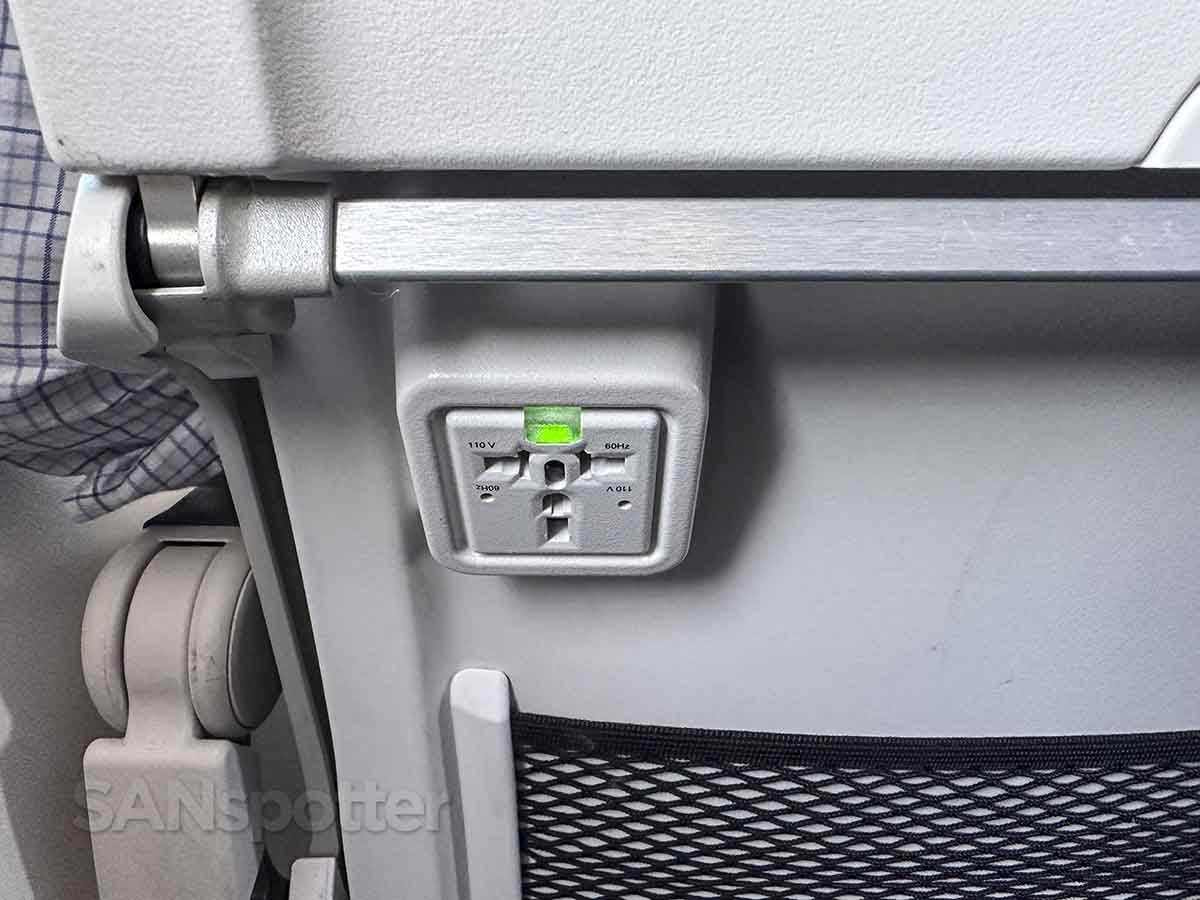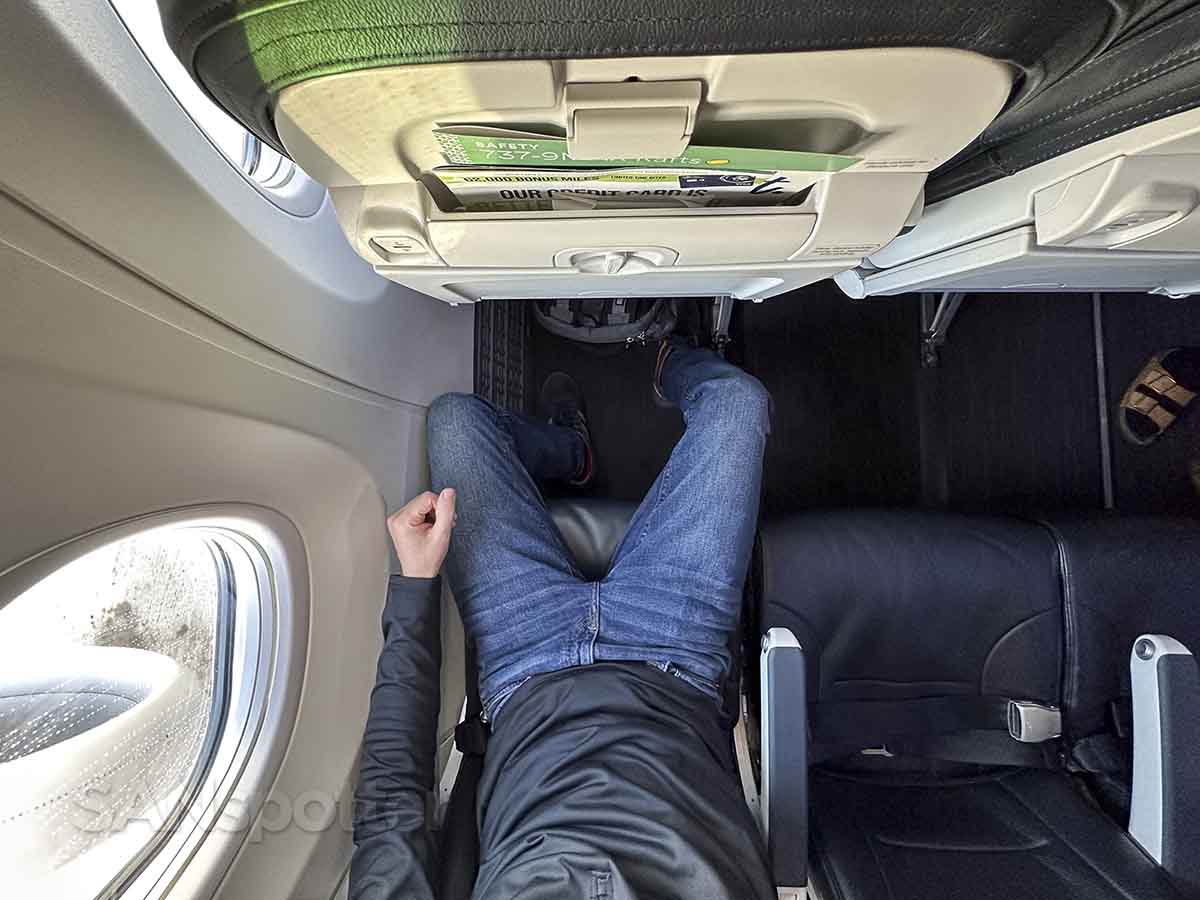 The departure
Call me lucky (and maybe a little weird while you're at it), but I've never once had a horribly delayed flight with Alaska Airlines. Today was no exception considering that we pushed off the gate several minutes early – which I can only assume was because of the light load factor. This flight was maybe 60% full (or 40% empty depending on how pessimistic you are).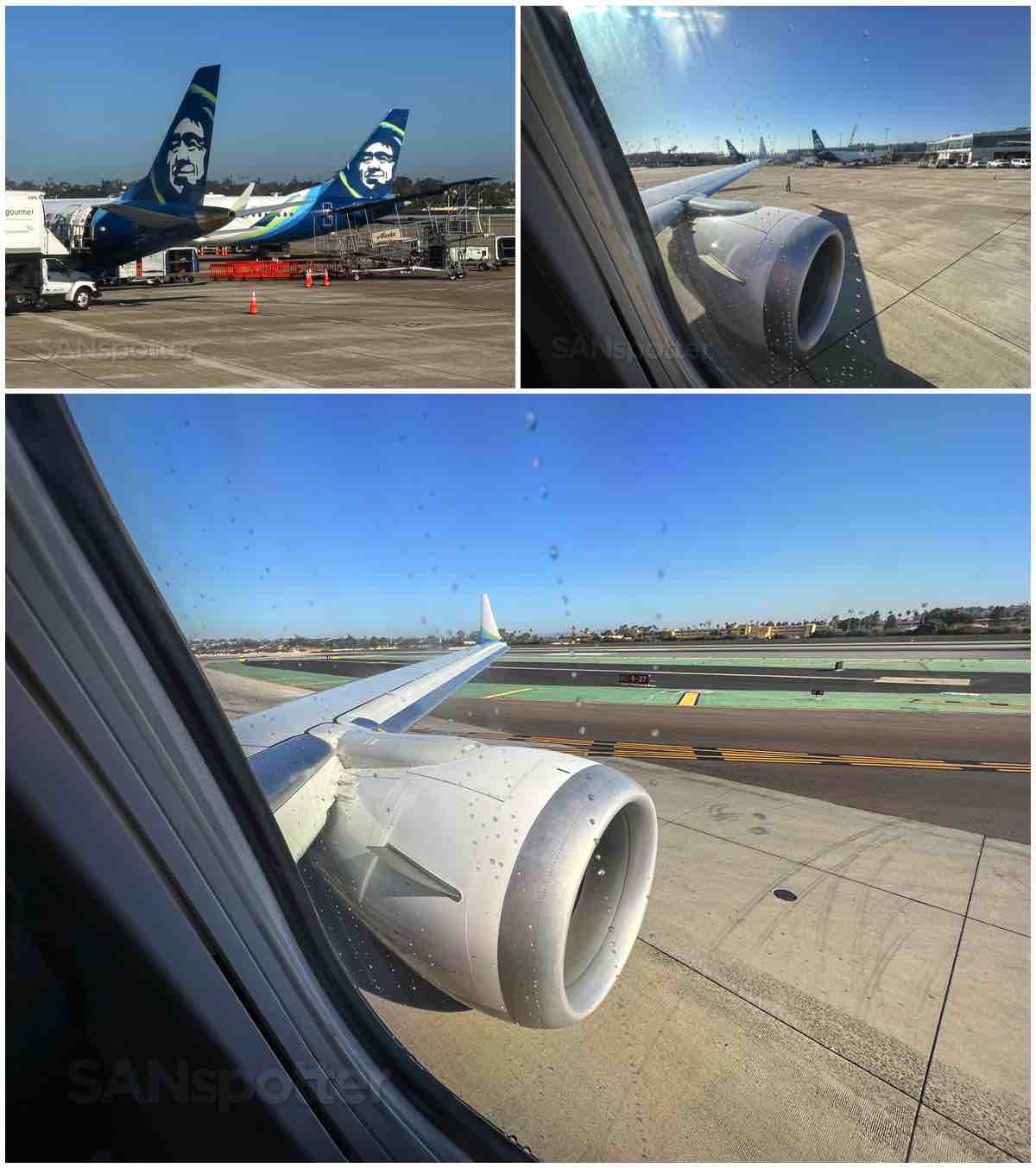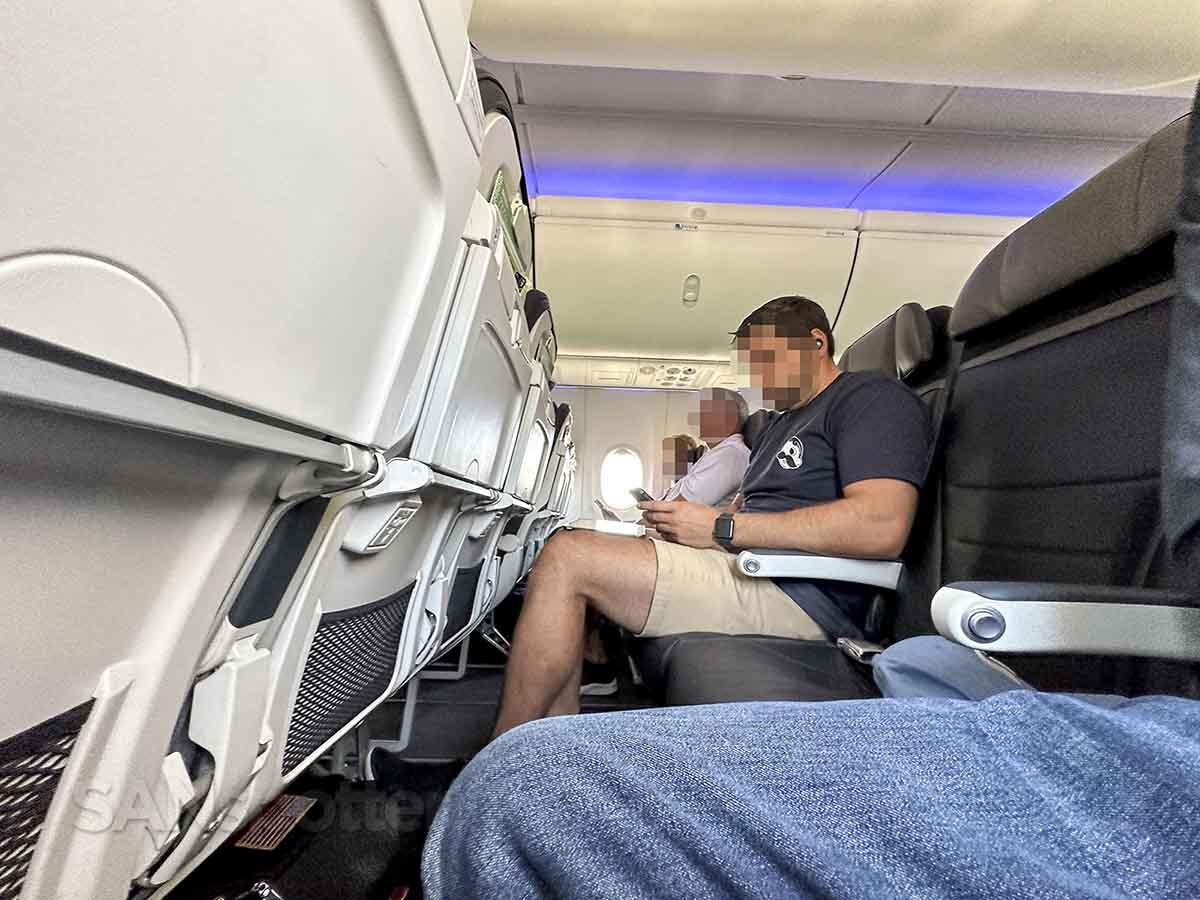 In-flight entertainment
Let's start with the bad news first (since there's not much of it). Basically, there are no video screens in these seats. With that out of the way, I'm happy to report that Alaska Airlines offers an extremely robust streaming in-flight entertainment service. Not only does it contain over 800 individual movies, TV shows, and audio tracks (music and podcasts), it's freaking fast. No buffering!
Like most US airlines these days, text messaging is free. You're going to have to pay extra to access the Internet via Wi-Fi though.
The food situation
The main perk of Premium Class on Alaska Airlines is the free alcohol. Free non-alcoholic drinks and small snacks are also included, but you still have to pay extra for something off the menu. I recommend pre-paying for your selection several days before your flight via the Alaska Airlines app or website (just to be sure that you'll get exactly what you want).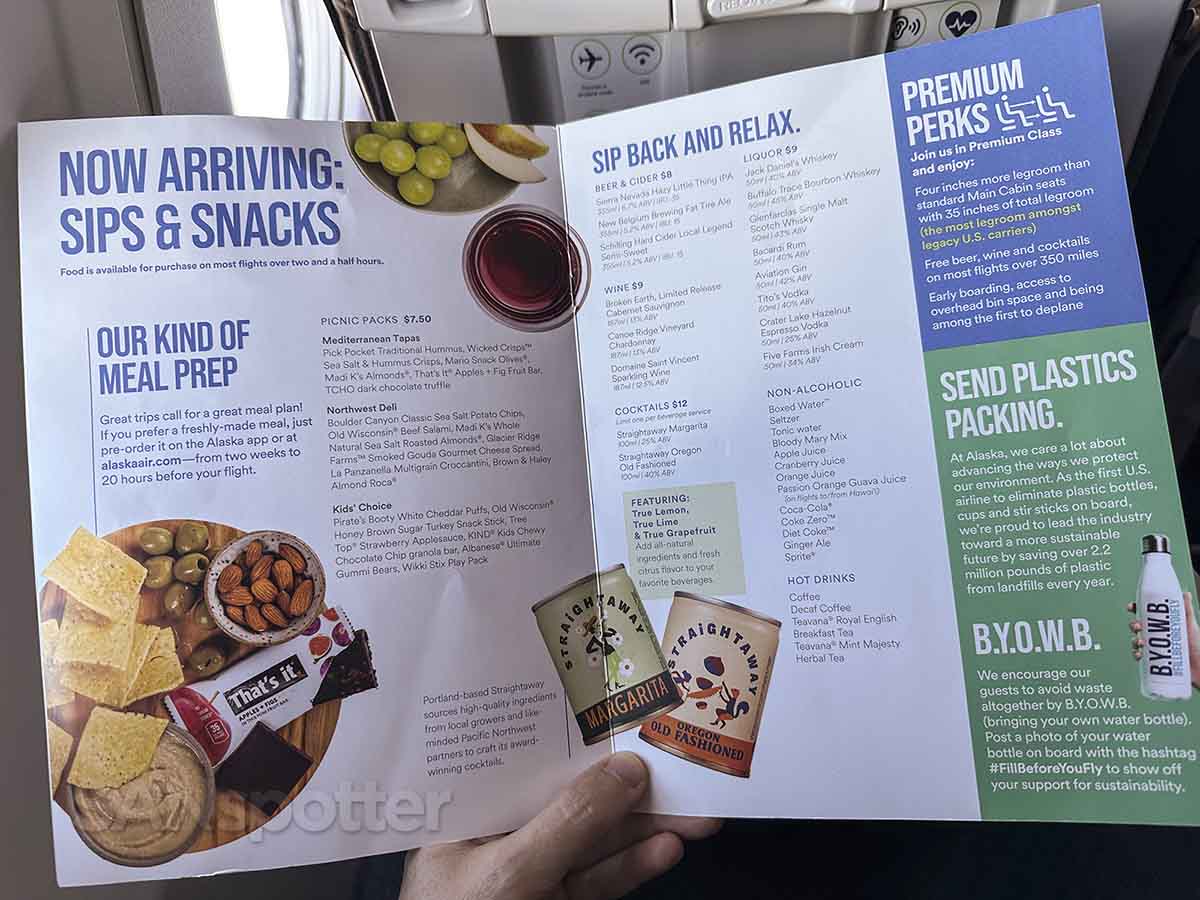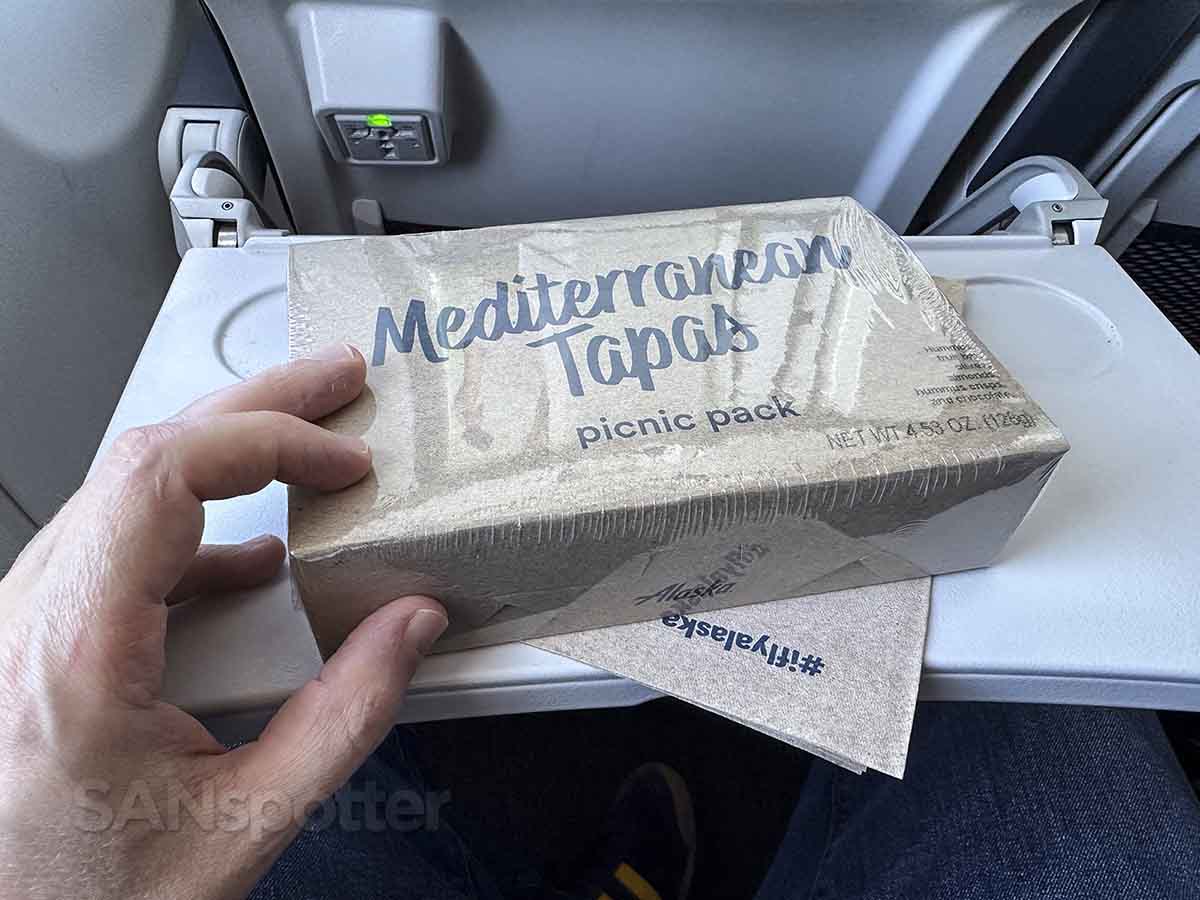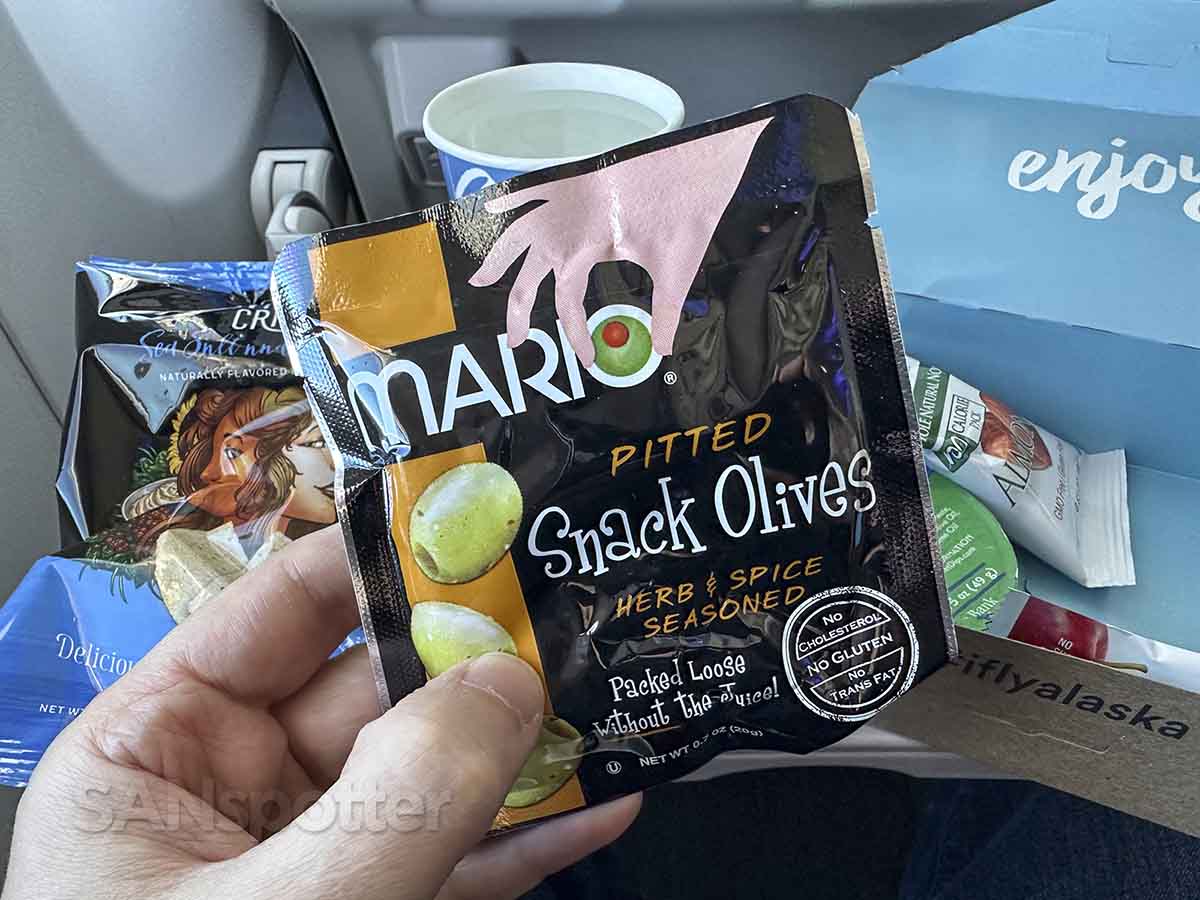 Seat (and cabin) comfort
As someone of average height (5'-10"), I found the extra legroom to be pretty nice – but not a total game changer. I could cross my legs with ease, and it wasn't all that difficult to stretch my legs out straight in order to keep the blood flowing. But since it was just a basic economy seat anyway, I can't classify it as a totally luxurious experience.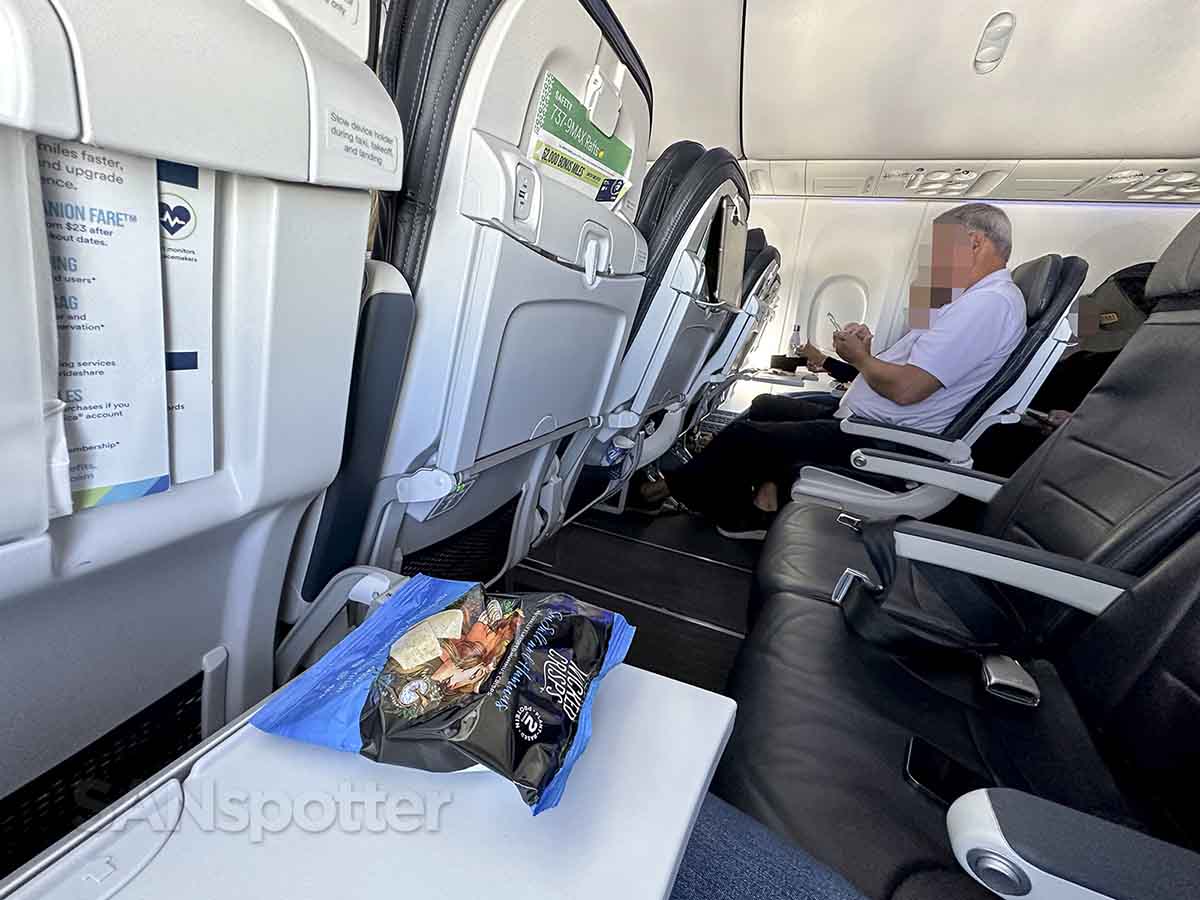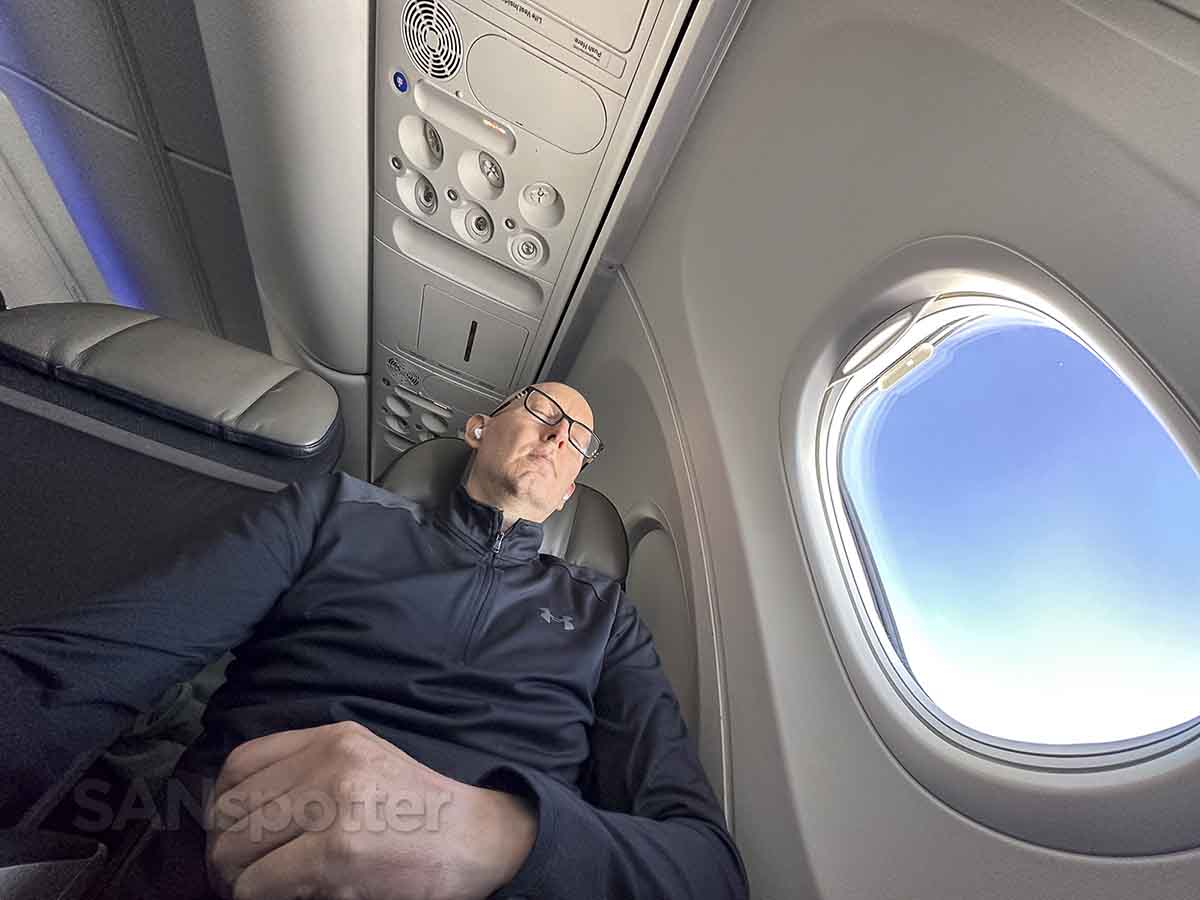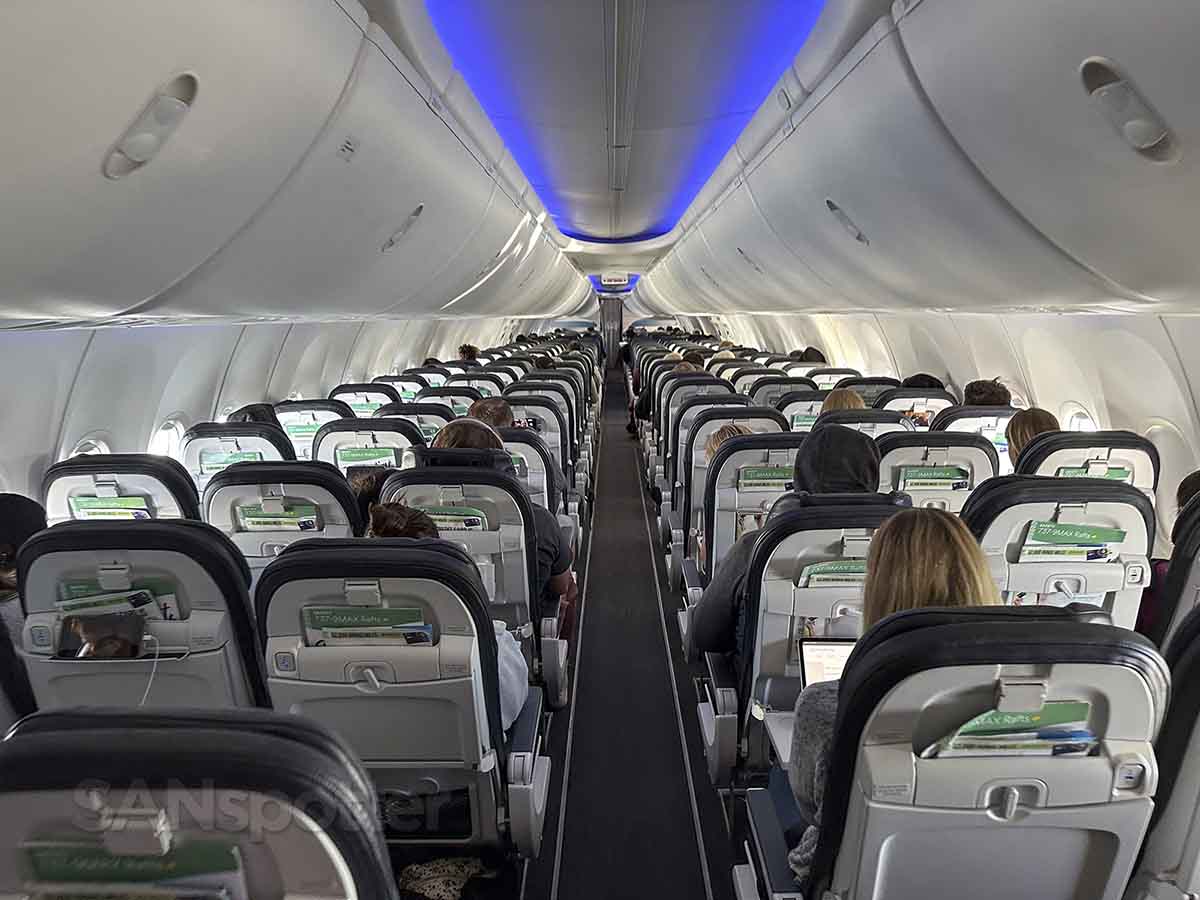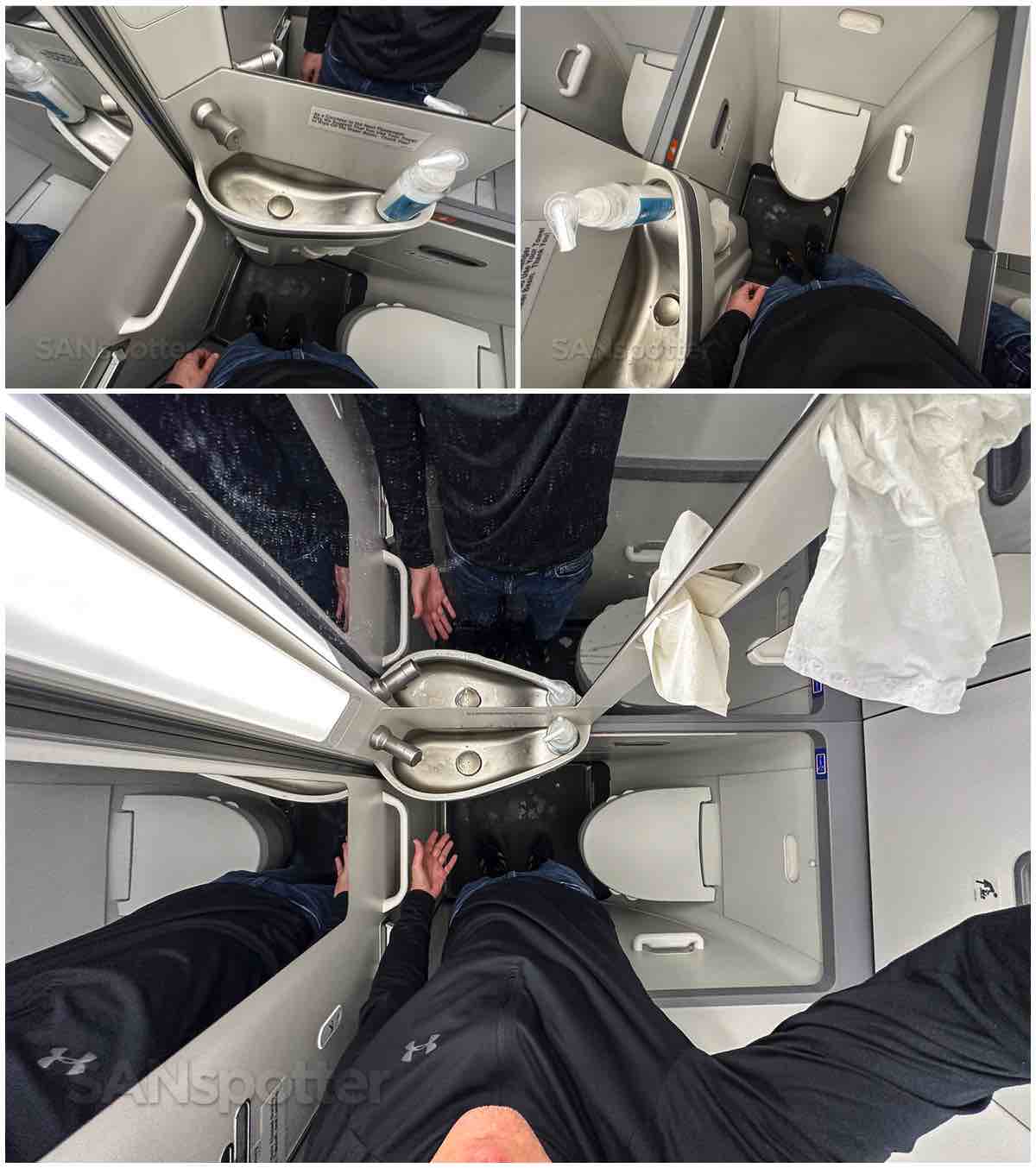 The descent (and landing) at IAD
Did I miss an important press release or something? Since when did Washington DC change its name to "Gloom City"? It was basically clouds and fog all the way in, which was admittedly slightly better than what the captain had predicted 4 hours prior. He made it sound like we were headed straight into a hurricane or something. Anyway, despite the early departure out of San Diego, we arrived in Washington DC 4 minutes late.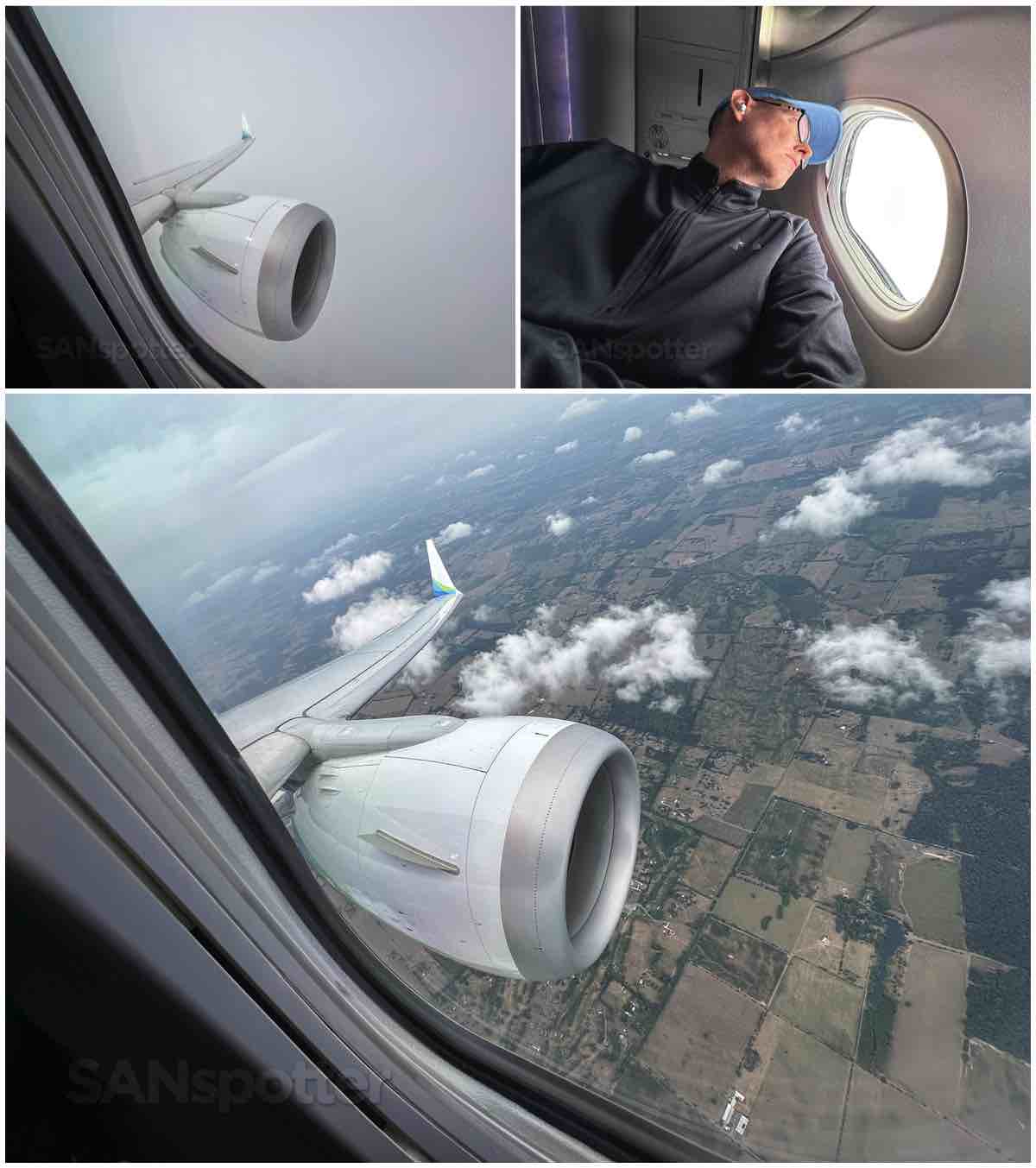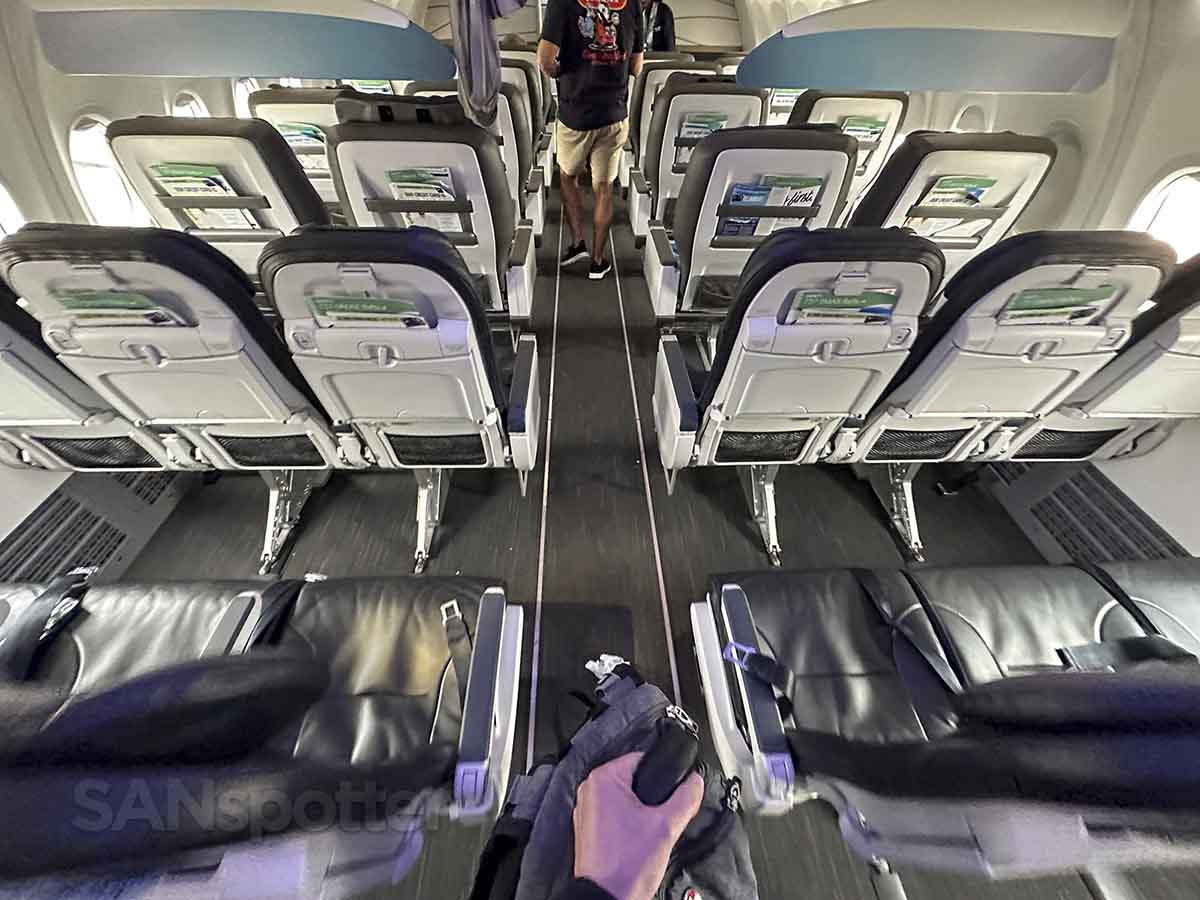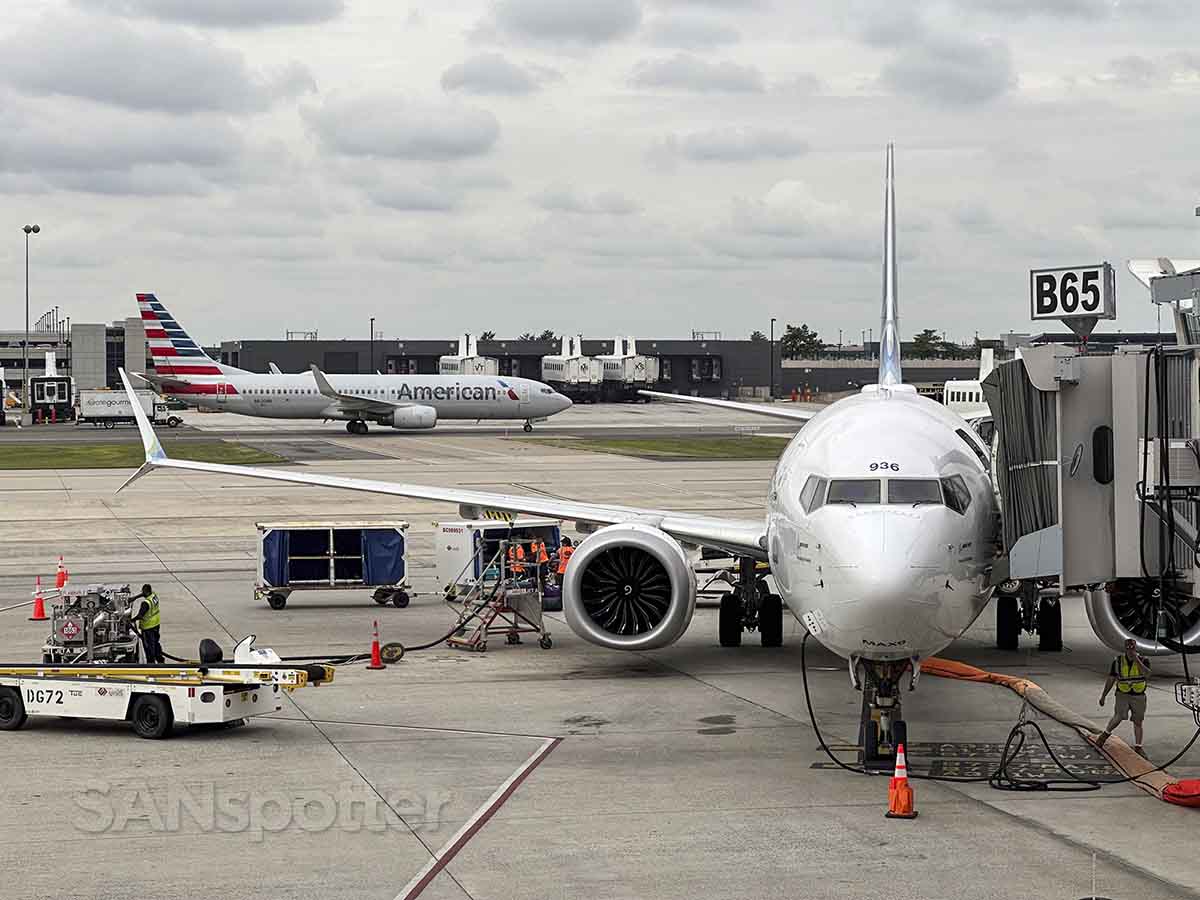 Pros and cons of the Alaska Airlines 737 MAX 9 Premium Class experience
If I'm being honest, I would have to think really hard about choosing Premium Class over regular economy on my next Alaska Airlines flight. I rarely drink, so the free alcohol doesn't really matter. I'm also not tall enough to fully appreciate the extra legroom. It was nice though. Hopefully the following pros and cons can help you decide if it's right for you or not:
Pros
The extra legroom is something that most people are likely to appreciate (especially the ones over 6 feet tall).
Free beer! And wine, and whiskey, and gin, and scotch…(I think you get the idea).
The Boeing 737 MAX 9 is a long aircraft, so being able to sit near the front (thus allowing you to be one of the first off upon arrival at your destination) it's a pretty nice perk.
Cons
Bring a credit card, because the food (other than a small snack) ain't free.
The seats are exactly the same as the regular economy seats (firm, narrow, and uncomfortable on longer flights). Then again, maybe much of this discomfort can be offset by the free alcohol? Just thinkin' out loud…