This is it. This is the big one. This American Airlines vs United comparison is about as big as it gets when it comes to head to head airline battles, and I'm about to attempt to answer one heck of a meaty question: is one of these airlines truly better than the other?
In my opinion, after flying both United and American hundreds of thousands of miles (each) so far, they aren't all that much different from one another. American Airlines does some things better than United (such as in-flight entertainment), and United does some things better than American (such as having a better long-haul business class product).
A comparison of this kind is sort of like trying to decide between Coke or Pepsi (or WestJet vs Air Canada). Both do the exact same thing (and they do it well), but ultimately, it comes down to personal preference.
If your eyes aren't bleeding by the time you read everything in this comparison, you'll find out which of these two airlines is better for me and the way that I travel. Good luck and Godspeed for making it all the way to the end…
American Airlines vs. United: A brief summary of all the differences
American Airlines and United are both in the top 4 busiest U.S. airlines, with American ranked 1st and United coming in at a distant 4th. American conducts over 6,000 flights per day, while United typically conducts more than 4500 flights per day (both on average). Both airlines have approximately nine hubs each, though United has two abroad.
Similarities
Both airlines have hubs in New York and Los Angeles
Both airlines operate a highly diverse fleet of aircraft types, with Airbus and Boeing being the most common
They both fly to nearly 350 (or more) destinations per day
United Airlines and American Airlines have both declared chapter 11 bankruptcy in the past (UA-2001, AA-2011)
Both airlines have what they refer to as a "fortress hub" at Chicago O'Hare International Airport (despite the word "fortress" implying that they are dominant airline at that airport). All we can assume from this is that both AA and UA think very highly of themselves.
Both airlines compete head-to-head on the premium New York to Los Angeles route, with aircraft featuring lie-flat business class seats and premium service
Differences
United was employee-owned for five years (1995-2000)
American Airlines is the largest airline in the world (financially + number of passengers)
United has only one hub in the Southern US (Houston), while American has hubs in Phoenix, Miami, and Dallas.
United typically charges more for checked bags than American
American has more regional-sized aircraft than United for short flights
United Airlines is part of the Star Alliance. American Airlines is part of Oneworld.
American Airlines has a dedicated high-end business and first class product for transcontinental routes (Flagship First Class and Flagship Business Class). United does not. They use their internationally-equipped aircraft fitted with Polaris Business Class instead.
United Airlines is installing high-quality video entertainment on all it's aircraft, while American Airlines is moving away from seat back video screens (on domestic aircraft)
Pro Tip
Save money by purchasing United MileagePlus miles
It's often cheaper to pay for a flight with miles than it is to pay with cash!
I usually purchase miles to pay for long haul business class on United and Star Alliance partners. It's generally cheaper that way.
Its a great way to top off your account balance if you're just short of the amount required for an award trip or upgrade.
You can buy miles for yourself or another MileagePlus member.
Buy Now
Note: I may earn a commission if you make a purchase, at no additional cost to you.
A massively oversimplified history of both airlines
American Airlines and United Airlines have long and diverse paths, from inception to what they are today. Both airlines originated in some form or another in the early 1930s, and both have uniquely different stories.
A brief history of American Airlines
American Airlines was founded in the 1930s with some very limited flights as far back as 1914. When initially founded, American was a co-operative of multiple smaller airlines that all formed together under the name American.
They became a publicly traded company in 1939 and significantly expanded after World War II. American flew multiple styles of aircraft over the years and began using jet aircraft in 1959.
The airline expanded with numerous acquisitions and mergers, one of the biggest in 2013 with U.S. Airways. American Airlines has prospered well overall since emerging from bankruptcy with this merger and is considered the most prominent airline globally for total passengers carried annually (and total revenues).
A brief history of United Airlines
United Airlines originally was founded as a subsidiary of Boeing Aircraft company and, due to government regulations, was split off into its own company, United Airlines, in 1934. Like most early airlines, they were operating as a big mail carrier and gradually expanded into passenger flights as the market began emerging.
The airline operated as most U.S. air passenger companies and lost a battle with profitability in 2002 when it had to claim bankruptcy.
Like American Airlines, United had many mergers and acquisitions over the years. The Continental merger of 2010 was the most impactful in the overall size and significant increases to global flight destinations. United has been among the top 5 largest airlines since 2010, with American being the largest overall.
American Airlines seats vs. United Airlines seats
Anyone who has ever stepped foot on an airplane knows that seat selection is critical, with legroom typically being the most important. Seat size is also a major factor, as is the location of the seat on the aircraft.
For comparison, the following will provide insights into the seat dynamics for both American and United Airlines.
American Airlines seats
On average, American Airlines has an economy seat pitch of 30 inches. To put that into better context, as I revealed in my American Airlines vs Southwest comparison, even Southwest beats them with an average 31 to 33 inches.
With each different aircraft comes different seats, and there's no telling when American will swap out one aircraft type for another on the route you're flying on.
Economy class
American Airlines domestic main cabin seats are anywhere from 16.3-18 inches with 30-32 inches of pitch (legroom). The materials are of good quality. I'd rank them among the top 3 of the big US airlines in overall seat quality and comfort.
Long-haul flights have the best seats, providing more legroom and wider seat berth with a larger pitch (and video screens). Note that the average pitch on longer / international flights is between 32-34 inches, with seats around 18 inches wide.
Domestic first class
First class seating on American Airlines domestic flights varies greatly based on aircraft type and route. At the very least, you can expect a simple recliner-type seat on most routes with no video screens and limited power ports.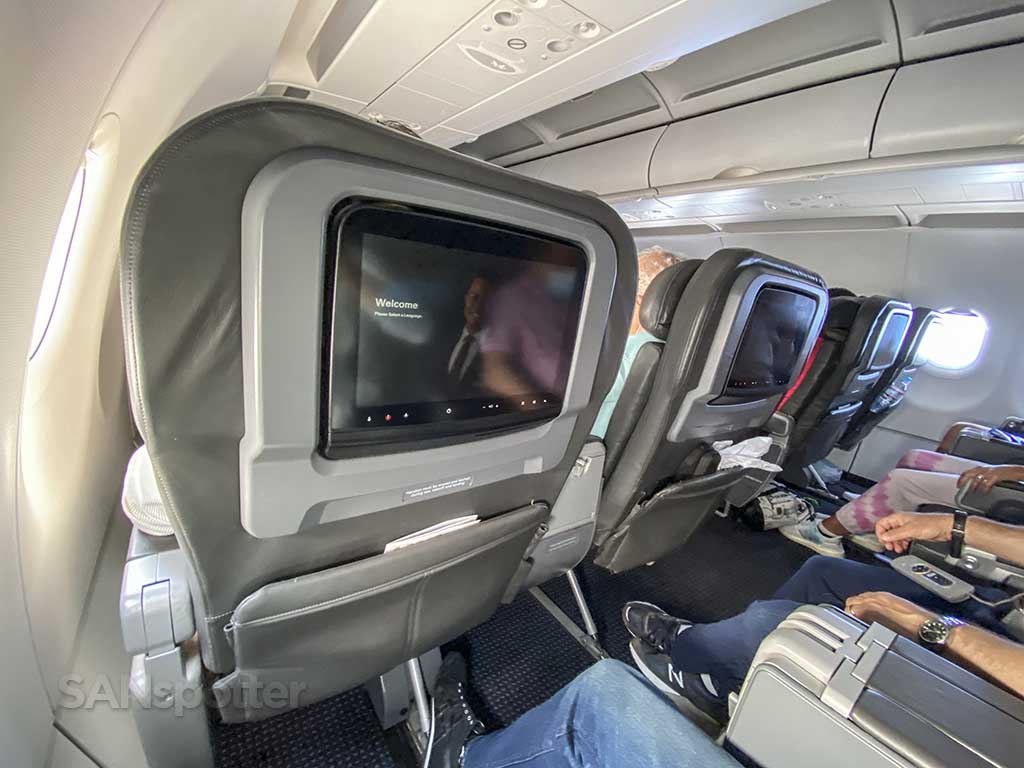 International business class
Expect a fully lie-flat seat with huge video screens, cubby holes (to store your personal belongings), and several different kinds of power ports. Many of these same aircraft fly domestic routes as well, so be on the lookout when making your reservations!
And if you want my advice, I actually prefer the international business class seats on United more than the ones on American Airlines (primarily because they are more private). Given the choice, I'd much rather fly United 777-300/ER business class than American 777-300/ER business class for privacy reasons alone.
International first class
You can expect pretty much the same seat as business class, but with much better service (food, drinks, and other perks).
United Airlines seats
United Airlines is similar to American but has some differences that are worth noting. However, like American, United has a wide variety of aircraft types, and your comfort will undoubtedly be dependent on which one you fly on. The good news is that United Airlines is undergoing a massive fleet update, which will bring seat commonality between different aircraft types over the coming years.
Economy class
United's average seat width is approximately 16-17.3 inches, and the pitch average is between 30-31 inches. Part of the difference with United is that they have a better "premium" economy option (called Economy Plus) that offers more legroom for an upcharge.
My United Airlines 737 MAX 9 review gives a pretty good overview of what Economy Plus is like.
Speaking of economy class, I find that United consistently falls short compared to American. United seats are also usually more vinyl feeling versus the softer style adopted by American Airlines.
Domestic first class
Just as it is on American, premium seating on United varies greatly based on aircraft type and route. You can expect a simple recliner-type seat on most routes with no video screens and limited power ports (the same as American). It's not very good though, and it ranked near the bottom on my list of the best domestic first class.
International business class
Expect a fully lie-flat seat with huge video screens, cubby holes (to store your personal belongings), and several different kinds of power ports. It's just as good as the American Airlines business class seat is, though probably just a bit more private. It doesn't look as good IMHO.
International first class
United no longer offers an international first class product. American Airlines FTW.
American Airlines food vs. United food
When taking long flights, the meals you receive on board are important. American Airlines and United want to provide the absolute best for their passengers, but in my experience, they always seem to fall short. Let's compare the two:
American Airlines food
American Airlines offers a wide variety of food onboard, such as standard snacks and full meals on long-haul flights, and of course, the infamous peanuts. Here's how American Airlines breaks down its food choices:
Domestic economy class
If you are traveling on a short flight up to 250 miles in economy, they serve a light snack consisting of your choice between Biscoff cookies or pretzels. They also offer non-alcoholic drinks for a fee.
If you are traveling to Hawaii in economy class, you can expect a full food for purchase menu typically offering fish, meat, or a vegetarian option. Alcoholic beverages are also offered, such as beer or wine.
International economy class
The food you'll get in international economy class isn't anything I'd call revolutionary (or remarkably tasty). Depending on the length of the flight, you can expect a snack service shortly after takeoff, followed by a full meal. You'll get a pre-landing meal as well, which is usually a breakfast of some sort. I hope you like omelettes…
Domestic first class
On shorter flights, don't expect anything more than a complimentary sandwich or fruit and cheese plate in first class. Full meals (and drinks) are complimentary on longer flights.
Transcontinental flights also receive full meal service (free in first class, but you'll have to pay extra if you're seated in economy). Aboard these flights, you can expect one full meal during your cross-country flight and your choice of alcohol, often beer or wine.
International business class
American Airlines lets you order food up to 30 days in advance of your flight, which is extremely helpful for those who have particular dietary requirements. Other than that, it goes without saying that the food you'll get up in business (or first) class will be far better than the slop they serve in economy.
United Airlines food
United Airlines offers a similar selection of meal options, such as complimentary non-alcoholic beverages on all flights, even those less than one hour of flight time. The beverages offered on all flights include coffee and tea. On all United long-haul flights, alcoholic beverages are offered complimentary in economy.
Domestic economy class
On United flights under 2 hours 20 minutes, they do not serve snacks onboard; however, economy class passengers can bring their own if they choose.
If your flight is over 2 hours 20 minutes, United offers economy passengers on premium transcontinental flights a complimentary "all-in-one" snack bag with two snack bags and an 8.5-ounce bottle of water.
International economy class
The food you'll get in United long haul (international) economy class is similar to what you'll get on American Airlines. It all probably comes from the same factory anyway, so don't expect much of a difference.
Domestic first class
First class passengers will be offered a sandwich or snack box on short flights, and a full meal on transcontinental flights (just as it is on American Airlines).
International business class
United international business class meals consist of an entree, salad, snack, and ice cream for dessert (on select flights). On longer flights, passengers will receive a complimentary mid-flight and pre-arrival food or drink. For what it's worth, I don't think the food in United international business class is any better than what you'll get on American Airlines. It's a draw.
Comparing American and United in-flight entertainment
In-flight entertainment is an essential aspect for many flyers, especially on long-haul transcontinental or international flights. Both American Airlines and United have good entertainment options. Let's compare the offerings between the two airlines:
American Airlines in-flight entertainment
Most flights offered by American Airlines include in-flight entertainment. These often include a variety of different programs such as the latest movies, T.V. shows, and music. On long-haul flights, seat-back screens are standard for both first and economy class.
Good news: all flights, except for the smaller aircraft (regional flights), have available Wi-Fi. Some aircraft have entertainment screens embedded in the seats, but as the trend suggests, their fleet does have some aircraft that do not offer this entertainment feature.
In addition to the T.V. shows and music, you can also find other popular entertainment on long-haul flights, including Apple T.V., Apple Books, and Apple Music.
United Airlines in-flight entertainment
United offers similar amenities, though they are going all-in on bringing back video screens in domestic economy. For now, they offer a streaming content service on most flights, which you an access (free of charge) on your mobile device.
On select flights, you will receive a pair of complimentary earbuds; however, they recommend bringing your own pair.
One unique aspect of United's entertainment includes DIRECTV, which is complimentary only on select flights. With this access, passengers have access to nearly 100 networks with the latest shows and movies.
Comparing the American and United frequent flyer programs
The main difference between the American Airlines and United Airlines Frequent flyer programs is the networks they are a part of. American Airlines is part of Oneworld, whereas United is part of Star Alliance.
Other than that, there's no clear differentiator between these two programs (as you will see in the descriptions below):
American Airlines AAdvantage
American Airlines AAdvantage is one of the most extensive frequent flyer programs in the industry. Like many other airlines, you earn points for flying, how much money you spend on your tickets, and credit card bonuses. In other words, it's a decent program, but hardly anything overly generous or revolutionary.
American Airlines is part of the OneWorld program; therefore, you can earn points when flying with any participating airline.
When comparing the advantage program to United mileage plus, there isn't all that much difference. The most important thing you need to know is that American Airlines has positioned their frequent-flier program to match United's (as closely as possible). After all, they are direct competitors vying for the same customers.
The ways in which you earn miles are the same
The amount of points you earn for specific activities is the same
The cost for redeeming award tickets is largely the same
I recommend reading the latest American Airlines AAdvantage information over on the American Airlines website to get a better sense of how generic of a loyalty program it is how it can work for you.
United MileagePlus
As expected, United's MileagePlus program allows you to earn miles when traveling or purchasing products at select retailers (with a United Airlines branded credit card of course).
Looking at all of the features of MileagePlus, it's clear that United has specifically designed their program to lure American Airlines flyers. It's eerily similar to what American Airlines is offering, and quite frankly, I think they are missing a huge opportunity to be unique and offer a real competitive advantage.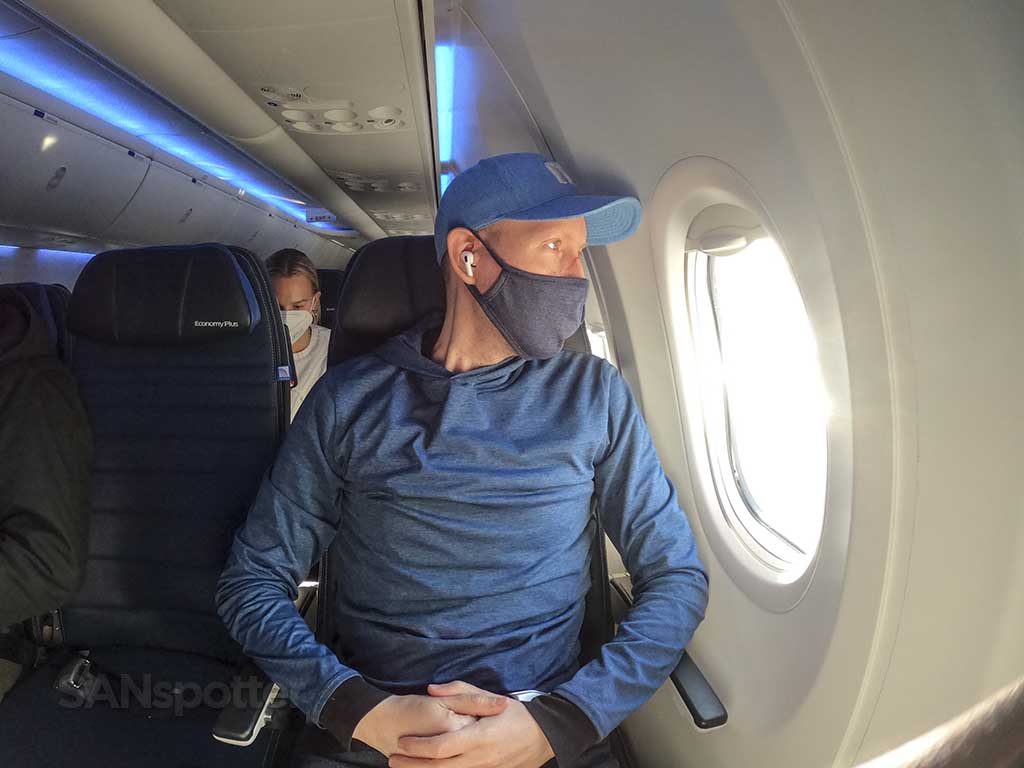 Be sure to check out the latest information on MileagePlus over on the United Airlines website to better understand how mediocrely decent it is.
Comparing the route networks
Both airlines have extensive route networks and fly to various destinations around the globe. Let's compare the differences between the two networks:
American Airlines route network
American Airlines provides service to more than 350 destinations worldwide, which is the second of any airline. They have an extensive route network with destinations throughout 50 countries.
Thier primary international focus is South America, with their second primary focus being Europe. They haven't been able to get much traction in Asia and the South Pacific.
United Airlines route network
United has an impressive route network, as it serves nearly 370 destinations worldwide – the most of any airline. Its primary international focus is Europe, with its second primary international focus being Asia. They also serve up to 73 countries worldwide, more than that of American Airlines.
Why would you choose American Airlines over United Airlines?
As you've read so far, both of these airlines offer the same products and services. There isn't all that much to differentiate them from one another, which is completely opposite of the time that I compared Delta vs Southwest. This is relatively boring in comparison.
That being said, here are a few things you might want to consider if you need to make a choice between the two.
Choose American Airlines if:
You want access to the Oneworld alliance (and all of the airlines and destinations included in that network)
You live near one of their fortress hubs / focus cities (Dallas, New York, Miami, or Los Angeles). If you live in or near one of the cities, you'll be able to go pretty much anywhere in the United States nonstop without making connections.
You travel to South America frequently. American Airlines has a much better route network in Latin America compared to United.
You are flying short-haul – I find their short-haul (and regional) network to be better than United's
Choose United if:
You want access to Star Alliance and all of the airlines and destinations included in that network
You travel to Asia frequently. United has a much stronger route network to and from Asia (as well as better partner airlines), and your options for getting around Asia on Star Alliance network airlines are better than Oneworld Alliance network airlines.
You want a more consistent long haul international business class seat. American Airlines international business class is good, but there are many different seat types across their fleet of aircraft. In comparison, United's Polaris business class product is common to most aircraft types.
You live in Houston, Chicago, Denver, or Los Angeles. United Airlines has a very strong presence in these locations, offering nonstop destinations to most parts of the United States.
Ultimately, making a decision between United and American is a personal preference based on two main factors:
Where you live
Where you typically fly to
I wouldn't agonize over trying to make a choice between these two carriers. Their products and services are so similar that you're not missing out on anything by choosing one over the other.
Which of these two airlines do I prefer?
According to my flight log, I've flown United Airlines 129 times over a distance of 192,000 miles so far. In comparison, I've flown American Airlines 49 times over 110,000 miles. Although it may seem that I prefer United, I don't like them that much better than American.
The fact that I'm equally impartial to both of these airlines is interesting to me. For example, I can't stand Pepsi but I love Coke. I much prefer iOS over Android. And given the choice between a Ford Mustang and a Chevy Camaro, it's the Mustang all day long.
Heck, even when comparing JetBlue vs American, it was easy to choose JetBlue as the winner. Why am I so ambivalent about this American Airlines vs United comparison?
I think comes down to how I concluded my Qatar Airways vs Emirates comparison: It all comes down to the fact that I'm a value conscious flyer, and I'll choose whatever is most economically convenient. And based on the data (my flight log) it appears as if United has consistently offered me a better price more times than American Airlines has.
I wish it was more sexy of a conclusion than that, but it is what it is.