Whether you need some help trying to figure out which airline to take for your next trip, or you're simply doing research for a paper due tomorrow morning (shame on you) – this Delta vs Southwest comparison has you covered.
Can Delta Air Lines and Southwest Airlines even considered to be competitors? After all, Southwest is one of the original low-cost carriers in the United States, and Delta has always taken pride in being a full-fare carrier catering to the need of premium passengers.
While that may have been especially true back in the 80s and 90s, it's less of a thing nowadays. Southwest has grown into a mature and innovative airline, and has been chipping at the heels of mainline carriers such as Delta, United, and American. They are absolutely going after the same customers on domestic routes here in the United States.
Heck, even I (someone who typically doesn't fly Southwest) chose them over Delta for a recent flight. In my opinion, it's very much legitimate to compare Delta versus Southwest. Maybe not as legitimate as an Allegiant vs Frontier comparison, but you know what I mean. I hope.
Delta vs Southwest: a brief summary of all the differences
Upon first thought, it may seem to most that Delta and Southwest are two completely different kinds of airlines. And you know what? That isn't the wrong way to think.
These are two of the largest airlines in the United States, and they both rank highly in customer satisfaction surveys by doing things slightly different from one another. They are so different that I'm racking my brain (really hard) trying to come up with ways they are similar. Coming up with a list of all the differences is the easy part.
Similarities
Both airlines operate a fleet of 700+ aircraft
Both have operating bases in Atlanta and Los Angeles
Both airlines have what I consider to be the best in-flight entertainment products of all the major US airlines.
Believe it or not, flying to Hawaii on Southwest Airlines is almost as good as flying to Hawaii in Delta economy.
And that's pretty much it…
Differences
Delta uses a hub and spoke model for their route network, while Southwest is a point-to-point carrier.
Delta has a wide variety of aircraft in their fleet, while Southwest focuses solely on the Boeing 737.
Delta has a large international route network serving 50+ countries. Southwest's international market on the other hand, is much smaller and more closer to home featuring destinations to 10 countries (places like Central America and the Caribbean).
Delta offers first class and premium economy seating on domestic and short haul international routes. Every seat on every Southwest Airlines flight is considered economy class.
Delta has a large number of international airline partners and is part of the SkyTeam network. Southwest is going at it alone and is not part of any joint ventures or airline alliances.
Southwest Airlines has an open seating policy, which means that you can choose any seat you want as you walk onto the plane. Delta offers passengers the option to pre-select a seat at the time of booking.
Southwest is the only airline in the US to not charge extra fees for checked bags (which includes golf bags, skis, and surfboards). Delta charges for every checked bag. See the latest fee structure here.
As you can see, there are a lot more differences than there are similarities. Delta is focuses more on being an airline for everyone. Southwest focuses more on doing one thing and one thing only: offering a simple and consistent product at a (relatively) low price.
Although, I will say that with other ultra low-cost carriers such as Spirit and Frontier growing rapidly here in the United States, Southwest isn't always the cheapest option anymore. Those days are over.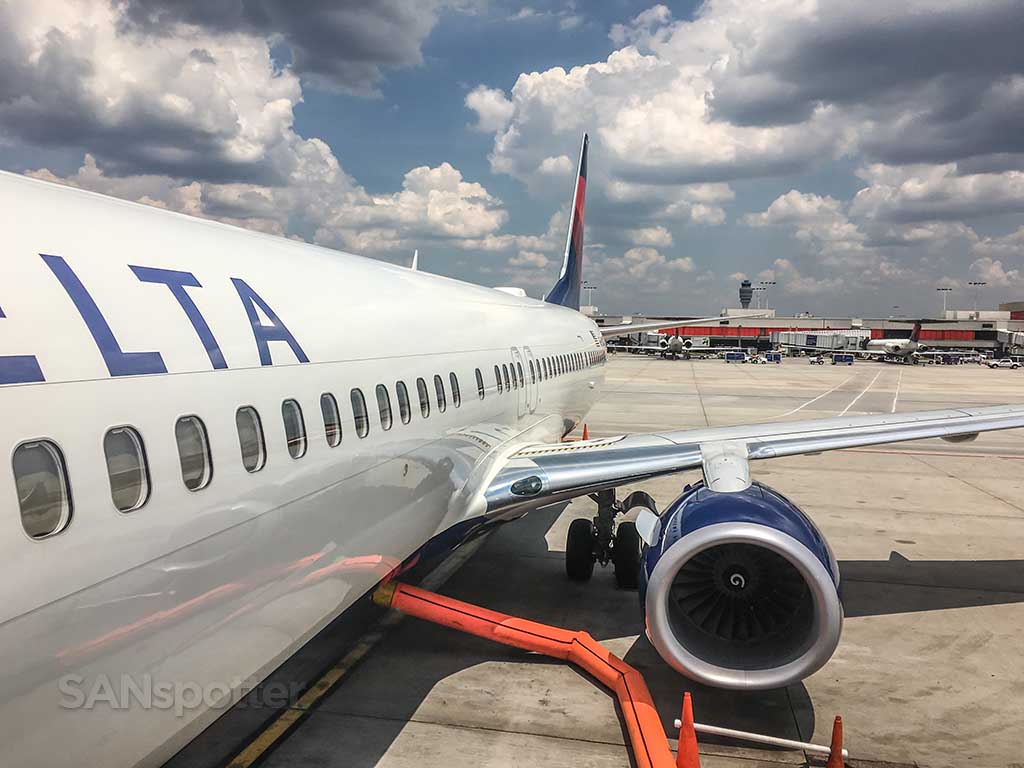 An oversimplified history of both airlines
Both Southwest and Delta have a very long and established history here in the United States. Delta is one of the original US airlines, while Southwest Airlines is a product of the 1960s. The history of both of these airlines is fascinating, and I highly suggest heading over to Wikipedia to read about both during your next bathroom break. You won't be disappointed.
Delta Air Lines history
Like most of the other major airlines in the US, Delta actually started out in 1925 as a crop dusting operation called Huff Daland Dusters, Inc. Four years later, on June 17, 1929, they launched commercial service under the name "Delta Air Service".
Thier initial operations were limited to destinations in the southeast United States (and Texas). They were an all-jet fleet by 1970, and I will never forgive them for acquiring my favorite / hometown airline (Northwest) in 2008.
Southwest Airlines history
Hold up. A US airline that didn't start out as a crop dusting operation? That sounds awfully fishy to me. I mean, how do we really know that Herbert Kelleher wasn't relentlessly crop dusting Rollin King's office (or vice versa) in the early years of Southwest Airlines? Guys will be guys, so it's certainly plausible.
Childish humor aside, Southwest was launched by Herb and Rollin under the name of "Air Southwest Co." in 1967. Other airlines (including Delta) felt threatened by their low fares, and lawsuits were filed. This legal battle went on for years, but was resolved in 1970. Routes to destinations outside of Texas began in 1979.
Delta vs Southwest in-flight experience
In-flight experience is probably the most convoluted part of this entire Delta vs Southwest comparison. Remember what I said earlier about Delta trying to be an airline for everybody? Well, with a complex offering of different fares and seat types, they have a product called "Basic Economy" that will directly compare with Southwest.
However, they also offer things like first class and premium economy, along with extensive food menus and other perks such as personal video screens at every seat. Let's try to break this down as simply as possible:
Seats
For the sake of this comparison, I'm going to be focusing on economy seats. Even though Delta offers a variety of seat types on nearly all of its aircraft, there's no point in comparing a Delta first class seat with a standard Southwest Airlines economy seat. Spoiler alert: I'll take a Delta Air Lines economy seat over a Southwest airlines seat any day of the week. Keep reading to find out why…
Delta seats
Delta Air Lines has been on an absolute rampage over the past few years upgrading the interiors of their entire fleet of aircraft. much like Southwest Airlines, Delta is trying to get to the point where they have a consistent product offering across every aircraft type that they fly.
The standard Delta Airlines economy seat is really nice. As mentioned earlier, it features a large and very responsive personal video screen stocked with a massive catalog of TV shows and videos. Plus music!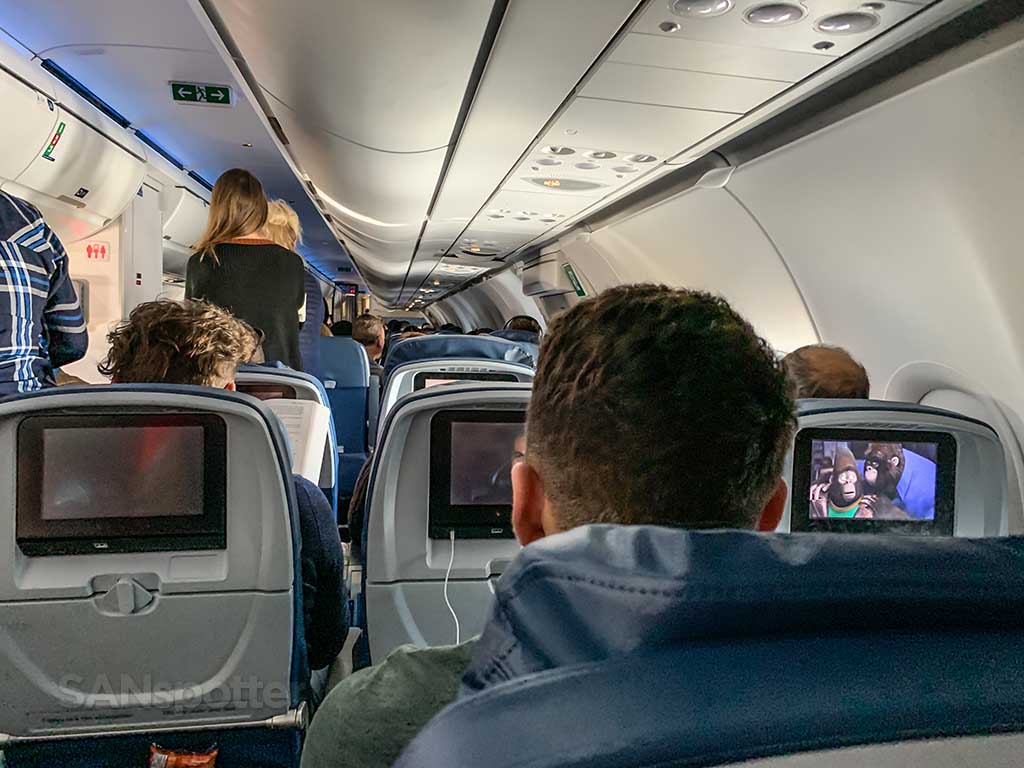 The seats also look great, covered in a soft synthetic blue leather-like material which will hold you in place when going through patches of bumpy air. I don't know, but a Delta Airlines seat in turbulence seems to be more grippy than what I've experienced another airlines. Maybe it's just my imagination, but…I'm weird like that.
Southwest seats
Southwest Airlines has a pretty good seat as well. It's not as fancy as the Delta economy seat, but it's fairly comfortable and it looks great. The biggest downside, of course, is the fact that there are no personal video screens. Not only that, there aren't even any power outlets to charge your personal electronic devices.
One of the biggest issues with Southwest is that the seats are somewhat inconsistent across their entire fleet of aircraft. Their newest seats are fantastic. They look great, and they feel great, and leg room is perfectly fine if you're under 6 feet tall.
Note that Southwest seems to be in a perpetual state of upgrades and improvements and it's not always a given that you'll get to ride on an aircraft with the latest seats.
In-flight entertainment
Both Southwest and Delta offer in-flight entertainment (as well as WiFi). Delta is far more generous with thier offering, but you won't be totally bored out of your mind on Southwest.
Delta in-flight entertainment
On Delta, you'll get a personal video screen at every seat. Delta Studio is the name of thier in flight video product, which features hundreds of movies and TV shows on demand. WiFi is available on most aircraft as well.
Southwest Airlines in-flight entertainment
Similar to Delta, both movies and TV shows are available on Southwest. However, it's a streaming service (as opposed to having a video screen at every seat) and you can only access it via your personal device. Access to this streaming service is complimentary.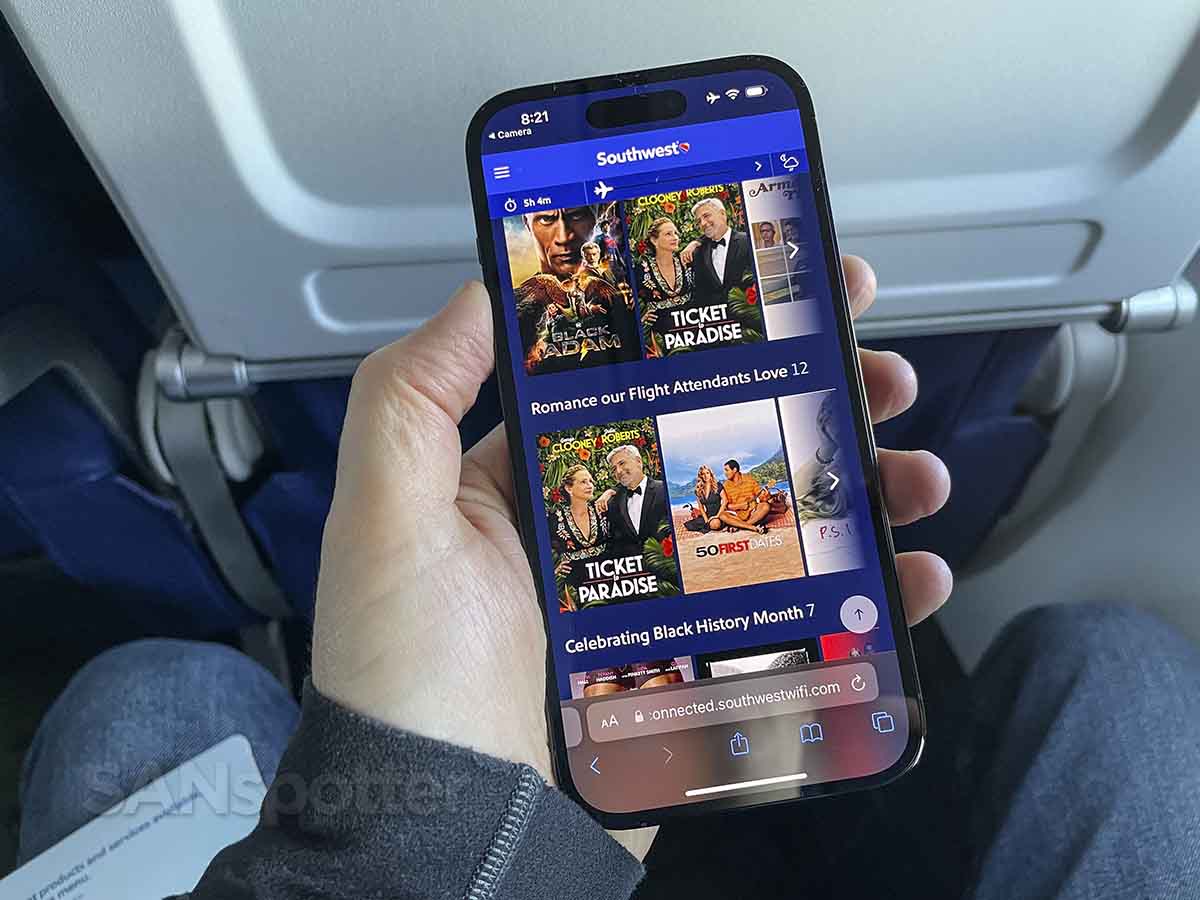 Food
Unlike a Southwest vs JetBlue comparison, comparing Delta food vs Southwest food isn't even fair in my opinion. This is primarily because delta airlines has an extensive menu available for most flights stocked with items that you can purchase (for an exorbitant amount).
Southwest, on the other hand, doesn't have that much to offer. Their drink menu is pretty good, but they don't offer much in terms of snacks or substantial food compared to Delta.
Delta Air Lines food
Delta offers complementary drinks and snacks in economy on most flights. Alcohol isn't free of course, but do you really need anything other than a Biscoff cookie and a Diet Coke on your 3 hour flight to Atlanta?
Delta will also be very happy to serve you an extremely expensive and not-so-substantial snack from their in-flight menu. While I applaud them for offering such a service, I can tell you from experience but it's not worth spending the money unless you're absolutely dying of hunger and there's danger of not surviving the duration of the flight. Otherwise, save your money.
On a sidenote, you can save costs on purchasing items for the menu if you use your American Express Platinum card. One of the perks of this card is a $200 yearly credit which you can use towards in-flight purchases such as food. You can essentially get Delta food for free this way, though you're paying for it via the cost of the annual membership of the card. If you fly a lot though, it's totally worth it.
How I pay for all my travel expenses
The American Express Platinum Card
100,000 welcome points (woo-hoo!)
Earn 5x points on flights and prepaid hotels
$200 hotel credit + $200 airline fee credit + $155 Walmart credit + $240 digital entertainment credit (and much more)
Transfer points to a wide variety of global airline and hotel partners
Sign me up!
Note: I may earn a commission if you make a purchase, at no additional cost to you.
Oh – it should be noted that Delta serves pretty good food up in first class on domestic flights (and even better food on international flights). However, this is a Delta vs Southwest comparison, so discussions about first class or long-haul international flights are irrelevant.
Southwest Airlines food
Just like on Delta, you'll get a free snack and a drink on Southwest. Alcohol is available for an extra cost – unless you splurge for an upgrade (officially known as Southwest Airlines Business Select), in which you'll get a coupon for a free premium drink. At the time of this writing, Southwest does not offer a food for purchase program on any flights.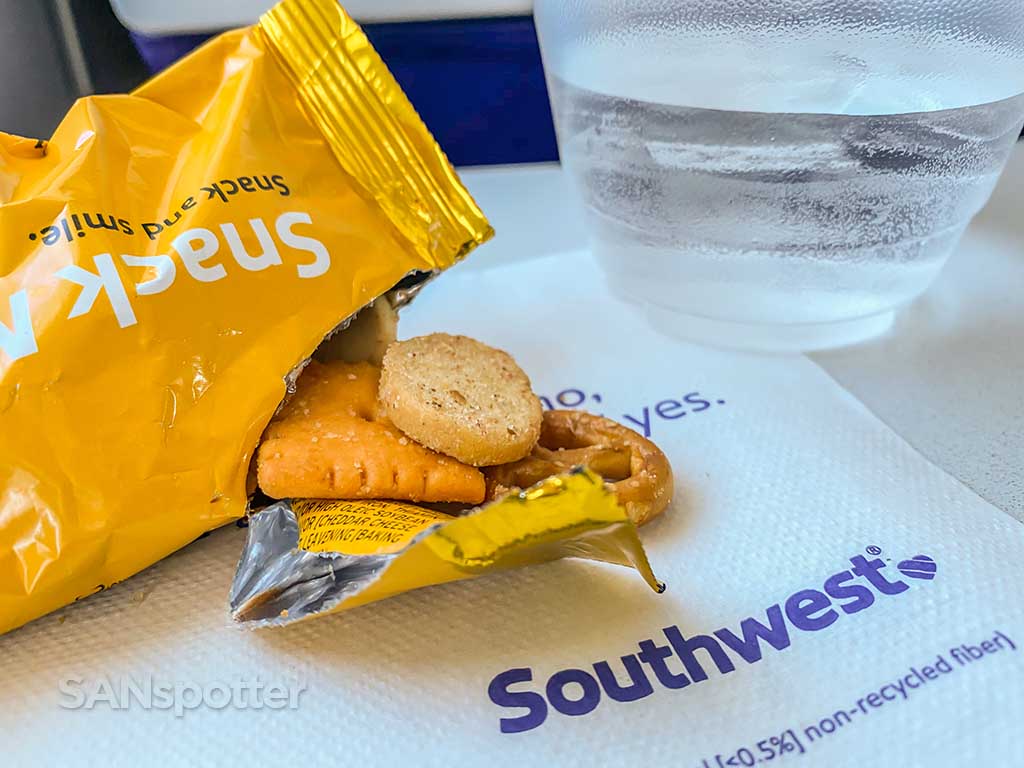 Comparing the Delta and Southwest frequent flyer programs
In my opinion, airline frequent-flier programs are becoming less and less relevant with each passing year. Airlines seem to be in a race to the bottom when it comes to devaluing perks and benefits, and it doesn't seem to be enough to lure me in anymore. That being said, the membership programs of each of these two airlines is worth taking a look at it you can commit yourself to flying one more than any other.
Delta SkyMiles
For the record, I hate the Delta SkyMiles program. Long story short, the redemption rates for international long-haul business class are ridiculous. 350,000 points for a one-way business class seat from Detroit to Seoul is flat out robbery in my opinion, and there's no way I'm taking part in those shenanigans.
However, redemption rates for economy class flights within the domestic United States our much more reasonable. If that's all you need an airline points program for, then maybe Delta SkyMiles could work for you.
One of the nicest things about Delta SkyMiles is that points don't expire. You'll never have to worry about losing points that you earn if you don't fly.
One of the worst things (other than the ridiculous redemption rates which I just mentioned), is how convoluted and complex the SkyMiles program is. For example, there are four main tiers:
Silver
Gold
Platinum
Diamond
Listing out the benefits of all of them would be an exercise in futility based on how frequently Delta changes the rules. Therefore, if you want to know the absolute latest information when it comes to the perks you get with each level, do check out the official Delta SkyMiles website. I'd forever be chasing my tail updating this post for the rest of my life if I tried to list all that information out here.
Southwest Rapid Rewards
The Southwest Airlines frequent-flier program (officially referred to as Rapid Rewards), is a refreshing change of pace compared to the Delta SkyMiles program. Just like all things Southwest Airlines, it's fairly simple with perks such as:
Unlimited reward seats
No blackout dates
Points don't expire
FYI, there are three levels of Rapids Rewards membership. They're all fairly decent with generous benefits. Most importantly, they're all fairly simple and the rules don't change all that often:
A-List: Priority boarding, check in, and security lane access, plus a 25% earning bonus.
A-List Preferred: Priority boarding, check in, and security lane access, plus a 100% earning bonus and free in-flight WiFi.
Companion Pass: Free companion ticket after flying 100 qualifying segments (or earning 125,000 qualifying points) in a calendar year.
Why would you choose Delta over Southwest?
As I eluded to earlier, the overlap between Delta and Southwest is becoming greater as the years go on. Both are incredibly good airlines offering consistently good service to all the places that people want to go. But why would you choose one over the other?
Choose Delta if:
You're an international traveler in need of an airline that can take you all over the world
You're a premium business traveler who's company will pay for domestic first class
You're a very frequent flyer who is interested in obtaining status and points on a global airline alliance
You can't stand the idea of not being able to watch TV or movies on a big screen while on a flight
You want to be able to reserve a specific seat at the time of booking
You want better food options
Choose Southwest if:
You're a price-conscious traveler who is always looking for the best deal. Southwest isn't always the cheapest, but they're typically cheaper than Delta.
You want to avoid the hassle of flying through a massive airline hub. Southwest is largely a point-to-point carrier, meaning that there's less of a chance of having to change planes at a major hub.
You like the idea of being able to choose any seat you want as you're boarding the plane
Some final thoughts
Southwest seems to be getting better and better in my option. Every time I fly with them, I start thinking seriously about whether or not I would choose Delta over Southwest next time if both were competing on the route I was looking to fly. The differences are becoming fewer and fewer IMHO.
The open seating thing is the only thing that I really don't like about Southwest. Otherwise, I can very easily see myself flying them more often than I have in the past.