I recently flew Southwest Airlines to Hawaii, and you know what? It went exactly how I thought it would.
I really liked how cheap it was. I also appreciate the fact that they only fly their newest airplanes out to the islands and back. They're nice.
What I didn't like was the anxiety brought on by not being able to select a seat at the time of booking. Why does Southwest continue to think that we enjoy traveling this way?
All the pros and cons of flying Southwest Airlines to Hawaii
Be sure to read my Southwest Airlines 737 MAX 8 review to see firsthand what my experience was like. The routing was from San Diego to Honolulu, and while I did say a few things about the Southwest Airlines Hawaii experience, I saved most of the juicy bits for this dedicated overview. Here we go with the "no holding back" pros and cons:
Pros
Because Southwest is so desperate to make their Hawaii flights successful, they're often the cheapest option. (even if you go with a fancy-pants Business Select upgrade).
You can check two bags for free. Nope – there ain't no other airline flying to Hawaii that will be so generous with all your stuff.
Southwest Airlines uses their Boeing 737 MAX 8 aircraft out to the islands and back. These are their newest and most state of the art aircraft.
Their streaming in-flight entertainment product is just as robust as what any other major US airlines offering.
Its true – leg room is actually fairly decent on Southwest Airlines. It's not any worse than what any other major US airline is providing in economy class these days.
Not only does Southwest fly between the US mainland and the islands, they also do a fair bit of inter-island flying as well. It's convenient to do your entire trip on one airline.
It's extremely easy to redeem your hard-earned Rapid Rewards points for flights to Hawaii. There are no blackout dates or seat restrictions on any flight.
Changes are free on Southwest Airlines. There's currently no other US airline allowing you to make changes without paying a fee. Cancelations are also free, but you'll receive a flight credit (that you can use towards the purchase of another ticket) instead of a full refund on most base fares.
Cons
At the time of this writing, there are no power outlets at any seat on any Southwest Airlines aircraft. Even though there are plans to add them, it's going to be a while before their entire fleet is retrofitted.
Southwest Airlines has an open seating policy, meaning that you can't choose a seat at the time of booking. Once on the plane, it's first come first serve. And that's gonna suck if you're not in one of the very first boarding groups.
There are no video screens in the seats. If you want to take advantage of the in-flight entertainment, you're going to have to use your own device.
Speaking of the seats, they're kinda hard (which makes them a not-so-good option for longer flights).
I've heard from other travelers that the streaming entertainment service doesn't always work. It probably behooves you to have a back up plan – especially if you're traveling with children.
The food they serve on flights between the US mainland and Hawaii is minimal. You'll get a small packet of snacks (which is going to leave you feeling hungry and unsatisfied on those long five hour flights).
Southwest Airlines uses Concourse E (in Terminal 2) at the Honolulu International Airport. It's dark, dumpy, and nowhere near as nice as some of the other terminals.
All seats on all Southwest Airlines aircraft are the same. There are no "better" seats with extra legroom to pay extra for. Note that the exit row seats have more legroom, but you'll have to be one the first passengers on the plane to snag one of those.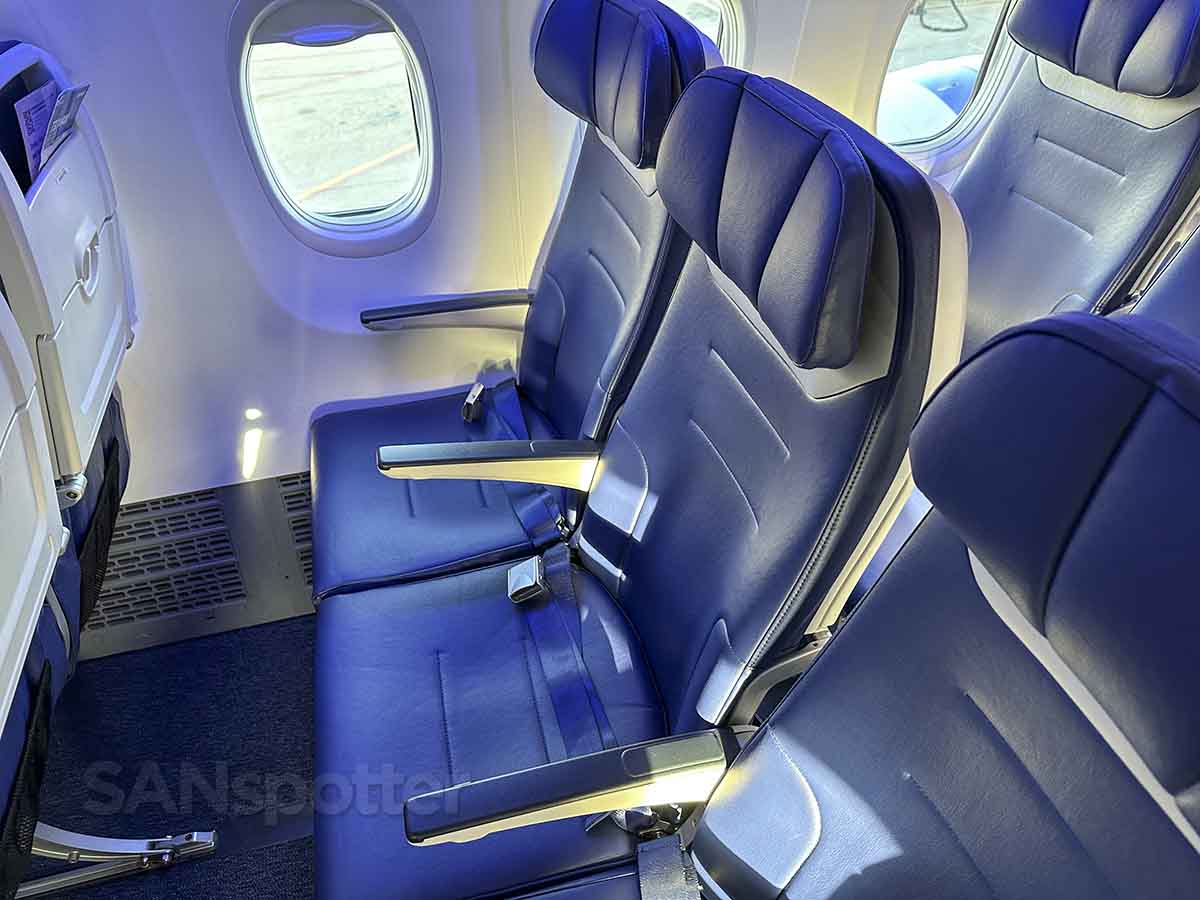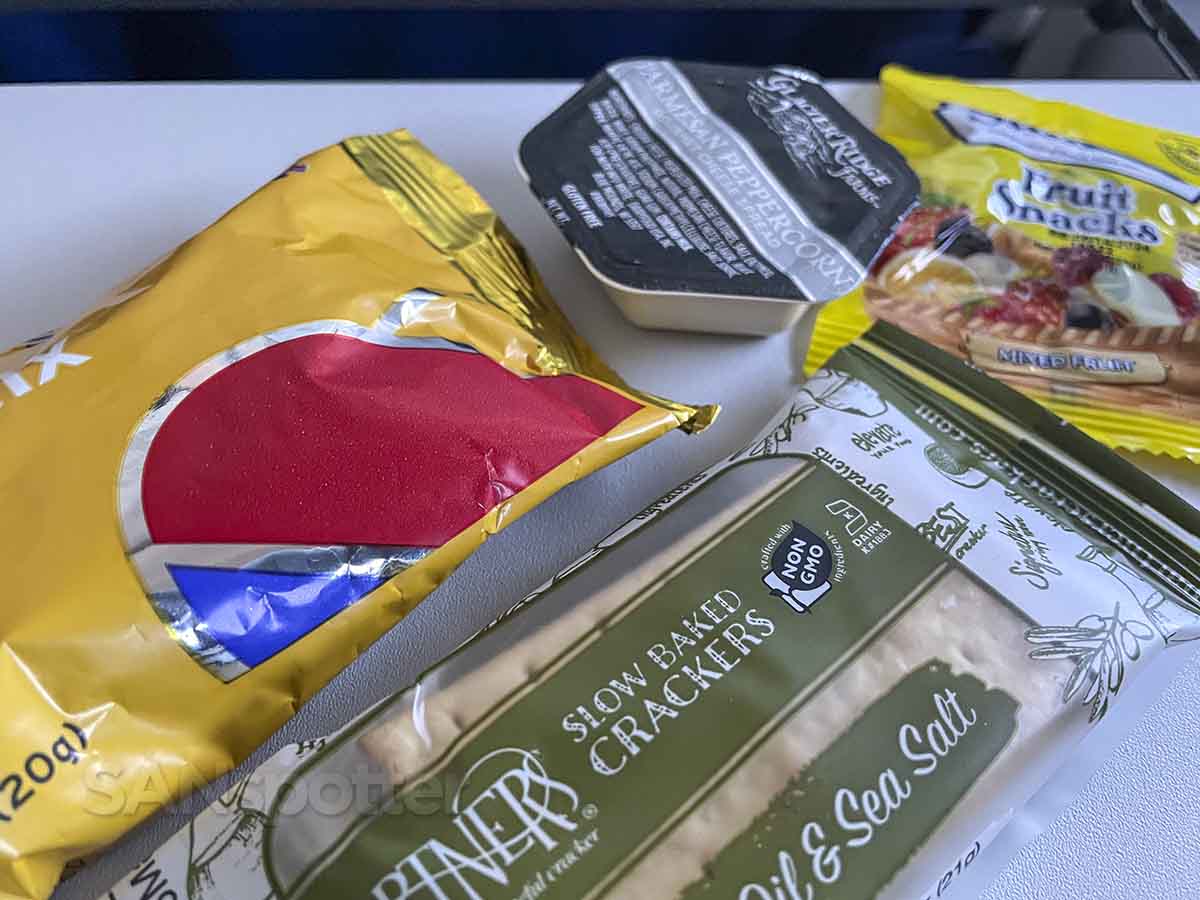 Two very good reasons why flying Southwest Airlines to Hawaii is a good idea
Spoiler alert: I don't think I will ever fly Southwest Airlines to Hawaii ever again. That said, I can totally understand why some might think that choosing Southwest over any other airline for a trip out to Hawaii and back is a good idea:
1. It's fairly likely to be your cheapest option
I've been watching prices for one-way and round-trip tickets between San Diego and Honolulu for a while now. Southwest is typically (but not always) the cheapest. Those low ticket prices, combined with free checked bags, means that you'll be far likely to pay less than you would on any other airline.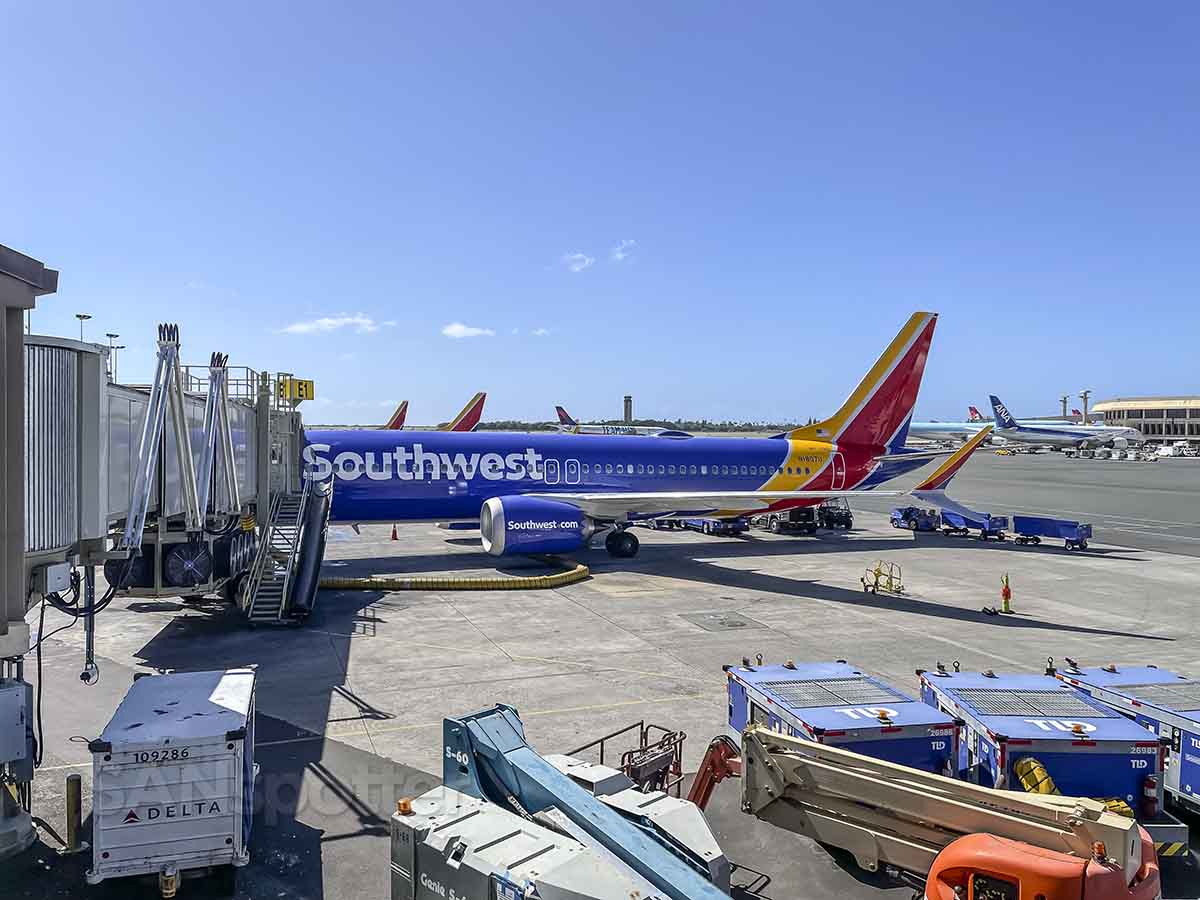 2. You won't have to worry much about delays and cancellations
Love 'em or hate 'em, Southwest Airlines runs a pretty good operation. Yes, they have operational hiccups from time to time, but what airline doesn't? Southwest Airlines has a fleet of over 770 aircraft serving 171 destinations. If something goes wrong, it won't be hard for them to find you an alternate route to Hawaii. They'll get you there.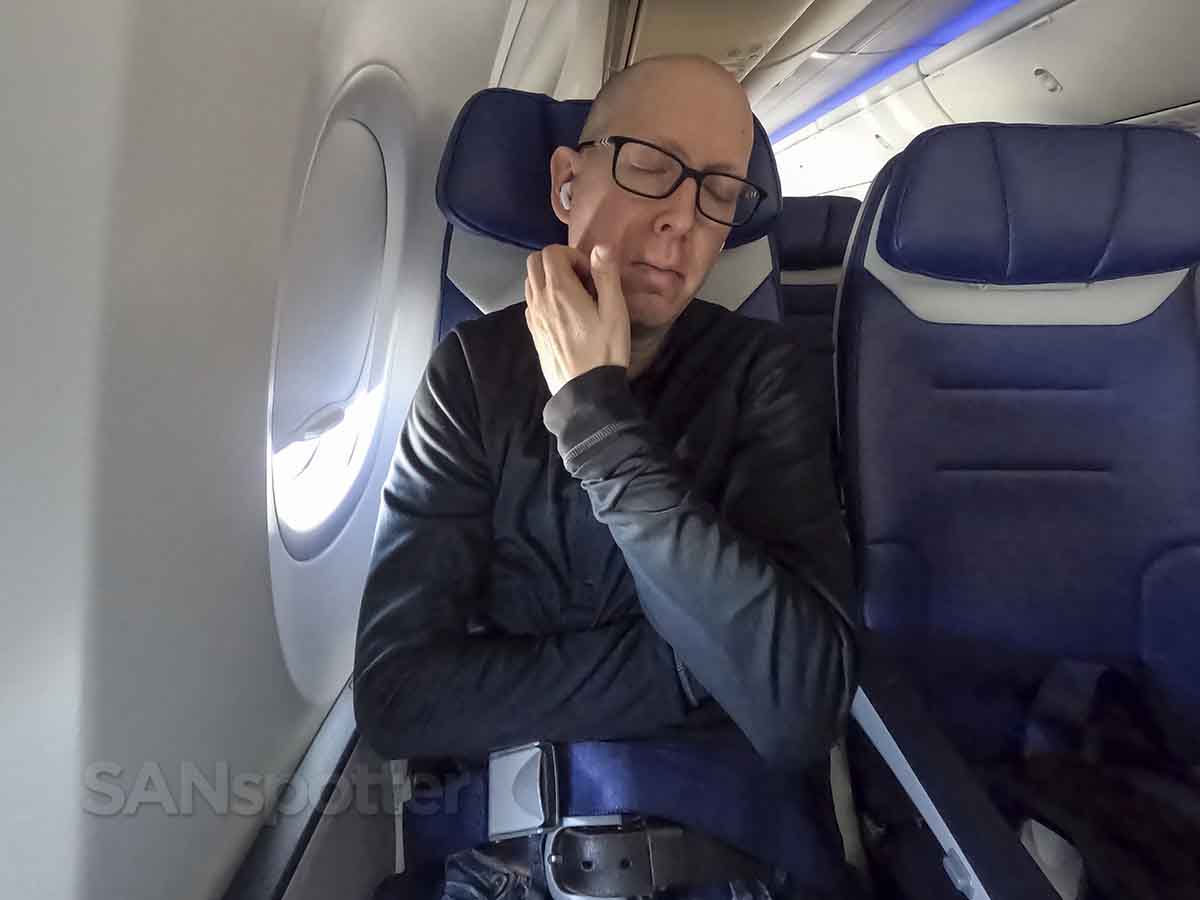 Two very good reasons why flying Southwest Airlines to Hawaii is not a good idea
So yeah. I stand by what I was saying about never flying out to Hawaii on Southwest ever again. Not because they're a terrible airline or anything. I quite like them for short hops here in the continental US, but not for extended runs out to the islands and back. Here's why:
1. They don't offer an opportunity to upgrade to a better seat
All seats on all Southwest aircraft are the same. They're all very thin, very stiff, and the leg room is so-s0. If Southwest offered me the opportunity to pay for a seat with more legroom, I'd throw my money at them with a smile.
But since all seats are the same, and I have to suffer the same as everyone else, I'll choose another airline that allows me to do so. For the record, Hawaiian Airlines A330-200 extra comfort is a far superior "premium" economy choice IMHO.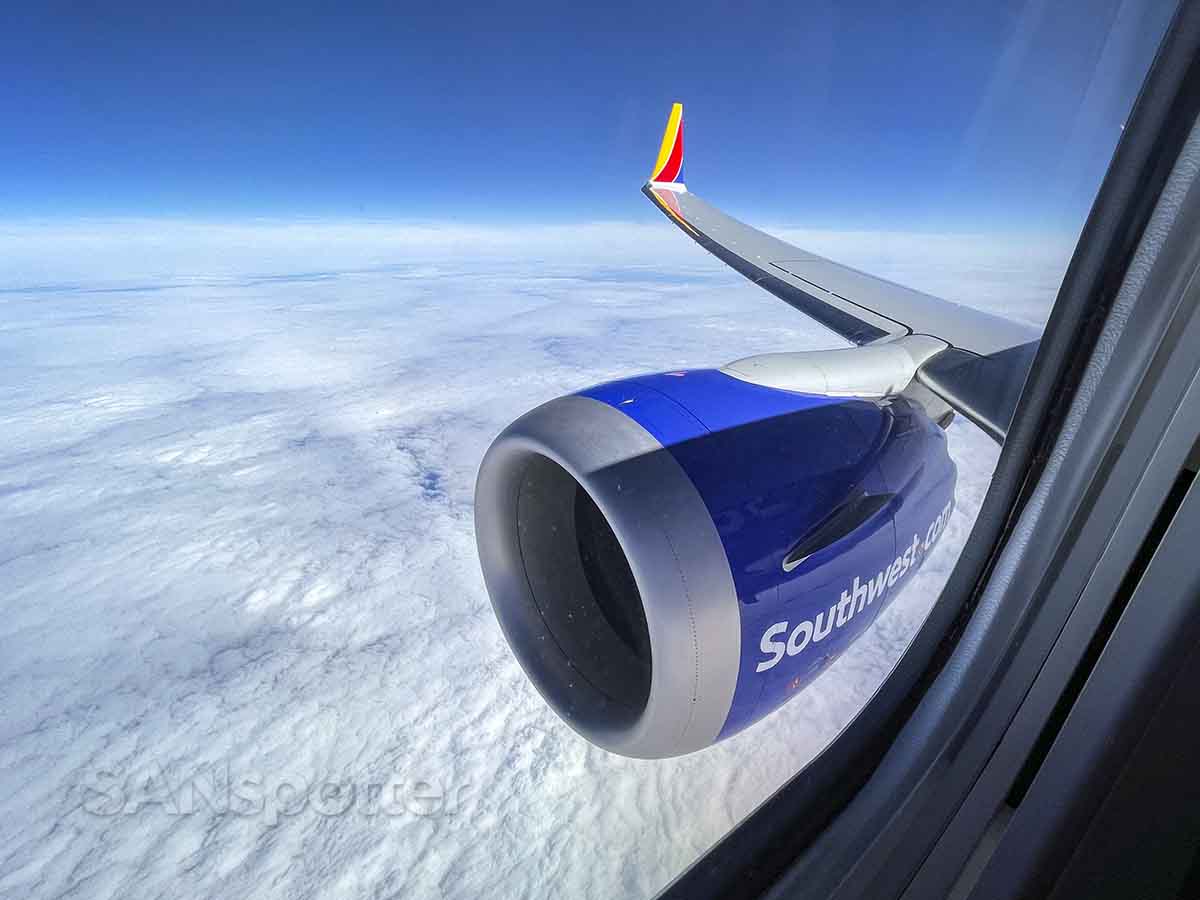 2. The open seating policy is kind of stressful
It takes (at minimum) 5 hours to fly between the US mainland and the Hawaiian Islands. That's a long time to be struck in a seat you're not happy with, and the chances of that happening are much higher on Southwest than they are on any other airline.
I fully admit that the open seating policy thing works great for shorter flights. It takes less time to board the plane, and even if you do end up with a terrible seat, it's a tolerable situation knowing that you won't have to suffer long.
Chances are high that you're not going to get a good seat on a Southwest flight out to Hawaii if you aren't in the "A" boarding group. You might get lucky if you're in the first half of the "B" group, but may God have mercy on your soul if your boarding pass says "B15" or higher.