Thinking back on all my years of air travel, JetBlue and Delta are the two US airlines that have consistently delivered the best bang for the buck. I am a really big fan of both, and I'd have no problem choosing just one of them to fly on for the rest of my life.
My goal with the following JetBlue vs Delta comparison is to show you how each of these two airlines compete on things like seats, food, and in-flight entertainment. The winner will be determined by you (based on how each airline does in the categories you care about most).
Is there one that I prefer more than the other? Yes! But no. Well…sort of. It's complicated.
JetBlue vs Delta: a brief summary of all the similarities and differences
The fact that I'm even making this comparison says a lot about how much JetBlue has grown since it's inception in 2000. I vividly remember when they first launched their first flights. It was definitely exciting, though a part of me firmly believed that they would fail. Hey – being pessimistic is what I do best.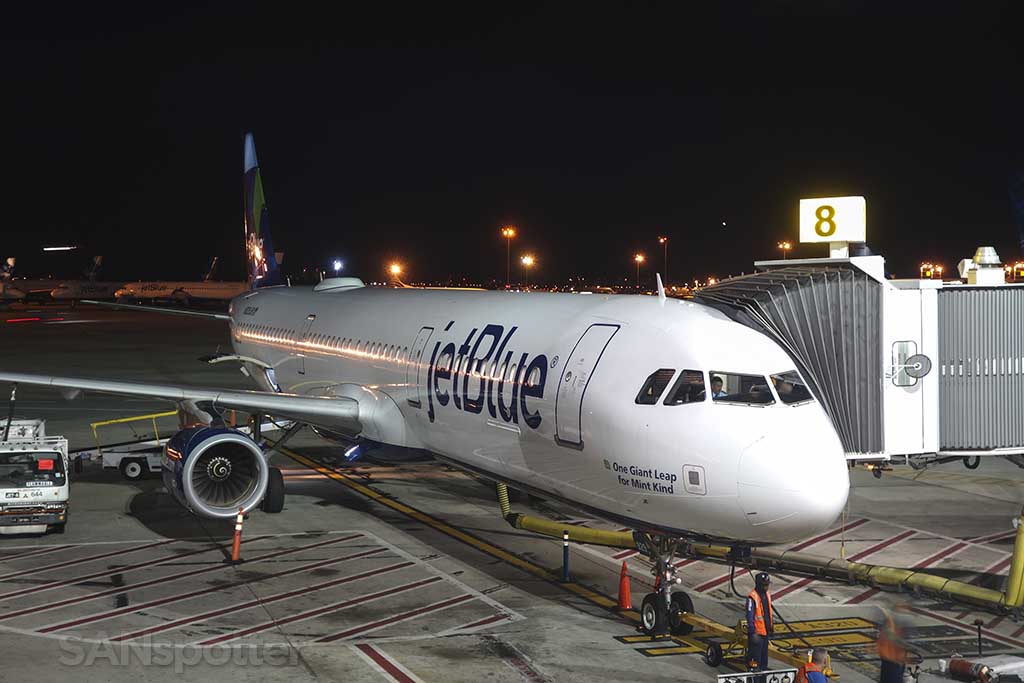 The fact of the matter is this: American, United, and Delta have been so deeply entrenched here in the US that they've never left much room for new players. All three are extremely aggressive when it comes to defending their hometurf, and it's extremely rare in this day and age for a new airline to emerge that can be competitive against them.
As you can imagine, I'm surprised (and happy) to see JetBlue doing so well.
Similarities
On the surface, it would seem that JetBlue and Delta are two completely different kinds of airlines serving two completely different kinds of markets. Delta is hell-bent on becoming one of the largest airlines in the world, while JetBlue seems to be focused on being the dominant player in smaller niche markets. Despite that, there are some key similarities between the two:
Both airlines are heavily focused on the eastern United States. Although both have robust networks which span the entire country, a majority of their operations are focused around the eastern half of the US.
Both offer what I consider to be the number 1 and number 2 premium transcon business class product. JetBlue's premium business class product (Mint) has been my favorite for several years now. However, Delta's premium transcon product (Delta One) isn't far behind.
Differences
The differences between Delta and JetBlue are more extensive than the similarities. These are the most notable IMHO:
Delta offers an extensive network of international destinations to points all over the world. JetBlue, on the other hand, is focused primarily on serving the US domestic market. Yes, they do serve a handful of international destinations such as Mexico and the Caribbean (and London), but it's nothing in compared to Delta's global reach.
JetBlue's fleet consists primarily of Airbus A320 and A321 aircraft. Delta, on the other hand, has an extensive fleet of aircraft from both Boeing and Airbus.
Delta has hubs in Atlanta, Detroit, Minneapolis, and Salt Lake City. They also have a network of focus cities such as Seattle, New York, and Los Angeles. JetBlue, on the other hand, has hubs in New York and Boston, with focus cities in Fort Lauderdale, Los Angeles, Orlando, and San Juan.
While both airlines have code-share partnerships with airlines all over the world, only Delta is part of a major airline alliance (SkyTeam). JetBlue remains independent. For now.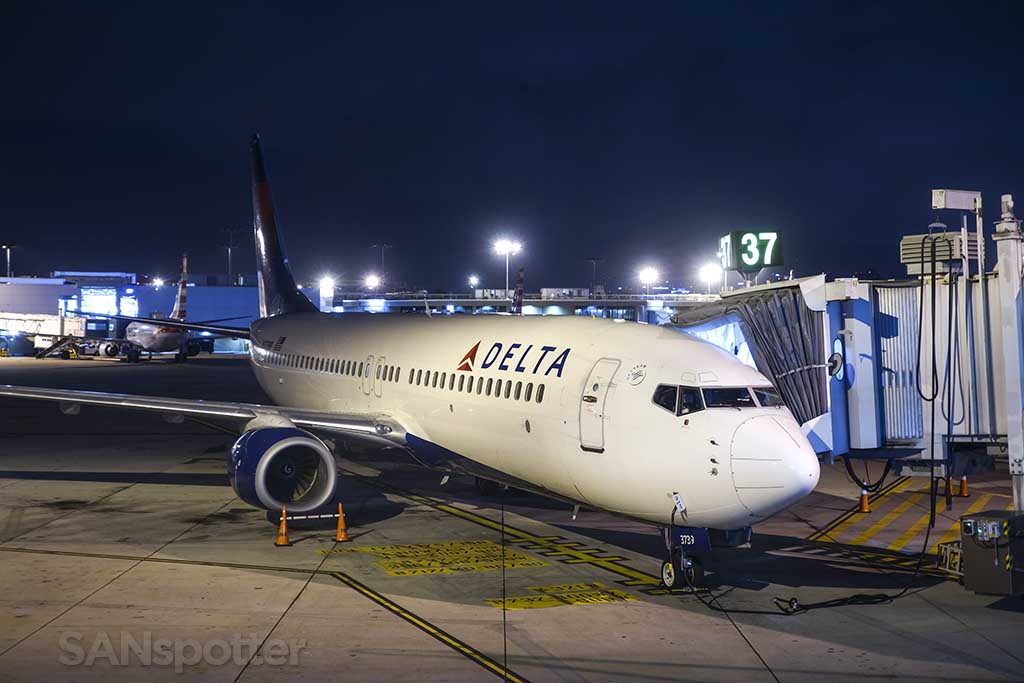 An oversimplified history of both airlines
To better understand the differences between these two airlines, you need to know where they came from. However, since the histories of both of these airlines are long and complex (especially Delta), I'm going to give you the extremely short and abbreviated versions:
Jetblue's history
Although it was founded in 1998 (as NewAir), JetBlue's first flight wasn't until February 2000. The initial strategy for the airline was to be a low cost carrier offering extra amenities such as personal TVs and satellite radio.
JetBlue only served two cities in the very beginning: Buffalo and Fort Lauderdale (both flights were based out of JFK). Today, they serve over 100+ domestic and international destinations with a fleet of nearly 300 aircraft.
Delta's history
One of the oldest and most established airlines in the US, Delta Air Lines commenced operations on June 17, 1929. Like most airlines of that era, they started out as an aerial crop dusting company and eventually moved towards a commercial transportation business model.
A large part of deltas growth has been via acquisitions of other airlines (and their assets):
Chicago and Southern Airlines in 1953
Northeast airlines in 1972
Western airlines in 1987
Pan Am's transatlantic and shuttle operations in 1991
Northwest airlines in 2008
Again, the history of both JetBlue and Delta is utterly fascinating. Read all about them via the links below until your eyes bleed if you want more info:
The seats
Both Delta and JetBlue pride themselves in being leaders in customer service – at least they try anyway. This is clearly evident when you step onboard any airplane of either airline. Chances are good that your first thought will be how clean and nice the interiors are. At least that's what I'm thinking. That and what I'm going to eat, that is.
Business / first class
As I already mentioned, JetBlue refers to their business class product as "Mint." It's arguably the best domestic US business / first class seat – an argument that I would confidently extend to comparing it to other international airlines as well. The JetBlue Mint Suites are absolutely fantastic. It's obnoxiously-luxurious social distancing at its finest.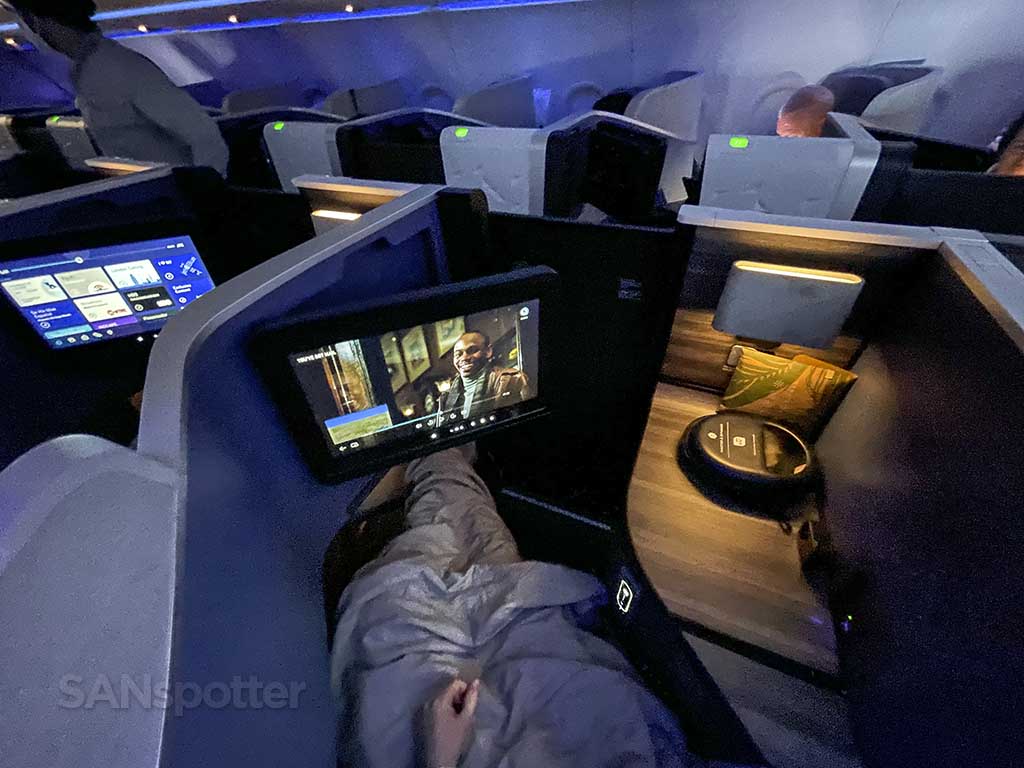 Delta One is almost as good. I said "almost" because the privacy isn't as good as you would get in the JetBlue premium seat. For introverts like me, that's a pretty huge deal.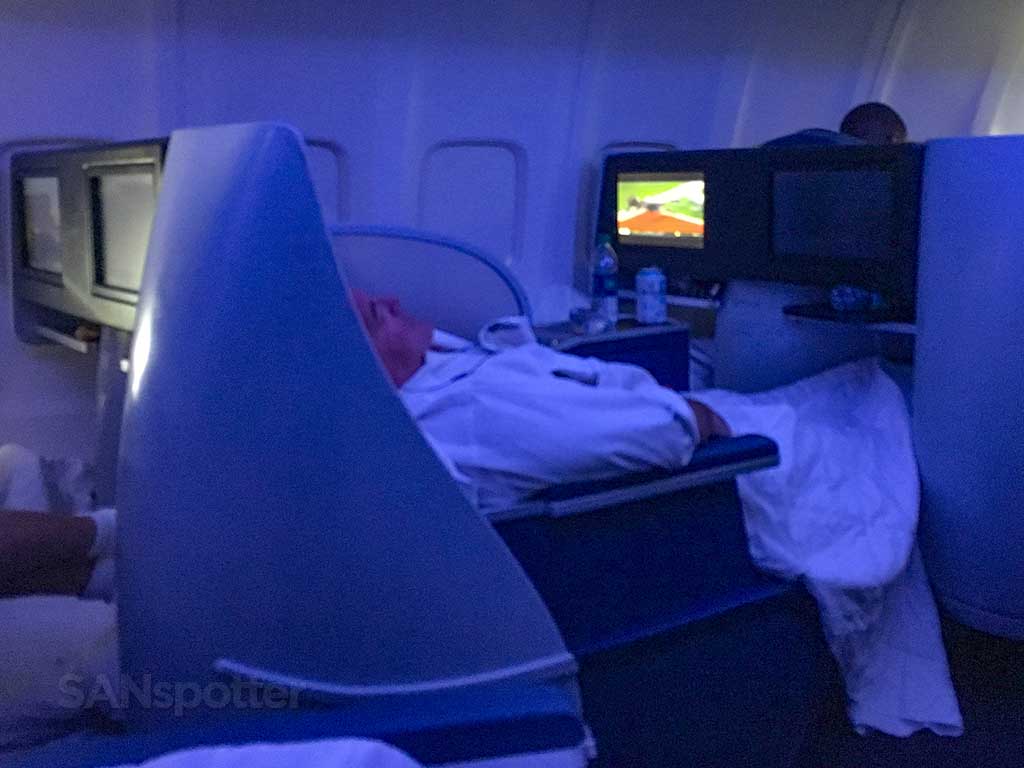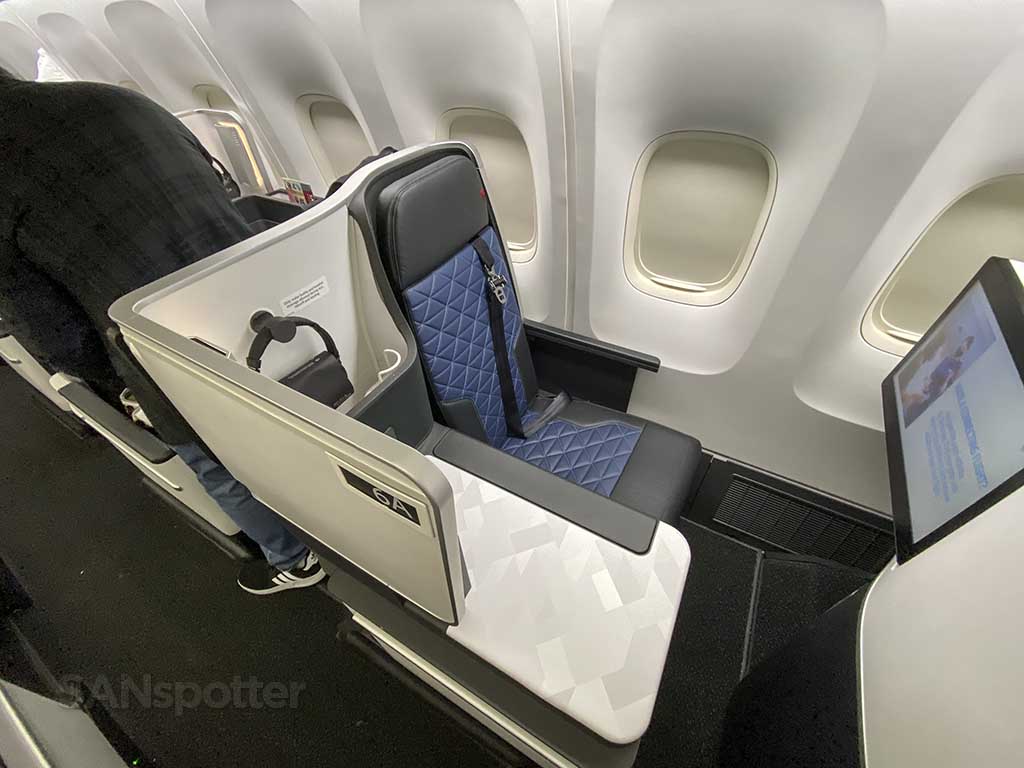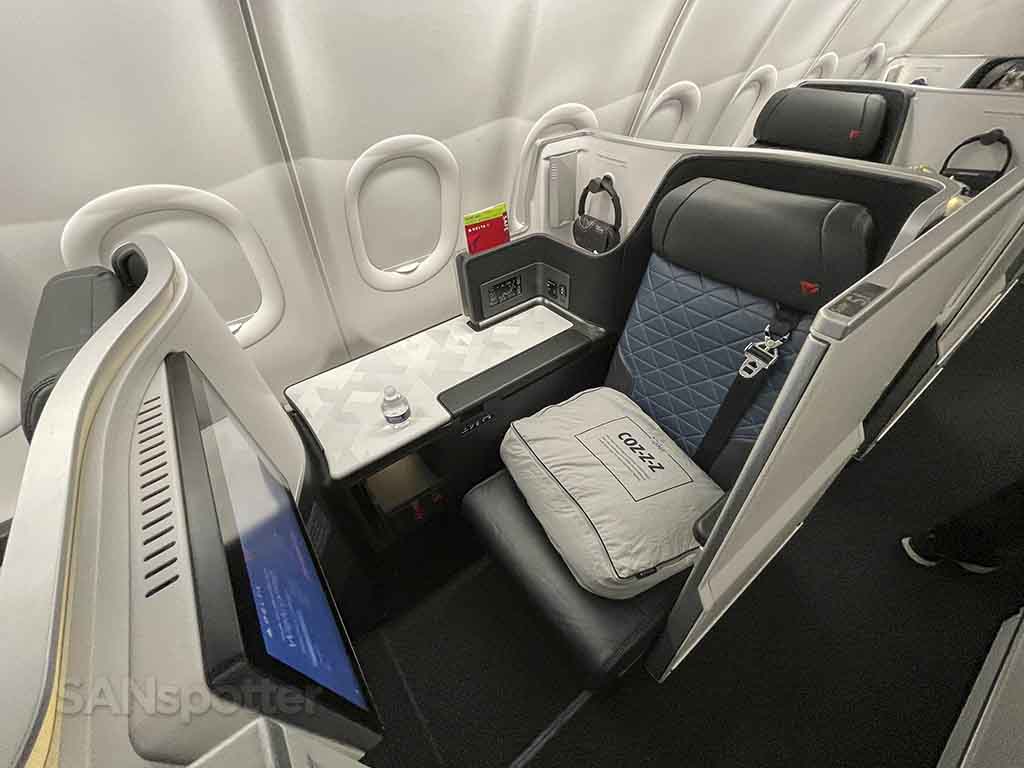 Comfort wise, I'd say that both JetBlue Mint and Delta One are fairly equal. I've had no problems sleeping in either seat, especially since they are both fully lie-flat capable and feel just as good as any hotel bed. Well, almost as good. It just depends on how much of a hotel snob you are.
It's also worth noting that not all Delta One seats are created equal. Be sure to read my review of Delta 767-300 first class to see how some of the older-style D1 seats are being sold as domestic first class (and not even coming close to being good enough to be included on my best domestic first class list).
Premium economy seats
Unlike JetBlue, Delta has a true International-quality premium economy product (Premium Select) – as well as one dedicated for domestic aircraft (Comfort +). Since Delta and JetBlue don't compete on international routes (all that much), let's just focus on their domestic premium economy offerings: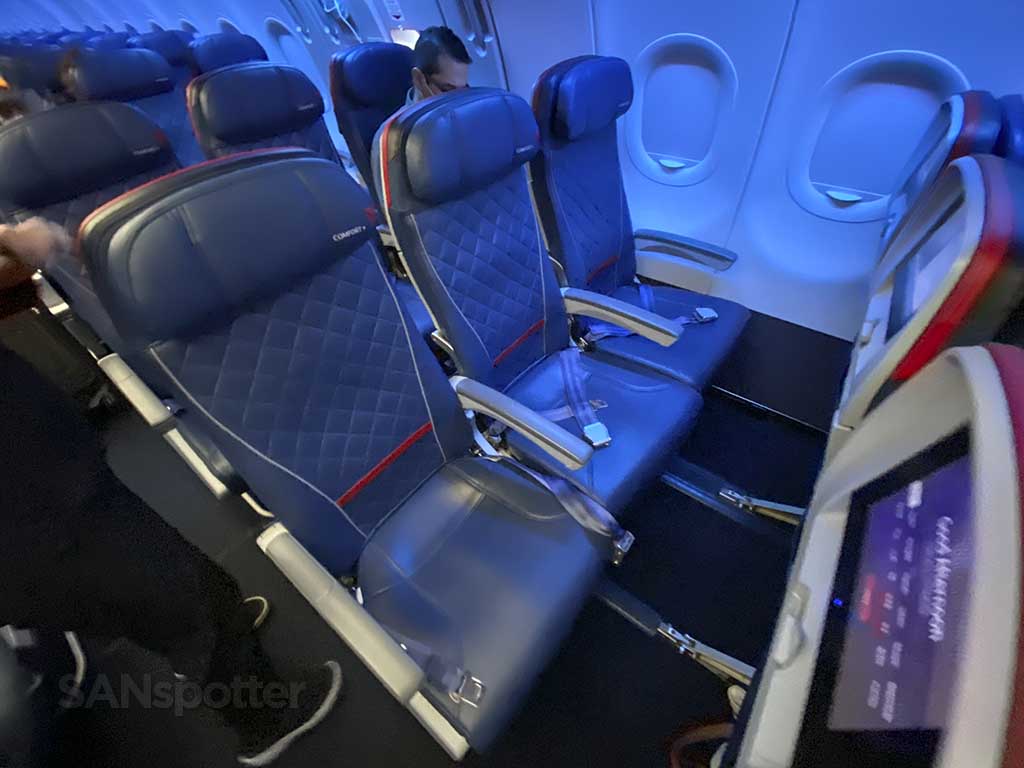 As you might expect, the benefit of Comfort + and the Even More Space seats is added legroom. The seats themselves are the exact same width as economy seats.
You will also get perks such as priority boarding (which results in earlier access to overhead bins) on both airlines. Only Delta's Comfort + provides better snacks than what you would get in regular economy class.
Economy seats
I've spent a lot of time in both JetBlue and Delta economy recently, and I can't say enough good things about them both. Both airlines take great pride in trying to out-do one another when it comes to offering a quality economy class seat. Yes, the seats will be small (and hard) but you're going to be in no danger of a Ryanair 737-800 basic economy experience on either.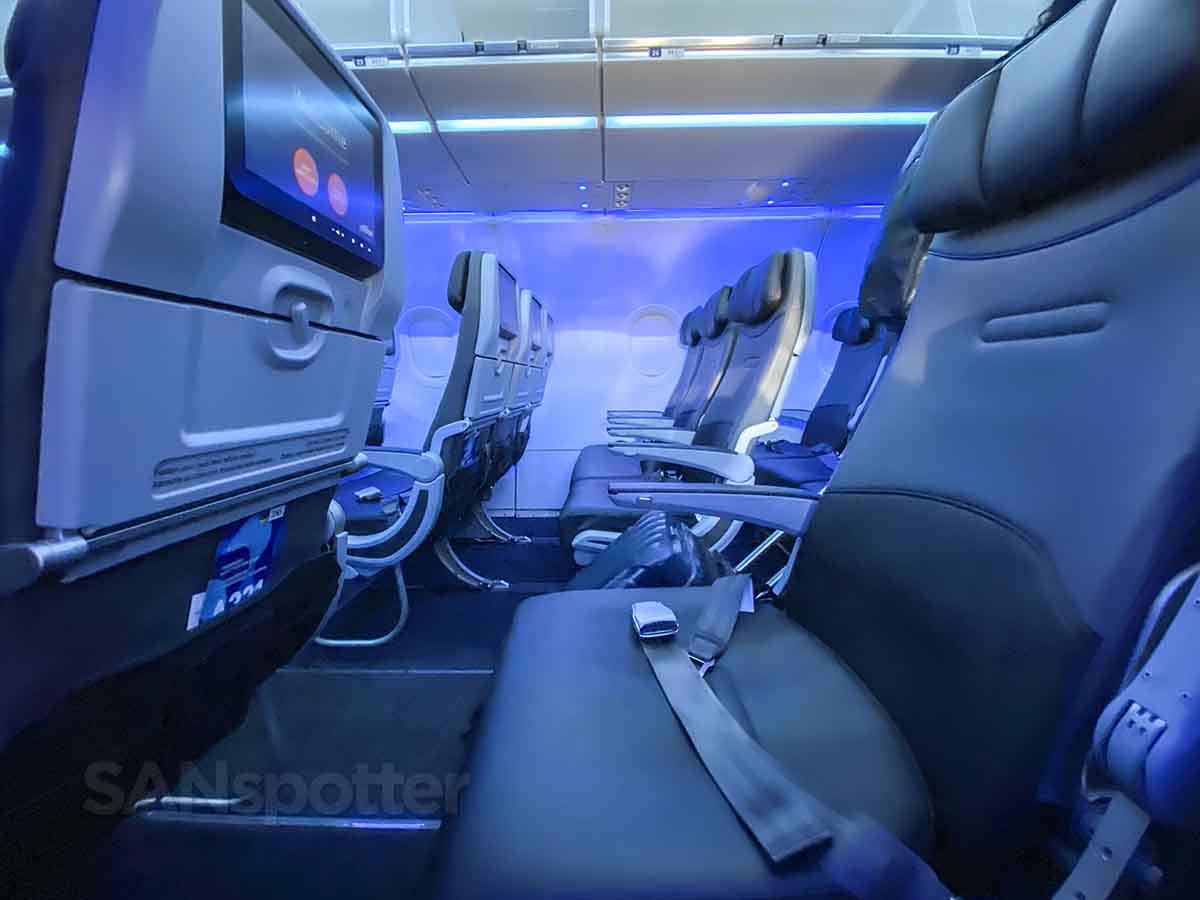 In-flight entertainment
One of the reasons why I consider both Delta and JetBlue to be better than other US airlines is that they offer high-quality in-flight entertainment in all cabins. Delta offers video screens at every seat on every aircraft. JetBlue is currently working towards that goal, but there are many aircraft that still haven't but updated with the latest in in-flight entertainment.
For what it's worth, I find the video entertainment on both Delta and JetBlue to be the best in the US. Delta Studio (the name of the Delta in-flight entertainment system) has more choices than the JetBlue system, but not by all that much.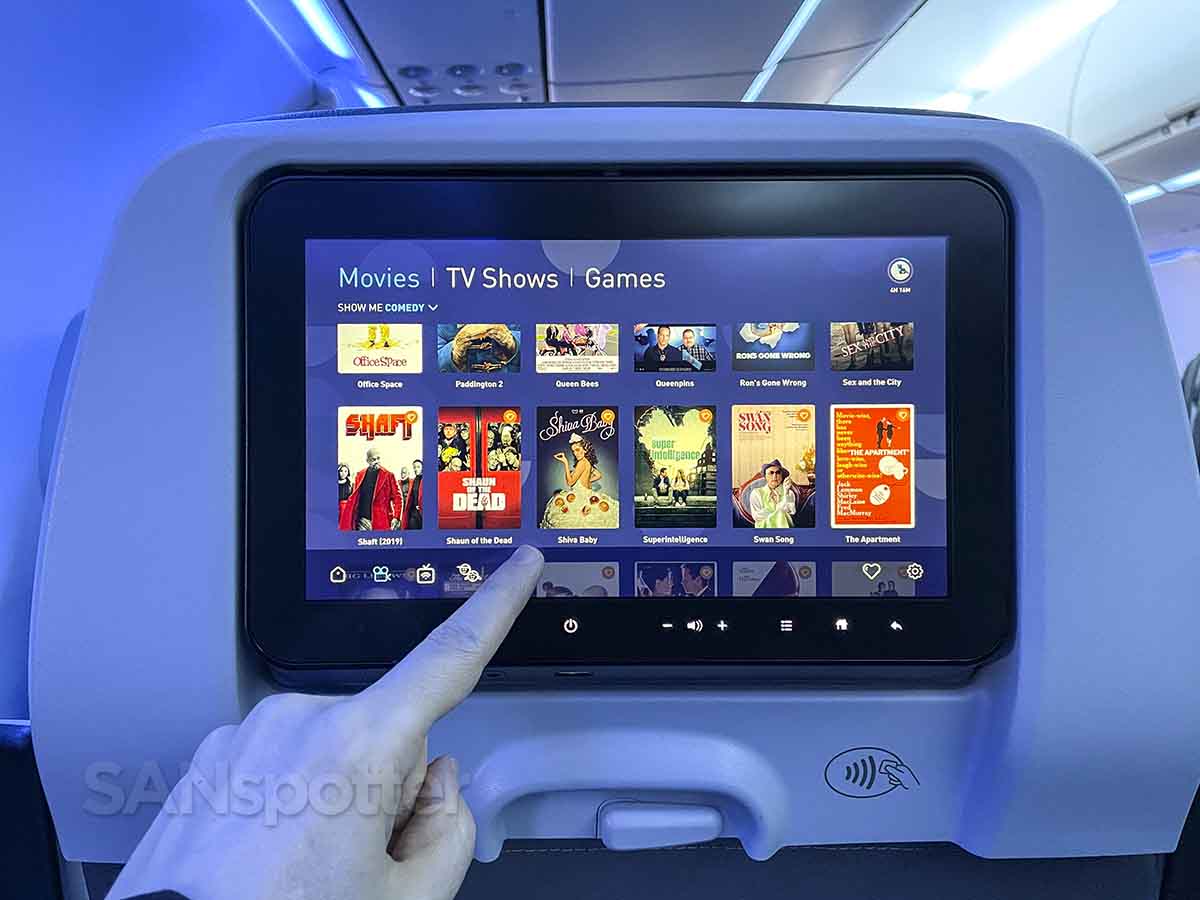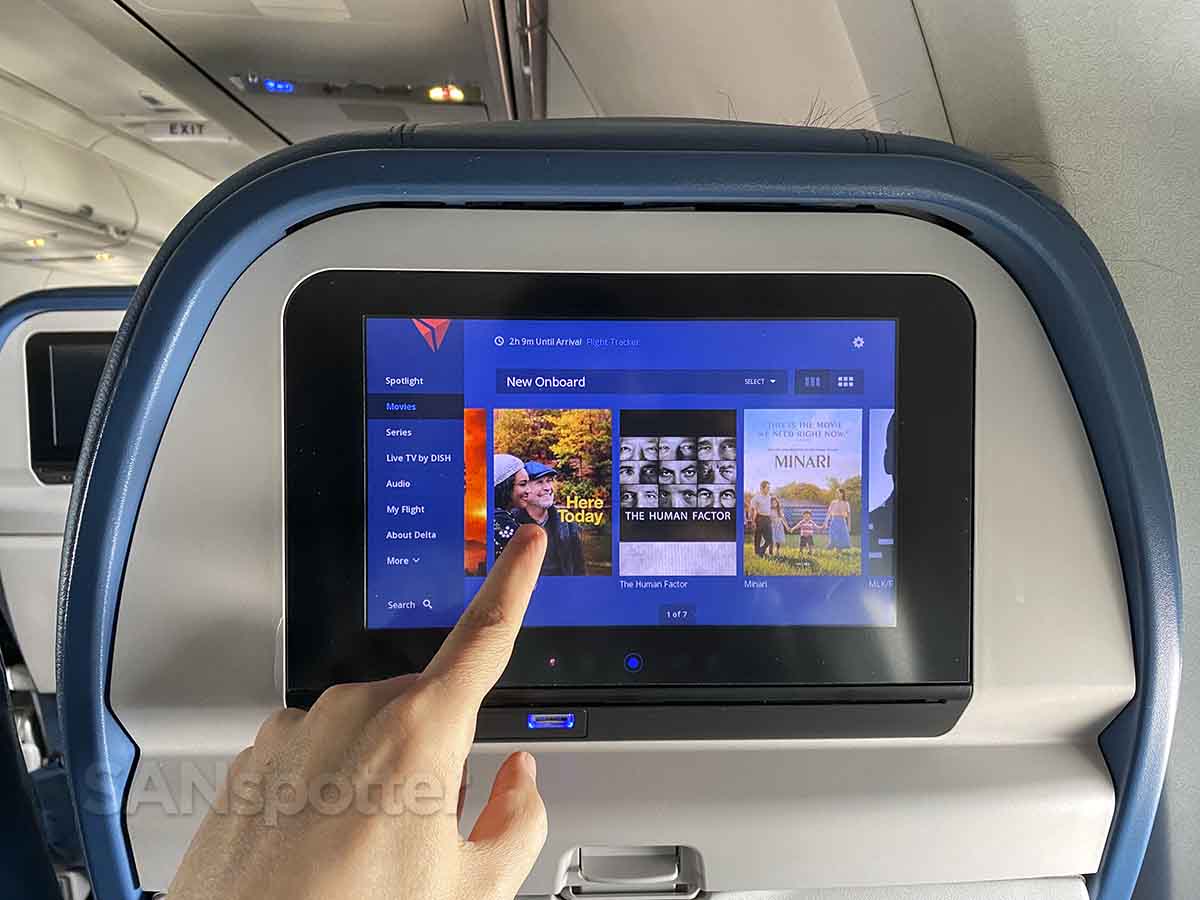 The Food
To muddy the waters even further in this JetBlue vs Delta comparison, I'm going to show you some really delicious food from my experiences on both of these airlines. Long story short, both are at the top of their game in regards to in-flight dining (at least in the premium cabins that is), and it's extremely difficult for me to pick a winner. Let me show you what I mean:
Premium cabins
I'm just going to say it: JetBlue Mint has better food than Delta One. Taste wise, I'd say that they are fairly equal. However, JetBlue wins this portion of the comparison primarily because of how creative their chefs are. Not only in regards to the food, but the way they present you with the options.
Mealtime on both airlines goes like this:
On JetBlue, you'll be presented with a menu with a list of six main options. Instead of having to choose just one, you'll get to pick three. Any combination (whatever you want). What you'll end up getting is a tray of those three options, along with whatever side dishes that everyone else will get.
Delta, on the other hand, is more traditional when it comes to serving food in their premium cabins. Just like JetBlue, you'll get a menu with an assortment of options. However, you'll only get to pick one. A total bummer for those with a craving for a variety of flavors.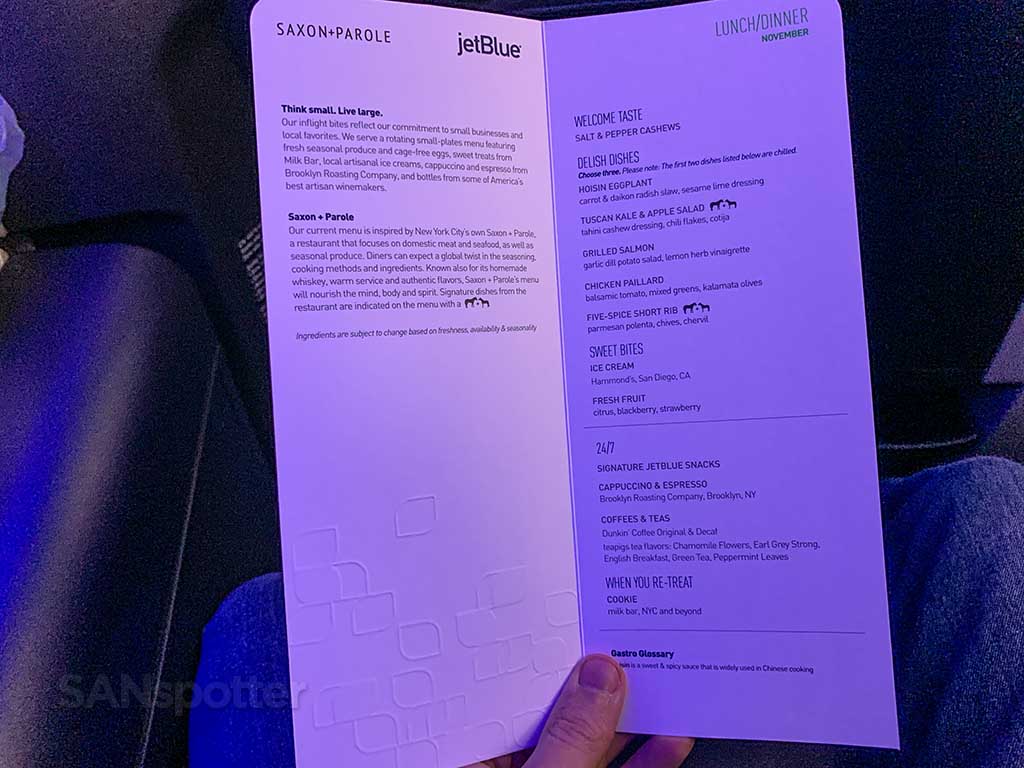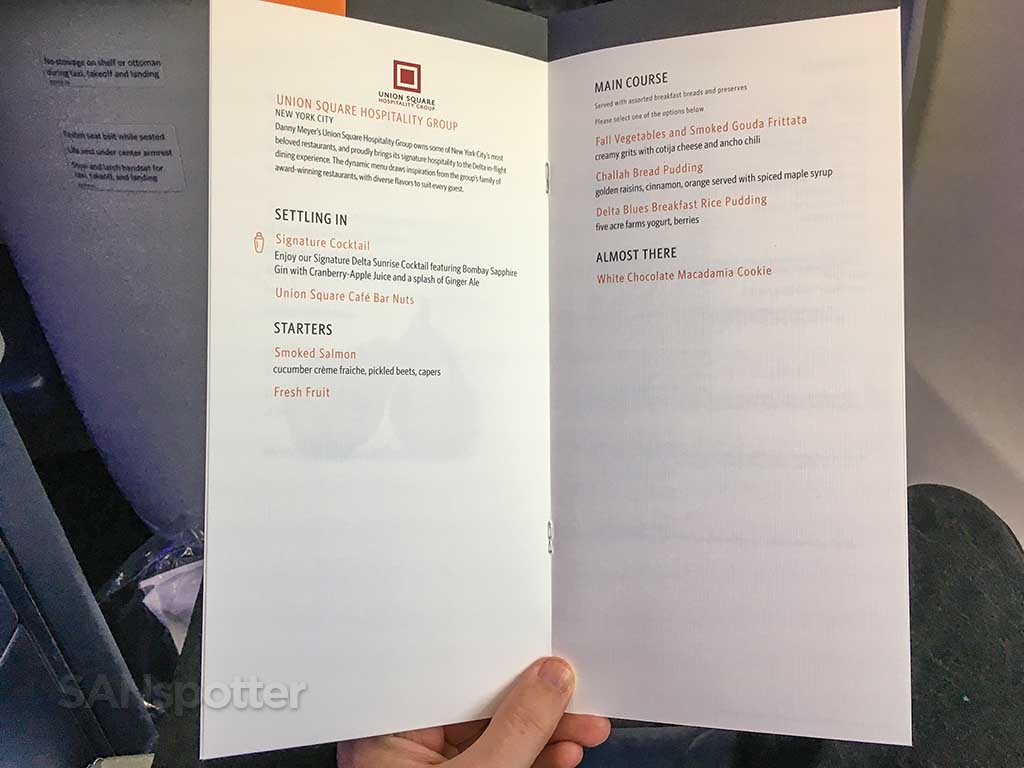 That being said, the quality of food in in both JetBlue and Delta premium cabins is excellent. These are arguably the two best airlines in the US when it comes to eating IMHO. You'll very likely be feeling satisfied (and fat AF) after gorging your face on either airline.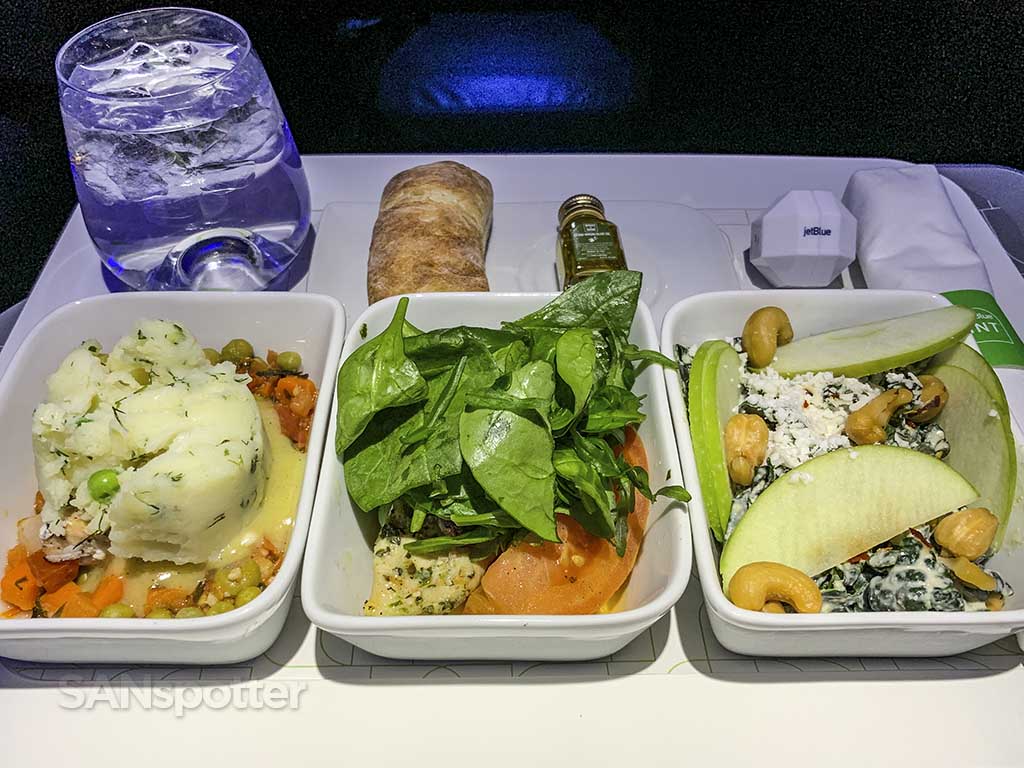 Economy cabins
JetBlue vs Delta economy class food? Ha! Just as I said in my Alaska Airlines vs Delta and American vs JetBlue comparisons, there isn't much to say about the food that either of these airlines serve in economy class. Both offer simple snacks (which will do nothing to satisfy a grumbling belly).
However, in addition to complementary snacks and beverages, both airlines offer extensive menus of food for purchase items. I've personally purchased food from both airlines, and it's equally good.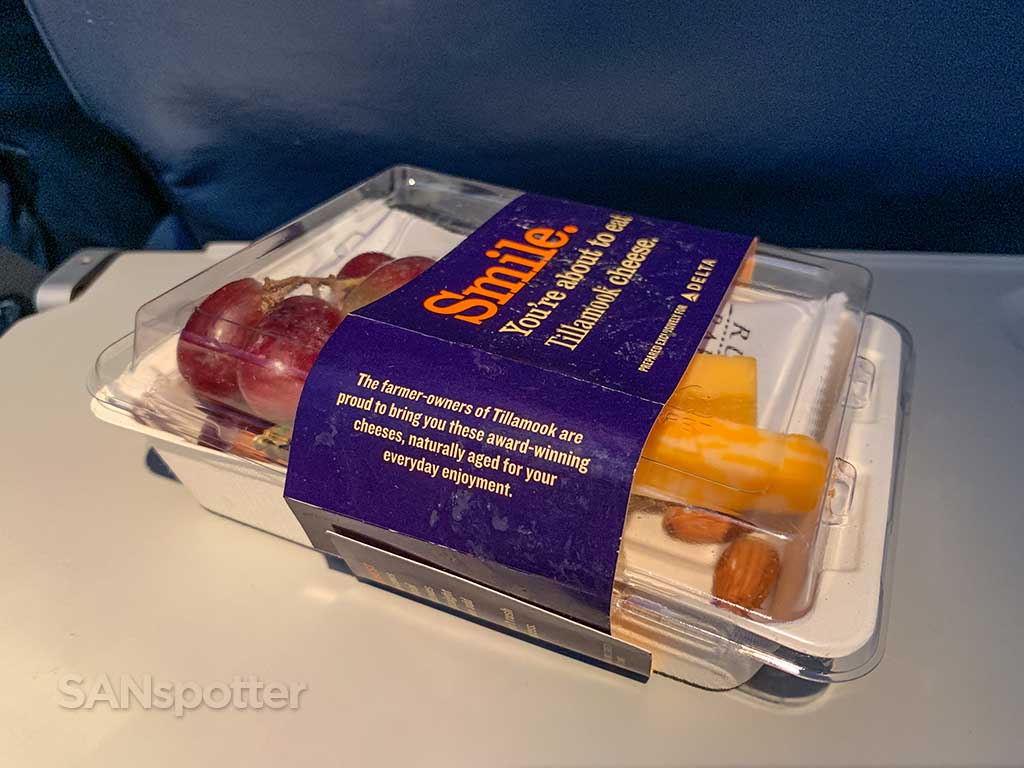 Lounge access
If airport lounge access is the thing that matters the most to you when it comes to air travel, this comparison ends here. JetBlue doesn't have airport lounges for its premium passengers, but Delta does. Which is kind of shocking considering that JetBlue Mint is considered by many to be the best airline experience in the US.
My fingers are crossed that they'll eventually come to their senses and open up some dang lounges – at least at JFK, LAX, and SFO.
JetBlue TrueBlue vs Delta SkyMiles
Arguably the most difficult part of any any airline comparison is trying to figure out which one has a better frequent flyer program. To be honest, there's no clear winner between JetBlue TrueBlue and Delta SkyMiles IMHO. Both are great. Both suck hardcore as well. It all depends on your flying habits.
TrueBlue pros and cons:
Pros
The points don't expire.
You can pool your points with others.
Award redemptions are less costly than SkyMiles awards.
Award availably is (generally) pretty good.
Cons
JetBlue doesn't have very many partner airlines (it's harder to use your points to book flights on other airlines).
There are fewer opportunities to earn points compared to SkyMiles (less credit card bonuses, no credit for flying other airlines, etc).
SkyMiles pros and cons:
Pros
You can earn SkyMiles by flying on any airline in the SkyTeam Alliance.
The points don't expire.
Booking award travel using points (for both Delta and partner airlines) is easy on the Delta website / app.
They give out points like candy – it's super easy to earn SkyMiles via credit card bonuses, partner airlines, shopping bonuses, etc.
Economy class award redemptions are a great use of SkyMiles IMHO. Inventory is plentiful, and the exchange rates are reasonable.
Cons
The amount Delta charges for business class award redemptions using SkyMiles can be up to 5x the amount what other airlines charge to purchase flights using points. If business class award redemptions are what you are saving for, SkyMiles is not the reward program for you.
Why would you choose JetBlue over Delta?
Both of these airlines offer a very good (and highly competitive) product, and there is nothing about either of them which would give me any hesitation to fly with one over the other. However, everybody's travel needs are different, so here's a quick breakdown on how to choose the one that's best for you:
Choose JetBlue if:
You fly primarily up and down the East Coast. JetBlue is extremely strong in the eastern half of the United States, and they run an extensive network of flights based out of hubs in Boston, New York, Orlando, and Fort Lauderdale.
You frequently fly transcons between Boston / New York, and San Diego / Los Angeles / San Francisco / Seattle. JetBlue Mint is the best way to fly from coast to coast here in the US. Nothing else can compare in my opinion.
Choose Delta if:
You fly all over the US to cities both big and small. At the time of this writing, Delta serves over 325 destinations in the US. Most of those are likely to be one stop away (or less) from your home city.
You enjoy flying on airplanes with brand new interiors. Delta has been absolutely crushing it in the past five years or so in regards to refurbishing their entire fleet of aircraft. No matter what type of aircraft you're flying on, it's likely to be clean and modern (with the latest technology and in-flight entertainment)
You are a frequent international flyer and you want to build status on one airline (and/or airline alliance). Delta serves a multitude of international destinations with their own aircraft, but thanks to its membership in the SkyTeam Alliance, that range of destinations increases dramatically. Note that they also partially own LATAM and Virgin Atlantic, which effectively increases their international reach even further.
You enjoy spending your pre-flight time in a swanky airport lounge (something you can't do when flying JetBlue).