If the only thing you read in this entire Delta One 767-400 review is the first paragraph, know this: it's a fantastic business class product on a really nice airplane. Not only that, I'm fairly certain that it may be my favorite business class seat of any US airline.
Still with me? Good. That's because it's also important to let you know that this was far from being the best premium airline experience I've ever had. The 767-400 Delta One seat is very good, but there were a lot of things about the service on this flight that had me feeling a bit frustrated. Actually, a lot frustrated.
Warning: AvGeek drama ahead.
DL388
San Diego, CA (SAN) – New York, NY (JFK)
Thursday, August 19, 2021 Friday, August 20, 2021
Aircraft: 767-432/ER
Registration: N840MH
Duration: 5 hours 7 minutes
Seat: 6A (Delta One / business class)

The video
I've been creating airline review videos since 2016, and making one about the all new Delta One 767-400 business class product has been a top priority of mine for the past few years. Unfortunately, I may have set my expectations a bit too high, because this wasn't the experience I thought it was going to be.
For what it's worth, the video captures more of my frustrations about Delta One than this written review does. It's easier to complain in spoken word I guess…
This Delta One 767-400 business class review didn't go as well as I expected
If you've been reading sanspotter.com for a while, you'll know that this isn't the first time that I've flown on a Delta 767-400 in or out of San Diego.
The first time was a flight from Atlanta to San Diego in December 2016. The second time was a flight to Atlanta in December 2018. Both times were in economy class. More importantly, this was before the interiors of those 767-400s had been updated with the newest seats in all cabins.
Both were mediocre experiences, and because of that, I was very much looking forward to seeing the newest interior on the 767-400.
My arrival at the airport
With a schedule departure time of 12:55 PM, I figured that arriving at the airport at around 10 AM would be perfect. It would give me plenty of time to walk around to get the footage I needed for the video, as well as to check out the Delta Sky Club (located in Terminal 2 West).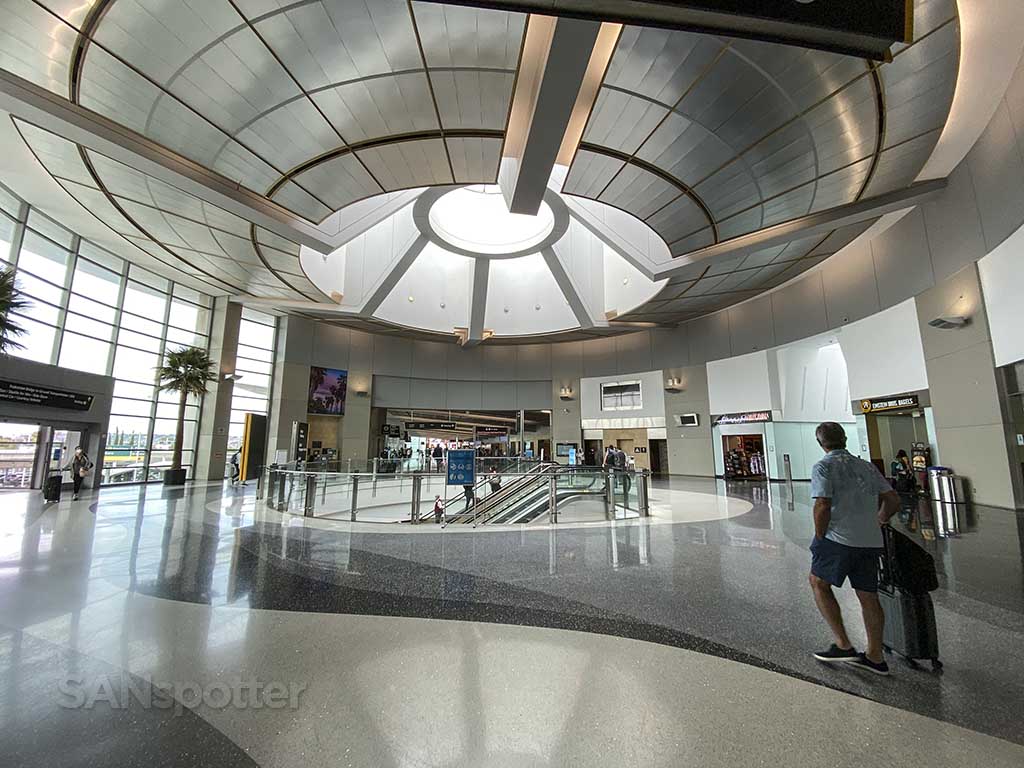 After hanging out in the Sky Club for a bit, I headed down to the gate approximately 30 minutes before boarding was scheduled to begin.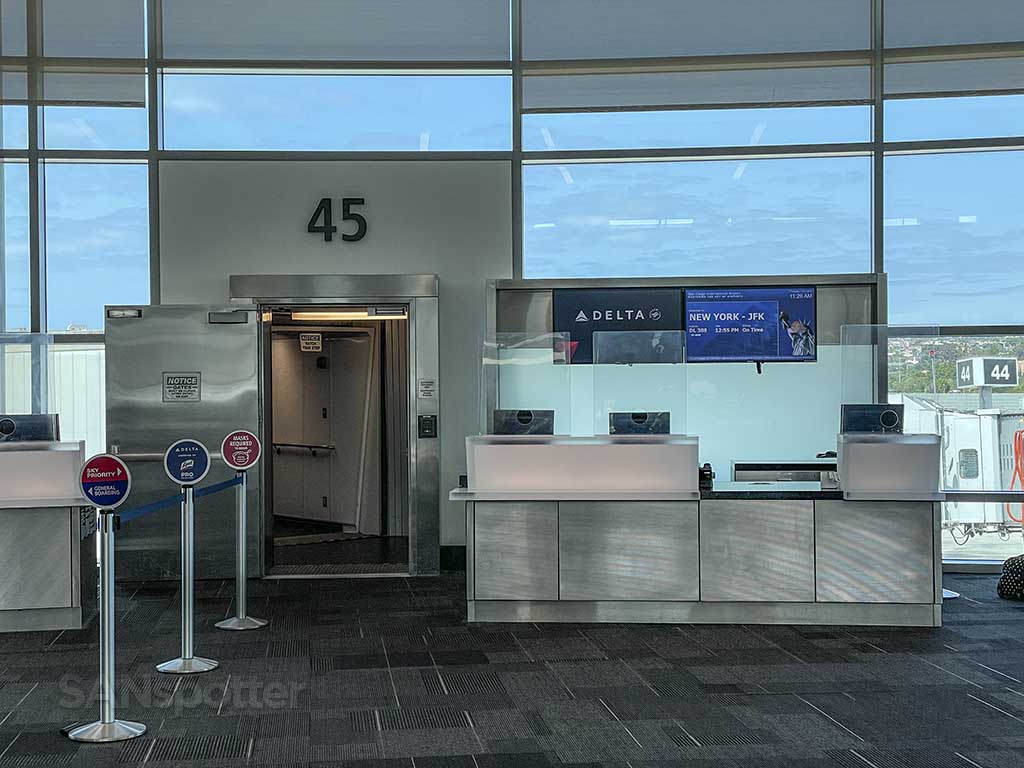 They canceled the flight. Dang it!
Everything was looking good right up until about five minutes before they started the boarding process. The boarding door was open and ready, and it looked as if they were just moments away from welcoming the first group of passengers onboard.
Delay number 1
Suddenly, out of nowhere, they announced that the flight would be delayed until 6:45 PM. Ouch. The gate agent tried to soften the blow by telling everyone that there was a chance that the mechanics could fix the issue quickly and we'd be able to board in an hour and a half.
Delay number 2
True to her word, she made another announcement exactly an hour and a half later. It wasn't good news. The flight was now delayed until 7:20 AM the next morning. Double ouch. I had no choice but to go home and try to figure out how I was going to salvage the rest of my trip to New York…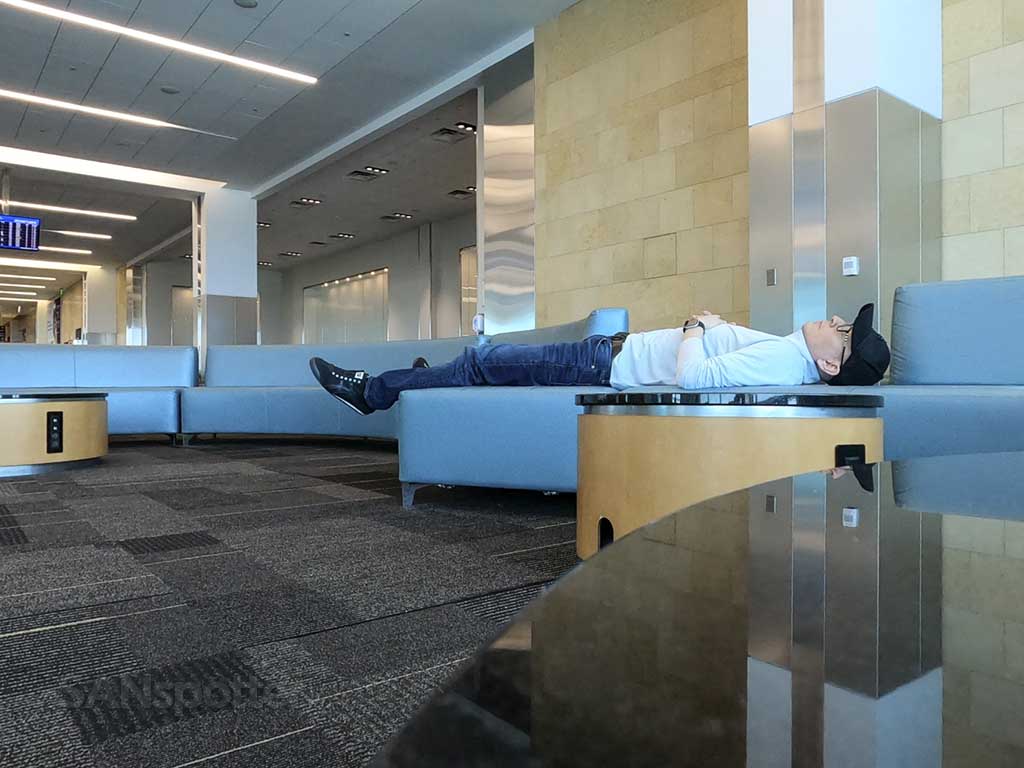 The boarding process for flight number 388 to New York
See what I did there? I just spared you all the profanity I was muttering to myself between the time that I went home and came back to the airport the next morning. You came here looking for a Delta 767-400 business class review, so gosh dang it, let's get on with it.
All you really need to know is that I decided not to cancel the trip, and I was back at the airport bright and early ready to get the show on the road. Or in the air. But you know what I mean.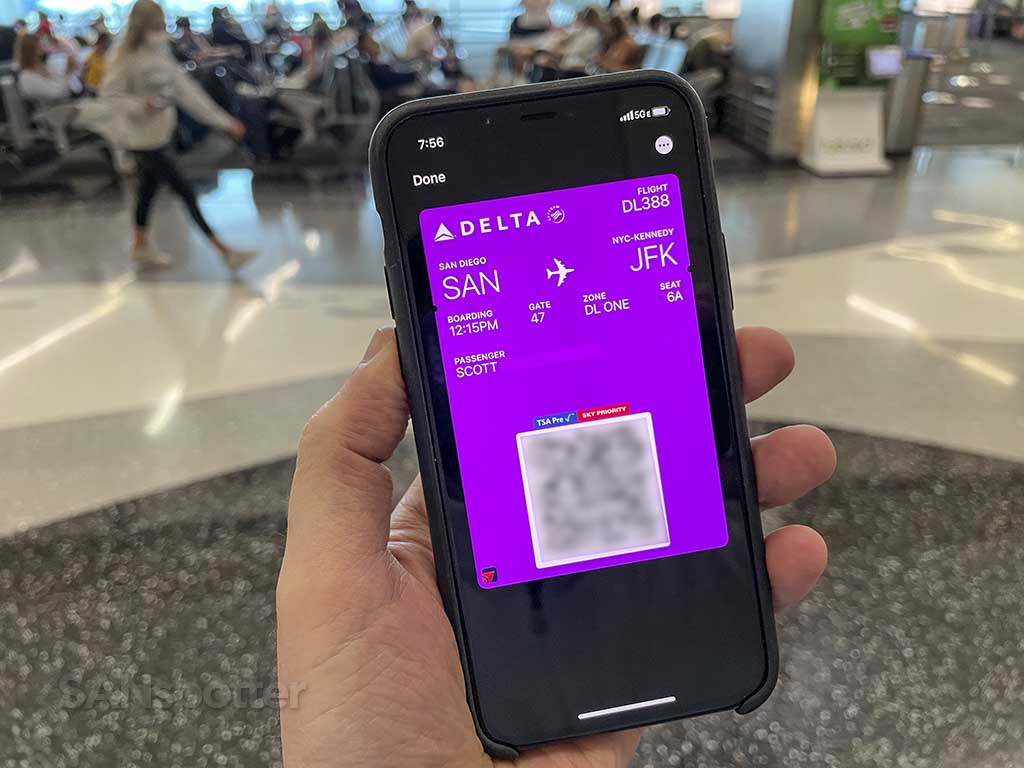 My first impressions of the 767-400 Delta One business class seat
If there's anything that will turn my frown upside down, it's the site of the signature-white Delta One business class cabin. It looks especially fantastic on the 767-400.
Not only that, it goes without saying that my frustration level had been reduced by at least half by getting a glimpse of what I was about to experience for the next five hours.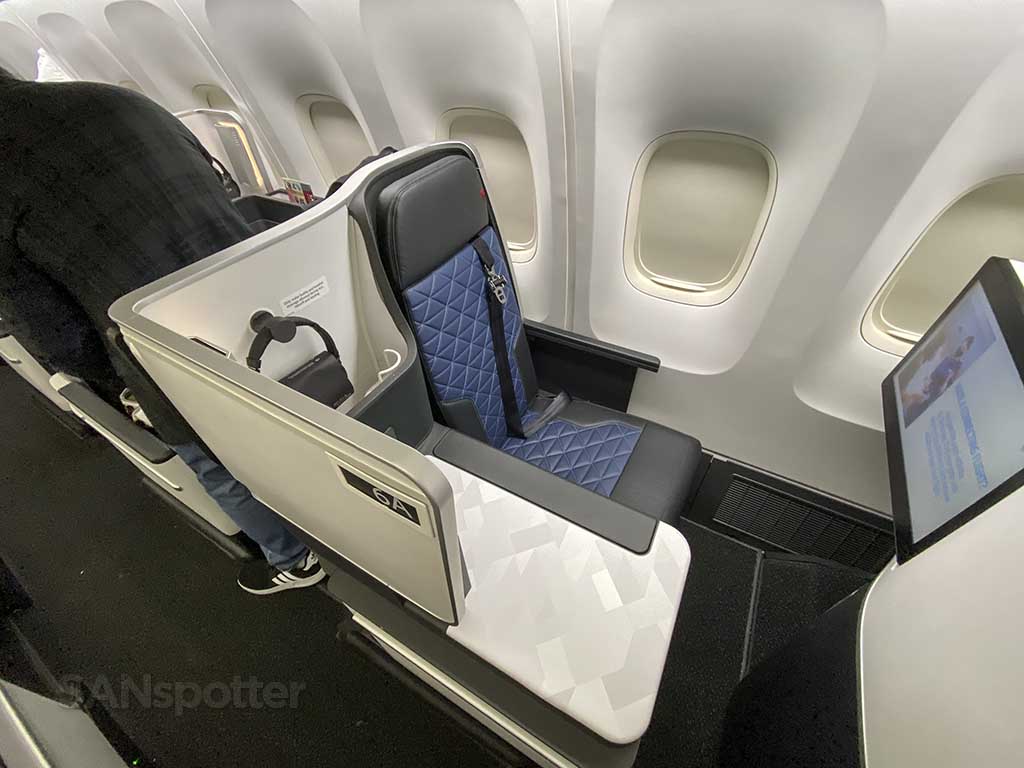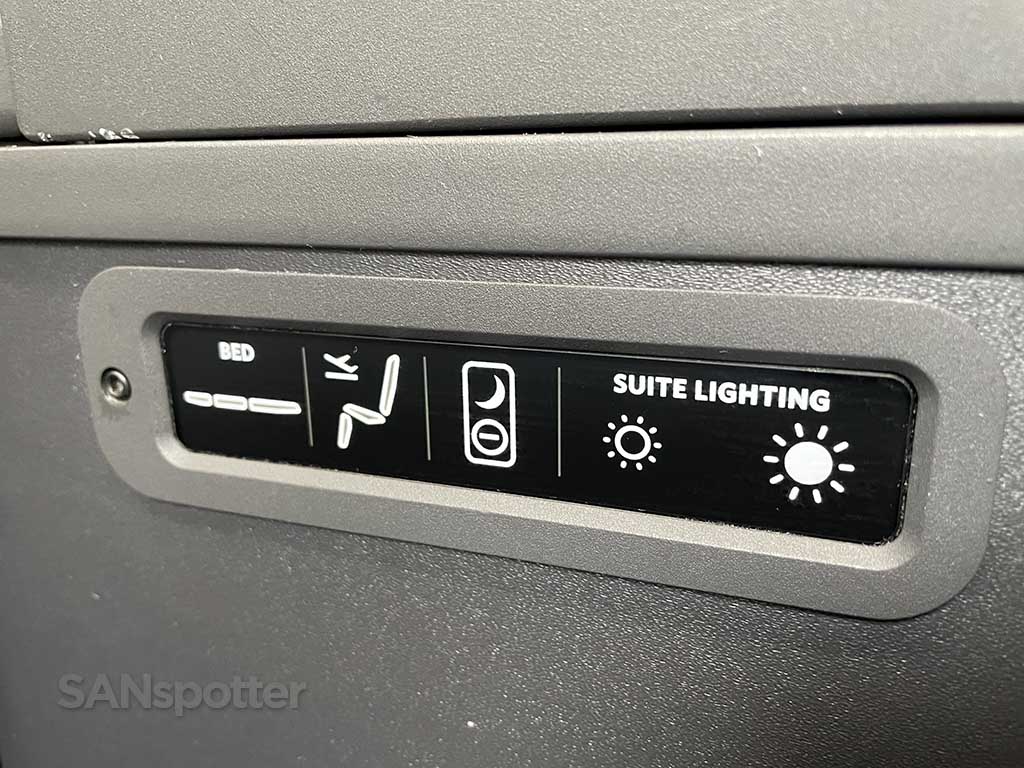 Is Delta One the same as first class?
One of the questions I got shortly after posting some of these pictures on my Instagram account was from somebody asking if Delta One is the same as first class. It's a really good question actually.
Delta One is Delta's best seat. It's a very competitive business class seat designed for long-haul international flights, and it is installed on all of Delta's wide-body aircraft. There are some 757s in the Delta fleet which feature a seat with the Delta one name, but the seats are not the same. If you're curious to know what that's like, do be sure to read my Delta One 757-200 review.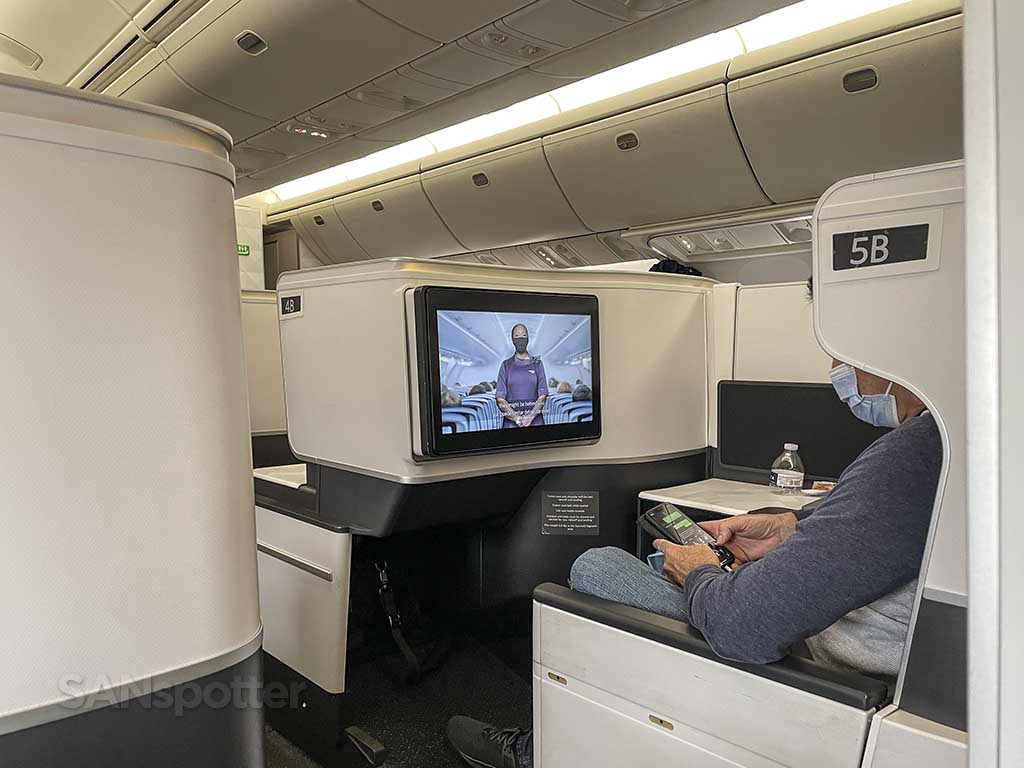 Delta One is offered primarily on international flights, but they do offer it on a select number of domestic flights as well. It's almost always offered between New York and San Francisco / Los Angeles, but you can sometimes get it between New York and other cities such as San Diego and Seattle. The schedules vary.
Long story short, if you're flying on a domestic route and you have a choice of aircraft that feature either first class or Delta One, choose Delta One. It is far superior to Delta's domestic first class product.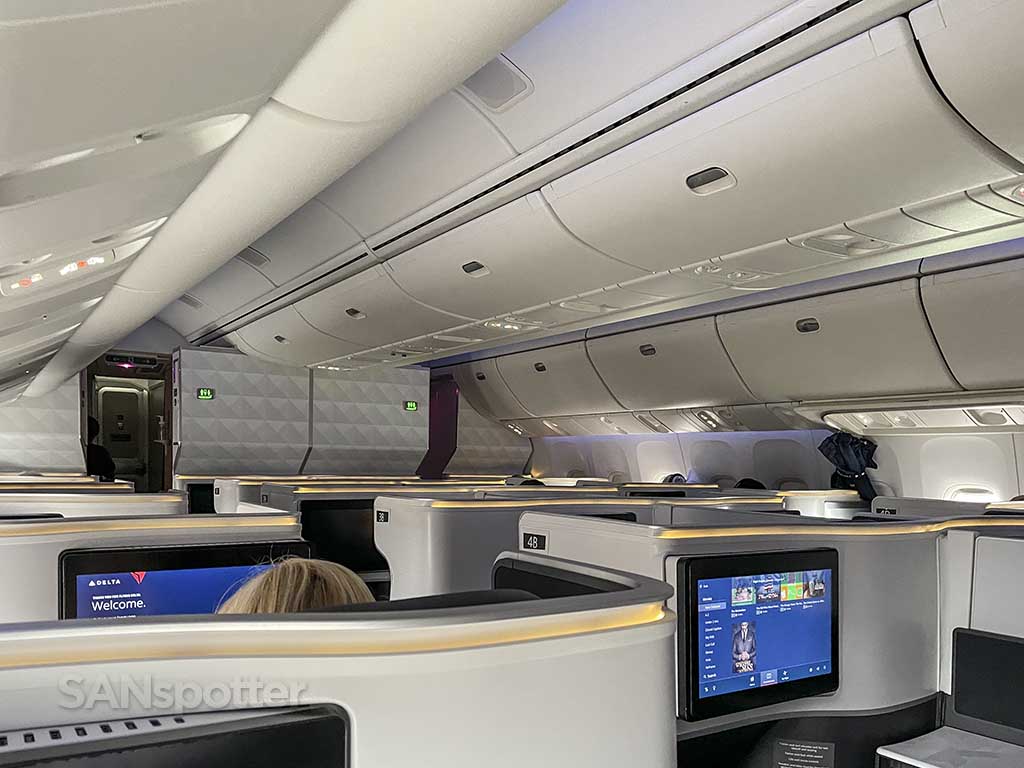 Delta One offers everything you'd expect in a premium long-haul business class product. Not only will you get a big (and very comfortable) seat, you'll get a full size blanket and pillow, an amenity kit, and high-quality meals. As you'll read below, I didn't get all of those things on today's flight…
One final note about Delta One vs first class: at the time of this writing, the Delta 767-300's with Delta One seats are sometimes sold as "first class" on domestic routes. These seats are pretty bad IMHO, and the service will vary greatly depending on whether it's sold as Delta One or first class. For more information, check out these reviews:
The departure out of San Diego
The San Diego Airport is relatively small considering the number of passengers who pass through on a daily basis. That's why I always find it really fun to fly in and out of this place on a large airplane such as the 767-400.
What is Delta's in-flight entertainment like?
The video screens in Delta One are nothing short of fantastic. They are very big, extremely bright, and very responsive.
I almost didn't even have to touch the screen itself when trying to make a selection – all it took was to hover my finger just a few millimeters above the screen to make something happen. That's gotta be a huge bonus for all you germaphobes out there.
As I've mentioned many times before, Delta Studio is a very well-stocked in-flight entertainment system. It may not be as feature-rich as Studio CX on Cathay Pacific or anything (as you read in my Cathay Pacific 777-300ER business class review), but it's a darn good system with loads of TV shows and movies.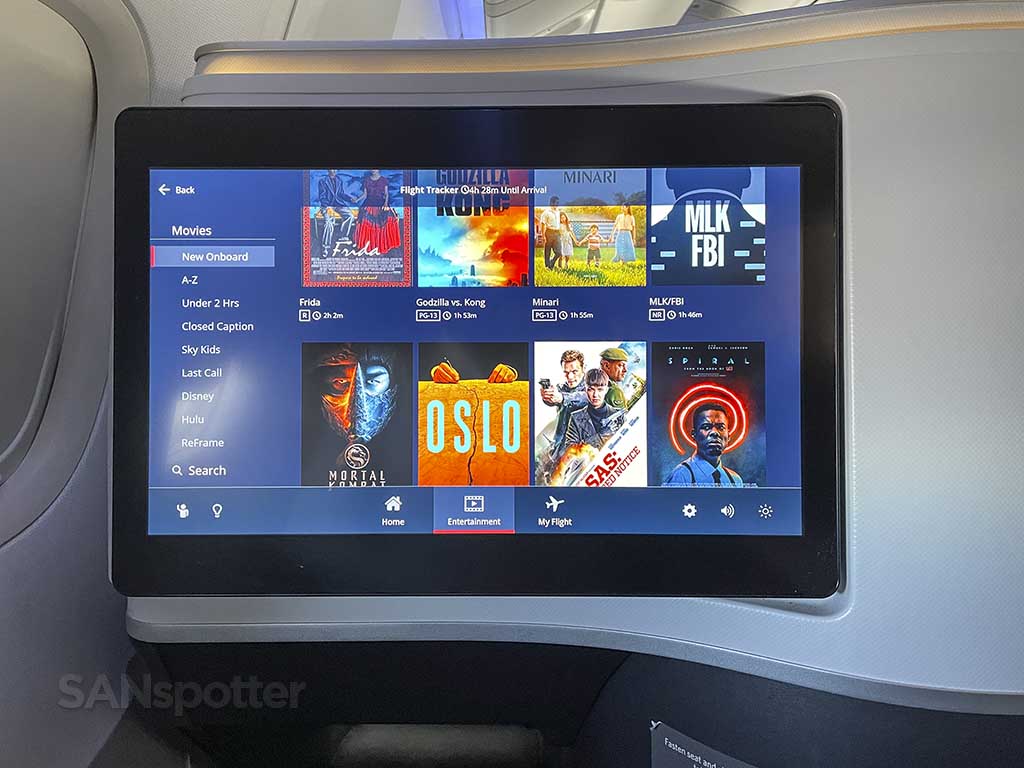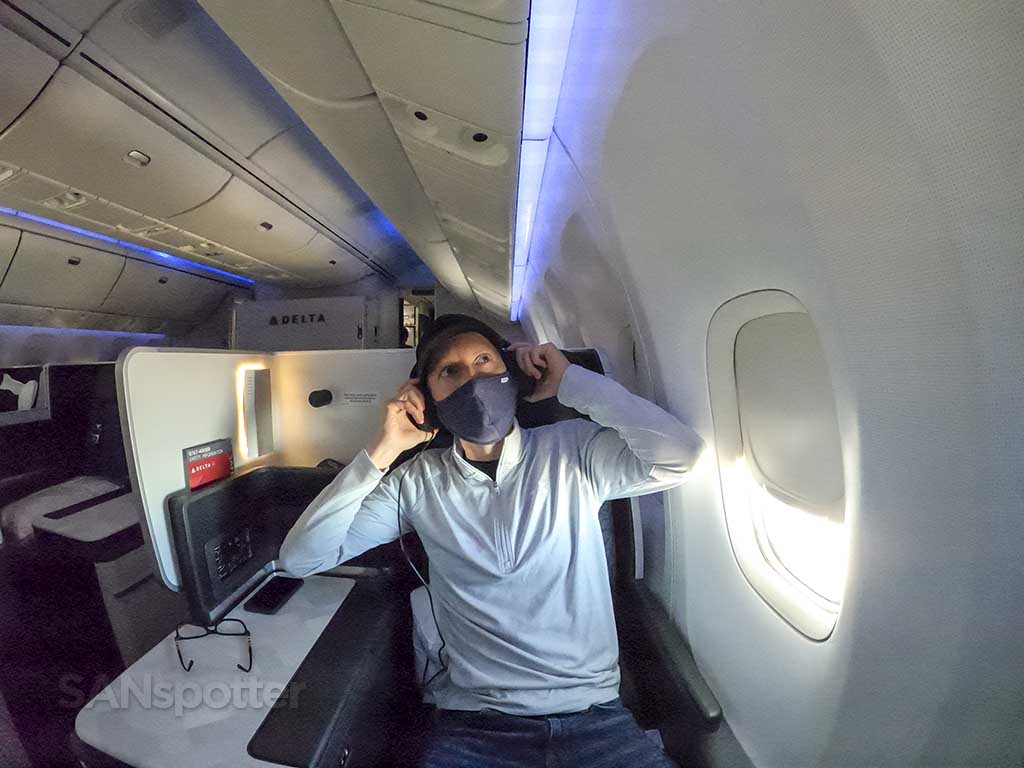 What kind of food do they serve on Delta One domestic flights?
Ok. You've now reached the part of this 767-400 Delta One review where I start to get a little bit whiny (and maybe a little ornery). We were supposed to get hot meals on this flight.
As a matter fact, Delta is usually really good about serving high-quality food in their premium cabins. I've had some fantastic meals in both Delta One and Delta first class before.
Unfortunately, due to the flight being delayed for so long, they didn't have any meals to load for this segment to JFK. All we got were snack boxes filled with junk food.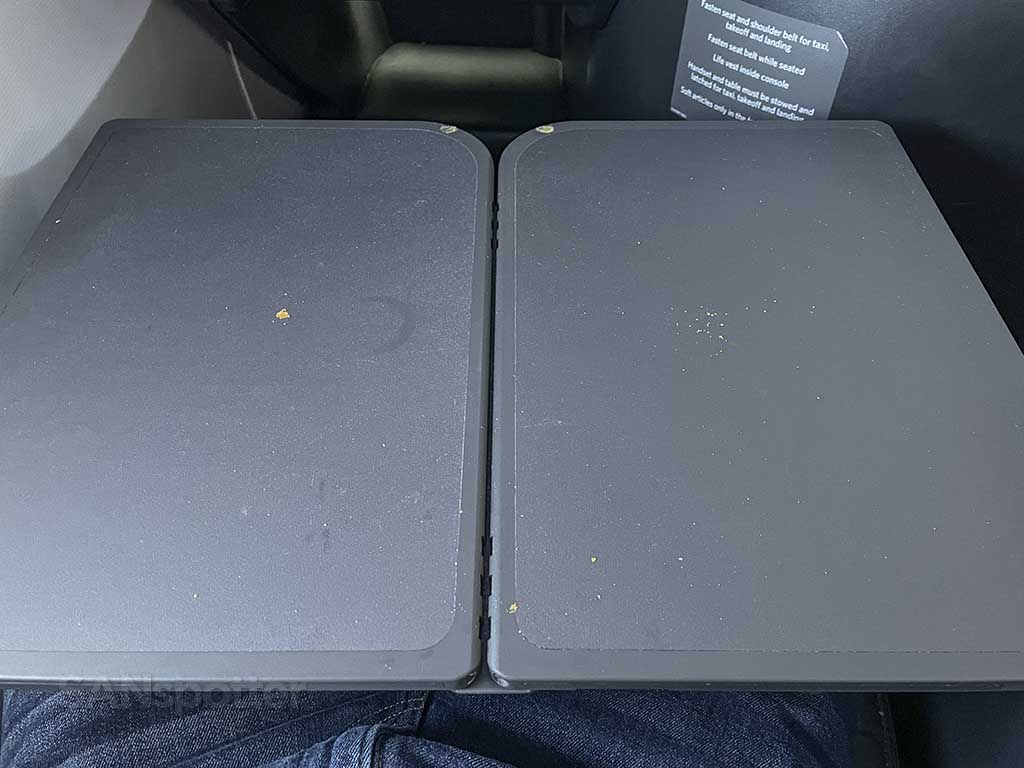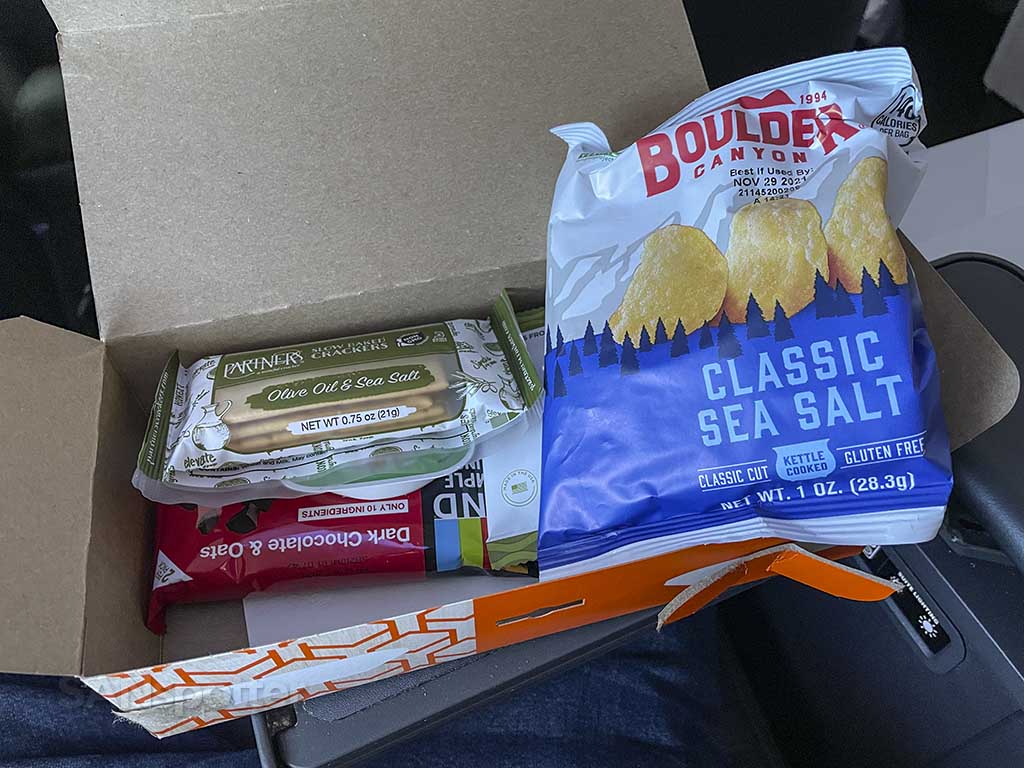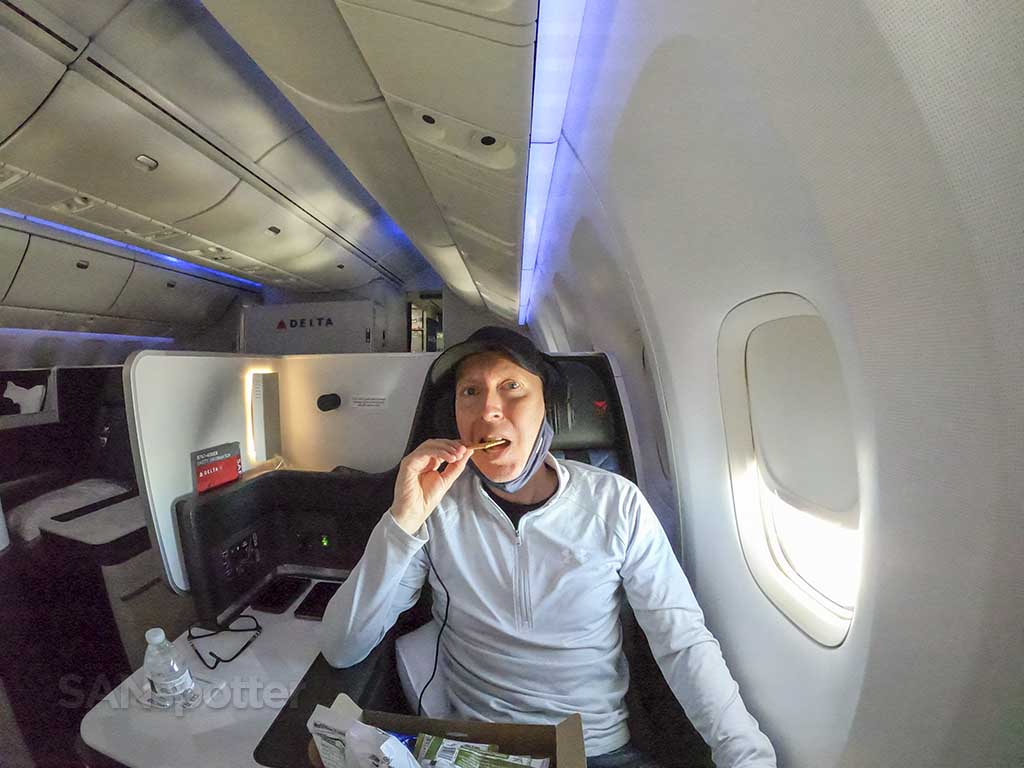 Just to reiterate, The snack boxes on this flight were an anomaly. Delta is serving high-quality hot meals on all Delta One flights these days. You will get a substantial (and tasty) meal.
How comfortable are the 767-400 Delta One seats?
Very comfortable! However, it's important to note that while I think that the seats are the best looking long haul business class seats on the market, they are far from being the most comfortable in a lie flat position.
For comparison sake, American Airlines 777-200 business class seats (as well as American Airlines 787-9 business class seats) are far more comfortable than Delta One seats for sleeping.
The Delta One seat felt slightly lumpy to me, and it was difficult to feel completely comfortable when lying down and all stretched out.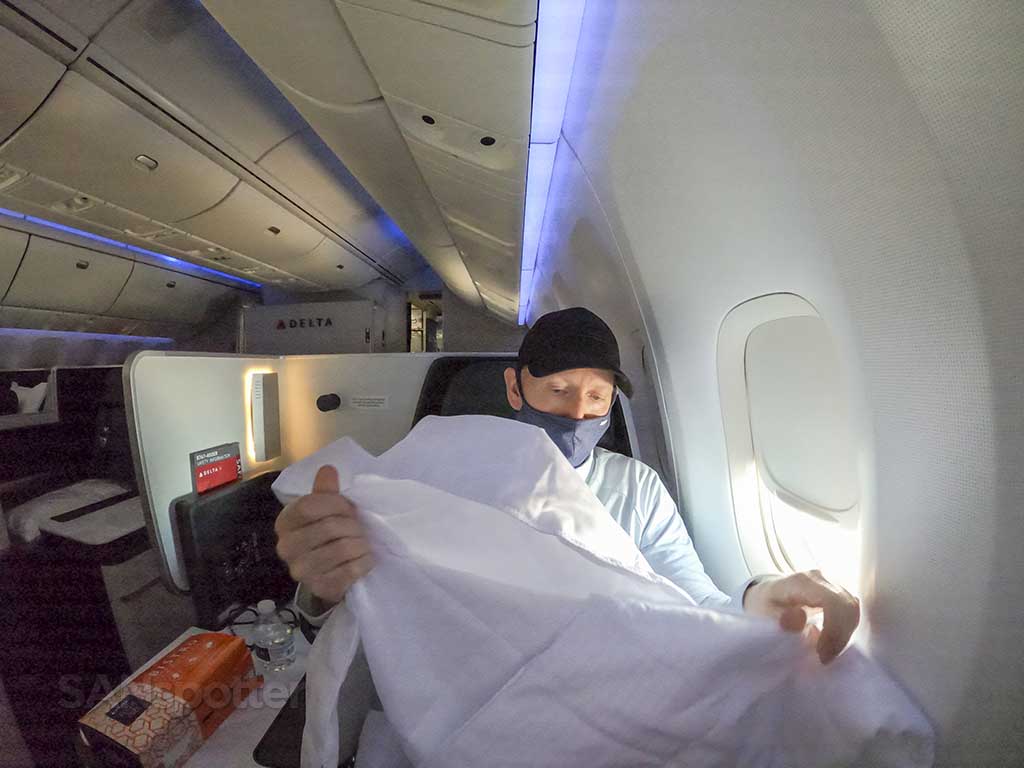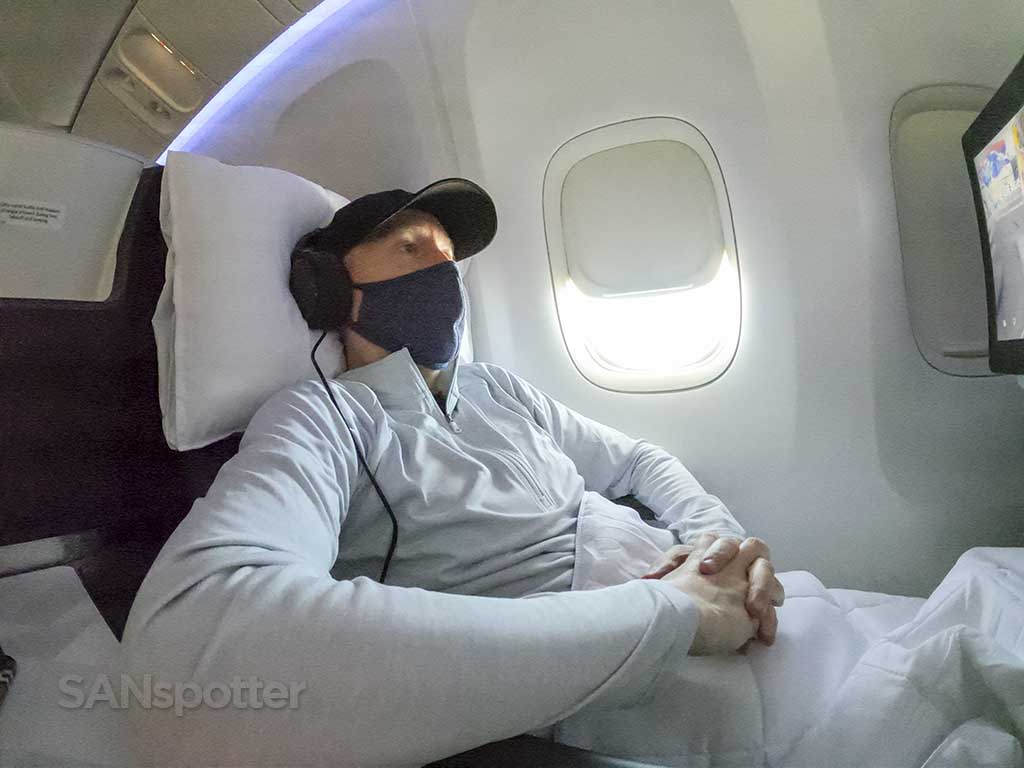 Final thoughts about the Delta Air Lines 767-400 business class experience
I've been flying long enough to know that sometimes "stuff" happens. When things go wrong, all you can really do is just brush it off and hope for a better experience next time.
Despite the frustrating delays and the lack of food on this flight, it was still a really fun experience.
Delta Air Lines is a typically fantastic airline, and it's rare for me to see them botch things so badly. Therefore, despite all the negative things about this particular experience, I'm still very much looking forward to my next Delta One flight. Wherever that may take me.
And now, let's bring it home to JFK…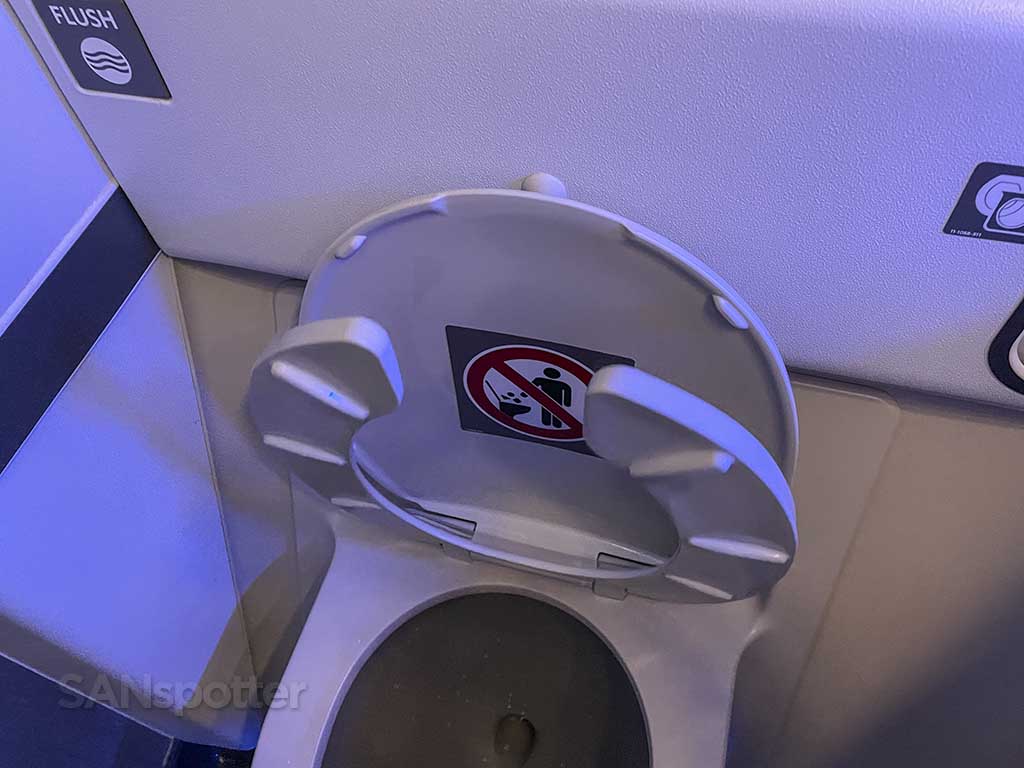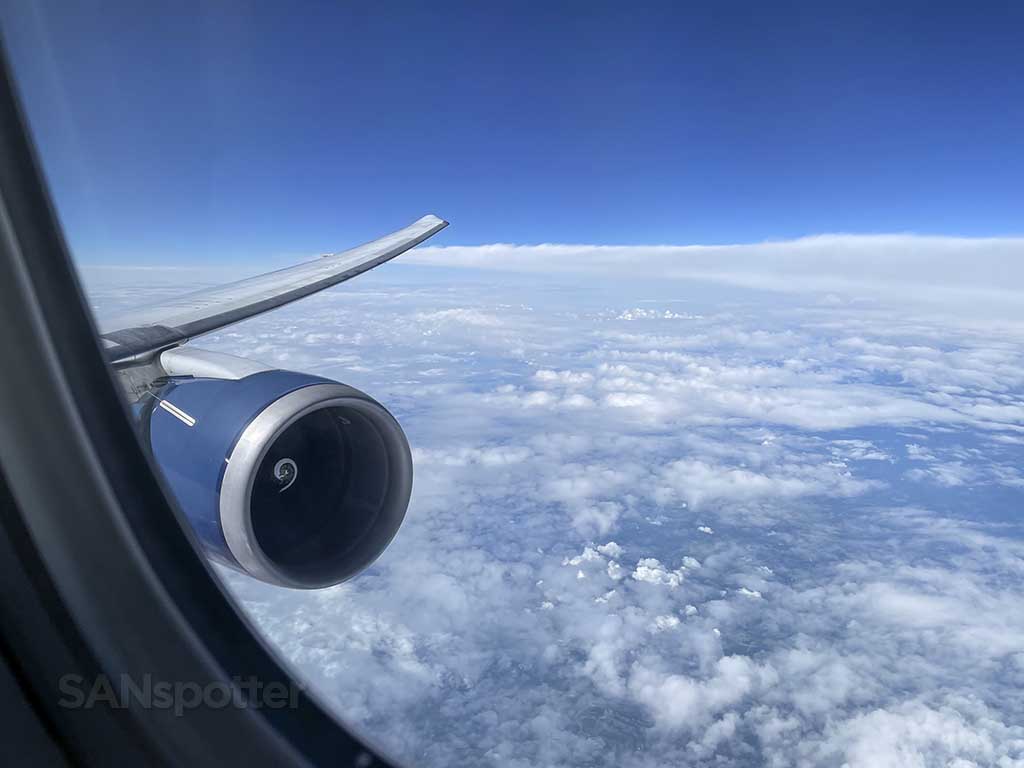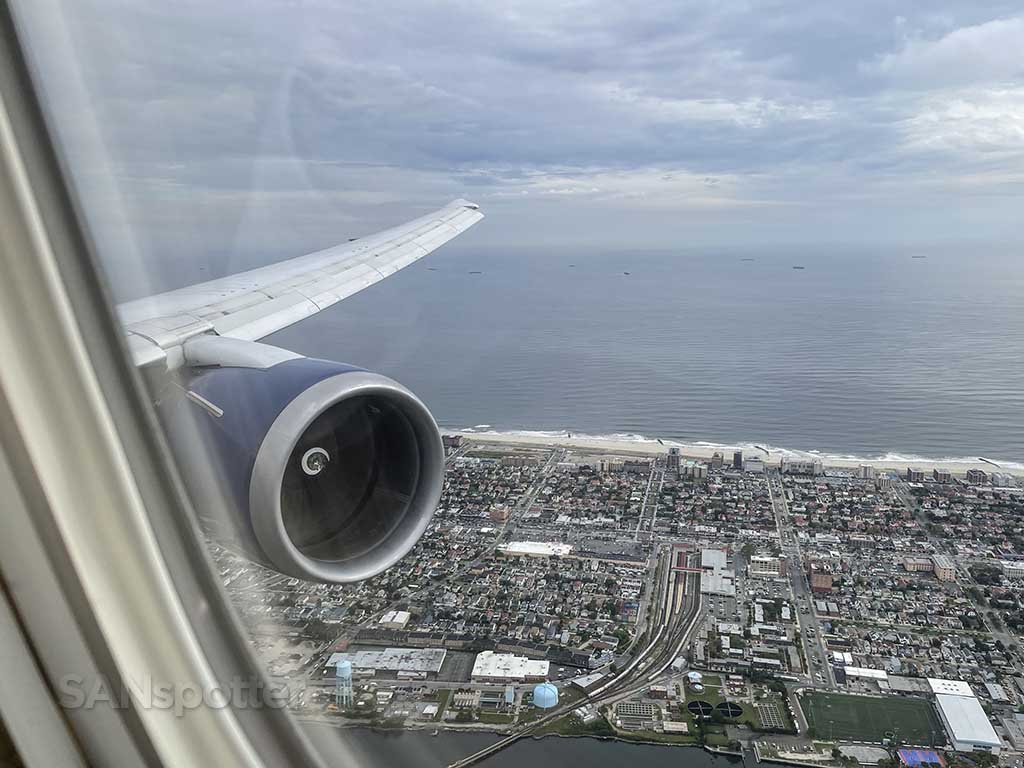 Pros and cons of the Delta One 767-400 experience
To wrap up this review, I'm going to give you all the pros and cons about Delta One on the 767-400. Because I know that Delta is usually at the top of their game, I'm going to ignore all the negative things that happened on this flight. Things don't always go right, and I can't fault them for what happened this time.
Pros
Although this is highly subjective, I find the Delta One business class cabin to be one of the best looking business class cabins on the market. It looks amazing.
The full-size blanket and pillows they provide are extremely comfortable.
Although I wasn't served any food on this flight due to a scheduling mishap, the food you'll typically get in Delta One is top notch. Almost as good as the food you'll get in JetBlue Mint.
Cons
The Delta One seat isn't the most comfortable in a lie-flat position. I found it to be a bit too lumpy for my tastes.
I also found the seat to be slightly narrow. I wouldn't go as far as to call it "uncomfortable," but I could see this being a problem for larger passengers.
There isn't as many storage bins in the seats compared to other comparable business class seats. Good luck trying to find a place for all your things.