I know. I'm always late to the game, and this Cathay Pacific 777-300ER business class review is something that I should've done years ago.
Long story short, it's every bit as good as you've heard. The food is excellent, the cabin crews are phenomenal, and the seats aren't half bad either. The only issue I had was setting my expectations a bit too high. I mean, it was good. But not that good.
CX865
New York (JFK) – Vancouver, BC (YVR)
Thursday, November 21, 2019
Aircraft: 777-367ER
Registration: B-KPC
Duration: 5 hours 42 minutes
Seat: 18K (business class)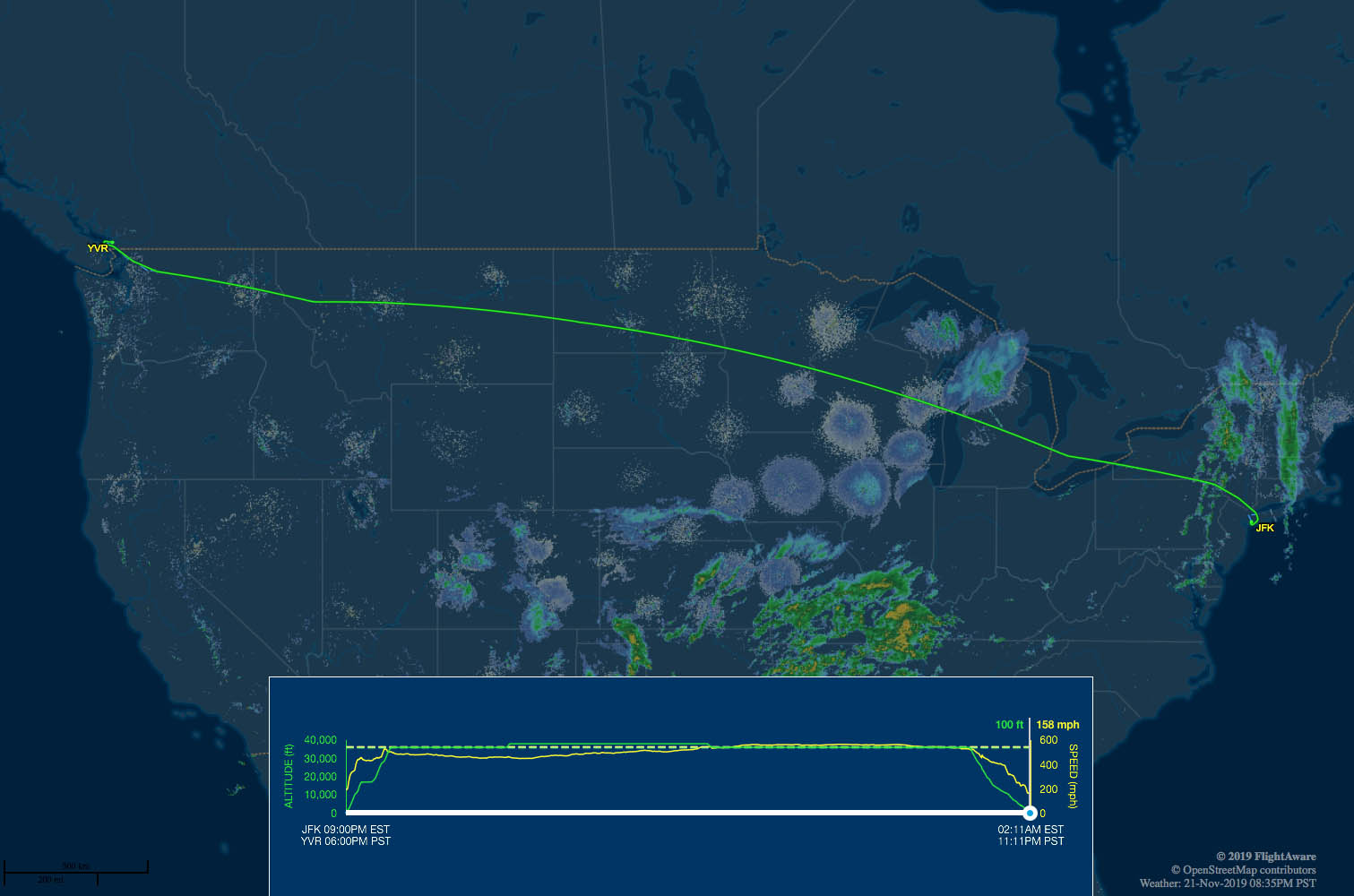 My full review of Cathay Pacific 777-300ER business class (New York to Vancouver)
Can you believe that I successfully managed to put together a Cathay Pacific business class review video that came in less than 14 minutes?
Depending on who you ask, this is easily one of the best airlines in the world. Surely I'd be able to put together a 3-hour documentary of my experience, right? Yeah, I could have. But I also know that more than 14 minutes of SANspotter content (in one sitting) is a bit too much to handle for most people.
FYI, Cathay Pacific uses terminal 8 at JFK
Can I just say how nice Terminal 8 is here at JFK? This is the first time I've ever been in here, and it was so nice that it was also the first time I've *ever* had to tell myself to chill out on getting pics and video footage even before clearing security.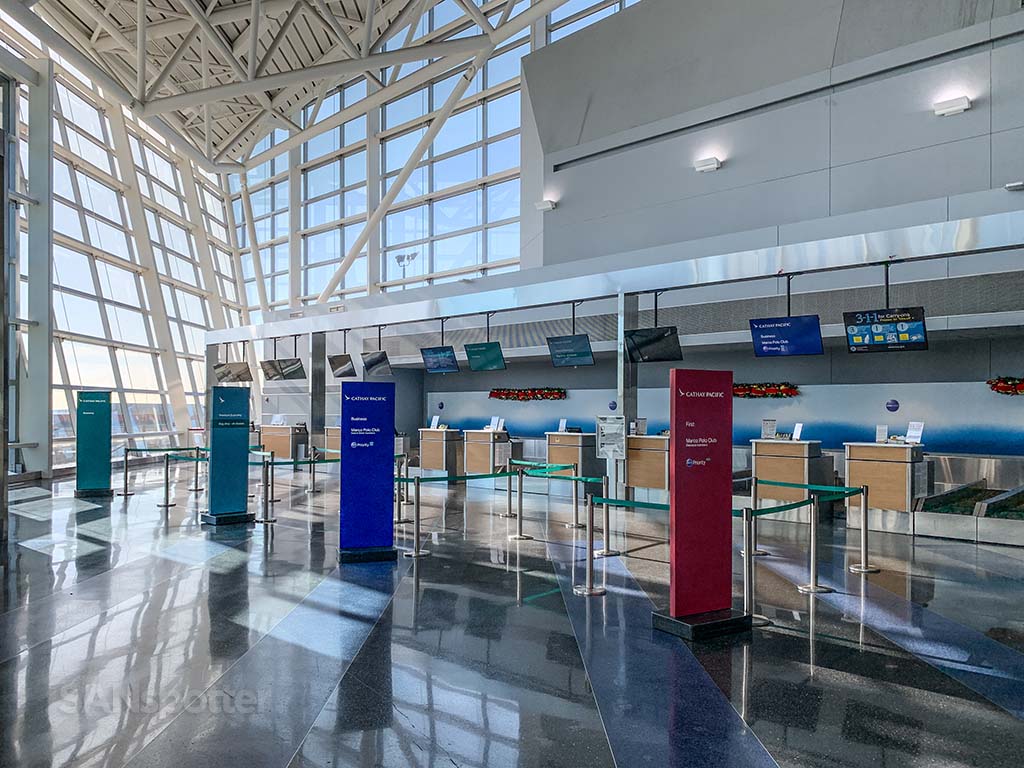 Terminal 8 is nice. So much so that I think I shot like 10 gigabytes of pics and video of the ticketing hall alone! And since this is supposed to be a Cathay Pacific business class review (and not a silly review of T8), I'll spare you the agony of scrolling through an endless stream of pics showing every little detail. Time to move on…
Lounge access
One of the perks of being a Cathay Pacific business class passenger is getting full access to the American Airlines Flagship Lounge at JFK.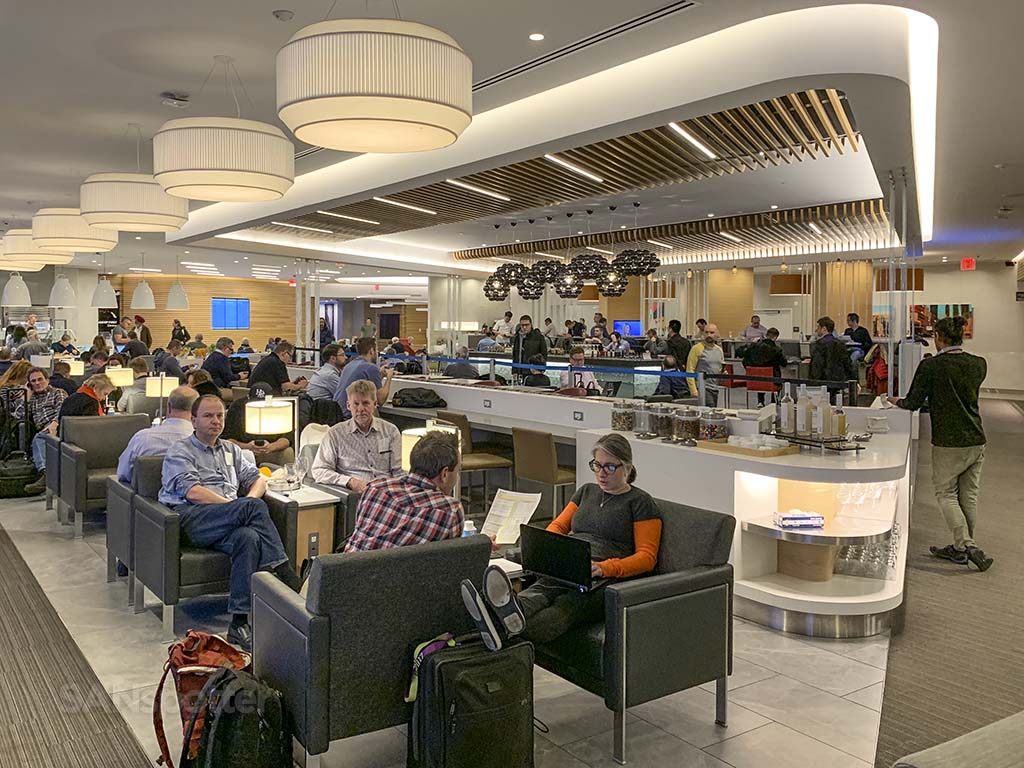 I'd have to say that I quite liked the Flagship lounge. It was a bit small though, and I had to keep moving around trying to find a quiet spot to get some work done. The food was good, plentiful, and I left feeling fat. All of the most important qualities of an airline lounge experience, right?
The boarding process for Cathay Pacific 865 to Vancouver
This is it! My first ever Cathay Pacific experience is just moments away. Can you believe it's taken me this long to fly what is arguably one of the best airlines in the world? I'm so ready for this.
FYI, it seems that gate 47 is the only one in all of Terminal 8 where there are no views of the aircraft parked outside. I couldn't even a see a winglet.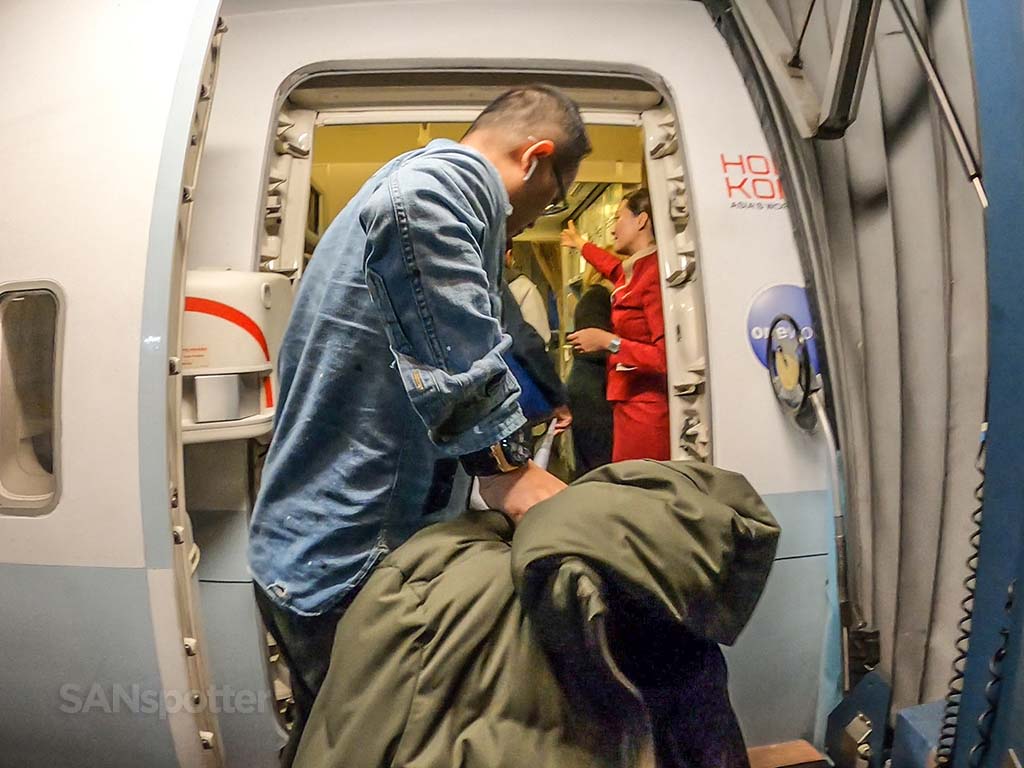 My first look at Cathay Pacific 777-300ER business class
Seat 18K is the one I chose for this flight over to Vancouver tonight, and from what I could tell it looked to be a fine choice.
Since there aren't many other situations in life where I'm gonna get treated this well, it felt awfully special pulling stuff out of that little amenity kit as we waited to push off the gate.
And yes, we got hot towels too. I think that I need to fly business class more often.
So what's the verdict so far? To be honest, nothing has stood out to me as being especially remarkable, though it indeed felt like a legitimate long haul business class experience so far.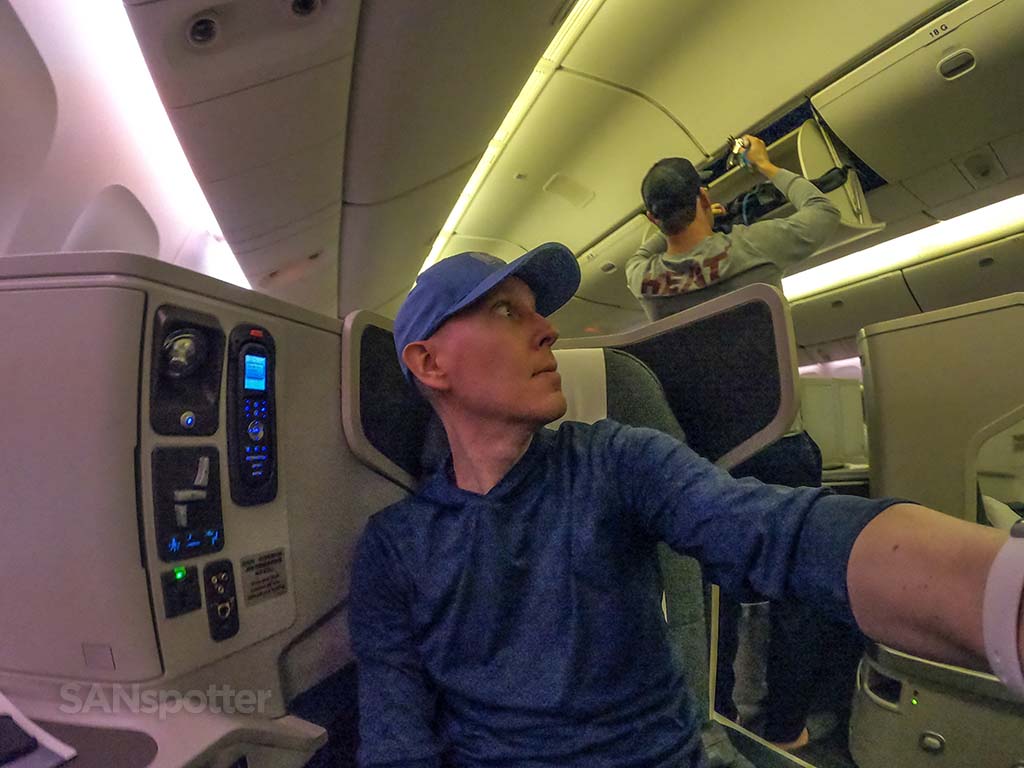 The pre-meal cabin service
It was a relatively uneventful takeoff out of JFK this evening, but I do recommend checking out my video of this flight if you want to hear those big GE90's propel us west out of New York.
Being a relatively short five and a half hour flight over to Vancouver this evening, the cabin crew started the service within minutes of our departure. Here are some of the highlights:
The entertainment system was a little slow, but the movie catalog was seriously impressive. There was so much that I wanted to watch, which hardly ever happens on an airplane. I usually end up watching movies or TV shows I don't have much interest in to begin with, and I can't stay focused.
The meal service
You know, I've seen enough videos on YouTube to know that Cathay Pacific is a little better than the rest when it comes to the little details. That still didn't prepare me for feeling as cheerfully amused as I did by this menu (which resembled a newspaper).
This was phenomenal by the way, and every part of it (even the bread) was prepared to absolute perfection.
Again, this was cooked and prepared to absolute perfection – to the point where I actually think that this meal was *better* than what I was served in Qatar Airways business class earlier this year.
After dinner: rest and relaxation (while feeling fat)
You know how I'm always trying to make my loo reviews exciting? And what usually happens is that it's usually the stupidest part of the entire review? Well my friends, this time it's different. Why? Check this out:
Remember what I said earlier about something embarrassing happening with the mattress and duvet? Well, I'm an idiot and I didn't realize at the time which was which, and I proceeded to use the mattress as my blanket.
At the very least, all I can hope for is that I gave the flight attendants a funny story to tell. And, who's to say that they weren't hovering over me giggling and taking pics while I was sleeping? I guess I'll never know. Unless I show up all over Instagram as part of a silly "Cathay Business Class review" meme or something.
The descent into YVR (and final thoughts)
We began the descent into Vancouver just shortly before 11pm local time, and I'm happy to report that I had a pretty good nap in these lie flat seats. I dreamt about airplanes (as usual). lol
As you might expect with a flight time of only 5 and a half hours, it felt much shorter than that thanks to the comfy seat and all that good food earlier on.
However, the cabin crew was just so so in my opinion. Of course they were nice, but at no point did I feel as spoiled as I did in, say, Qatar Airways business class. That's not to that I was disappointed or anything.
As a matter of fact, this business class experience was right on par with what I was expecting, primarily since I've been hearing so many mixed reviews about Cathay Pacific lately. It was good. Not great, but…good.
In comparison, I found this service to be slightly better than my Philippine Airlines 777-300ER business class experience between Vancouver and New York last fall. That was another 5th freedom route between these two city pairs that recently ended, and I'm happy that I got to experience it while I could. The same can be said for this CX flight, since it is scheduled to end next spring (after nearly 20 years of service).
I hope this Cathay Pacific business class review was helpful! Although this particular route won't be flown for very much longer, this should give you a pretty good idea what to expect on long haul routes to and from Hong Kong.
And for anyone curious about what it's like to connect to other flights in Vancouver, it's pretty easy actually. Just follow the signs, and you'll be on your way in less time than you might expect. Yes, a 1 hour layover is enough time in Vancouver (most of the time).