I'm pretty much the biggest cheerleader ever when it comes to San Diego International Airport (SAN). It's been my home for over 20 years now, and if you'd let me, I'd bend your ear off telling you all the ways that it's more awesome than *your* home airport. It's small enough to be easy (and fast) to navigate, but large enough to warrant daily 747-400 service to London.
However, I am humble enough to admit that San Diego airport lounges are not nearly as nice (and swanky) as other domestic US airport lounges. This may be a really nice place to fly in and out of, but the lounge situation leaves this local feeling embarrassed and ashamed from time to time.
So why then am I dedicating an entire post to San Diego airport lounges?
Well, it's because I want to create the ultimate resource for anyone wanting to know what the lounge situation is like at SAN. The kind of brutally honest ultimate resource that tells it like it is. The kind that tells you not only where the lounges are, but how sucky (or nice) one is compared to the other.
Basically, my gaol is to have you feeling like an expert who has the "inside scoop" on all lounge-related info in the little 'ol San Diego Airport. And yes, even though I feel slightly ashamed to reveal to the world how abysmal the lounge options can be here at SAN, I am excited to tell you all of the good stuff as well. It's not all doom and gloom. There's definitely some things you can look forward to on your first visit.
How many lounges are at the San Diego airport?
At the time of this writing, there are only 3 lounges at the San Diego airport: the United Club, the Delta Sky Club, and the Airspace Lounge. Below is an overview map of the lounges, followed by a brief description of each (with pics).
1. United Club
A small but very stylish lounge located on the mezzanine level in Terminal 2 west, the United Club is a decent place to hang out before a flight – assuming you arrive before the crowds do (which is often). There's a full bar, some decent food options (mostly snacks), and spectacular views of the airport below. Read my full review if you want to know more…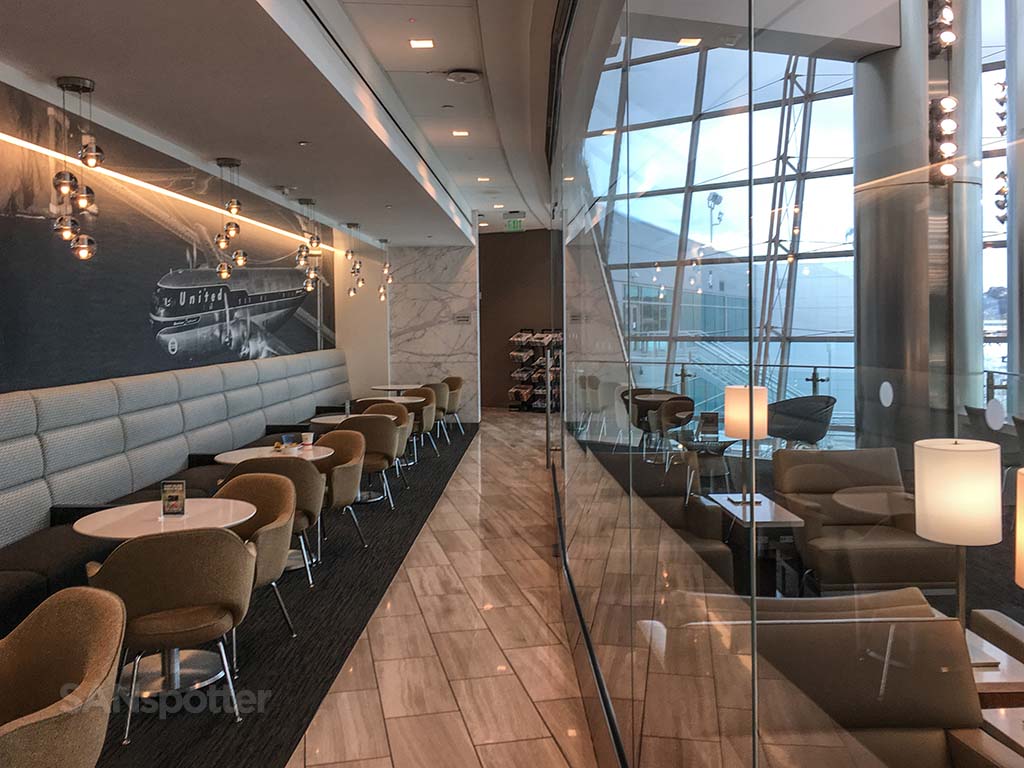 2. Delta SkyClub
Everything that I said about the United Club above applies to the San Diego SkyClub. The size is nearly identical, as is the lack of any real food options (other than light snacks). Note that the floor plan of the SkyClub is more open, helping it to feel larger and less cramped. Read my full review of the SAN Sky Club.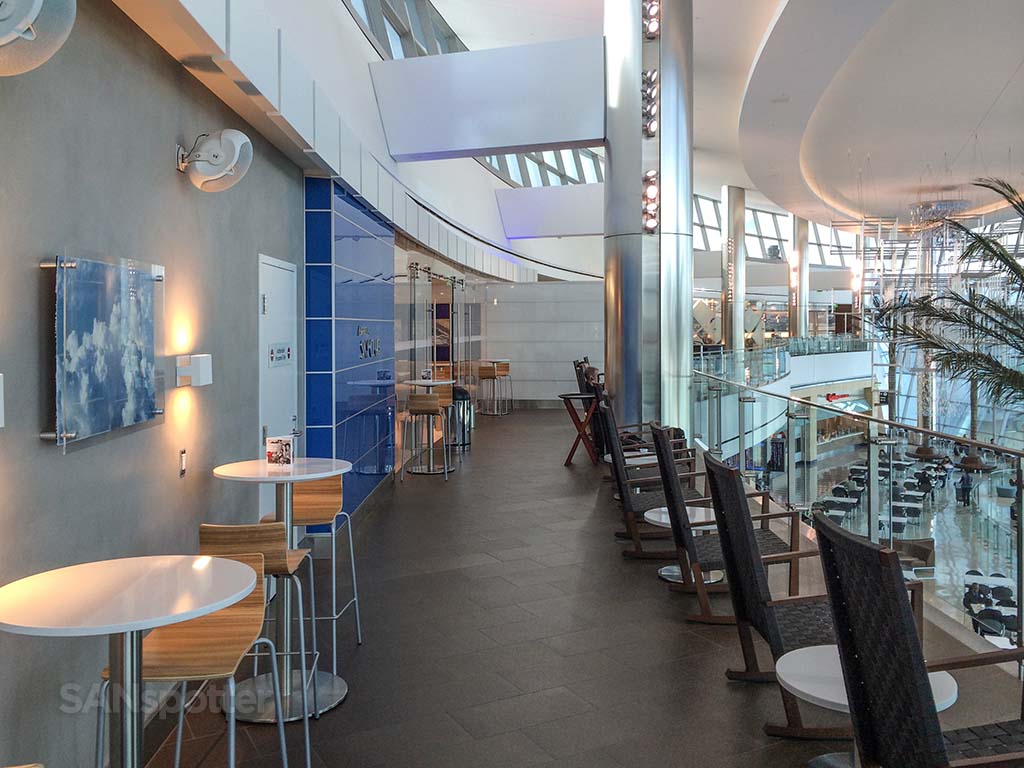 3. Airspace Lounge
Located in the corridor between Terminal 2 East and West, this is the common-use lounge for passengers of Alaska Airlines, American, British Airways, JAL, and Edelweiss. As you might imagine, it's always full, and I've personally never felt comfortable in there. It's loud, the seating arrangement is awkward (many seats face each other), and there is very little free food. Be sure to read my full review of the Airspace lounge to get a better sense of how awkward it is.
Detailed directions to all three lounges
Note that all San Diego airport lounges are located in Terminal 2. There are no lounges in Terminal 1, which is unfortunate considering that it's the home of Southwest (the airline with the highest number of arrivals and departures at SAN).
United Club
From the T2 West security checkpoint, turn left towards the food court. The United Club is located directly above said food court, so you will need to take the elevator or escalator to reach it. Note that both the escalator and elevator are located at the main entrance of the food court. As long as you don't get distracted by all the smells wafting from within, you can't miss either!
Once you've arrived at the second level, turn left. The entrance to the United Club will be right there in front of you.
From the T2 East security checkpoint, turn left towards the exit – but instead of exiting the terminal, turn right and walk down the long hallway towards Terminal 2 West (just look for the artwork hanging on the wall). Walk all the way until you reach the PGA Grill (it'll be on your left), and take a left. Proceed to the main food court (straight ahead) and follow the directions I wrote above for going up the elevator/escalator.
Delta Sky Club
Basically, everything I just wrote about the location of the United Club above applies to the Sky Club. These two lounges are adjacent to one another on the second level above the main food court, with the only difference being that the Sky Club is on the right. Instead of turning left off the elevator/escalator, turn right.
Airspace Lounge
From the T2 West security checkpoint, turn right. Stay right. Keep walking towards gate 33. Eventually the gates will stop, and you will be entering the corridor leading to Terminal 2 East. Halfway down this corridor, you will see the entrance to the Airspace lounge.
From the Terminal 2 East security checkpoint, follow the same instructions I laid about above for the United Club and Sky Club: turn left towards the corridor leading to T2 West, but you don't have to go far since the entrance to the Airspace lounge is located mid-way through.
How to access all lounges at SAN
Even though there aren't many lounge options in the San Diego airport, it's not all that difficult to access them if you plan ahead. Here's the best way to get into each:
United Club
The easiest way to get into the United Club is to be holding a first or business class ticket on United (or a Star Alliance partner airline). Other options include being a Star Alliance Gold member or using the Chase United Club card which comes with complementary United Club access. I had that card for a while, and I used it to get into this lounge (and the one in Terminal 7 at LAX) all the time. A day pass can be purchased for $59, assuming you are holding a ticket on United or any other Star Alliance partner airline.
Read the most up to date United Club access requirements here.
Delta Sky Club
Holding a first class or business class ticket on Delta (or any Sky Team partner airline) will get you in. Being a Sky Team Elite Plus member will as well. Unfortunately, I don't have status with Sky Team, and I hardly ever fly first class whenever I fly Delta out of SAN, so I use my American Express Platinum Card to get me in.
How I pay for all my travel expenses
The American Express Platinum Card
100,000 welcome points (woo-hoo!)
Earn 5x points on flights and prepaid hotels
$200 hotel credit + $200 airline fee credit + $155 Walmart credit + $240 digital entertainment credit (and much more)
Transfer points to a wide variety of global airline and hotel partners
Sign me up!
Note: I may earn a commission if you make a purchase, at no additional cost to you.
This card comes with complementary Sky Club access, and it's a perk I take advantage of often. Note that day passes are no longer available (they were discontinued in 2018).
Read the most up to date Delta Sky Club access requirements here.
Airpspace lounge
Of the three lounges here at the San Diego airport, the Airspace lounge is probably the easiest to get into. Since it's a common use lounge, all you need to have is a business or first class ticket American Airlines, Alaska Airlines, British Airways, Japan Airlines, or Edelweiss. You can also purchase a day pass for $35.
Another easy way to get access to this lounge (and all Airspace lounges) is with the American Express Platinum card. This card comes with complimentary access for the cardholder and two guests. A pretty awesome perk IMHO, even if the SAN Airspace lounge is mediocre at best.
Which is the BEST lounge in the airport? And why?
In my opinion, the best lounge the San Diego airport is the United Club. Yes, it's painfully small and the food choices aren't all that extensive, but it's the winner in my book thanks to it's varied seating options. Unlike the Delta Sky Club and the Airspace lounge, there are small (and semi-private) nooks and crannies to hide out in. It's the best place to hide in the San Diego airport to get away from it all.
A word of warning though: everything I just said only applies during non-peak hours. The reality is that it's total chaos when there's several United flights going out within an hour or two of one another.
On the other hand, it's total bliss when things are quiet and you've got the place nearly all to yourself.
Which is the WORST San Diego airport lounge? And why?
This is easy. Even though I dislike how small both the United Club and Sky Club are, the Airspace lounge has a lot going wrong for it. For example: even though it is larger than the other two lounges combined, the fact that it's a mixed-use lounge makes it prone to become crowded and busy all throughout the day.
Not only that, there isn't much to eat if you're not willing to pay for a meal. Of all the times I've visited this particular Airspace lounge over the years, they've never had anything other than bruised fresh fruit, snack mix, and (sometimes) cheese wedges available on the snack bar. This is not the San Diego airport lounge to visit if you've got a grumbling stomach (and an empty wallet).
San Diego airport lounge FAQ's
Although minimum connection times for the San Diego Airport are low, I would advice booking a longer layover if you can. If you're not connecting, arriving several hours before your departure is good advice as well. The lounges at SAN aren't perfect, but they are worth checking out if you have the time.
Is there a Priority Pass lounge at SAN?
At the time of this writing, no. I suspect the reasoning is that all three lounges here at the San Diego airport are very space constrained, and it would just make matters worse if they allowed access to Priority Pass members.
How I get into airport lounges
Access 1300+ airport lounges worldwide with Priority Pass
Access to over 1300 airport lounges around the world, regardless of airline flown or class of ticket.
Complimentary snacks, drinks, and meals.
Digital entry for instant access through the dedicated Priority Pass app.
Check it out!
Note: I may earn a commission if you make a purchase, at no additional cost to you.
Are any of the lounges worth paying to get access to?
Unless it's non-peak hours, no. I don't think so. FYI, I define non-peak hours as 5 to 6 AM, 2 to 4 pm, and 7 to 8 pm. All three lounges are generally quiet during those times, but for the majority of the day they are loud and chaotic and it's not worth paying for IMHO. You'll be able to find a much quieter and more relaxing spot out in the main terminal.
Which lounge has the best food?
It certainly isn't the Airspace lounge. Unfortunately, the United Club and Sky Club aren't much better. However, if I was being threatened and I had to make and on-the-spot decision, I'd choose the Sky Club. The food in there isn't great but, it's just slightly less sucky than the other two.
Which lounge is the noisiest?
All three San Diego airport lounges have a tendency to get loud and busy during certain hours of the day. However, I've never been able to find a quiet spot in the Airspace lounge. Ever. Part of the reason for this, I'm sure, is because it's basically a single room with very few walled-off sections to block the noise.
Are there any plans to build a lounge in Terminal 2 East?
Not at the time of this writing. Terminal 2 East is very space constrained, and there's no available real estate at the moment to build another lounge.
Are there any plans to build lounges in Terminal 1?
Yes – they are coming soon! Terminal 1 is currently in the process of being rebuilt from the ground up. Once complete (sometime in 2025), it's very likely that there will be two to three lounges to choose from. I can't wait!