I had been warned. According to the Internet (blogs, Twitter, YouTube, etc.), American Airlines A321neo first class is a disappointingly typical representation of the world's largest airline. After finally getting a chance to try it on a flight from Nashville to Dallas, I can tell you that that what I had heard was mostly right.
On one hand, it's a fantastic looking first class cabin and the cabin crew was excellent. On the other hand, the seats are so basic and featureless that it hardly qualify as "first class."
It's exactly like what happens when you don't check any extra boxes when ordering a new car. You end up spending a lot of money without getting something to brag to your friends about.
AA1100
Nashville, TN (BNA) – Dallas, TX (DFW)
Saturday, July 2, 2022
Aircraft: A321neo
Registration: N440AN
Duration: 2 hours 9 minutes
Seat: 4A (First Class)
My full review of American Airlines A321neo first class from Nashville to Dallas
My biggest gripe about these new A321neo aircraft is that American Airlines didn't use it as an opportunity to revitalize their increasingly-crusty brand image. For example, Delta A321neo first class is a phenomenally nice departure from the standard Delta A321 first class product.
It was pretty much their way of telling the world how serious they are about being the world's best airline. American Airlines, on the other hand, was like "**** it. How can we do this as cheaply as possible?"
Arrival at the Nashville international Airport (BNA)
American Airlines uses the South Terminal (C and D) at the Nashville International Airport. At the time of this writing, that is the superior terminal at BNA – by far. There's a lot of construction going on though, so it won't be long before the North Terminal (A and B) takes the top spot.
Oh – do I even need to tell you how early I arrived for this flight to Dallas? Nope, I didn't think so.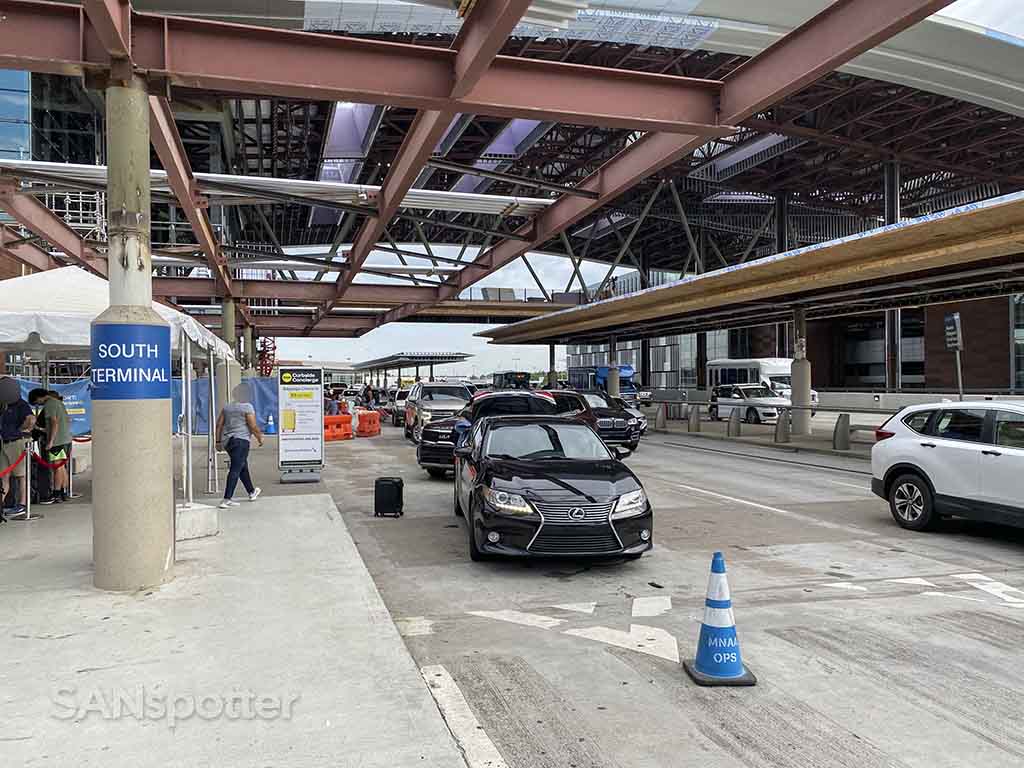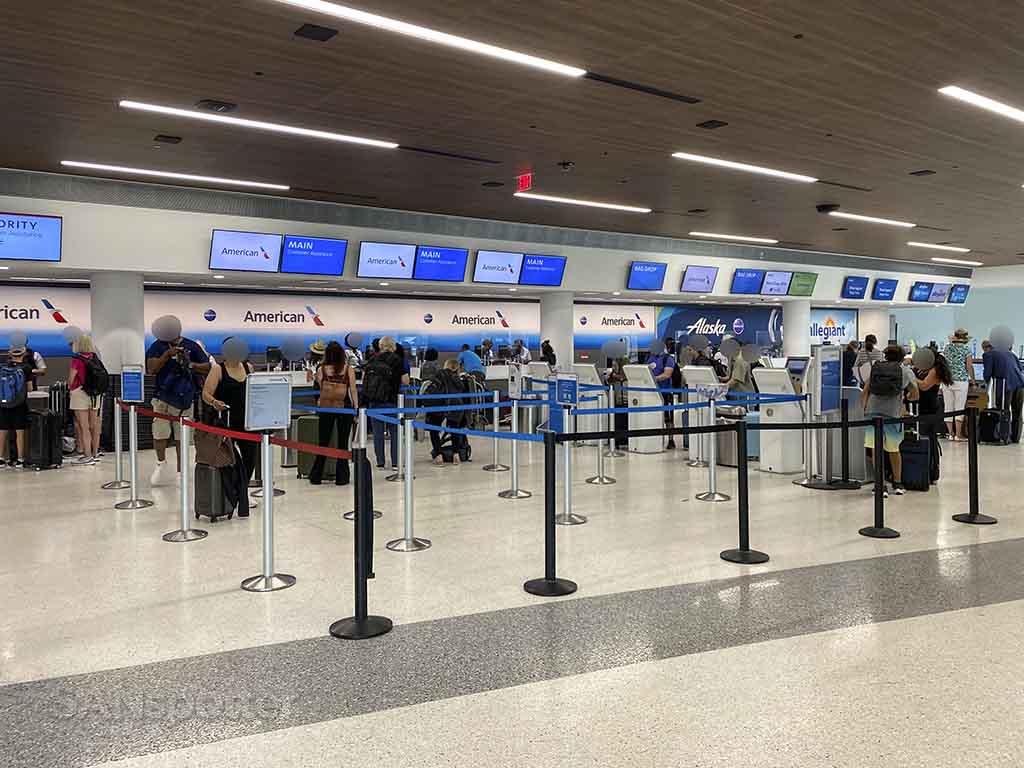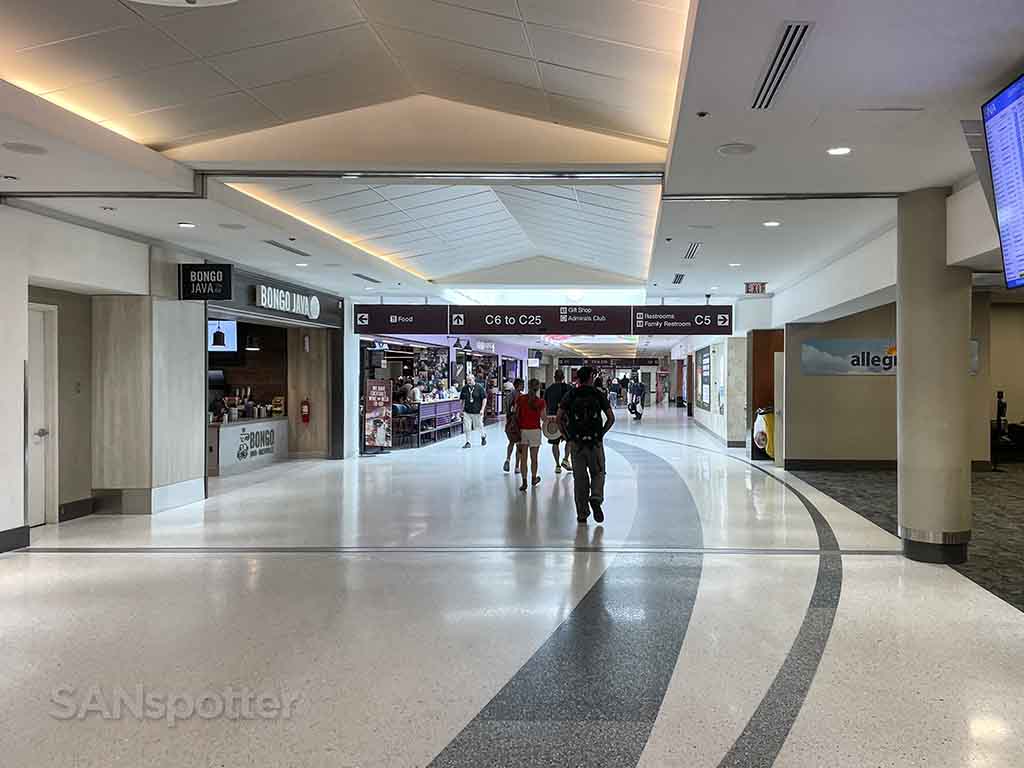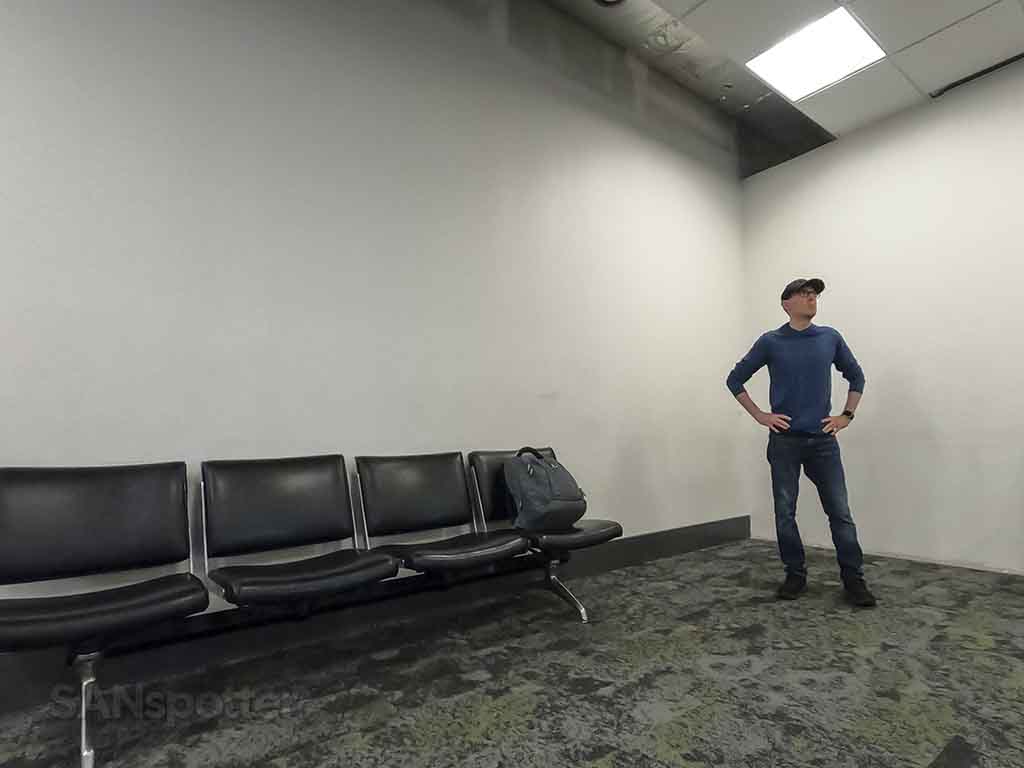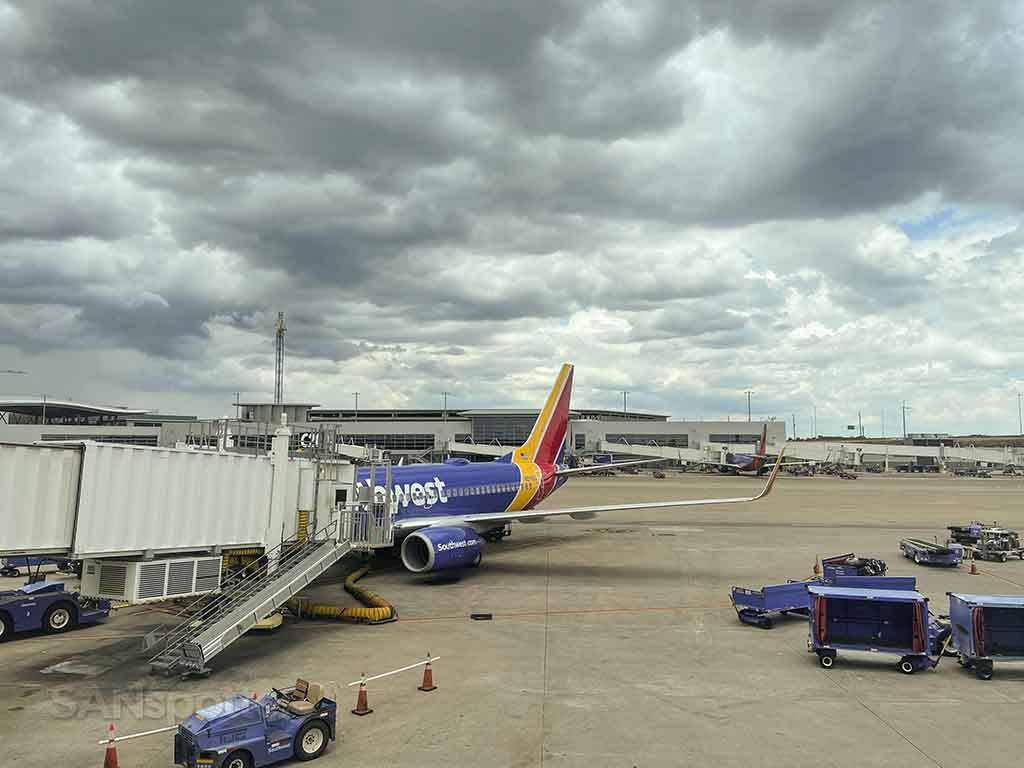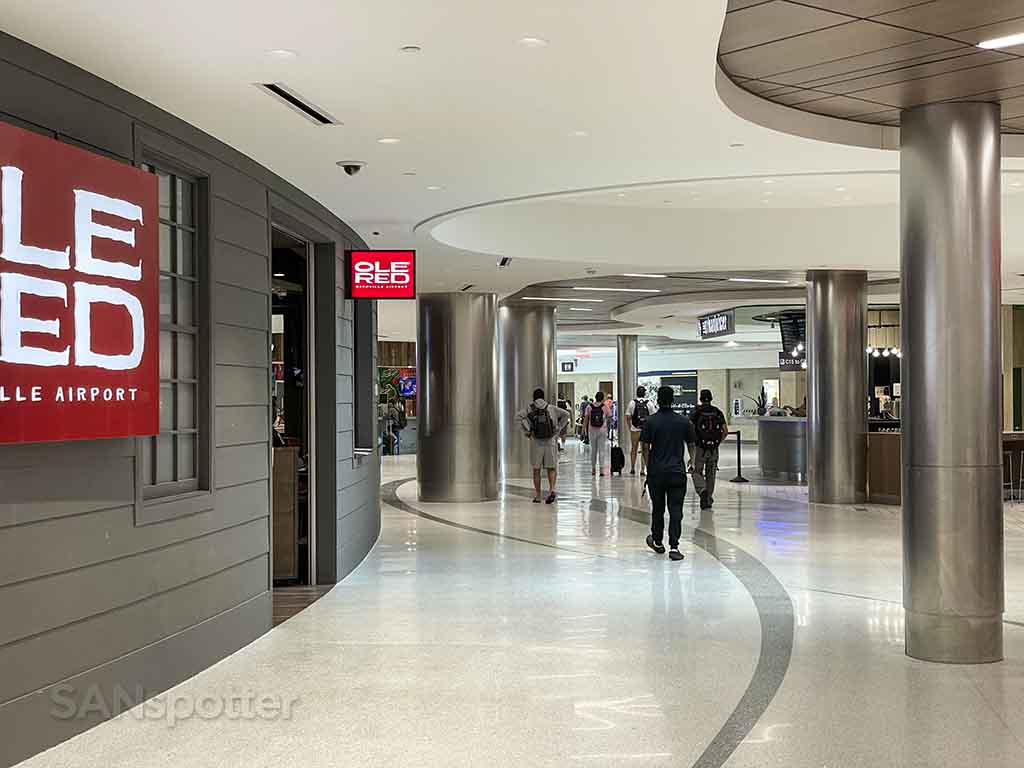 The boarding process for flight 1100 to Dallas
While I was standing at gate C12 waiting to board the plane, a quick search on flightaware.com made me realize that AA A321neos are not a regular thing on the Nashville to Dallas route. I basically got really lucky when I was booking this ticket. Any other American Airlines flight at any other time or day would've been a 737-800 or an older (regular) A321. Score!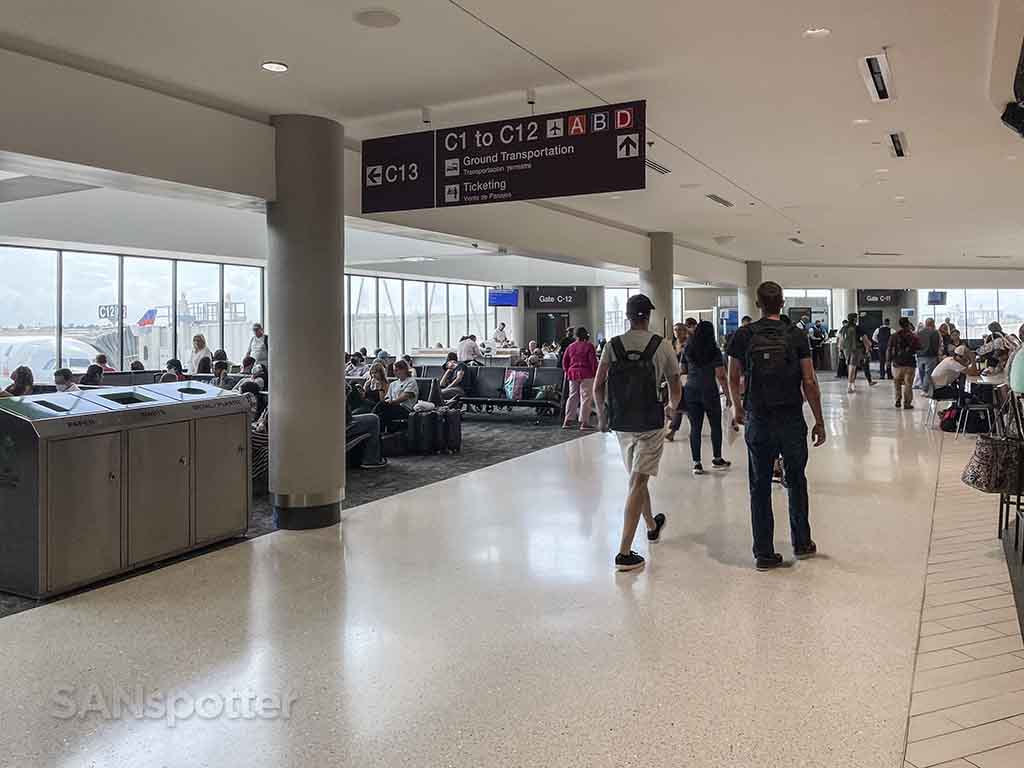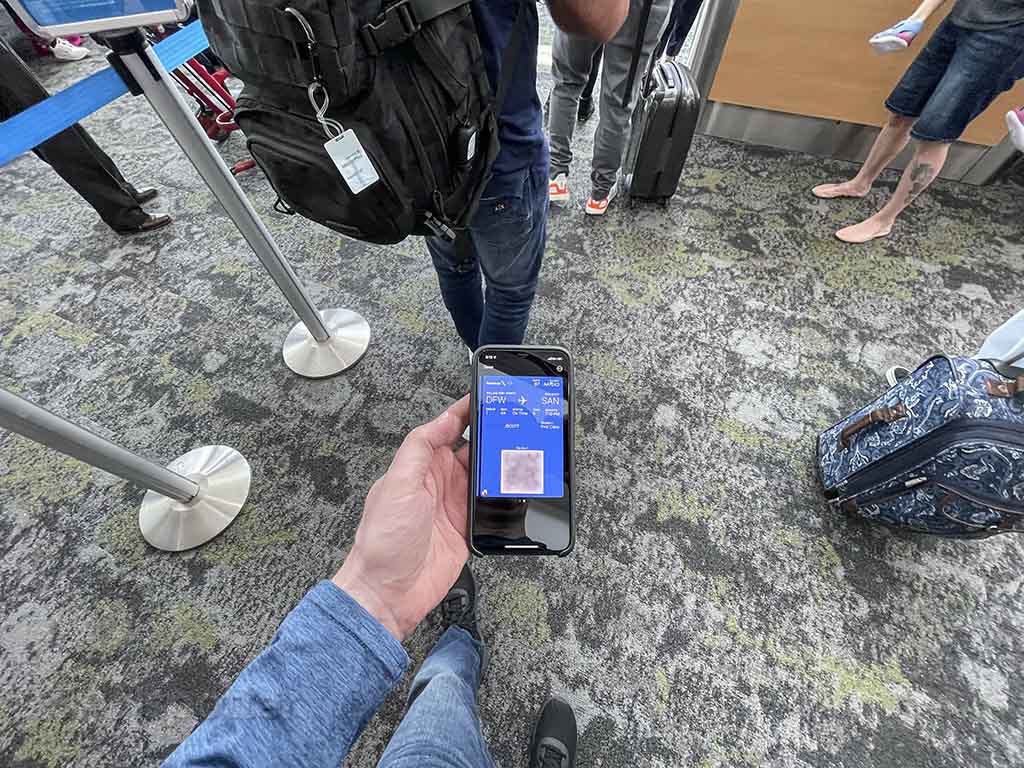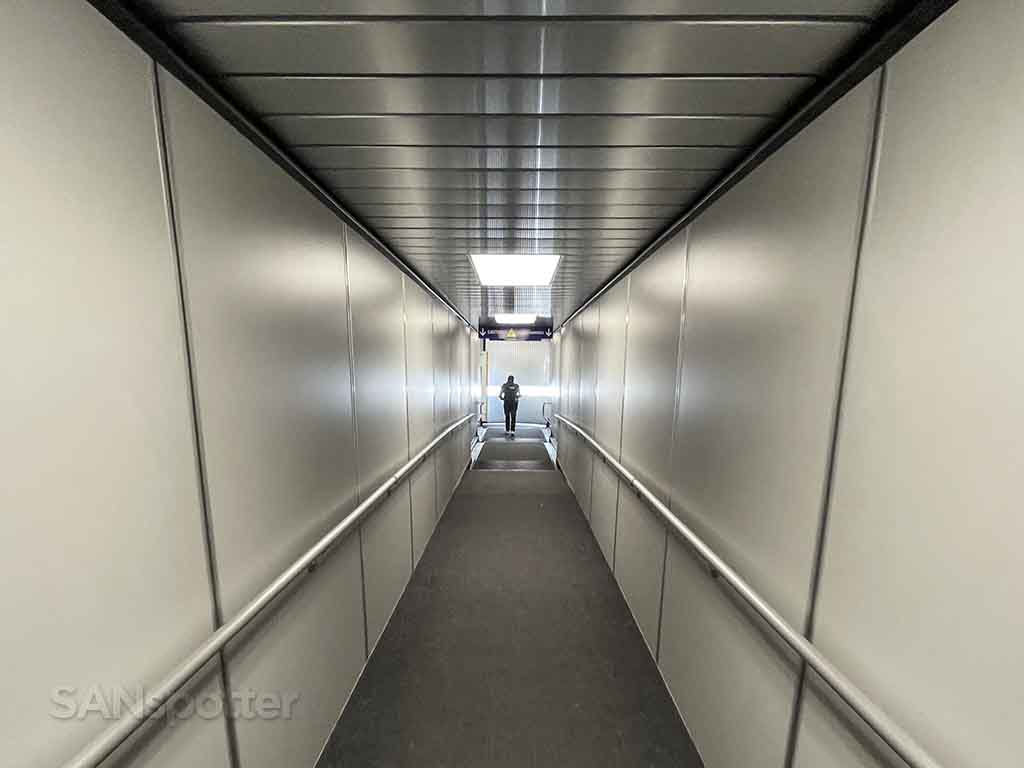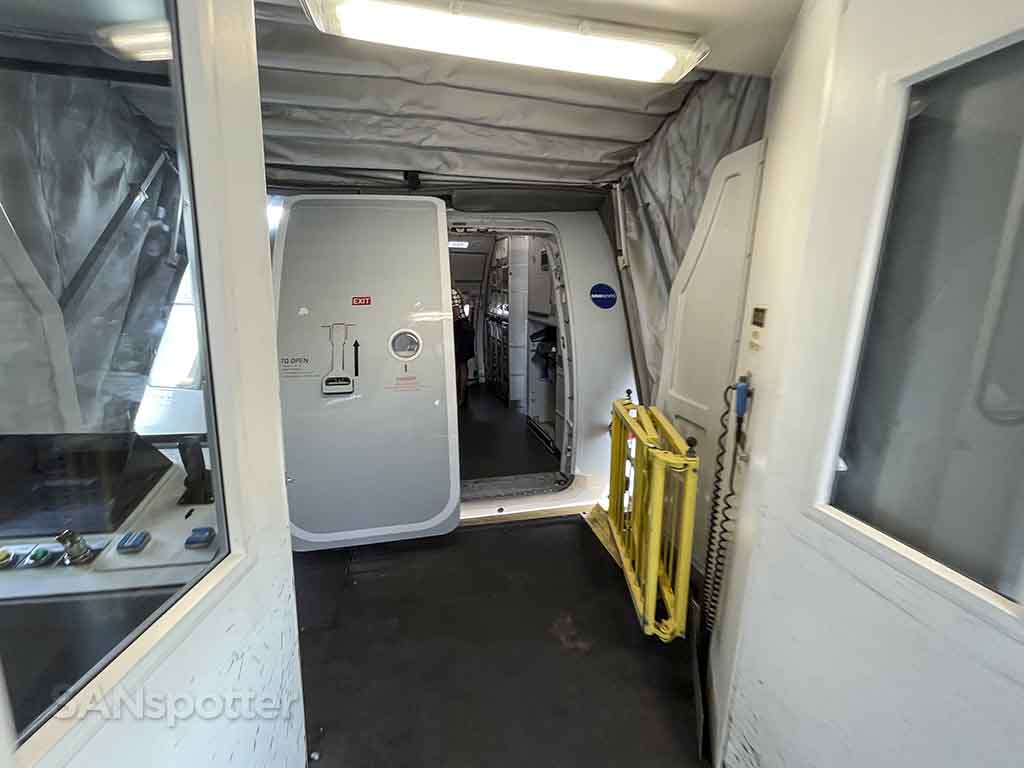 My first impressions of the first class seats on the American Airlines A321neo
American Airlines is all over the place when it comes to the interiors of their Airbus A321 aircraft. Some of them have video screens, and some of them don't.
It's a wildly inconsistent product, and I'm here to tell you that their all new A321neo aircraft aren't any different. The seats are typical American Airlines gray however (which is something that I do like).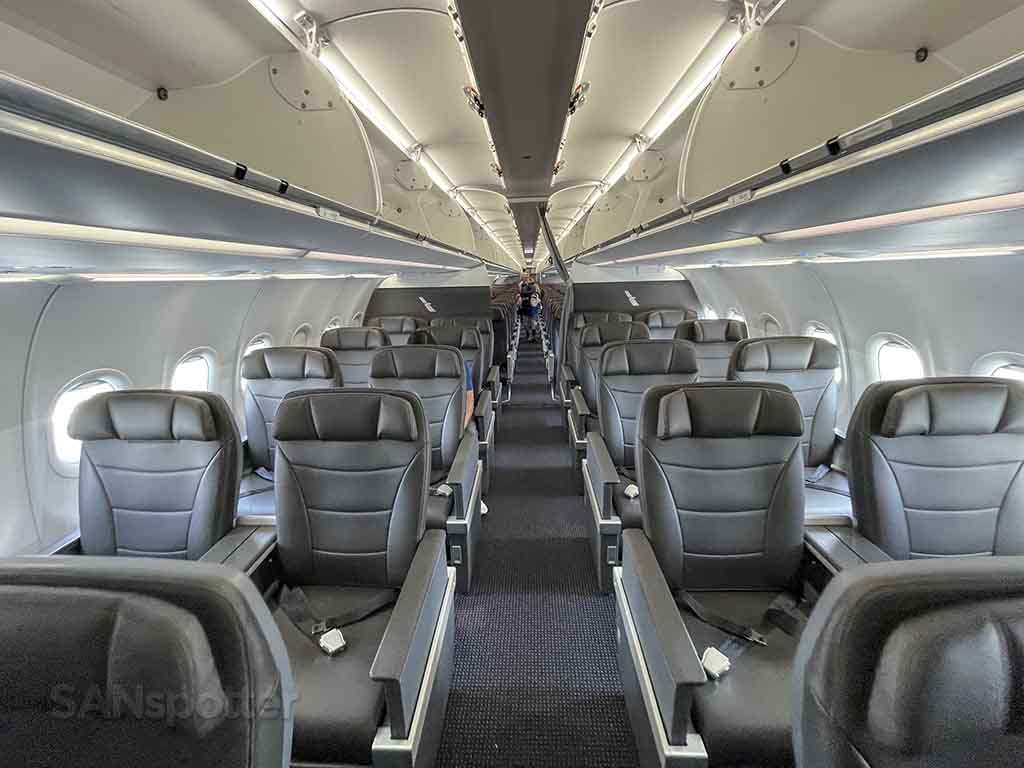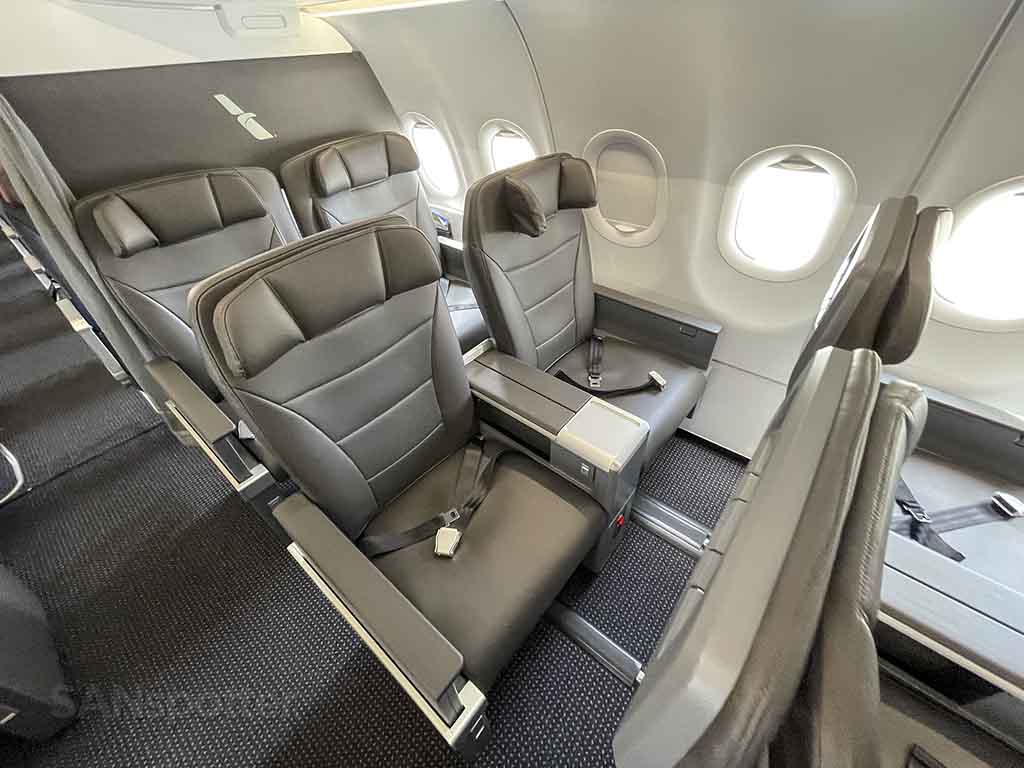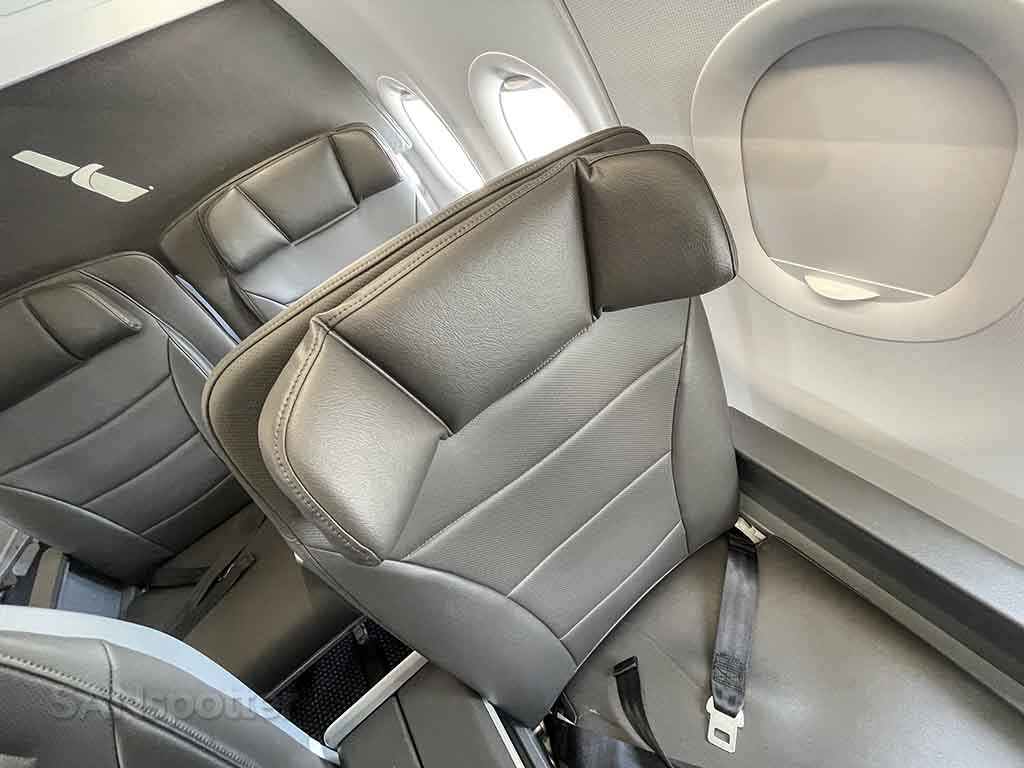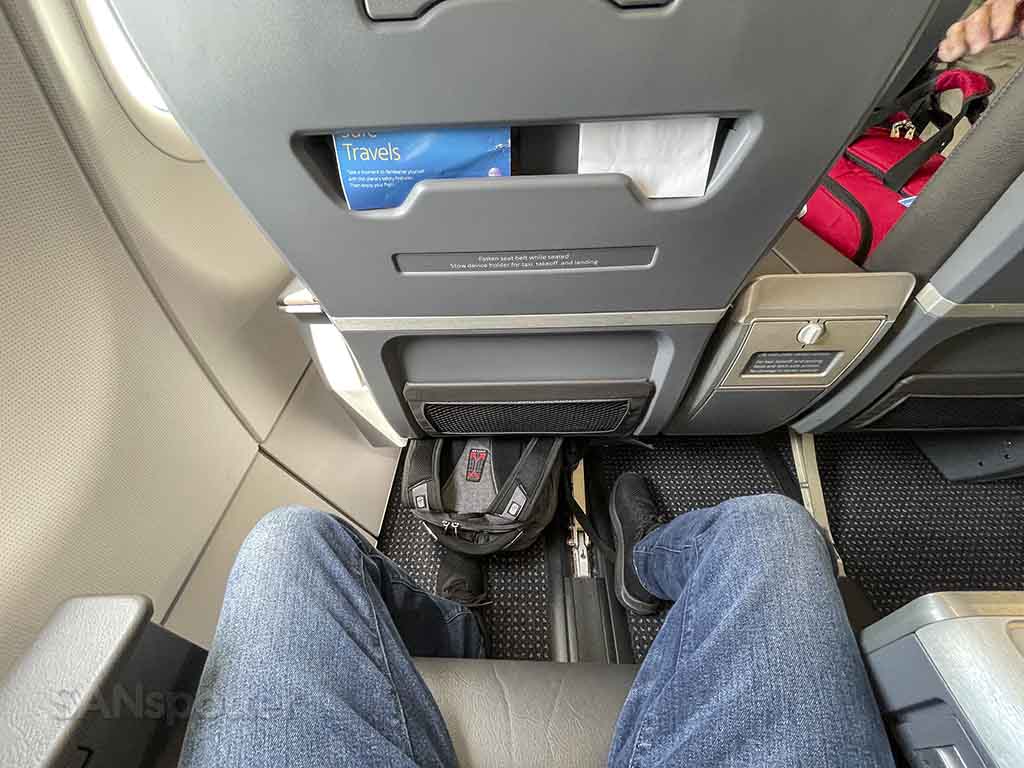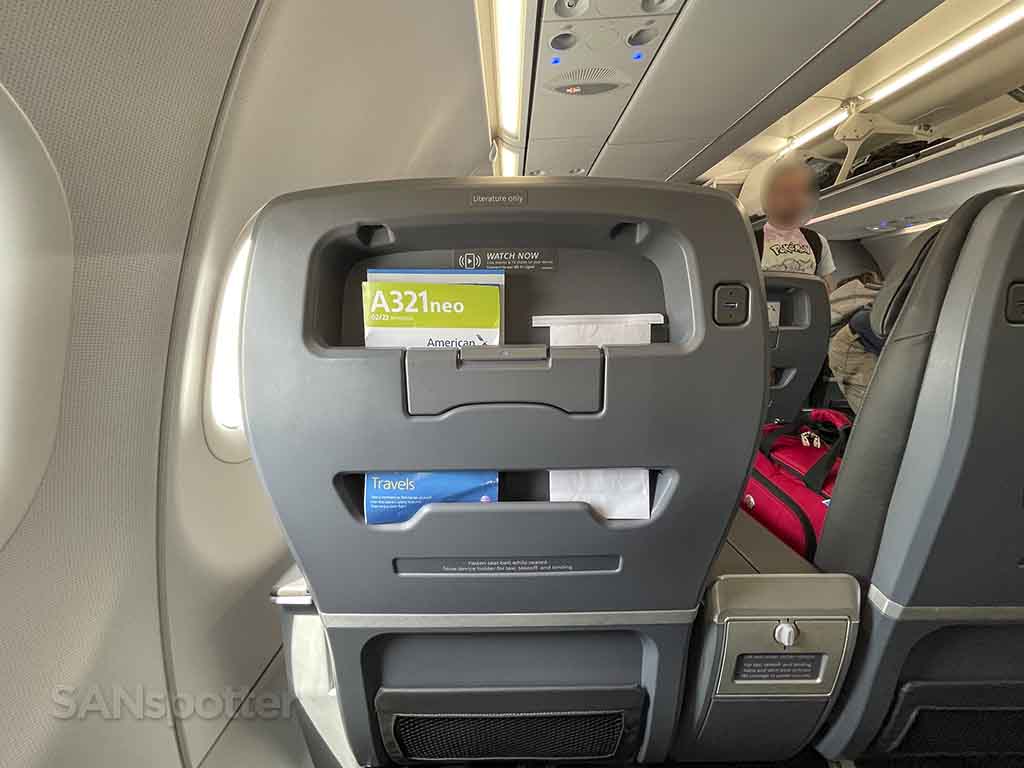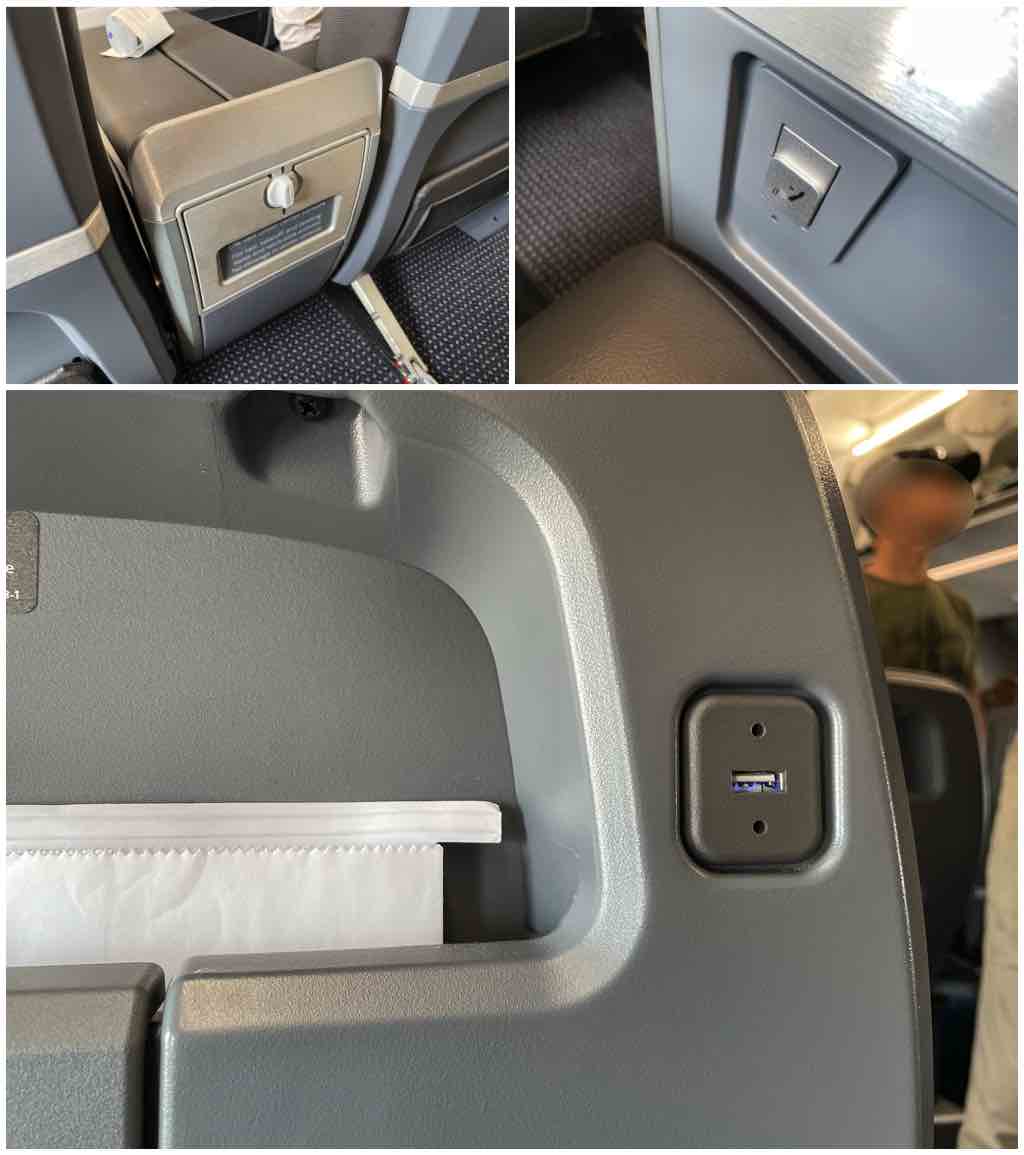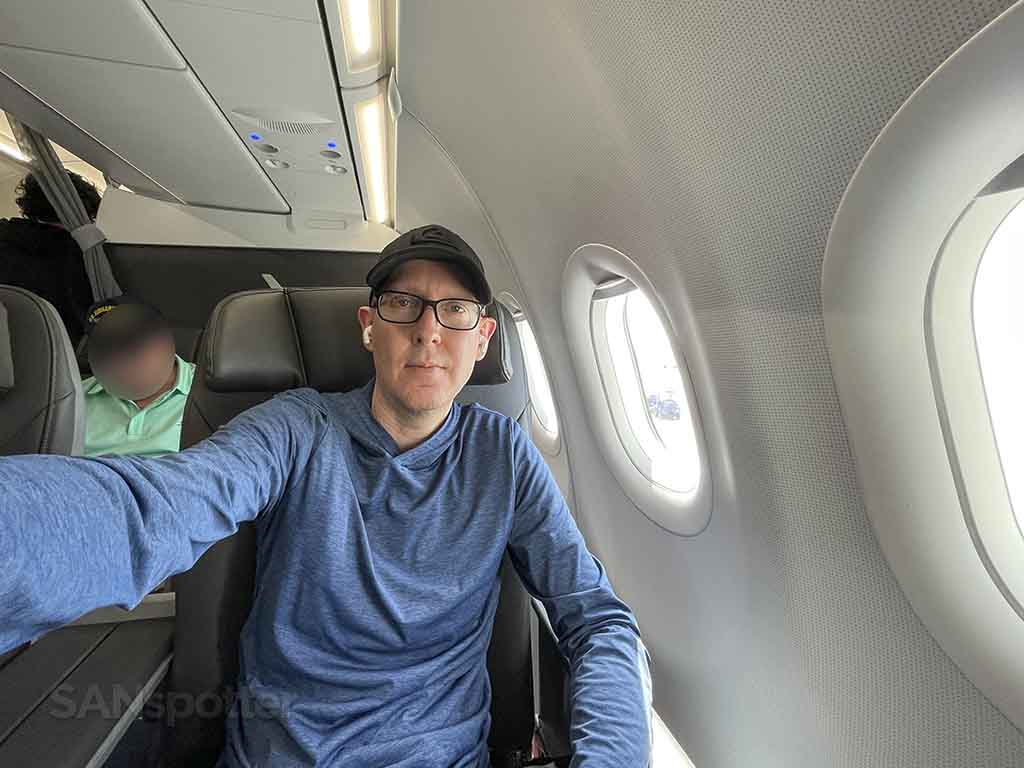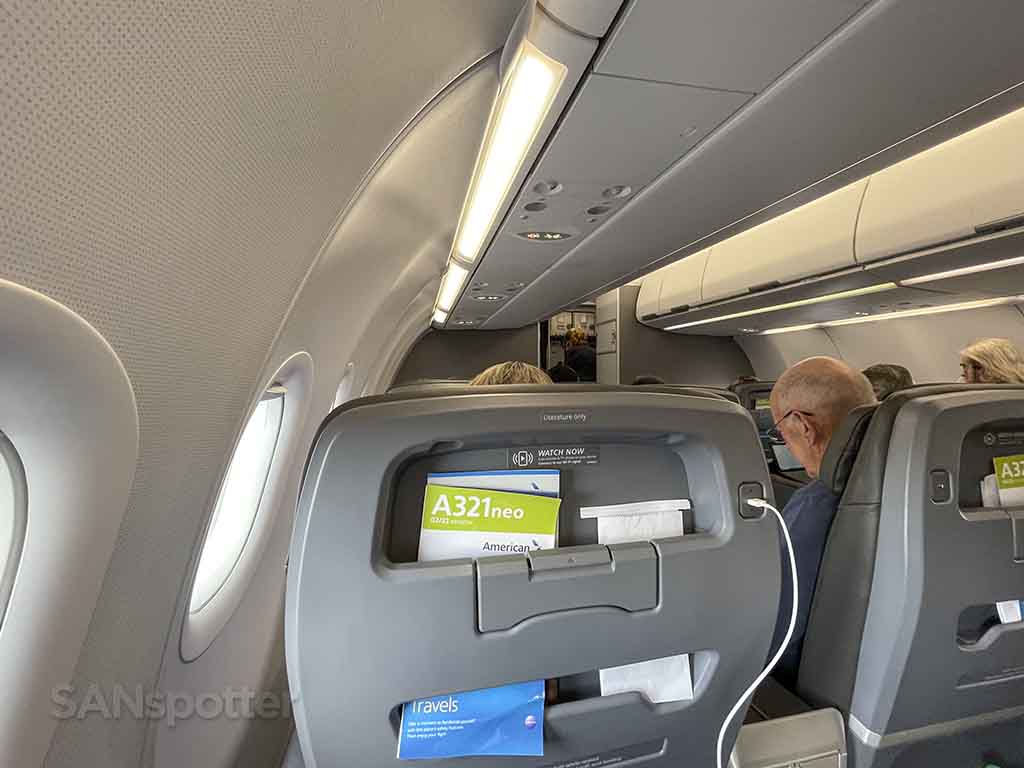 The departure out of Nashville
This was my first time ever departing out of the Nashville International Airport and I have to say that I was impressed with its overall size and wide variety of airlines. This isn't the rinky-dink air field that I thought it was going to be!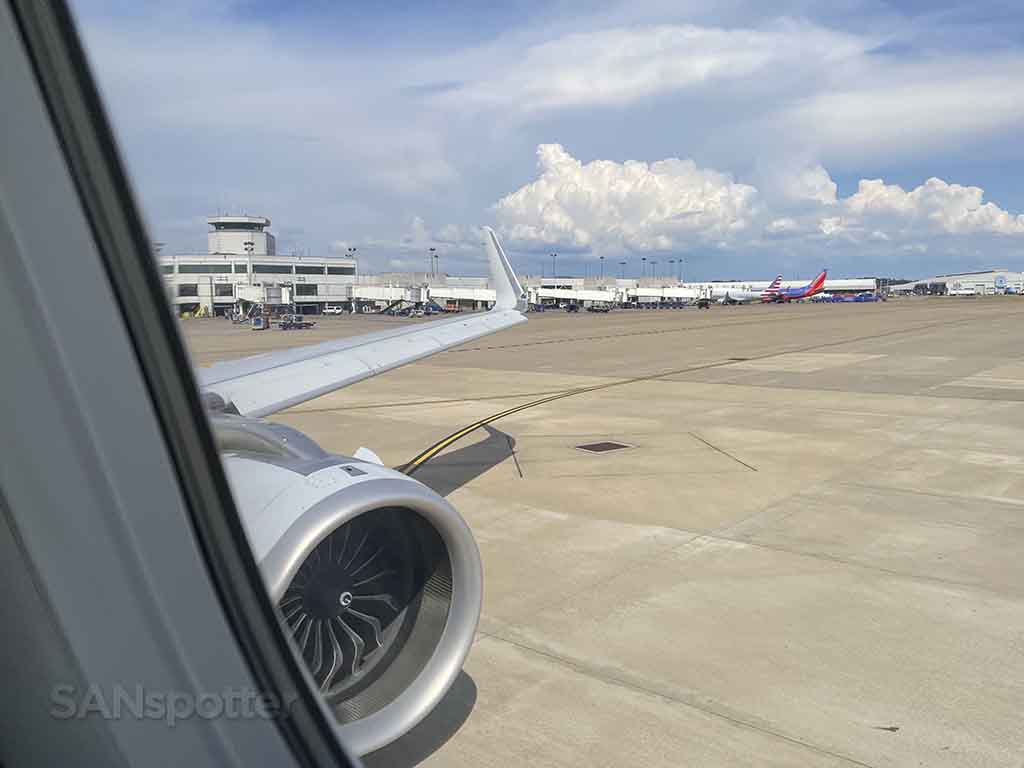 Anyway, the taxi over to runway 2L was short but sweet. It was also interrupted by a 10 minute wait in the bullpen to allow for congestion in and around DFW.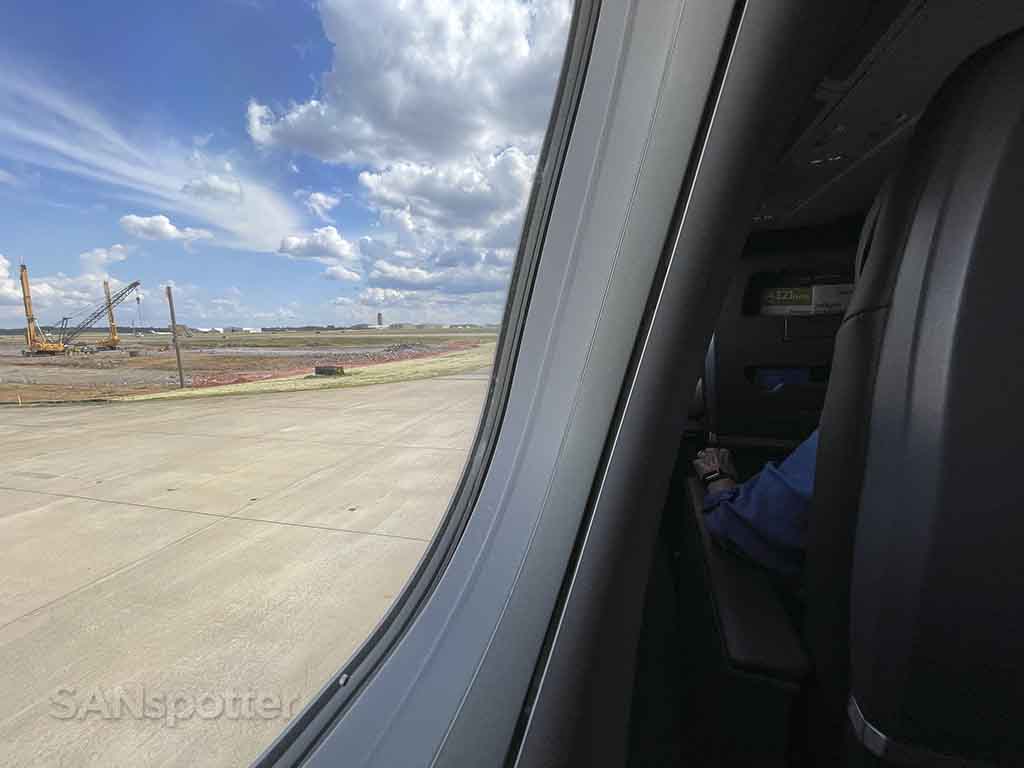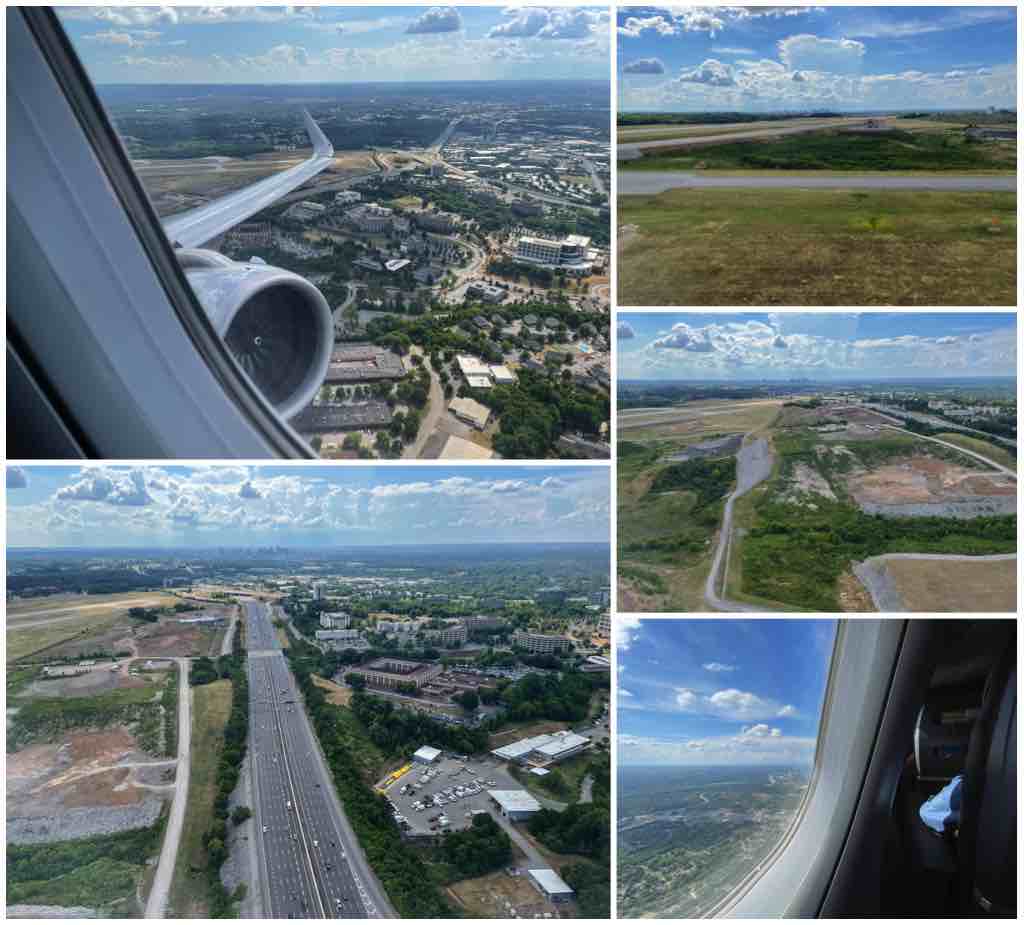 In-flight entertainment
Although American Airlines went for the cheap seats on the A321neo, the lack of video screens doesn't mean that they don't provide decent in-flight entertainment options.
Their streaming content service is quite good, and it's easily accessible from your own devices by simply connecting to the in-flight Wi-Fi. It's completely free, and chances are slim that you'll run out of things to watch (or listen to).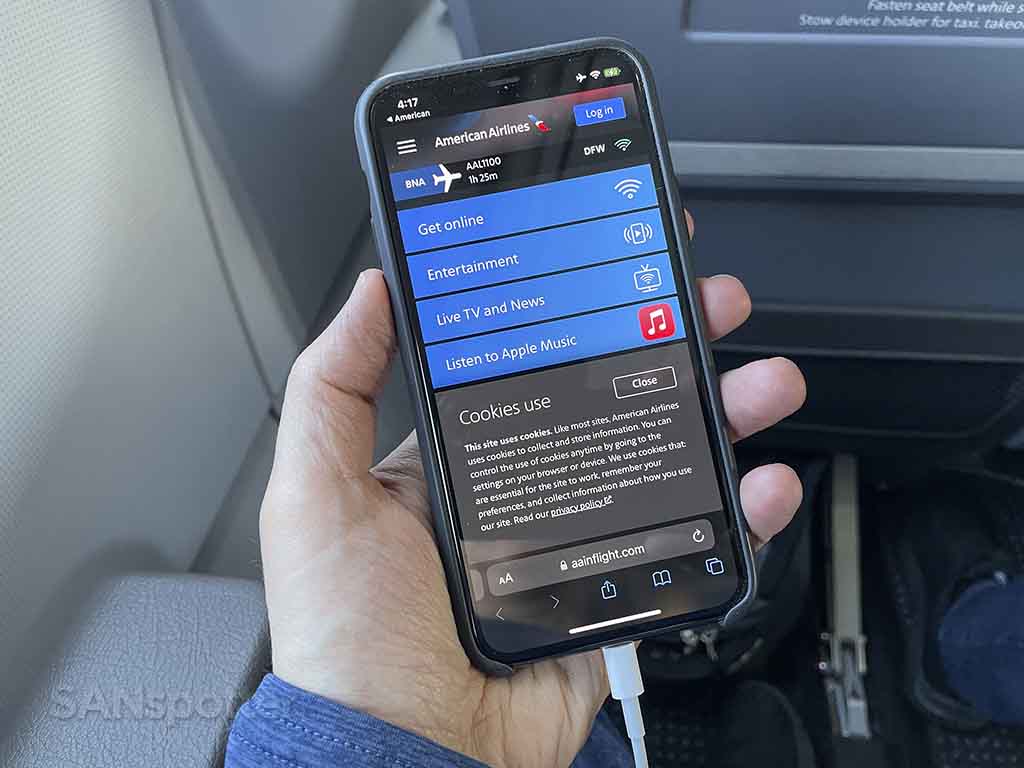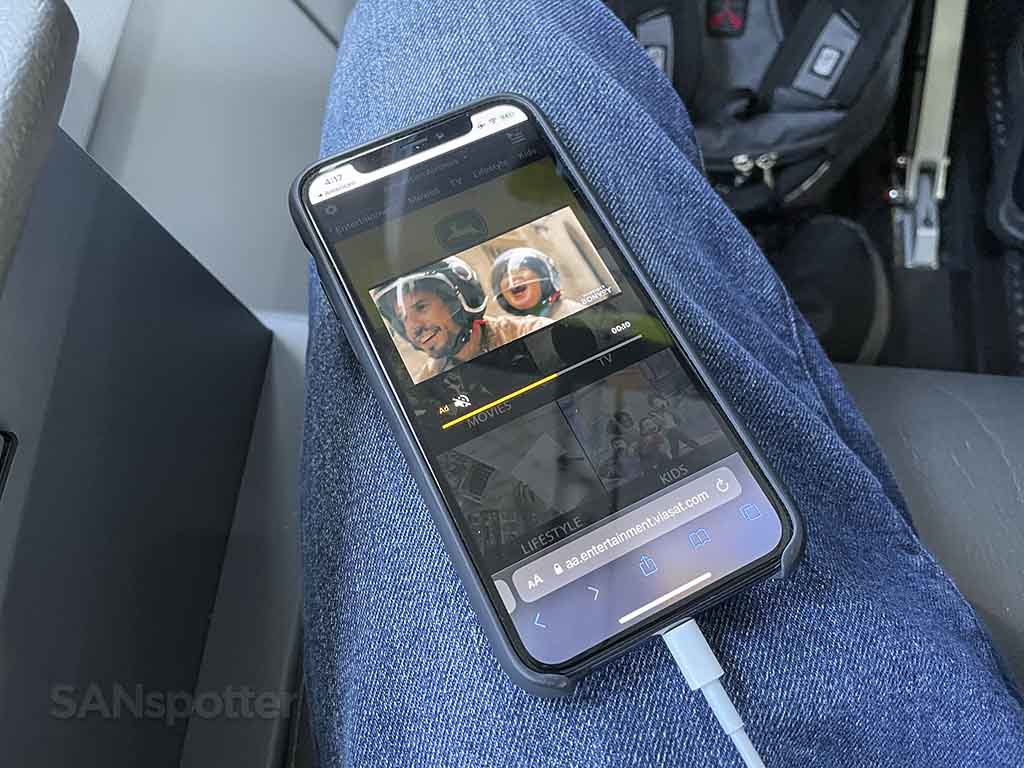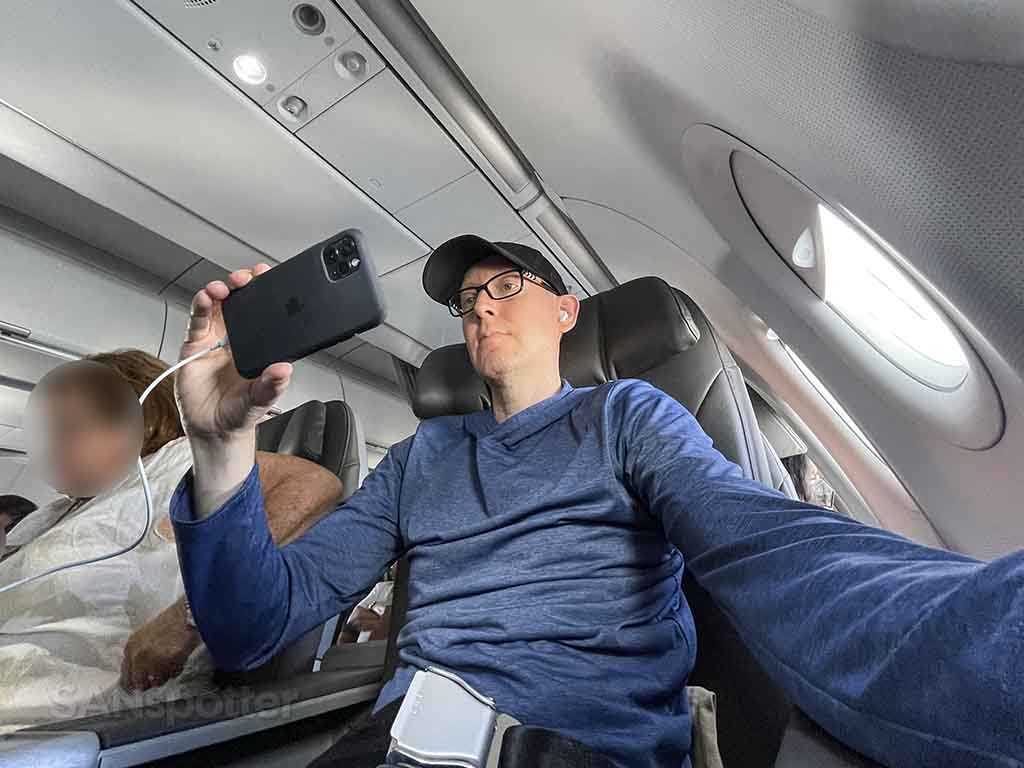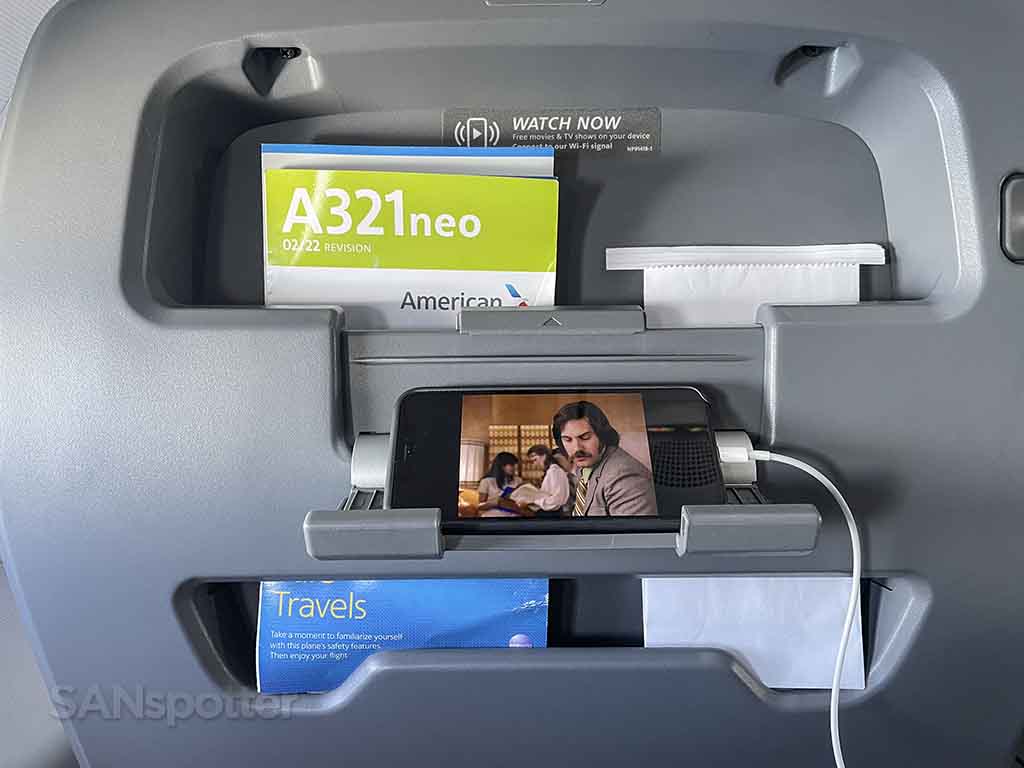 The food
On flights over 2 1/2 hours in length, you can expect to be served a hot meal in American Airlines domestic first class. On flights less than 2 1/2 hours, all you're going to get are drinks and a few little bags of snacks. Since the total flying time from Nashville to Dallas today was just 2 hours and 9 minutes, I had to make due with a glass of water and some corn nuts.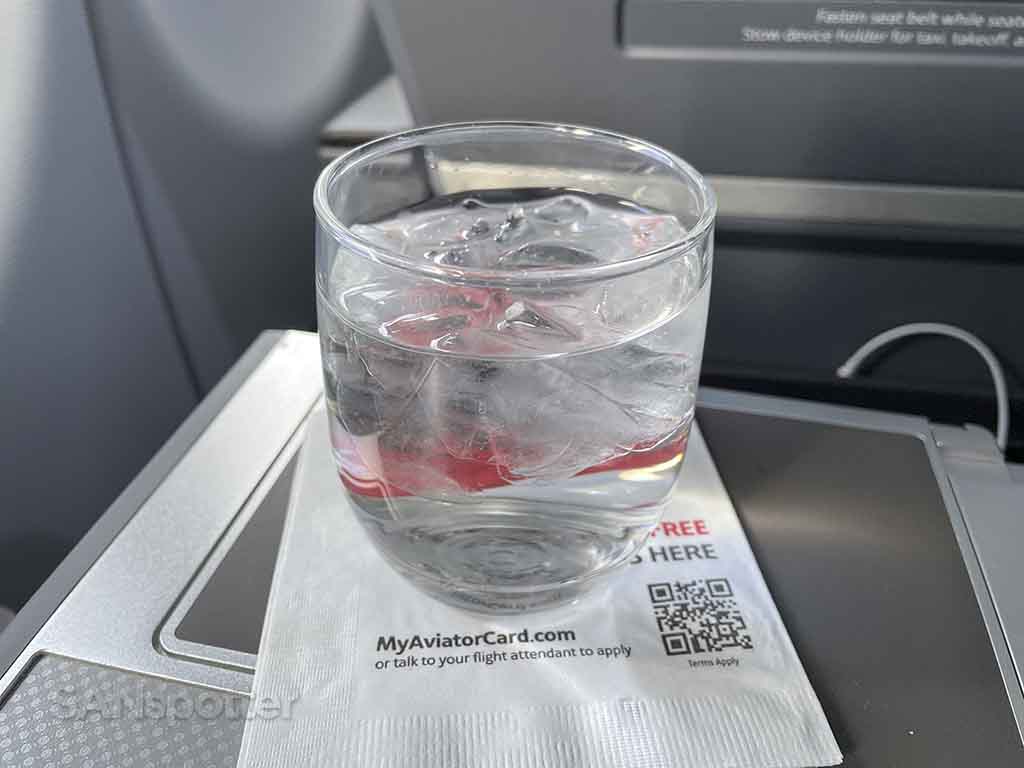 Although I did find the flight attendant working the first class cabin to be extremely friendly, she was also extremely slow. I didn't get my snack until just 10 minutes before we began to descent into Dallas. To make matters worse, it was stale. Oh well.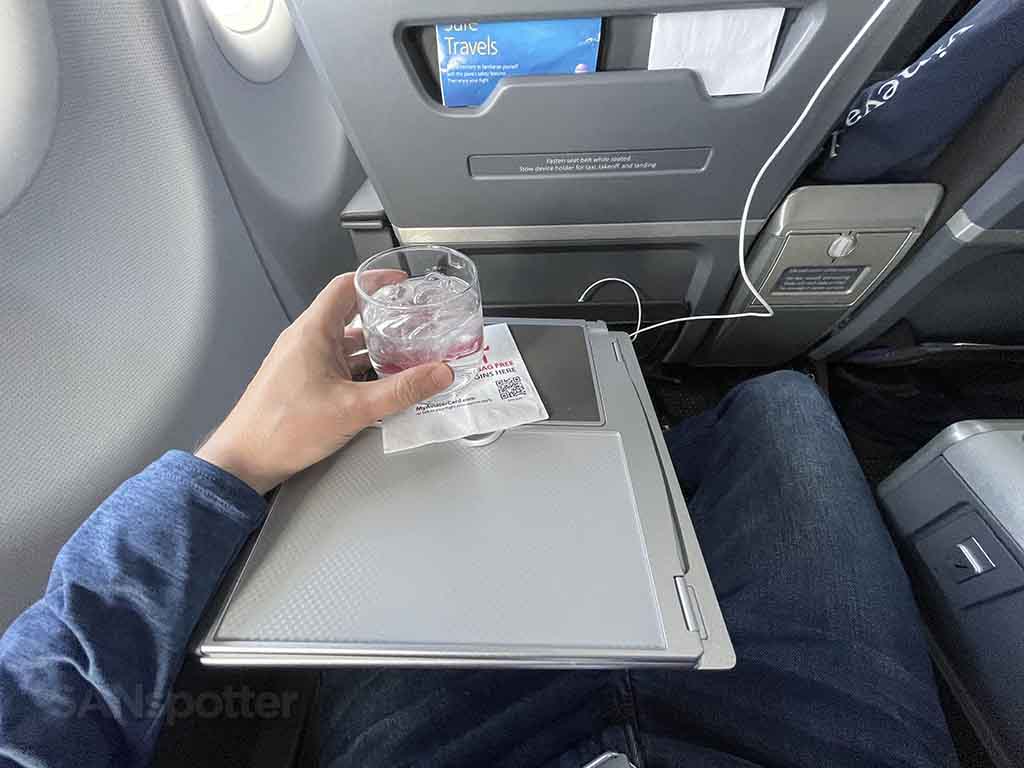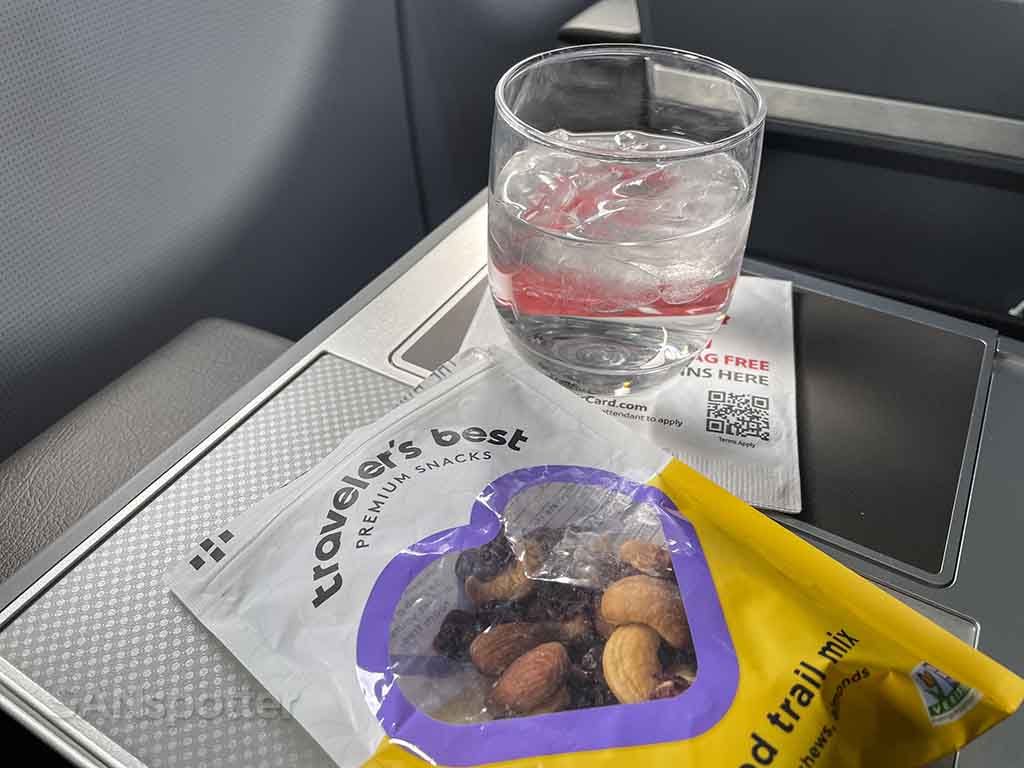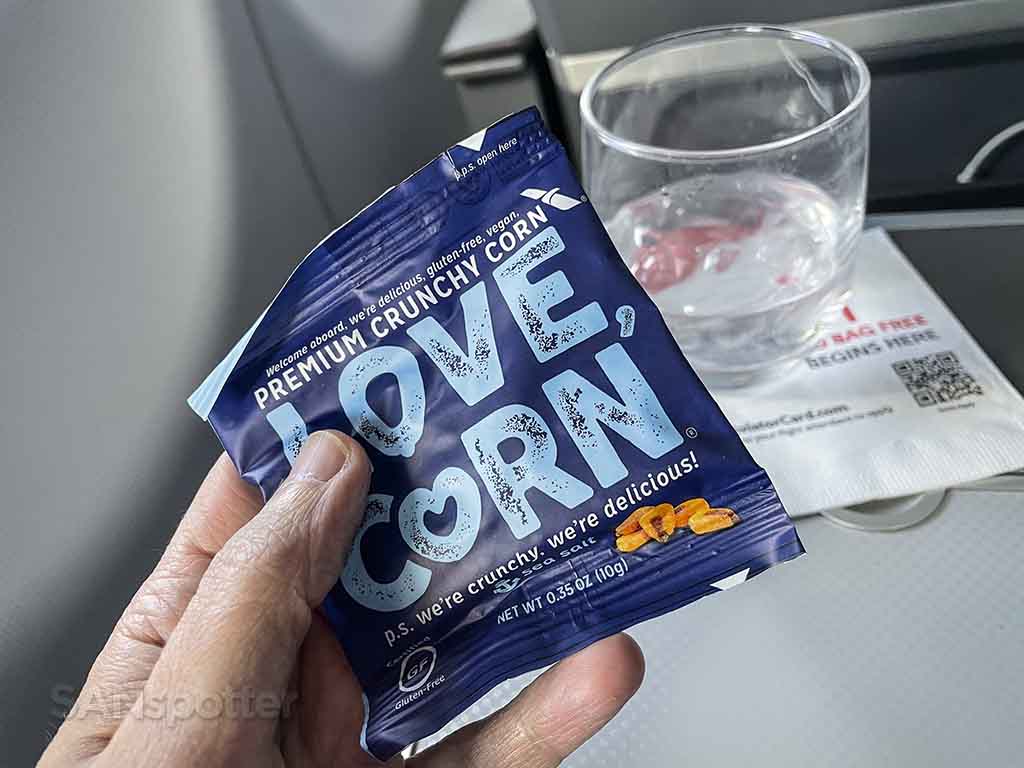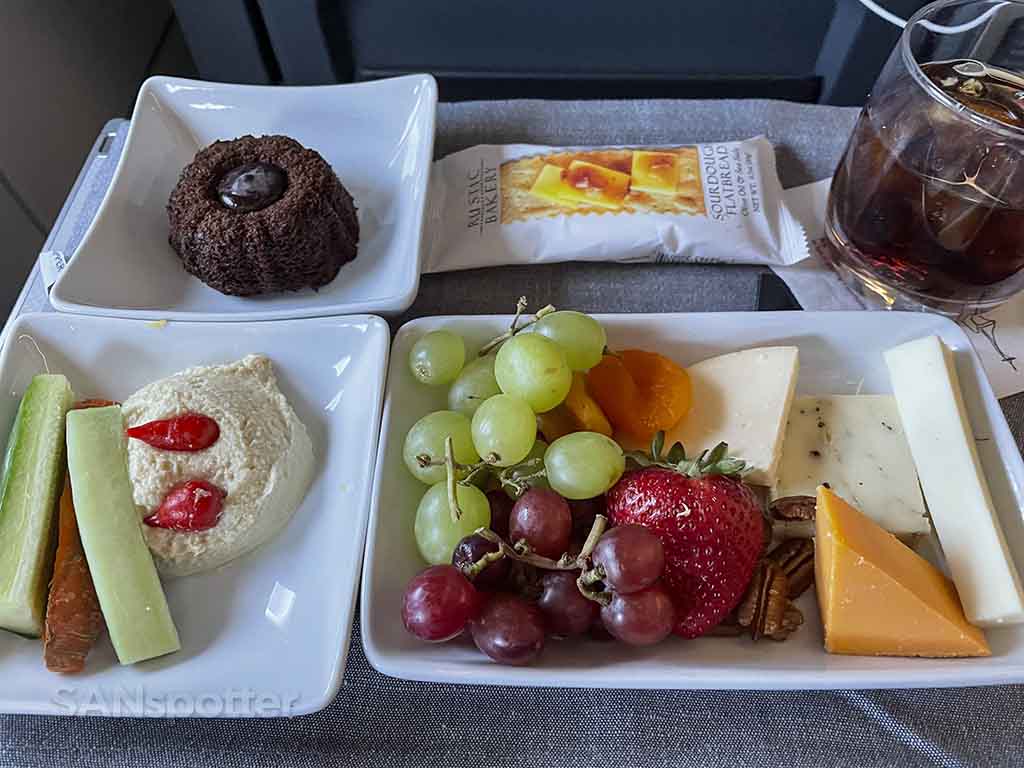 How comfortable are American Airlines A321neo first class seats on longer flights?
Remember that American Airlines A321 first class review (the one from SFO to PHX) I wrote a long time ago? The seats on that particular airplane weren't as nice as the seats on this airplane – which is saying a lot.
I didn't complain very much about seat comfort in that review, but much has changed since then. I'm older now, my lower back gets sore much easier these days, and I'm probably a bit more opinionated. Long story short, these A321neo first class seats aren't very comfortable for old dudes like me.
The arrival into Dallas
Just as I was chewing on my last stale corn nut, the Captain made his announcement about the descent into Dallas Fort Worth. I washed it down with my last shot of water, and then stuck my nose to the window to watch the always-interesting approach into one of the busiest airports in the entire world.
It was a nice distraction from all the thinking I was doing about how plain these first class seats really are.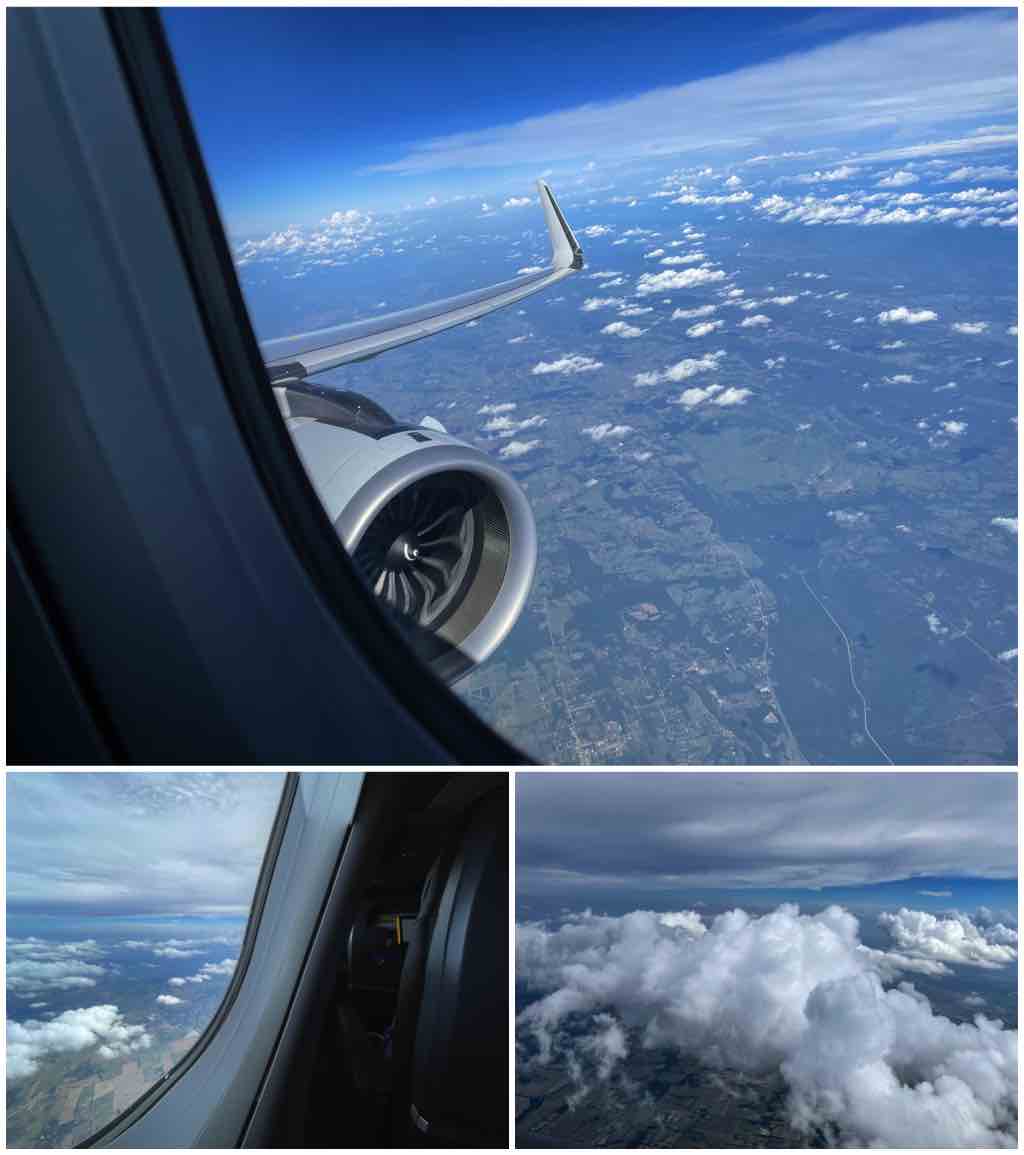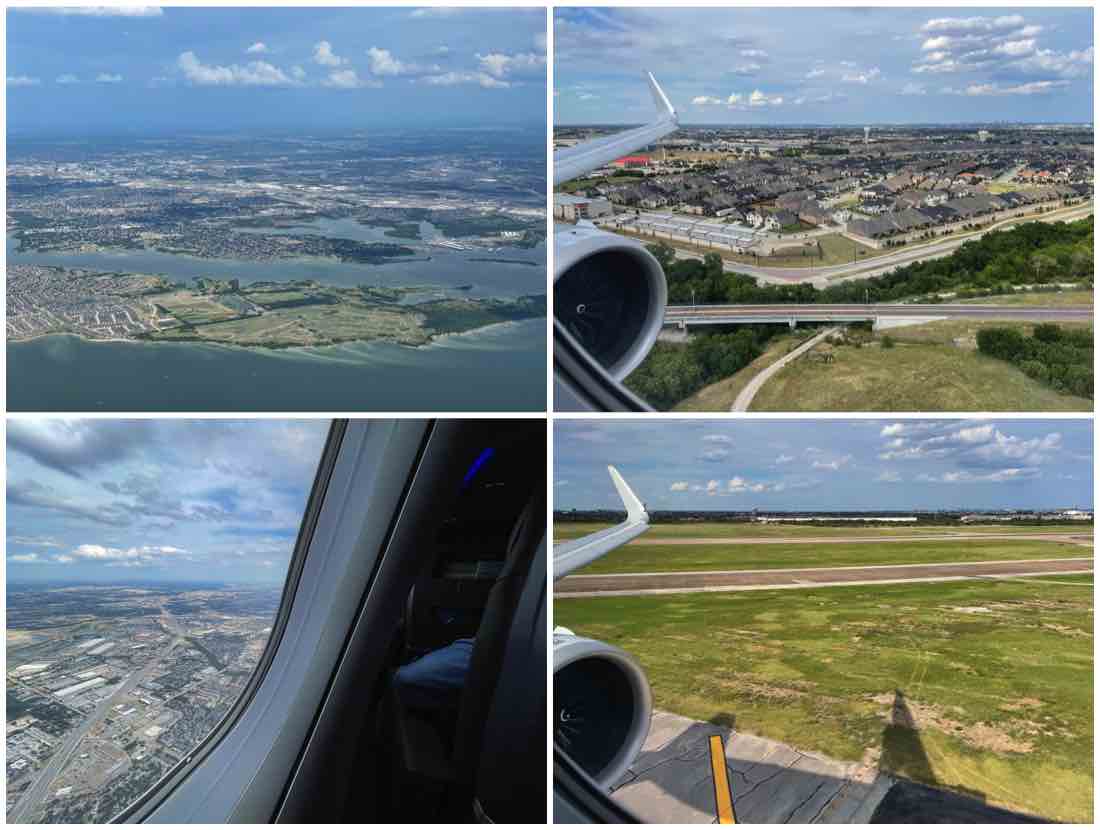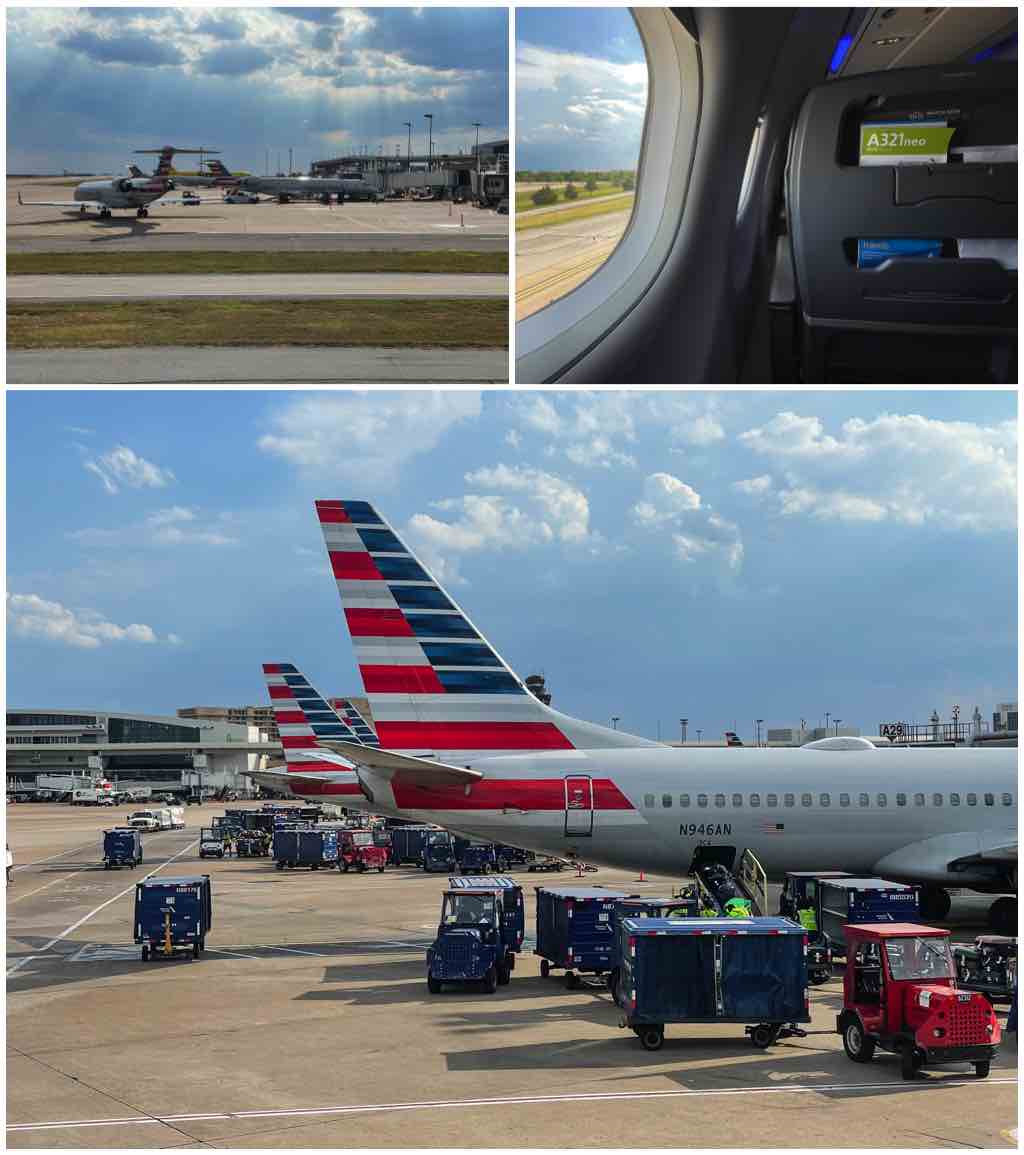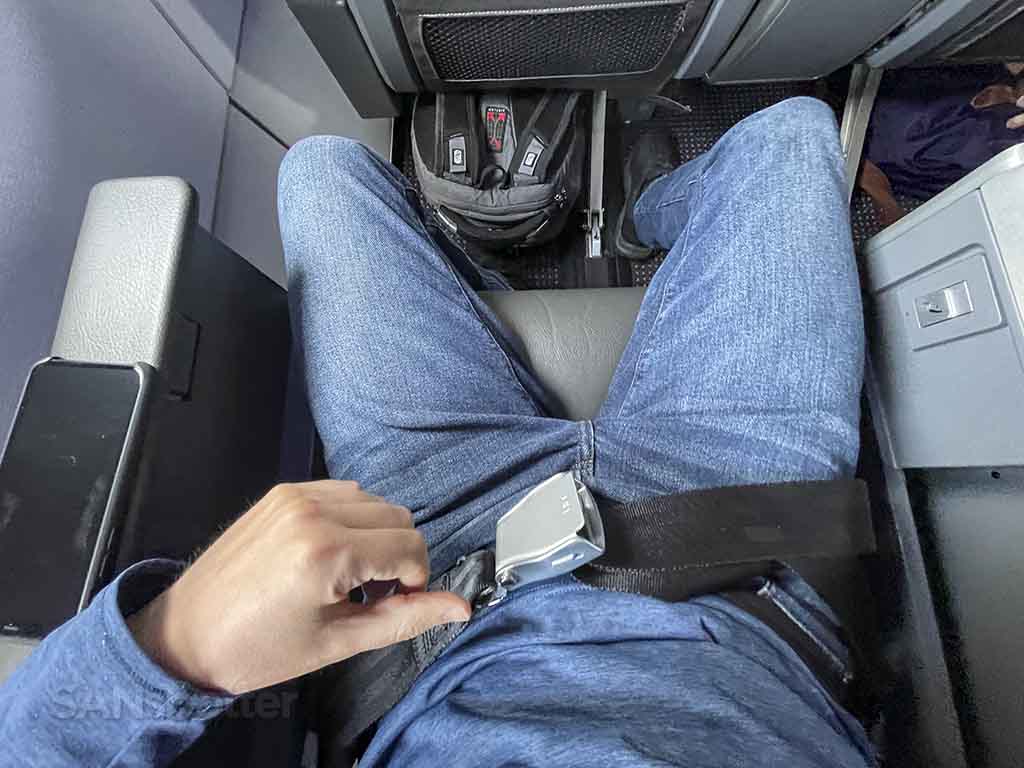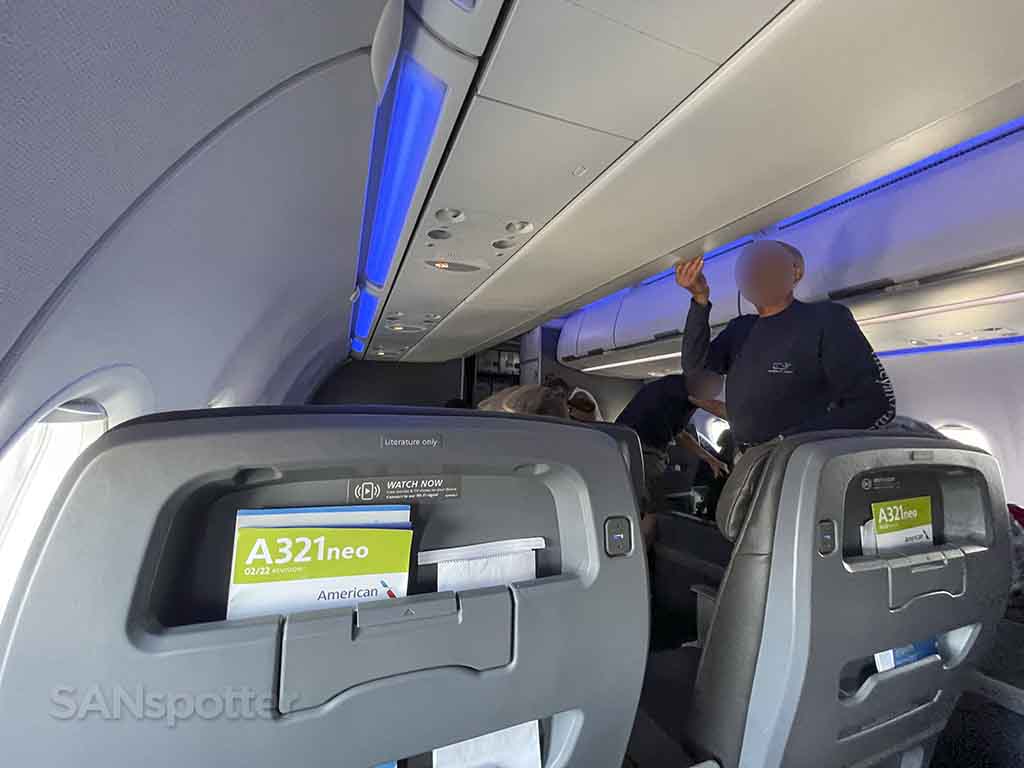 Pros and cons of first class on the American Airlines A321neo
I'm extremely disappointed that American Airlines didn't dare to do something different with their new generation of narrowbody aircraft. The interiors of these A321neos are exactly the same as what they have been putting in their other narrowbody aircraft for years.
It honestly looks and feels like they were trying to do it as cheaply as possible – which isn't a good look when considering that both Delta and United are going all-in on their new (feature rich) domestic first class products. It wasn't a completely bad experience though. Here are all the pros and cons:
Pros
Despite how basic they are, the first class seats on the A321neo look great. The gray seat covering is quite stylish in my opinion, and it's a nice change of pace from blue (which most other airlines can't seem to get away from).
The power outlets and phone/tablet holders makes taking advantage of the streaming in-flight entertainment service extremely convenient. Honestly, I didn't even mind the lack of video screens.
Seat recline was decent. And since there aren't any video screens in the seat back head rests, you won't have to worry about not being able to see the screen when the person in front of you slams their seat back.
The flight attendant working the first class cabin on my flight was phenomenally kind and helpful. She was also extremely slow, but her kindness made up for it.
Cons
Even though I just told you that I didn't mind the lack of video screens, I'm willing to bet that a lot of other people will. Come on American Airlines! There's no excuse in this day and age to skimp on video screens for a premium product such as this.
If you're the kind of person who could sleep like a baby on a slab of stone, you're going to like these seats. Otherwise, you are going to hate them (to the point where you'll feel urge to expel profanity like you've never expelled it before).
The snacks were stale. I forgot to check the expiration date on the bag of my corn nuts, but I wouldn't have been surprised if they went past their prime before the start of the second Obama administration.