Considering that 99% of my travel is for fun, it's easy for me to forget that there are people out there who travel every week for work and it can be a total grind at times. I was quickly reminded of this as I was standing at the gate area looking around at all the long and tired faces of the zombies waiting to board this American Airlines A321, thanking the heavens above that I was not in their shoes.
It was Friday afternoon, and every single one of these people looked as if they had suffered through a marathon of migraine-inducing meetings and gut-busting presentations this week. Unfortunately, some of them weren't lucky enough to be finished quite yet. The guy standing next to me was on a phone call trying to wrap up a deal with a client who seemed stubborn to budge an inch on price, and I could tell by the tone of his voice that all he wanted to do was go home and drink irresponsible amounts of whiskey.
I assume this is what Friday afternoons are like at major airports all over the world, and quite frankly, it's not a pretty sight. I took the day off of work in order to be able to begin this trip, completely free of anything that "the man" could to dish out. It was so stress-free as a matter of fact, that my biggest conundrum of the day so far had been whether or not to eat before the flight from San Diego to San Francisco. Worrying about anything heavier than that can totally ruin a day of fun travel.
AA1700
San Francisco, CA (SFO) – Phoenix, AZ
Friday, February 23, 2018
Aircraft: A321-211
Registration: N182UW
Duration: 1 hour 35 minutes
Seat: 4F (first class)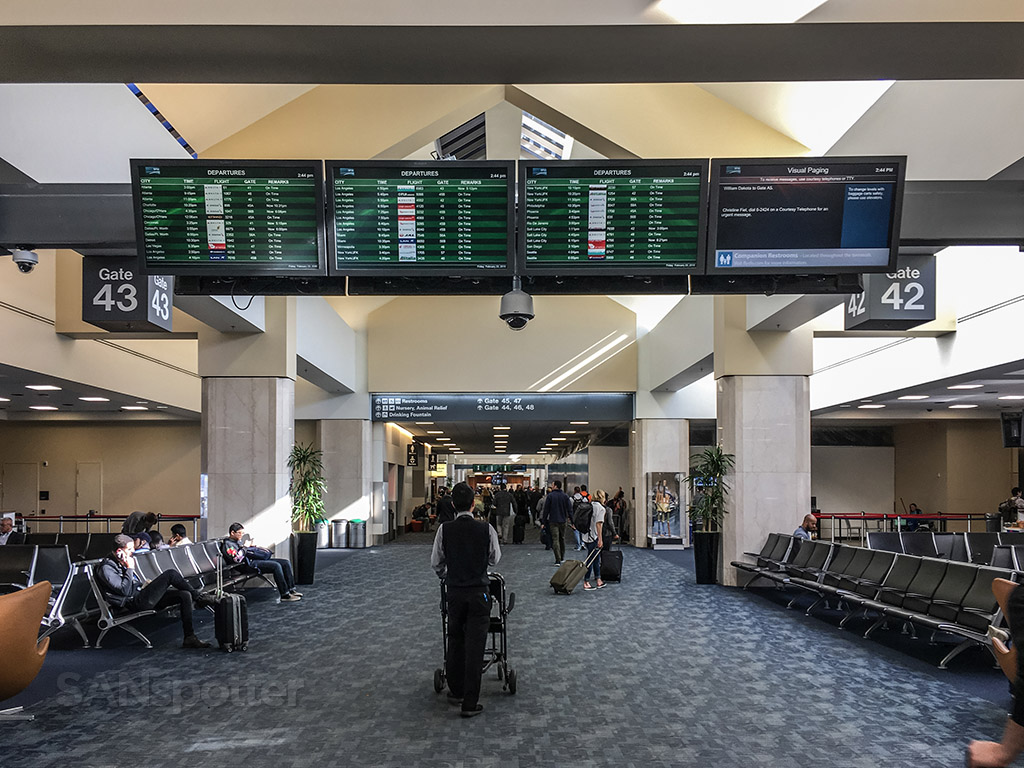 Thankfully for all those wasted souls waiting here in the gate area, boarding began exactly on time. It's not like I was watching the minutes tick away second-by-second in order to be able to tell you exactly when the boarding process started or anything.
The only reason that I knew this is because American Airlines has a countdown timer right there on the display in the gate area telling exactly when boarding will begin. And don't you know it, they started exactly when that countdown timer ended.
It occurred to me as I was walking down the jet bridge that a vast majority of American Airlines Gold and Platinum members are older white people.
I hardly have any scientific data to prove this, but the last time I flew on American Airlines was last December from Charlotte to West Palm Beach (a flight I did not write a trip report for), and it didn't go unnoticed that nearly everyone standing in the gate area waiting to pre-board were white, somewhat wealthy looking, and over 50.
And there were a lot of them. I don't really have a point for all of this other than the fact that I had never even noticed or thought about this while flying on any other airline in my life. It was just an interesting observation, and yet another odd relevation about what goes on in that brain of mine…
The American Airlines A321 domestic first class configuration is nothing much to rave about, but a decently comfortable product it is. Those of you who found this trip report looking for an extensive review about the American Airlines A321T (which flies transcon routes between New York and San Francisco/Los Angeles) will note that this is definitely not that.
It's a total bummer of course, because how cool would it have been to get one of those lie-flat first class cocoons on this short little hop down to Phoenix tonight?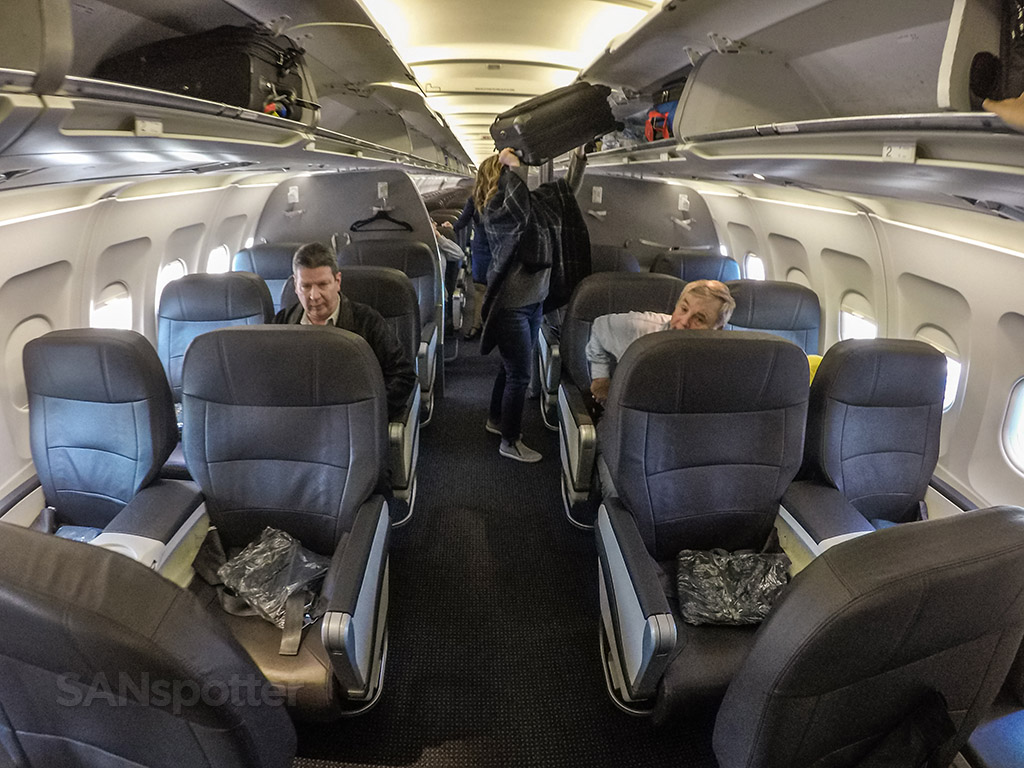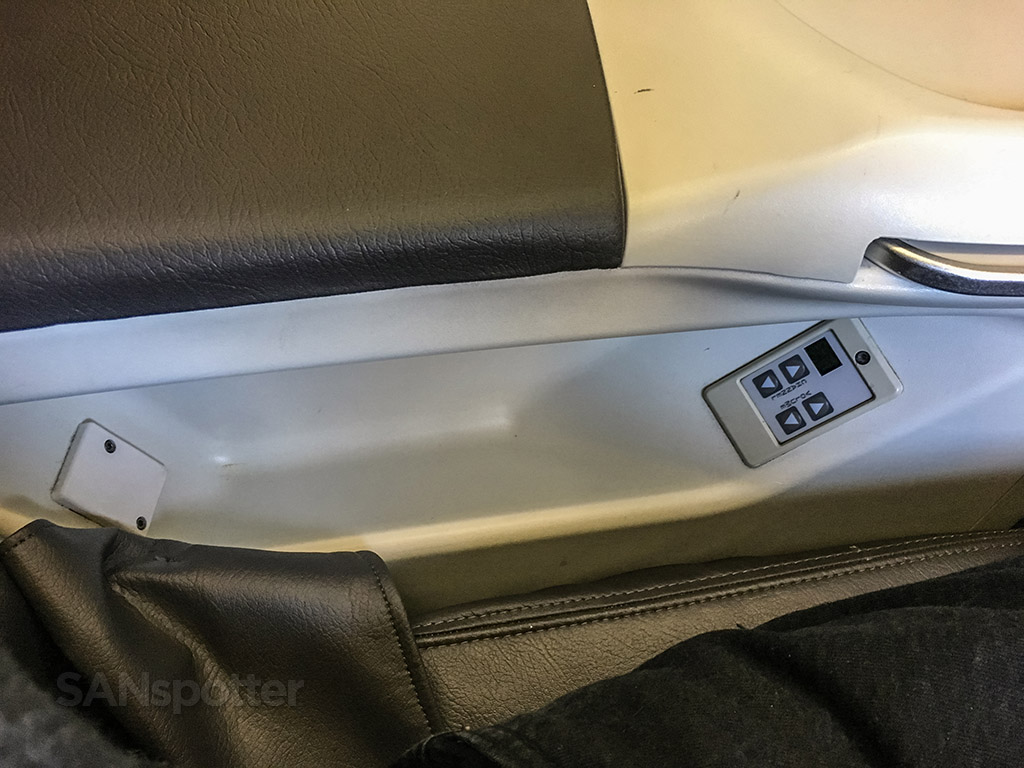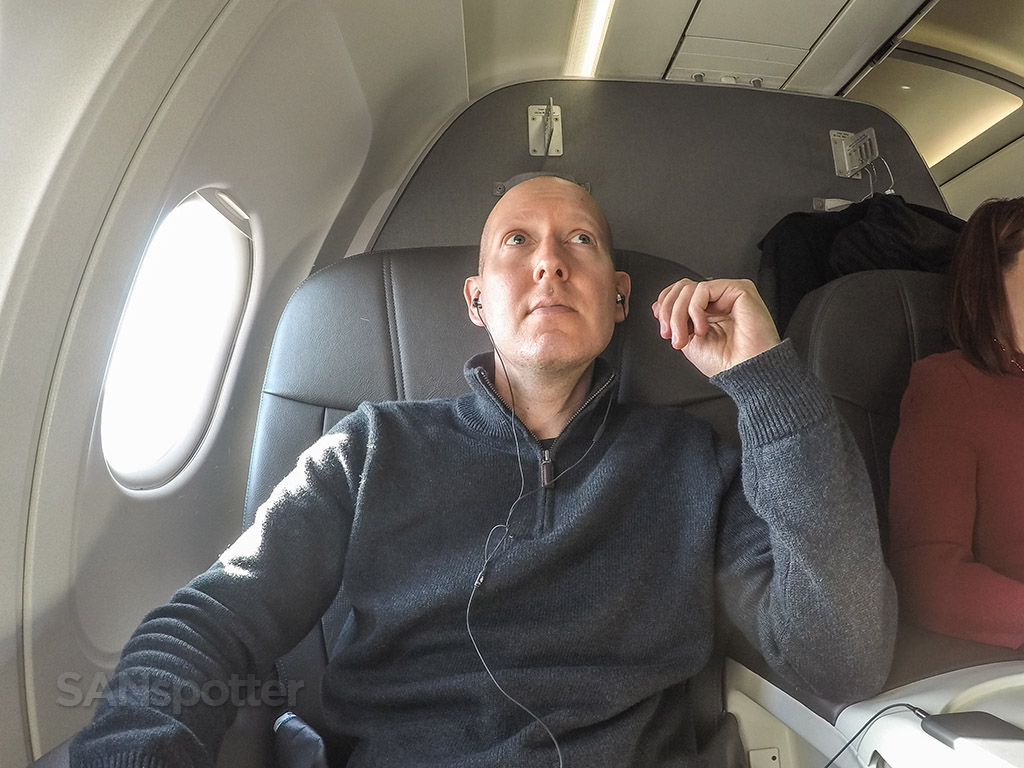 Unfortunately there are no countdown timers here in the cabin to tell us exactly when we will be pushing off the gate, but I'm pretty sure that we did it right on time considering that there were no apologies from the captain, nor any deep sighs escaping from the mouths of the other passengers.
I wasn't traveling on business, and I had no plans in Phoenix tonight, so it didn't matter to me any even if we were just a little bit late.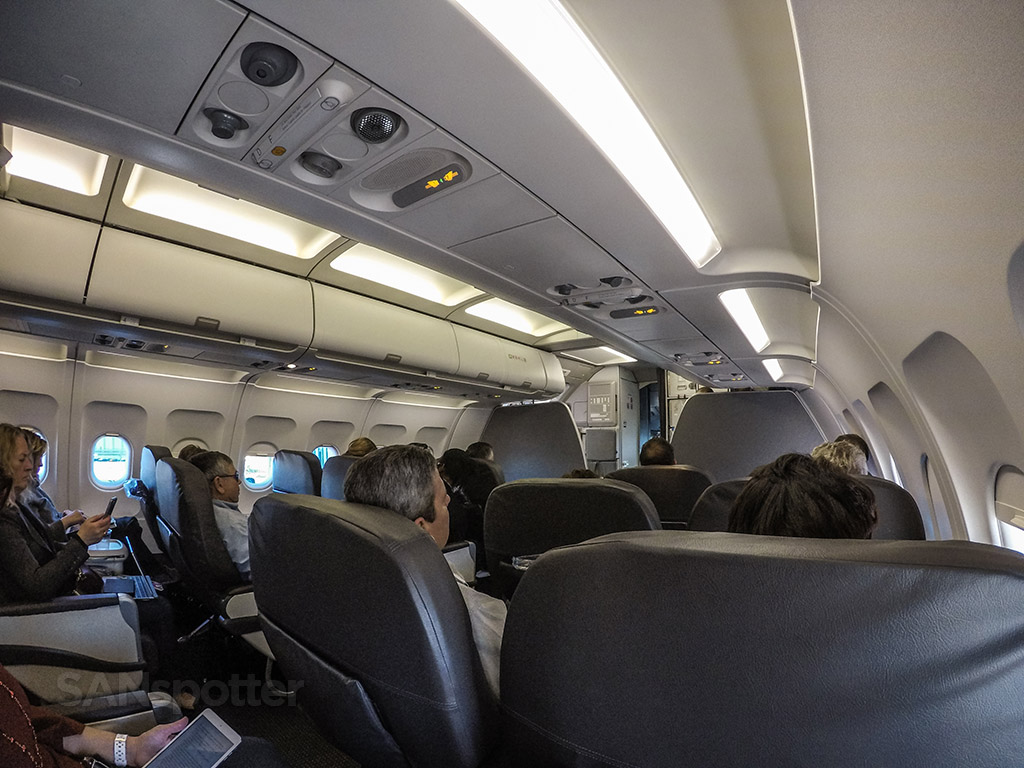 All I could really think about as we were taxiing out the runway was the fact that the skies were crystal-clear, the sun was setting low, and I had a window seat which just might provide me with a decent view of the city as we depart.
I've never had much luck getting Instagram-worthy pics of the San Francisco skyline when departing SFO, but I had a feeling that today just might be that day. With that said, I've got my camera ready, so let's go!
The good news is that we did get a nice view of the city as we departed, but the bad news is that my iPhone simply couldn't capture it in a way that would have given me kind of Instagram fame that we are all secretly striving for.
The evening light was pretty good though, and it lit up the engine quite well, so I was somewhat satisfied with what I was able to capture as we made that big turn out over Ocean Beach and then back south towards Arizona.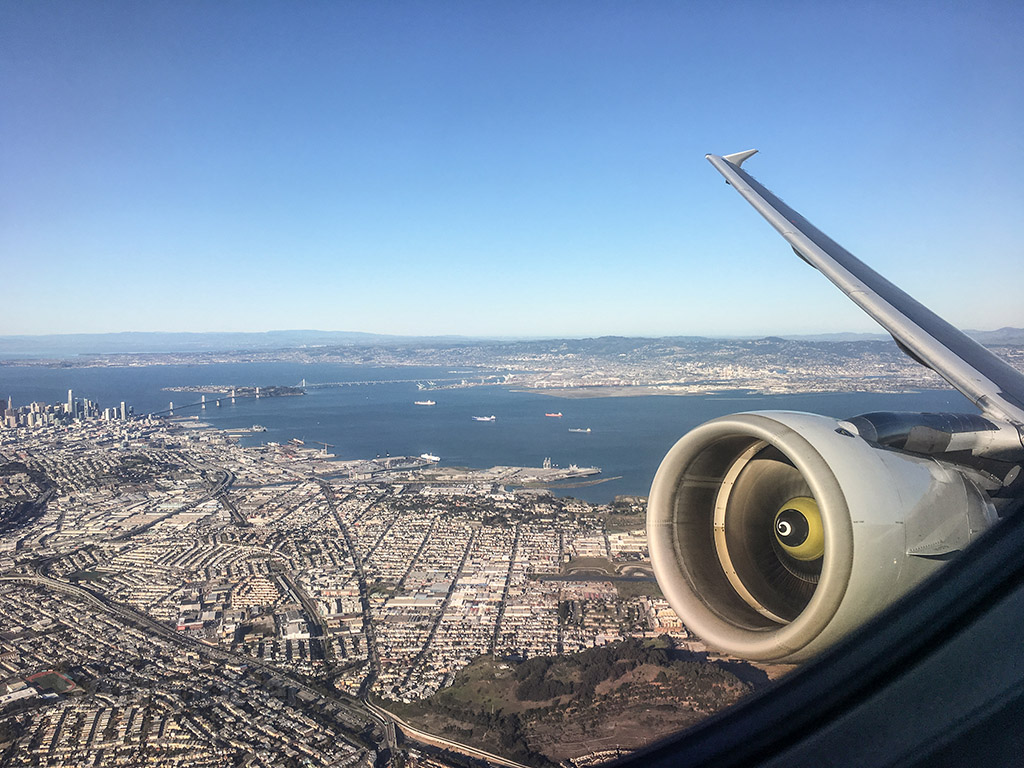 The mood was generally quiet up here in first class for the entire ride down to Phoenix this evening, no doubt a result of all these business travelers enjoying their first bit of quiet solitude they've had in days. The flight attendant did well to come through the aisle many times with a snack basket and plenty of refills for anybody that wanted them.
The alcohol consumption on this evening's flight was quite impressive actually. Of course I was only drinking water as usual, but those tired-looking business travelers were definitely taking advantage of the "free drink" thing.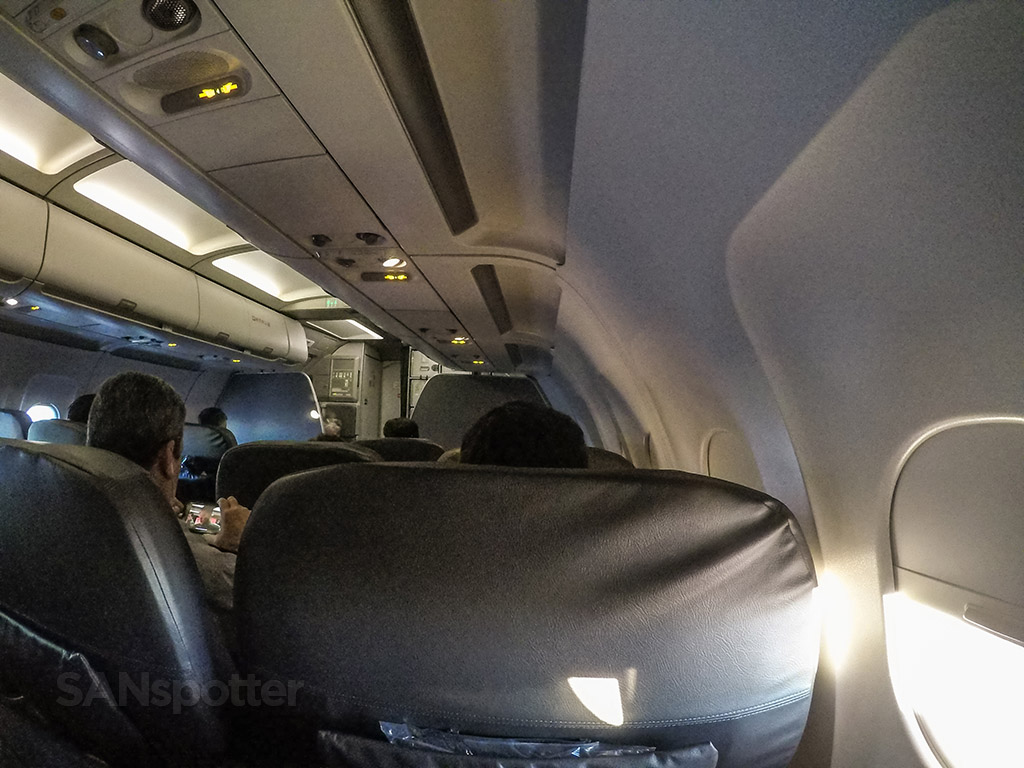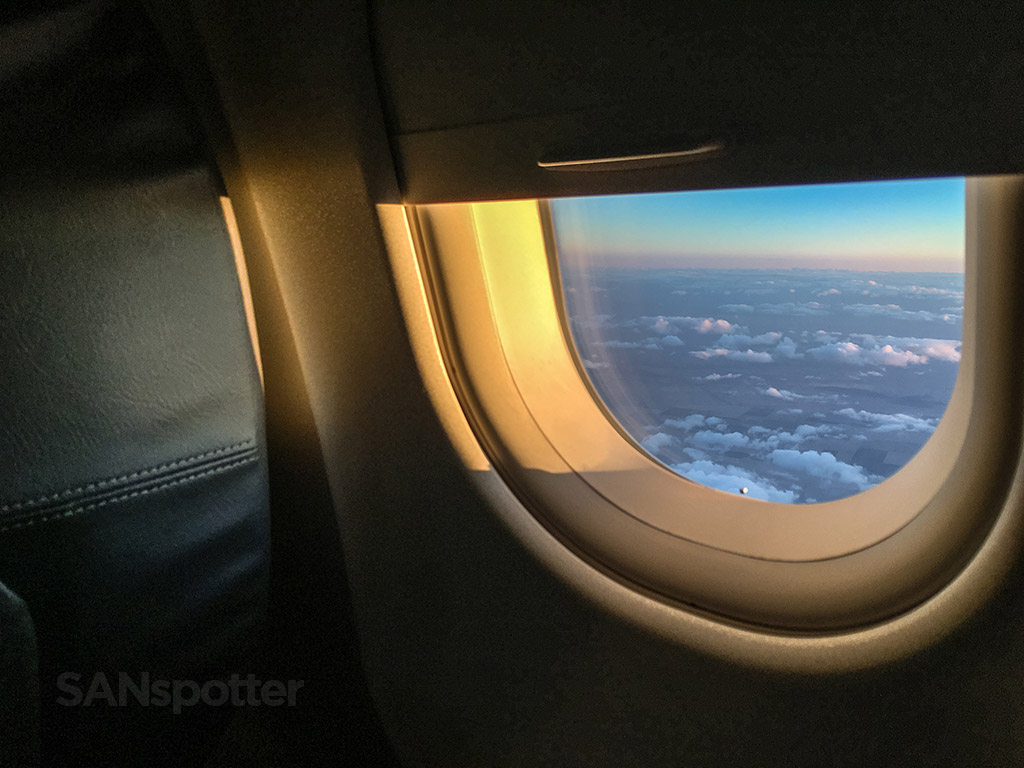 The American Southwest landscape is actually quite difficult to navigate without a map to use as a guide, and since I didn't have one on this flight, it was hard to guess where we were until we started the descent into Phoenix.
It seemed for the entire flight that I was thinking "ooh we're getting close now" but then 20 minutes would go by and we were still cruising along right there at 30,000 feet. It only happened a couple times before I gave up trying to figure it out.
Darkness had fallen as we arrived in Phoenix, and I was very appreciative of the fact that the day went by without a hitch. Both flights were on time, and the weather was absolutely perfect if not a little bit on the unseasonably cold side of things.
But I can deal with cold if the skies are clear and it provides great photo opportunities, so I was in pretty good spirits as I walked off the plane and into the main terminal here at PHX.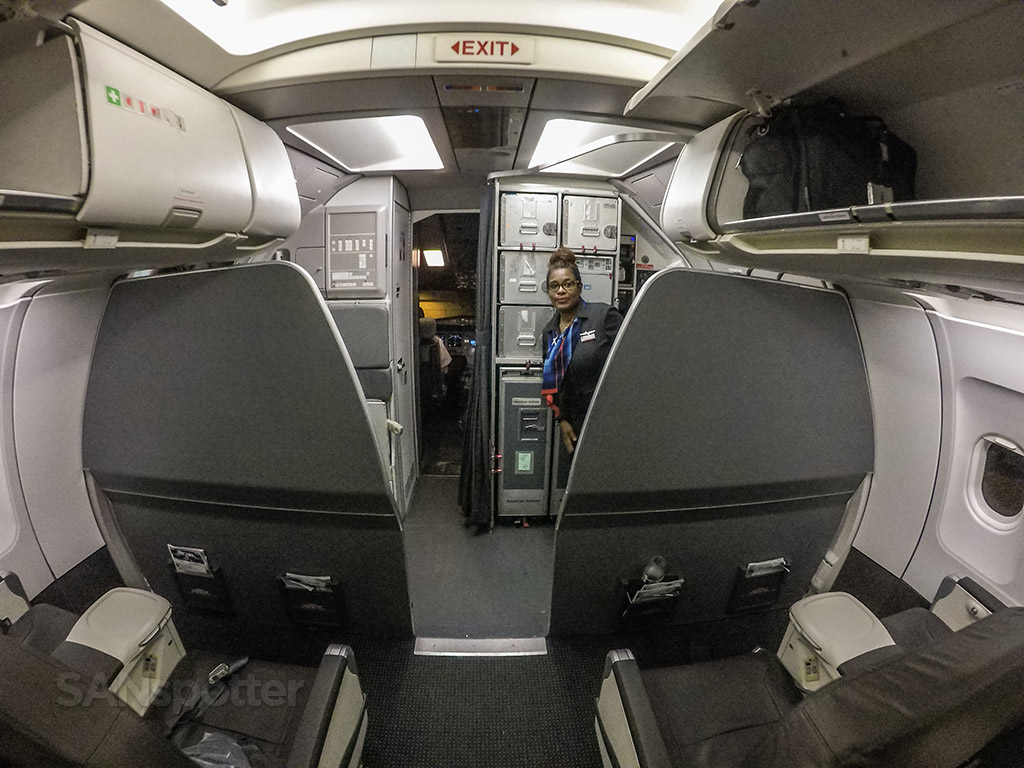 The only thing left to accomplish on this day was to grab something to eat for dinner. And if you didn't know it, the central terminal at PHX (before clearing security) is stuffed to the rafters with many good restaurants for the hungry traveler.
I settled on a made-to-order flatbread pizza before hopping in an Uber to stay the night at the Westin in downtown Phoenix, but If I had to guess, I would imagine that many of those exhausted business travelers I came here with went straight to the bar. They certainly deserved it!