I know I know I know. It was about a year and a half ago when I wrote a sappy and somewhat tearful AvGeek goodbye to Virgin America, and at that time I thought for sure that I would never fly this airline again. Virgin America isn't like the others, and I was totally crushed when it was announced that they were purchased by Alaska Airlines and that a "merger" would be taking place.
Now, I've seen a lot of these types of acquisitions take place over the years, and I've come to learn that the airline being acquired is usually as good as dead at that point, and there will be no actual merging happening at all.
They will be wiped off the face of the planet, leaving very little evidence behind that they even existed in the first place. Thankfully the process is as slow as molasses, which allowed me this opportunity to fly them yet again here in 2018. This will be the last time though. I really mean it this time.
VX1957
San Diego, CA (SAN) – San Francisco, CA (SFO)
Friday, February 23, 2018
Aircraft: A319-112
Registration: N525VA
Duration: 1 hour 11 minutes
Seat: 2F (first class)
What better way is there to bid adieu to an old friend than to do it in swanky white-leather first class? The Virgin America first class product is getting old and crusty around the edges, but it's still one of my favorites because of how those bold white seats look when drenched in deep blue and pink mood lighting. But I'm getting waaaay ahead of myself here – I need to tell you all the juicy details about the pre-flight experience!
*10 second pause while I try to think of a good way to talk enthusiastically about the pre-flight experience*
You know what? There isn't anything about the pre-flight experience for this segment that stands out as being completely different than any of the 20,000 other times I've flown out of this airport, but I gotta post the pics in order to make this trip report complete. Here we go!
My biggest conundrum of the morning was trying to figure out what to do about breakfast. Or was it lunch? I was confused as heck considering that this flight was scheduled to depart just after 12pm, and I already had breakfast before coming to the airport this morning.
It was still a bit too early to eat lunch, but I had to eat something because I had a very short connection time at SFO and there may not be a chance to eat again until I reach Phoenix tonight. If this were 1975 I'd get a full slab of carved-to-order roast beast on both segments today, but this is 2018 and I know that pretzels and water is as good as it's going to get. Camden Food Company to the rescue.
I didn't realize it before coming to the airport today, but unfortunately Virgin America has been kicked out of their nice digs in terminal 2 west and are now situated in a dumpy common-use gate over in terminal 2 east. My guess is that this is because of the fact that Alaska Airlines will be moving to terminal 2 east sometime later this year, and since VX is essentially AS now after the elimination merger, it makes things easier.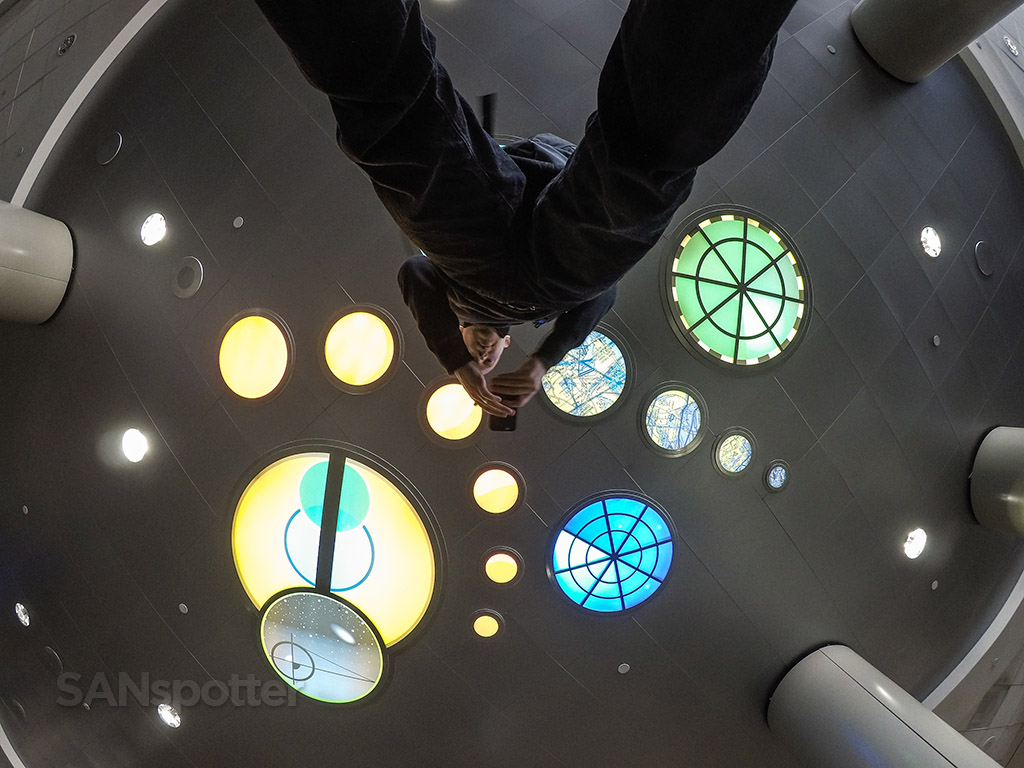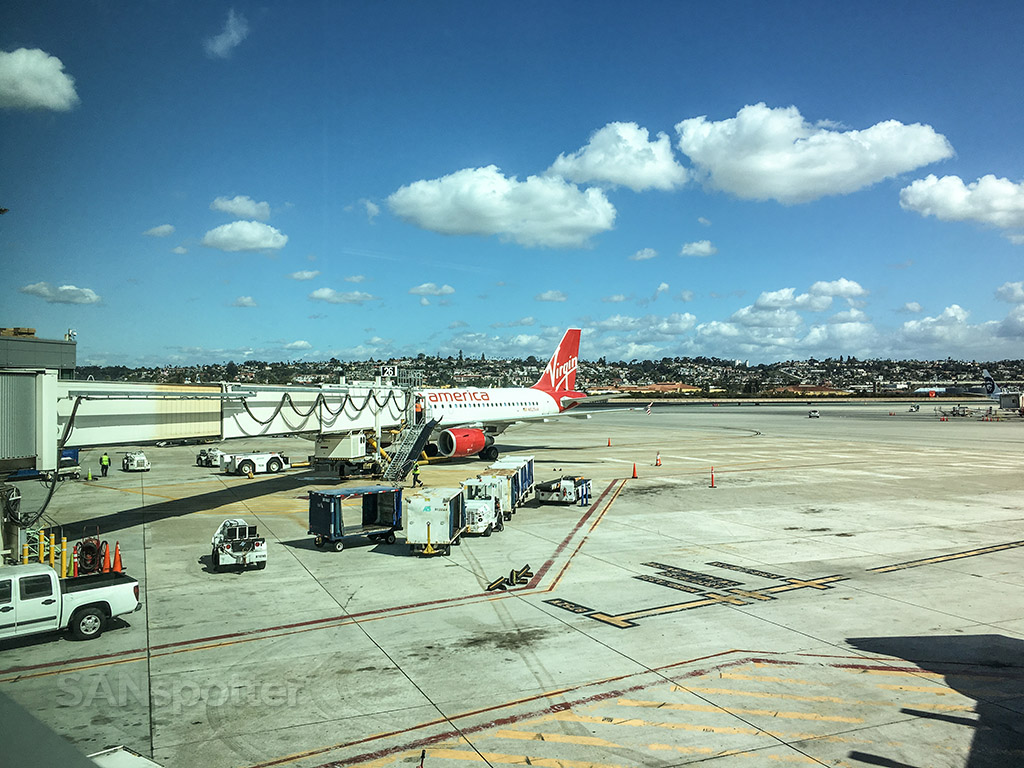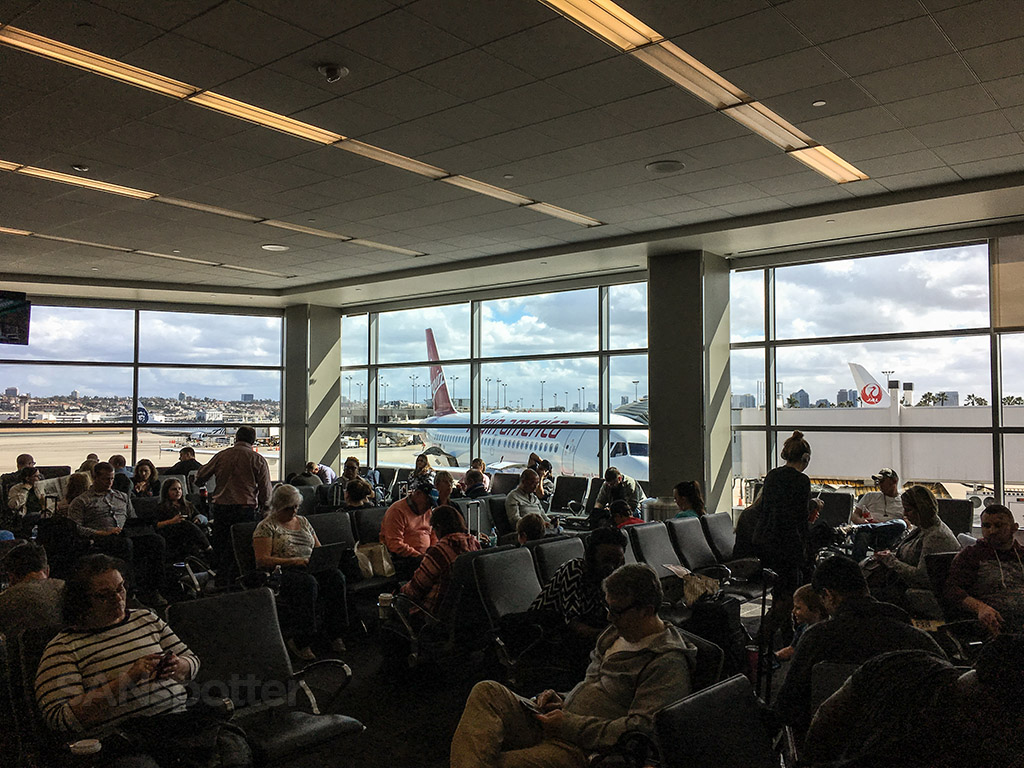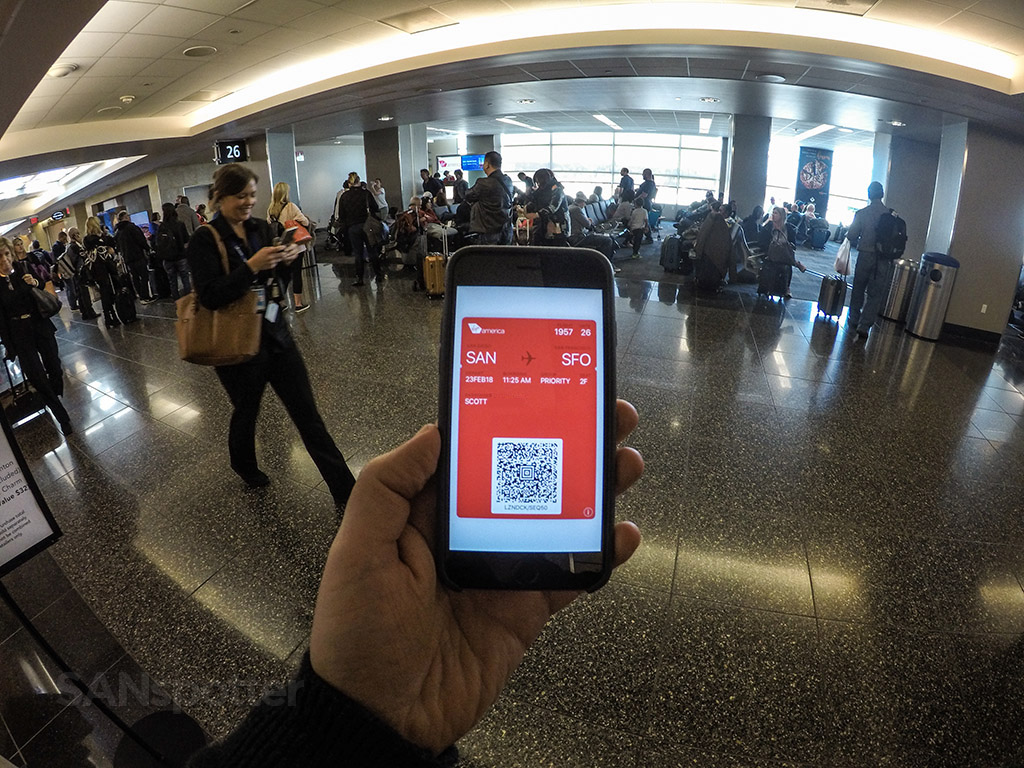 Having been so used to having Virgin America on the other side of terminal 2, it felt really weird to board this airplane over here in the dumpy side. It was totally wrong in every way, and I believe that I was pouting a bit as I was walking down the jet bridge.
But once I saw all of that beautiful pink and blue mood lighting, everything was right again with the world. It was really good to be back on Virgin America again.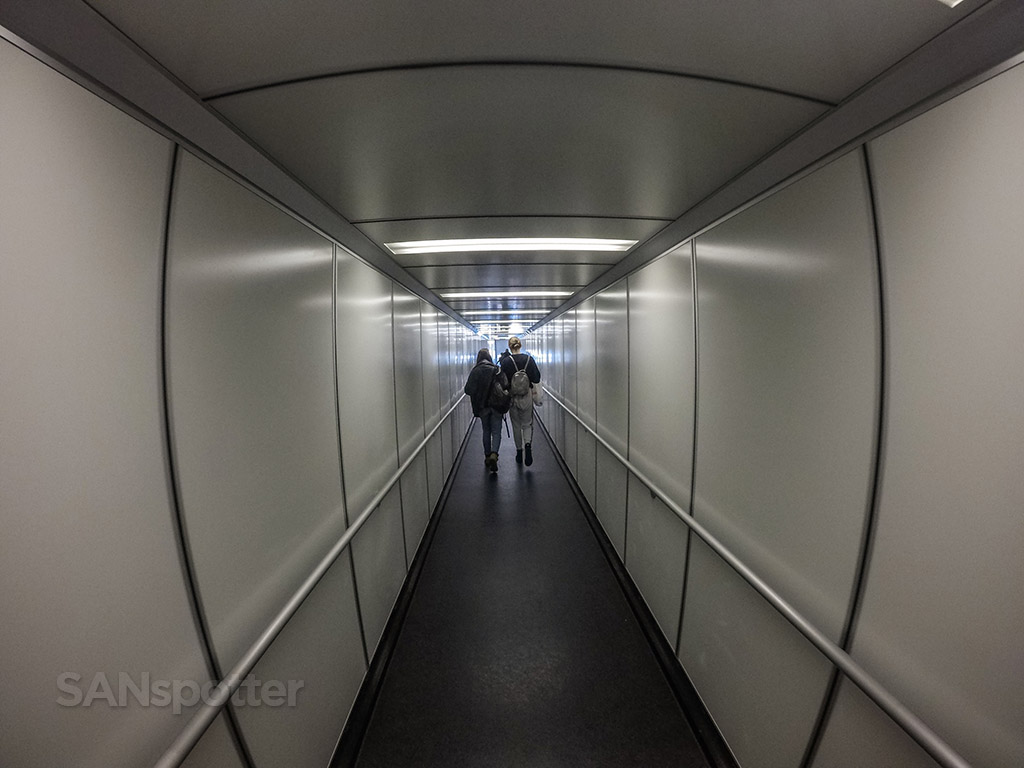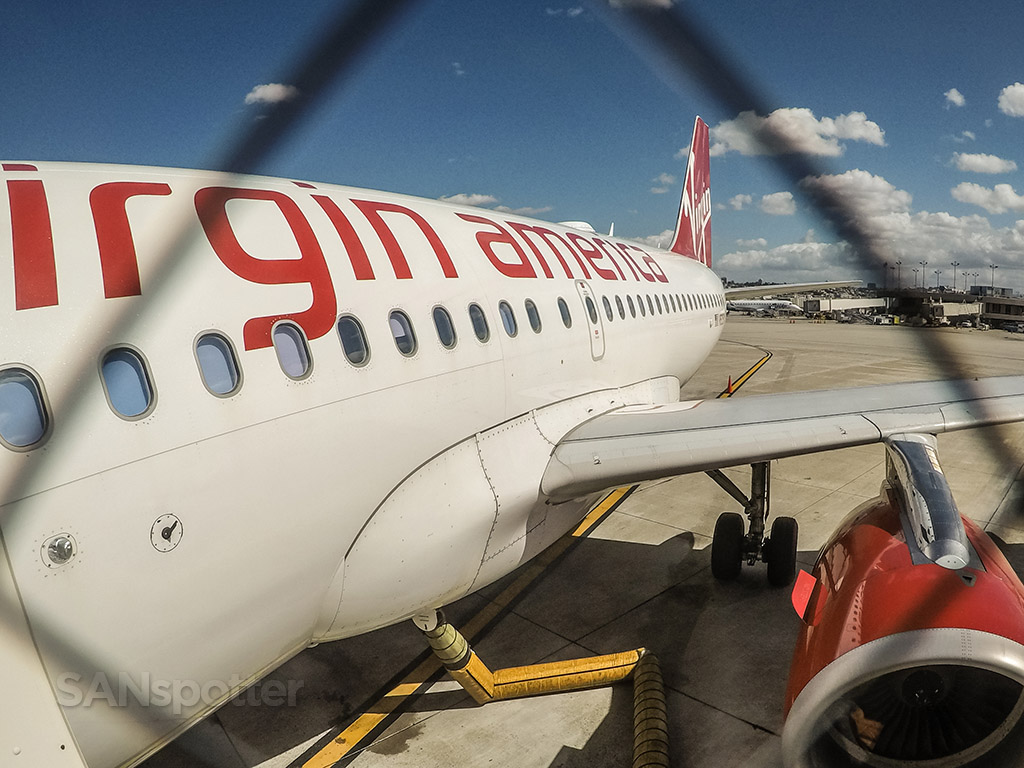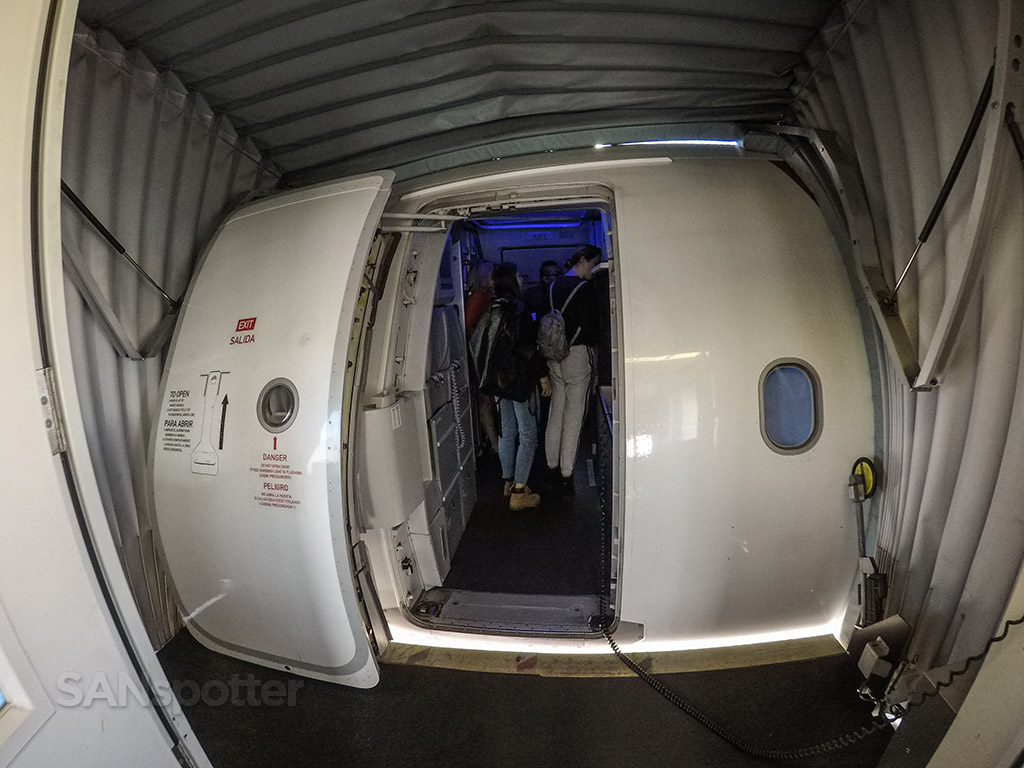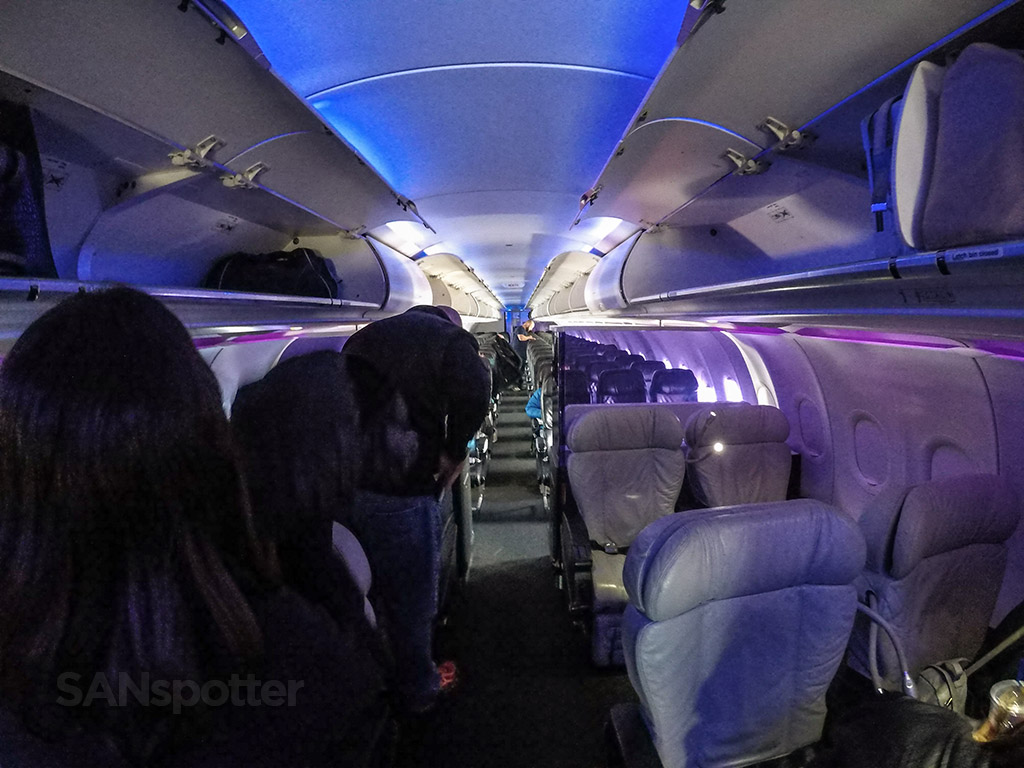 It's probably a good thing that the cabin was dark and disco-y, because it seemed as if these white leather first class seats were really showing their age and they didn't look as pure and clean as I remember. It must be a total pain in the ass to keep these seats clean, and I know for a fact that it's a job that I wouldn't want. I was almost tempted to stuff a $10 bill down the cracks as a tip to the next guy or gal who had to scrub these things down between flights.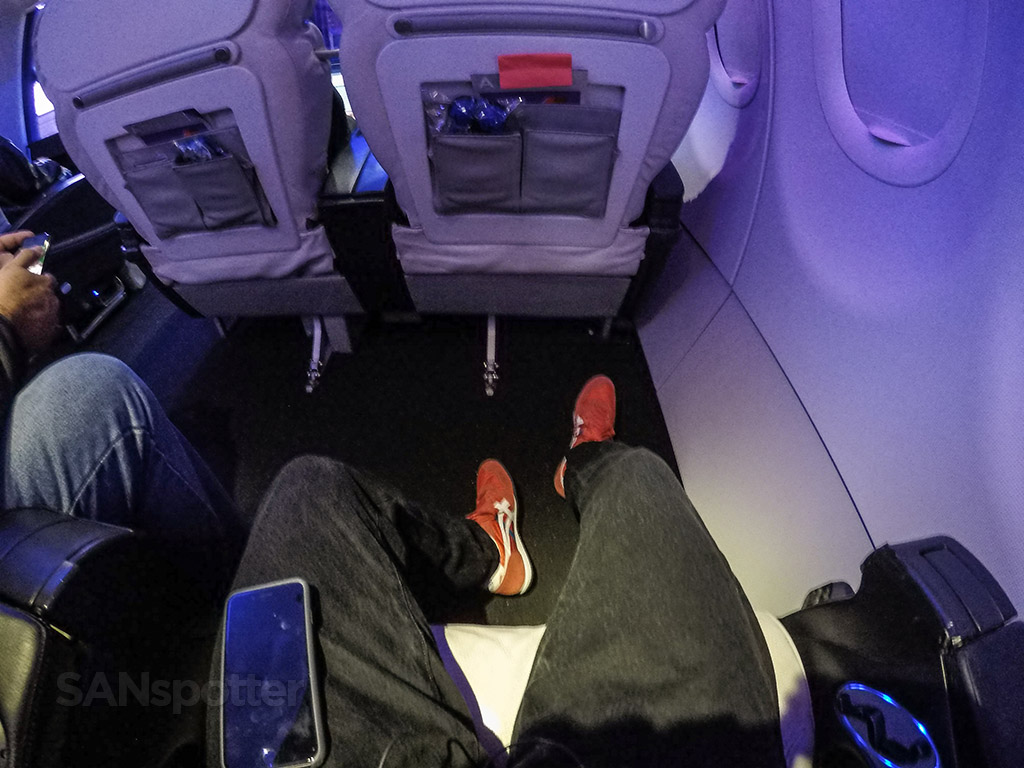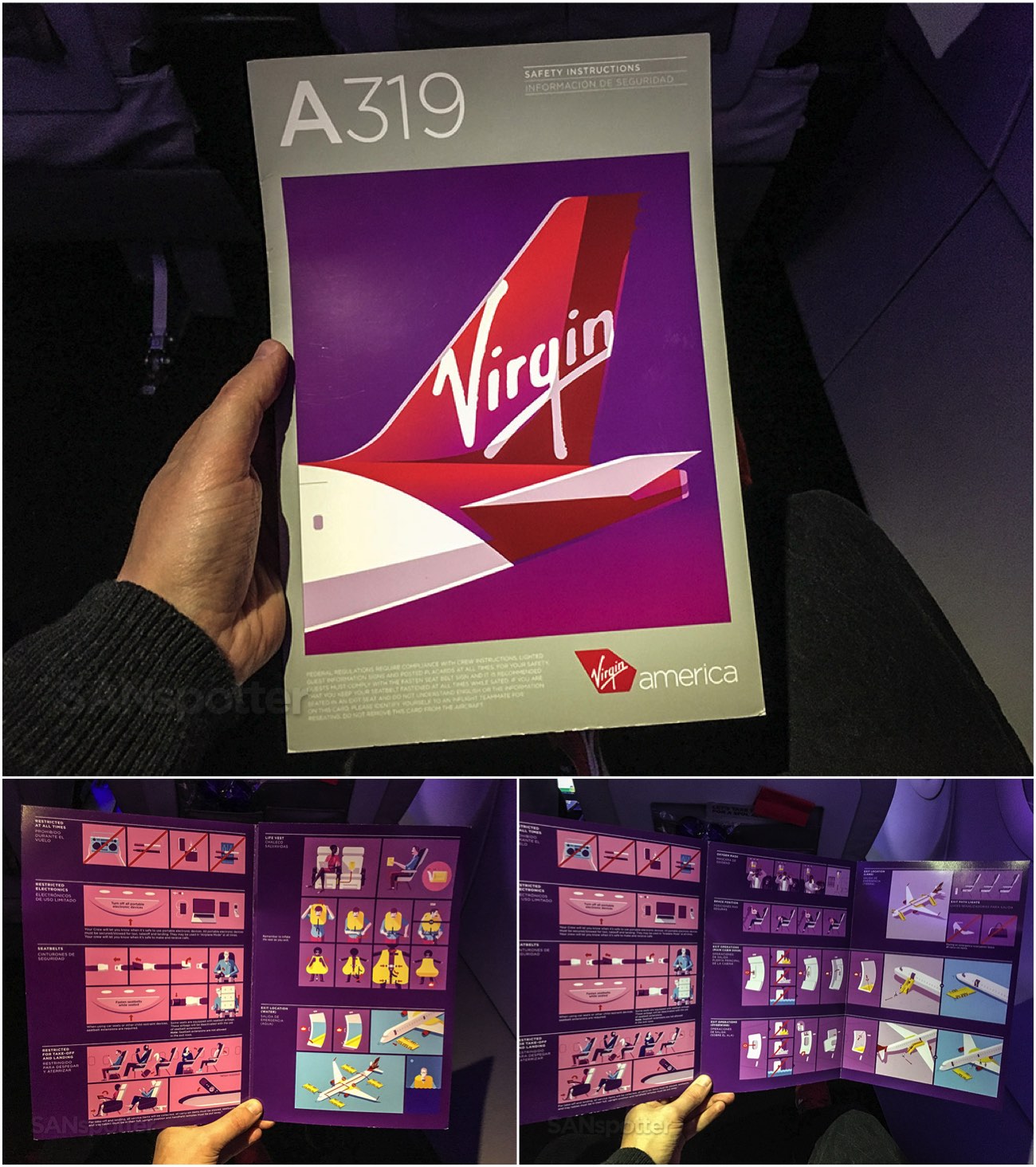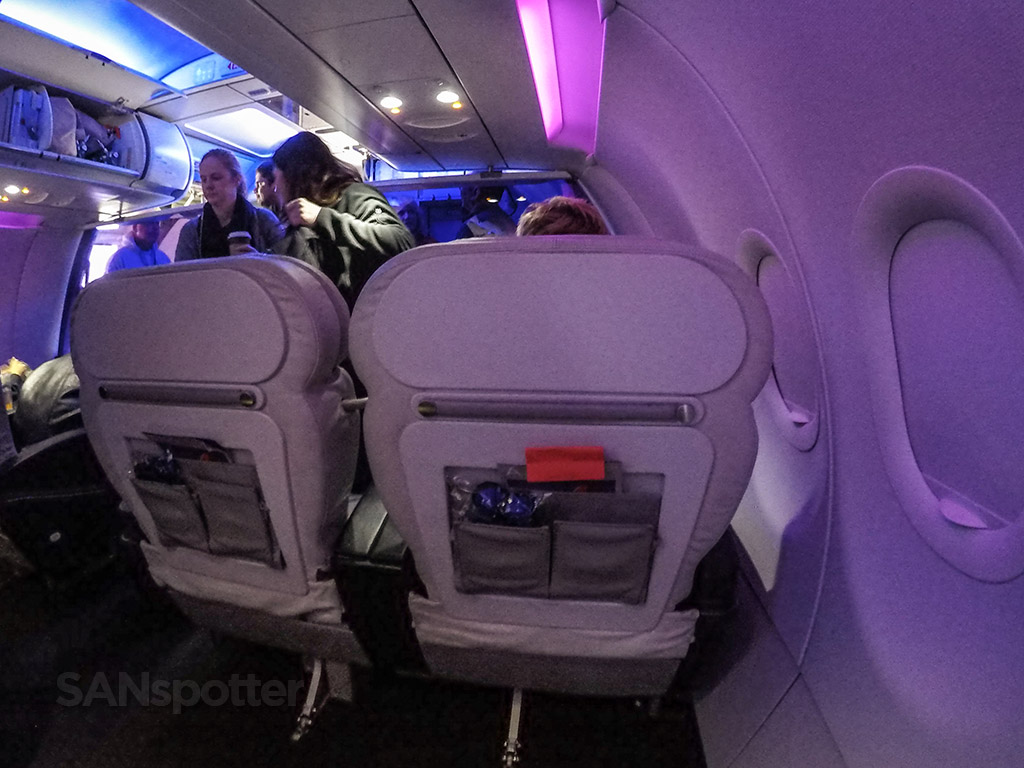 First class was completely full today, and we pushed off gate right on time. Being on time was critically important, as I only had about an hour connection time at SFO. Even though American Airlines shares the same terminal as Virgin America up there, these were two completely separate tickets and there was nothing protecting me if this flight arrived late.
If I missed that American Airlines flight down to Phoenix today, things could've got messy. Anyone who flies to San Francisco on a regular basis knows how much of a gamble this really was, because Bay Area fog is no joke and it cripples SFO at times causing massive delays.
It was yet another beautiful departure out of San Diego International Airport today, and it ended up being a fairly smooth ride for most of the way up. The service began within 10 minutes of departure with the flight attendant coming around with a snack basket full of goodies and a lot of encouragement to grab all we wanted.
I stayed conservative with only one bag of veggie chips, but one of the guys across the aisle was pounding back those bags of popcorn like they were nothing. The flight attendant was happy to keep slinging them, so everyone was having a good time.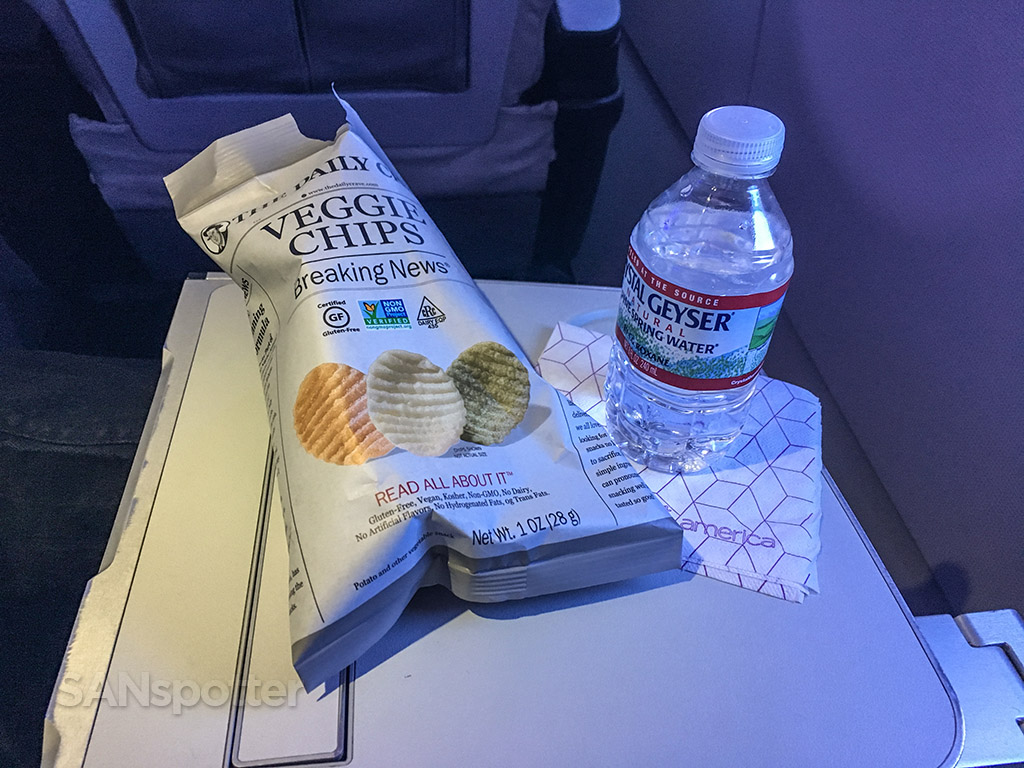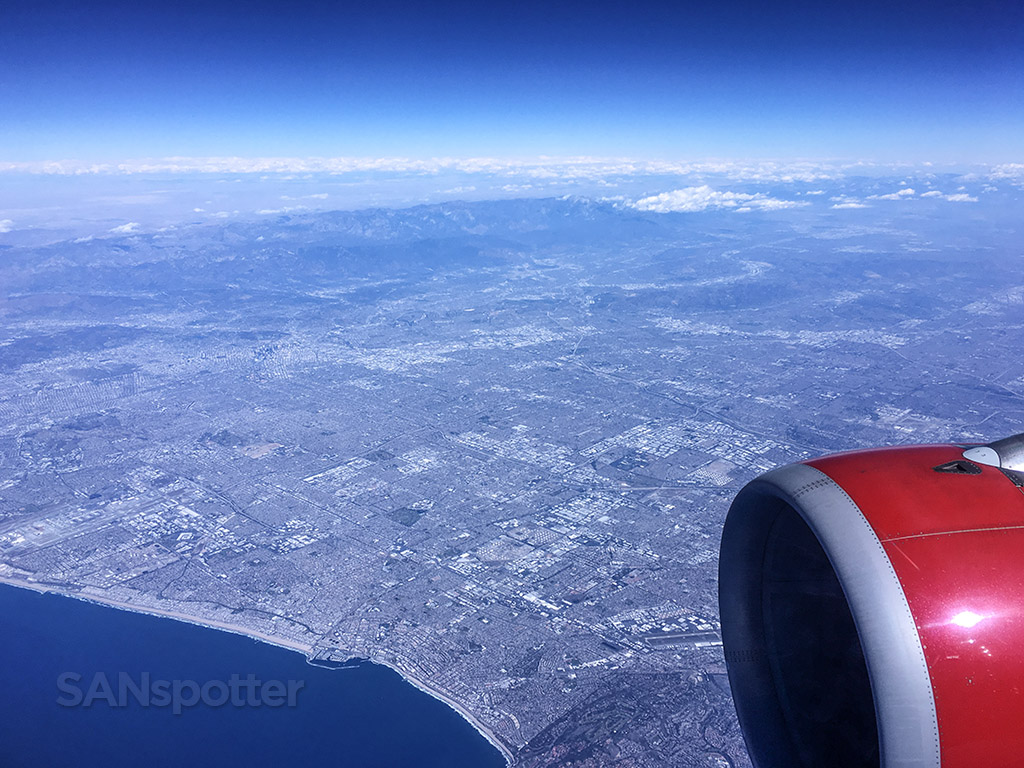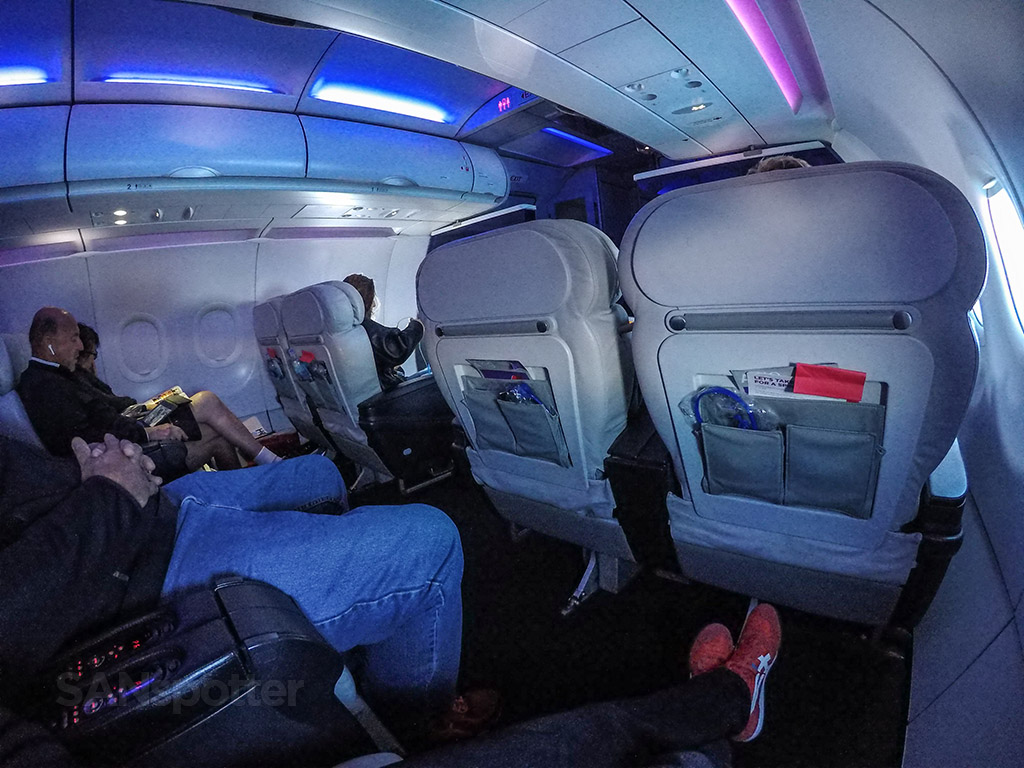 San Diego to San Francisco flights always go by in a blur, and before I knew it we were beginning our approach into what looked like a very clear day up here in Northern California.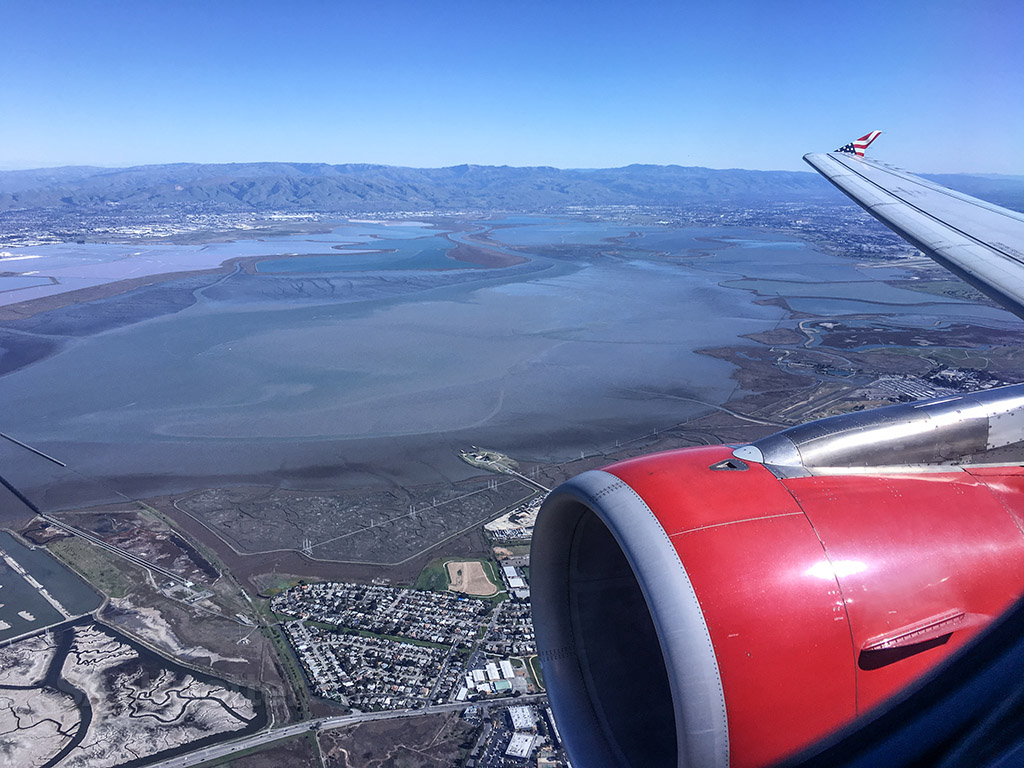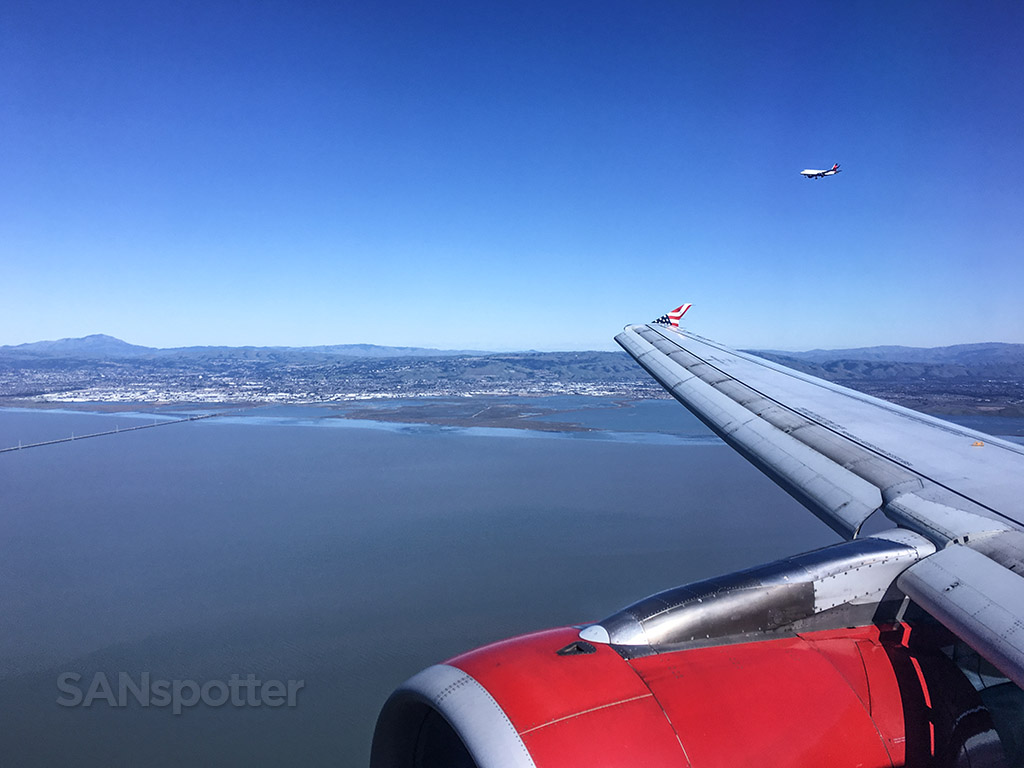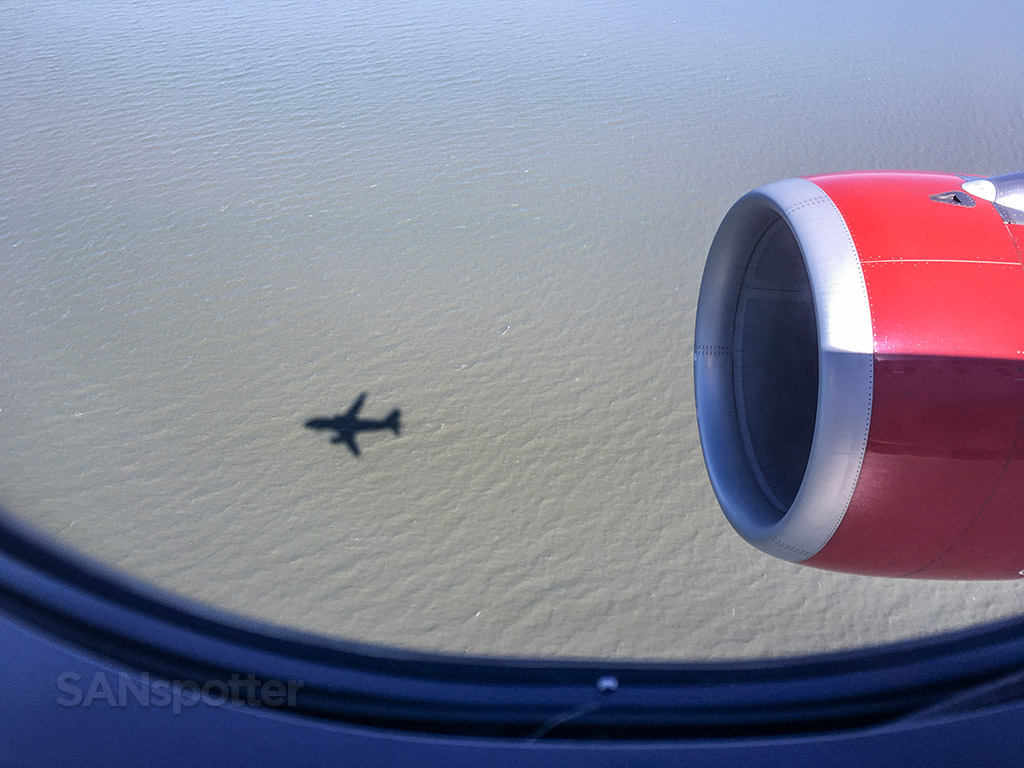 I was thanking my lucky stars as we were coming in over the bay with nary a fog bank in sight, because if we were going to be delayed at this point, it would only be because of a nasty crash. All jokes aside, that's probably what a lot of people were thinking onboard Asiana flight 216 five years ago at this very same moment. It's amazing how things can go wrong so quickly when you least expect it. Always be prepared folks.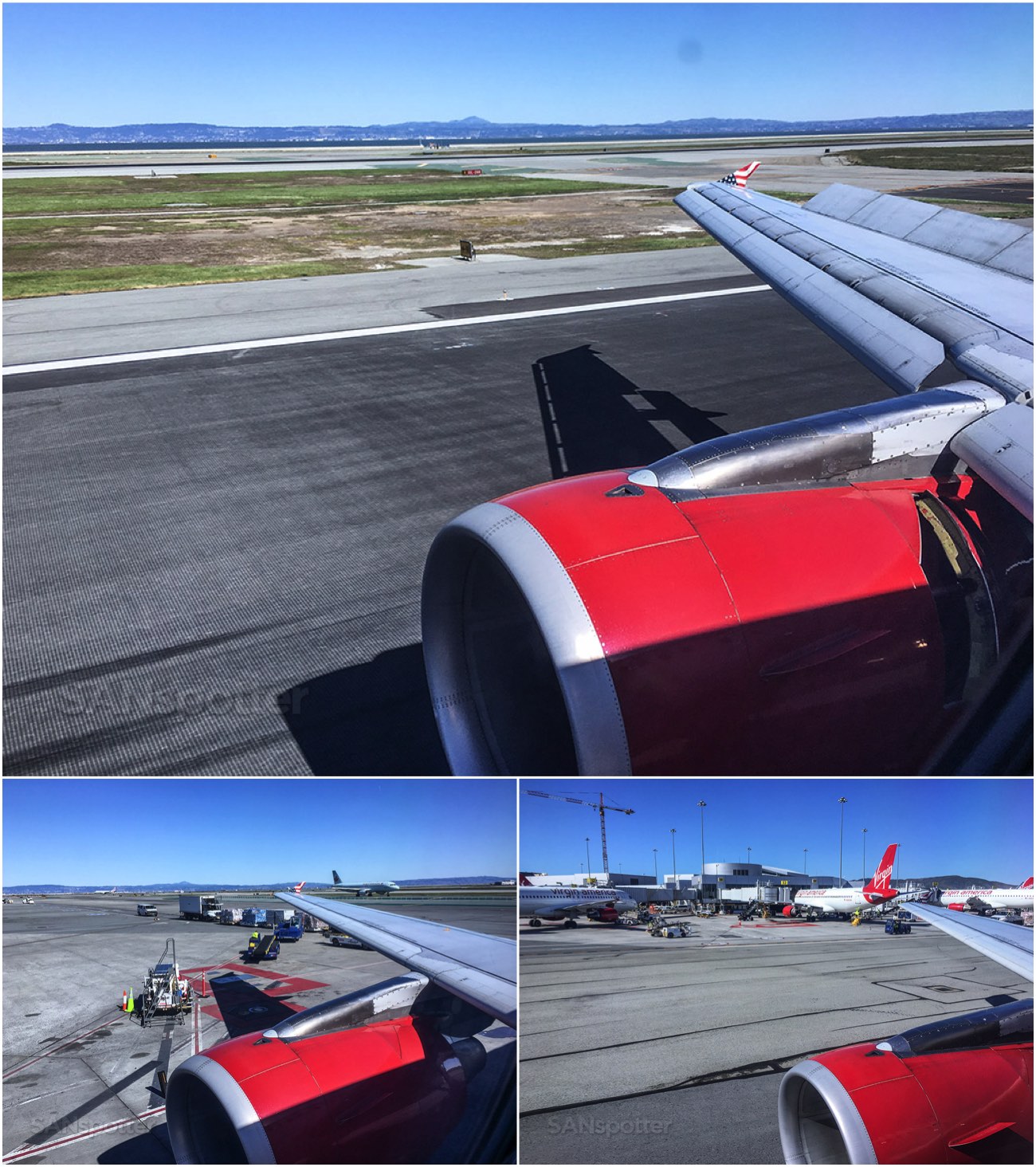 So that was it. I guarantee that was my last ever Virgin America flight, if only because Virgin America will officially no longer exist after April 25th (that's when all VX flights will have AS flight numbers). Sure there will be a lot of airplanes flying around for a while that still that look like this one, but the Virgin America brand is just weeks away from being as dead as a door knob.
I'm not really sure what's been going on in the US airline industry over the last 10 years or so, but all I know is that I don't like it. We need more airlines in this country – not fewer! Competition is what fuels progress and I'm worried that having just a few major airlines here in the US will prevent innovation and give little incentive for great customer service (which is already severely lacking).
Anyone wanna go halfsies on a new airline with me?