Most of you know that I'm already a really big fan of JetBlue. I have found them to be so consistently good that I no longer feel anxious about stepping onboard any of their aircraft for a flight of any length. I just know it's going to be great. This JetBlue A321neo economy experience was no different.
The Airbus A321 has been the backbone of the JetBlue fleet since 2011(ish). However, the Neo ("new engine option") is a huge step up in performance, comfort, and technology. Even in economy class – which I will show you in great detail below.
I paid just $131.60 for a bare-bones economy seat on this flight from Los Angeles to New York, and it was easily one of the best economy class experiences I've had in a good long while. But I already knew it would be.
B6424
Los Angeles, CA (LAX) – New York, NY (JFK)
Thursday, January 20, 2022
Aircraft: A321neo
Registration: N2105J
Duration: 5 hours 26 minutes
Seat: 24A (Main Cabin / Economy)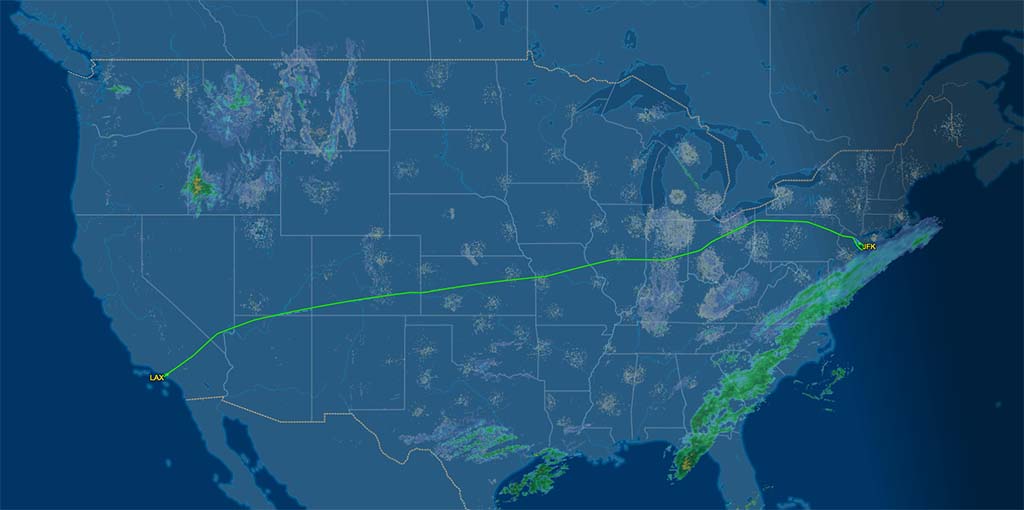 The video
I've said it before, but making video reviews of airline economy class seats isn't easy. It takes a lot of effort to get really good footage of everything, and I'm usually self-conscious about doing what it takes to get that footage on a very full flight (where I feel like everybody is watching me). The good news is that this particular flight was very empty, so I was able to go nuts getting all the video footage I needed for a great review.
Just like all my airline video reviews, the soundtrack for this one came from Epidemic Sound. The title of the first track is "A Much Needed Vacation" by Matt Large, and the title of the second track is "Knowledge is Power" by (you guessed it) Matt Large.
My full review of JetBlue A321neo economy class from Los Angeles to New York
Those of you who have been paying attention know that JetBlue flight number 424 from Los Angeles to New York is one that I'm very familiar with. I flew it back in September 2021 – for the sole purpose of creating a highly-detailed JetBlue Mint Suites review. This time, I'm taking the less-luxurious (and far cheaper) approach and flying in the bowels of economy class.
It's true. The JetBlue ground experience in Terminal 5 at LAX is terrible.
I like JetBlue a lot. I really do. However, one of my biggest criticisms of how they run their operation is that they offer a lousy ground experience at nearly every airport they serve.
They don't offer lounge access to premium customers, and their gates are usually packed into tight corners of busy terminals – next to riffraff airlines such as Spirit and Frontier. That's exactly what the situation is here in Terminal 5 at LAX.
The boarding process for JetBlue flight number 424 to New York / JFK
In the moments leading up to the boarding process for this flight, I was having déjà vu. Like, really bad. 55A was the exact same gate that was used for the last time I took this flight, and everything about it seemed exactly the same.
Except for the part about boarding with the premium group. I had to wait for my economy class zone number be called this time. #economyclasslife
My first impressions of JetBlue A321neo economy seats
This was the first time that I've ever been this deep into a JetBlue A321neo, and I have to say that I was impressed with what I saw. This airplane (N2105J – the exact same one I flew on last time) was still less than a year old, and it smelled just as new as it did several months ago.
The basic economy seats on the JetBlue A321neo look fantastic – and if I can't say that I was feeling any sort of nervousness about being strapped into one of them for the long 5-hour haul to New York.
The departure out of LAX
I was starting to feel like a seasoned JetBlue pro as the plane pushed off the gate. Everything about his experience had been exactly the same as last time I was on this flight (except for the economy class part of course). Suffice to say, I felt pretty good knowing that I knew exactly what was in store for the next 5 hours.
Los Angeles to New York is a grind, and by hour number four, it starts getting a difficult. However, I'm totally prepared this time. Let's do this.
While I don't have any pics of the takeoff from runway 25R, I did record a full video (with footage of the climb out of the LA basin):
What's the in-flight entertainment like in economy class on the JetBlue A321neo?
The last time that I flew JetBlue economy class was in 2017 from Fort Lauderdale to San Diego. Back then, the personal video screens were small and highly reflective (which made them very difficult to see in most lighting conditions). However, I'm very happy to report that JetBlue put a lot of time and effort into the economy class product of their A321neos, and the in-flight entertainment is fantastic.
There are video screens at every seat, and the selection of movies and TV shows is fantastic. Of course, don't forget the live TV – something that JetBlue has always been known for.
Is Wi-Fi really free on JetBlue?
Yes! JetBlue is one of the few airlines in the world offering complementary Wi-Fi to all passengers. Even those in bare-bones economy class like I was today.
The best part is that the Wi-Fi on this particular flight was insanely fast. That may have been because it was such a light load today, but browsing around on social media was fast and snappy. Just the way I like it.
What kind of food do they serve in JetBlue economy on long flights?
You can expect complementary bags of snacks and a free drink on long flights in JetBlue economy. And some routes, like the one I was on today, had a food for purchase option (which came in really handy). I was hungry.
FYI, the menu for the food for purchase option on the A321neo is accessed via the video screen – they don't supply paper menus in the seat back pockets anymore.
How comfortable are JetBlue A321neo economy seats on long flights?
Maybe because it was the fact that I had an entire row to myself on this flight, but I found these economy seats to be extremely comfortable for the entire 5-hour grind to New York. They aren't very well padded, but they do feel decently supportive.
Yes, the armrests are a bit small, but the most important thing was that my back wasn't absolutely killing me at the end of the flight like it normally does on segments of this length.
The descent and landing into JFK
Flying into JFK from the west is always a treat. Especially in the daytime. You'll usually fly directly over top of New York City at a low altitude, and if the weather is nice, the views are spectacular.
It was dark by the time we arrived, but seeing the city all lit up was just as beautiful as it would've been if we would've flown over in the daytime. Here are some pics of the action: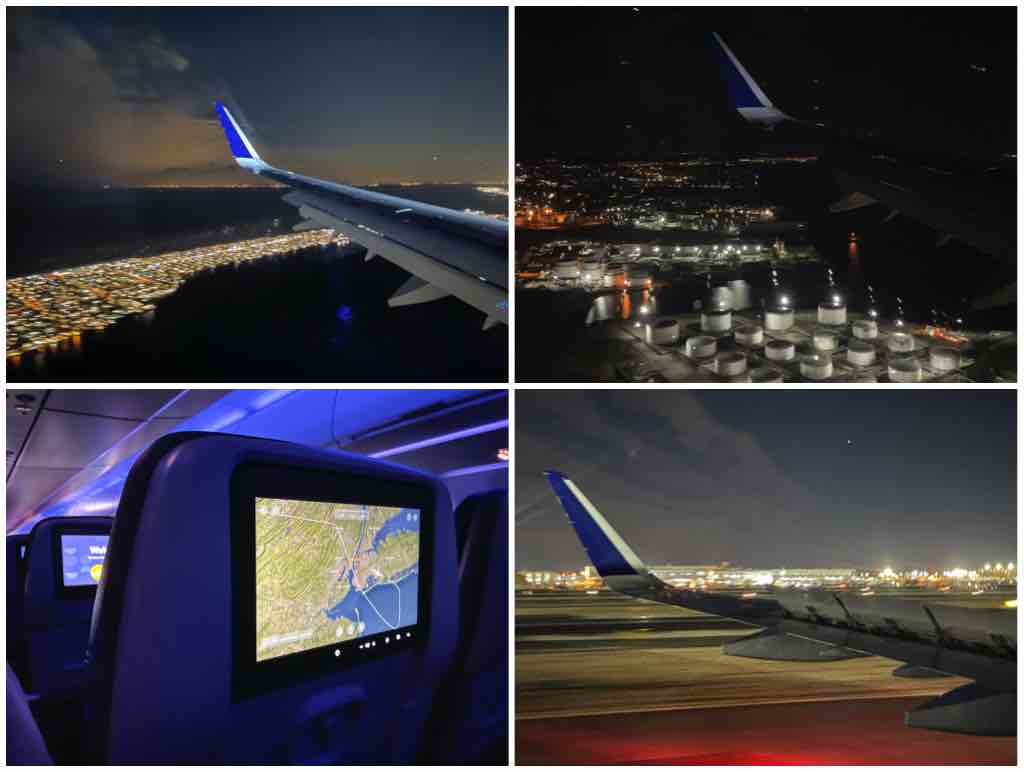 Pros and cons of economy class on the JetBlue A321neo
I'm just going to come right out and say it: JetBlue's latest economy class product (especially on the A321neo) is perhaps the best in the United States. Not only is it stylish (and decently comfortable), it's packed with loads of great amenities. It's not perfect though, and this pros and cons list is a summary of all the things that I liked (and didn't like) about this experience.
Pros
This is completely subjective, I know, but I find JetBlue economy seats on the A321neo to be the best looking economy seats of any US airline.
The snack bar located at the front of the economy class cabin is a brilliant and very welcome idea. It's completely free, and you can just get up and get a drink and a snack anytime you want.
The personal video screens in these economy seats are very large, bright, and extremely responsive. It's exactly like interacting with the newest-generation iPad.
In an era where many other airlines are cutting service, having a food for purchase option is a very welcome thing.
Cons
The economy seats on the JetBlue A320neo are a bit firm. RIP to anyone with a bony butt like me.
In terms of overall comfort, the seats aren't that much better than what the low cost airlines are offering. For more of my thoughts on this, do be sure to read my comparison of Southwest vs JetBlue and Spirit vs JetBlue.
None of the power outlets in my row of seats worked. I had to use my power brick to charge my devices.