Still, after all these years, I consider American Airlines Flagship Business Class to be one of the best ways to fly between New York and San Francisco (and Los Angeles).
Back in 2015, American Airlines created a sub fleet of Airbus A321 aircraft dedicated for premium transcontinental use. These aircraft, designated as the A321T, are equipped with their Flagship First and Business Class seats, which are some of the best in the business (no pun intended).
I recently had the opportunity to fly from JFK to SFO in Flagship Business, and despite my highly annoying habit of choosing the wrong meal choice, it was nothing short of fantastic. Spoiler alert: avoid the "oatmeal" at all costs.
AA179
New York, NY (JFK) – San Francisco, CA
Friday, January 21, 2022
Aircraft: A321T
Registration: N101NN
Duration: 6 hours 16 minutes
Seat: 9F (Flagship Business Class)

The video
For anyone who isn't familiar with Flagship Business Class on the American Airlines A321T, it may not be all that tempting to click on a video review about it. I mean, how good could American airlines business class possibly be?
Long story short, this was such an excellent flight that I ended up recording too much footage (and most of it went unused). I felt like I just had to record everything, but in the end, I did my best to whittle it down into something fun, informative, and digestible: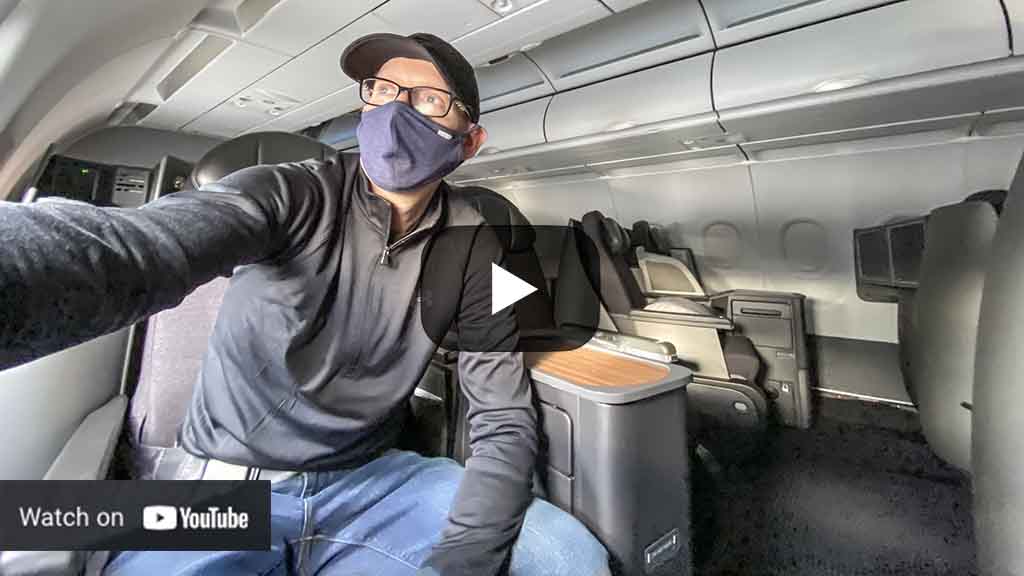 My full review of American Airlines A321T Flagship Business Class from New York to San Francisco
If you're an OG subscriber to the SANspotter blog, you already know that this wasn't my first time on an American Airlines A321T. I actually got to try out Flagship First Class way back in 2015 (shortly after it was unveiled) on a transcontinental flight from LAX to JFK.
This time, I'm doing it in business class on a flight from JFK to SFO. However, this isn't regular business class. This is Flagship Business Class, which means having complementary lounge access, gourmet food in-flight, and a semi-private lie flat seat. It's a pretty nice way to travel actually.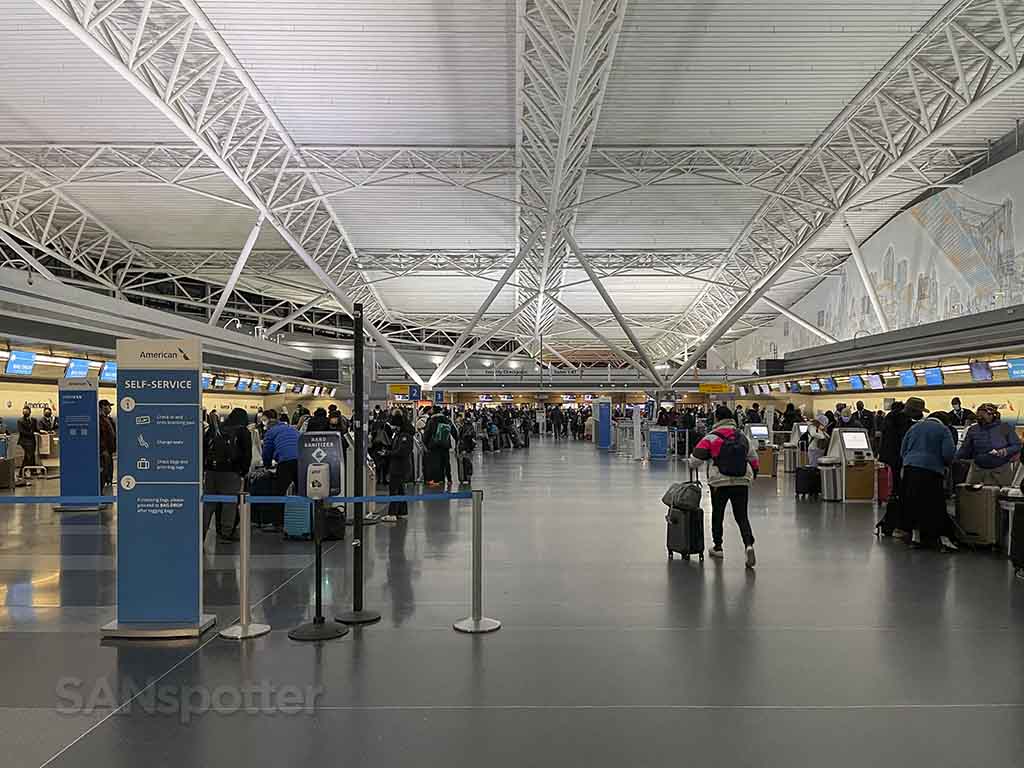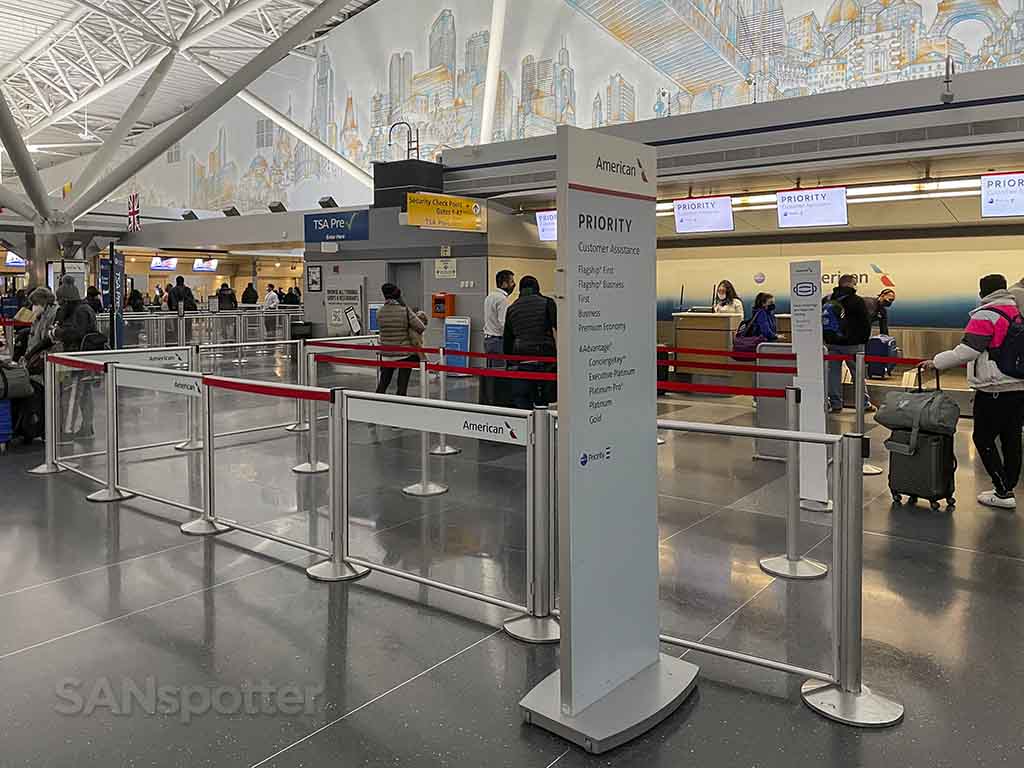 Do you get lounge access with American Airlines Flagship Business Class?
Absolutely! All American Airlines Flagship Business Class passengers traveling between New York and San Francisco (or Los Angeles) have complementary access to the JFK Flagship Lounge.
Here in JFK, the Flagship Lounge is located near the security checkpoint at Terminal 8. It's an absolutely fantastic place to hang out before a flight, and if you want more details, I highly recommend reading my full review of it.
What terminal does American Airlines premium transcontinental flights use at JFK?
All American Airlines flights out of JFK depart and arrive at terminal 8. There are no dedicated gates for the premium transcontinental flights on the A321T, so do be sure to check the flight information displays around the terminal to find out where your flight will be departing from.
It should also be noted that minimum connection times at JFK are low if you're coming in one one American Airlines flight and going out on another. You could probably swing a 30-minute connection if you didn't care about lounge access (or having to pee).
The boarding process for flight number 179 to San Francisco
My flight San Francisco this morning was departing out of gate 46, which was directly across from the gate where I got to fly Cathay Pacific 777-300ER business class from New York to Vancouver in 2019.
It was a very chill and relaxing vibe in the gate area when they initially called for the boarding process to begin. With just a handful of people standing around waiting to get on board, it was pretty obvious that this was going to be an extremely empty flight this morning.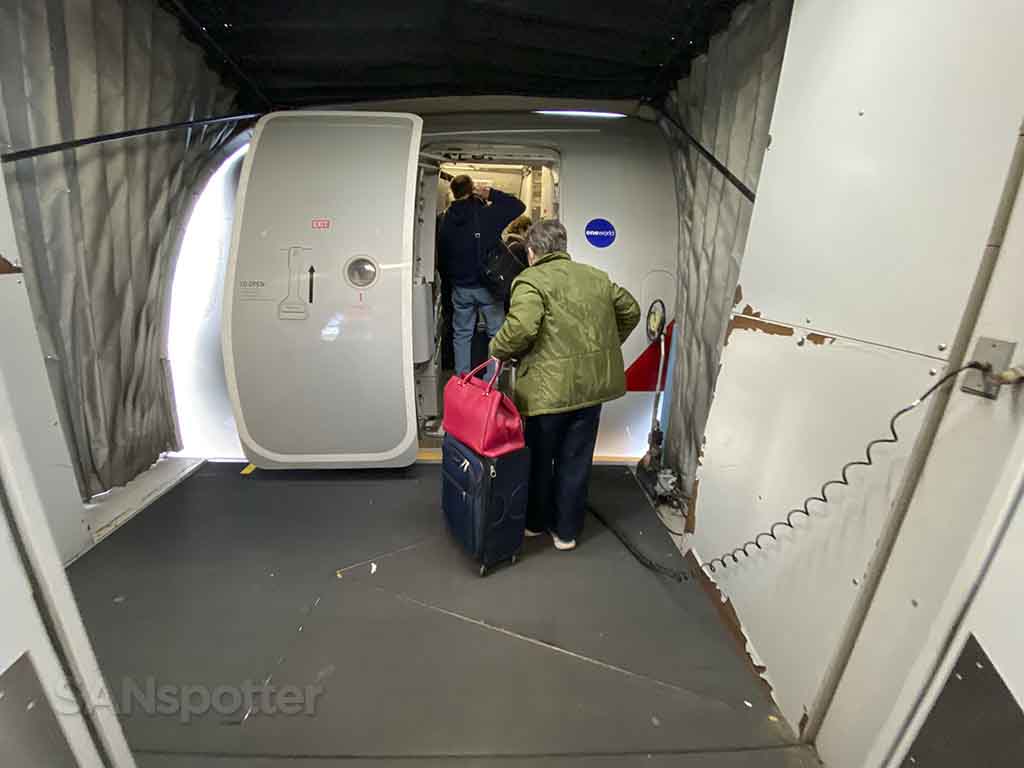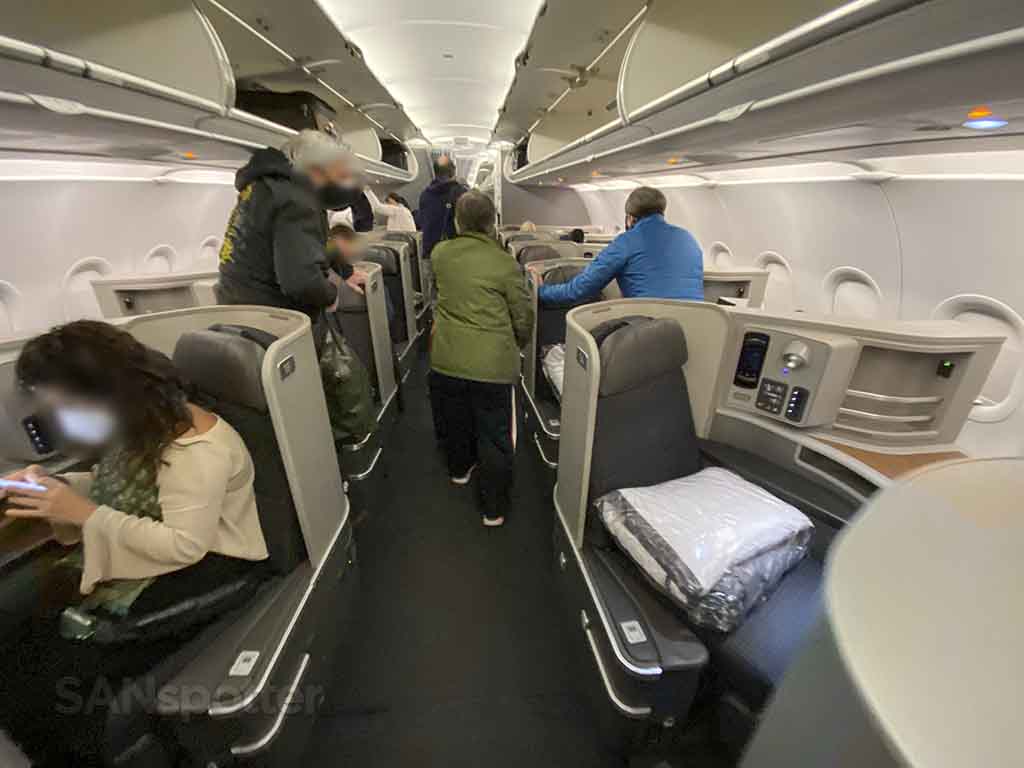 My first impressions of the American Airlines A321T Flagship Business Class seats
Having already tried the Flagship First class product on this aircraft many years ago, I never felt tempted to try out business class. Not that I thought it was bad or anything, but I just didn't think it would be able to compare to competitors products such as Delta One on the 767-400 or the JetBlue Mint Suites.
Once I made my way through the first class cabin and got my first look at Flagship Business, the very first thing that I noticed was the obscene amount of legroom. It actually reminded me a lot of the old Global First seats on the United 747-400.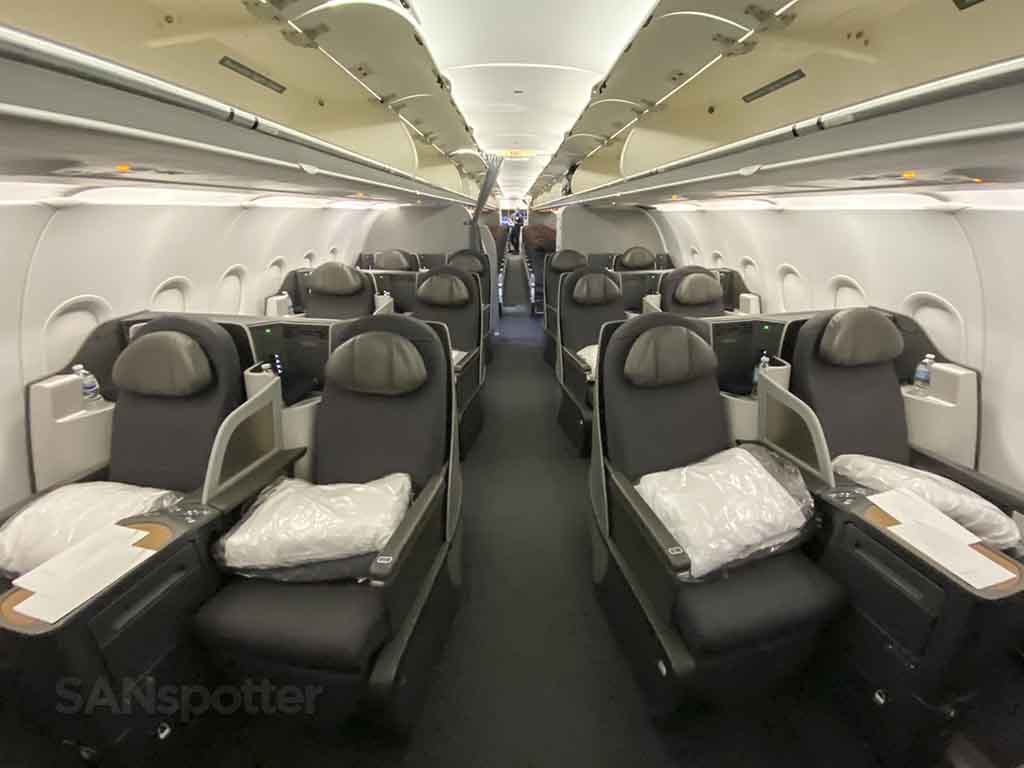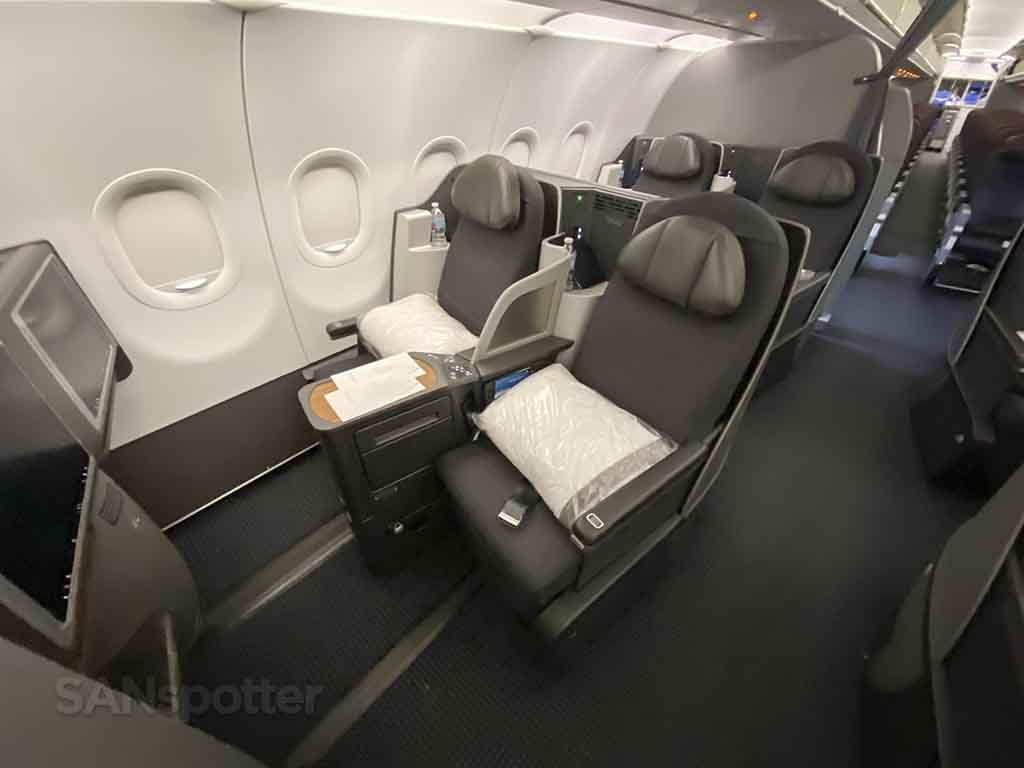 Is American Airlines Flagship Business Class better than domestic first class?
Yes, the Flagship business class seats on the A321T are far superior to domestic first class seats on any other American Airlines aircraft.
Unlike American Airlines domestic first class, Flagship Business Class seats are extremely spacious and are capable of lying fully flat. Not only that, you'll be given a fluffy pillow and a thick blanket to keep you warm. And as you will soon see, the food is of much higher quality than it is in domestic first class.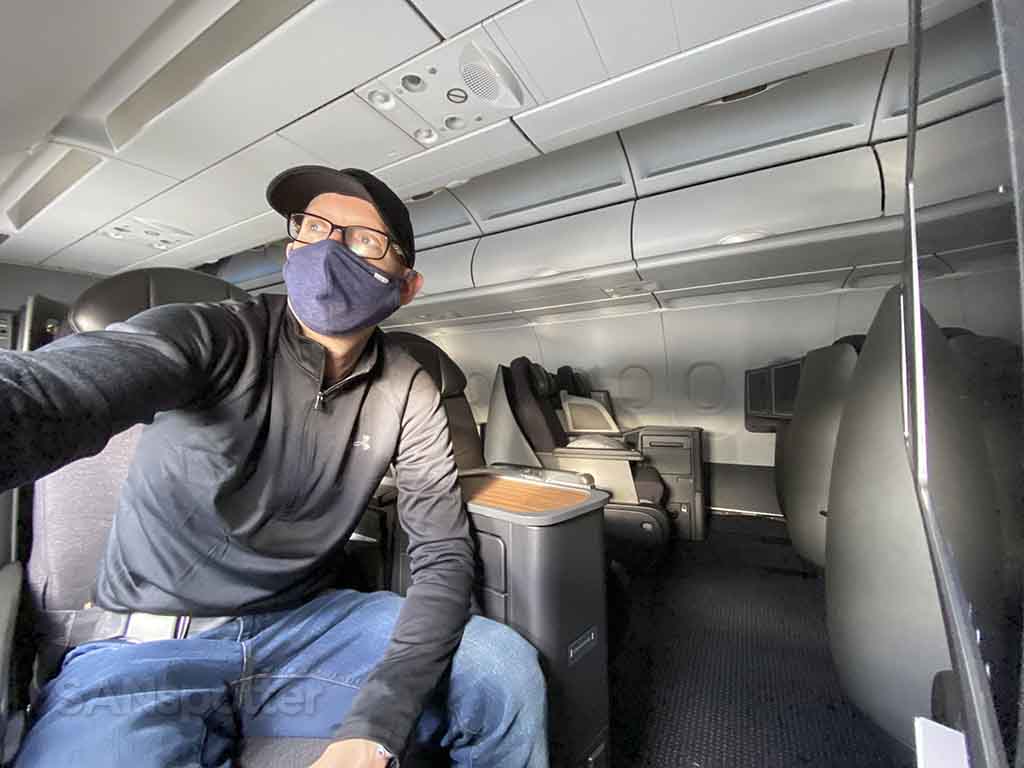 Do they provide amenity kits?
Yes, you will get an amenity kit in American Airlines Flagship Business Class. It's not as nice as the one you'll get up in Flagship First, but I appreciate the fact that they do it at all. They certainly don't have to.
Anyway, these amenity kits were located at every seat upon boarding (next to a full bottle of water). Here are some pics showing the contents: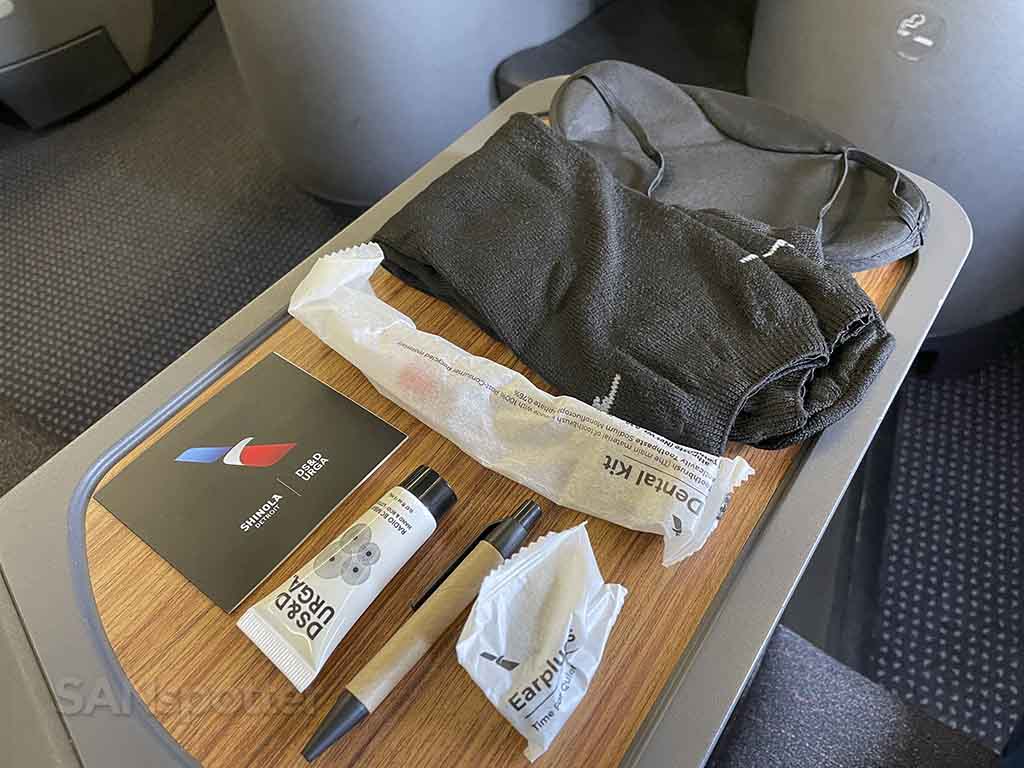 The departure out of JFK
Taking off from JFK can either be really exciting really boring. It all depends on what runway is in use. This morning, they were launching departures off of runway 4L – which isn't bad if you're seated on the right hand side of the aircraft (since you'll get a nice view of the terminals during the climb).
However, since I was seated on the left-hand side of the aircraft, all I got was views of pretty much nothing. It was still a beautiful morning for flying though.
What is video entertainment like in American Airlines transcontinental business class?
It had been so long since I had last been on an A321T that I completely forgot what the video entertainment was like. For what it's worth, the American Airlines video entertainment software is typically good if you're accessing it via a large and responsive screen.
Thankfully, the video screens here in Flagship transcontinental business class are both large and responsive, and it didn't take long to find something really good (and admittedly mindless) to watch.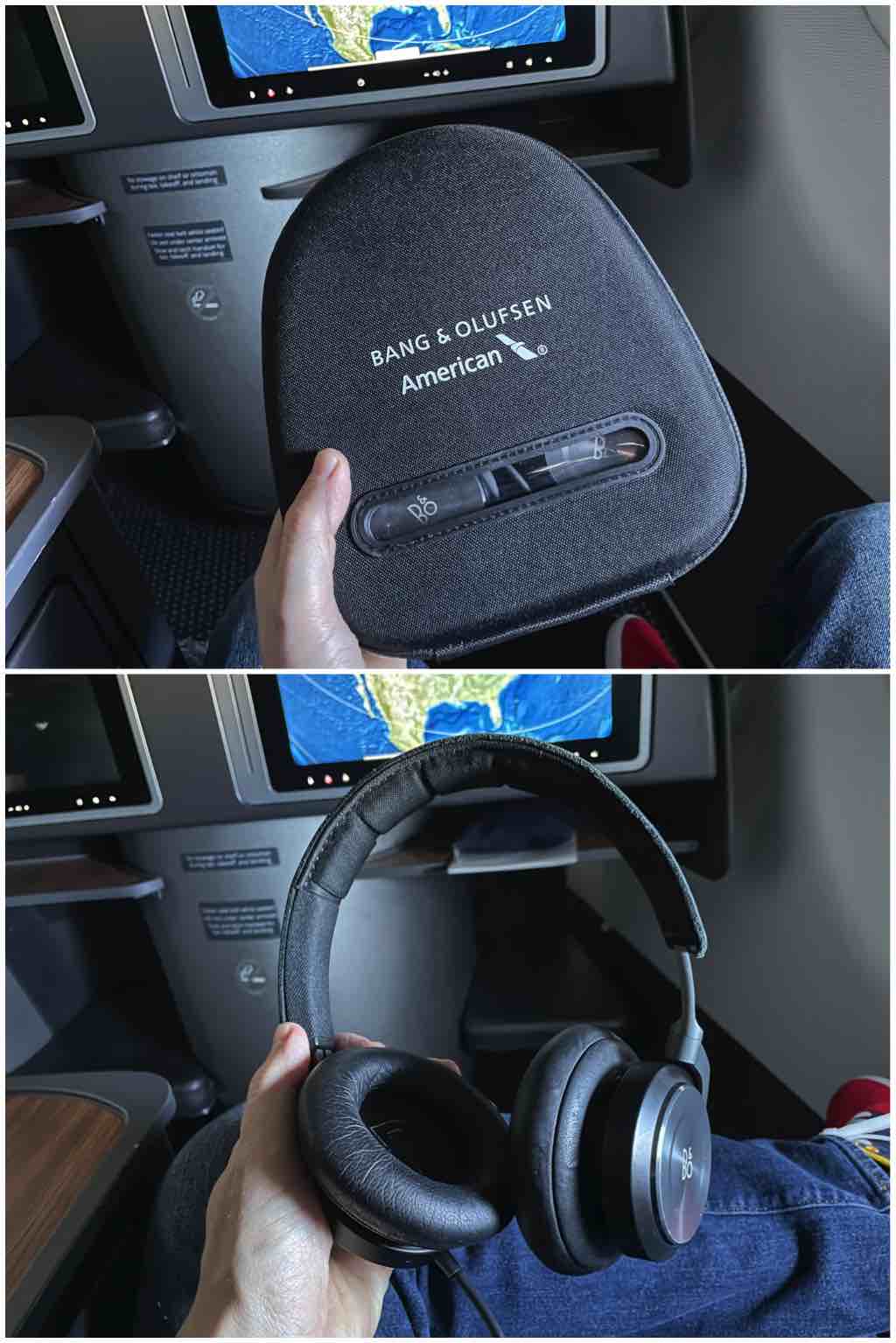 How good is the food in Flagship Business Class?
If there's one thing a American Airlines does right on these premium transcontinental routes, it's the food. The cabin crew handed out full menus while on the ground back at JFK, which was nice, but I pre-selected my meal on the American Airlines website when I booked the ticket.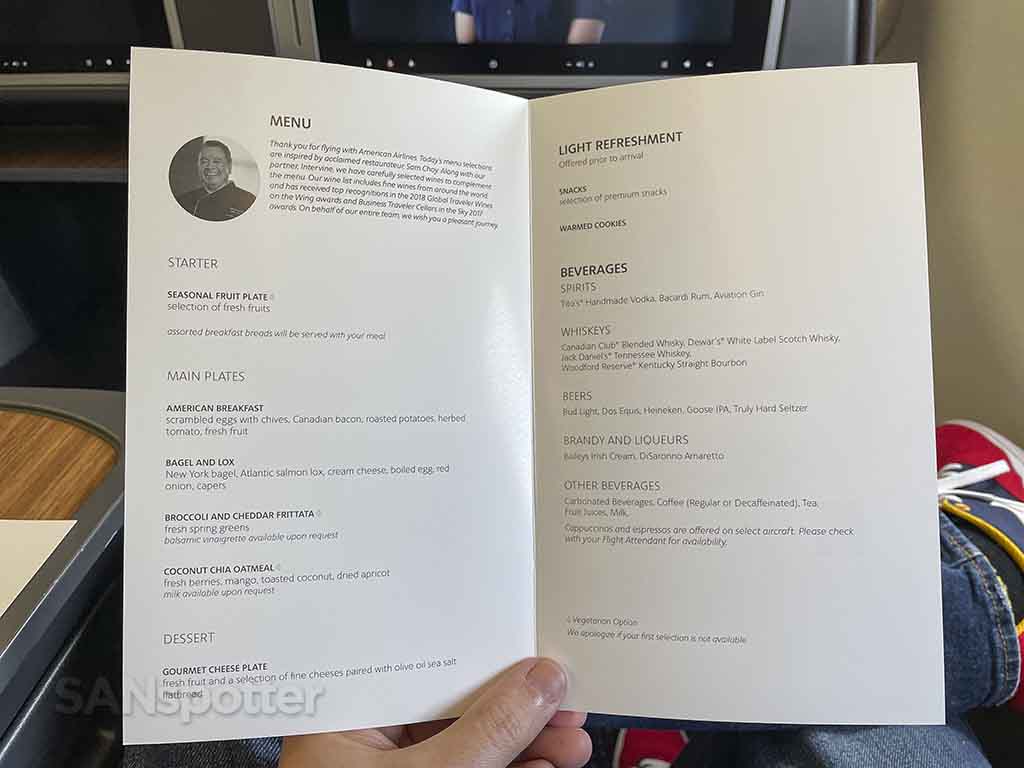 The breakfast options on today's flight looked really great. However, I decided to be a responsible adult this morning by going with the oatmeal. Turns out it was a bad choice, since it was slathered in a syrupy sugar "goop" which pretty much negated any health benefits and I was hoping to achieve.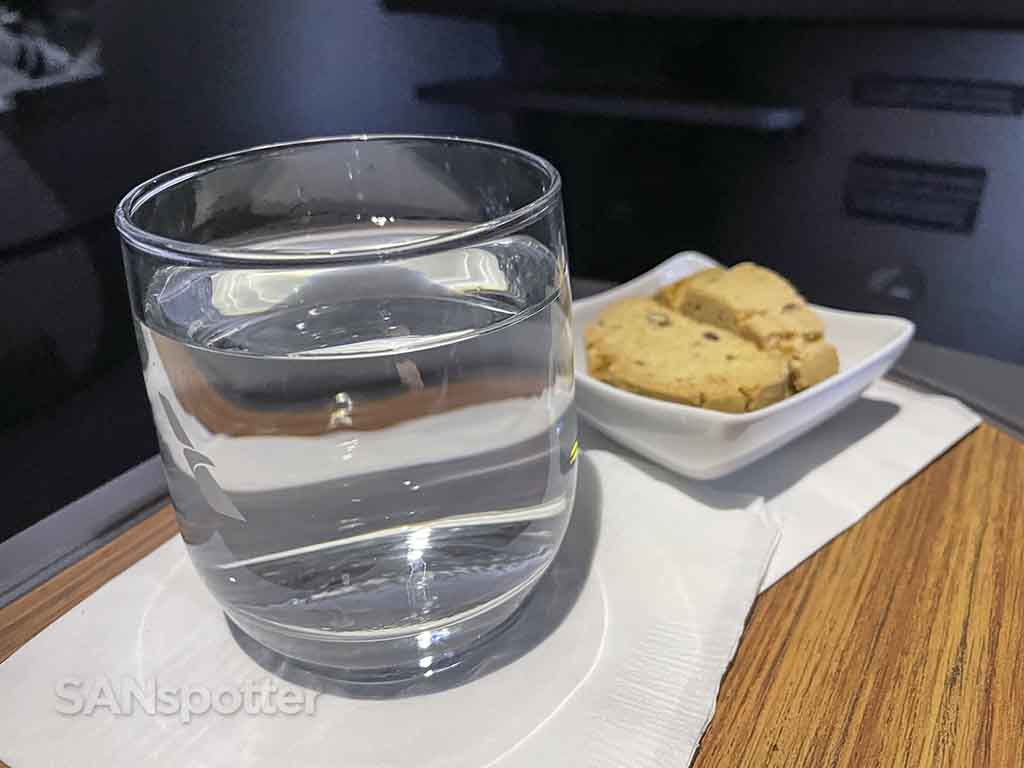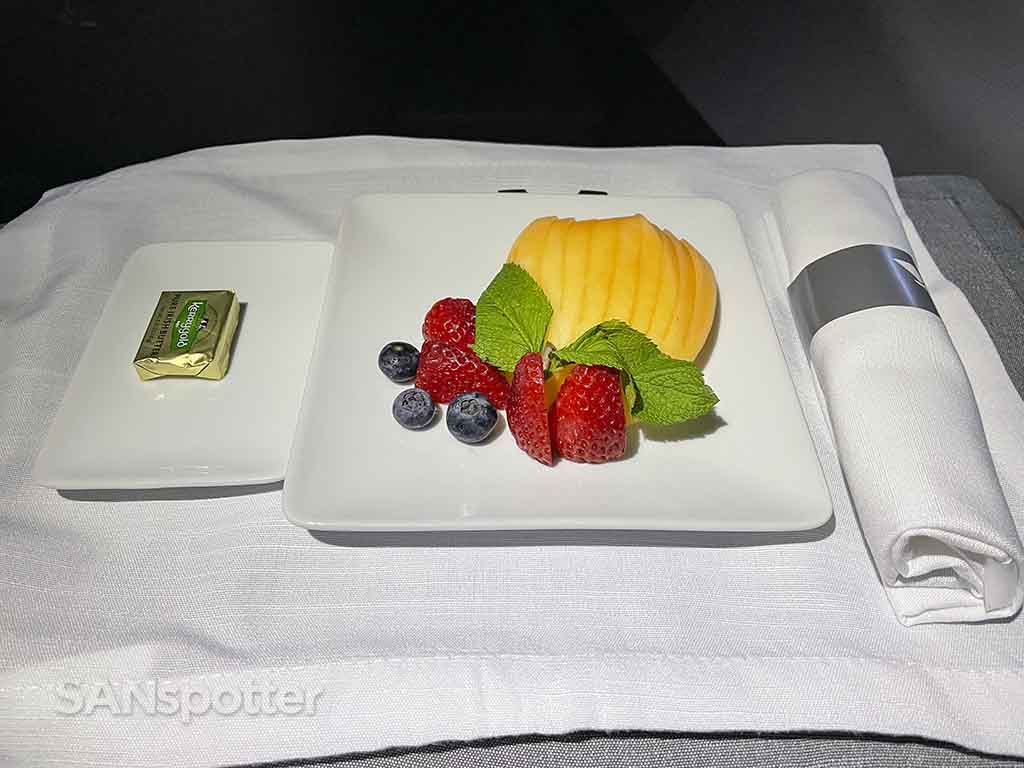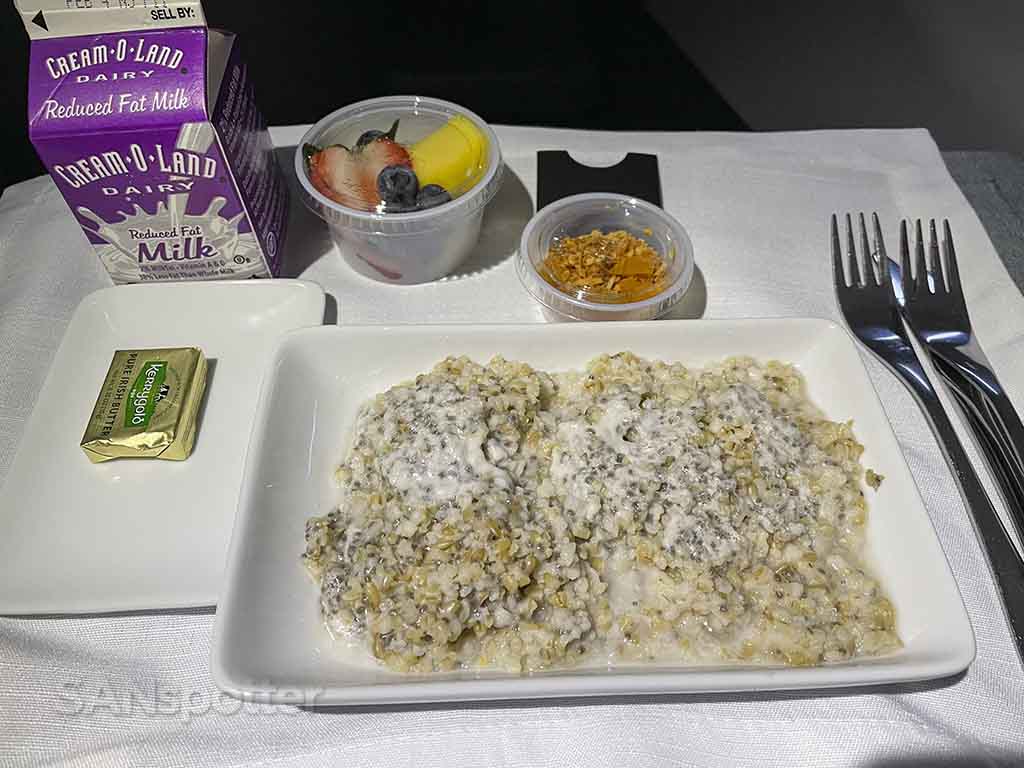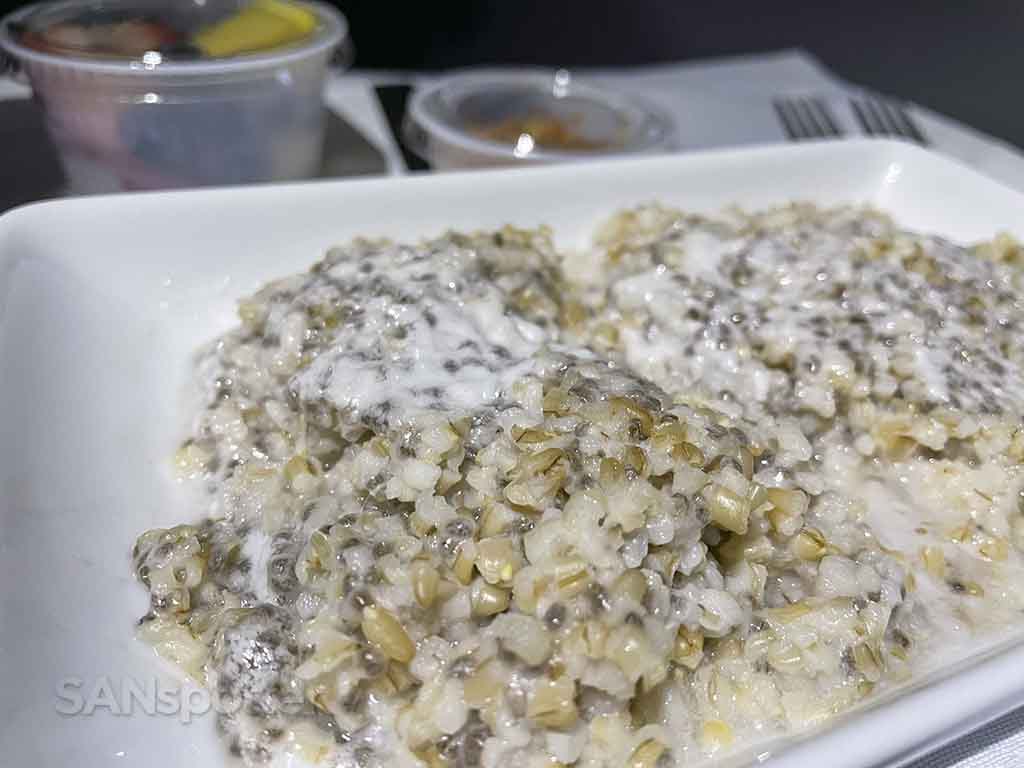 How private are the transcontinental business class seats?
My biggest gripe about business class on the A321T is the way the seats are staggered. The aisle seat is positioned slightly behind the window seat, which means the person sitting in the aisle can overlook the shoulder of the person seated at the window. If you hate the feeling of being watched all the time, you may not be comfortable in a window seat on these aircraft.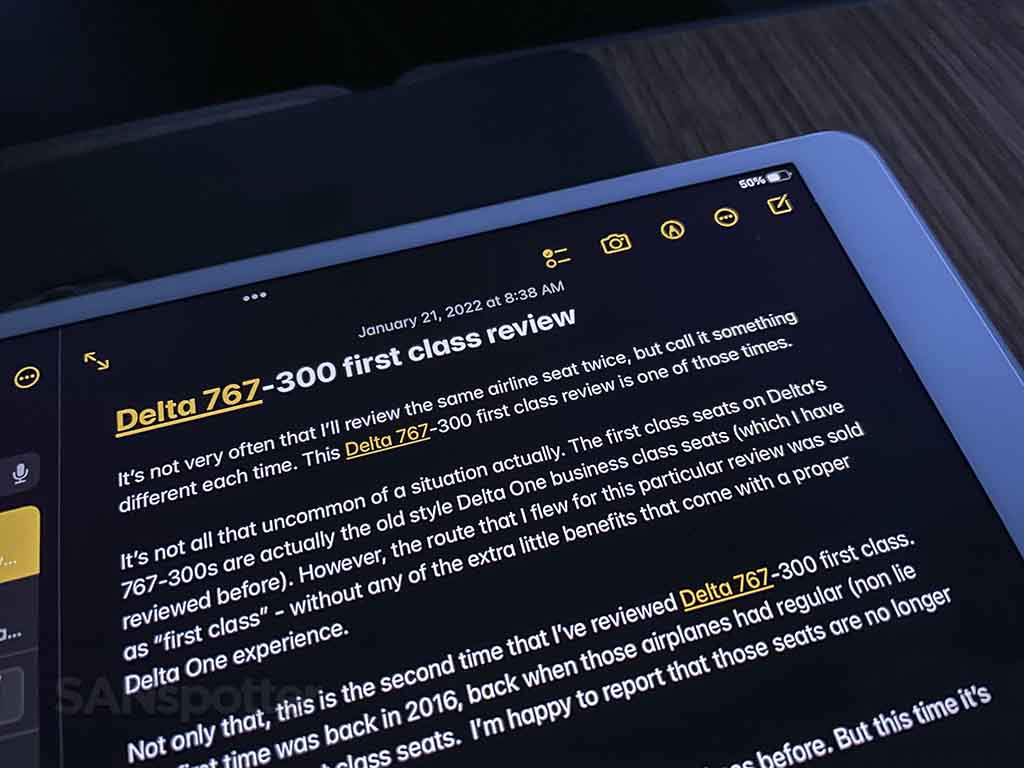 That said, having staggered seats means that you won't be sitting directly beside your seat mate. For those that don't like to engage in mindless chitchat with complete strangers, this is a godsend.
Are the Flagship Business seats comfortable for sleeping?
You bet they are. While I don't find the Flagship Business Class seats on the A321T to be as comfortable as the ones found in American Airlines 787-9 business class, they are decently comfortable.
The fact that I slept like a baby across the entire western half of the country says everything you need to know about how good these seats are. Especially combined with the blankets and pillows they provide. They were so thick that it almost became too warm at one point. Otherwise, it was extremely comfortable.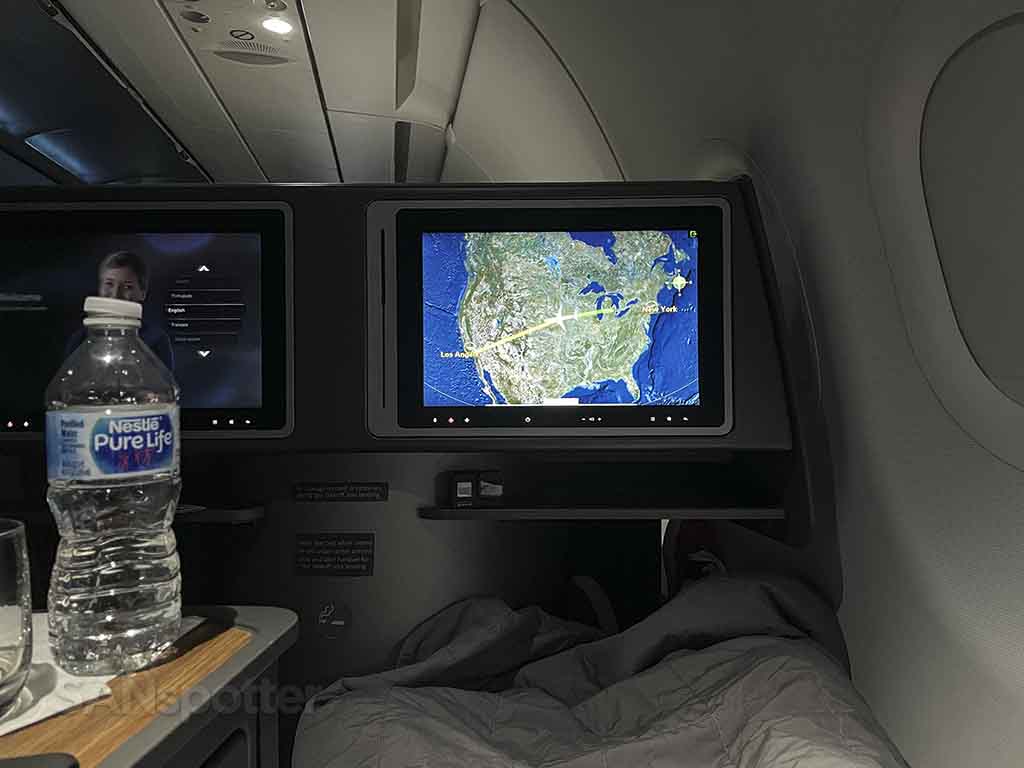 Final thoughts about the American Airlines transcontinental Flagship Business Class product
As this flight comes to an end, it's important to let you know that this is absolutely a business class seat that you should seek out if you can find a decent price for it. No, it's not the perfect business class experience. Hack, I'd even prefer the old JetBlue mint seat over this – if only for the added privacy and better food.
Still, I'm very glad that I had a chance to experience this. It was a lot better than I expected it would be, and I was thinking pretty good thoughts as the in flight service came to an end and we began the descent into San Francisco.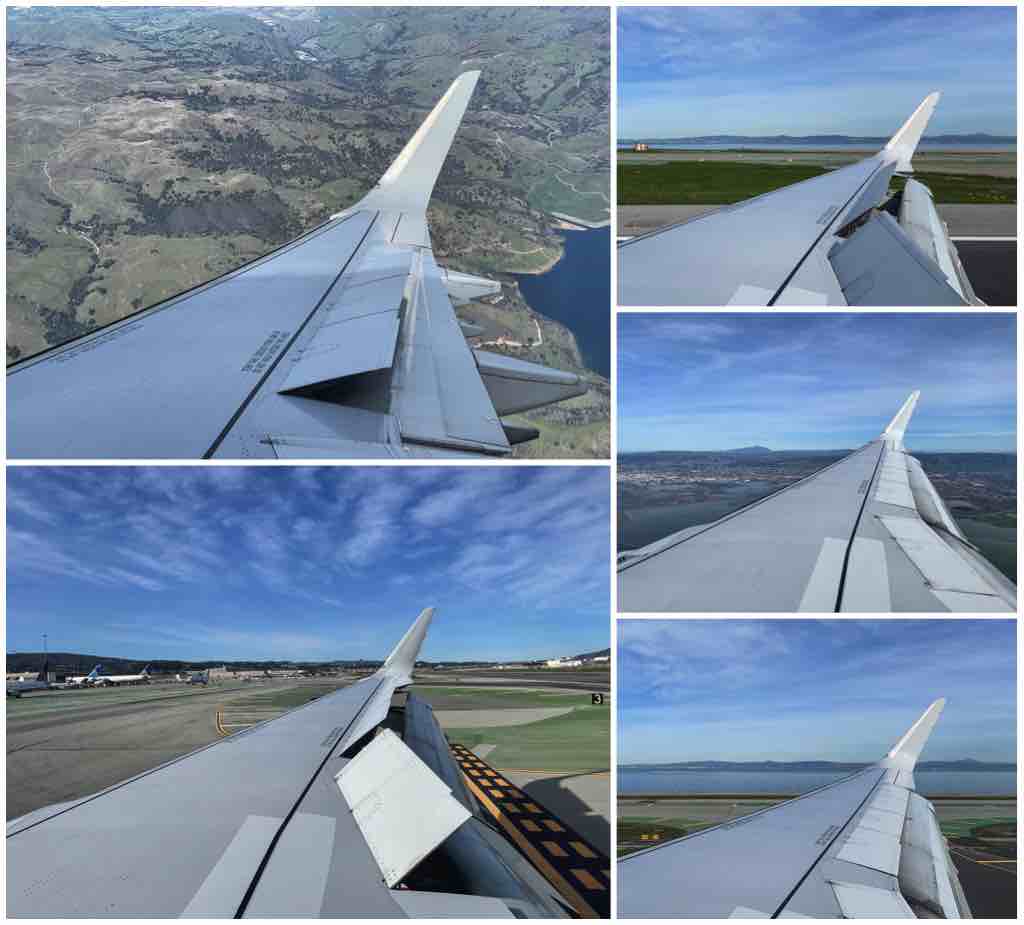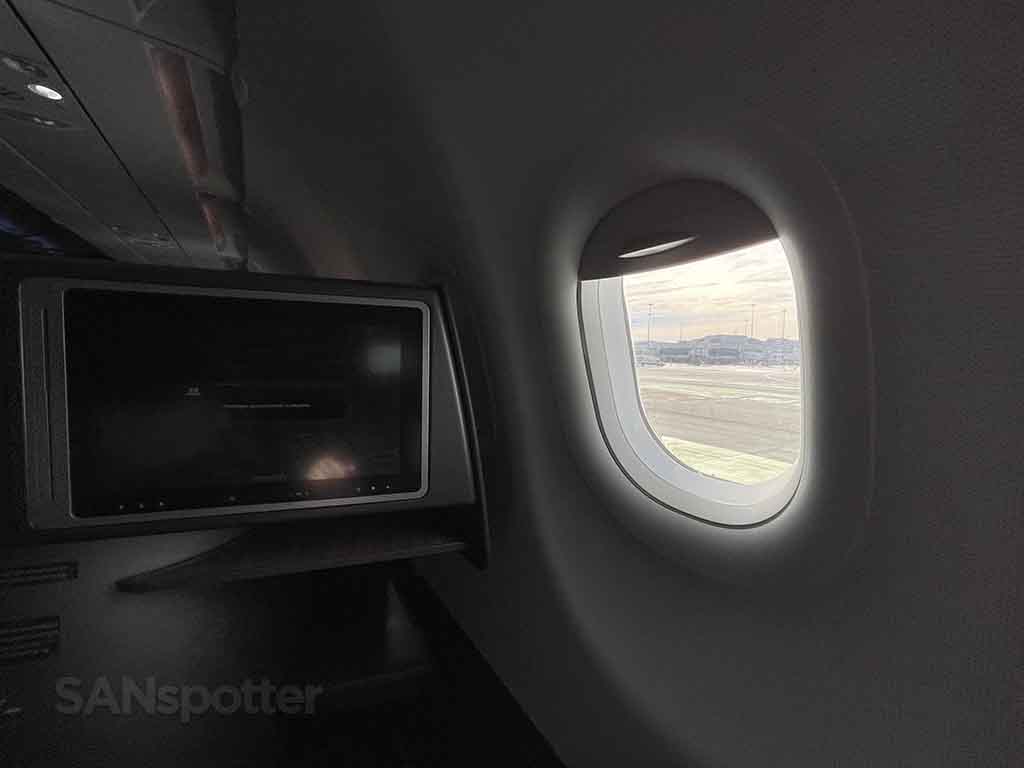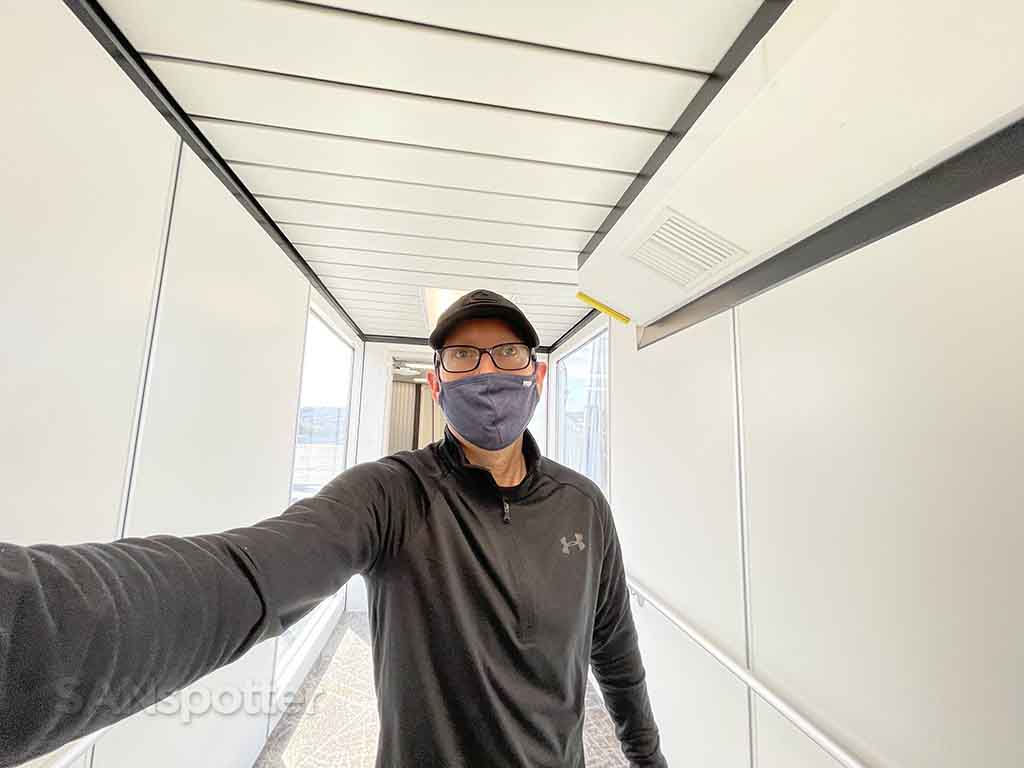 Pros and cons of American Airlines A321T Flagship Business Class
My ultimate summary of this business class experience is this: it's a fantastically comfortable and luxurious way to fly across the country as long as you can get a decent price for it.
I paid $636 for this one-way ticket from JFK to SFO, which is about what I would expect to pay for a product such as this. And if I'm being honest, I'm not sure that I'd feel comfortable paying anything more. This pros and cons list will explain why:
Pros
Most importantly, these A321T's are the nicest A321's in the fleet (by a long shot). Don't believe me? Check out my review of American Airlines A321neo first class, and you'll see that it's a completely different experience.
Having complementary access to the American Airlines Flagship Lounge is a killer benefit. The Flagship lounges are absolutely fantastic.
The leg room in these business class seats is phenomenal – even by international business class standards.
If you're in the window seat and you feel like you need to get out and use the lavatory, don't worry: it's easy to step over the legs of your reclining seatmate.
The quality of the food is what you would expect for a premium business class experience. Meals are served in courses, with tablecloths and actual "fancy pants" dish ware.
The blankets and pillows they provide are some of the best that I've ever experienced on an airplane.
Cons
I'm really not a fan of the way the seats are staggered. Yes, I appreciate being separated from my seat mate, but if you're in the window seat, chances are pretty good that you'll feel like the person in the aisle seat is looking over your shoulder the entire time. Because they are.
The cabin crew on my flight seemed to completely disappear after the meal service. I didn't see them coming through the cabin very often refilling drinks for the second half of the flight.