Finally! After years of lagging behind other aircraft in the fleet, United 777-200 business class is getting good. I recently had the opportunity to try the new Polaris configuration on a 777-200 from Honolulu to San Francisco, and it was just as comfortable as any other recent United Polaris experience that I've had.
The only issue that I had with this particular flight was that it was slightly inconsistent with my other recent United business class experiences. Thankfully, those inconsistencies skewed towards being better than worse.
They gave us real blankets and pillows, noise canceling headphones, and a cabin crew that actually gave a damn. Thinking back on it, I guess that's what they gotta do to get a plane full of depressed people leaving Hawaii to cooperate…
UA372
Honolulu, HI (HNL) – San Francisco, CA (SFO)
Thursday, March 24, 2022
Aircraft: 777-224/ER
Registration: N78004
Duration: 4 hours 42 minutes
Seat: 11A (Polaris / Business Class)
My full review of United 777-200 business class from Honolulu to San Francisco
It's never a good feeling to have to leave Hawaii. It's even worse when you have to wake up at 4am to do it. My flight to San Francisco would be departing the Daniel K. Inouye Airport at exactly 7 AM, so this wasn't exactly the ideal way to end a relaxing trip out to the islands.
My arrival at the airport
Come to find out, getting to the Honolulu Airport at 5 AM is a lot easier than it sounds. Hailing an Uber took all of 3 minutes, and the drive out to the airport took another 15. I completely underestimated how difficult it would be to get here this morning, so once again, I was the first to arrive.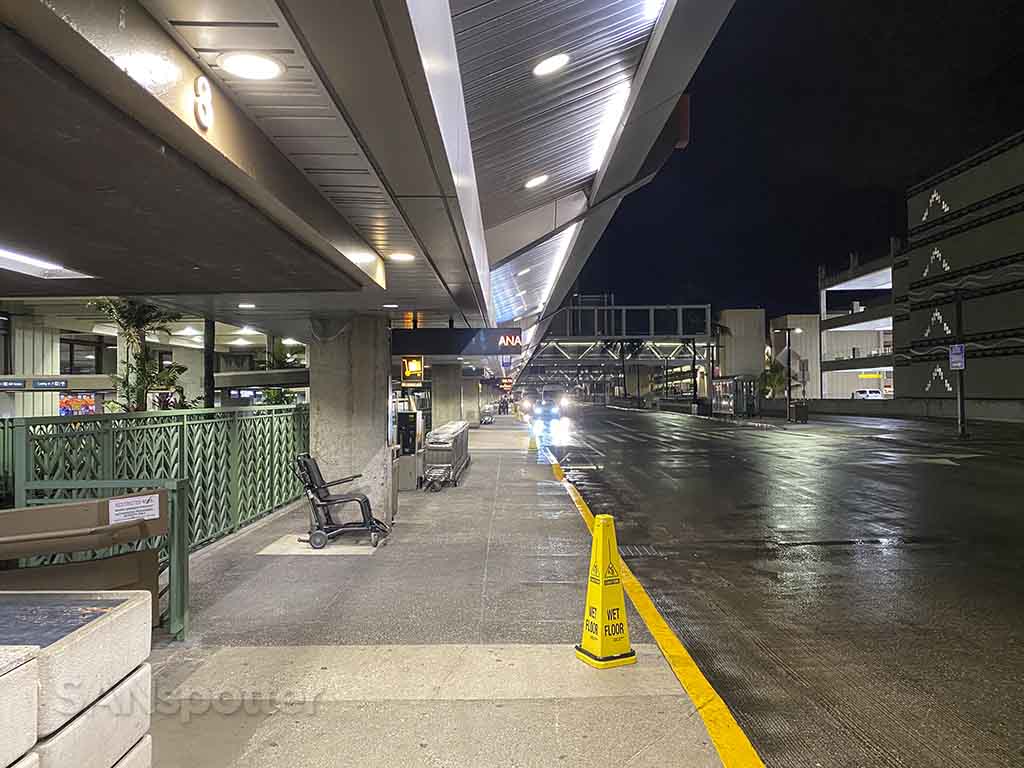 What terminal does United Airlines use at the Honolulu Airport?
United Airlines occupies Terminal G at HNL, which is located on the far west end of the airport. Note that you can easily walk between all terminals once you go past a security checkpoint at the Honolulu airport, so in reality, you can enter whatever terminal looks the least busy.
If you need to check bags (or talk to an agent to sort out a ticketing issue), it's really easy in Terminal G. The ticketing hall is massive, and the signage is plentiful and clear. United does a really good job with their ground operations here in Honolulu.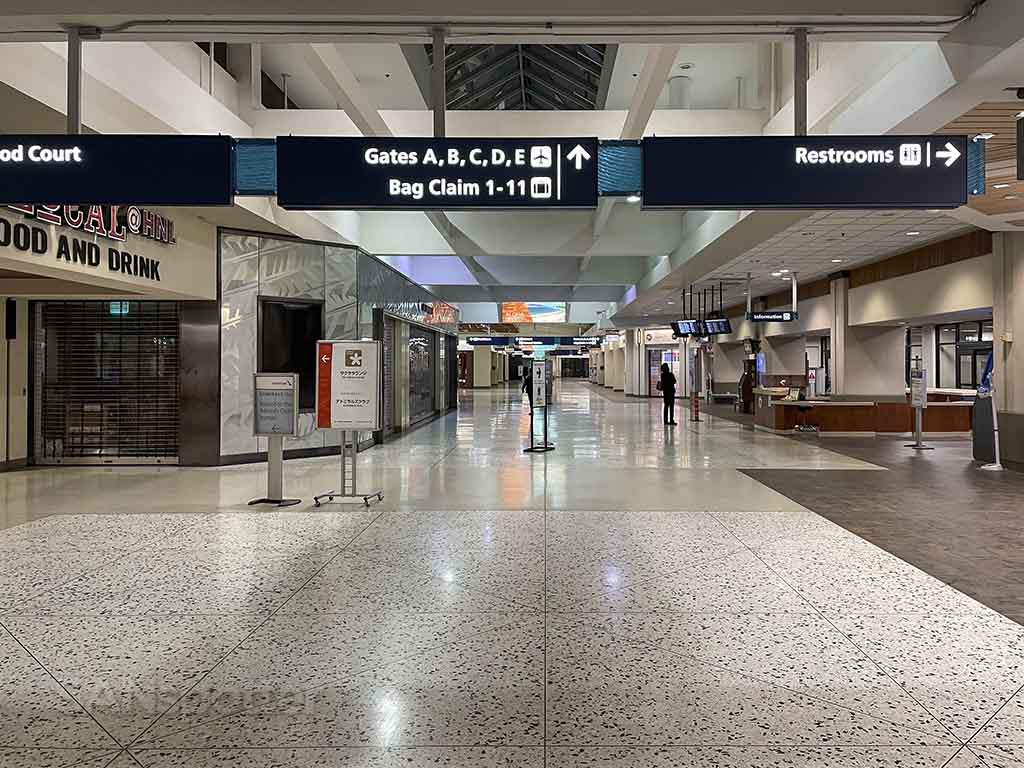 The boarding process for flight number 372 to San Francisco
Despite a massive ticketing hall that seems more like a stadium than an airport, gate G5 (where my flight to San Francisco would be departing from) was tiny. It was way too small for a fully-loaded Boeing 777-200.
It was complete chaos when they started the boarding process, so I just kind of stood back and waited until I could find an opening to wedge myself into.
My first impressions of the Polaris business class seeats on the United 777-200
As I alluded to at the top of this review, if you have flown any other widebody aircraft with United Polaris business class recently, what you'll see (and feel) on the 777-200 will be entirely consistent with that.
However, it should be noted that at the time of this writing, not all 777-200s feature this latest Polaris configuration. There is an entire domestic-only sub fleet of these aircraft flying around with the old BusinessFirst product (which isn't very comfortable IMHO). Be sure to read my United 777-200 domestic first class review to understand what that experience is like.
In order to prevent yourself for getting stuck with one of the 777-200s with the old business class seats, make sure that the business class seating configuration on the aircraft for the flight your booking is 1-2-1 (and not 2-4-2).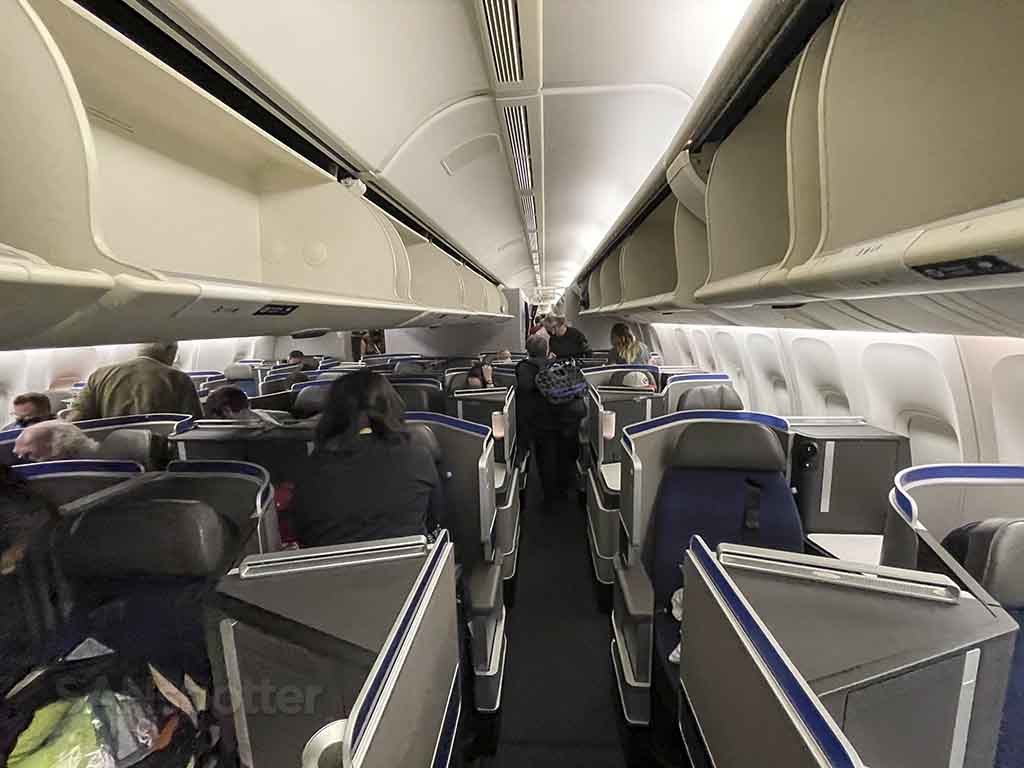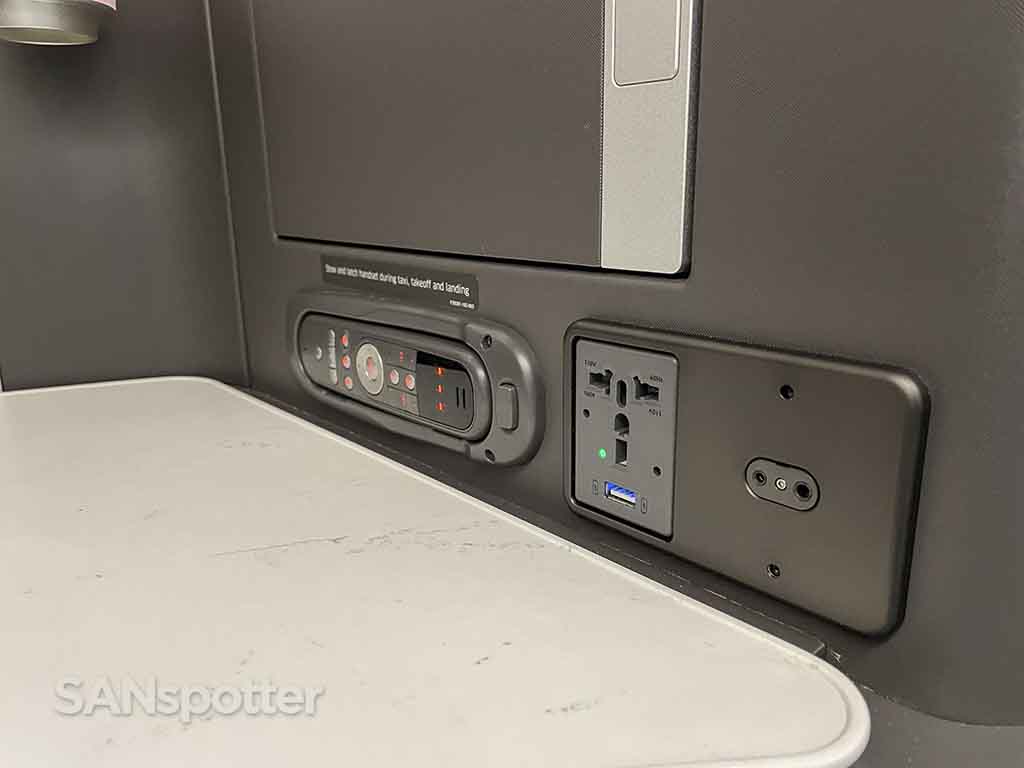 Pro Tip
Save money by purchasing United MileagePlus miles
It's often cheaper to pay for a flight with miles than it is to pay with cash!
I usually purchase miles to pay for long haul business class on United and Star Alliance partners. It's generally cheaper that way.
Its a great way to top off your account balance if you're just short of the amount required for an award trip or upgrade.
You can buy miles for yourself or another MileagePlus member.
Buy Now
Note: I may earn a commission if you make a purchase, at no additional cost to you.
The departure out of Honolulu
Pushing off the gate and knowing that you're leaving Hawaii sucks. Like, really bad. Unless you hate Hawaii, of course. In that case, you're a weirdo who is most certainly in the minority.
For the rest of you who have tears welling up in your eyes as you're reading this, weep with me as we taxi our way to the reef runway for the departure back to the mainland.
What is in-flight entertainment like in business class on United 777-200?
Thankfully, the in-flight entertainment options in United 777-200 business class are exactly the same as they are on any other internationally-configured aircraft in the United fleet.
You'll get a massive video screen with loads of movies, TV shows, and audio selections. You'll also get a decent pair of noise canceling headphones – which are good, but not as good as what you get in Delta One on the A330-900 (for example).
Wi-Fi is available as well, though United is extremely stingy with it. They are going to give you for free, so prepare to spend at least $20 for decent Wi-Fi to get you through an entire flight.
What kind of food does United Airlines serve in business class on flights to and from Hawaii?
As I was digging into the meal on this morning's flight, it occurred to me that I have been flying far too many early morning flights on United over the past six months or so.
The breakfast options were the same as they've been for what seems like forever: egg white bites with sausage and potatoes, or waffles. I've had both too many times to count, and they're both mediocre at best.
How comfortable are the United Polaris 777-200 seats for sleeping?
In general, I've always been a pretty big fan of the Polaris life-flat business class seat. Yeah, it's a little hard, but it's not all that bad. However, my biggest stripe is that they don't seem to be all that consistent with doling out blankets and pillows on domestic flights. This flight from Honolulu to San Francisco was the first domestic Polaris experience that I've ever had where they gave us real blankets and pillows.
And when I say real, I really mean it. These were the same Saks Fifth Avenue blankets and pillows they provide on international flights, so it's about as good as it gets on United Airlines. I'm happy to report that they feel great and do a great job holding in the warmth.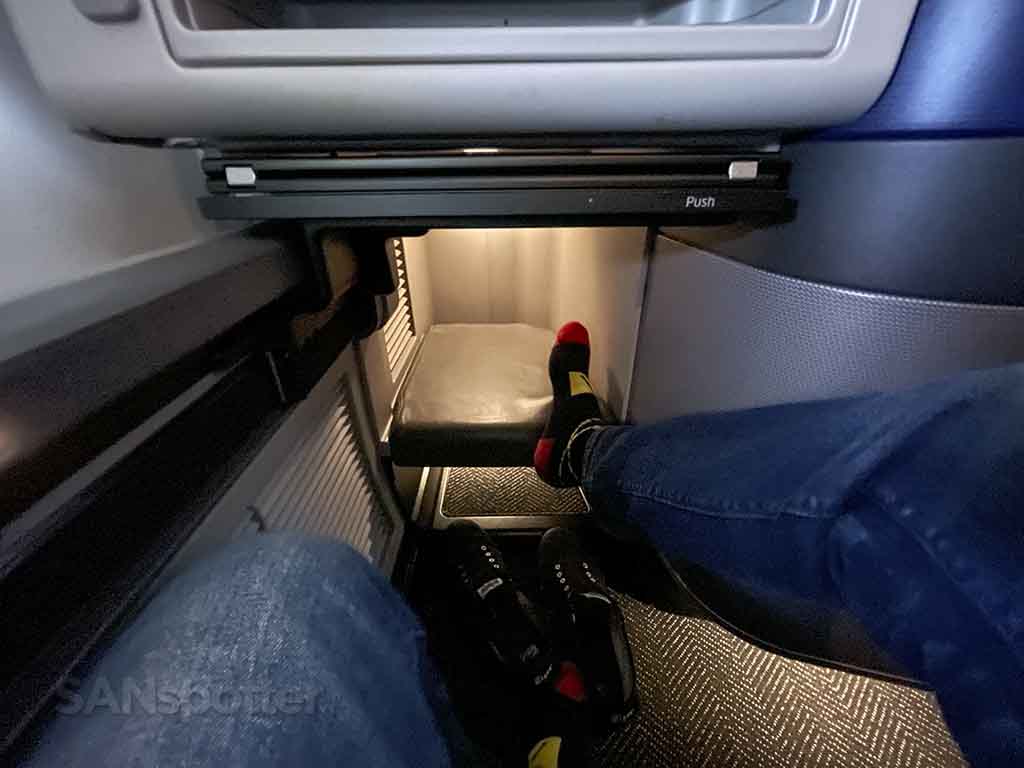 The descent and arrival into San Francisco
Two days prior, the flight out to Hawaii from Seattle took a little over six hours. Today, on the return to San Francisco, it took just a little over four hours. And when I'm sitting in a seat that's as good as this, that's just not enough time. I wasn't enjoying flying away from Hawaii, but I was very much enjoying being in Polaris business class again.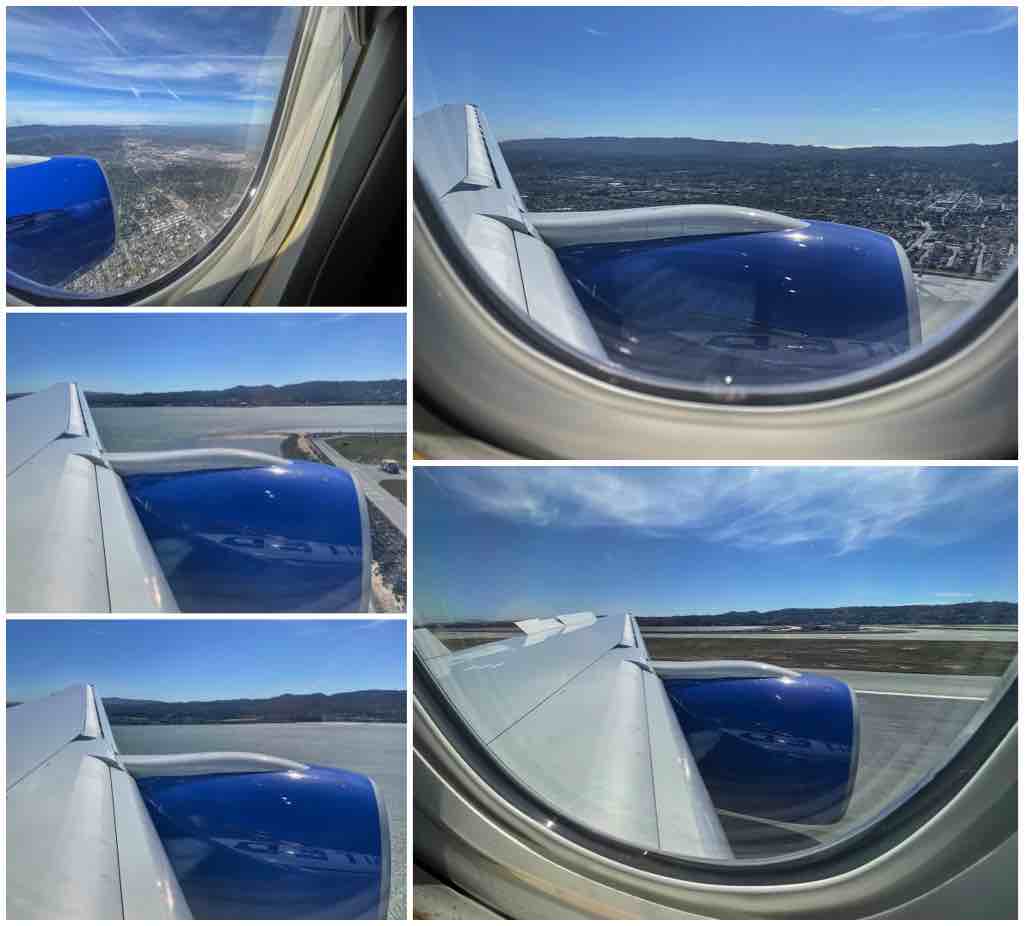 Pros and cons of United 777-200 Polaris business class
There's not really much to dislike about the Polaris business class seats on the 777-200. I really like how consistent United is when it comes to premium cabins on widebody aircraft, and this was no exception. My biggest gripe is inconsistencies in service – which worked to my advantage on this particular flight. The cabin crew was excellent.
Pros
It's highly consistent with Polaris business class on any other United Airlines widebody aircraft. Knowing exactly what you're going to get (even before you step onboard) is a good thing.
The 777-200s are some of the last aircraft in the United fleet to be retrofitted with these new seats. That means that they'll feel newer (and look nicer) than what you might experience on other aircraft in the fleet.
The Polaris cabin on the 777-200 is slightly smaller compared to other widebody aircraft in the United fleet, so it'll feel slightly more private. Too see an example of the size difference, check out my United 777-300ER business class review.
Cons
At the time of this writing, there are only a handful of United 777-200s that feature this new Polaris business class cabin. This means that you're going to have to do your research ahead of time before booking your flight to ensure that you'll be on an aircraft configured with these seats.
The mid-cabin galley on the 777-200 can be very active at times, and it might be annoying if you're seated anywhere in the vicinity of it.
While not something that is tied to the 777-200 specifically, it's important to note that the service you'll get in Polaris on flights to and from Hawaii isn't as good as what you'll get on Hawaiian Airlines. I'd recommend reading my Hawaiian Airlines vs United comparison if you want to see exactly how they stack up against one another.