As you're about to see, Hawaiian Airlines A330-200 first class is a little different than all the other US domestic first class products. And that's a good thing.
You're likely to notice that the seats aren't very private. They're also a little weird looking, and the lack of video screens will probably have you wondering if you made a bad choice.
I can tell you from experience, however, that looks can be deceiving. It's still the best first class product to and from Hawaii IMHO (despite what any other airline would like you to believe).
HAL10
Honolulu, HI (HNL) – Los Angeles, CA (LAX)
Wednesday, February 8, 2023
Aircraft: A330-243
Registration: N390HA
Duration: 4 hours 53 minutes
Seat: 3A (First Class)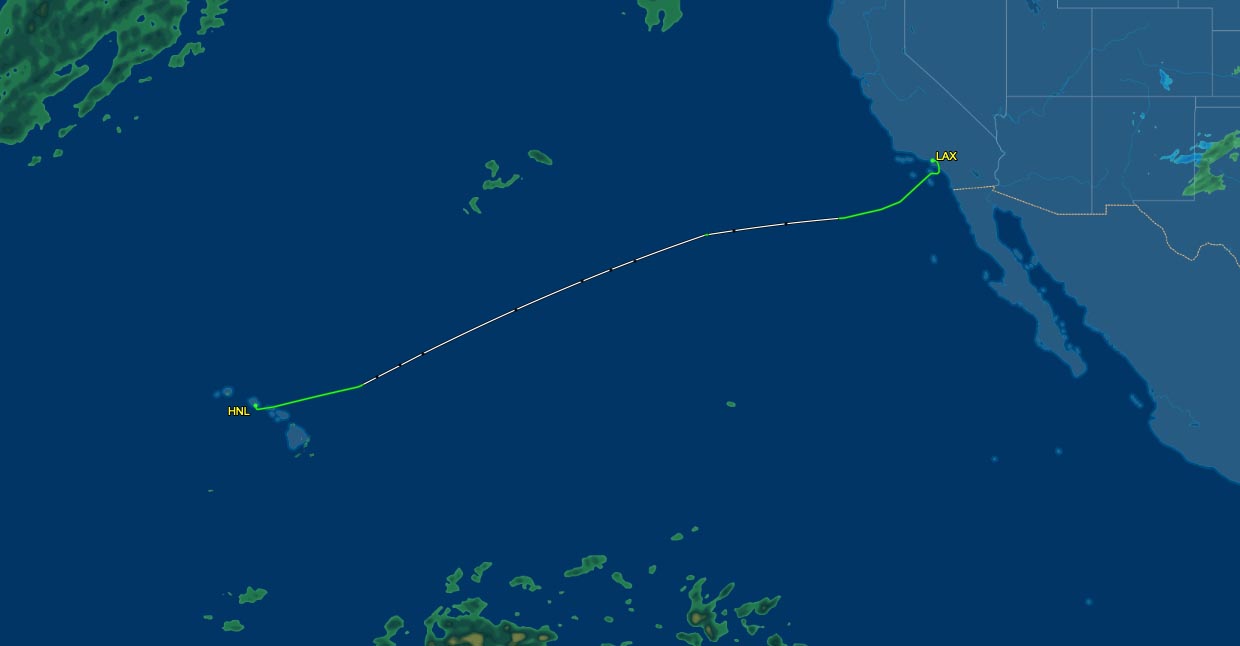 My full review of Hawaiian Airlines A330-200 first class from Honolulu to Los Angeles
For the record, this wasn't the first time I had flown Hawaiian Airlines A330-200 class. Check out the following video to see what my first experience was like a few years ago:
I went the opposite direction this time. What you're about to read is an in-depth review of flight number 10 from Honolulu to Los Angeles – and yes, I would've much preferred to fly directly to San Diego instead.
Unfortunately, the usual A330 on the HNL-SAN route had been swapped to an A321 (temporarily) when I needed to take this flight. Los Angeles was my next best option (because A330 > A321).
Arrival at the Daniel K. Inouye International Airport in Honolulu
HAL10 was scheduled to depart Honolulu and exactly 8 AM, so I rolled up to the main entrance at 7 feeling like a total boss. Would you believe that was still far too early?
The moral of the story is that you can learn from my mistake, and show up to this airport much later than you can at other airports. I could've easily arrived at 7:30 and still made the flight with time to spare.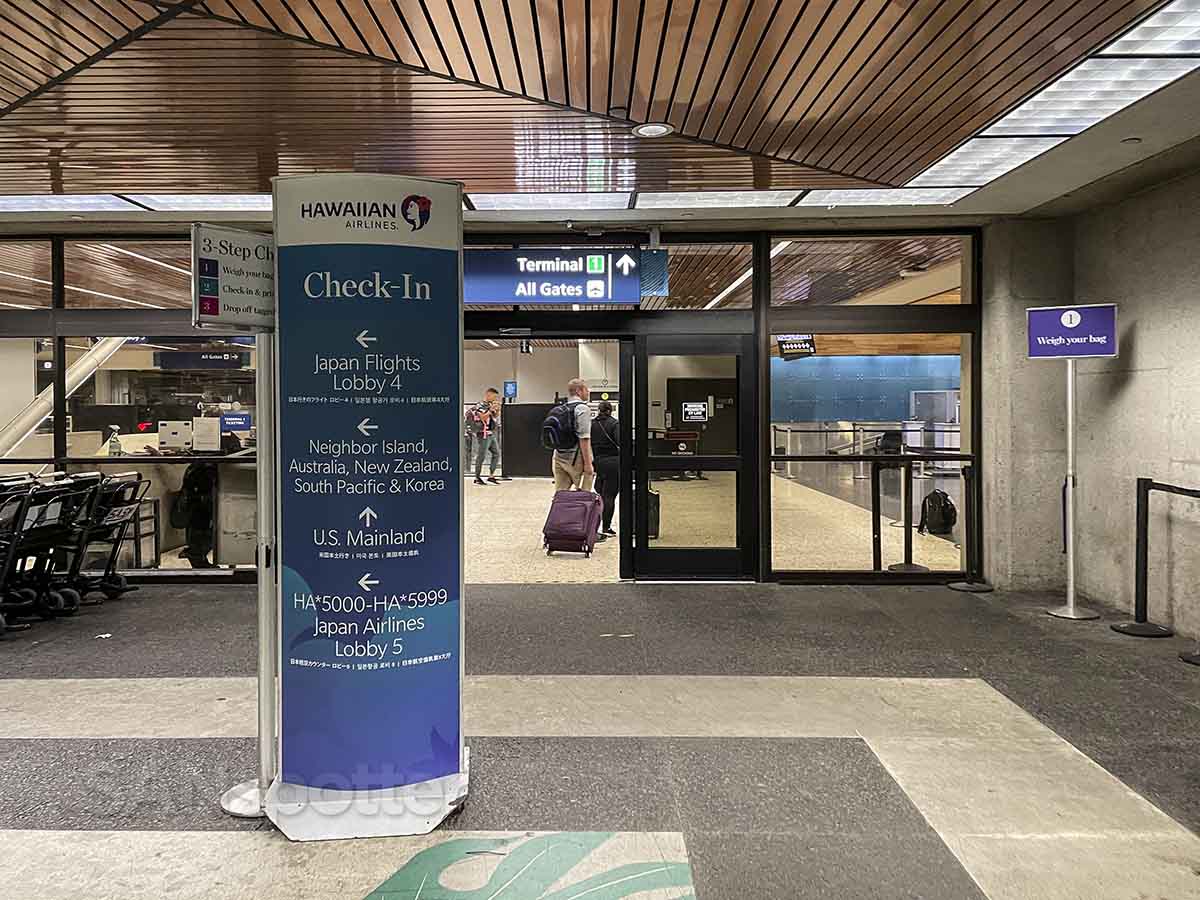 Lounge access
Flying Hawaiian Airlines domestic first class to the US mainland from HNL will get you into the Hawaiian Airlines Premier Club. Honestly, it's not even worth going into IMHO, and you're better off finding a quiet spot to hang out in the main terminal instead.
It should also be noted that first class Hawaiian Airlines passengers traveling internationally have access to a completely different lounge. You're not gonna get into that one with a ticket to the mainland (or a neighboring island) unfortunately.
Whoa. Concourse A in Terminal 1 at HNL is amazing!
It's not very often that I'll dedicate a complete section of an airline review to an airport terminal, but this is justified.
On one hand, the all new Concourse A here at HNL looks freaking amazing.
On the other hand, it has absolutely none of the charm of the old open air terminal that all of us old-timers know and love about the Honolulu International Airport.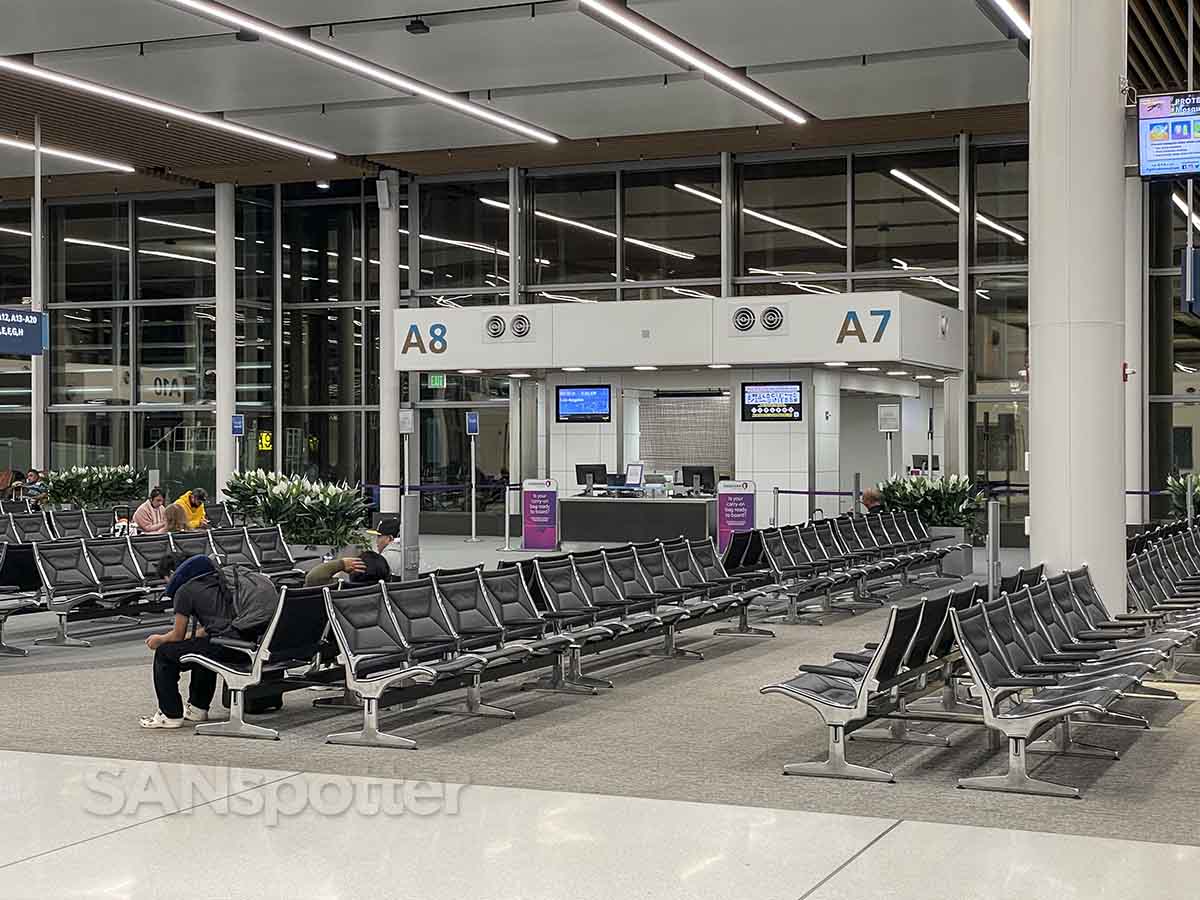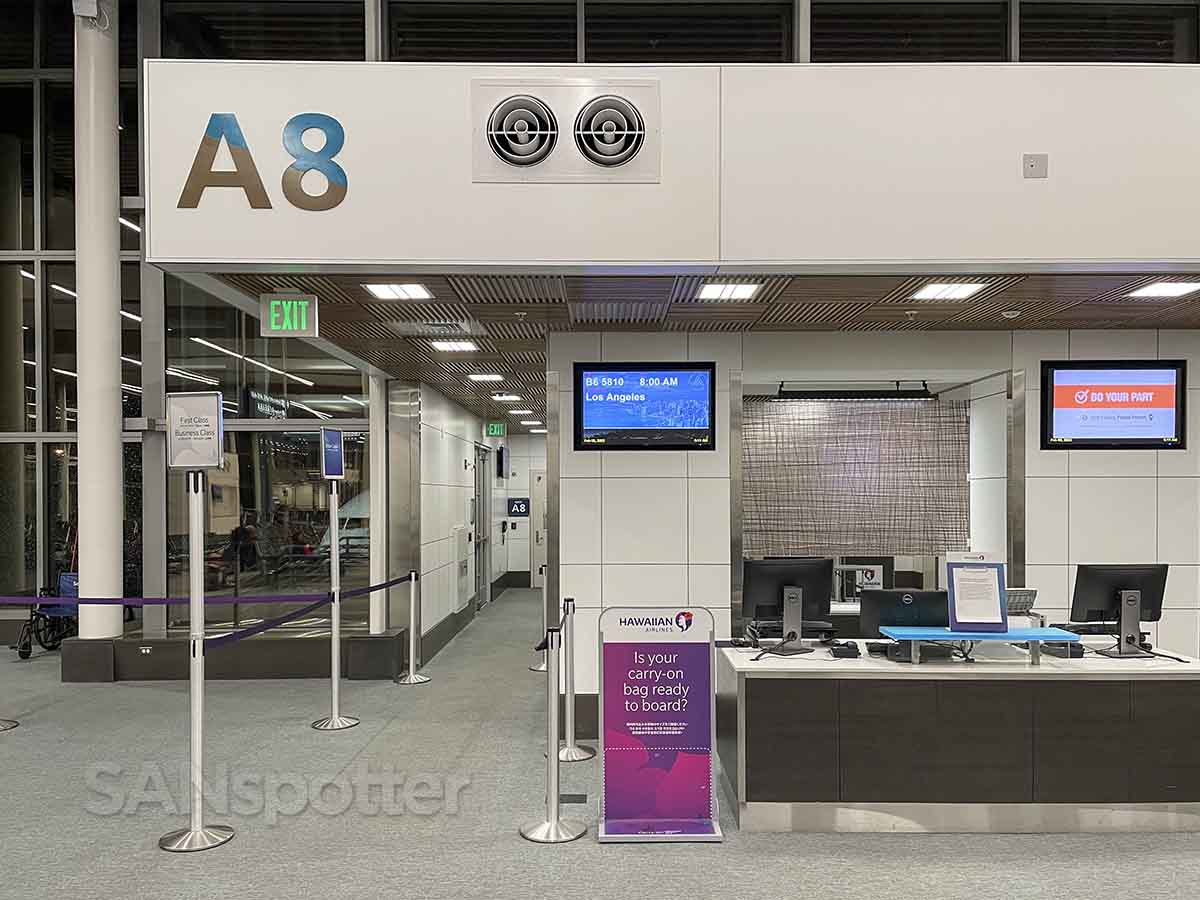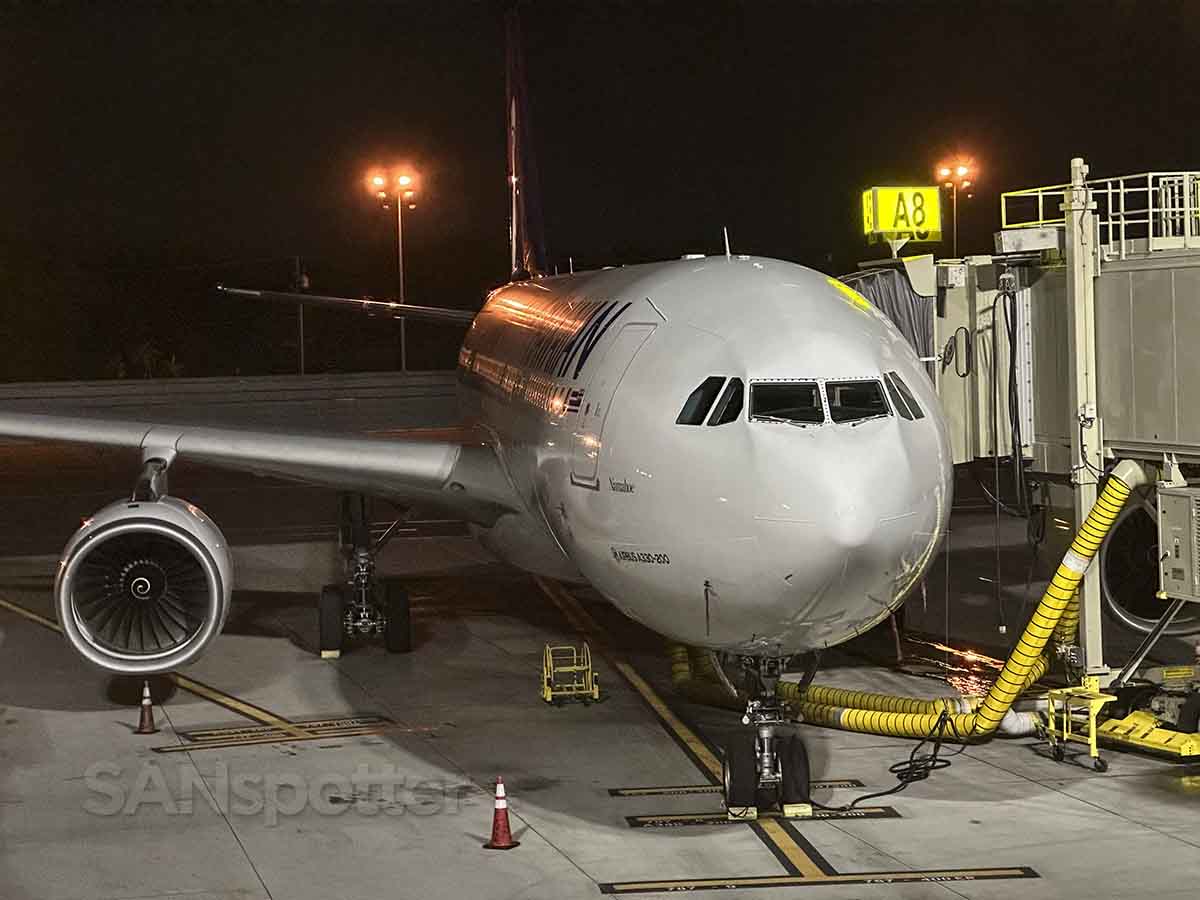 The boarding process for Hawaiian Airlines flight number 10 to Los Angeles
Boarding started exactly 7:20 AM (as they said it would). It's always a bummer to leave Hawaii, but it's never a bad thing to know that you're about to be spoiled rotten for the next five hours in Hawaiian Airlines first class.
The most interesting part of the boarding process was the dedicated agricultural scanning station that everyone must pass through immediately after having your boarding pass scanned. It's a little different than the way it used to be.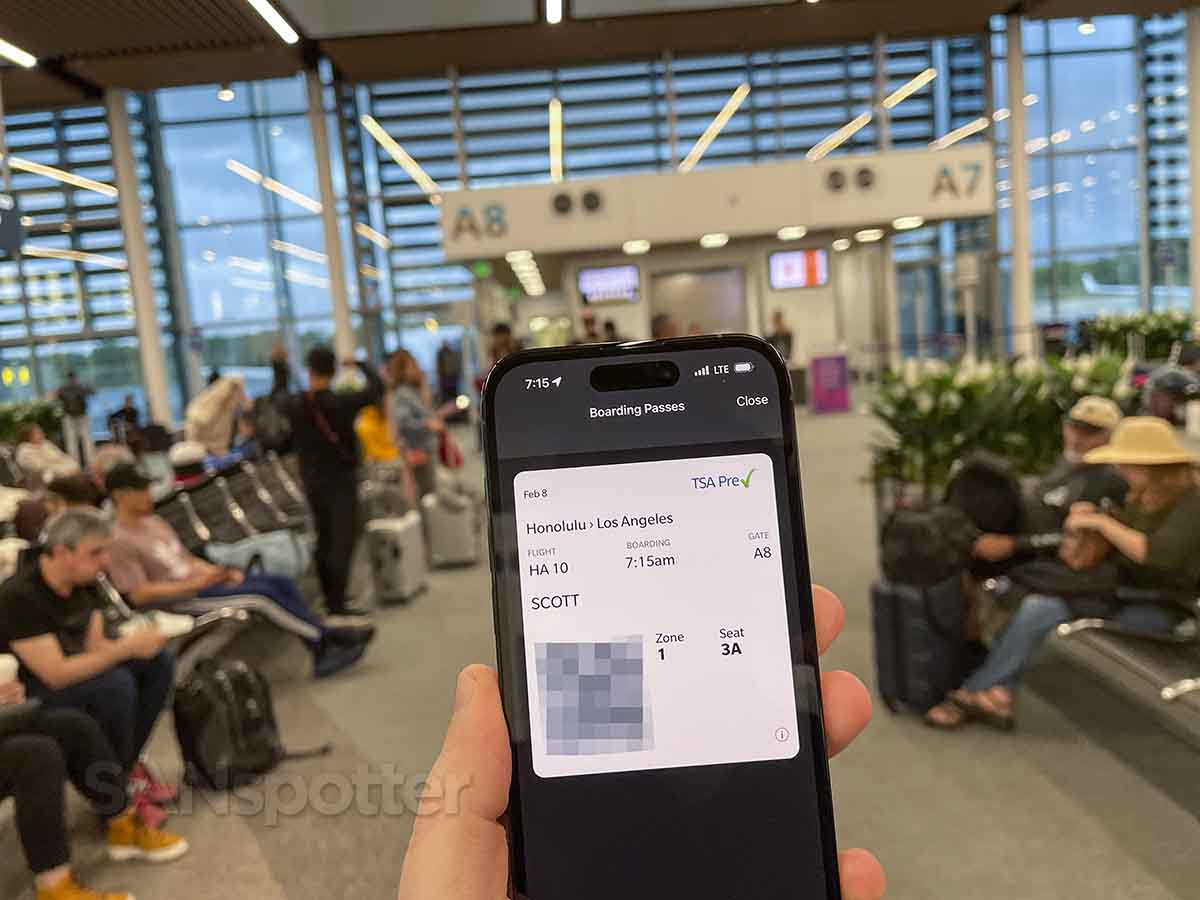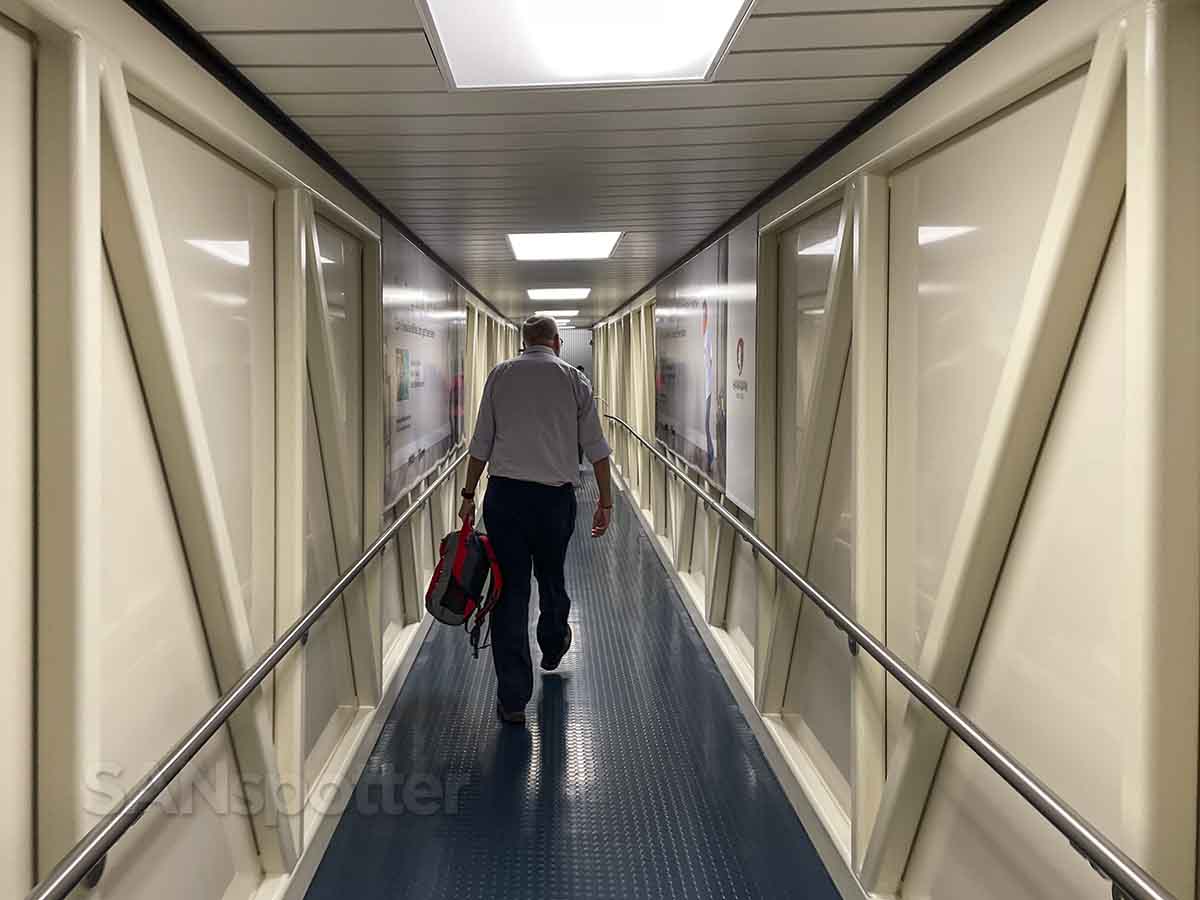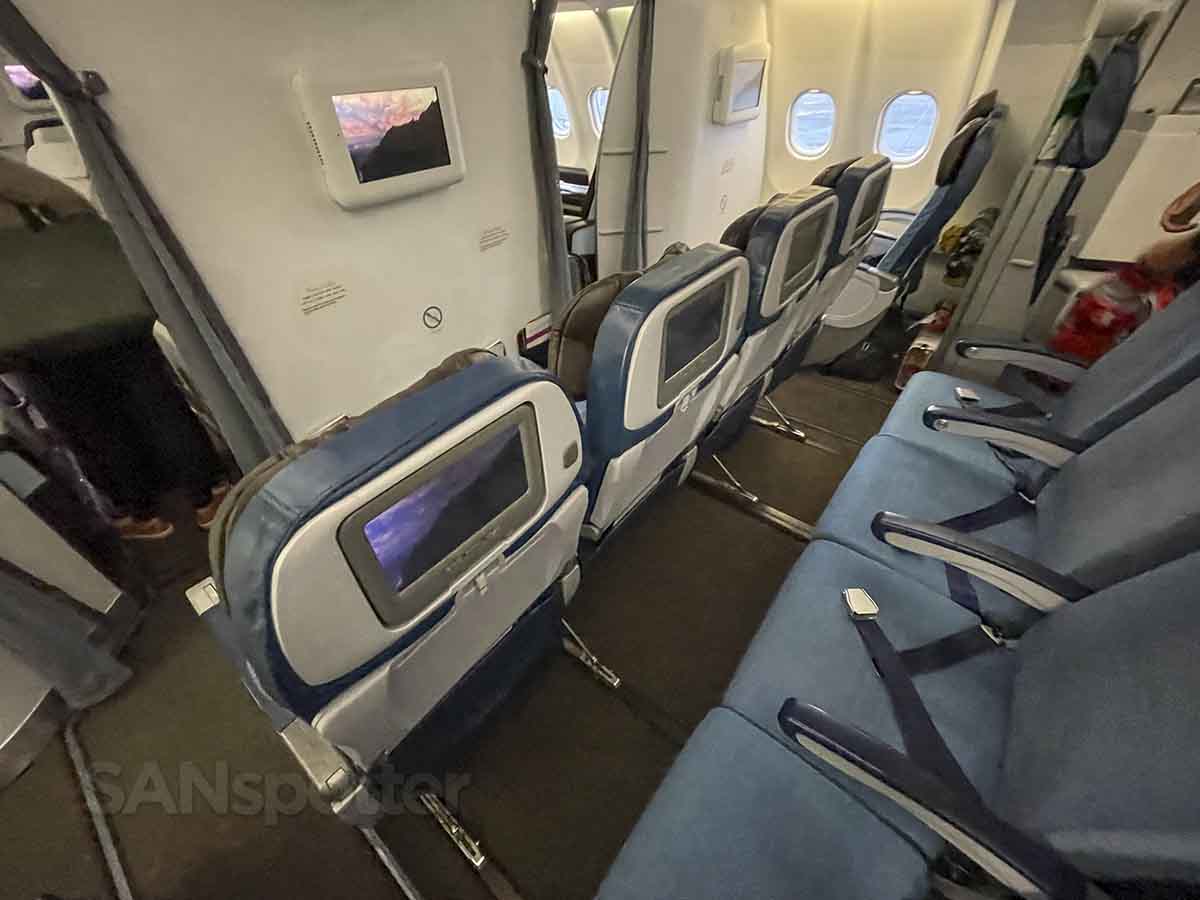 My thoughts on the Hawaiian Airlines A330-200 first class seat
Having already had the chance to try these seats on a flight from San Diego to Honolulu a few years ago, I already knew that they were pretty good. They're also a heck of a lot better than the old A330 first class seats.
The Hawaiian airlines A330-200 first class seat is unlike anything else that I ever seen on any other airline. I do like the colors and the textures, but I'm not a very big fan of how open and exposed they are. There isn't very much privacy in these seats.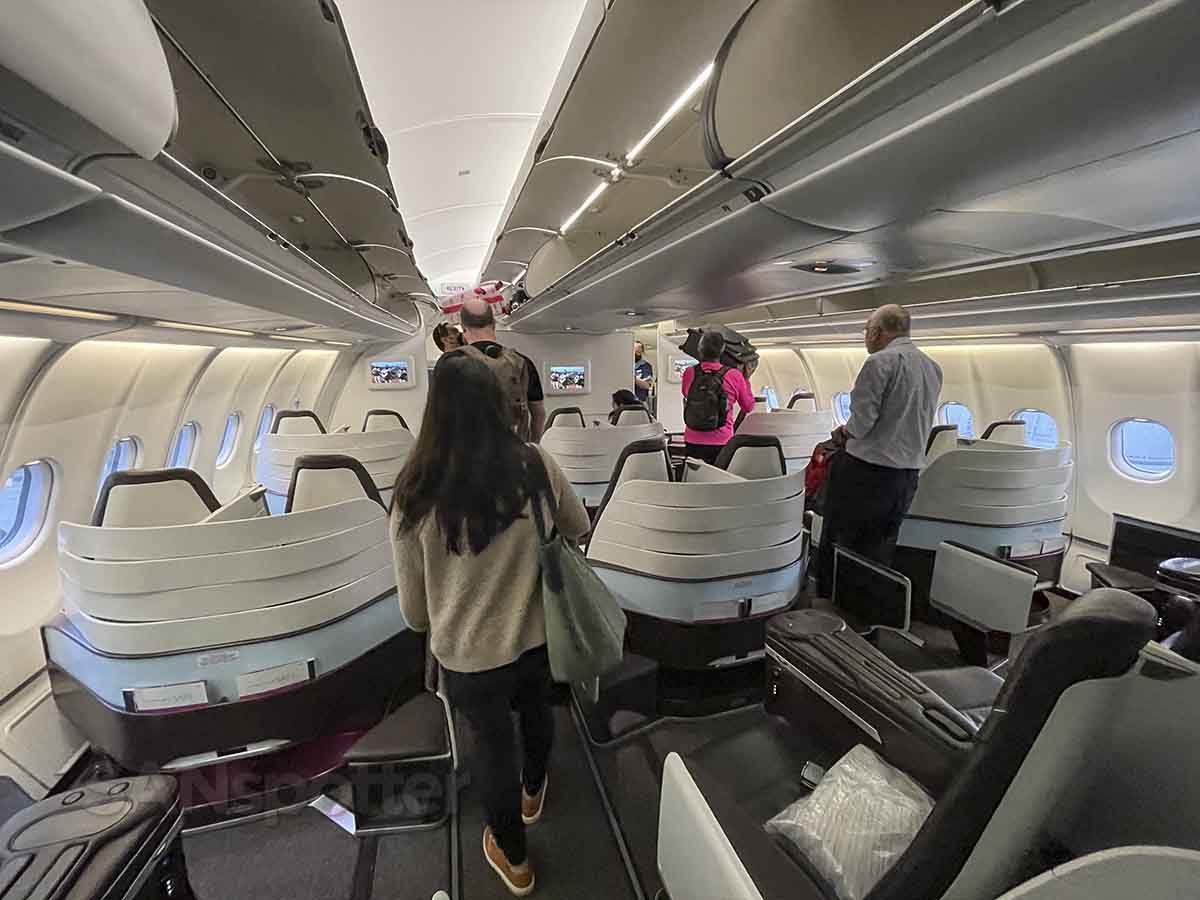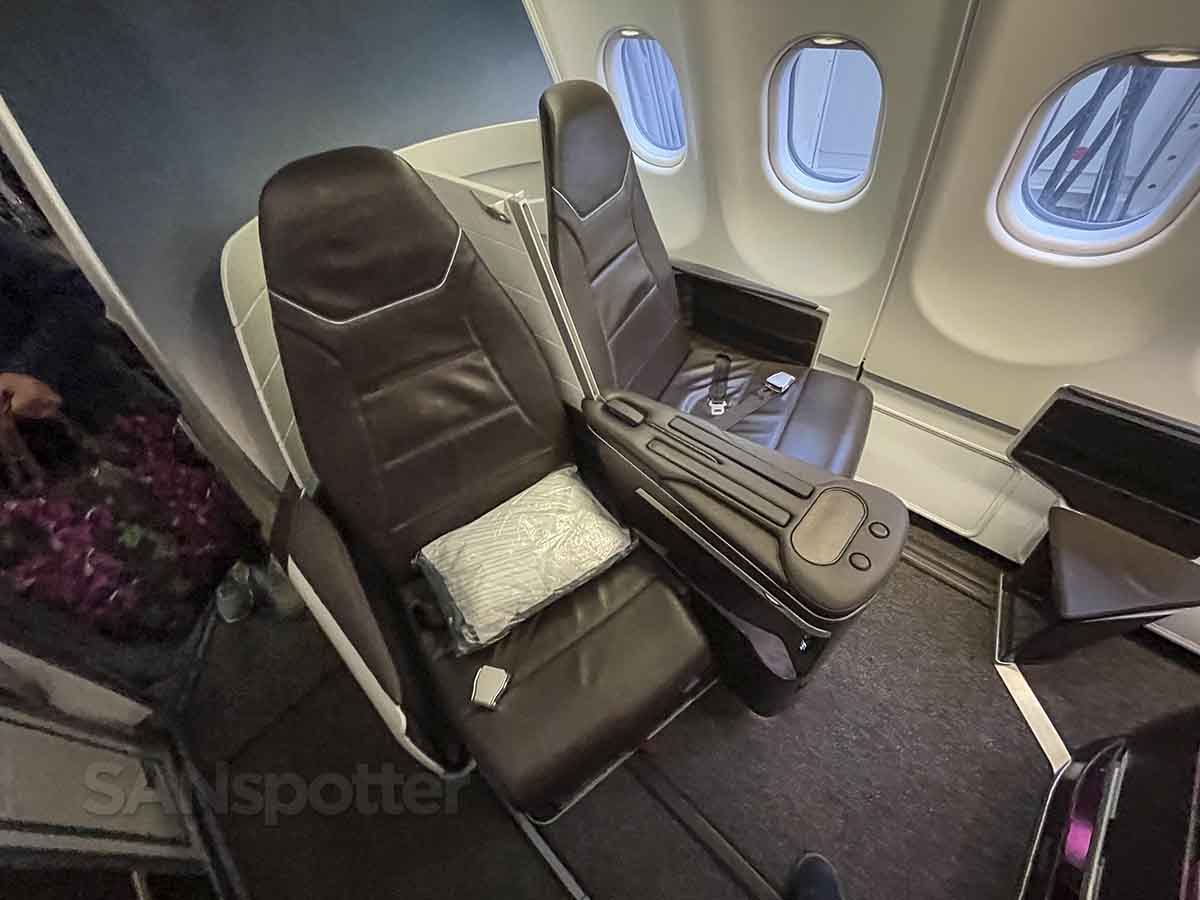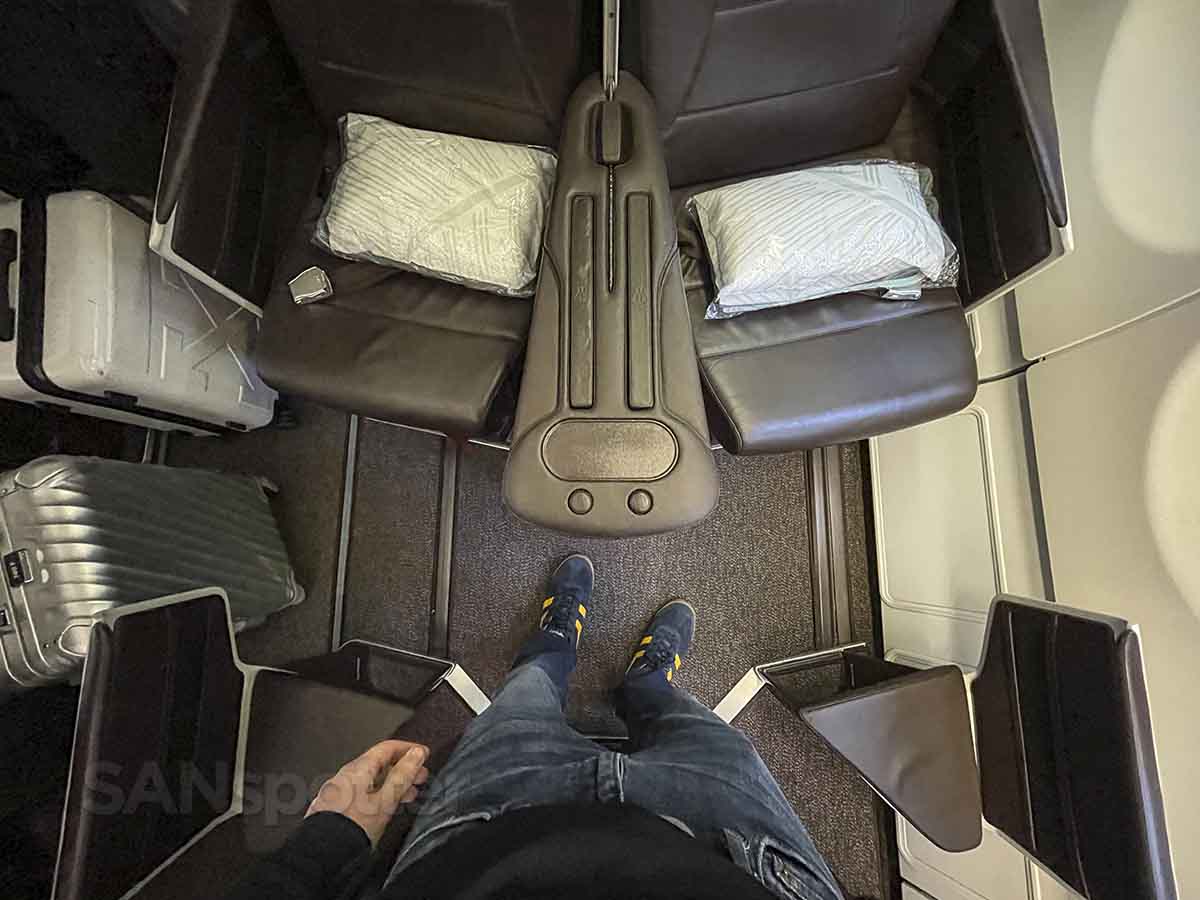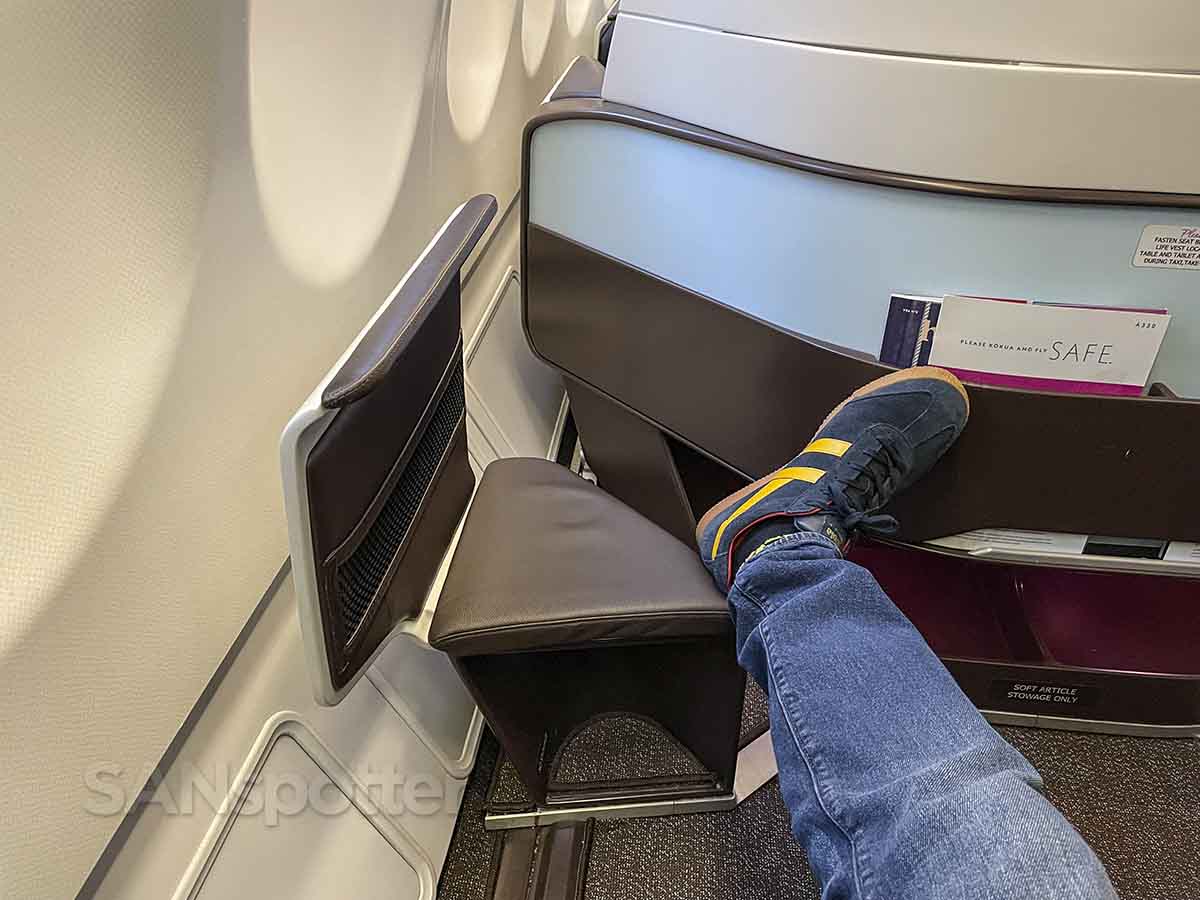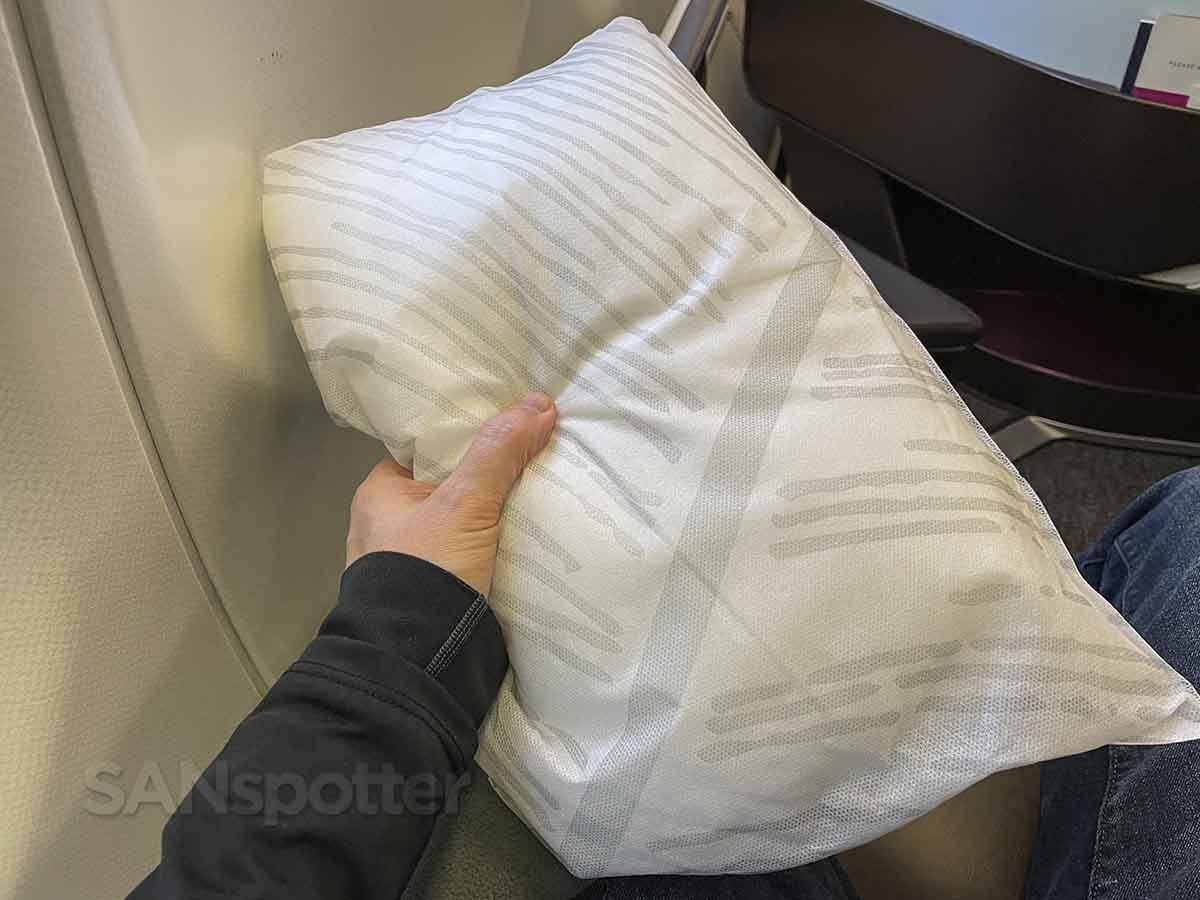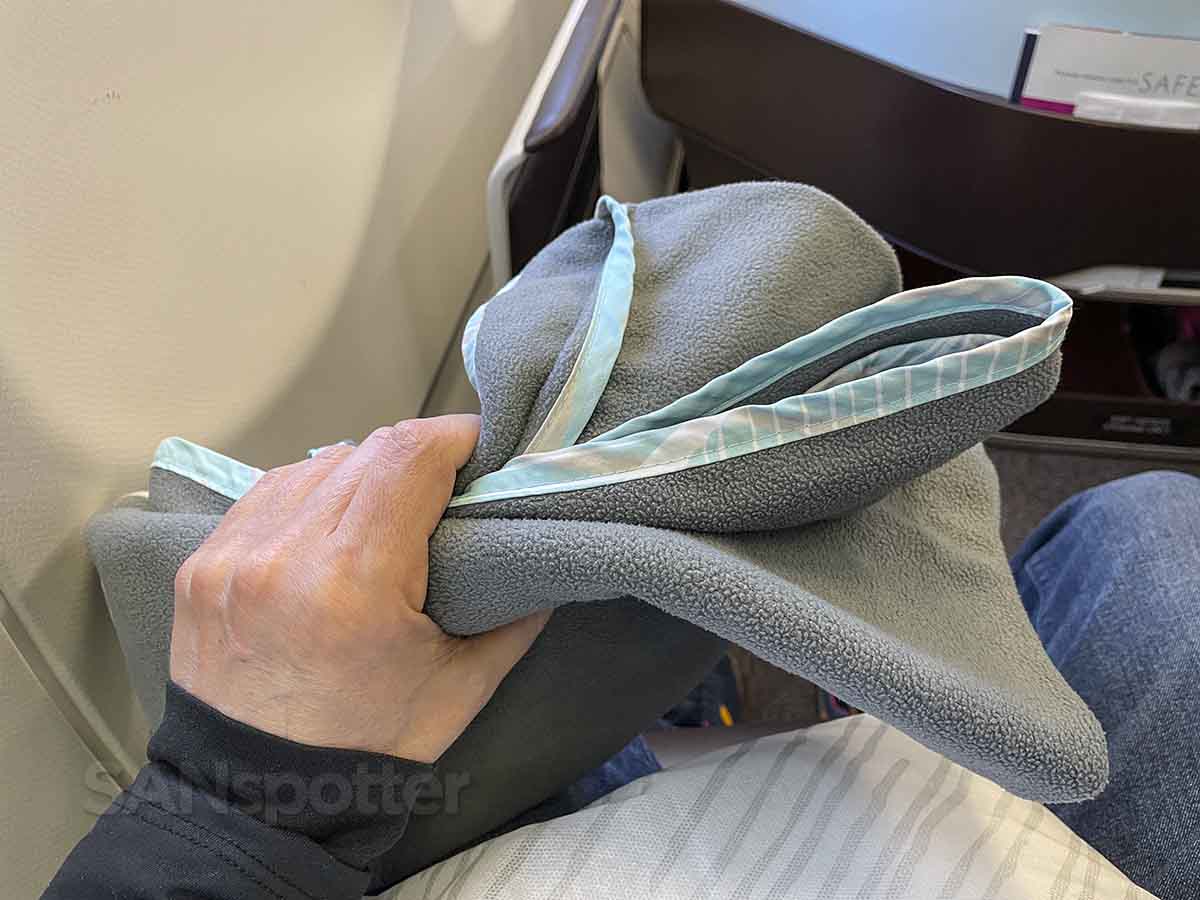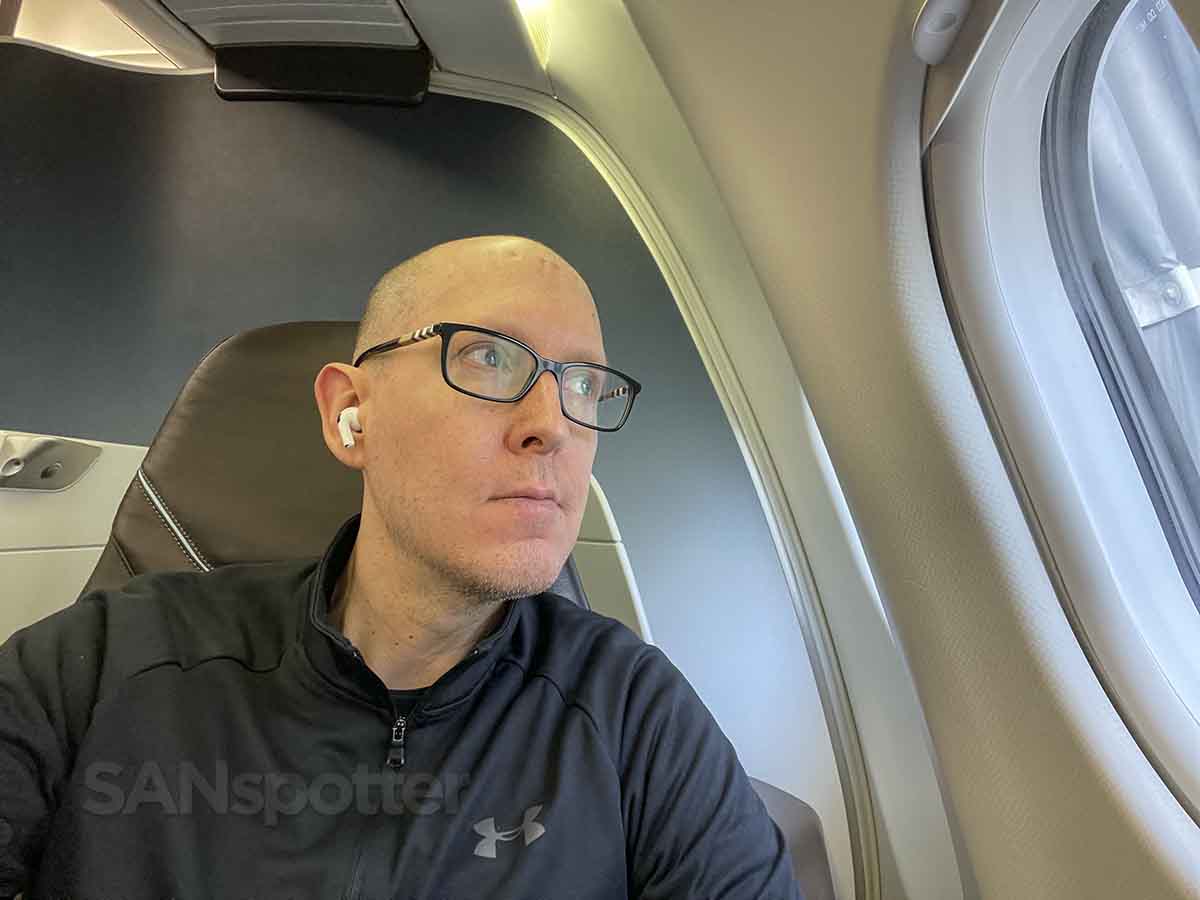 The departure
Remember in my United Airlines 777-200 business class review where I was complaining about having to leave Hawaii so dang early in the morning? The exact same feeling applies here.
Not only was the weather exactly the same, the scenery on the way to the reef runway was just as beautiful. Yeah, departures from the Honolulu Airport are always spectacular.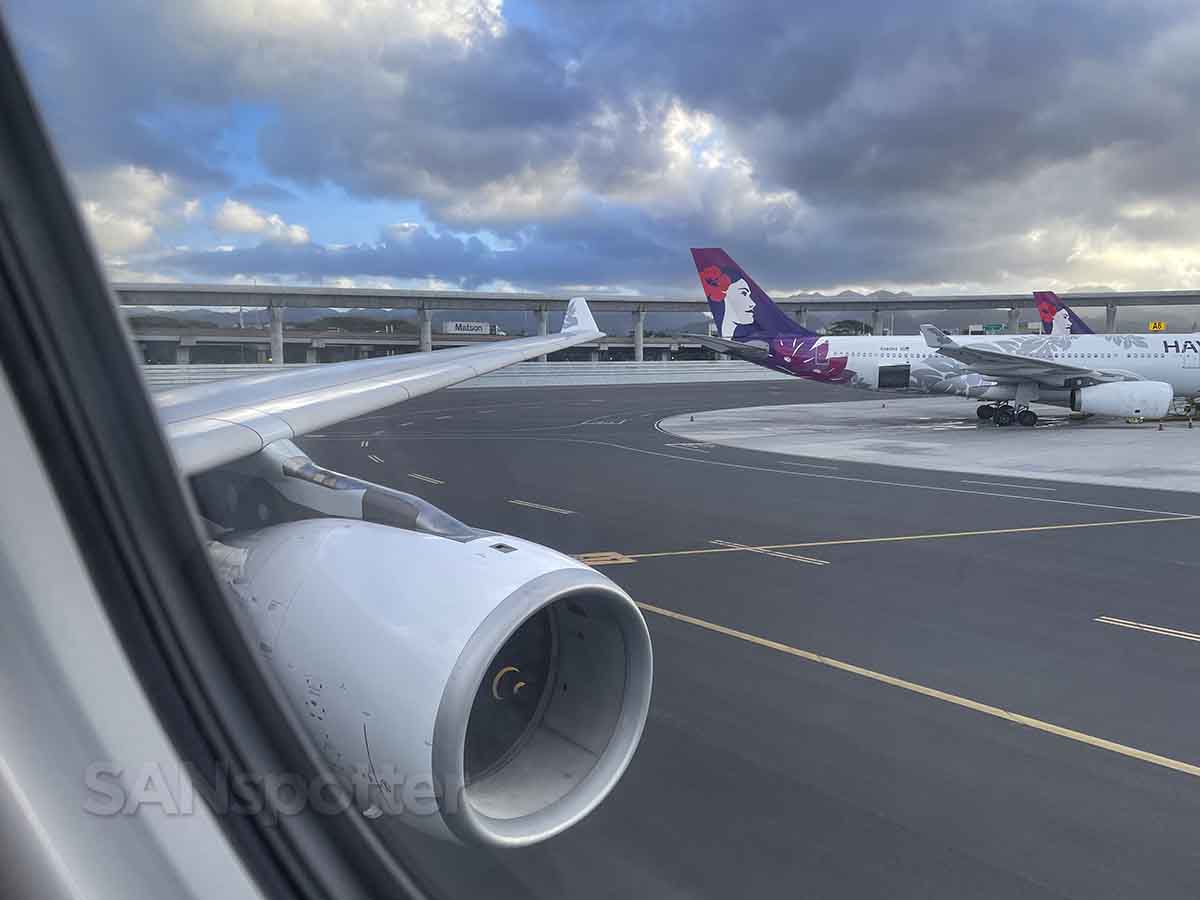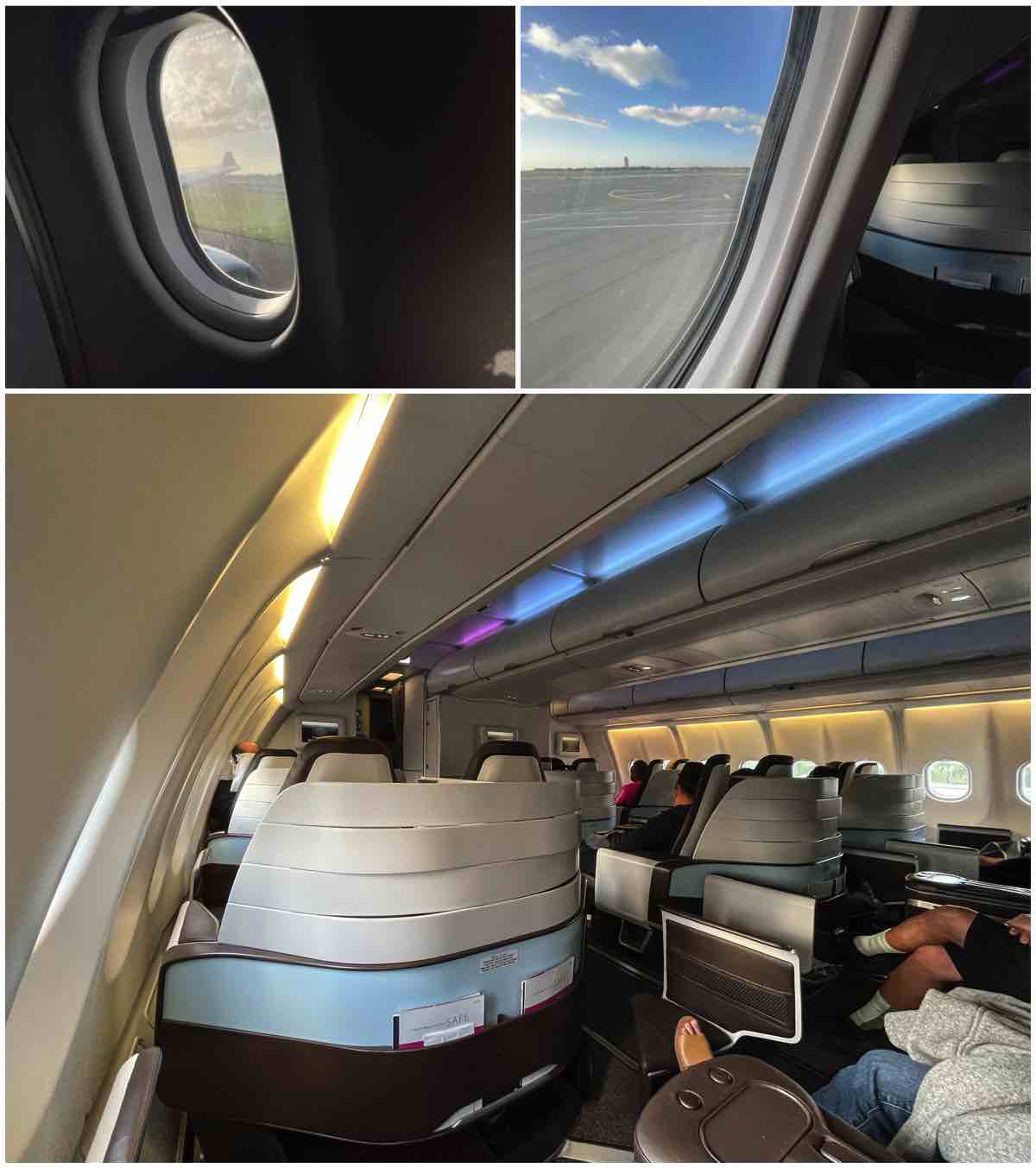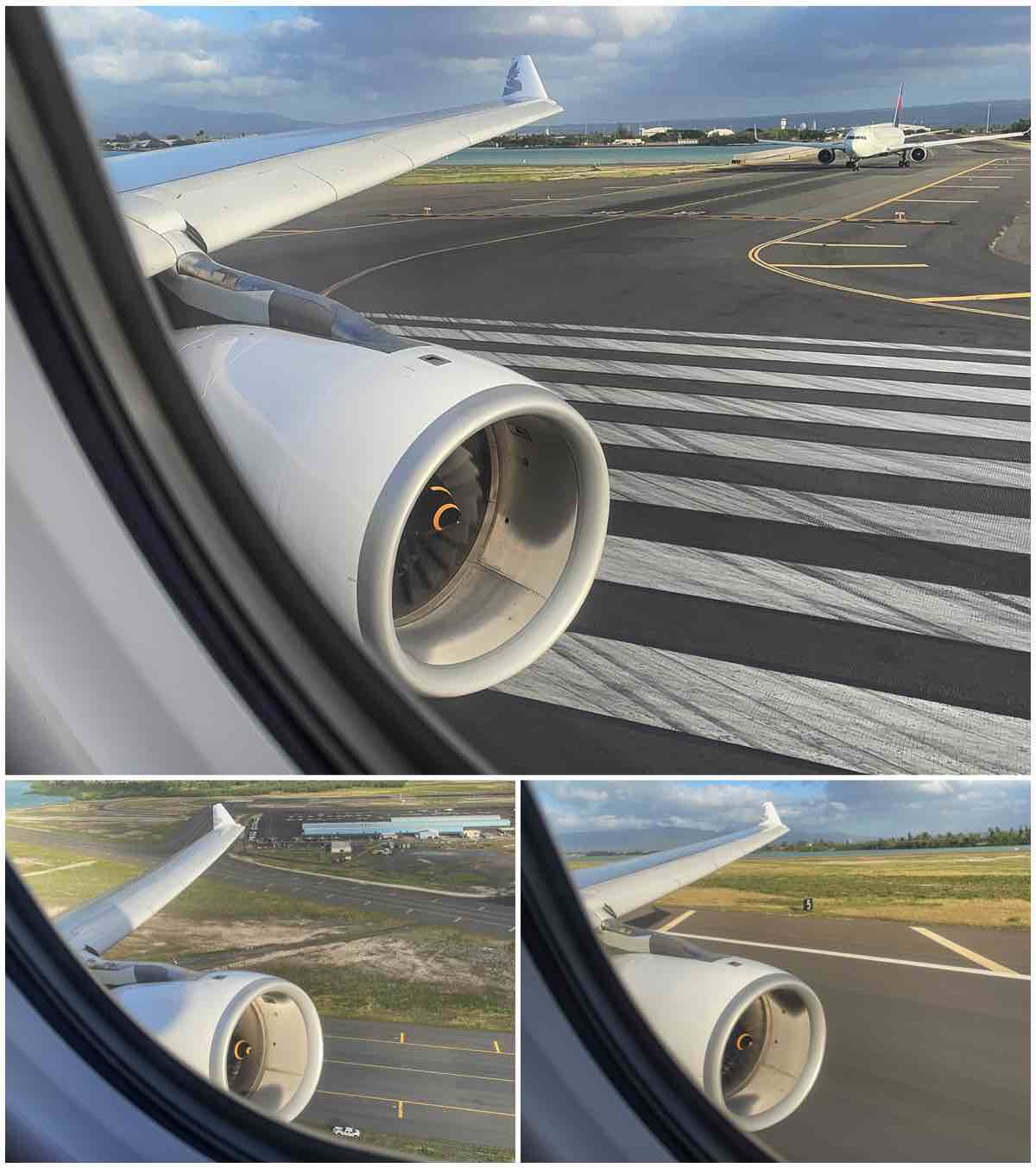 In-flight entertainment
First class in-flight entertainment on the Hawaiian Airlines A330 is weird, but good. There are no video screens integrated into the seats. Instead, they hand out giant iPads to everyone which fit into clever holders (built into the center console between the seats).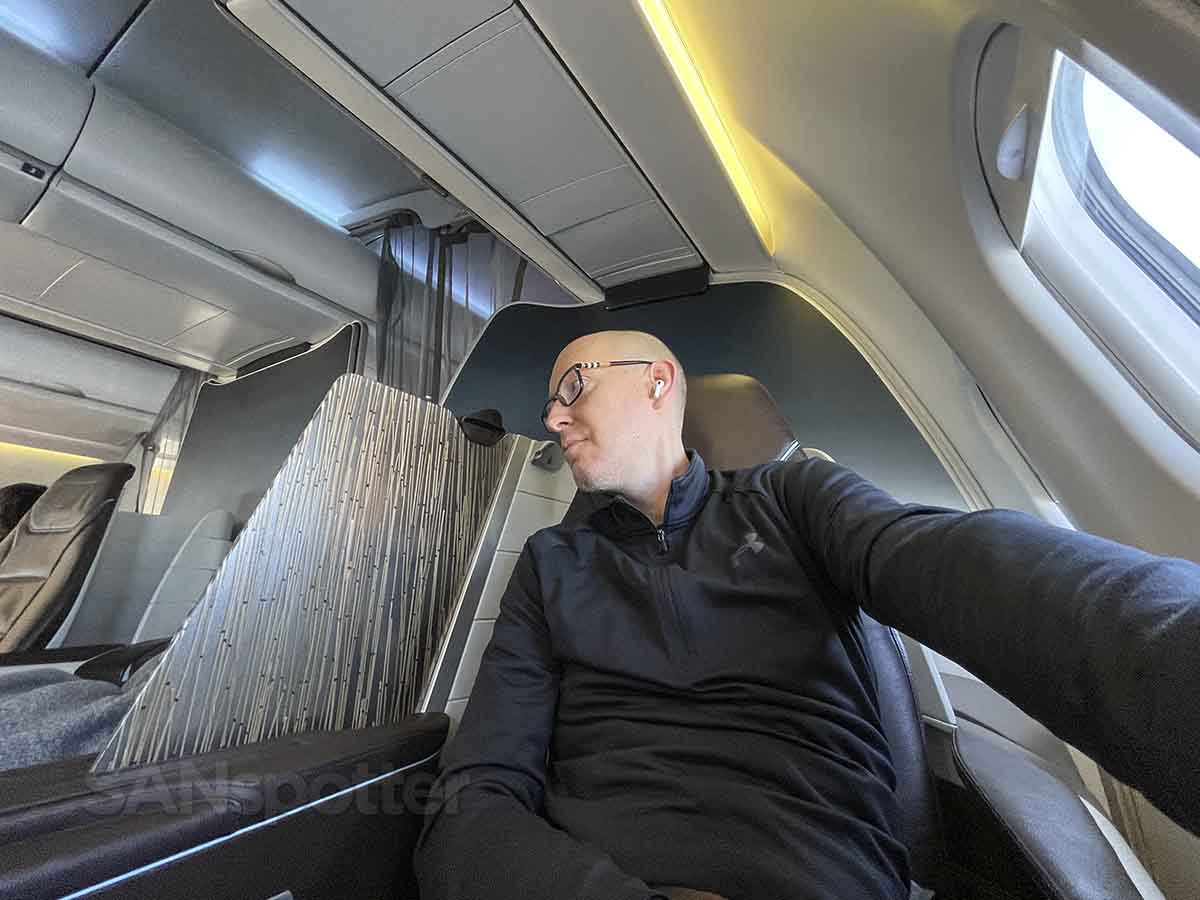 The selection of movies and TV shows is excellent. It seems to be mostly modern stuff, and unless you're the pickiest person in the world, you won't have any issues trying to find something to watch.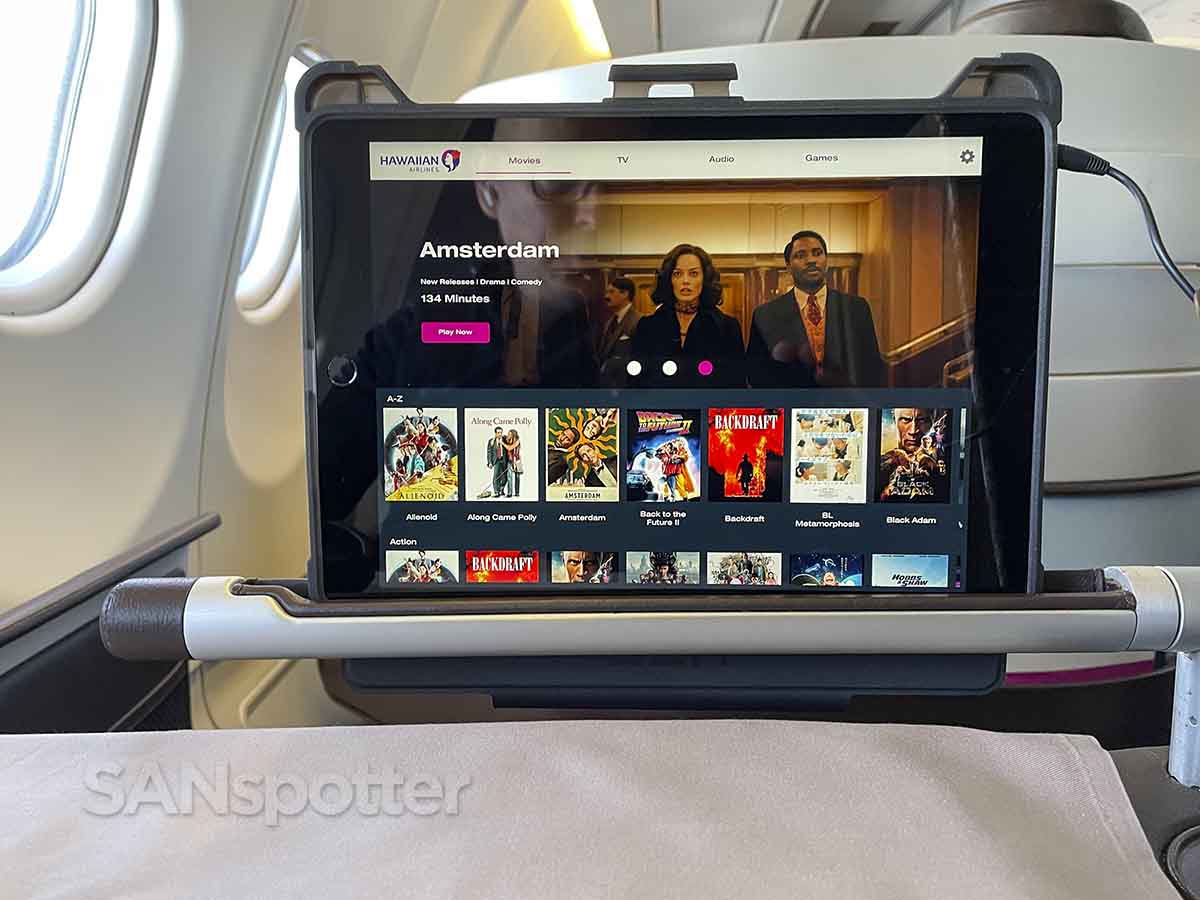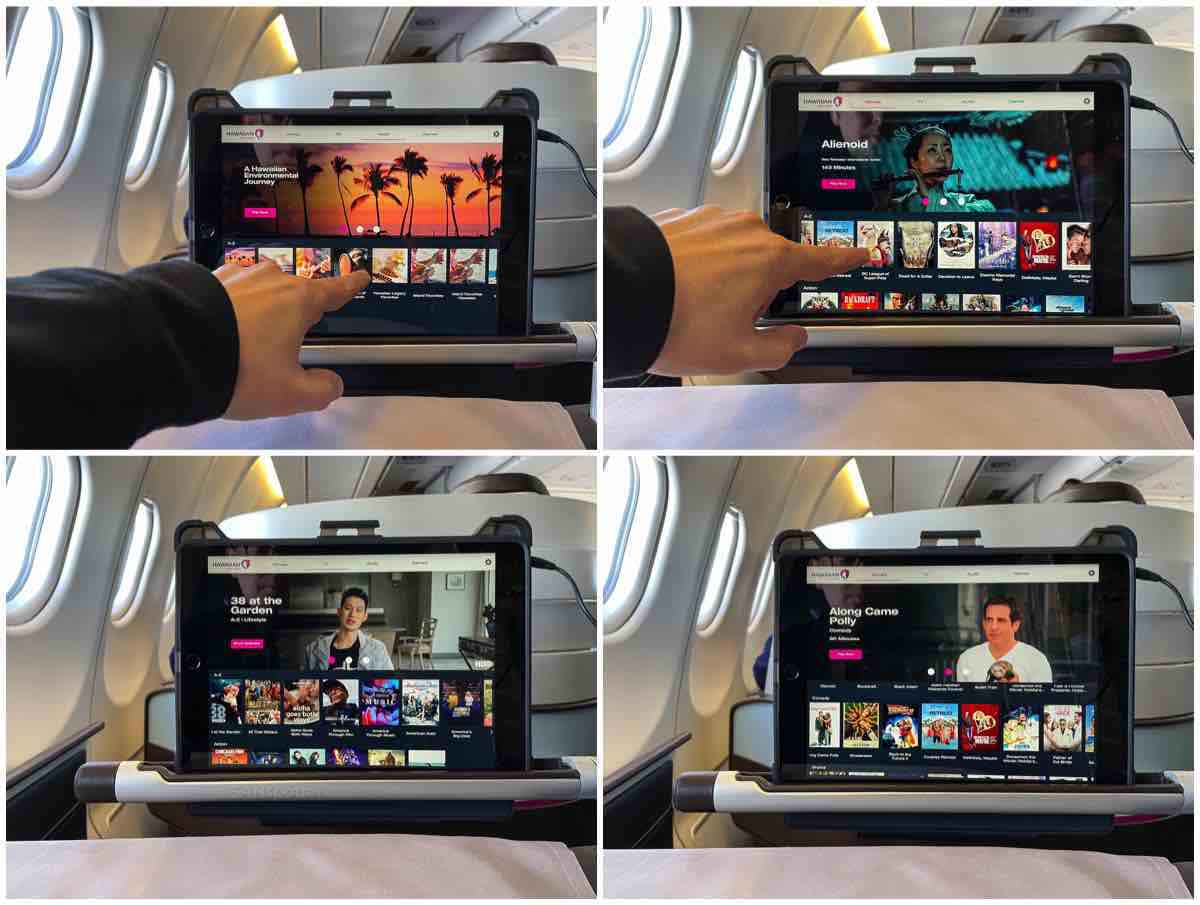 Noise canceling headphones decent. I've had better, but they certainly weren't the worst.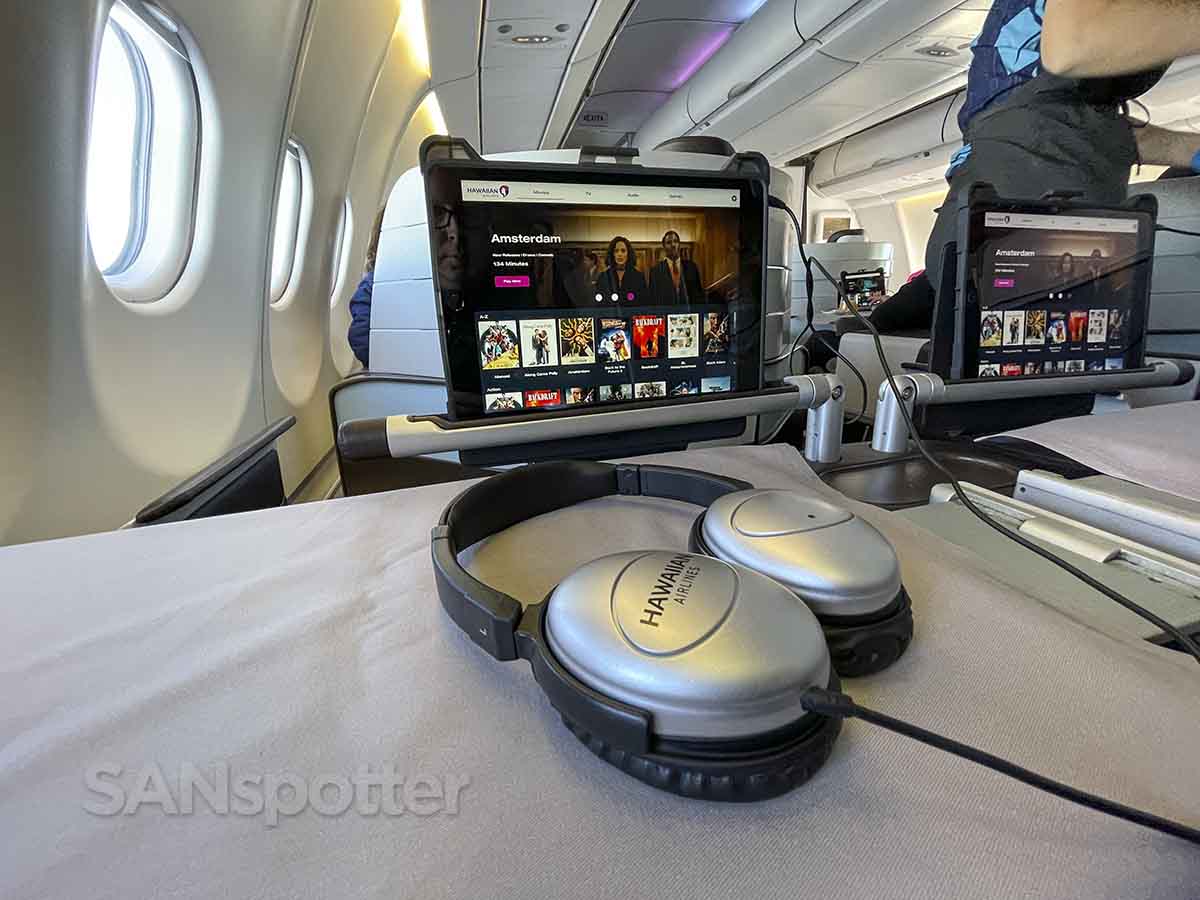 The food
One thing that makes it worth flying Hawaiian Airlines over any other (at least in first class) is that they actually make an effort to serve Hawaiian-themed cuisine (minus the Canadian bacon stuff you saw on the menu earlier).
The food is slightly above cafeteria quality at best, but the meal they served on this flight to Los Angeles was plenty tasty. I ate every last bite, and I have no shame in admitting it.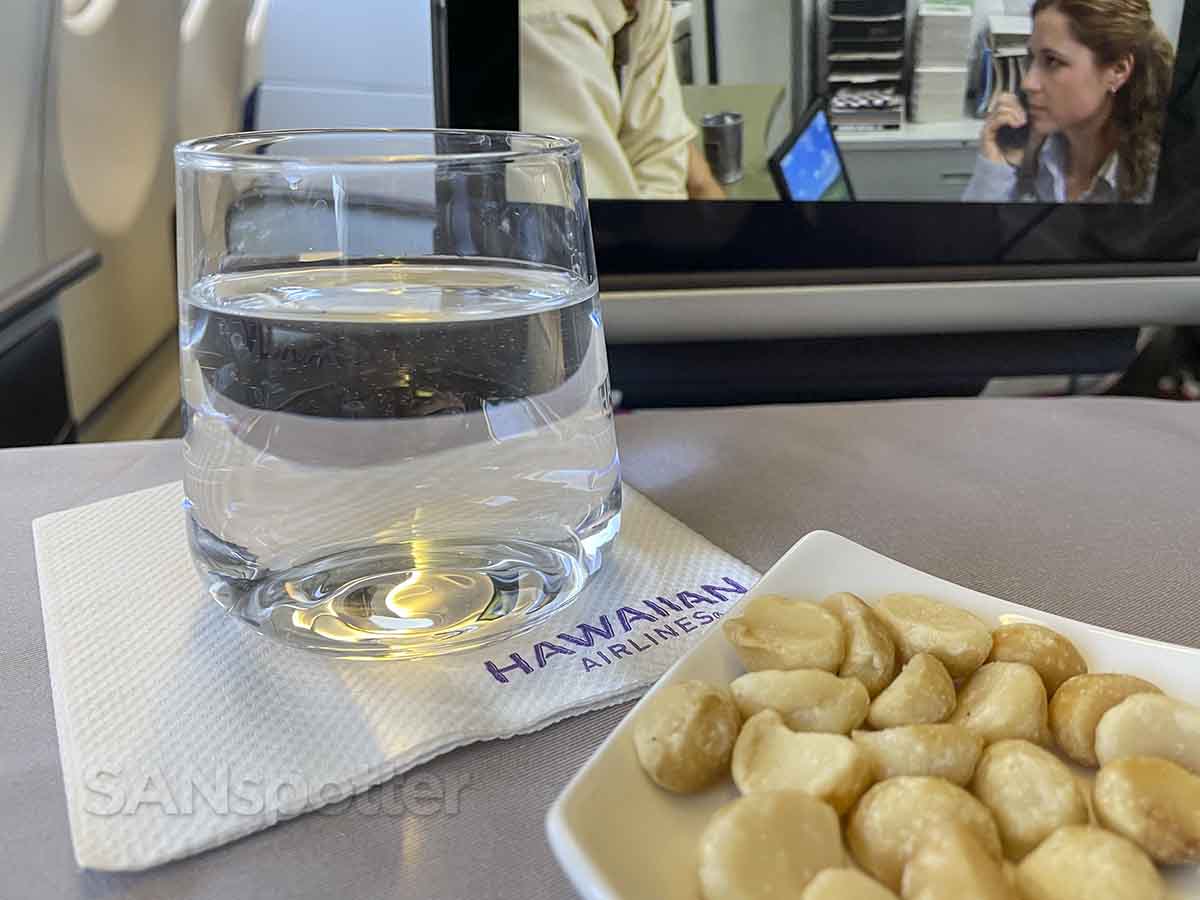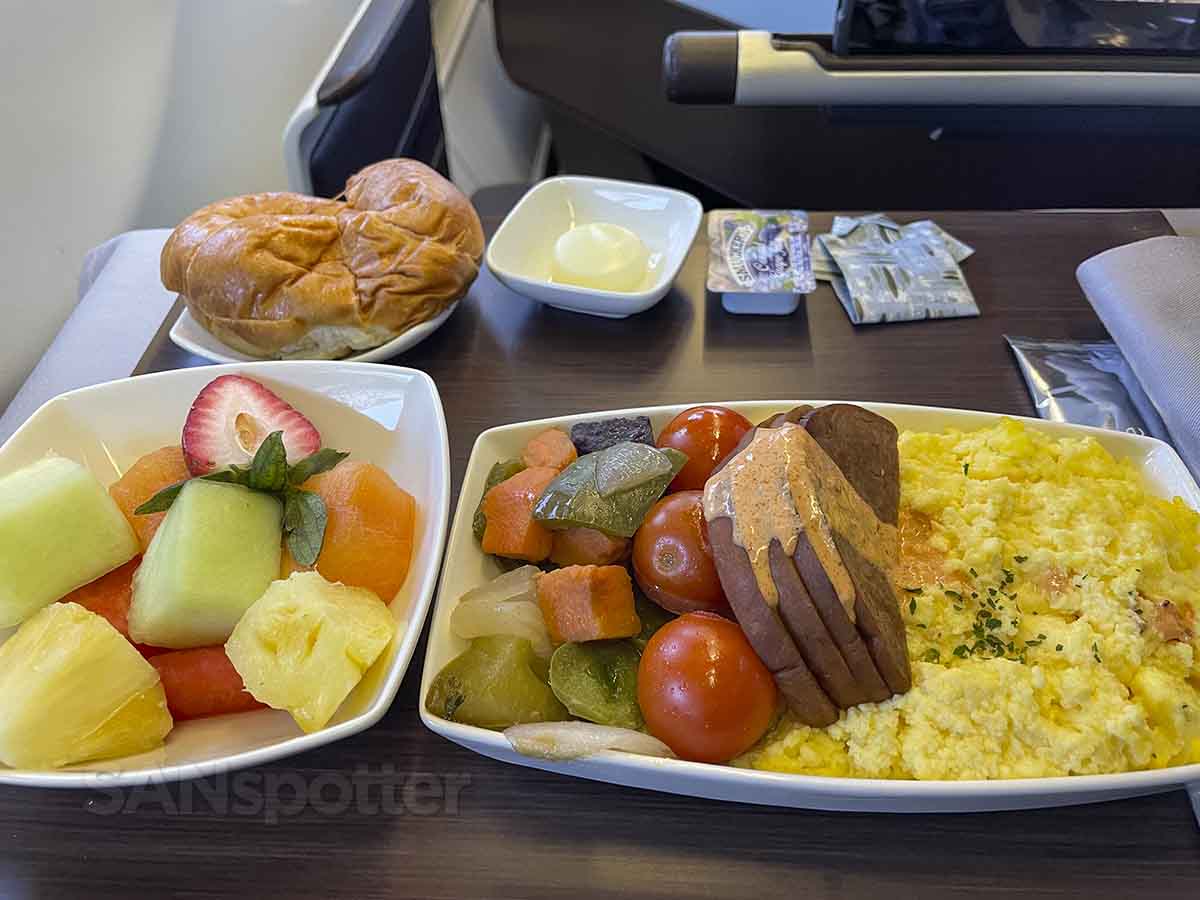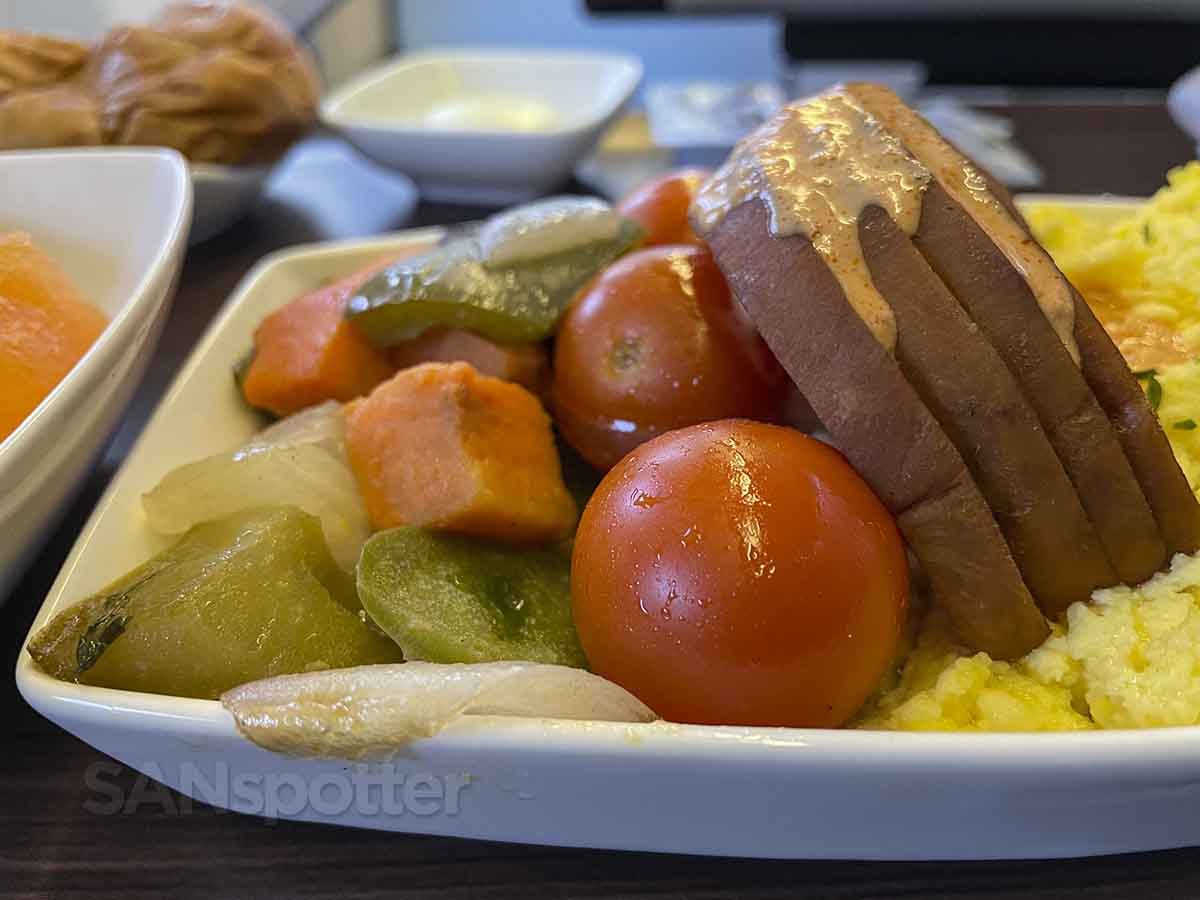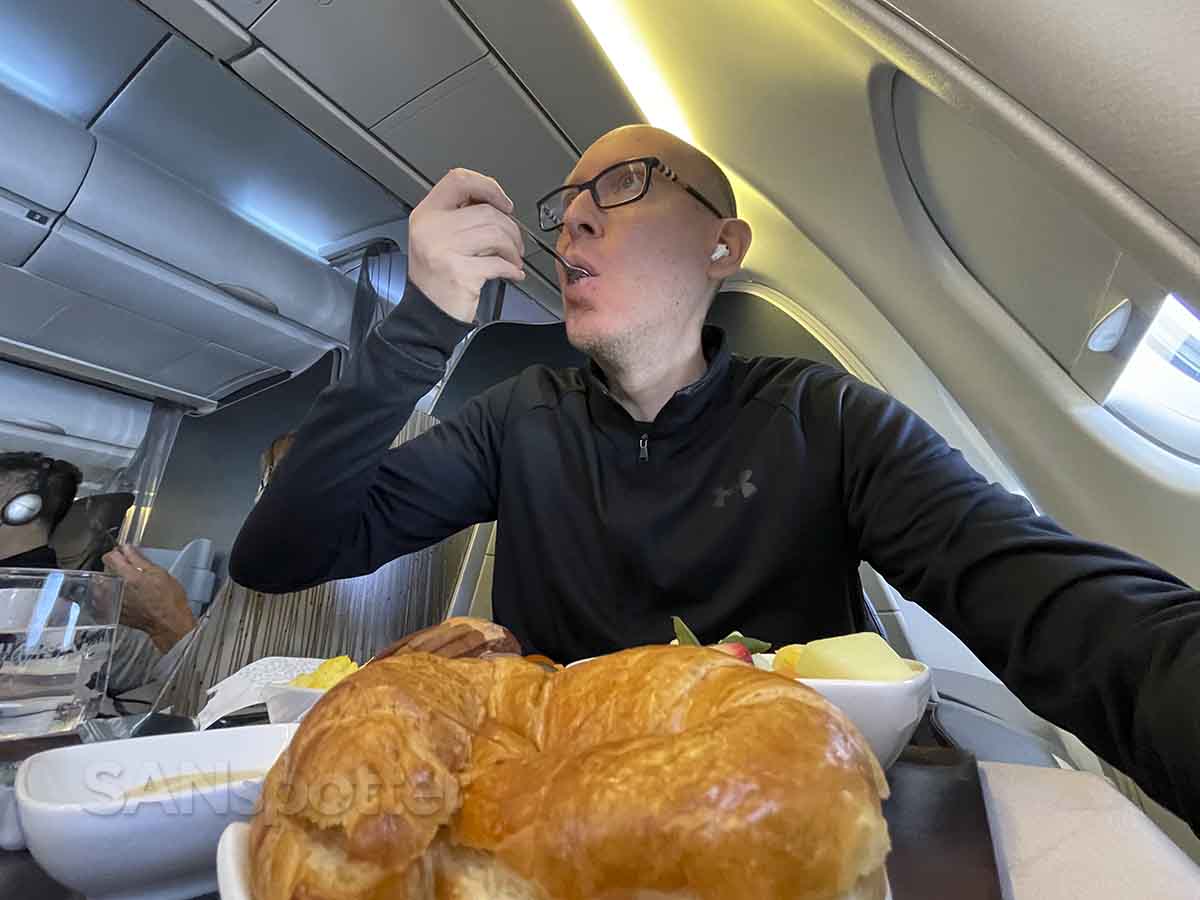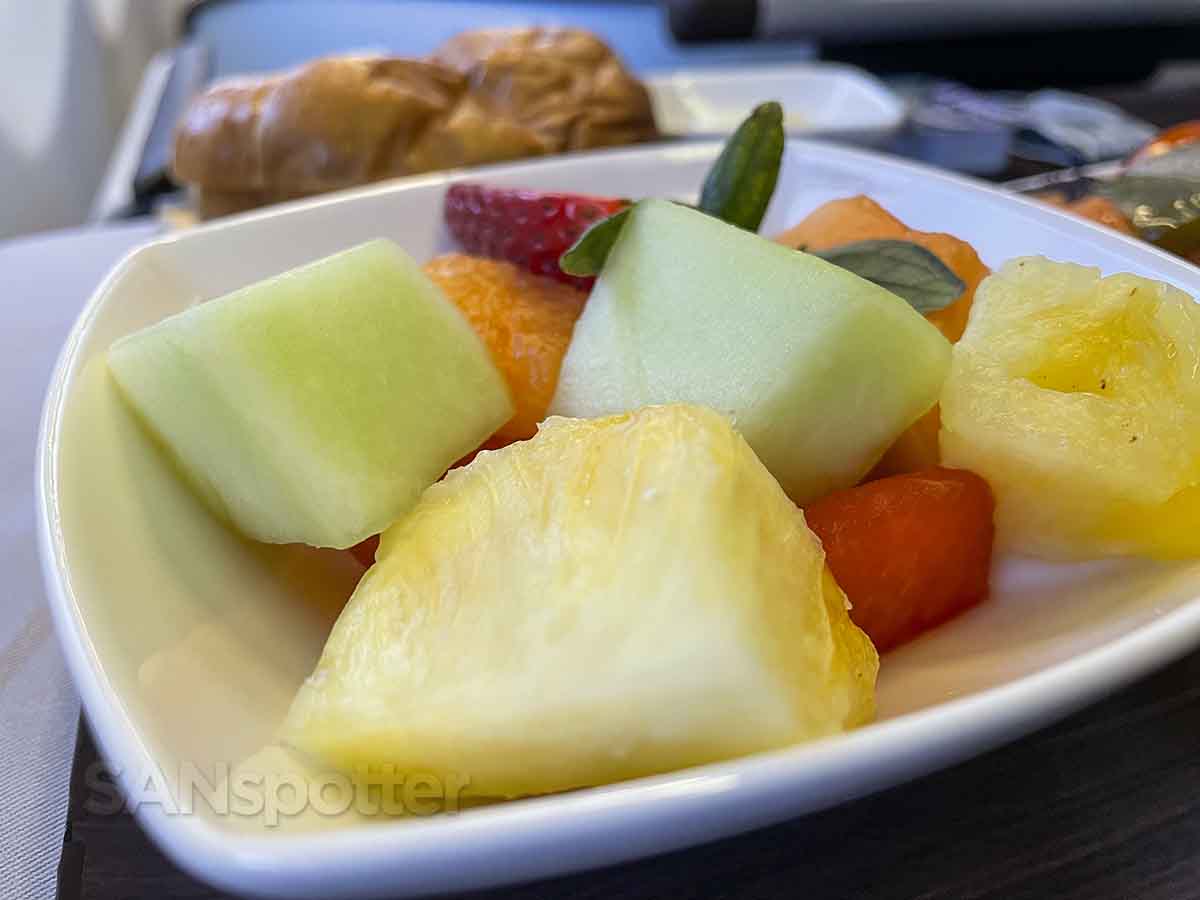 Testing out the lie flat seats
Because there's nothing more healthy than lying flat on your back after consuming a gut-busting meal, I wasted no time in whipping out the heavy blanket they provided and putting my seat into a deep state of recline.
I didn't go fully lie flat, as I wasn't all that tired – but I can assure you that this would be a very comfortable seat to sleep in on long international flights. As long as you can deal with the lack of privacy, you won't have any issues.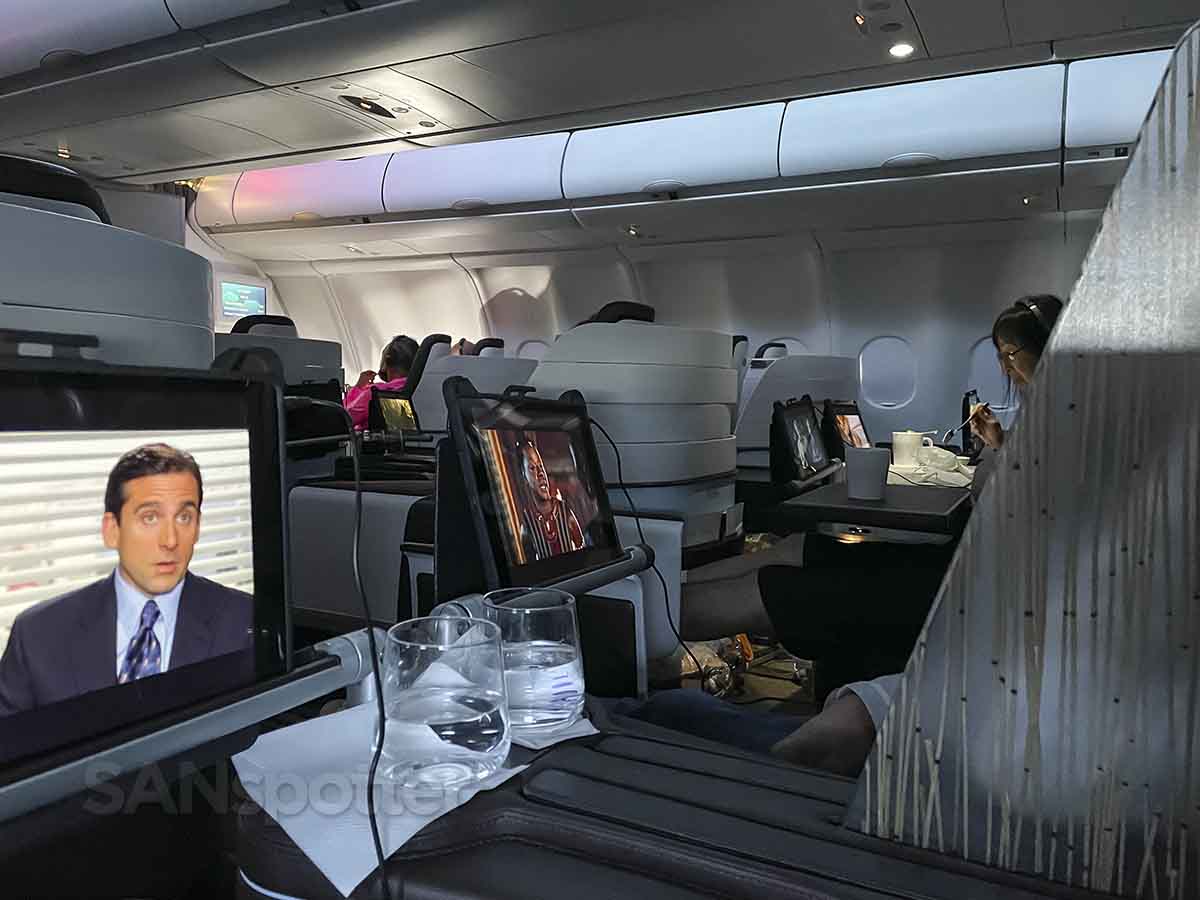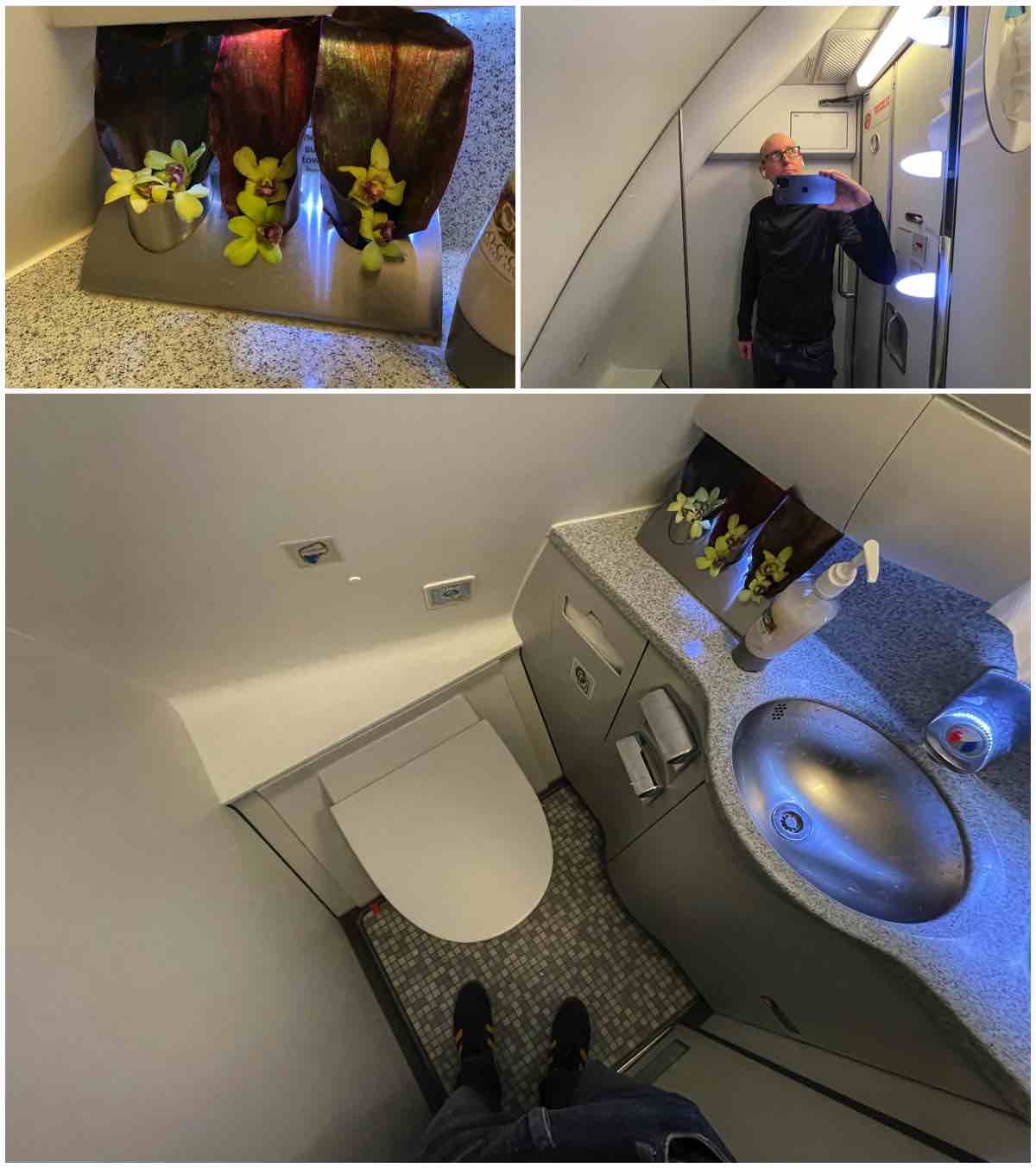 A few words about the cabin service for the second half of the flight
One of the other things that I've always liked about flying Hawaiian Airlines first class is how well the flight attendants take care of everyone during the course of the flight. My glass of water was never more than half empty the entire time, and the flight attendants were constantly coming through the aisles offering snacks to anyone feeling a little hungry.
Although these first class seats aren't as good as what some of the other airlines are offering, it's the onboard service which makes flying Hawaiian Airlines first class to and from Hawaii so darn good.
The descent and arrival into Los Angeles
Unfortunately, it's true. All good things must come to an end, and I got my first glimpse of the coast of California much sooner than I had hoped to.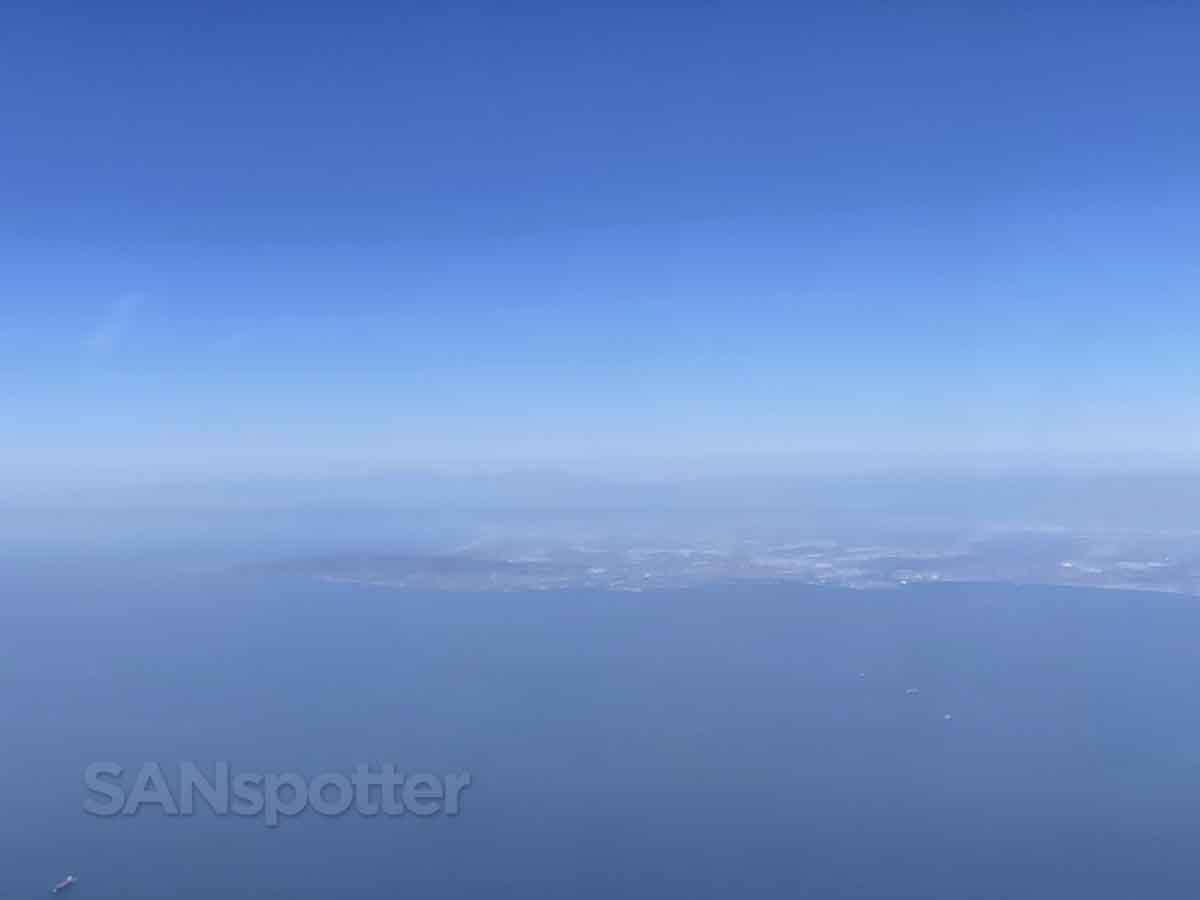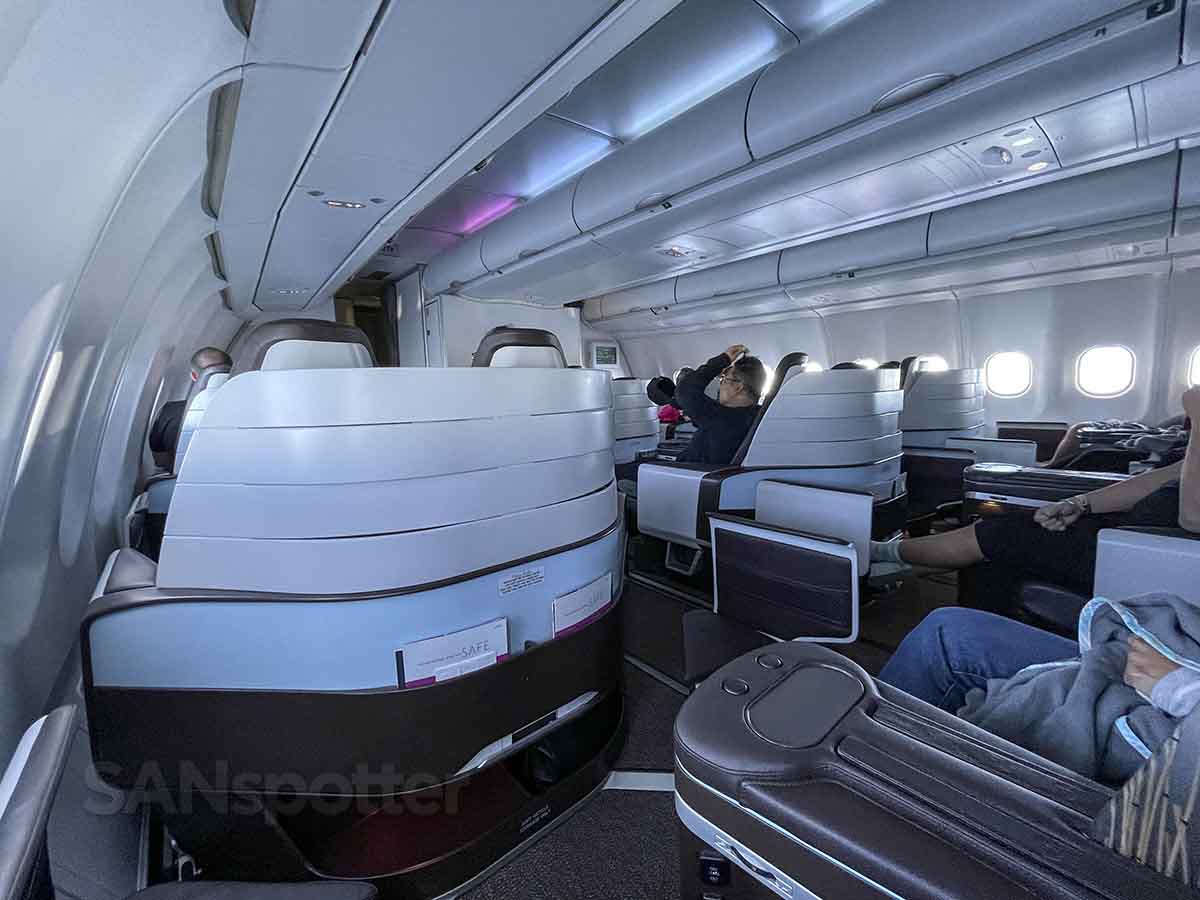 We approached LAX from the south, making landfall just south of Long Beach and then making a wide left-hand suite in turn to line up with runway 25L.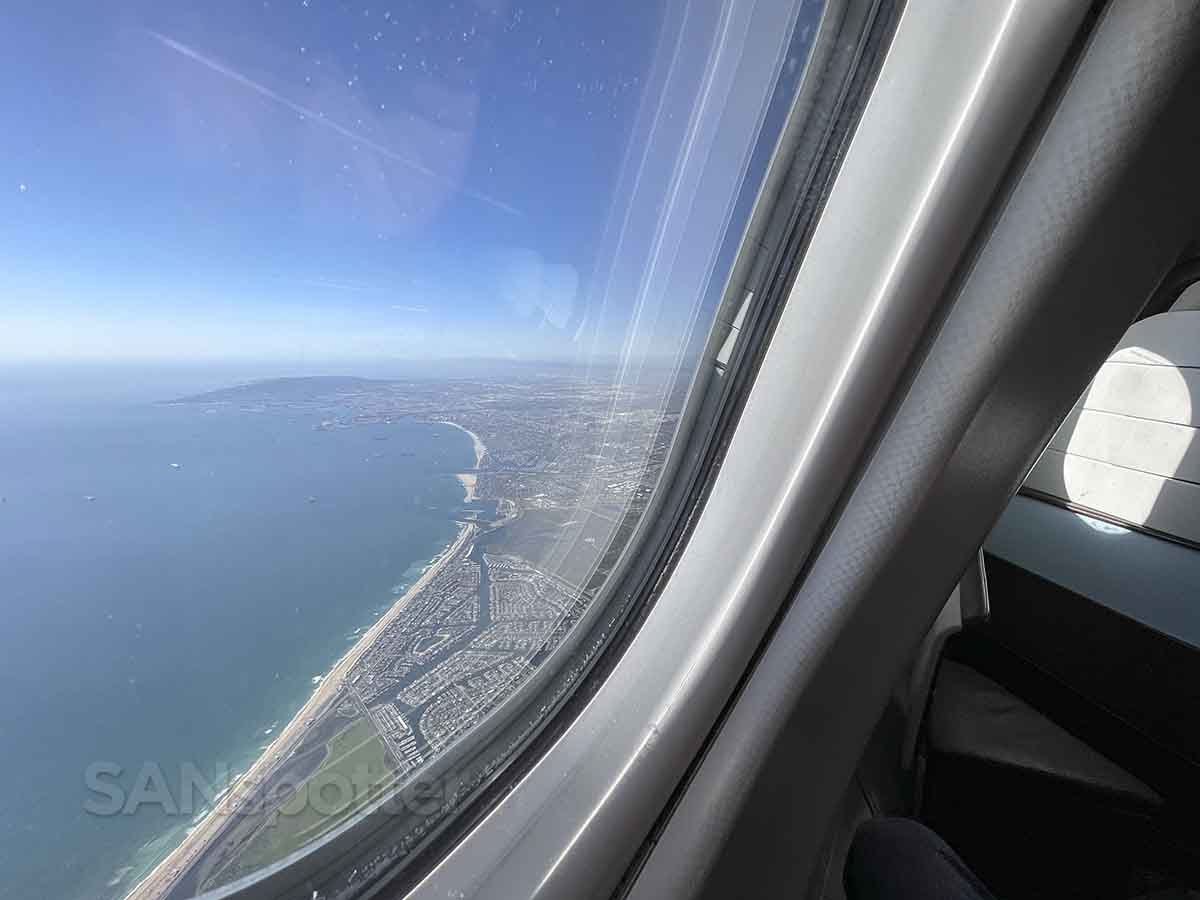 Note: Hawaiian Airlines has moved to the far west end of the Tom Bradley International Terminal at LAX. This is inconvenient in my opinion, as it requires one heck of a long walk back to the main terminal. Oh well. At least I was in a good mood from yet another really awesome flight in Hawaiian A330 first class.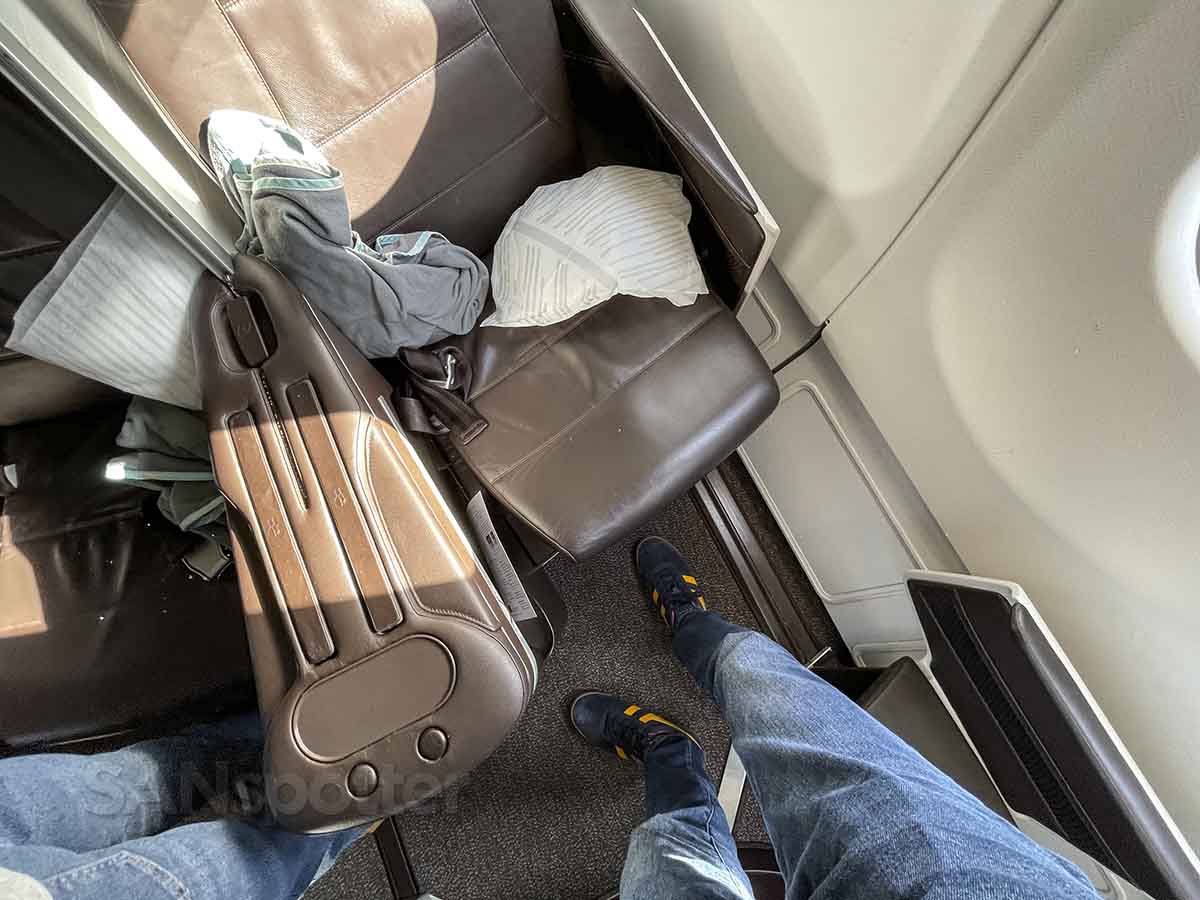 Pros and cons of flying first class on the Hawaiian Airlines A330-200
I'm just gonna come right out and say it: this is the best premium seat to and from Hawaii on any airline. Actually, I should be more specific: it's actually the best first class product. The seat is kind of so-so.
Pros
It's one of the most unique looking first class products you'll ever fly. I qualify this is a "pro" because of how comfortable it is.
The quality of the in-flight entertainment is quite good.
Even the window seat passengers don't have direct aisle access, there's so much space between the seats that it's extremely easy to step over / around the person in the aisle seat (even if they're sleeping).
It's a relatively small first class cabin, so you won't have to wait long to be served food and drinks if you're seated in the last row.
Cons
There are only three rows of first class seats on the Hawaiian A330-200 (18 seats total), so there's not a lot to go around. Book early if you want a good seat!
The lack of privacy in the seats is borderline awkward. Thank God for the retractable divider, because otherwise, you'd get to know your seatmate quite well (whether you like it or not).
The lack of integrated video screens in the seats makes in-flight entertainment a somewhat clumsy experience.