If you fly United often enough, there's a pretty good chance you're going to end up on an Embraer 175 at some point. If you're lucky, you'll figure out a way to nab a seat in first class.
But it's not like United Express E175 first class is something to strive for or anything. It's not. Leg room is excellent, but the seats are narrow and the onboard service is essentially nonexistent.
All I'm saying is that you'll be a little less grumpy in first class than you would be in economy. Not by much, but enough to not look like a total curmudgeon as you sip on your bottled water while trying to avoid eye contact with flight attendant sitting in the jumpseat just ahead of you.
UA4723
San Diego, CA (SAN) – Los Angeles, CA (LAX)
Thursday, September 28, 2023
Aircraft: Embraer 175
Registration: N141SY
Duration: 28 minutes
Seat: 4A (First Class)
My full review of United Embraer E175 first class from San Diego to Los Angeles
Prior to this flight, I've experienced this regional first class product exactly 10 times between San Diego and Los Angeles over the past 8 years. I could've written this review in my sleep. Nothing has changed since the first time I tried it in 2015, which is both good and bad. Let me explain…
Arrival at the airport
Since this flight was scheduled to depart at 6:30 AM, it required waking up at 4:30. Thankfully I checked my phone before jumping in the shower, because that's when I learned that this flight had been delayed three hours. 3 freaking hours! For a flight with a scheduled flying time of only 25 minutes, that was a head scratcher for sure. At least I got to sleep in a little.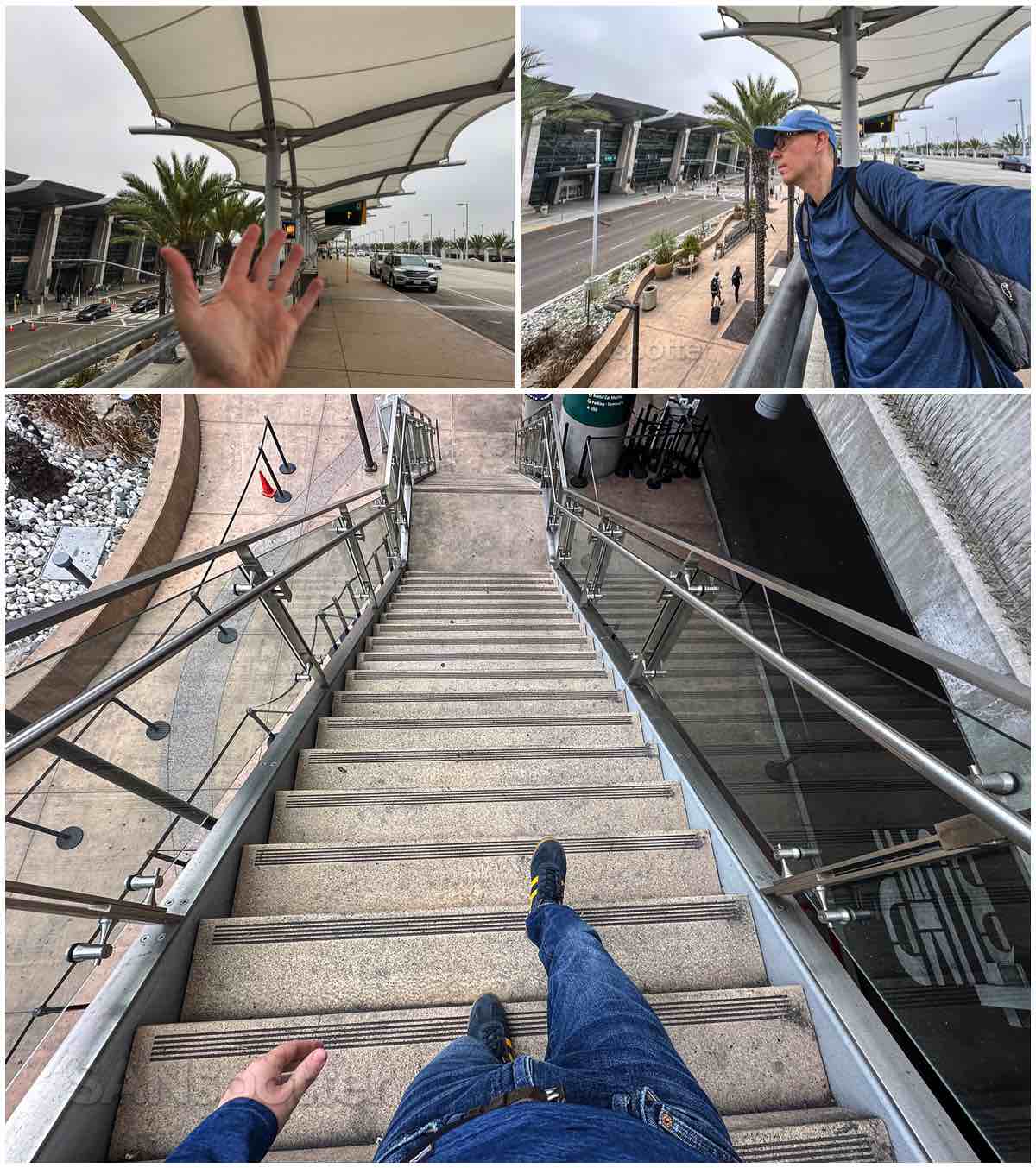 The boarding process
I was seated a bit too far away from the gate to hear the announcement for boarding, but I headed that direction when noticing some general activity in the area. The door was open when I arrived, and there were some people sitting around looking like they were waiting for their group number to be called. I waited. Nothing happened. I waited some more.
After 10 minutes of standing around (directly facing the open door and the gate agent), I decided to step forward and get in line for boarding group 1. Long story short, I was informed that boarding had started 12 minutes ago. Last one on the plane FTW!
A closer look at the first class seats
If you have ever flown American Eagle Embraer 175 first class, what I'm about to show you is going to look awfully familiar. That's because most of the Embraer 175s here on the West Coast are operated by SkyWest, and they work with the major airlines to supply those planes (without doing much with the interior).
First class is a 1-2 layout, with four rows of seats. I highly recommend getting a seat on the single side if you are a solo traveler.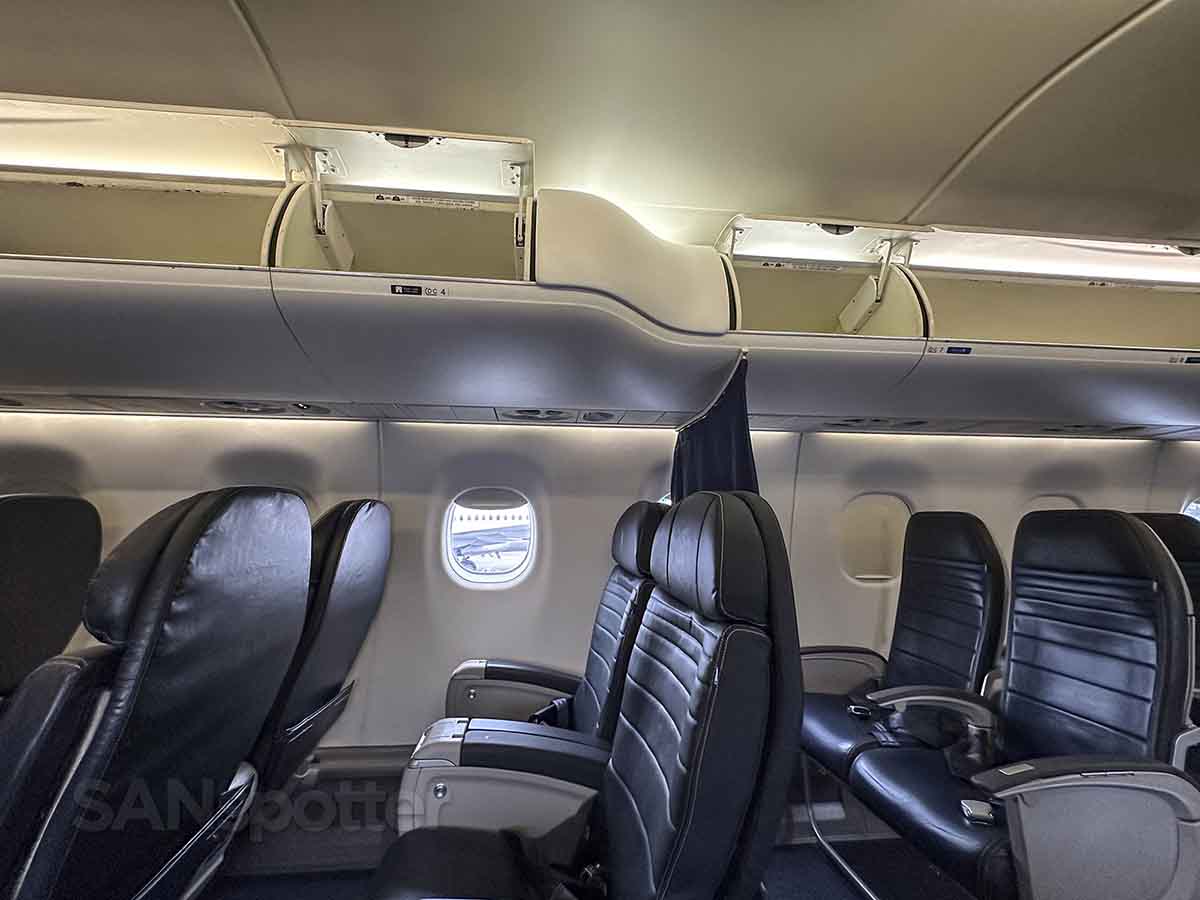 The departure out of San Diego
The main benefit of being delayed three hours was that we avoided the 6:30 AM rush. The San Diego Airport doesn't open for departures until 6:30 AM, and it's essentially gridlock as many airlines have multiple flights going out to multiple destinations at that time. It's nuts. But we didn't have to deal with any of that this morning!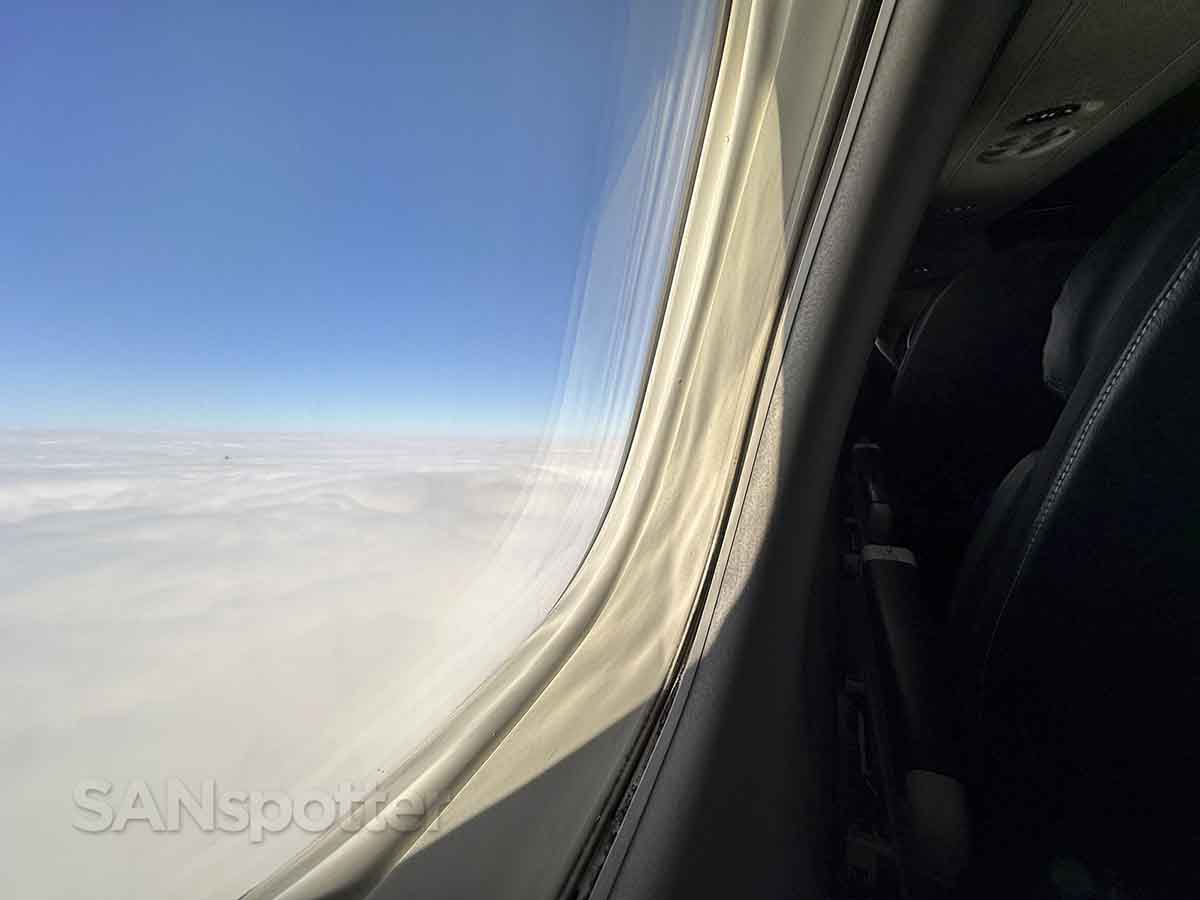 In-flight entertainment
Believe it or not, there is both streaming entertainment *and* Wi-Fi on the United Express Embraer 175 (in all classes of service). Wi-Fi wasn't available on our flight due to the fact that we barely got above 10,000 feet, but it is available for most flights. Messaging (and a fall catalog of movies and TV shows) is free – but you will have to pay for Internet connectivity.
Snacks and drinks
You're doing it wrong if you expect to be served substantial snacks and drinks on any United Express flight (not only the Embraer 175). And on flights as short as this one? Ha! We did get a full size bottle of water, but the snack basket never made an appearance.
Seat comfort
The main benefit of these first class seats is the extremely generous leg room (37"). Seat width (20") isn't much to get excited about, and those of you with wider hips may not find them to be all that comfortable. And of course padding is minimal. Stuffing first class seats into a tiny regional jet such as this requires some sacrifices.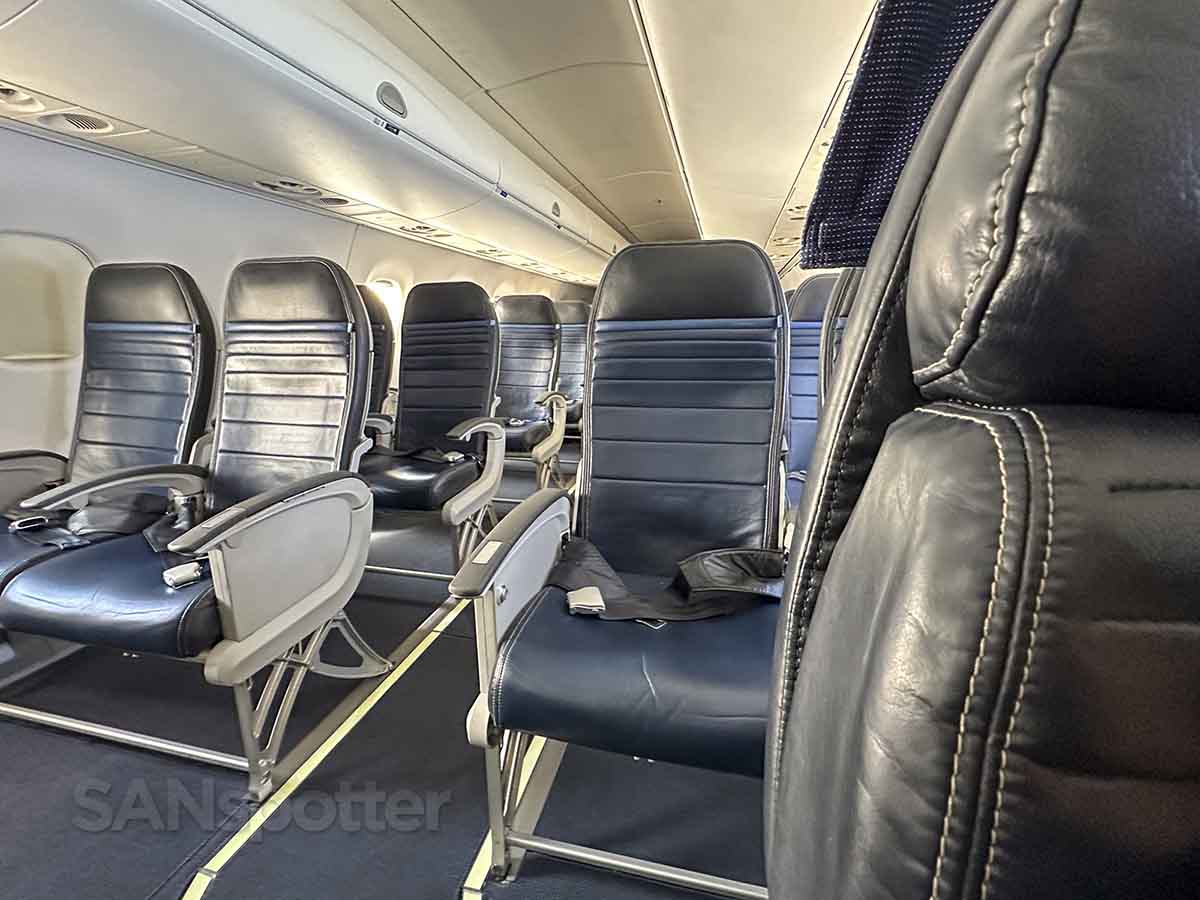 The arrival into LAX
For an airport that receives an endless stream of A350s and 777s all day long (from all over the world), I can tell you from first-hand experience that arriving on a tiny little E175 just doesn't feel right. $20 says there was not a single aviation photographer up on Imperial Hill that photographed our arrival that morning. And I don't blame them.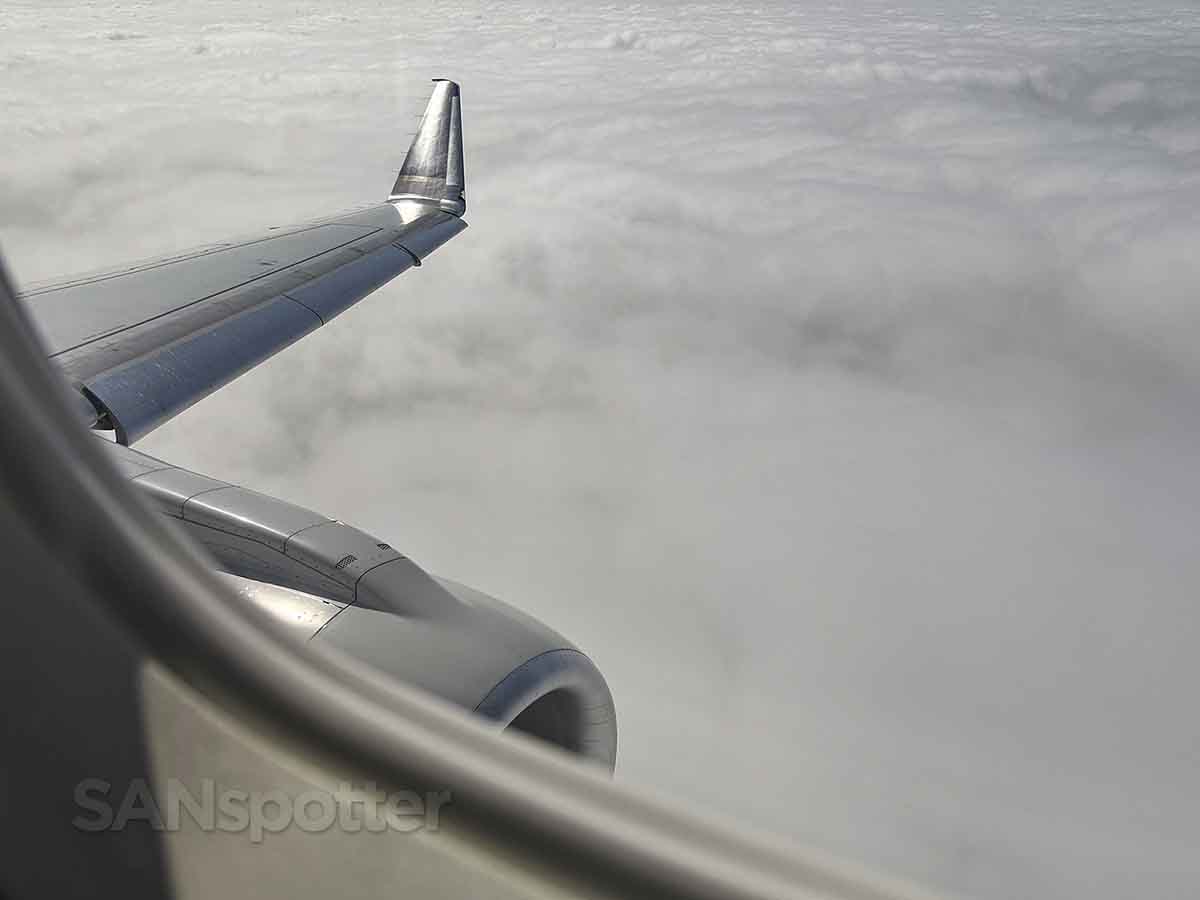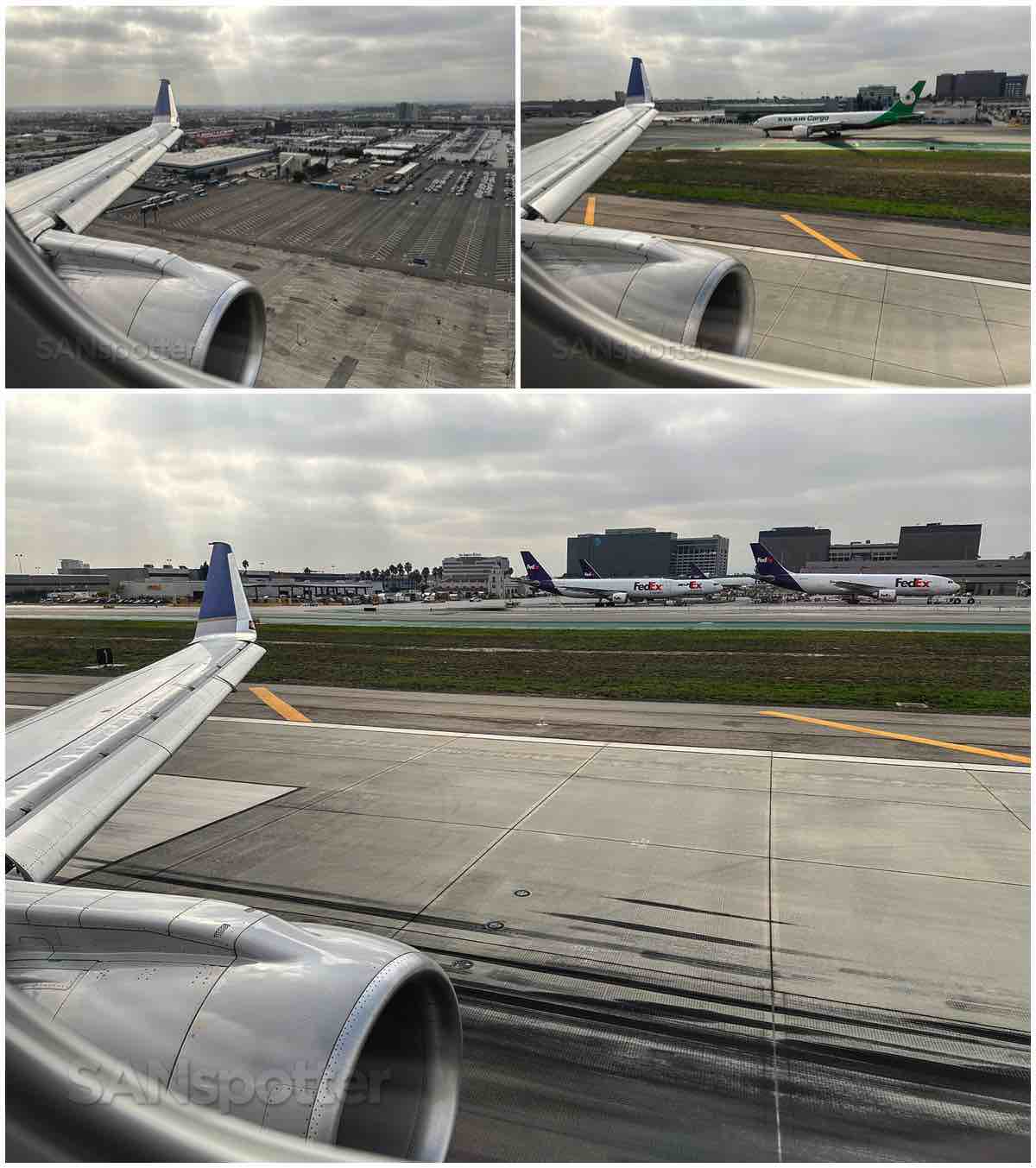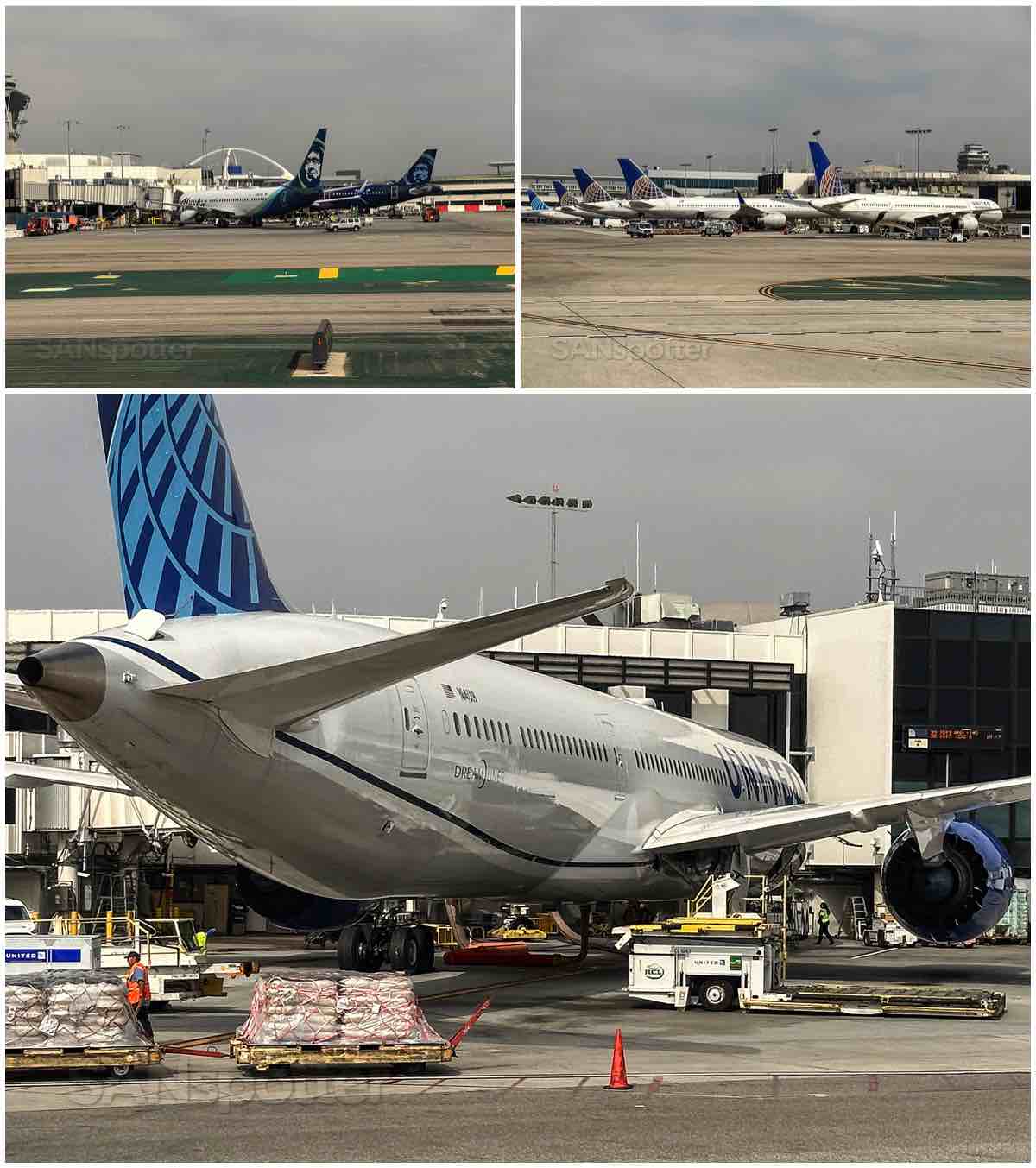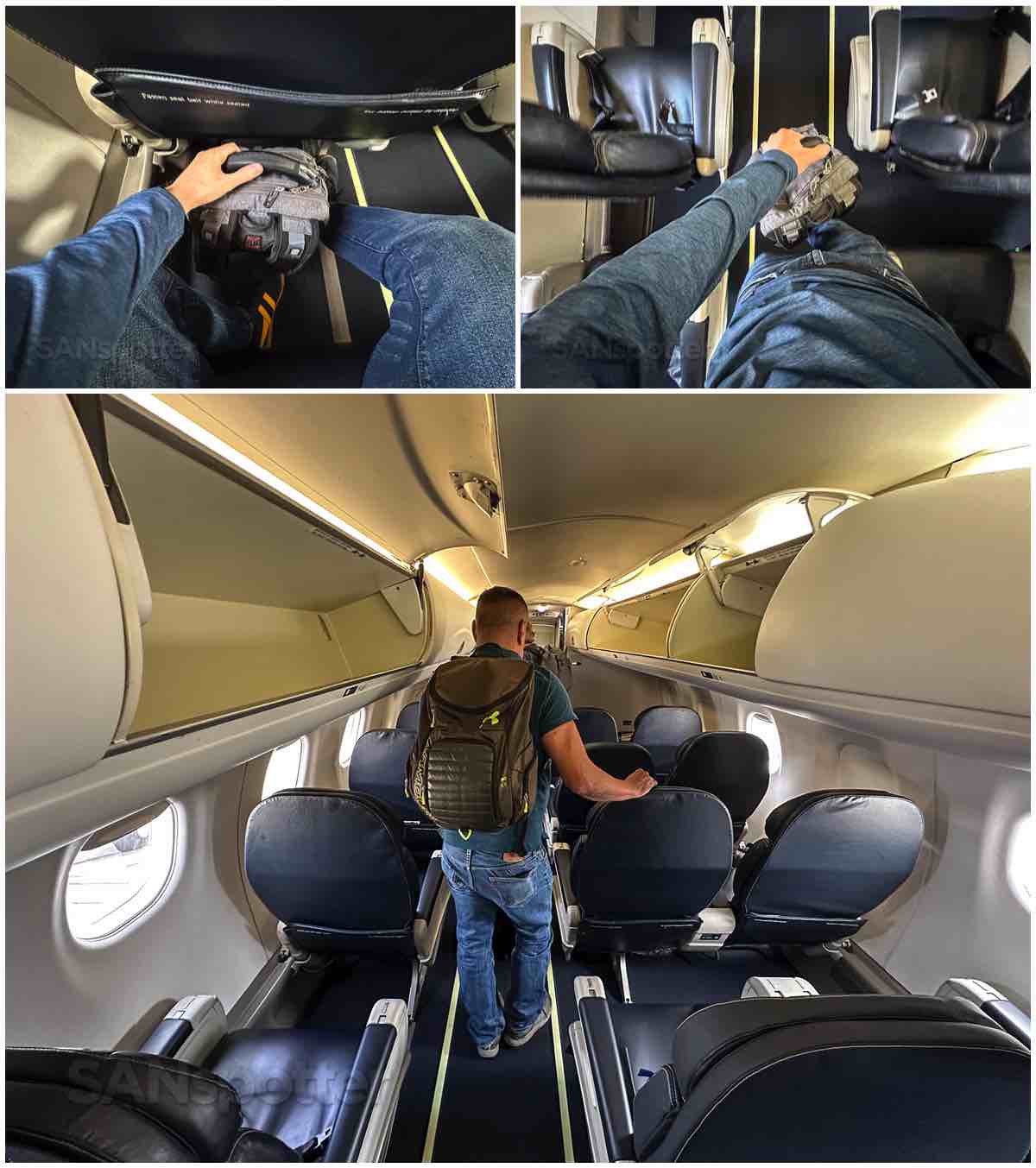 Pros and cons of United Express E175 first class
I'd like to think that most people find themselves in one of these first class seats immediately before or after an amazing international first or business class experience. Nobody goes out of their way to make the Embraer 175 the highlight of their trip. At least they shouldn't be doing that.
Anyway, I'm of the opinion that this is a decent first class seat which is best for beginning or ending an amazing journey. Think of it as an appetizer (or a palate cleanser) for other (better) first class experiences.
Pros
I'm a huge fan of the 1-2 seating configuration. Single seats FTW!
Legroom is phenomenal for such a tiny airplane. It's better than what you find on most mainline aircraft.
The full catalog of streaming in-flight entertainment is impressive. This is not something that all airlines provide in regional first class.
Cons
Seat comfort will depend on how much junk you have in your trunk. They're narrow!
Snacks and drinks are extremely limited, so bring your own.