Alright ladies and gentlemen, playtime is over and it's time to get back to reality. All the posts about those fancy international business class cabins on interesting aircraft for this trip report are now complete, and it's time to hop on an American E175 (in first class) for a quick flight down to San Diego.
American Airlines actually used to serve San Diego from Los Angeles with DC-10s (waaaay back in the day), but the only option tonight was a rinky-dink E175 that sounded more like a vacuum cleaner than an actual airliner.
I'm not complaining though – air travel is a lot better now than it was 30 years ago, so let's stay positive and get this over with.
AA6074
Los Angeles, CA (LAX) – San Diego, CA (SAN)
Monday, October 23, 2017
Aircraft: ERJ-175
Registration: N217NN
Duration: 31 minutes
Seat: 4A (first class)
The American Airlines terminal here at LAX is actually quite nice, but unfortunately regional flights like mine down to San Diego do not depart from here. There's a designated commuter terminal for that, and if I'm being quite honest, it feels more like a bus station than it does an actual airport terminal. The only good thing about it is that it requires a bus to get to, which offers incredible views the action here at LAX during the entire drive. Let's check it out!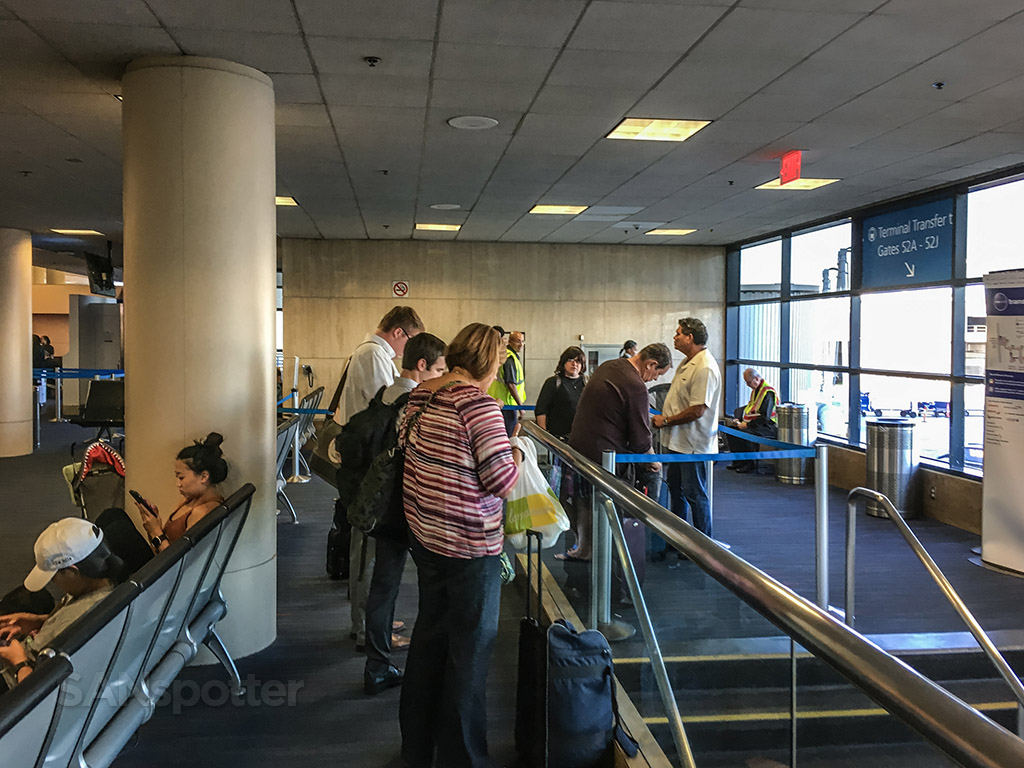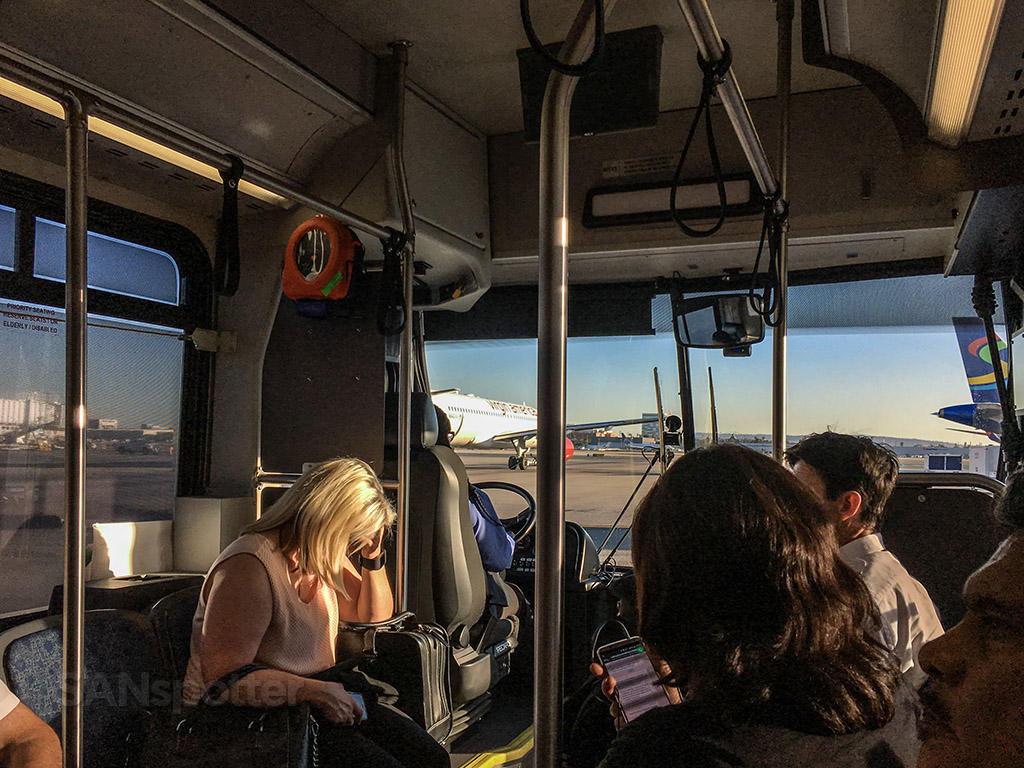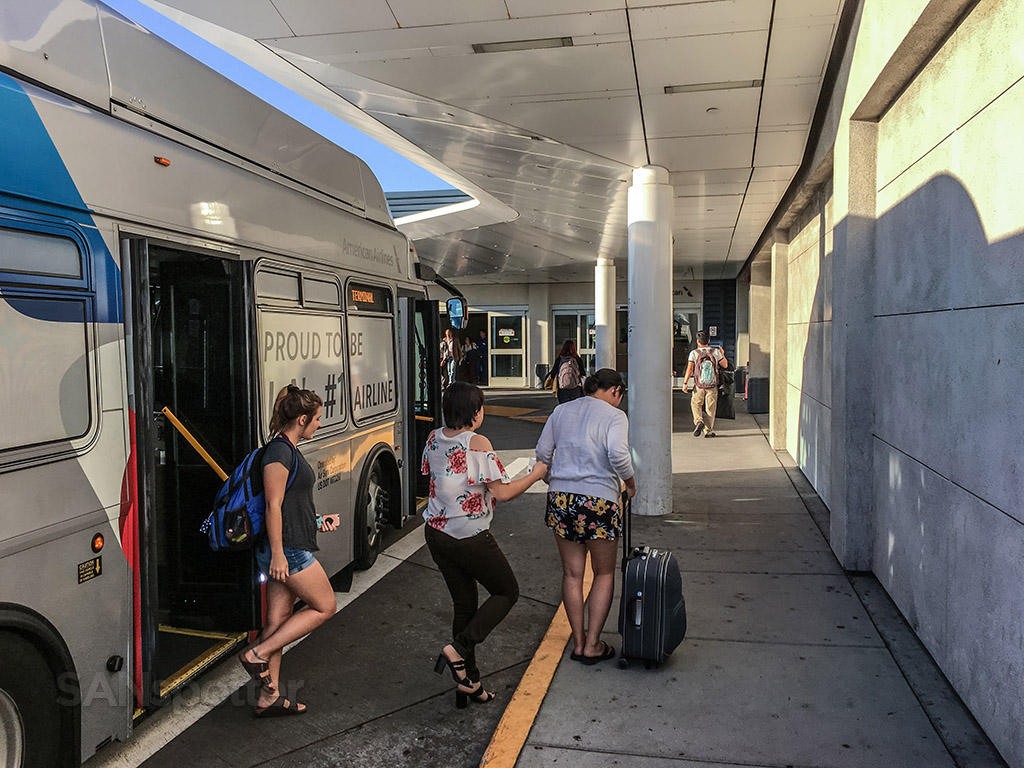 Unfortunately I still had nearly an hour of waiting time once I arrived at the commuter terminal, so I did my best to try and find a quiet spot against the back wall to sit and think about how great of a trip this had been. I love Hong Kong, and just being able to spend a few days there puts me in a good mood for quite a while after.
The energy of the place also rubs off on me a little bit every time I go, and as I was sitting there waiting for my flight to board I couldn't help but feel inspired to finish writing that book that I started (and then quit) over three months ago. It's a book about learning how to push back at the office to reclaim precious free time in order to travel more.
This is a topic I'm very passionate about since it's something that I've been doing for many years now in my own career (including at that exact moment since this was a Monday afternoon and I should have been working), so I was feeling the drive to get that book done in order to help inspire other travelers who are stuck in a day job just like me.
Anyway, I was able to finish that book right before Christmas, and I just want to take this opportunity to give a HUGE thanks to everyone who has purchased it so far. I love hearing comments about how inspiring of a read it is, and it makes me feel good knowing that I'm making a difference in people's lives.
Being in a good mood tends to make time go by in a flash, and before I knew it they had announced boarding for this flight to San Diego. It was interesting that there didn't seem to be a mad rush of people running towards the gate as soon as they announced the flight, so I just casually took my time getting my things together and meandered over there in no big rush of my own.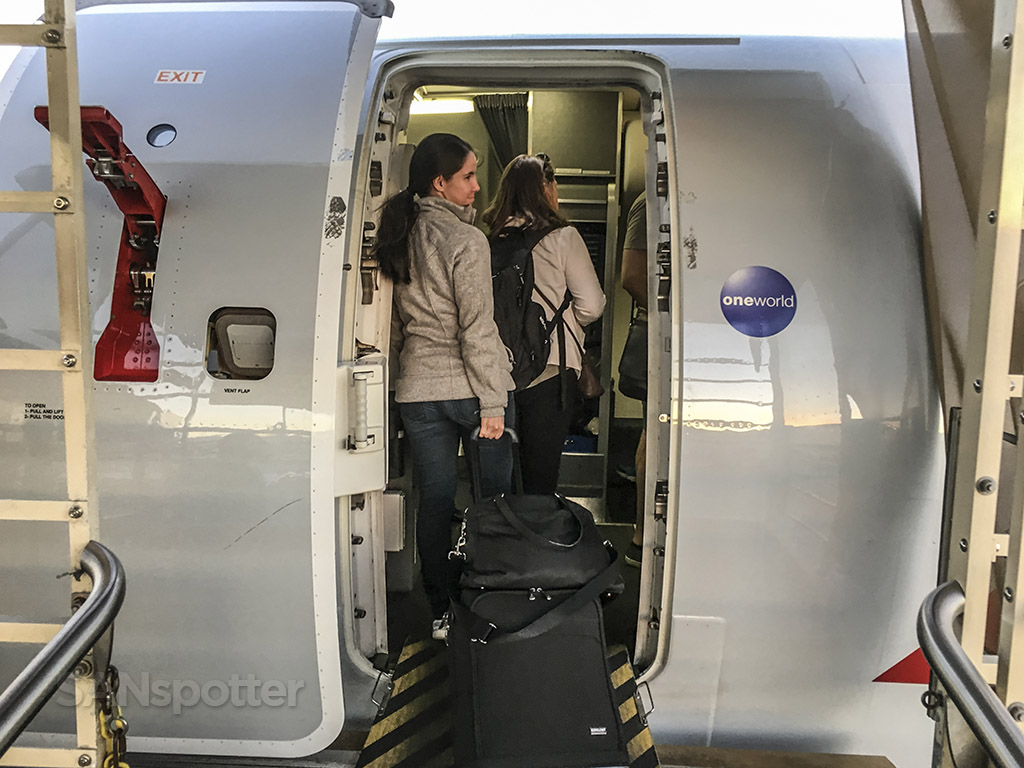 The sun was setting beautifully as I walked out to the airplane and stepped onboard, and within 30 seconds of sitting down I was offered a glass of water (or anything else I might have wanted) to drink by the flight attendant. One of these days I'll be really famous and every flight attendant on every flight will know me and have a glass of water ready and waiting by the time I arrive. Someday…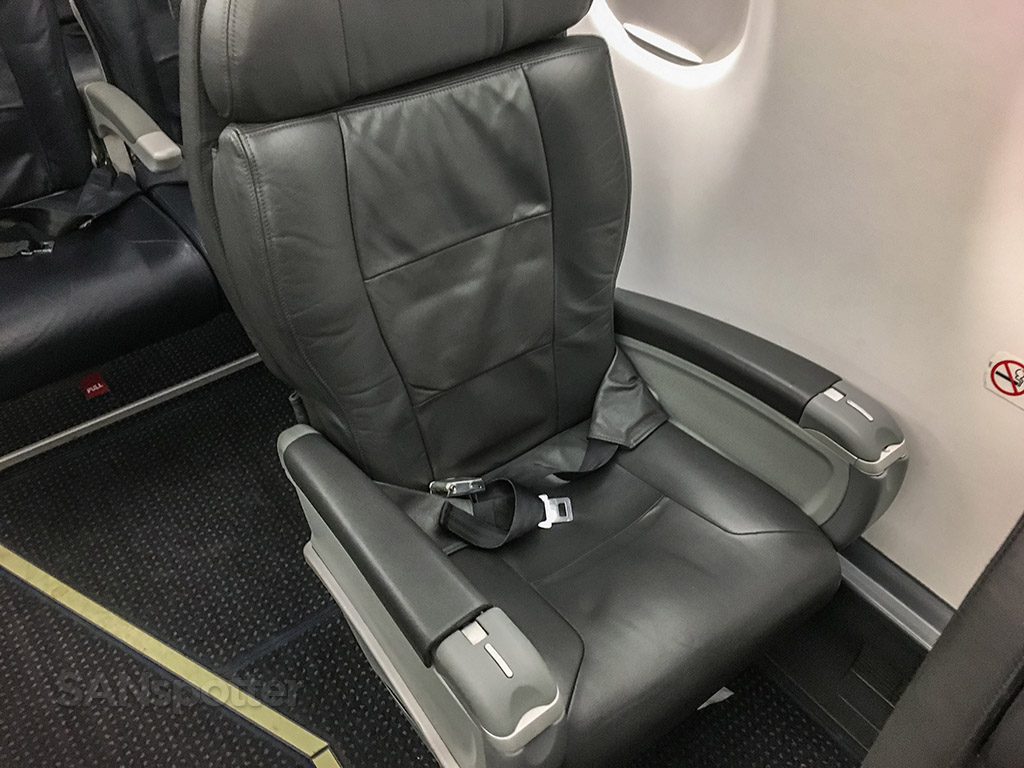 By the time they closed the forward boarding door, the two seats across the aisle from me were still empty. Luckily for the passengers in the first row of economy, the flight attendant was in a giving mood this evening and invited them to come up to take those seats in first class. I thought that was really cool, as those two passengers were extremely thrilled about it and it definitely made their day. Cheers to the flight attendant for doing a good deed.
The sun had dropped just below the horizon just as we were pushing off the gate, which squashed my hopes and dreams of getting some spectacular sunset shots on departure out of LAX this evening. No worries though – the hardcore photography nerd in me always comes prepared, and I had my Sony point and shoot camera with me that does really well in low light.
It's been a while since I've been able to get creative with low-light departure shots, so I had fun trying a lot of different settings on our way out to runway 25R.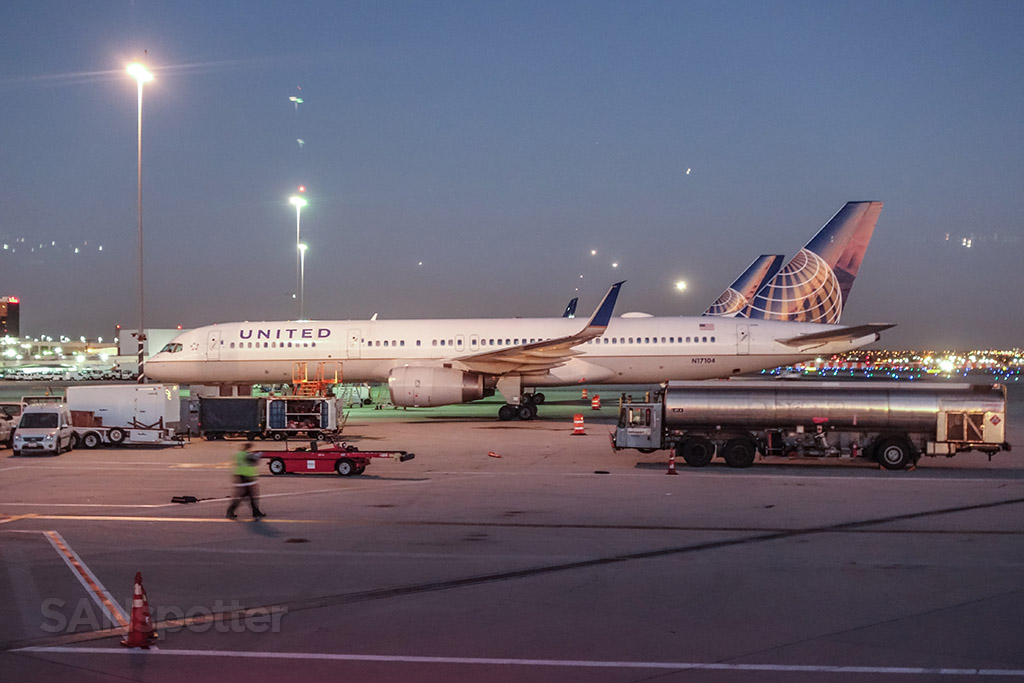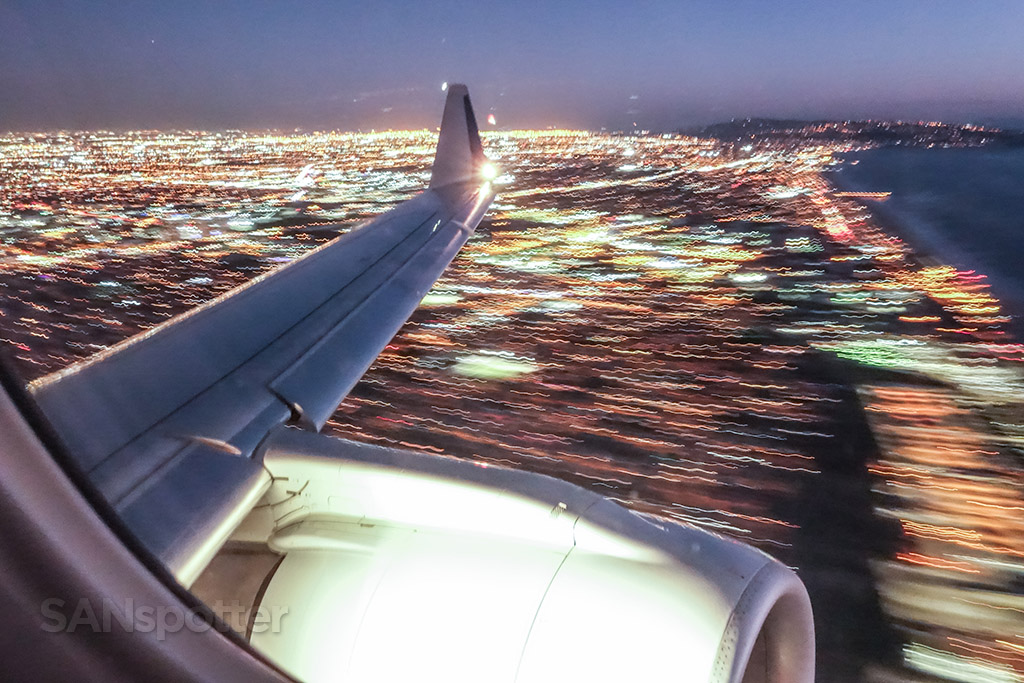 The flight down to San Diego from Los Angeles is hardly even worth talking about, as we only climb up to about 11,000 feet, level off for a few minutes, and then begin the descent down into San Diego. I'm not a pilot, and I don't pretend to be one, but I've done this route so many times that I think I could fly it myself and hit all the waypoints without even looking at a map.
It's pretty simple actually: make a 90° left turn after departing LAX, go straight until you reach the Oceanside pier, make a slight course adjustment to the right before turning inland over Del Mar and La Jolla (right over top of my house), head straight out to Santee, and then make a big 180° right hand turn back towards SAN. Easy peasy.
It was completely dark once we arrived in San Diego, and I was walking off the plane with a huge smile on my face feeling happy for having had such a great trip. It wasn't perfect, but then again no trip ever is, and that's what always makes it so much fun.