With only 45 minutes of connection time after my flight up from SAN, I wasted no time in checking the boards to see where this 747-400 flight to Chicago would be departing from. I had assumed that it would be docked at the international terminal with all of the other 747's, but to my surprise the departure gate this morning was 86 – which is at the end of the UA domestic terminal. I've never seen anything larger than a 777 (or DC-10) parked at these gates, so it was completely unexpected and somewhat appreciated since it meant that I wouldn't have to walk as far to catch this flight.
UA620
San Francisco, CA (SFO) – Chicago, IL (ORD)
Saturday, April 23, 2016
Aircraft: 747-400
Registration: N121UA
Seat: 51A (economy)

By the time I got to the gate, the boarding zone lines were already massively long. There are separate queues for each zone (1 through 5), and they were so long that it took me a minute or so to figure out where the end of the zone 2 line was. This is a problem with boarding large aircraft from smaller gates I suppose – there's no easy way to get everyone queued up and onboard!
Boarding was called right on time, and right away I appreciated the semi-organized zone lines that UA is now using at it's major hubs. These dedicated lines eliminate those with higher zone numbers from crowding the podium during the boarding of lower zone numbers. It sounds a bit confusing, but it works surprisingly well IMHO.
So far my best flight on a United Airlines 747-400 was back in the spring of 2014, as I was wined and dined in Global First all the way to PEK from SFO. Today I'd have to trudge it out way back in economy class, which I honestly didn't mind since it would be a relatively short flight over to ORD. The last time I was in UA 747-400 economy class was on a flight from SFO to NRT back in October of that same year, and the truth is that it wasn't a very memorable flight due to the fact that I was stuck in a middle seat.
Today I had a window seat (51A) in the last section of the airplane, and in my distraction of trying to record video of the boarding process, I accidentally sat down in 52A instead. I was quickly notified of my error when an elderly couple came to claim my seat just a few minutes later. Oops – sorry about that!
Once situated in my proper seat, I really couldn't help but notice how dark, dated, and yellow the interior of this 747 was. She hadn't been updated and refreshed in years it seemed, and the interior looked worn and tired compared to the bright and clean 737-900 I just came off of.
Boarding took a while considering that this was a nearly full flight (there was an empty middle seat in the row ahead of me), but they managed to get us pushed back off the gate right on time. From there it was a short taxi out to runway 1R, which I should note was a first for me (I think). In all my years of flying out of SFO, I don't think I've ever been on a flight that departed from this runway. There's certainly a chance that I have, but I definitely can't recall a specific instance.
Here's a video I shot of the taxi and takeoff sequence:
And now for the pics:
The climb out of SFO to the east was largely uneventful, though I did take notice of how short our take off roll was. This was my first ever flight on a lightly loaded 747, so I was surprised how quickly and easily she got off the ground compared to all the other long haul flights I've experienced on this aircraft type.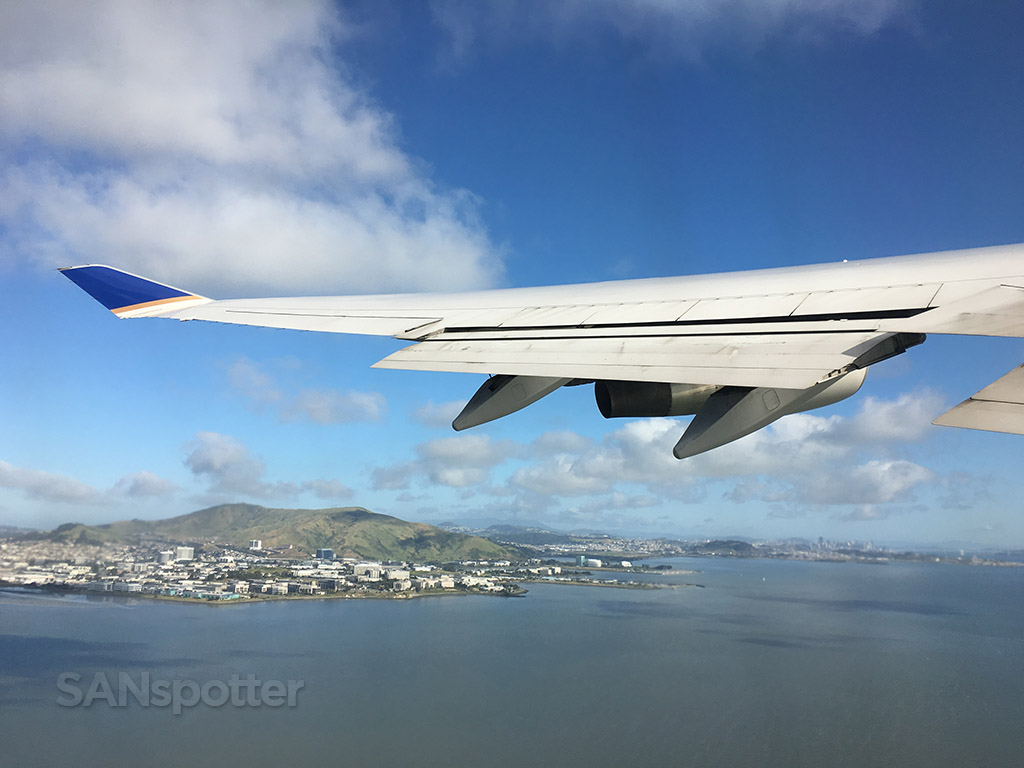 Once in the air at cruising altitude, the airliner nerd in me began looking around and wondering if there were any other passengers who really appreciated the fact that they were on a domestic 747-400 flight today. The guy next to me in 51B appeared not to care one little bit – he seemed agitated and uncomfortable, so I assume that this was just another flight for him. I also found it amusing that a majority of the other passengers probably booked this flight without even knowing (or caring) that it was a 747 and they just showed up to the airport and this is what they got.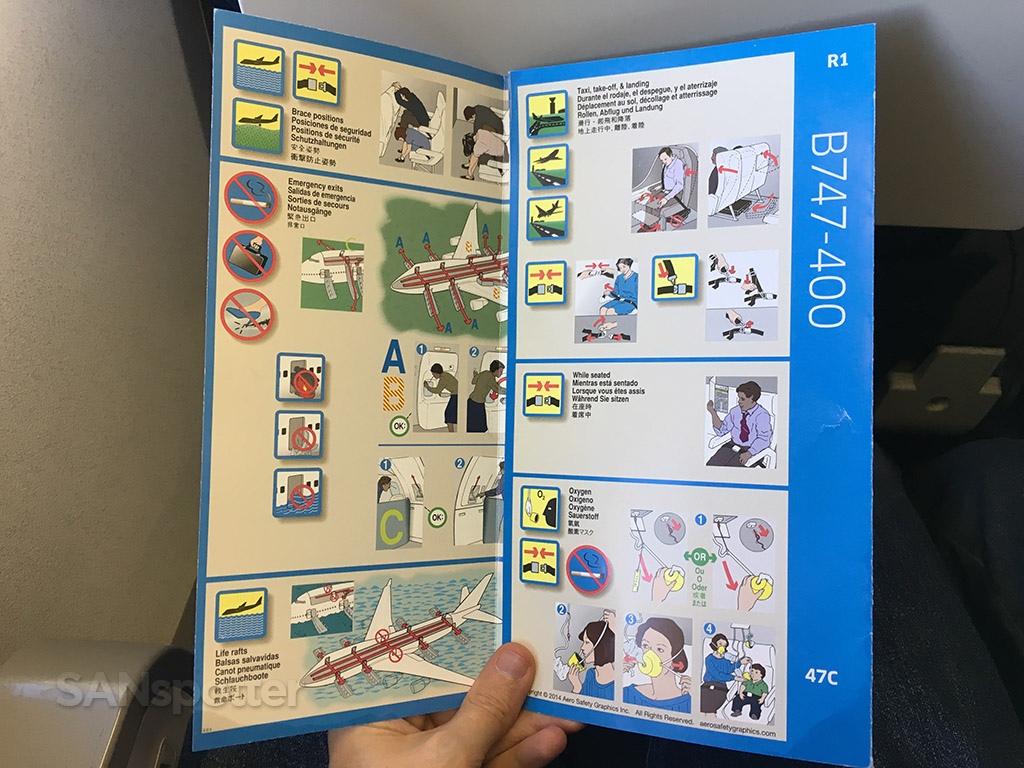 It was a pretty bumpy flight across the county today, especially around the Utah / Colorado area. Turbulence was fairly heavy, and the clouds below were indicative of some serious weather going on down there. Check out these crazy clouds:
It was still fairly bumpy off and on all the way to Chicago, which made it difficult for the flight attendants to do their drink and snack service. Once again I took them up on their offer for one of their Stroppwafel waffle snacks but didn't eat it. They looked good as they passed them out, but…they just look too sweet for my tastes. I did get a glass of water though. Not so glamorous back here in economy, is it?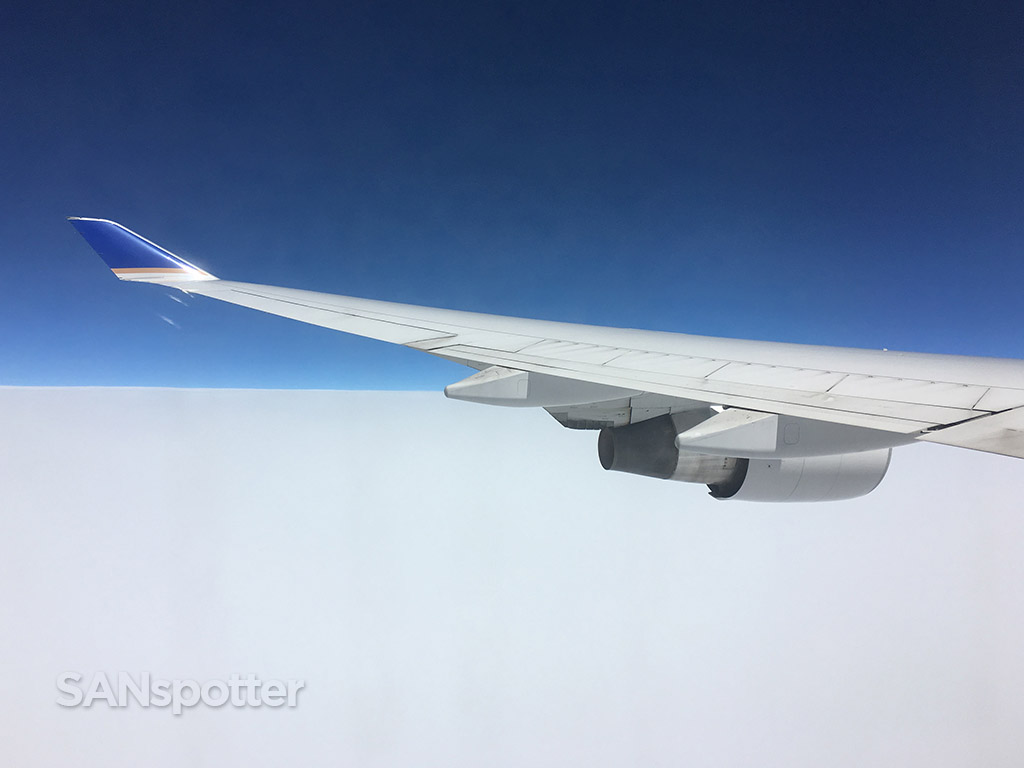 I was really hoping that we would be landing to the west today, which meant that it would be highly likely that we would have to do a low-altitude pass over the city of Chicago as we get turned around for our approach. Unfortunately, it wasn't meant to be, and we simply glided in (with a few minor turns) and landed to the east.
All in all, the flight went by in a flash and I was disappointed when it came time to deplane at ORD. I did hang back a bit and let most of the other passengers go ahead of me so I would have a better chance for final pics and video as I was getting off this bird. As I was making my way up the aisles (recording video the whole time), I encountered a small gathering of passengers posing for pics with the pilots in the galleys – so apparently there were some other hardcore avgeeks on this flight today!
These same guys also took tons of pics of this 747 through the windows from the gate area once we were inside the terminal here at ORD – I did consider introducing myself and chatting with them for a while, but the introverted guy in me passed on the opportunity today.
That wraps up this particular domestic UA 747-400 segment, but the overall experience isn't over quite yet! Two days later I flew back to SFO on the 747 (in Global First this time), and that trip report is coming soon…