Ugh. I was not looking forward to this flight. The last time I flew a trans-Pacific United Airlines flight out of SFO, I was spoiled rotten way up front in Global First, eating well, drinking well, and sleeping like a baby all the way to Beijing. But today, I was relegated to a middle seat deep in the bowels of economy class for this 10 hour flight to NRT. Before I even stepped foot on the airplane, I was having flashbacks to years past when I was younger and economy class didn't bother me at all. I was just giddy to be on an airplane back then, but today, the excitement was nowhere to be found.
Funny how time changes things. To be honest though, I am exaggerating slightly, and the airliner geek in me always looks forward to boarding a 747 and flying off to faraway places. I just would have preferred to be in business class or better, that's all. First world problems (I know).
When it comes to international travel, the 747 is the queen of the skies IMHO. I specifically chose this flight over other options which used 777 or 787 equipment, as I know that the days of the 747 are numbered and it won't be long until they are gone for good. Yes – I know that they are probably the most uncomfortable aircraft in the entire mainline United Airlines fleet, but this is history we are talking about here.
This flight to NRT would be my 13th segment on a 747-400. As far as the classics go, I've flown four segments on the 747-200, two on the 747-100, and one on the 747-300. These numbers won't be increasing much at all over the coming years, and I'd guess that I've only got a few more chances to increase my -400 count.
UA837
San Francisco (SFO) – Tokyo (NRT)
Saturday, October 4 2014
Aircraft: Boeing 747-400
Seat: 56F (economy)
Our flight to Narita was boarding out of gate 96 today, which looks pretty much identical to all of the other gates on this side of the international terminal at SFO. As a matter of fact, here's the picture of my fight to PEK boarding from gate 100 last April – just imagine "100" being replaced by "96" and it would look exactly the same: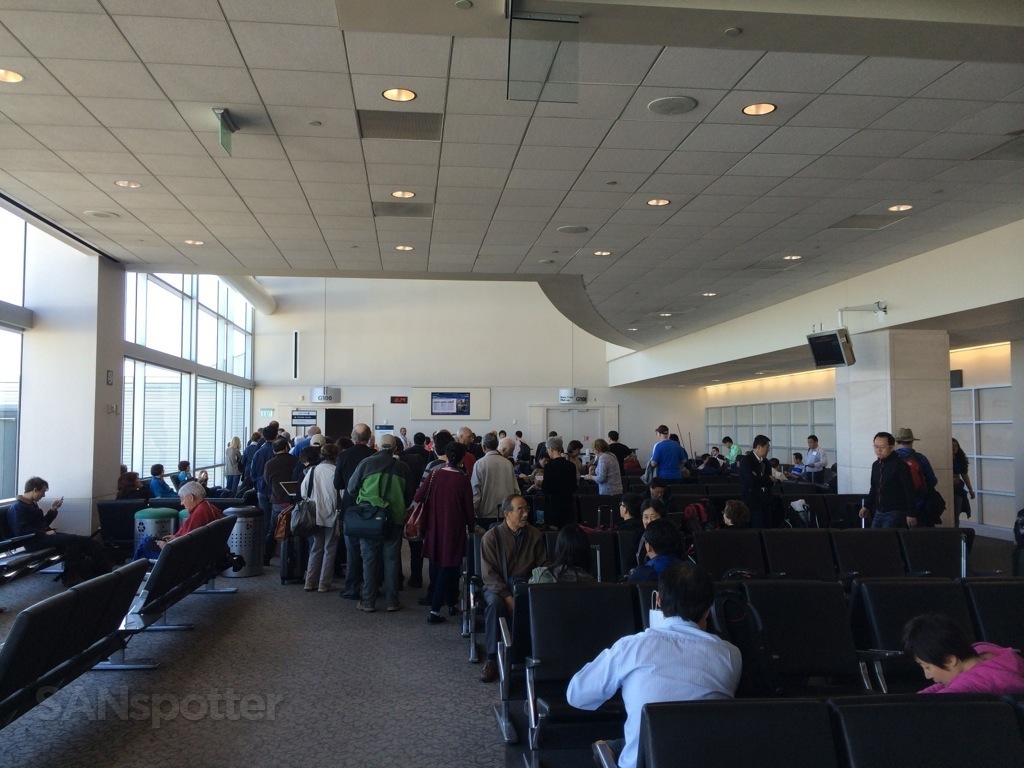 We were lucky to be part of boarding group 2, which meant that we were one of the first to get settled that far back in economy class. The cool thing about that is that it allowed us to not have to rush to get situated and take our seats, and I got a chance to look around a bit and take some pics: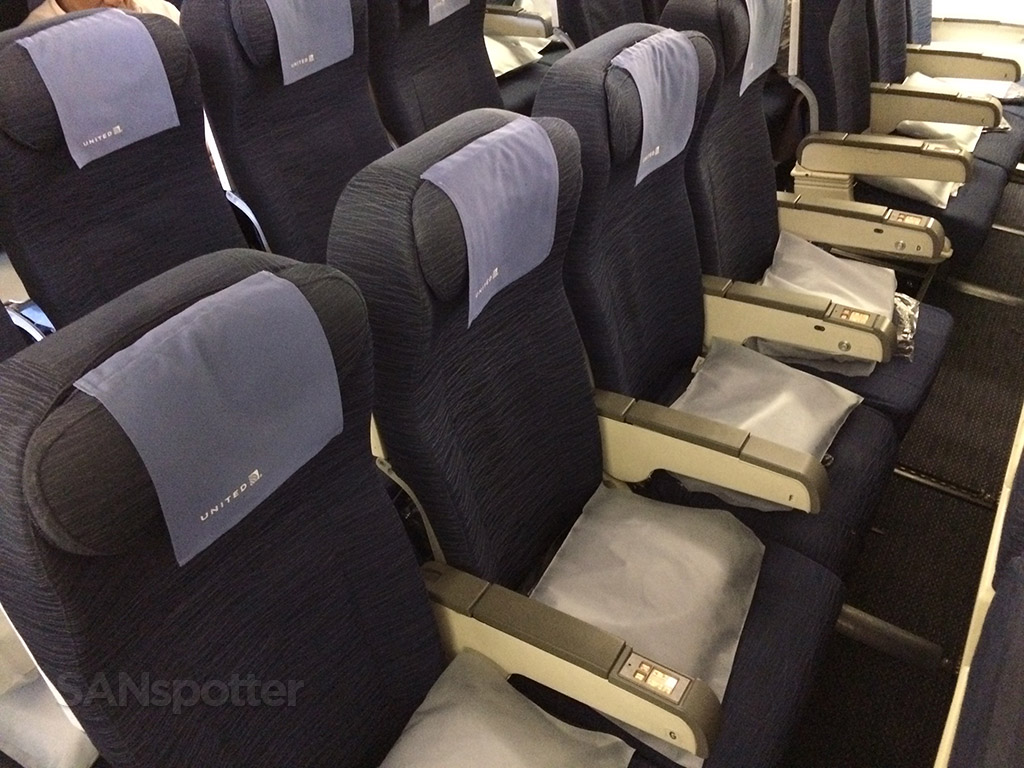 Unfortunately, being one of the first to board meant that we had much longer to wait for everyone else. Both my wife and I thought it was strange that the area immediately around us seemed eerily quiet, and we we getting excited at the thought of it being a lightly loaded flight with plenty of room to spread out. That daydreaming came to a screeching halt as soon as we saw the herd of Japanese school students marching down the aisle towards us. Yep – we suddenly found ourselves in the middle of an energetic group of kids. It was going to be a long flight…
With nothing else to do in my confined middle seat but close my eyes and nap as much as possible, I got started even before we pushed back from the gate. I dozed all through our taxi out to 28L, and only opened my eyes again as we thundered down the runway.
The drink cart came through within 45 minutes of departure, but since we were so far back in the aircraft, it took a while longer to reach us. I did find it interesting that there were no peanuts or pretzels served with the drinks. Not that I was complaining or anything, but I just found it surprising.
Lunch was served about an hour after that, with the choices being ginger pork or chicken and rice. I'm a chicken and rice guy through and through, but (not surprisingly), all they had left by the time they reached our row was the pork. Oh well. It was ok but far too fatty and salty.
Still facing most of the flight ahead of us, the cabin fell dark and I tried to sleep as best I could. Unfortunately, the guy in the window seat in our row was the only person on the airplane who left his shade open. The light coming through that little window was eye-piercingly bright, which made sleep almost impossible. Combined with the uncomfortable seat, I wasn't having much fun.
Thankfully, the flight attendant eventually told him to lower the shade and he complied without even questioning her.
The mid flight snack came through with 4 and a half hours left to go, which consisted of a small turkey sandwich and a small cup of vanilla ice cream. My wife's head exploded when she saw the ice cream. Vanilla is her favorite flavor in all the world, so she was a happy camper while she worked on that!
The next several hours consisted of a lot of fidgeting in my seat, a little bit of sleep, and several trips to the bathroom just so I could walk around and stretch out. The good news is that the Japanese school students were extremely well-behaved and were mostly quiet so far – not once did we feel disturbed by all the activity.
Although I wan't really hungry, I was quite relieved when they turned the lights on to serve breakfast (which was really a late lunch, considering the local time in Japan). Eggs were the only option by the time they reached our row, and it tasted pretty much exactly like the eggs I had in Global First back in April. That's not to say that they were really delicious or anything. Decent, yes, but really good? No.
It was during the descent that we learned about the typhoon clobbering Japan at the moment, and our arrival into NRT was a very bumpy ride. We touched down in pouring rain, and the sound of the seatbelt sign going off when we were finally parked at the gate was the best sound I had heard since we left San Francisco. It felt really good to stand up stretch out.
With the longest segment of the day over, we quickly turned our attention to the weather and crossed our fingers that our flight down to Hiroshima wouldn't be cancelled…