So here it is: my first ever flight in international first class. I've already flown international business class a handful of times already, but I've never been all the way up front. And yes, I know…there are far better airlines to experience a true first class product, but I don't have anything to compare it to at this point and I figured this would be a good place to start. Would it be as good as ANA business class (the best airline product I've tried so far)? Let's find out…
UA889
San Francisco (SFO) – Beijing (PEK)
Wednesday, April 16 2014
Aircraft: Boeing 747-400
Seat: 3K (Global First)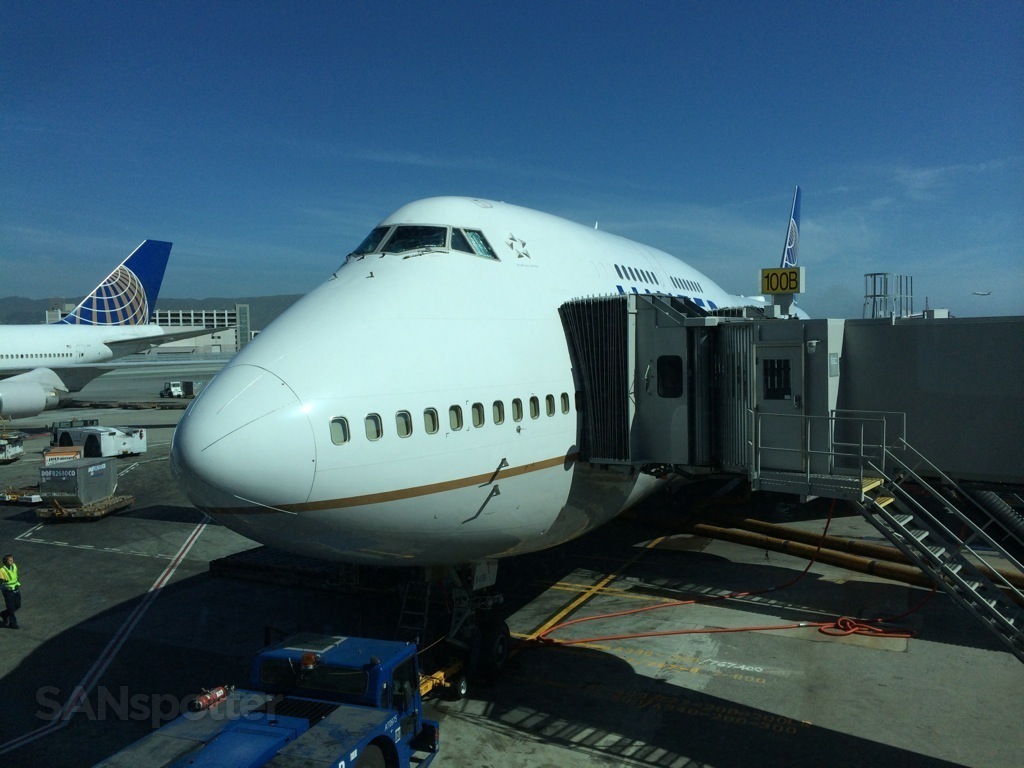 Boarding was called on time (to the exact minute my boarding pass said it would) with United Global Services members and uniformed military personnel first. Then came first class, followed by business, and the remaining boarding groups. Of course none of that stopped the throngs of elderly Chinese passengers from rushing the podium before the gate agent finished her first word, so it was a bit of a struggle to weed my way though the crowd when it was time for first class to board.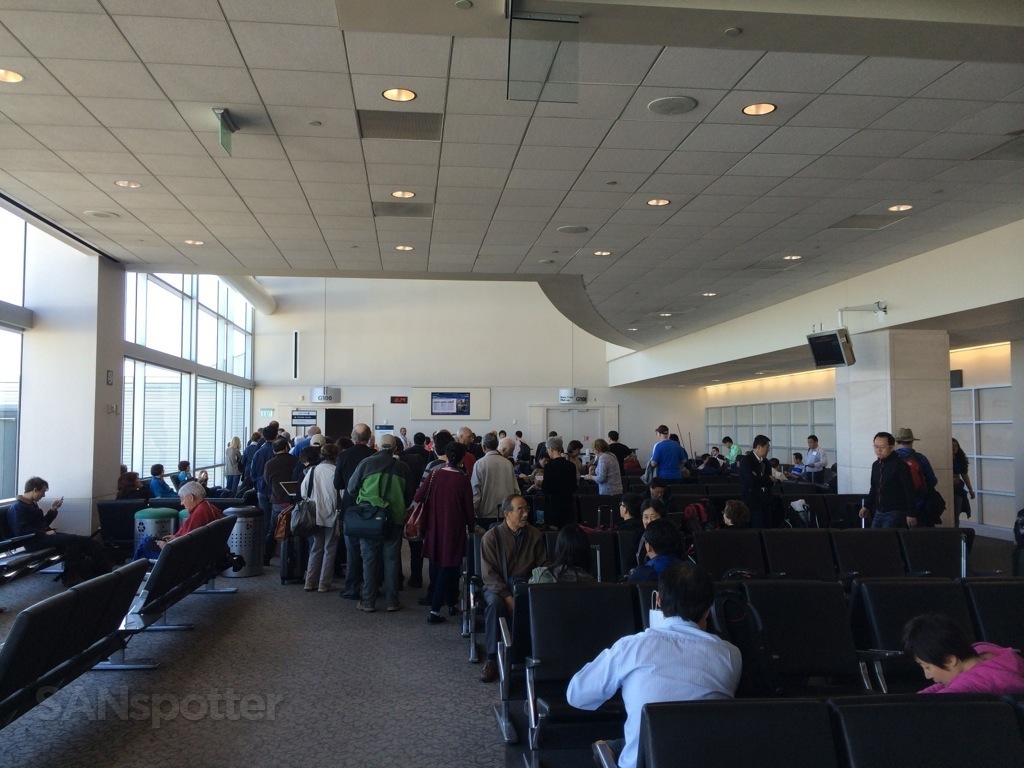 Stepping onto the plane was just as chaotic, as the agents were arguing with each other about the fact that boarding was called too soon as the ground crew had not yet finished servicing the plane. They were holding passengers back at that point, but they let me past as soon as they saw my Global First seating assignment. I can get used to this first class treatment…
Walking right though the business class cabin and into first class felt just so…awesome. I quickly found my seat at 3k, and I knew right away that this was going to be a good flight. The seat, in itself, was awesome. It was big and spacious with a lot of really thoughtful cubby holes and storage bins to put stuff, along with an assortment of inputs for power, USB, headphones, and video. The only thing that stood out to me right away as being a bit awkward was the fact the seats themselves were not so private and the whole cabin seemed a bit cramped. It was so cramped, as a matter of fact, that the only way for me to gracefully place my bag into the overhead bin was to stand directly inside the seating area of the adjacent seat (3J). It's ok if nobody is sitting there, but there's just no easy way to access the overhead bin if there is.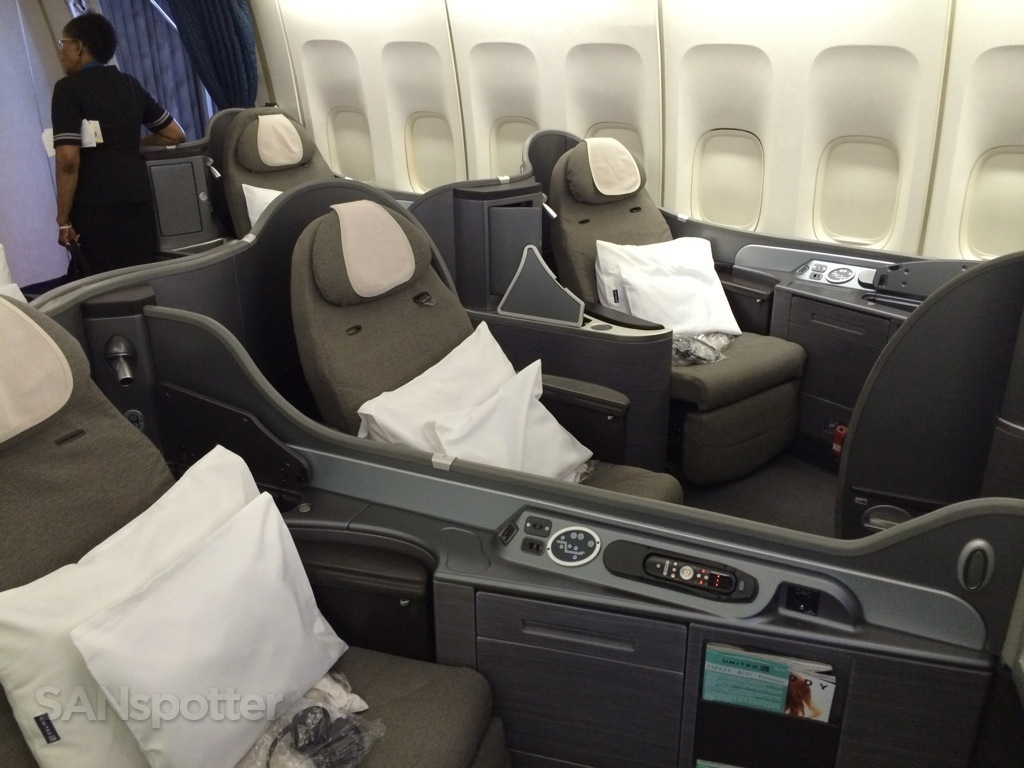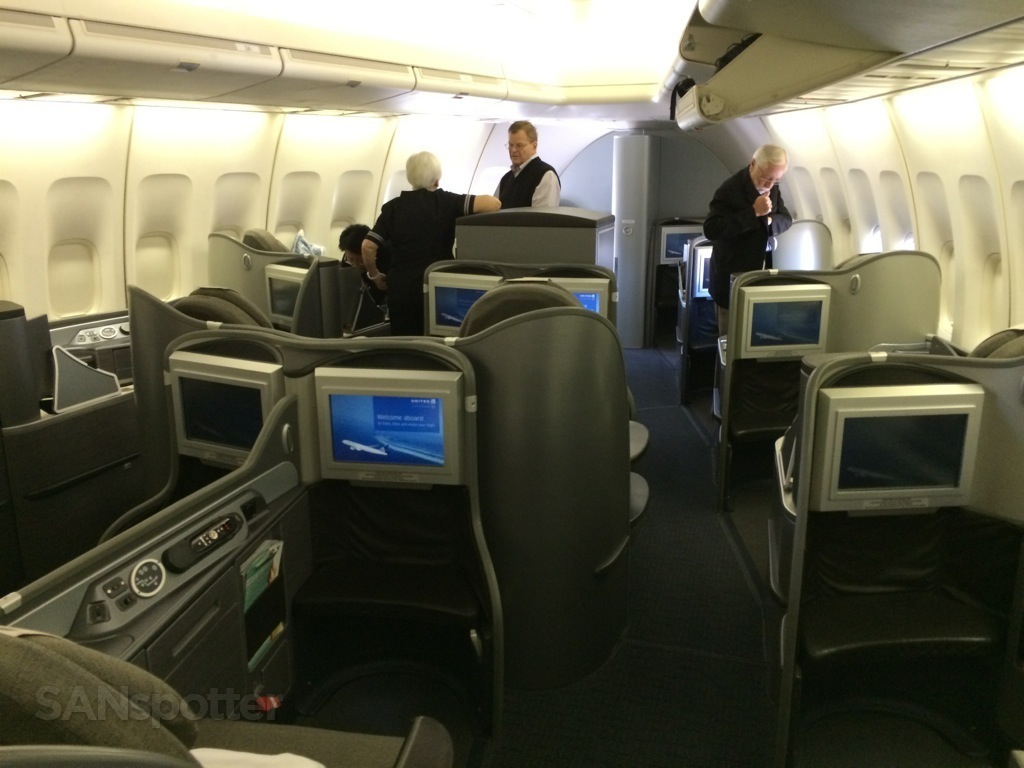 Amenity kits and menu's were distributed during boarding.
The cabin was staffed by two very senior (in both age and experience) flight attendants, who both seemed to be friendly but just going through the motions. This was probably thier billionth international trip and they could do it with thier eyes closed, and it showed in thier speaking and interaction ways. I was never addressed by name, and one of the flight attendants seemed agitated when I asked her a question about he seat even though she was just standing in the aisle not doing anything when I asked. I don't want to sound like I'm complaining or anything, but if find that kind of reaction to be unacceptable in a first class cabin. She wasn't rude, but it was obvious that she couldn't care less. Classy.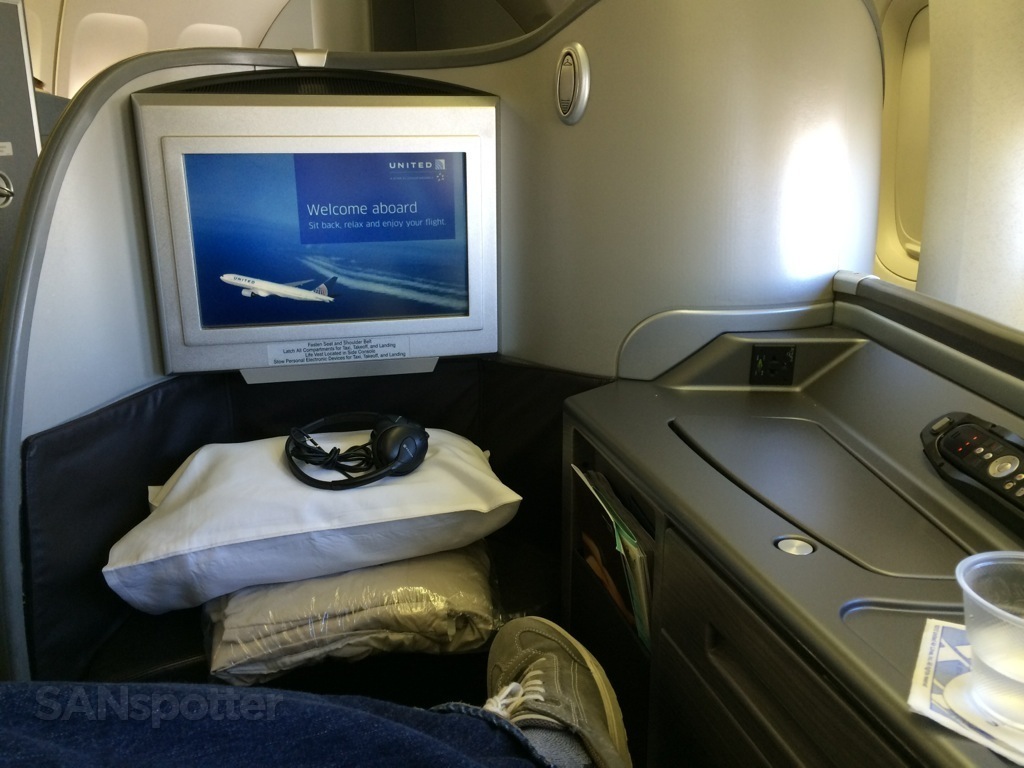 Push back was right on time, though it did take a while to make our way to 28L for departure. I don't mind though as SFO is an interesting place with a variety of international traffic – so there's always something neat to watch while waiting. I almost feel like the way our cat looks at birds and other small animals from our front window at home! I'd also like to point out that this was my first time ever in the nose of a 747, and the way that the cabin walls converge sharply together at the front makes for an odd sensation. For example, when the aircraft was moving straight forward, it felt as if we were sliding slightly sideways. I'm not sure if that makes sense, as it's difficult to describe exactly.
Lunch service began within 30 minutes of departure, and I'm happy to report that this is where the flight attendants started to shine. Their meal presentation service was prompt and professional, and they were very attentive and proactive.
I can't say he same thing about the food, however. To sum it up as best I can, the food in United Global first is mediocre at best – probably on par with mid-level chain restaraunts in the US. The salad and main course were plenty good, but the appetizer was far from appetizing.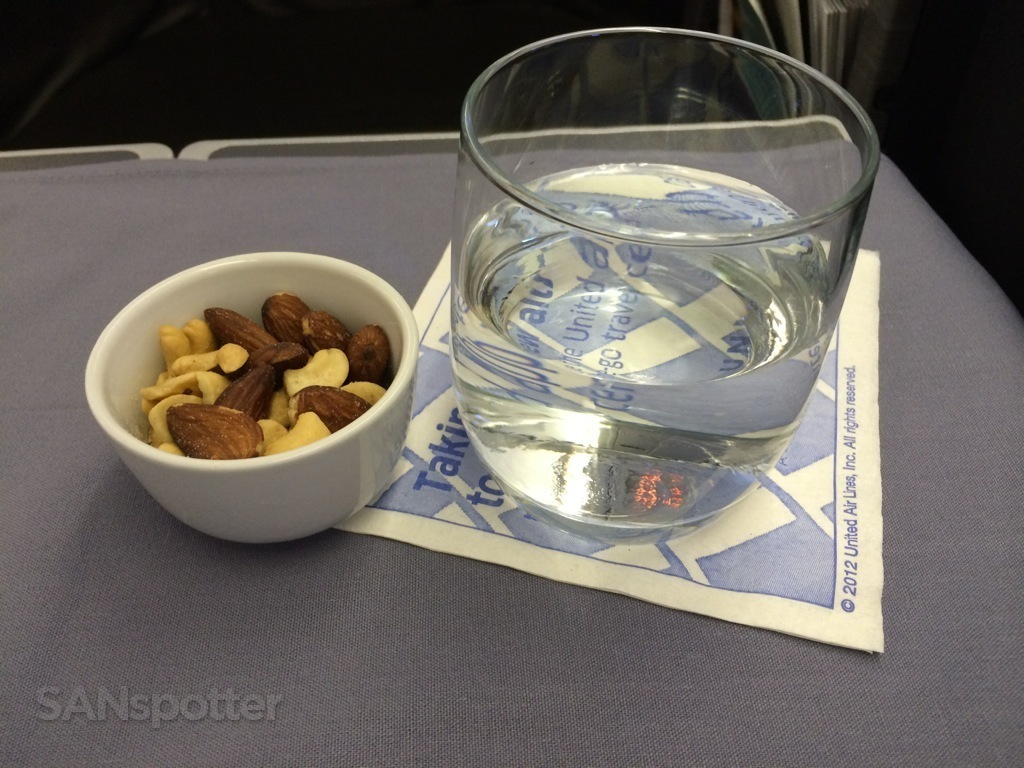 For desert, there was a choice of a cheese plate or ice cream sundae – both made to order from a cart right at your seat. I should note that while they emphasized the word "choice", they actually came around with both carts about 15 minutes apart so you could have both if you wanted to. Since I already had the cheese plate (and was pretty full from the meal), I opted not to pig out and have the ice cream as well. I don't have much of a sweet tooth anyway.
I watched "The Wolf of Wall Street" for the first three and a half hours of the flight, then put he seat into the flat-bed position and slept pretty well or the next 3-4 hours – which is surprising since it was still mid-afternoon according to my body and I don't normally sleep during the day like that. After that I just tossed and turned until about two hours out of Beijing. I was even awake when they came through the cabin for the mid-flight snack (consisting of Chinese noodles) but I passed on that being that I was still quite full from lunch.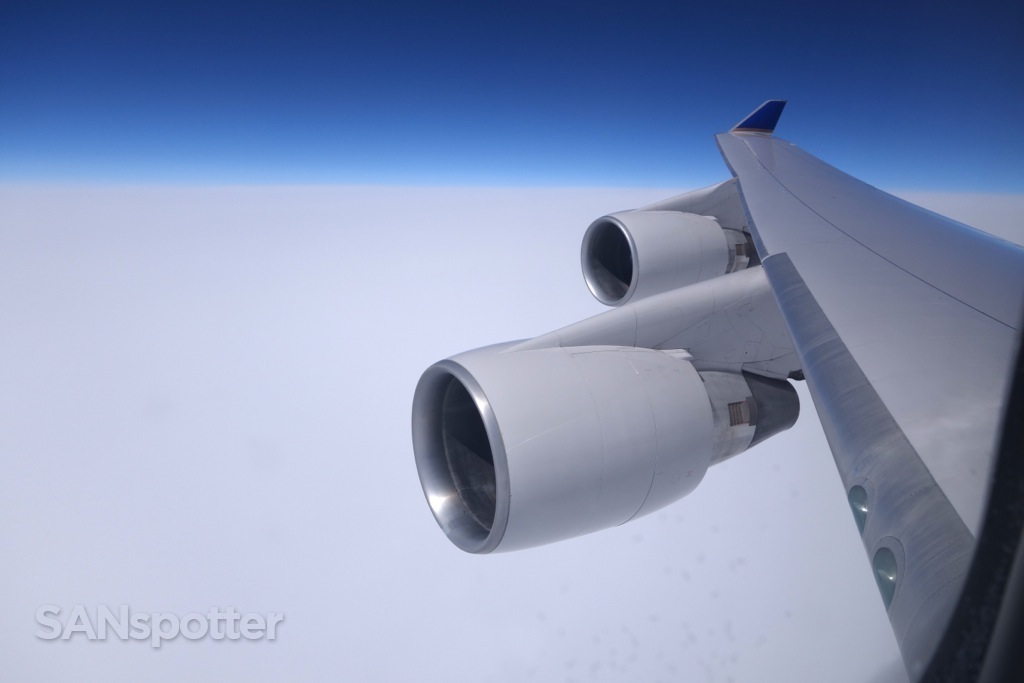 Right before the breakfast service, I decided to get up and stretch my legs a bit with a walk to the back of the plane. If there was any flight to China to be on this day, it was this one. The light load meant that the economy class passengers had plenty of room to spread out, and those all in the back had entire rows all to themselves.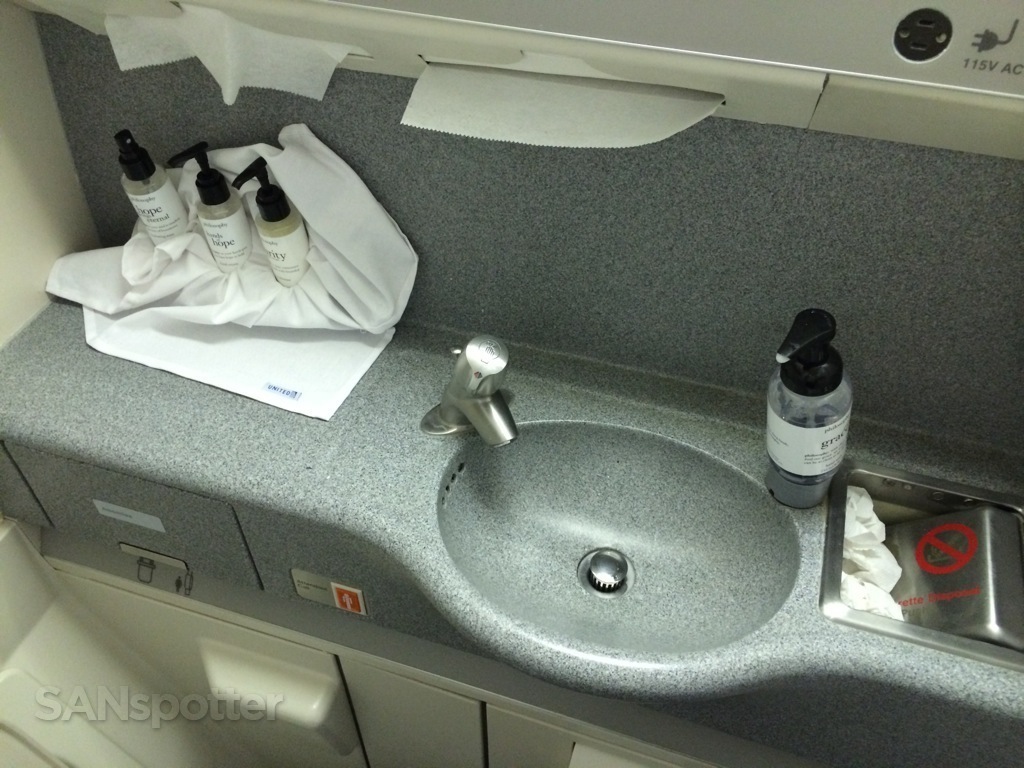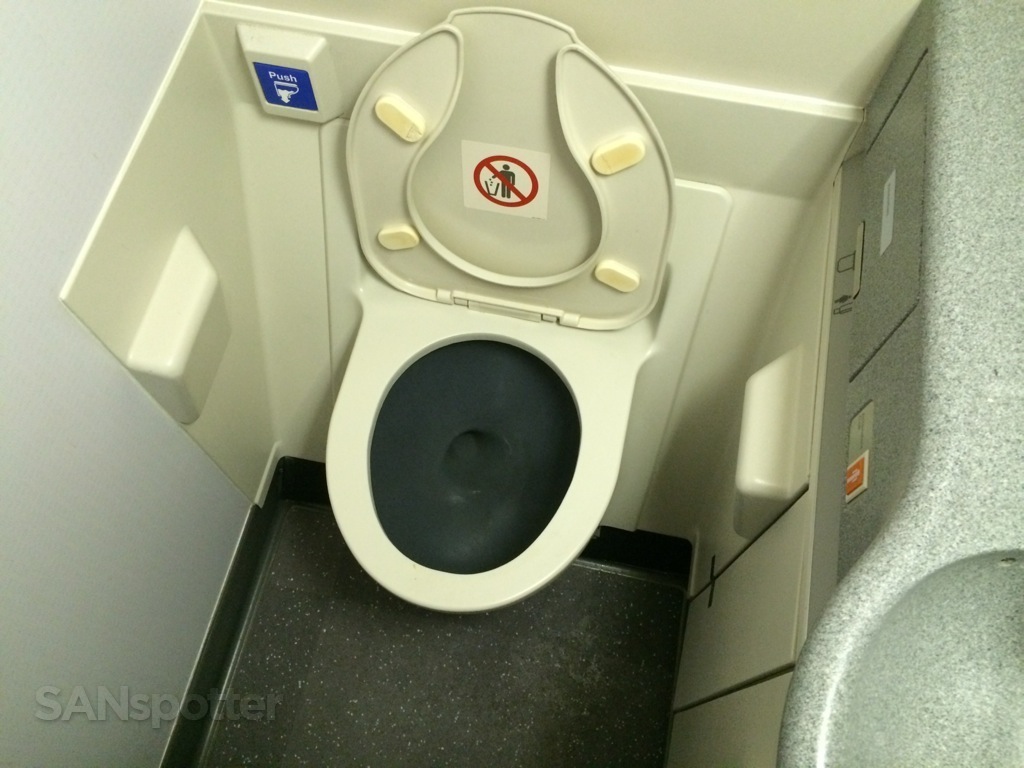 Back at my seat, breakfast was just getting underway. I chose the western option which consisted of a Swiss cheese omelet, with quiche and sausage. Not a bad meal as far as airline standards go, but it wasn't much better than anything you could get in domestic first class in the US.
The descent into PEK was exactly how I had imagined to be. Haze, haze, and more haze. I didn't actually see the ground until we were at about 15,000ft, and I'm pretty sure we were put into a holding pattern for a bit as it felt like we were turning right for the last 20 minutes of the flight.
Once on the ground, I was immediately awestruck at the sheer size of PEK. The acreage of the place is just mind boggling, with huge terminals fading off into the haze as far as one could see. There's nothing like this in the US!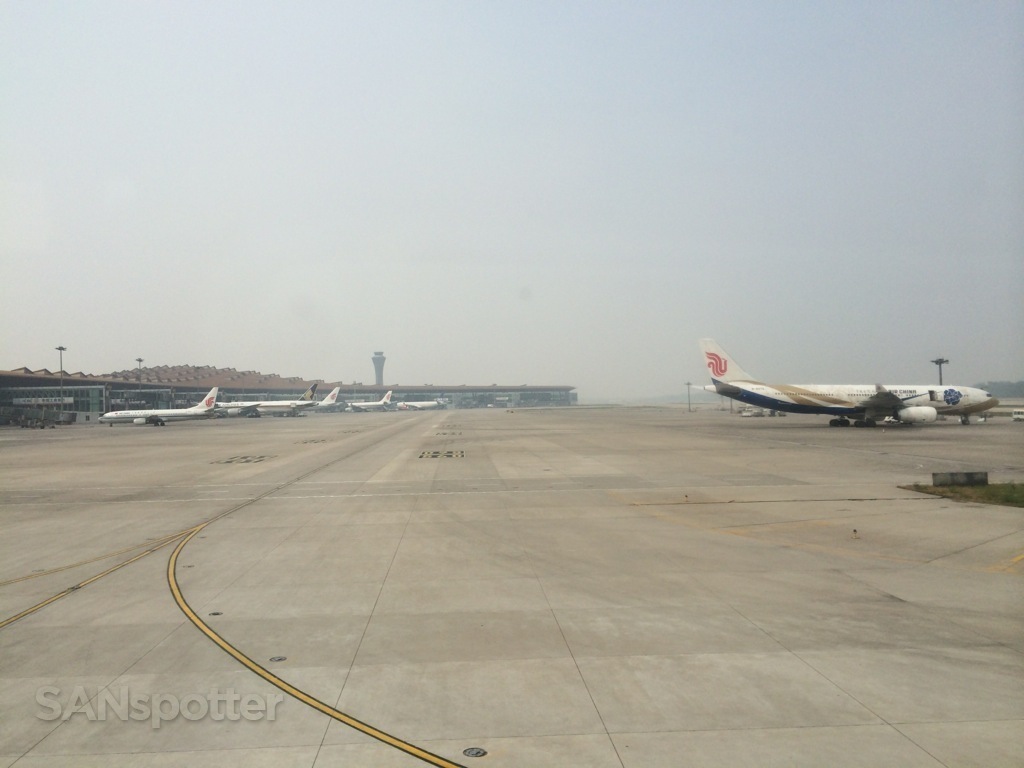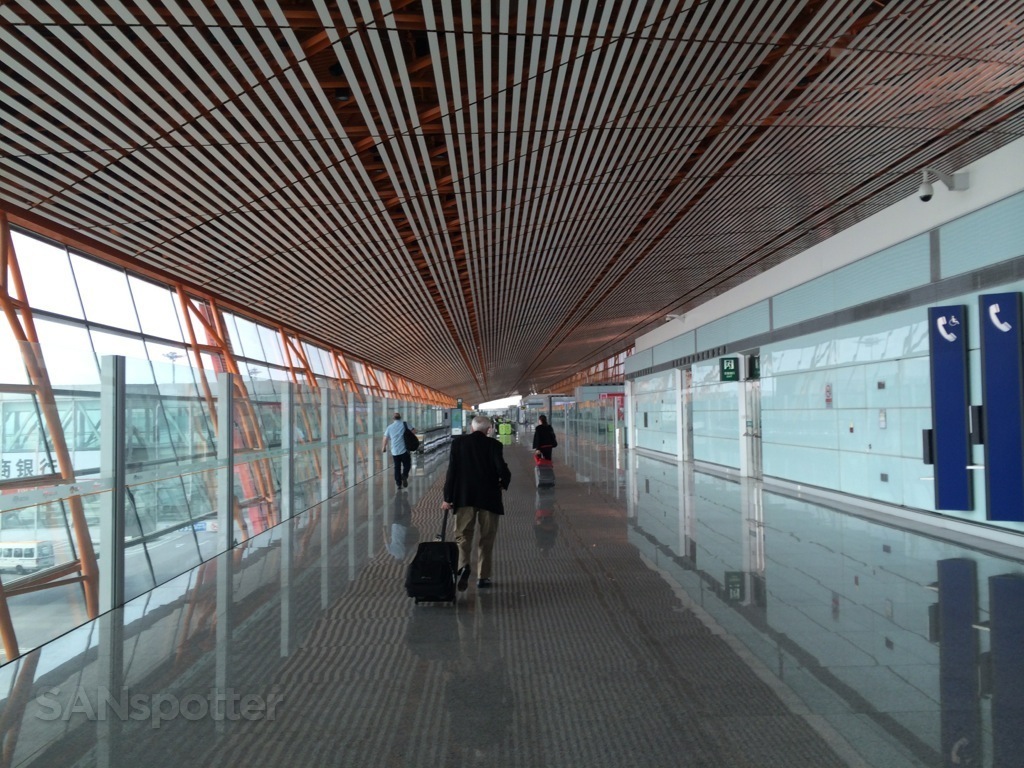 So, what's the bottom line? Is United Global First worth it? Maybe. The hard product is really good – the seat is very comfortable and the lounges are really nice. The soft product, on the other hand, is severely lacking. What happened to the service culture in the US? Anyone who has travelled to Asia knows what I'm talking about, and I find it a real shame that customer service in this country is such a low priority. But that's a topic for another blog…
Anyway – if you are paying for a seat out of your own pocket, there are far better first class options from other carriers all over the world. But for an award ticket (like I used for this trip), it's pretty good. I'd do it again but I certainly wouldn't pay for it.