Why is it that, after having flown nearly a million and a half miles in my life so far, it's still an Allegiant Air review that excites me the most?
It's almost embarrassing to admit out loud how much I have been looking forward to this flight. The last time I flew Allegiant Air was over six years ago, and I was just dying to know if anything had changed.
Wait. Did I just write the word "dying" in reference to an Allegiant Air flight? I swear it was an accident. Oops, there I go again…
G42369
Orlando / Sanford, FL (SFB) – Oklahoma City, OK (OKC)
Saturday, July 10, 2021
Aircraft: A319-111
Registration: N316NV
Duration: 2 hours 38 minutes
Seat: 7A (Legroom +)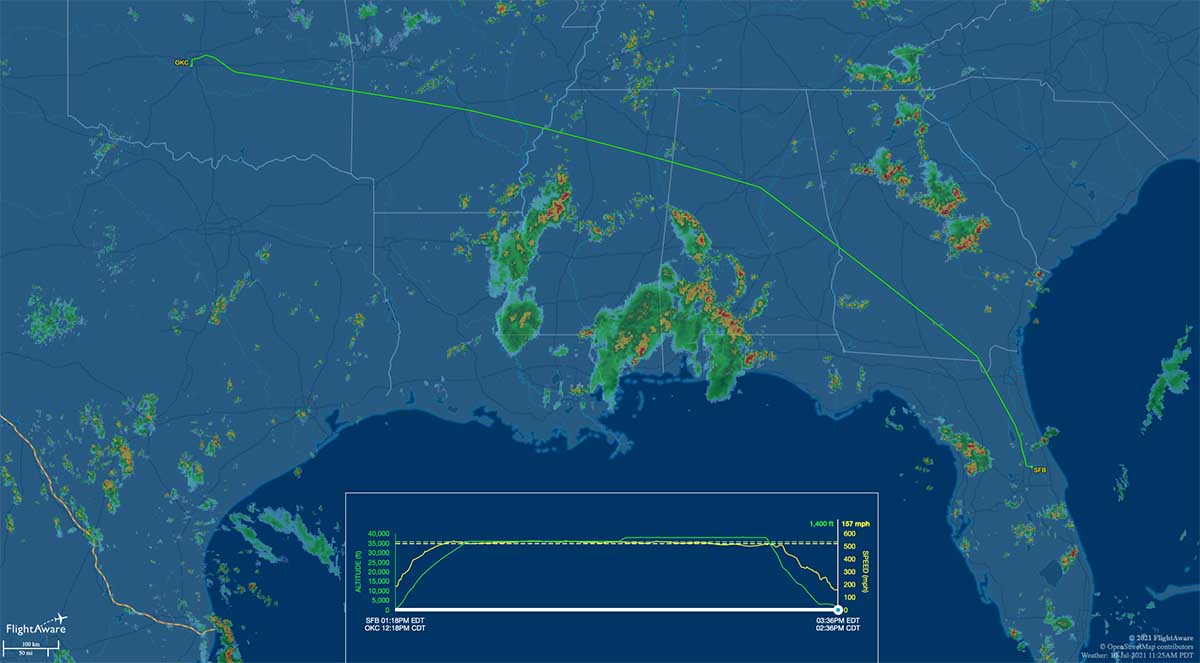 The video
Since I knew I was going to be writing a full review of this Allegiant Air flight here on sanspotter.com, I chose to take a slightly different direction with the video.
It's still mostly a review video, but the premise of it was to ask (and try to understand) some things about Allegiant Air that just don't make any sense to me.
By the way, I absolutely love the soundtrack for this one. The song is called "Hiccups" by Ooyy. and it's a perfect song for an airline review in my opinion. You can get this song over on Epidemic Sound – along with hundreds of thousands of others from all genres.
Be sure to read my full Epidemic Sound review if you want to know all the pros and cons of this music service.
My full Allegiant Air review (what I experienced from Orlando to Oklahoma City)
I mentioned at the top of this post that I was curious to see if anything has changed with Allegiant Air since the last time that I flew them. Well, long story short, not much has changed. The seats are still rock hard, and it still feels like a bare-bones travel experience.
Arrival at the airport
This is the first time that I have ever flown into and out of Orlando Sanford International Airport (SFB). I didn't even know that it was referred to as an "international" airport. But it is. Imagine that.
Anyway, all you need to know is that the Sanford International Airport is located approximately 30 minutes northeast of the Orlando International Airport (MCO). You're going to need a rental car if you fly into this place.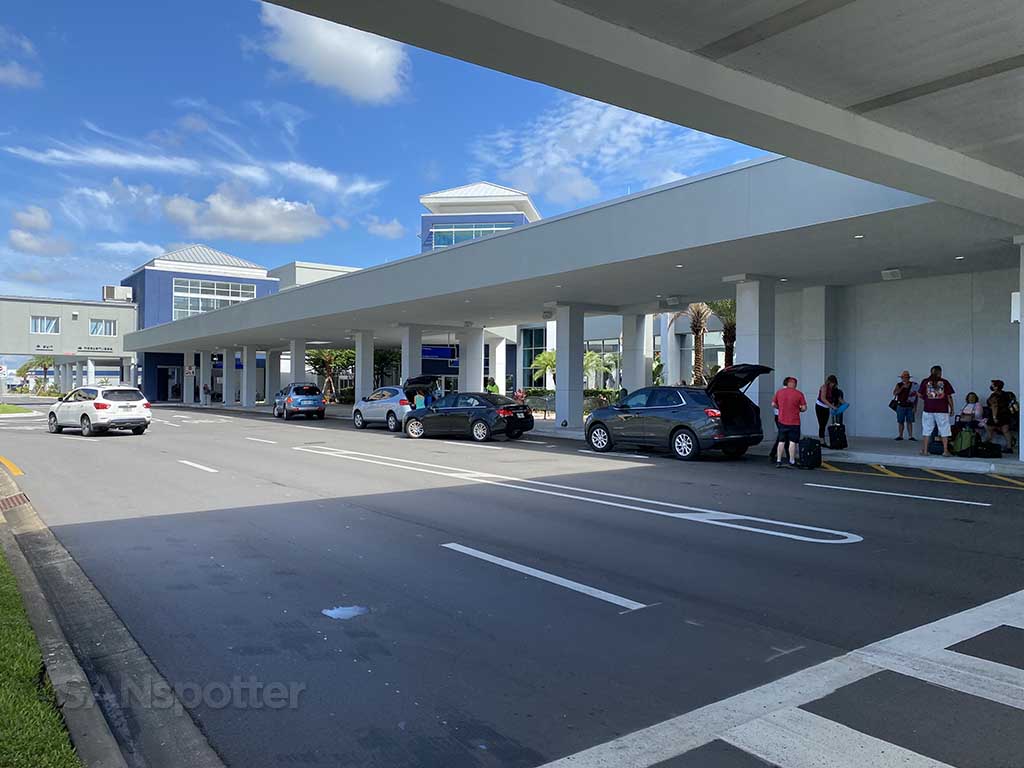 Is SFB a big airport?
SFB isn't a very big airport, but it is much nicer than what I was expecting. As a matter fact, it was so big and modern that it made me feel all the more excited about doing and all-new review of Allegiant Air.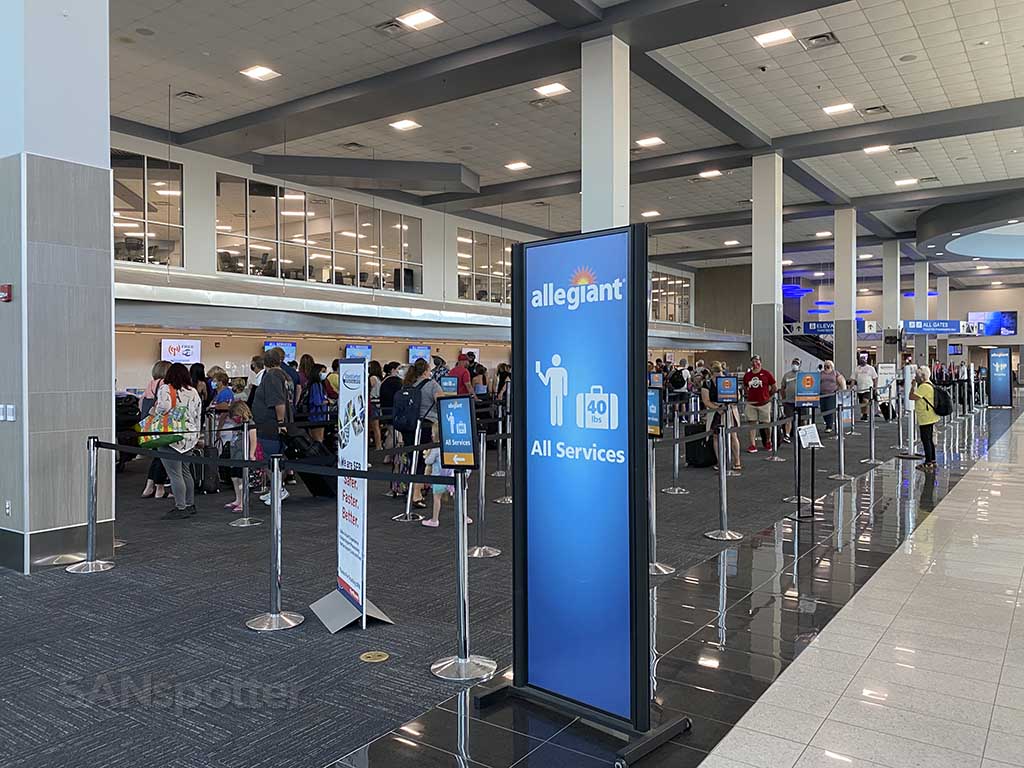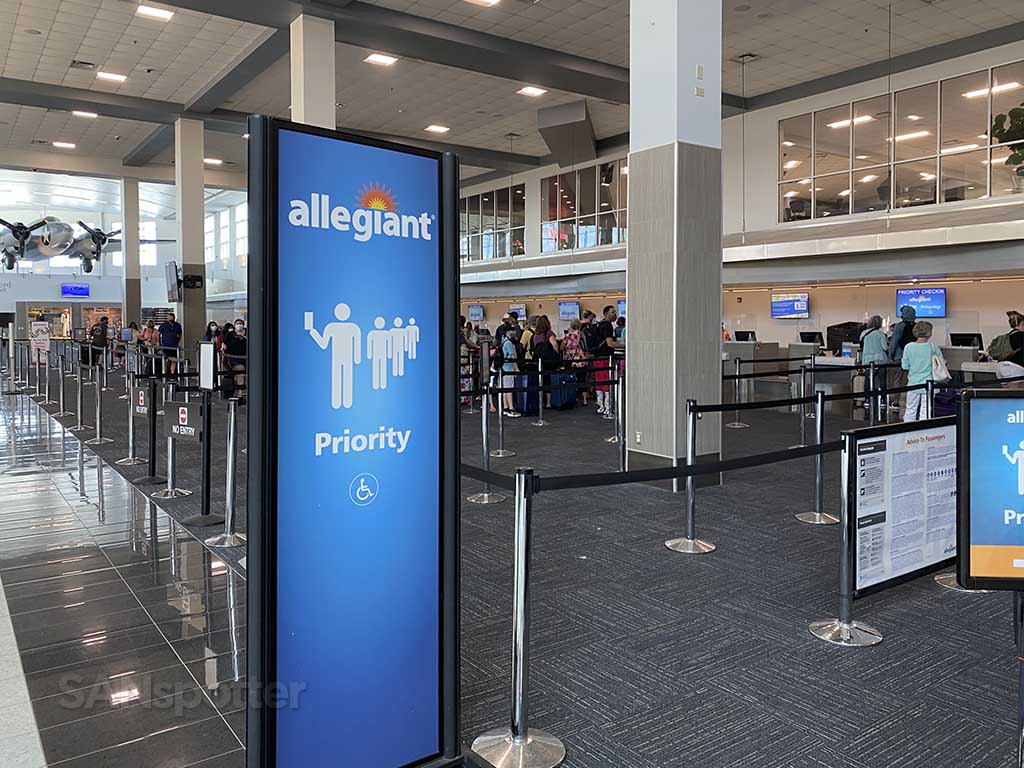 For those that are curious, approximately 6 airlines serve SFB at the time of this writing (1 domestic, and 5 international). There is one main terminal, and all gates are connected one set of security checkpoints.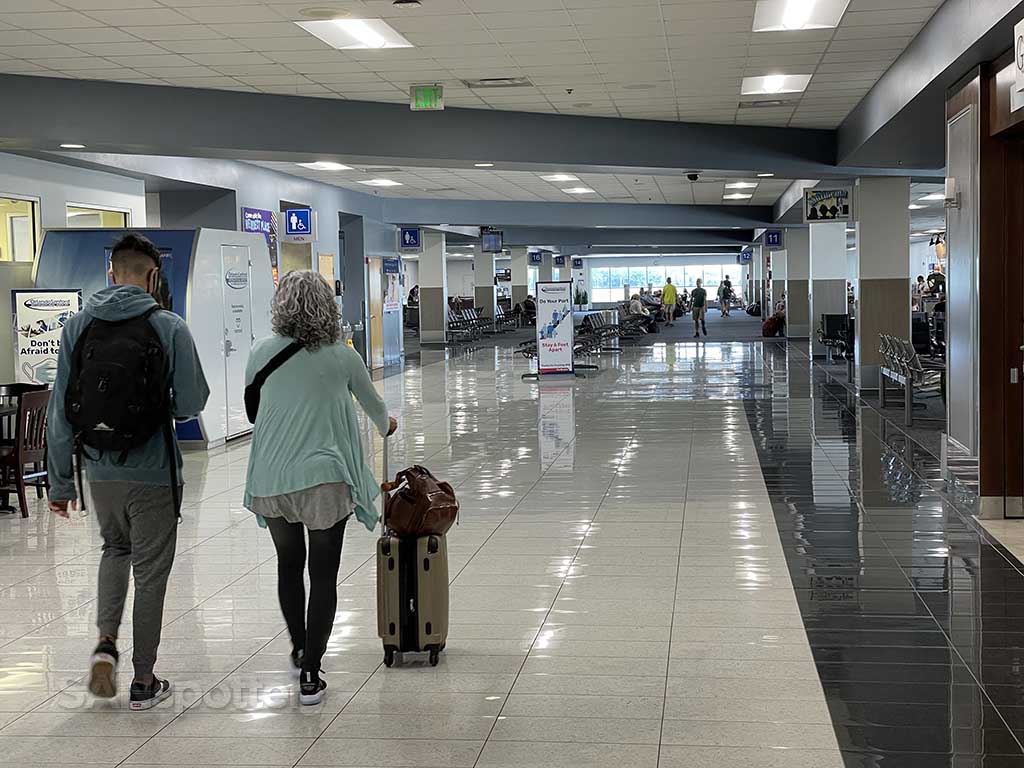 Food options are limited, and to be honest, there's not really a whole lot of room to find peace and quiet. Especially around the Allegiant Air gates.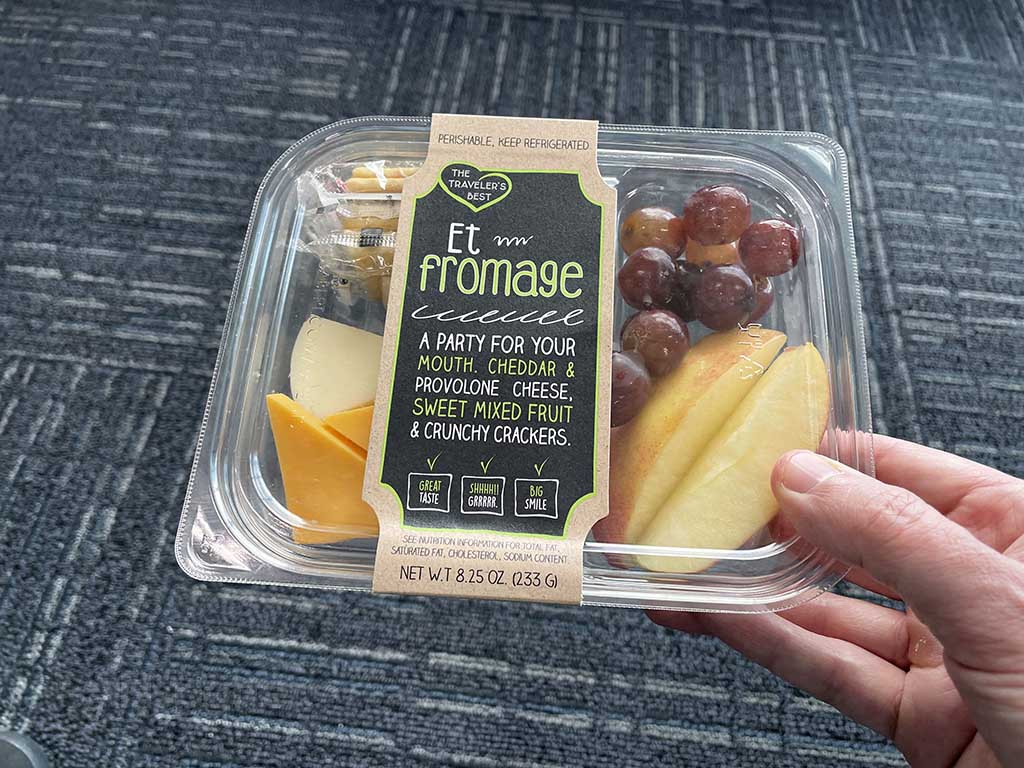 Boarding flight 2369 to Oklahoma City
As I explained in my video about this flight, the boarding process for this flight to Oklahoma City was impressive. Boarding commenced just five minutes after the last passenger had deplaned from the incoming flight, and the entire process took no longer than 30 minutes. Whoa.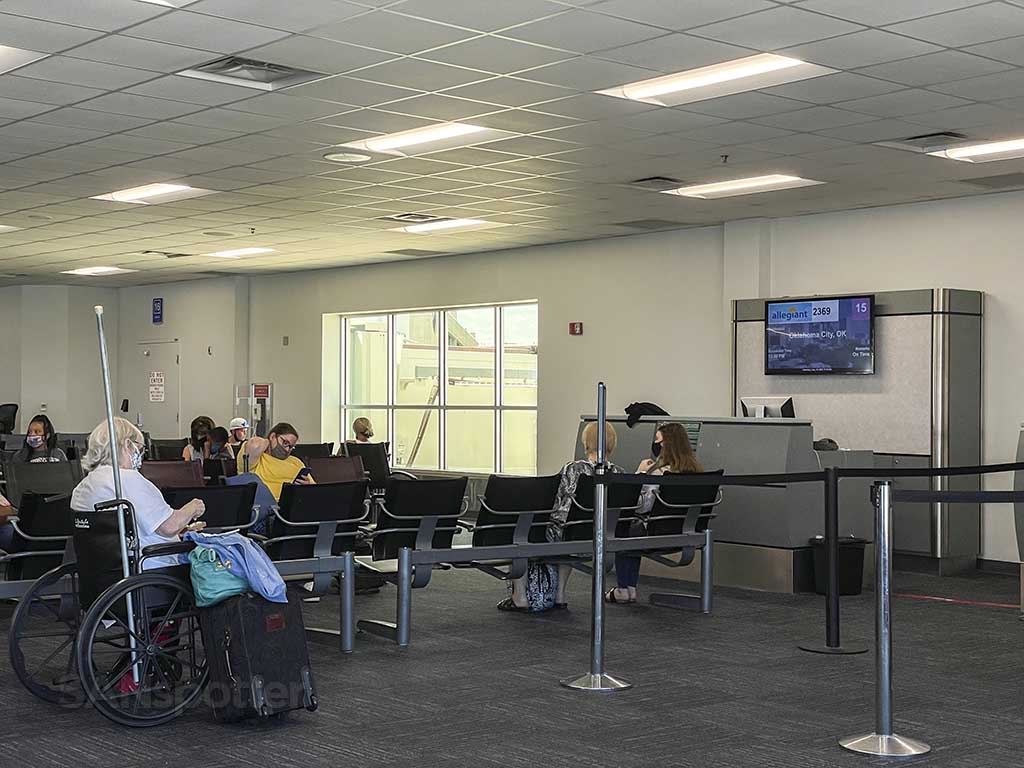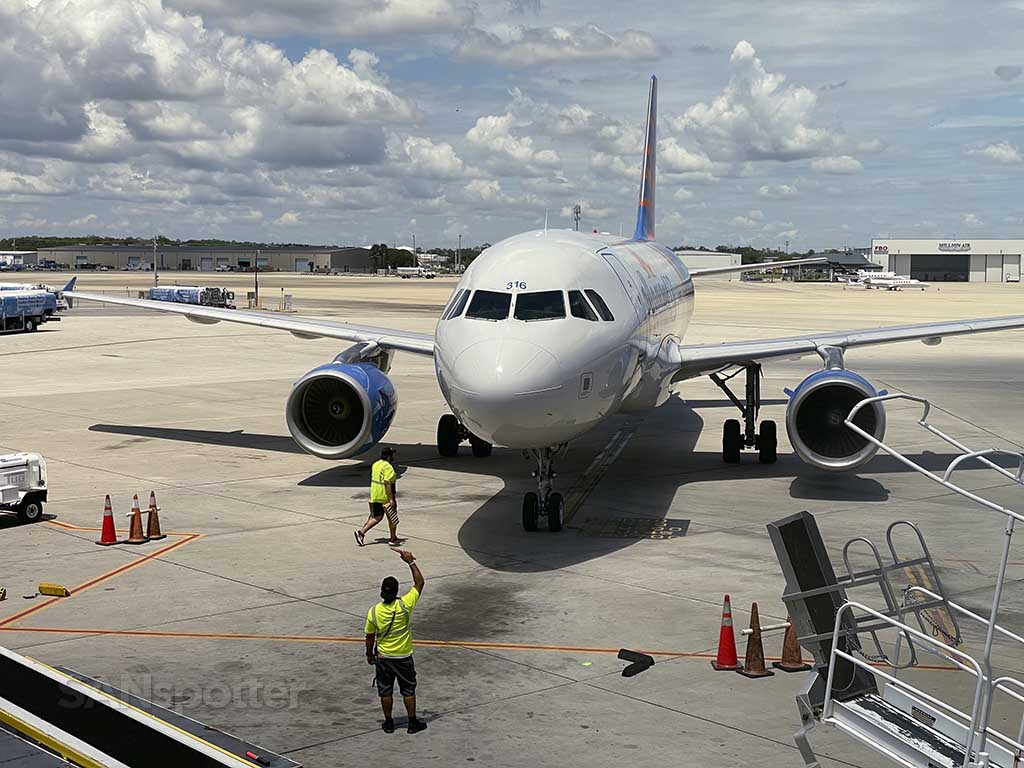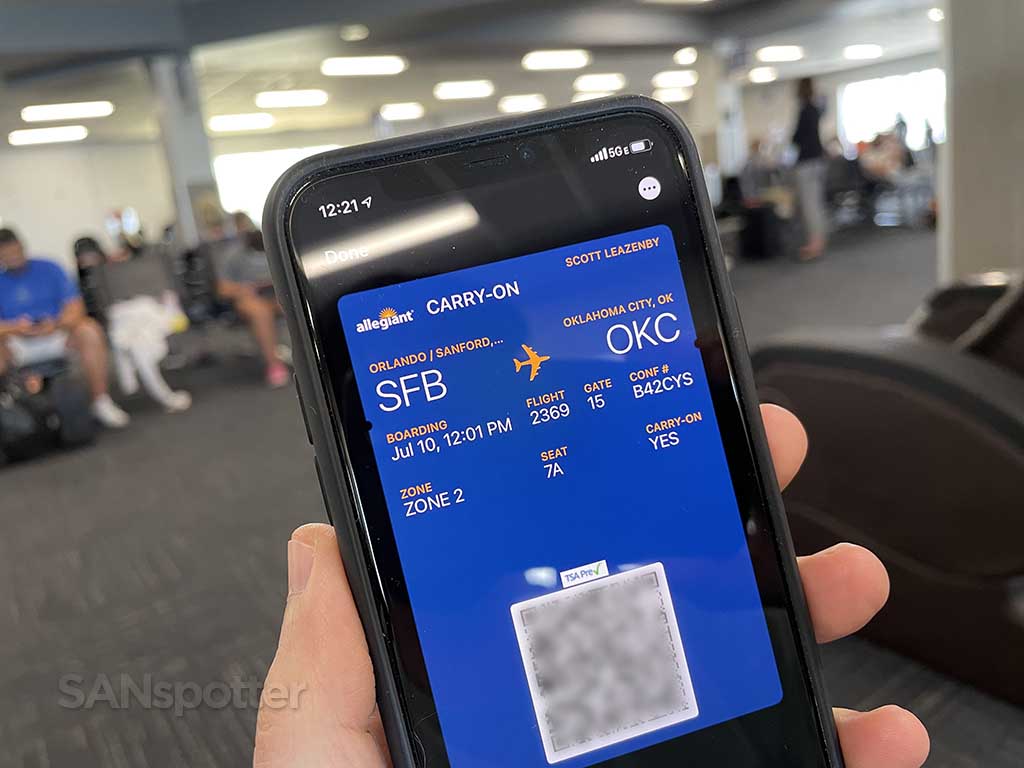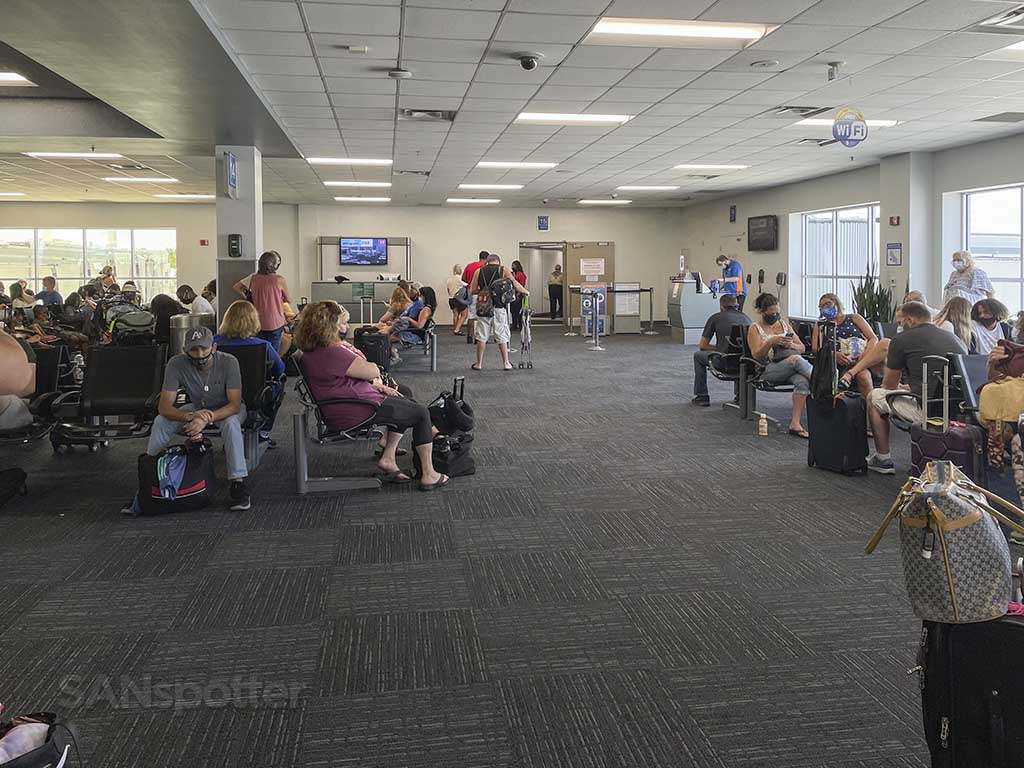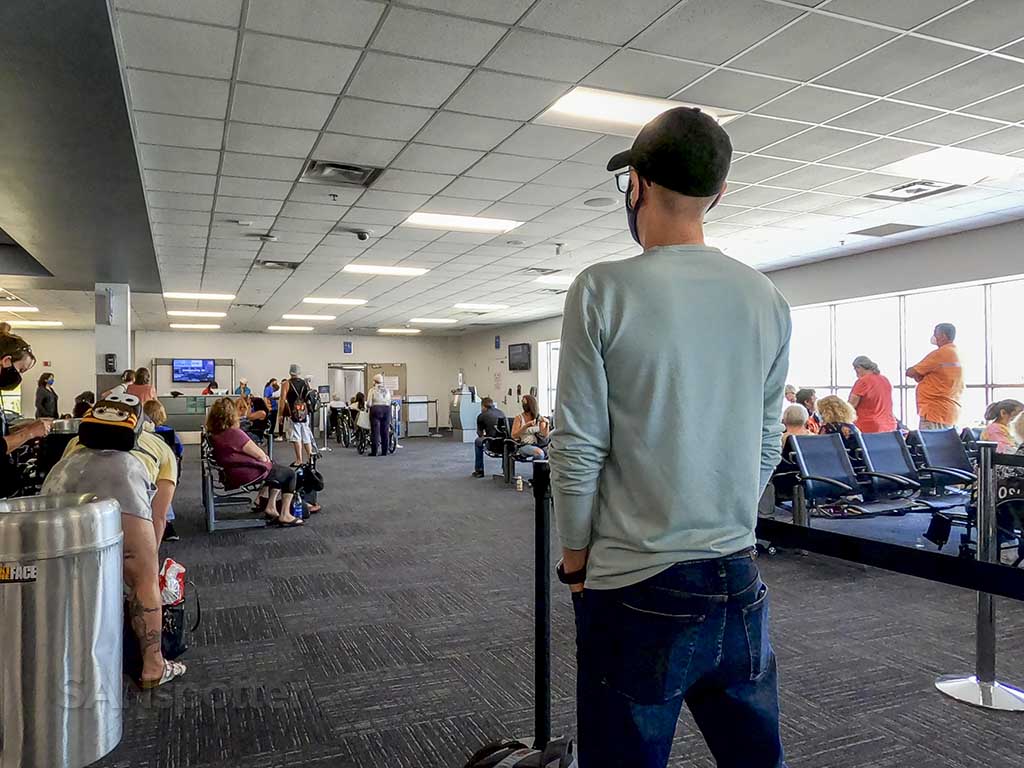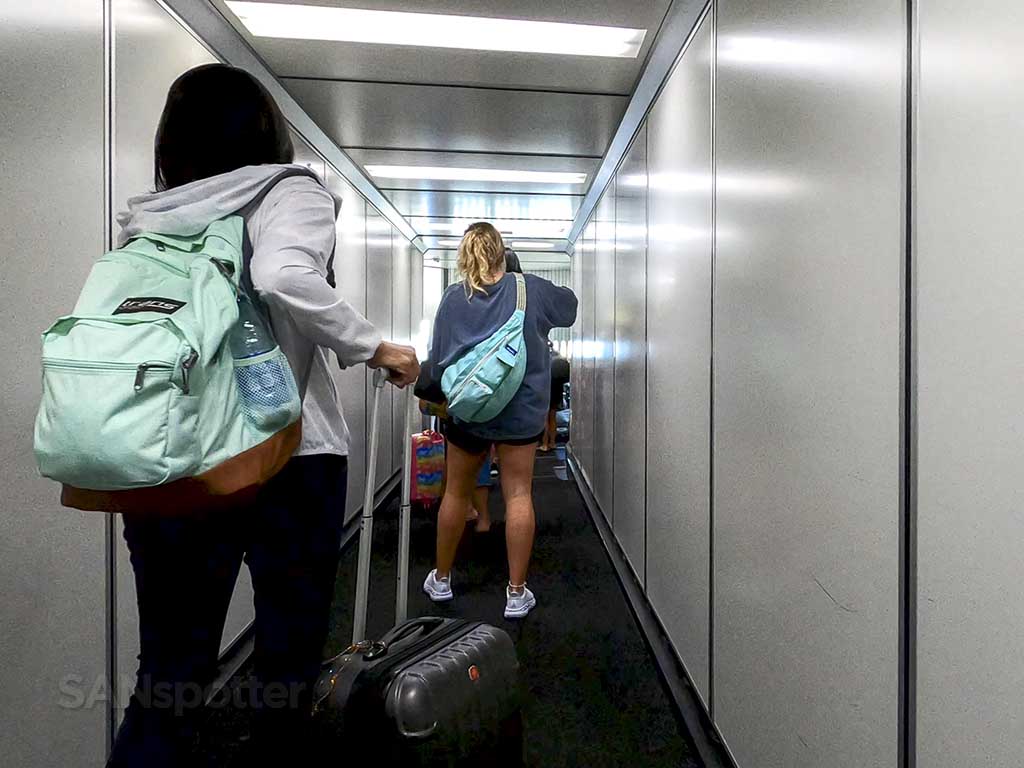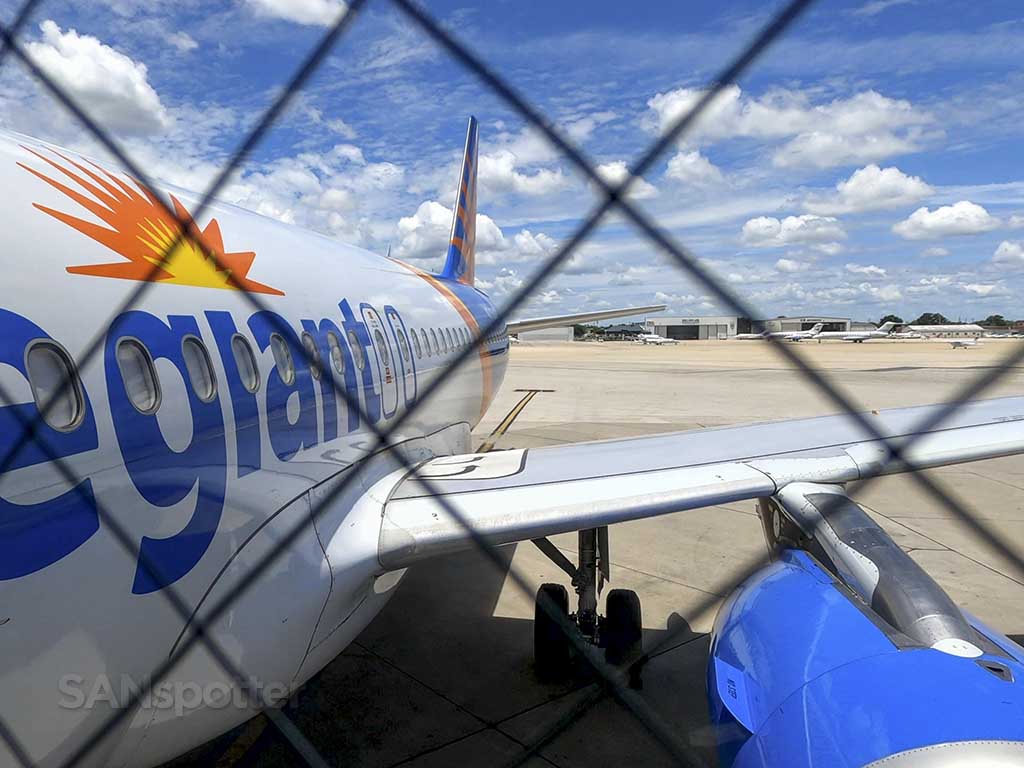 How does seating work on Allegiant Air?
Seating arrangements on Allegiant Air work very much like they do on most other US airlines. The difference is that you have to pay extra if you want an advance seat assignment. If you're unwilling to pay this fee, you'll receive a seat assignment at the gate. And I can promise you it will be less than ideal.
As you might expect, the cost to reserve a seat gets more expensive closer you get to towards the front of the plane. For what it's worth, I paid $6 for a window seat in a row with a bit of extra legroom (which Allegiant refers to as "Legroom +).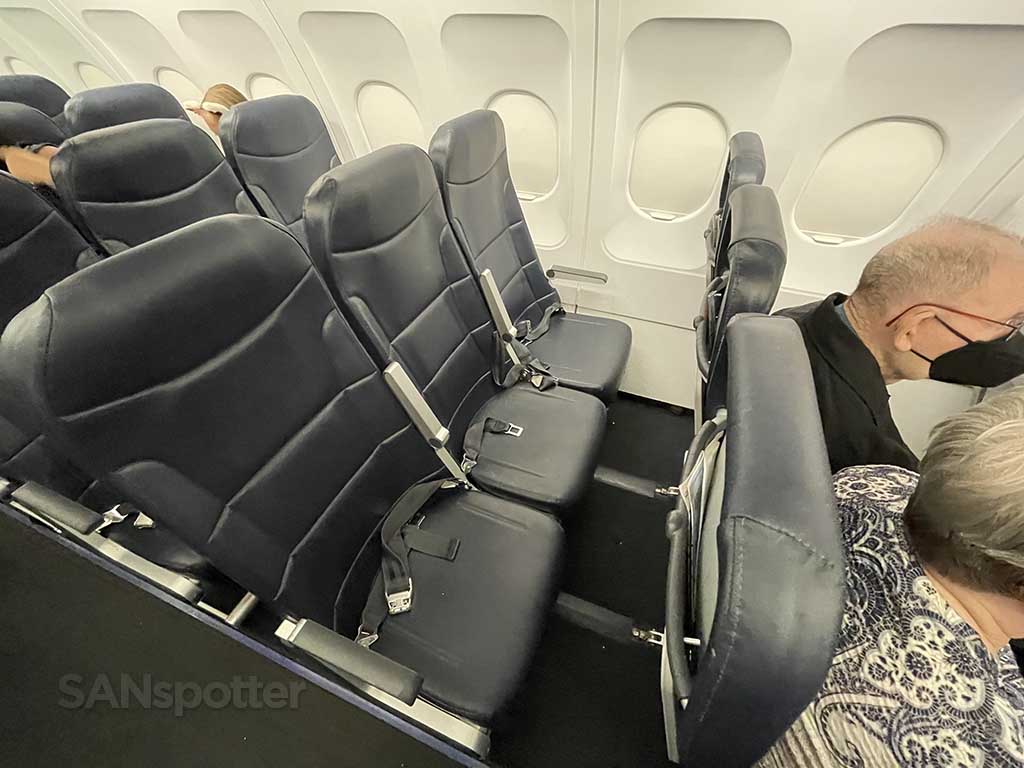 Are allegiant air seats smaller?
The size of the typical Allegiant Air seat is about what you would expect on Spirit Airlines. They are approximately 17 inches wide, with 31 inches of legroom (seat pitch). That legroom is increased to 34 inches in a "Legroom +" row towards the front of the aircraft. The bottom line is, if you want a more comfortable seat, fly Delta, American, or United instead.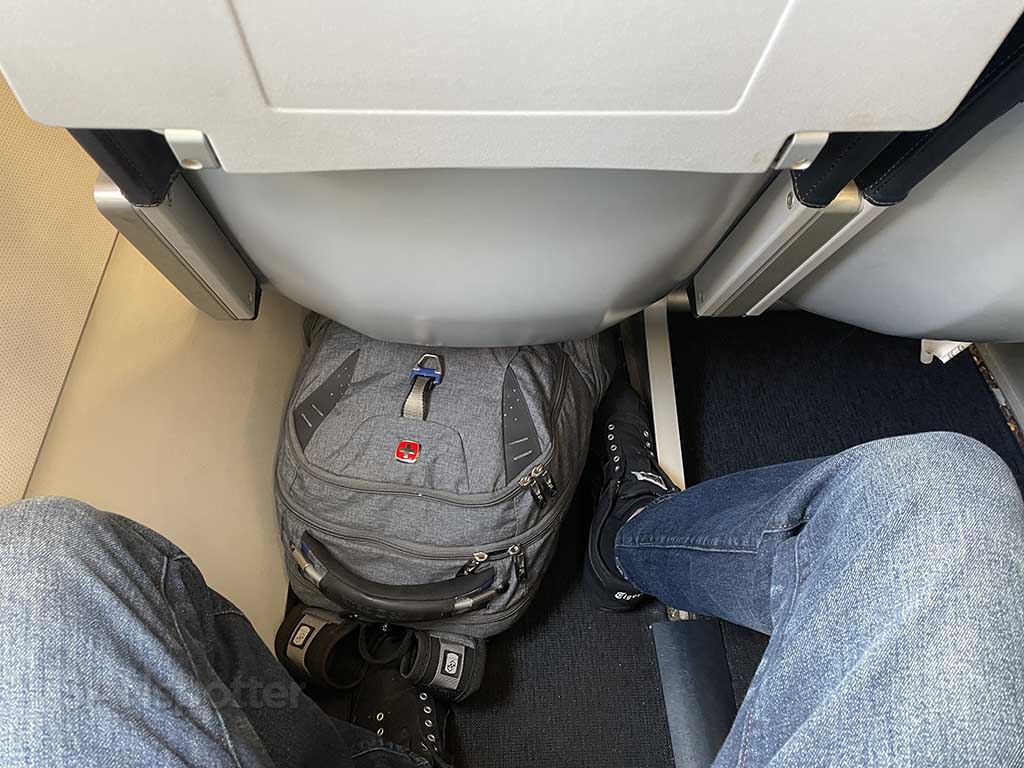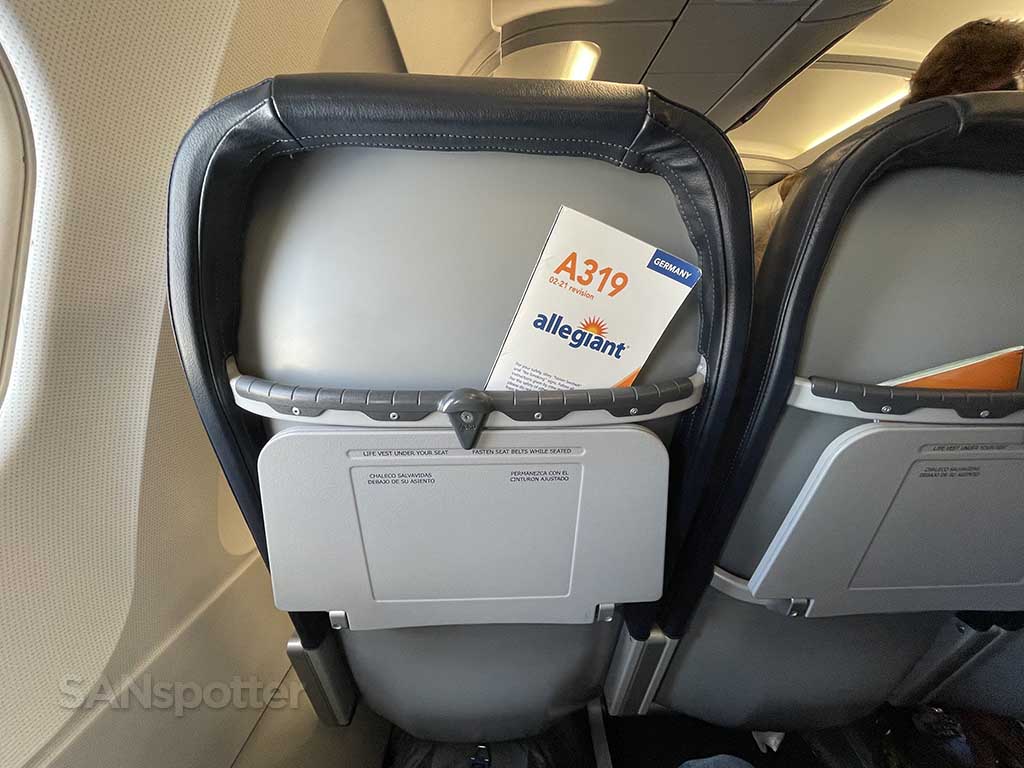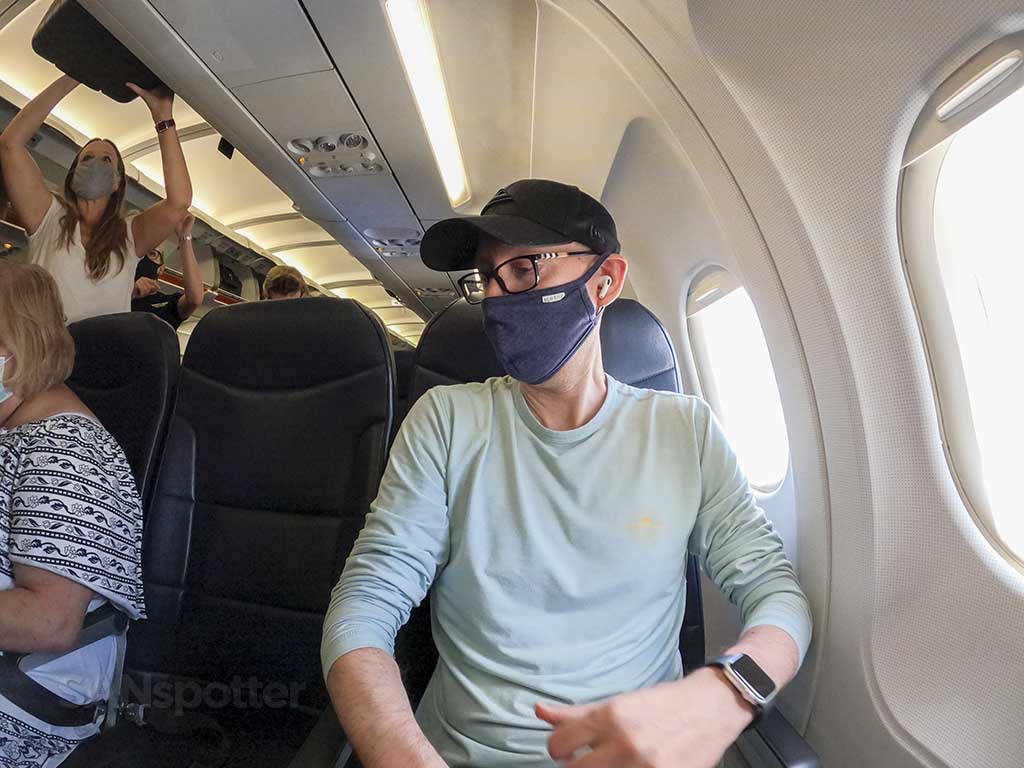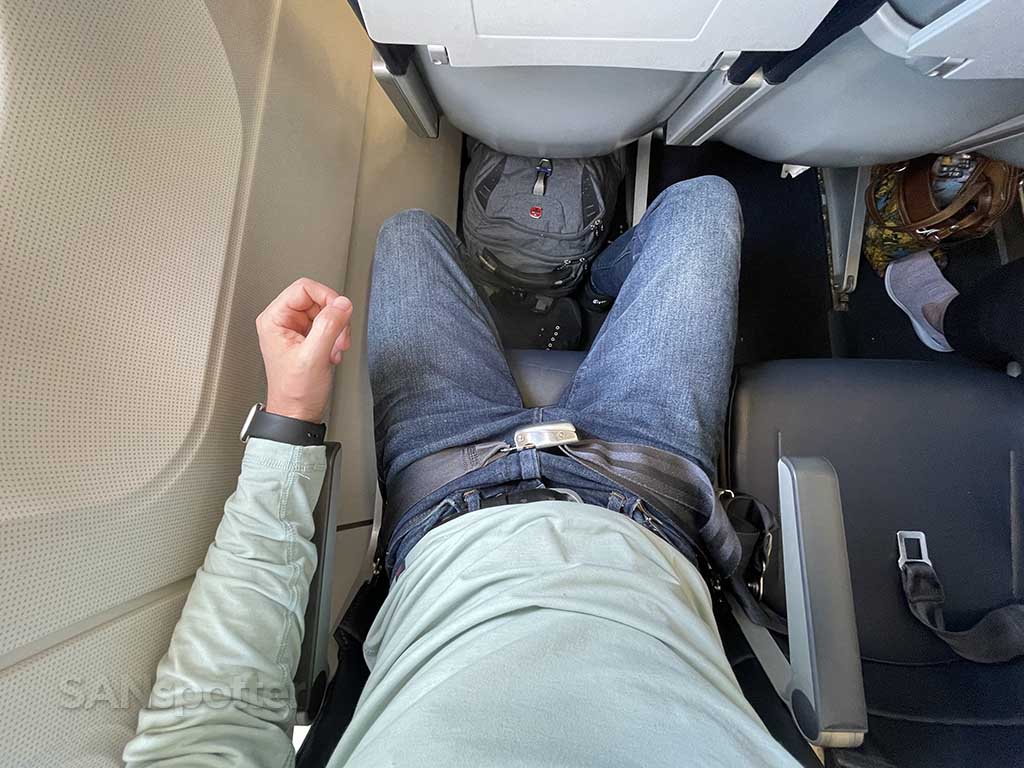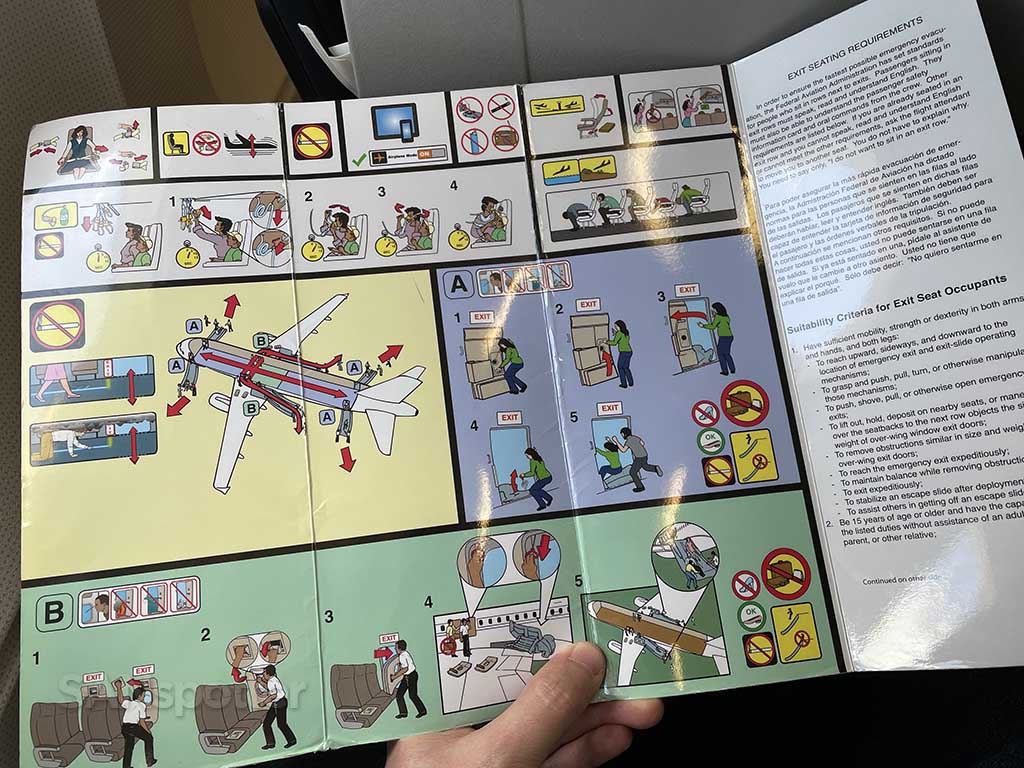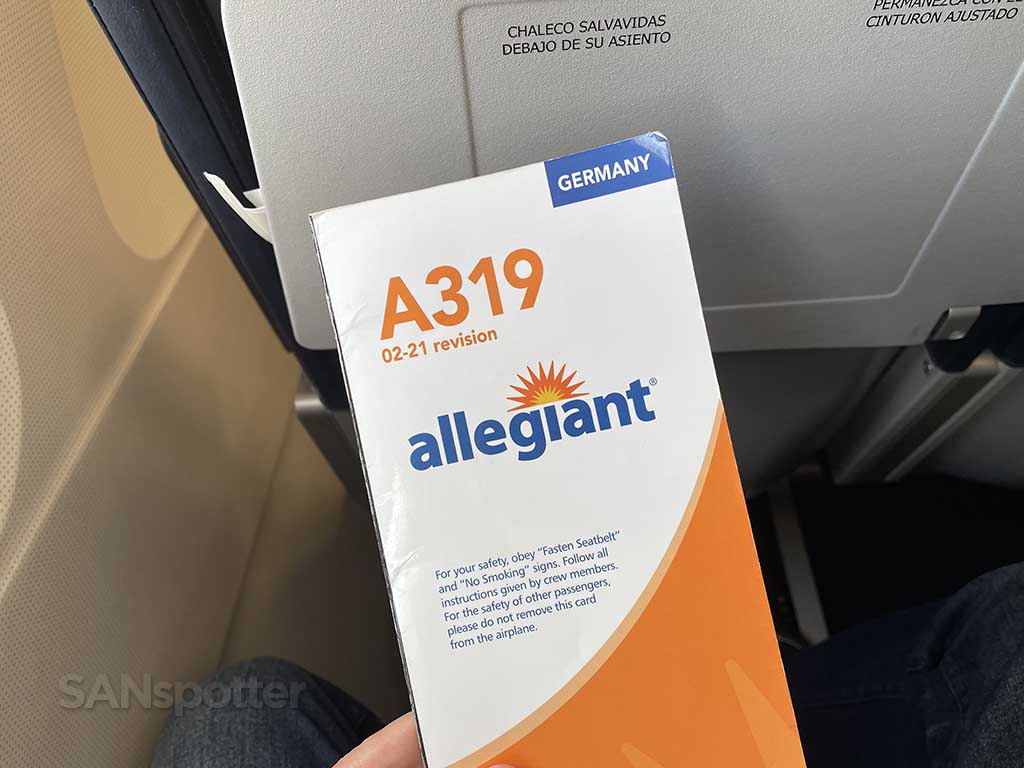 The departure out of Sanford Airport
By the time we pushed out the gate, we were about 45 minutes behind schedule. And you know what? I didn't even care. As a matter fact, I considered it par for the course when flying Allegiant Air.
Besides – all of the other Allegiant Air reviews that I've ever read mentioned some sort of delay. I can confirm that delays are inevitable and to be expected.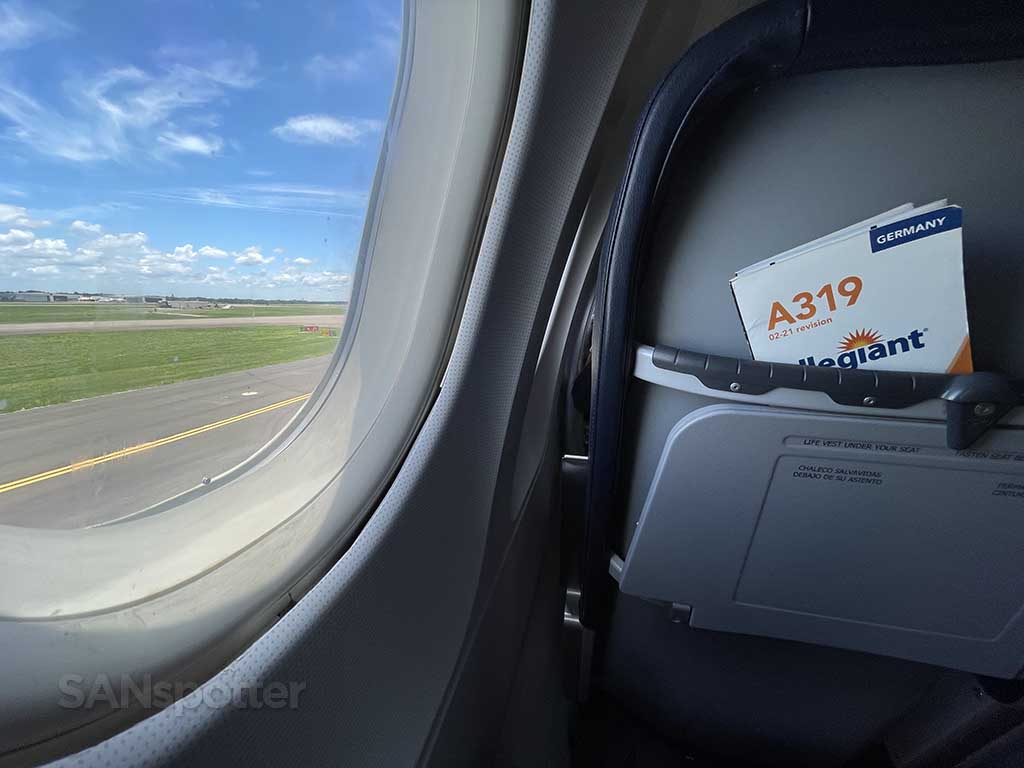 Does Allegiant Air give free snacks?
Allegiant Air does not provide free snacks on any flight. If you want to eat, you have two choices:
Purchase something off of their in-flight menu. It's not an extensive menu by any means, but it's stuffed full of the usual kinds of things you would expect (chips, crackers, cookies, soft drinks, and alcohol). Note that the menu is always changing, but you can always see the latest options on the Allegiant Air website.
Bring your own. As a matter of fact, Allegiant Air encourages this. As long as you don't bring your own alcohol on board, feel free to bring whatever you like. However, don't be like me on my Allegiant Air flight from San Diego to Bellingham (the one where I brought an incredibly-stinky Caesar salad onboard which stunk up the entire plane).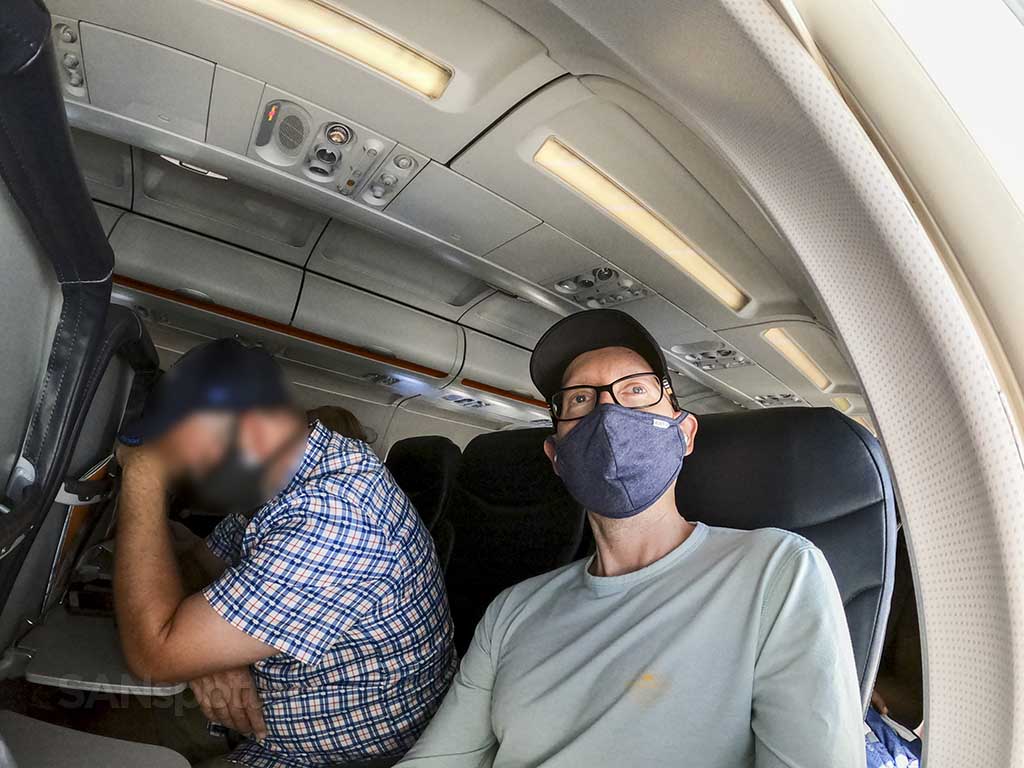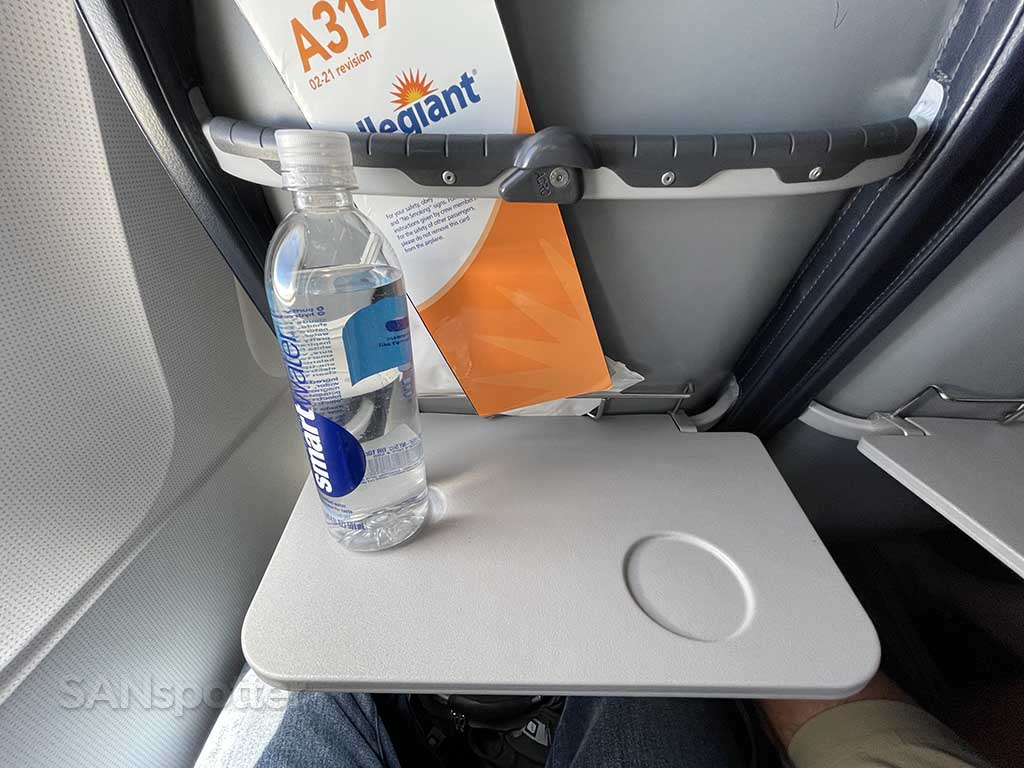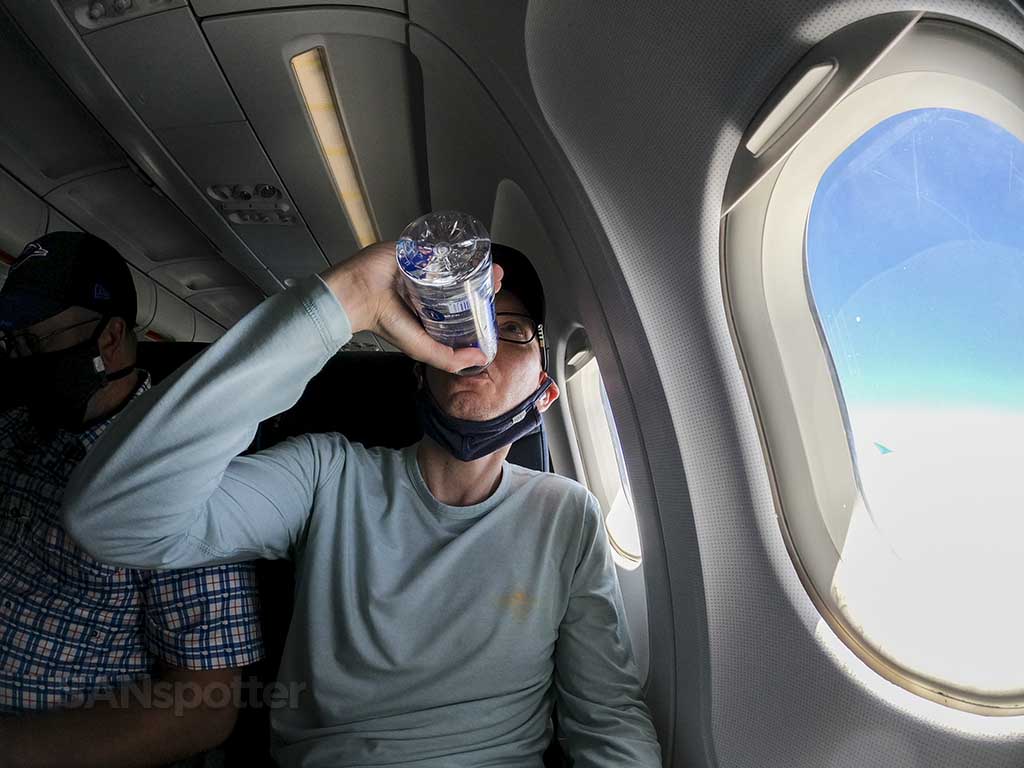 Is the Allegiant Air Legroom + seat really worth it?
If you've made it this far into the review, congratulations. For that, I'm going to award you with a useful bit of info: paying a bit extra for an Allegiant Air Legroom + seat is definitely worth it – just as long as you can get it for a fair price. I paid $6 extra for this particular seat, and it was a fairly comfortable 3 hour flight to Oklahoma City.
Note that I would not pay, say, $15 for this seat on a 1 hour flight. Anything over an hour and a half would be tempting. Anything over 2 hours would be a mandatory expenditure for me. I love me some extra leg room.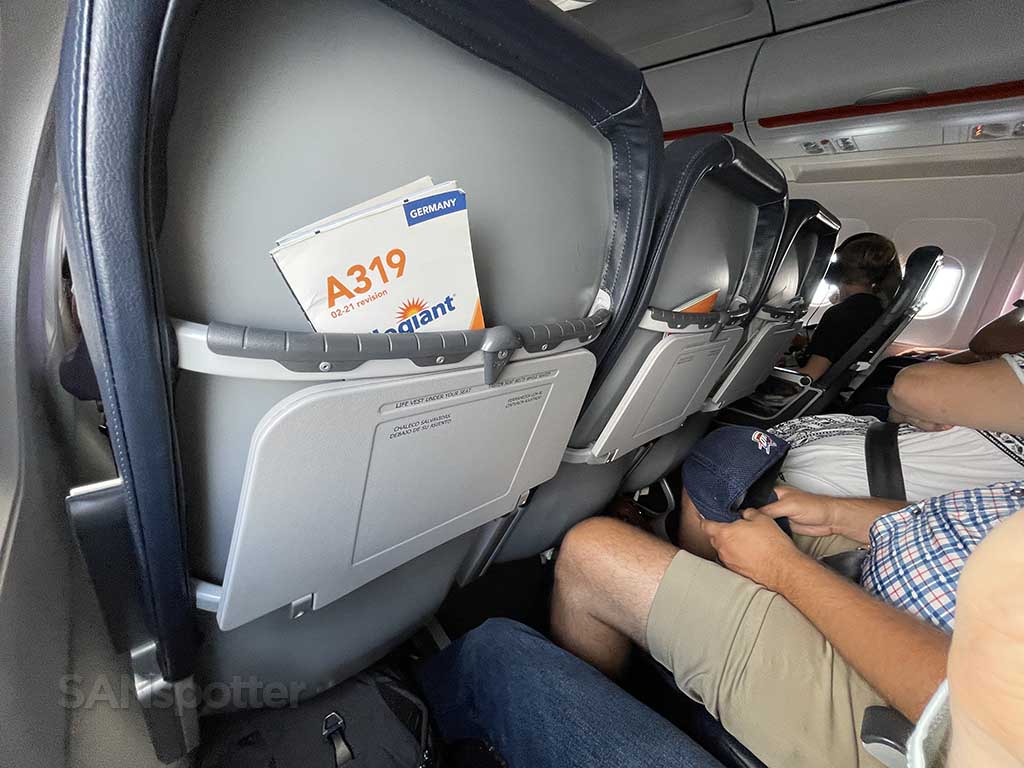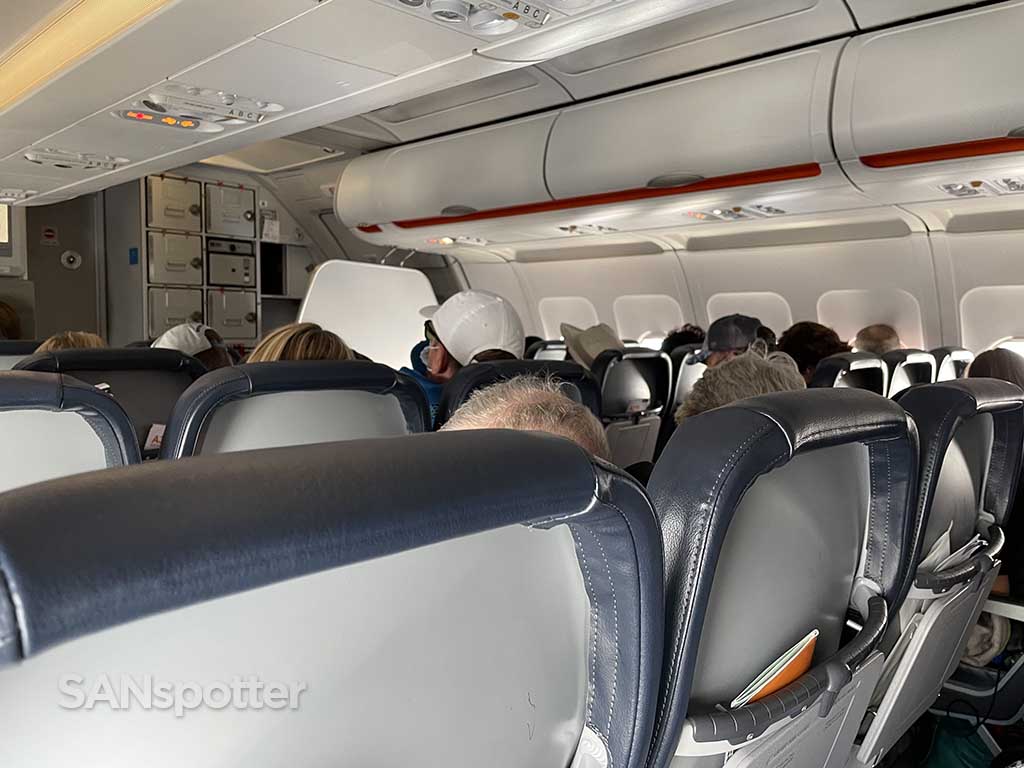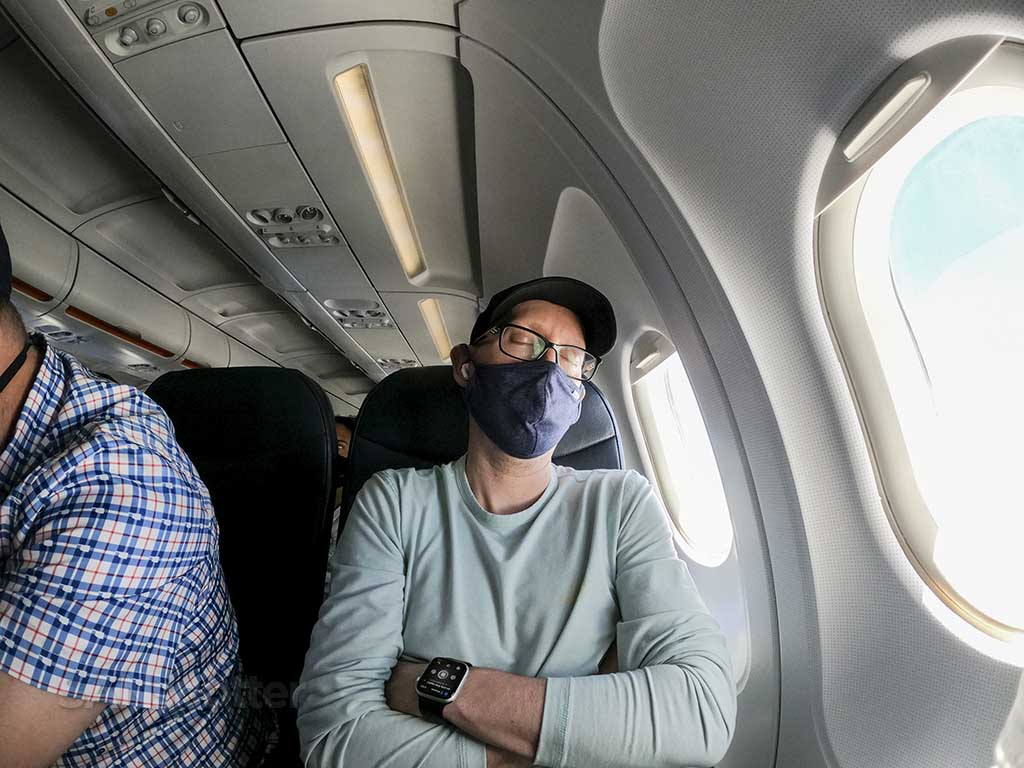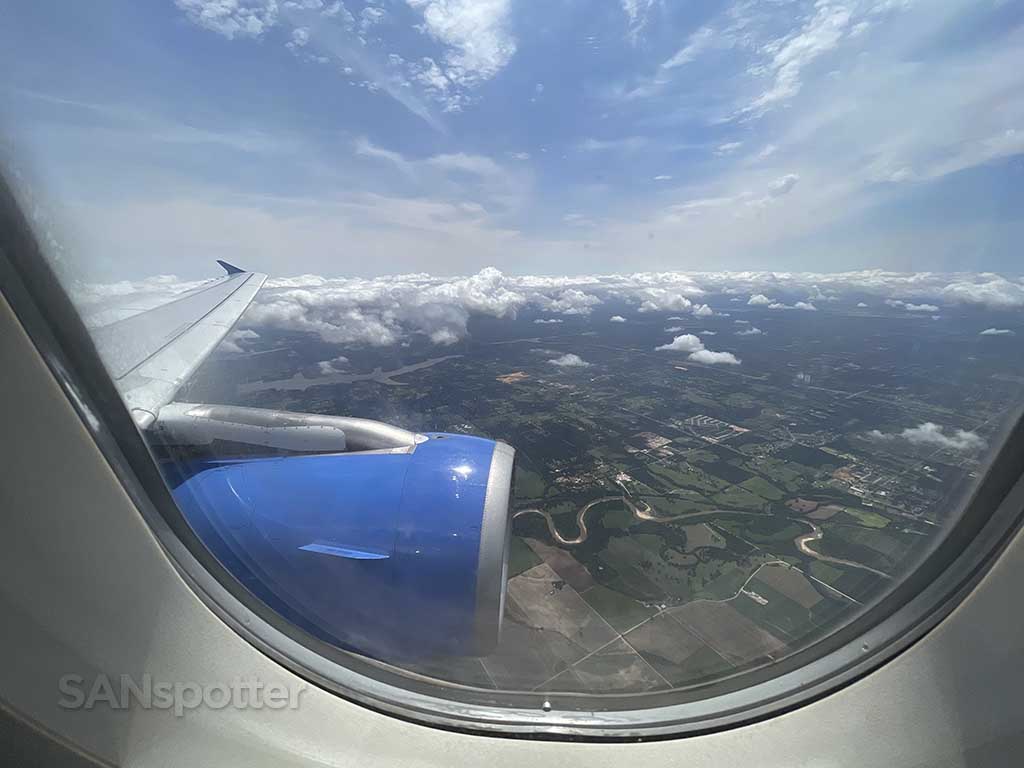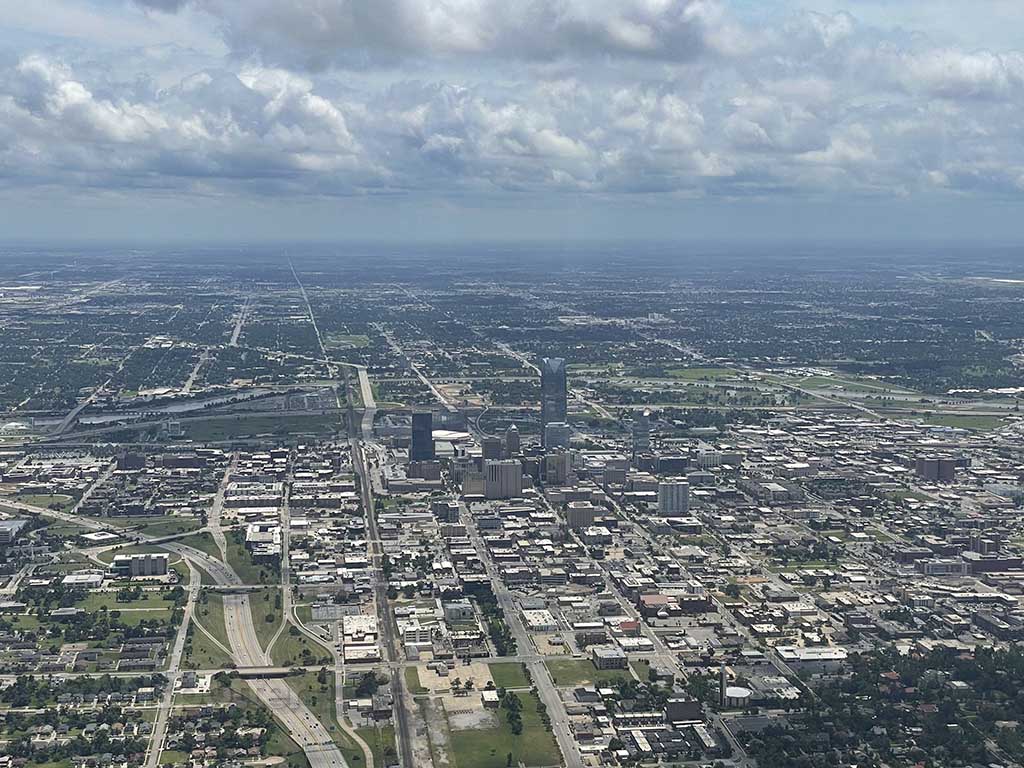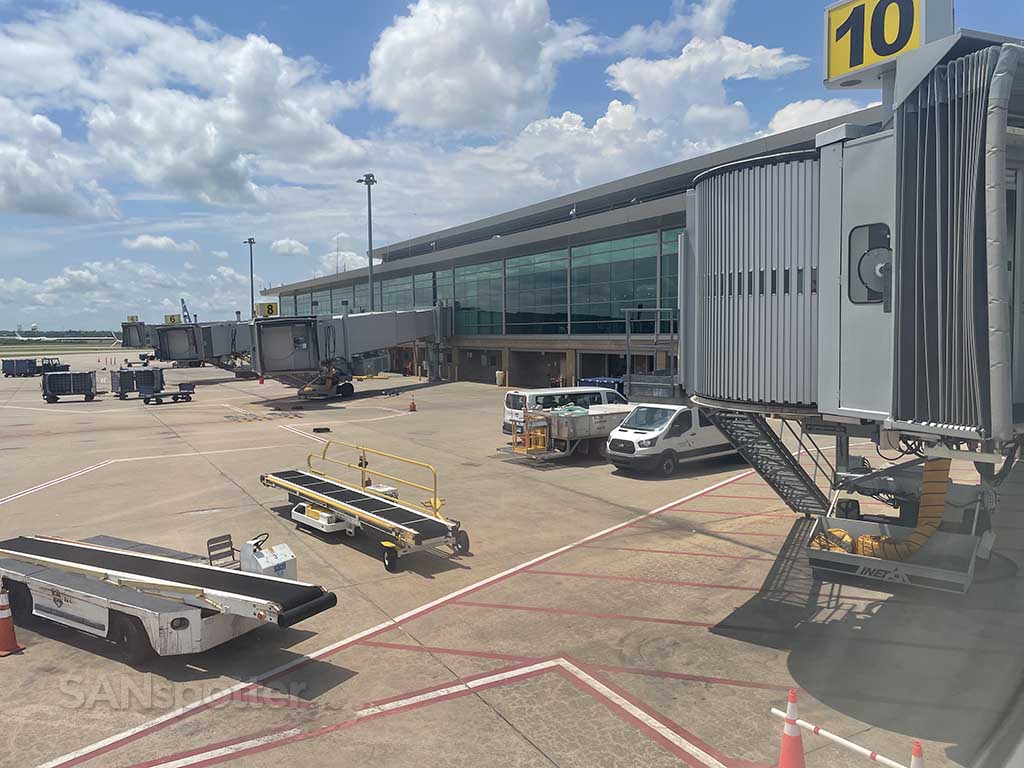 In conclusion, Allegiant Air is a good little airline (and it behooves you to seek them out whenever you can). I wouldn't want to make them my primary carrier or anything, but they definitely serve a niche.
For what it's worth, I find them to be highly convenient when they just so happen to be flying to the places I need to go to. That isn't very often though, and it's one of the (many) reasons I ranked them dead last in my list of the best airlines to fly.
Allegiant Air pros and cons
The problem with Allegiant Air is that they attract the kinds of people who are unwilling to pay anything more than the cheapest price for anything. I'm not saying that in a bad way, as there's nothing wrong with being thrifty and unwilling to throw money away.
However, Allegiant Air charges extra for everything (including the privilege of bringing on a carry-on bag), and those same people tend to start complaining once they realize that they have to shell out even more money for that basic things they would expect on a flight. That being said, here are some pros to end out this Allegiant Air review:
Pros
It really is a cheap way to travel! If you're willing to accept the most basic flight experience possible (no food, no carry-on bag, no checked bag, etc.) Allegiant Air will likely be your cheapest option.
To save on costs, they fly to secondary airports. For example, they use Sanford Airport just north of Orlando (SFB) instead of using Orlando international airport (MCO). This is mostly a pro, since smaller airports are easier to navigate.
Compared to Frontier Airlines, the seats are just as comfortable and the service is just as good. That's a compliment!
I find Allegiant Air to be just as good as Breeze Airways (another ultra low cost carrier with a solid product offering). As you'll see in my review of Breeze Airways, you can't really go wrong choosing Allegiant since you're not going to get anything better for the price.
Cons
Be prepared to pay extra for every little thing. The base fare for my flight from Orlando to Oklahoma City was just $69. However, by the time I paid extra for a carry-on bag, a seat towards the front of the plane, as well as a few unavoidable taxes, my ticket came to $148.50.
Flying to smaller secondary airports may be inconvenient depending on your travel needs. For example, as I learned in this review, I can assure you that Orlando Sanford Airport is pretty freaking far from Orlando. Plan accordingly.
The Allegiant Air flight network is fairly limited. This is likely to cause problems in times of delays and cancellations. It's not like that they can just put you on the next flight to your destination . The more likely scenario is that you're going to have to wait until the next day (because that's when the next flight is).