This is a full review of Breeze Airways flight 118 from Tampa to Oklahoma City. The aircraft was an E195, and I spent extra on a "Nicer Fare", which gave me a seat with extra legroom and priority boarding (among other minor perks). It was an interesting experience.
On one hand, it was a pleasantly comfortable flight with an attentive cabin crew.
On the other hand, with a very limited flight schedule, Breeze Airways doesn't make it easy to fly with them. Coming from San Diego, I had to get really creative to find a way to get on one of their airplanes. That's a pretty tall order for someone with limited brain cells such as myself.
MX118
Tampa, FL (TPA) – Oklahoma City, OK (OKC)
Thursday, September 23, 2021
Aircraft: ERJ-195
Registration: N192BZ
Duration: 2 hours 29 minutes
Seat: 5F (Extra Legroom)

The video
Creating a full video review of Breeze Airways was a lot more fun than I thought it was going to be. This isn't a very exciting airline, but somehow it ended up being one of my most enjoyable flights of the year.
Finding the right music to convey the excitement of flying and all new airline was super easy with Epidemic Sound. The song in the first half of this video was Dark Horse by Tigerblood. The song used in the second half was Pursuing Tikiness by The Fly Guy Five.
An in-depth review of the Breeze Airways Embraer 195 Extra Legroom seat
Before going any further, it's important to note that the Extra Legroom seats on the ERJ-195 are not the best seats that this airline offers. I'd recommend checking out my Breeze Airways A220-300 "Nicest" seat review to see what first class is really like on Breeze.
Anyway, this is still a very new airline at the time of this writing, and they are still promising to roll out new perks as time goes on. But for now, this is what it was like on my flight from Tampa to Oklahoma City.
My arrival at the airport
I spent the night at the Tampa Airport Marriott Hotel. It's attached directly to the terminal, which makes it perfect for an overnight stay before an early morning flight. It's also a great hotel for plane spotting. The pic you see above was taken from my room the evening before the flight.
Unfortunately, I had mistakenly input the wrong birthdate on my reservation, and the TSA wouldn't let me through the security checkpoint because of it.
The birthdate on my drivers license and my ticket didn't match, so they sent me right back to the Breeze Airways check-in counter to see if they could get it resolved. So much for a stress-free morning.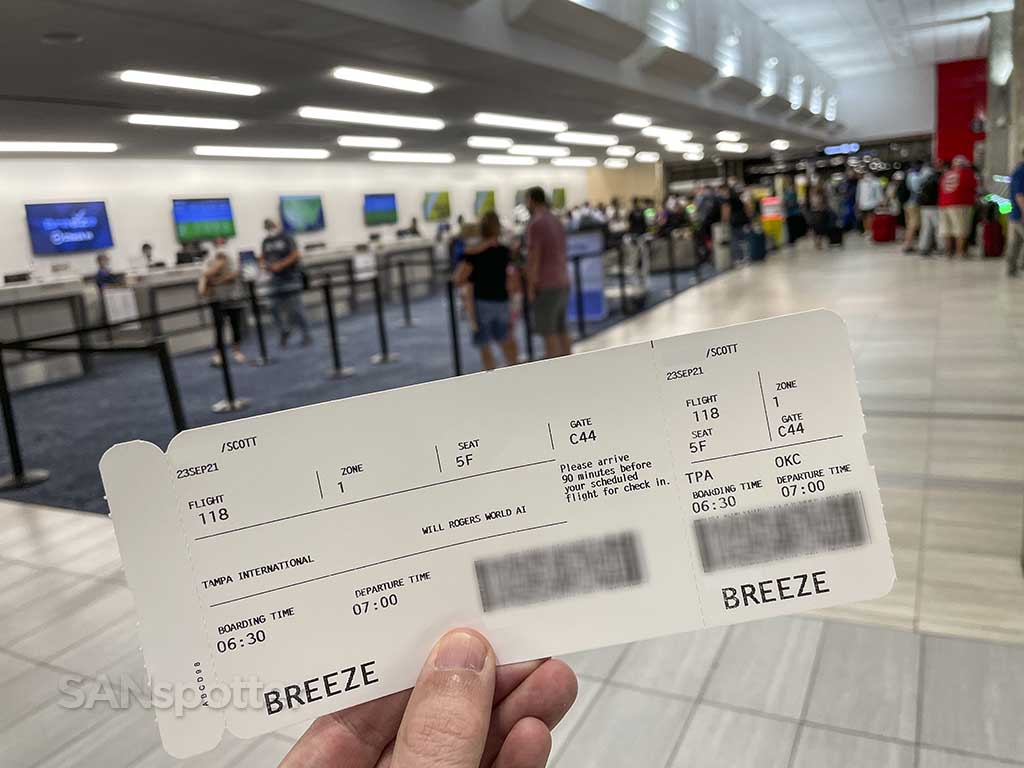 What terminal does Breeze Airways use at the Tampa International Airport?
Breeze Airways uses Terminal C at TPA. It's fairly small with limited food options, but as long as you're not spending an entire day there, it's not that bad. I had about an hour to kill before my flight started boarding, which was the perfect amount of time to get situated and relaxed.
The boarding process for Breeze Airways flight number 118 to Oklahoma City
The scheduled departure gate for the flight to Oklahoma City was 45. However, they switched it over to gate 44 just five minutes prior to the boarding process. I'm not sure why they waited that long to tell everyone, but whatever.
My first impressions of the Breeze Airways E195 Extra Legroom seat
Not only was this the first time that I had ever flown Breeze Airways, it was also the first time that I had ever stepped foot on an Embraer 195. Neither of those two little tidbits of information mattered once I saw the seats. Long story short, the interiors of the Breeze Airways E195s look fantastic.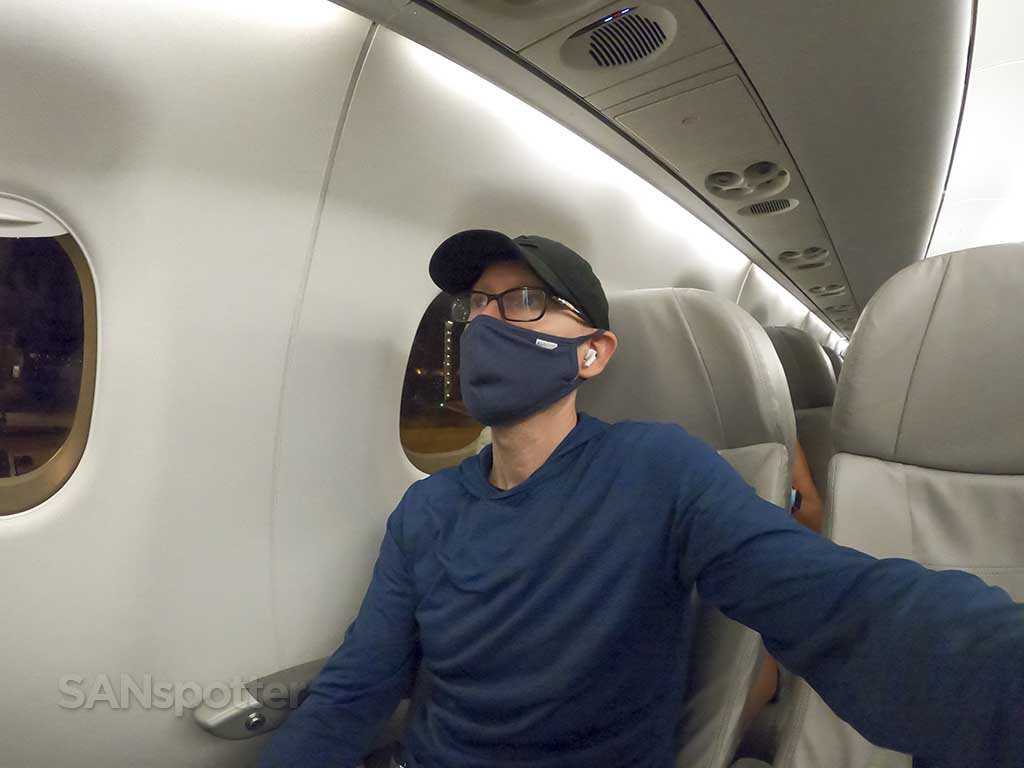 Finally, it's worth noting that these extra legroom seats on the E195 are not typical of what you'll find on other aircraft in the Breeze Airways fleet. Be sure to read my Breeze Airways A220-300 Nicer seat review to learn more about their latest and greatest "extra legroom" offering.
The departure sequence out of Tampa
The sun was just starting to pop over the horizon as we pushed off the gate. This is easily my favorite time of day to fly, so I was more than a little excited about the prospect of getting some juicy sunrise-themed takeoff footage.
What kind of food do they serve on Breeze Airways?
At the time of this writing, not much. They are promising extensive "buy onboard" menu in the future, but for now, food is limited.
How comfortable are the seats?
The Extra Legroom seats on Breeze Airways aircraft are pretty comfortable actually. No, they are not as comfortable as a standard domestic first class seat. These are simply the regular economy seats wrapped in a different material (and spaced a little farther apart).
That being said, I found these seats to be more comfortable than Avelo Airlines extra legroom seats (you can read my Avelo Airlines review to find out why).
For the record, I purposefully chose this route from Tampa to Oklahoma City because of the fact that it was the longest flight in the Breeze Airways network at the time. I figured that it would be the ultimate test of seat comfort on this brand new airline.
What's the verdict? Is Breeze Airways good?
In my opinion, yes! Breeze Airways is a good airline. The low fares that they offer are unbeatable, and once on board, it'll be just as comfortable as any other airline. Especially if you spring for an Extra Legroom seat like I did.
I had absolutely zero complaints about this flight, and I'm very much looking forward to flying with Breeze again. Unfortunately, I'm not sure when I'll have the opportunity to do so with their limited schedule. If they can grow their route network into something more substantial, I'd be willing to place them higher on my list of the best airlines to fly in the US. Until that happens, this isn't a very convenient airline to fly.
And now, let me show you the descent and arrival into Oklahoma City:
Pros and cons of the Breeze Airways E195 Extra Legroom seat
More than anything, you need to understand that a seat with more legroom on Breeze Airways isn't that much better than a regular seat. And since this is an airline which flies typically shorter routes, think twice before spending the extra money for just a little bit more room. It may not even be worth it.
Pros
The E195 Extra Legroom seats look very high class wrapped in a white leather-like material. In terms of looks, reminds me a lot of Virgin America first class.
It's an incredibly good deal. I paid just $124 for my seat, and I overheard the guy in front of me tell his seatmate that he paid $134 on his last minute ticket.
The added perks you get with the seat (priority boarding, free snacks, free checked bag, etc.) are nice. You'd pay a lot more for a Southwest Airlines Business Select seat and you'd still get less.
Cons
It's probably not worth it to spend more money on an Extra Legroom seat if your flight is less than an hour in length. There is extra legroom, but not that much extra.
The seats themselves are equivalent to basic economy seats. You won't get any extra padding or lower back support.
The snacks they serve in these premium seats are equivalent to what you would get in regular economy on nearly any other US airline.