Note: This is a review of the old Delta domestic 767-300 first class experience (as it was from San Diego to Atlanta and back to San Diego the summer of 2016). These seats don't exist anymore, so do be sure to check out my newest Delta 767-3oo first class review to see the evolution of this product.
---
The soon-to-be retirement of the domestic (non-ER) Delta 767-300 is what made me look forward to doing this review. I've flown on countless DL 767's between SAN and ATL over the years, but knowing that this was likely my last time on a domestically-configured 767-300 made it kind of a bummer. Oh well – that's progress for you.
DL1592
San Diego, CA (SAN) – Atlanta, GA (ATL)
Saturday, July 2, 2016
Aircraft: 767-332
Registration: N1402A
Seat: 5C (first class)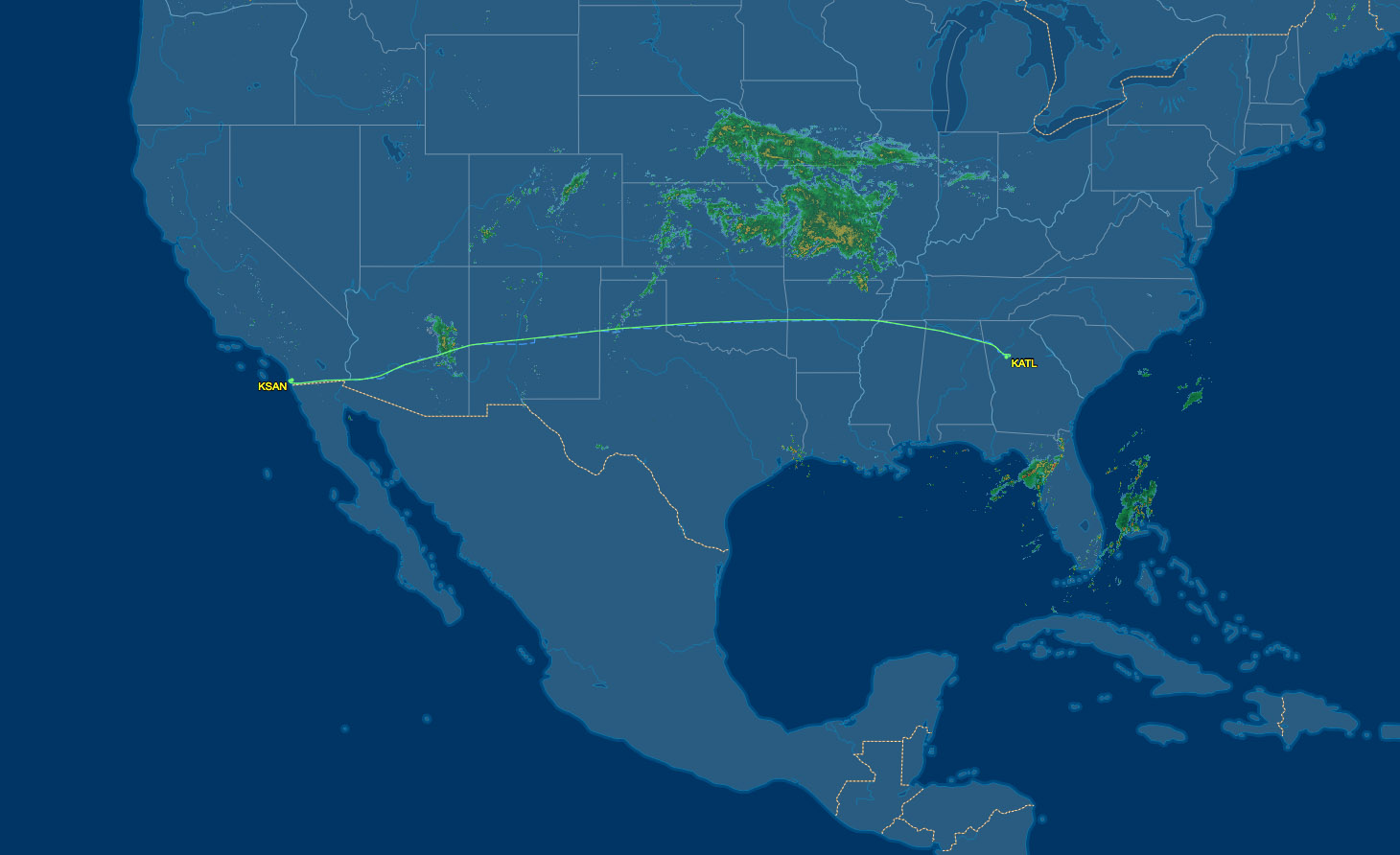 By the way, I shot some video during the course of the flight, and here is what I managed to put together. Check it out, then make sure to come back and read about all the details down below!
Now, on with the trip report…
Luckily I managed to grab an Uber ride at 4:40am to get me to the airport (I wasn't expecting to get one so early), and once there I was able to breeze through security in no time. I was expecting the crowds to be downright nasty since this was a holiday weekend, but for the most part, it seemed like a normal Saturday morning to me. Nice!
I had a bit of time to kill before the flight started boarding, so I found a quiet spot at gate 48 to sit and relax for a while (and snooze a bit, since it was so early still). But I didn't have to wait long, and I finally wandered down to the very crowded gate 51 about 10 minutes prior to boarding.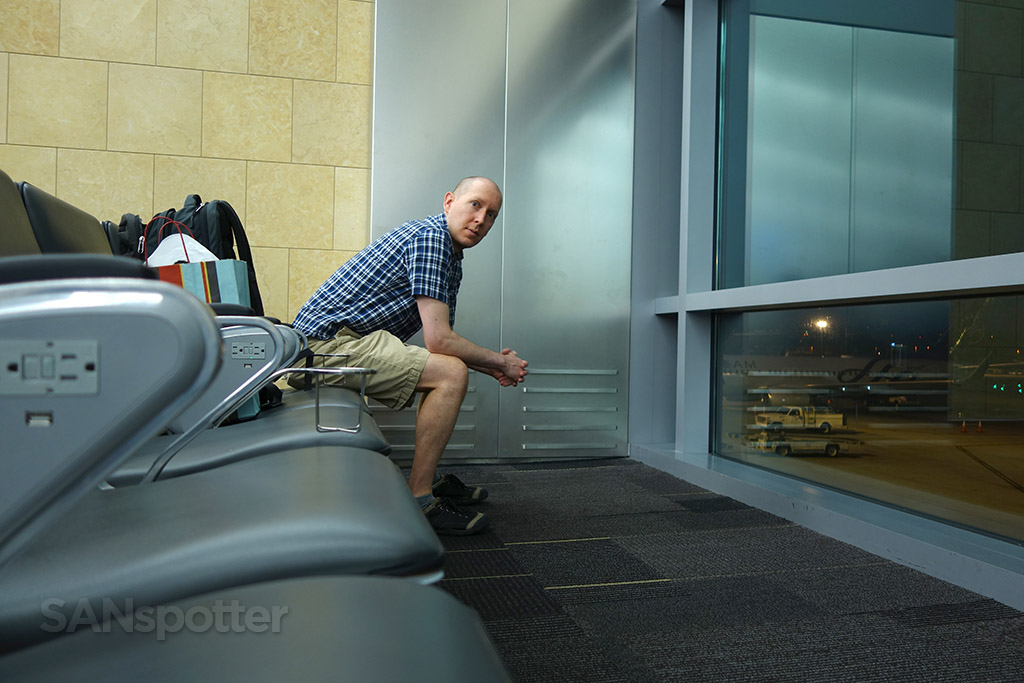 I boarded as soon as they called for first class, and I thought I was one of the first on the airplane, but first class was pretty much full by the time I got onboard. My seat was in the very last row of first class, strategically selected for the photo ops from that vantage point.
Knowing that this would likely be my second-to-last ever DL non-ER 767 flight, I wanted to have a seat with a view of the entire cabin so I could get decent pics along the way.
There really isn't a bad seat up there in first class, but the only downside to being in the last row is that I would be one of the last to eat. Oh well – that's the sacrifice I had to make in order to make this trip report complete!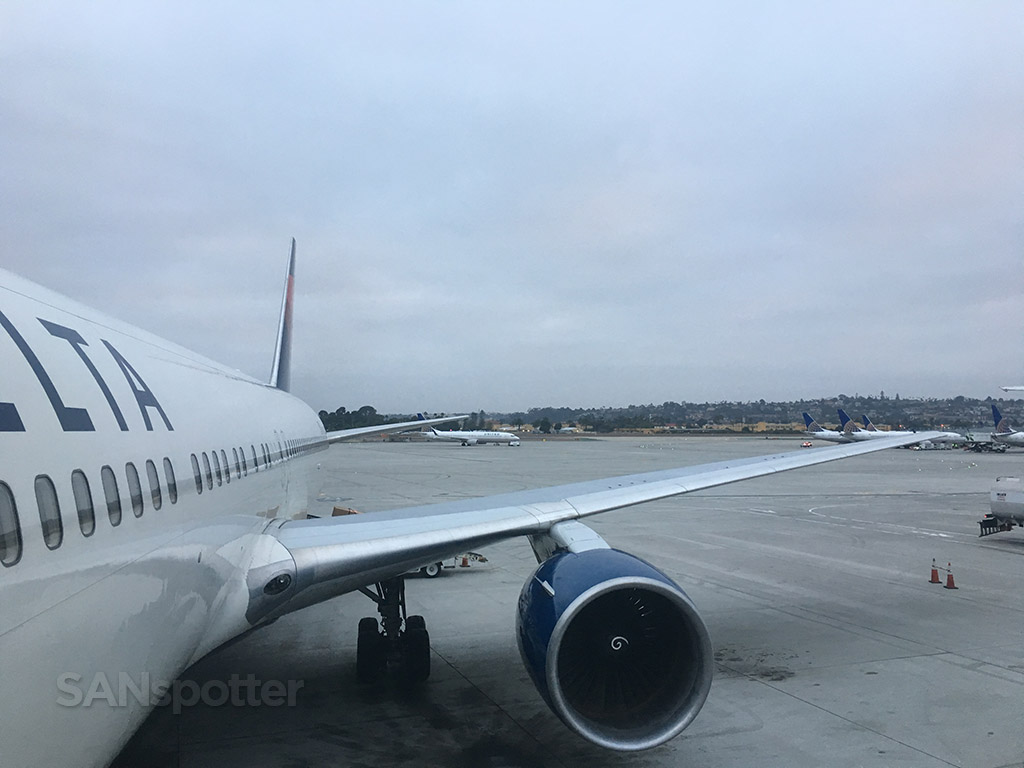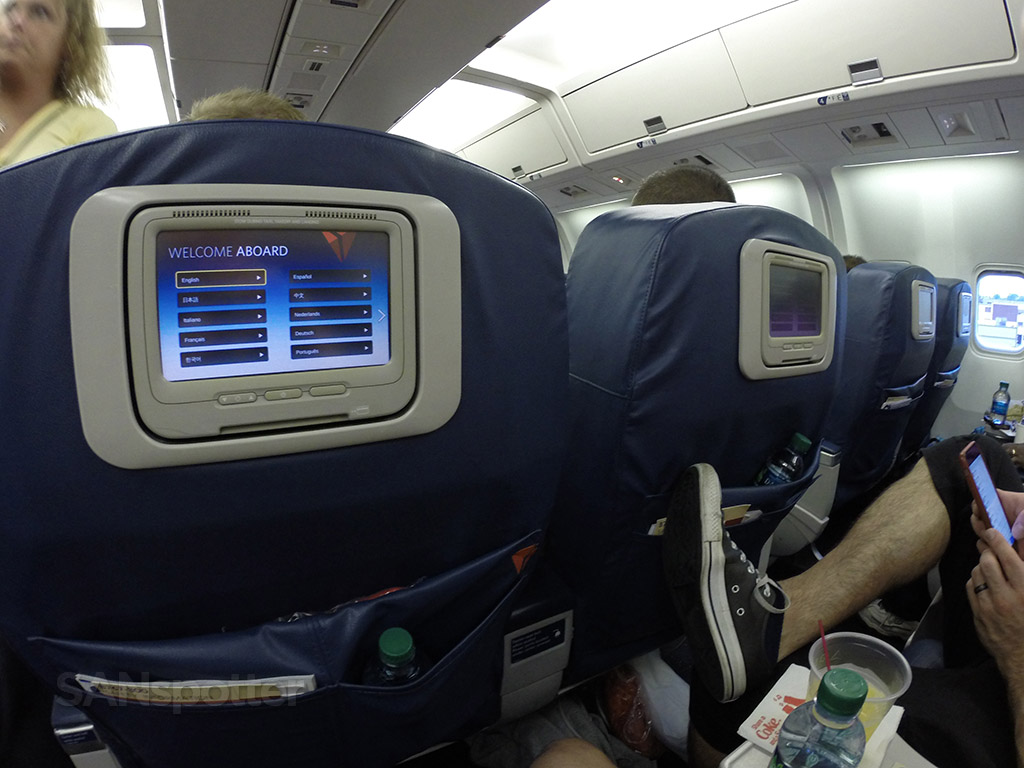 I don't fly Delta all that often anymore, and its not often I recognize flight attendants, but right away I was happy to see Marsha working the front cabin today. She's worked several of my Delta flights to and from SAN over the years, and I've got to say that she's one of the best in the business. Happy, energetic, and she addresses all passengers by name at most every interaction. Truly a class act.
Breakfast orders were taken from the front of the cabin right before pushback, with the choices being an omelet or oatmeal. Either one sounded good to me, which was a good thing because they only had oatmeal left by the time they reached me in the last row. Other passengers weren't as happy about that, and most refused breakfast altogether when they found out that the omelet was no longer available.
I was already regretting my choice for an aisle seat as we were taxing out to the runway – it looked to be a beautiful morning out there, and I was really itching to get pics of the departure. I've been doing these trip reports for years now and it seems weird to me when I can't take window shots on a flight. Weird – but it's the truth.
The hot towels were distributed immediately after take off, followed by a quick beverage service before they started serving breakfast. They didn't serve snacks with the drinks, but I couldn't tell if that was planned or if they just ran out of time.
They did seemed rushed trying to get breakfast put together, though it was a slow enough service that the first three rows had already finished with their meals by the time they even served mine. That's not a complaint or anything – I'm just stating that as an unfortunate consequence of choosing a seat in the very last row of the cabin.
An overwhelming feeling of sleepiness overcame me immediately after breakfast, and I pretty much slept for the remainder of the flight. It wasn't quality sleep though – those domestic-style first class recliner seats aren't all that comfortable, so the best I can ever do in those things is just nap on and off.
In all the tossing and turning I did for the last two hours of the flight, I did see the flight attendants come around with the snack basket a few times (as well as offering continuous drink refills), so I'd say the service was pretty good on this flight.
Once again during the landing I was having a really strong urge to be taking pics from the window to document the landing process. But being stuck in an aisle seat, all I could do was…well…pretty much wish I was sitting in a window seat!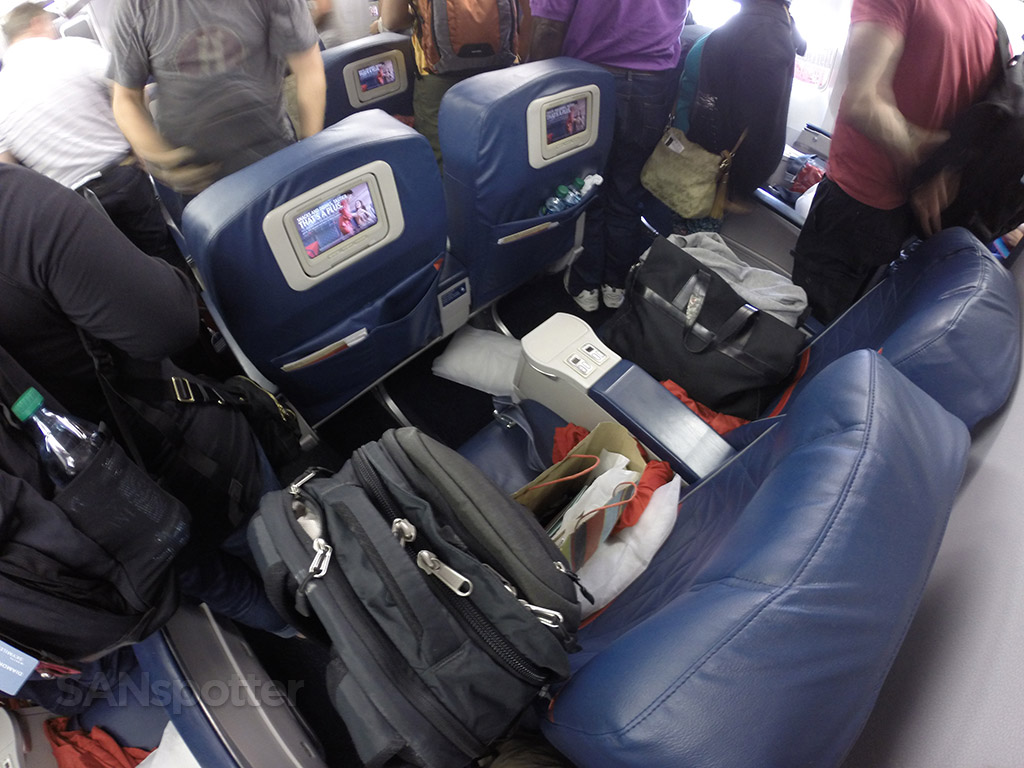 And that wraps up what was probably my last ever DL non-ER 767 flight from San Diego to Atlanta. I still have the return flight to San Diego to do (which you can continue reading below), but it is still kind of sad to know that from here on out, it'll pretty much be 737-800/900's whenever I fly on DL out of SAN.
---
DL1567
Atlanta, GA (ATL) – San Diego, CA (SAN)
Friday, July 8, 2016
Aircraft: 767-332
Registration: N1402A
Seat: 3D (first class)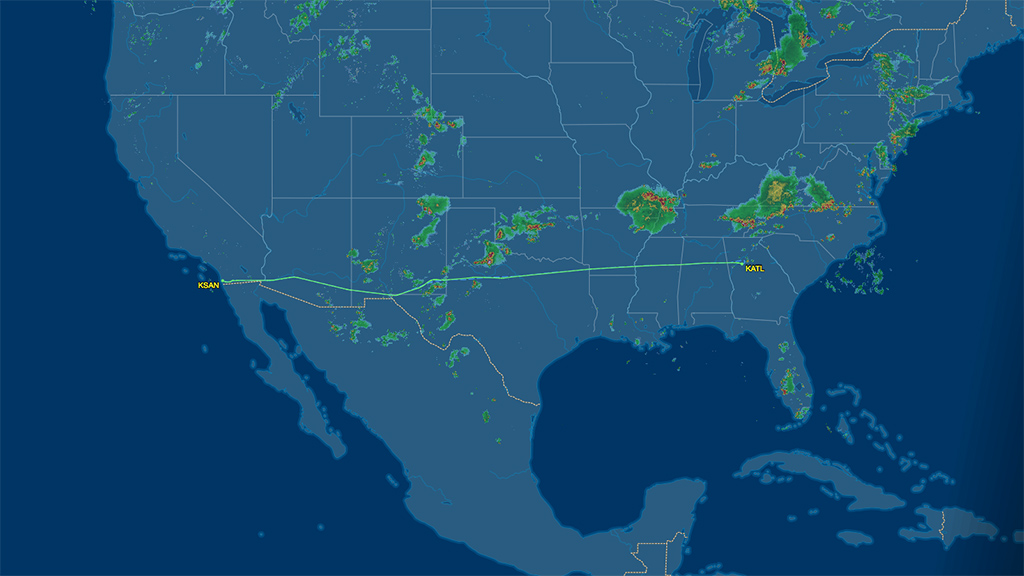 So this is it. My farewell ride on the Delta Airlines domestic (non-ER) 767-300. I can't say for certain that I'll never get a ride on one of these airplanes again, but the latest rumor is that after this summer, there will only be 4 of these non-ER 767's left within Delta's fleet.
The specific routes for those remaining planes will be between ATL and LAX/LAS (with maybe some Hawaii flying thrown in as well), but the bottom line is that after many years of service, San Diego will no longer see the domestic 767 in Delta colors.
That is, of course, unless DL is feeling generous and decides to send in the 767-300ER (which has a proper business class product). Oh how I would love to see that happen!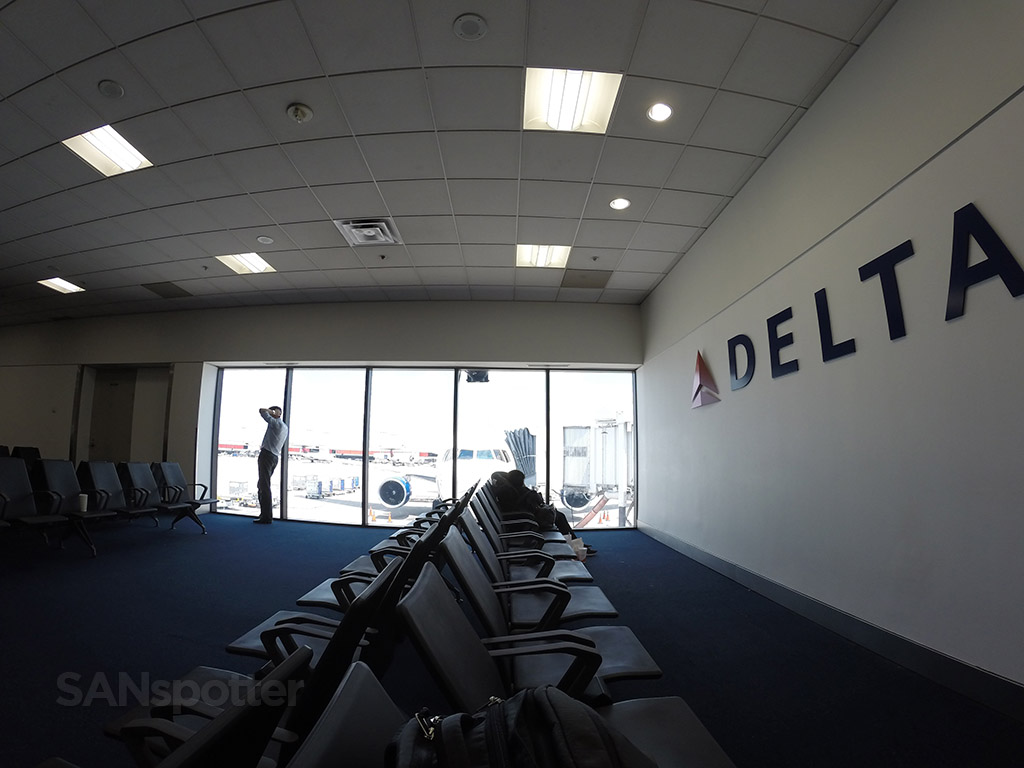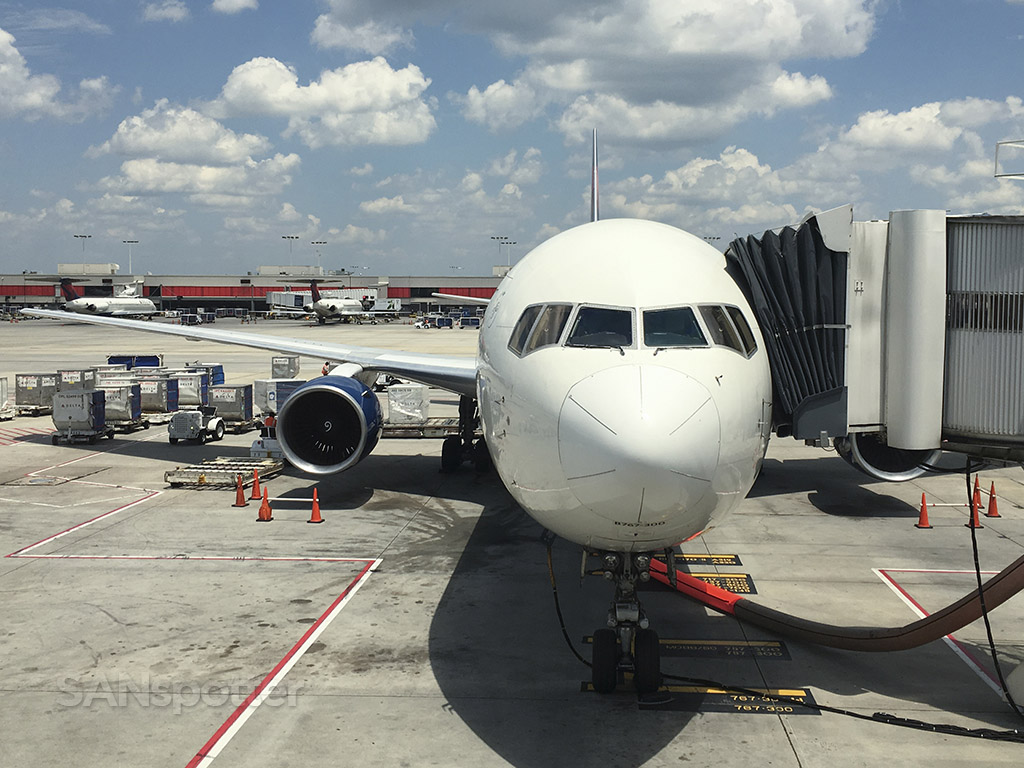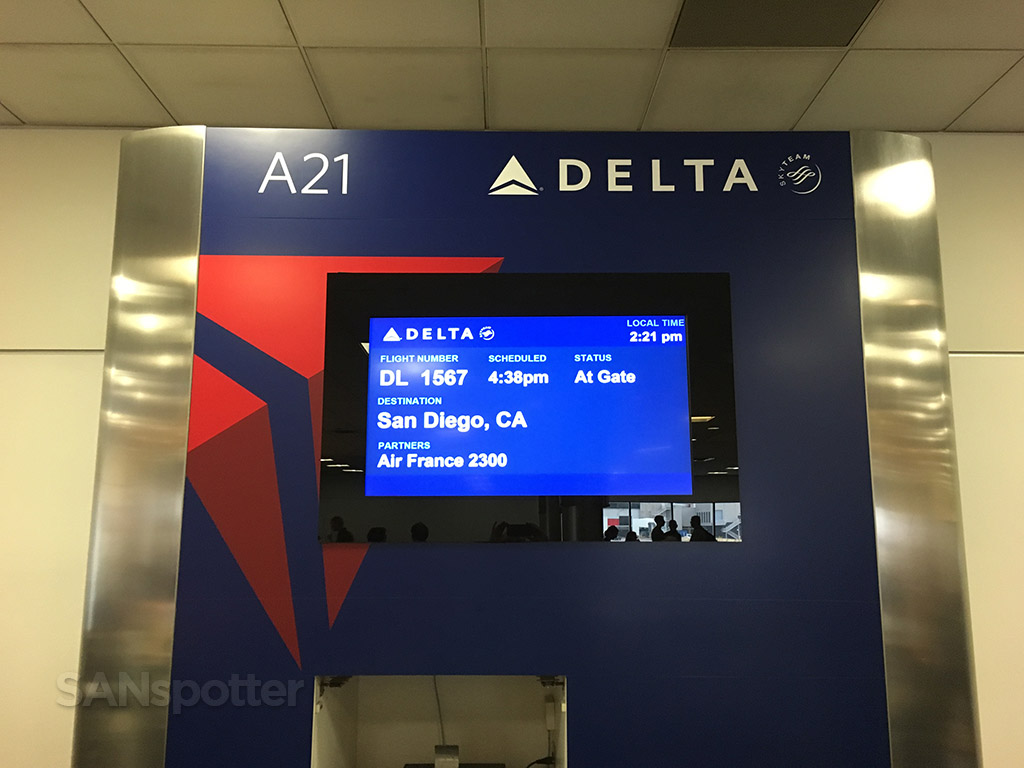 Since my ride up to ATL from MCO this morning was on a brand new A321 with all the bells and whistles, I had to mentally prepare myself to take a step back in time before boarding this 767 bound for San Diego. I love these old wide bodies more than anything else currently flying, but I'm the first to admit that they aren't the most comfortable and they lack a lot of the fancy technology that the newer airplanes feature.
So yeah – getting in the right mindset (feeling nostalgic of travel days gone by) is the key to enjoying flights on these older birds.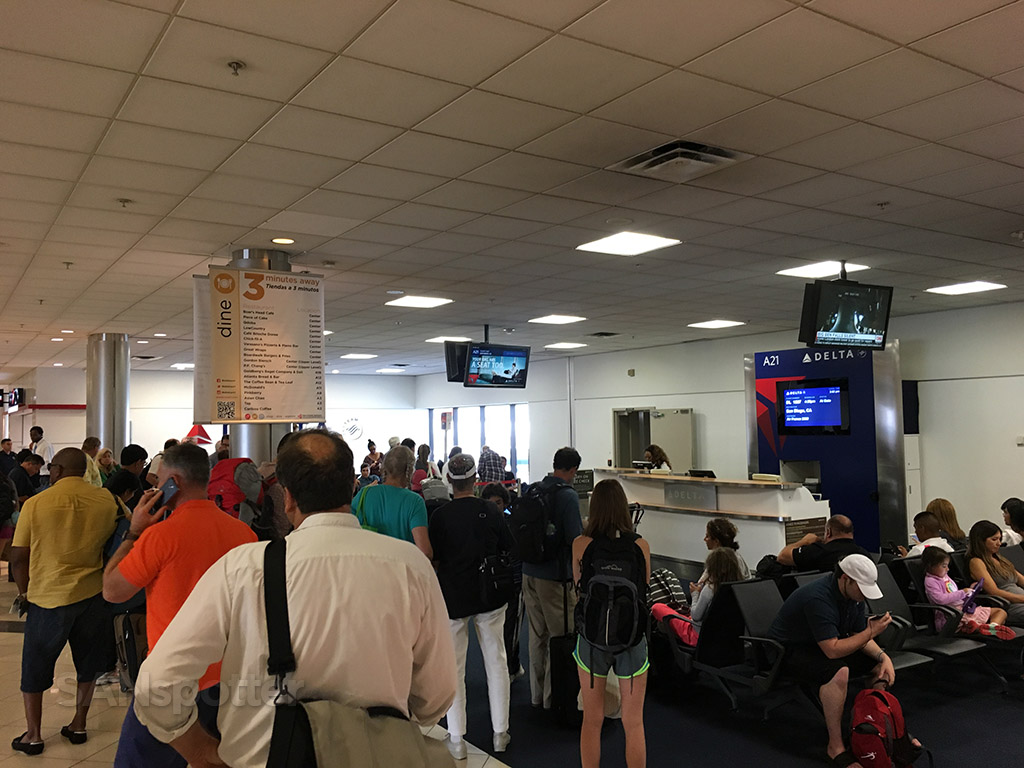 The last time I flew from Atlanta to San Diego on a Delta 767-300 was back in January of 2014, and combined with all the times I've done it before, I pretty much knew what to expect before getting onboard.
The anticipation of this flight was not because of the first class experience – it was because I wanted to enjoy this flight as much as I could knowing that these ATL-SAN flights are most likely going to be all 737's soon. Boooorrrring!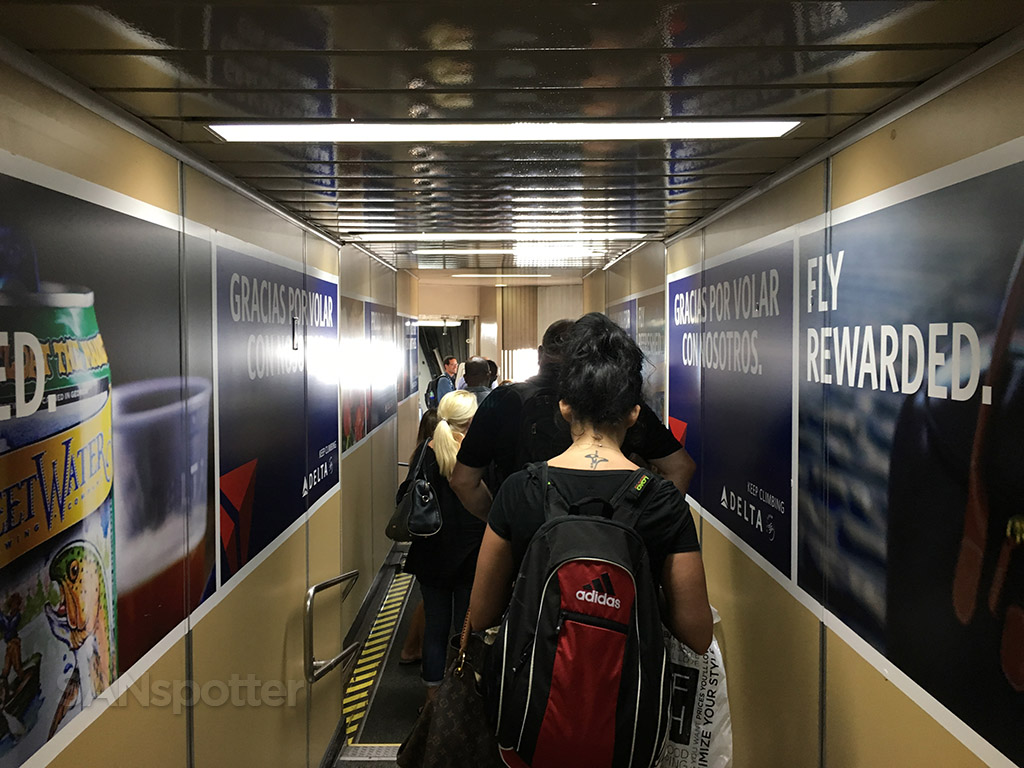 The aircraft for today's flight (N1402A) was the same one that I flew on from SAN to ATL one week prior. Not a big deal for most, but it was a bit of a bummer for me considering that I would have preferred to get a different one in order to make my flight log a bit more diverse.
Oddly enough, the same thing happened to me on my recent trip to Chicago and back on the United Airlines 747-400. I had the same aircraft from SFO to ORD as I did from ORD to SFO even though the flights were two days apart. Oh well. First world problems, I know.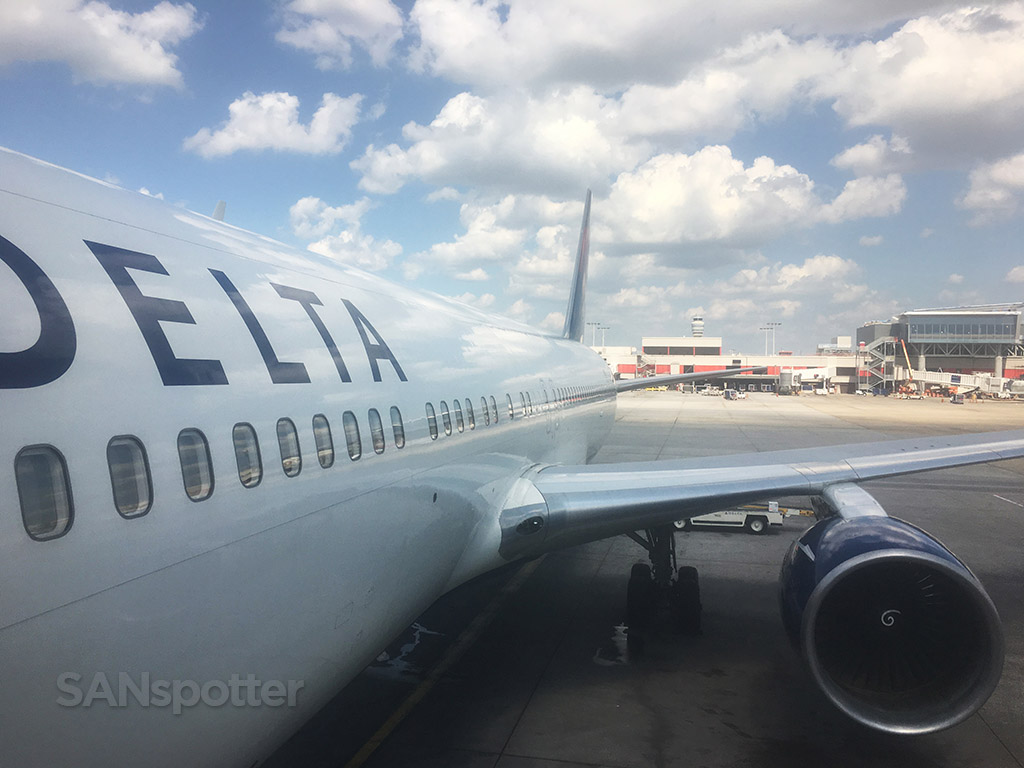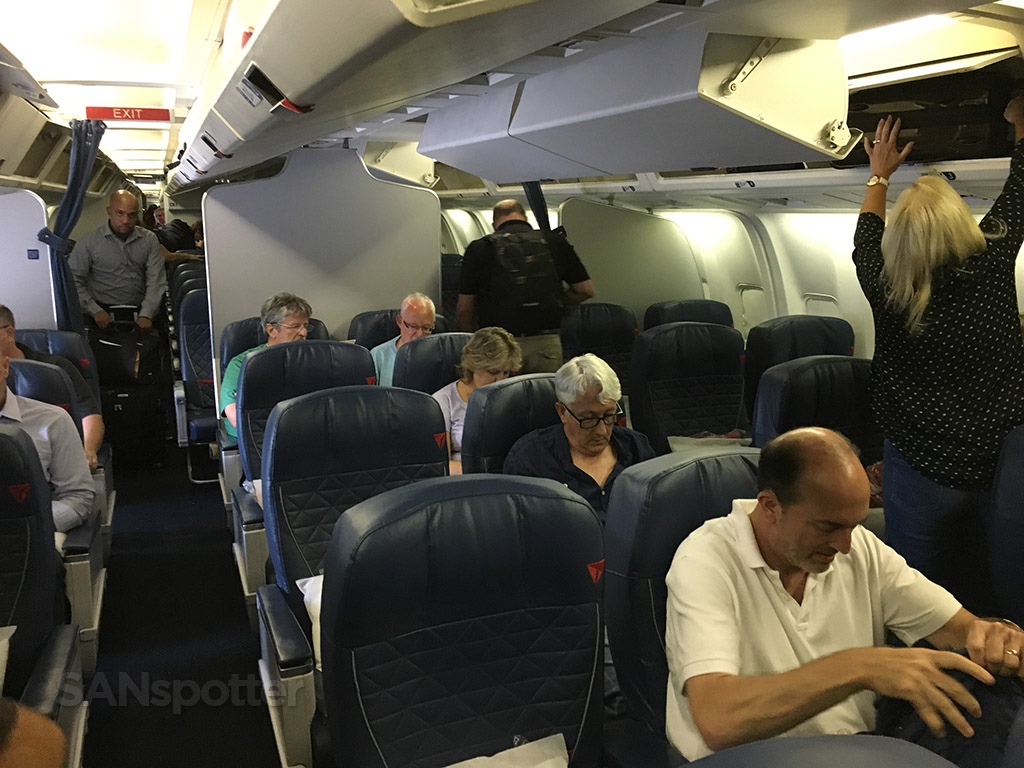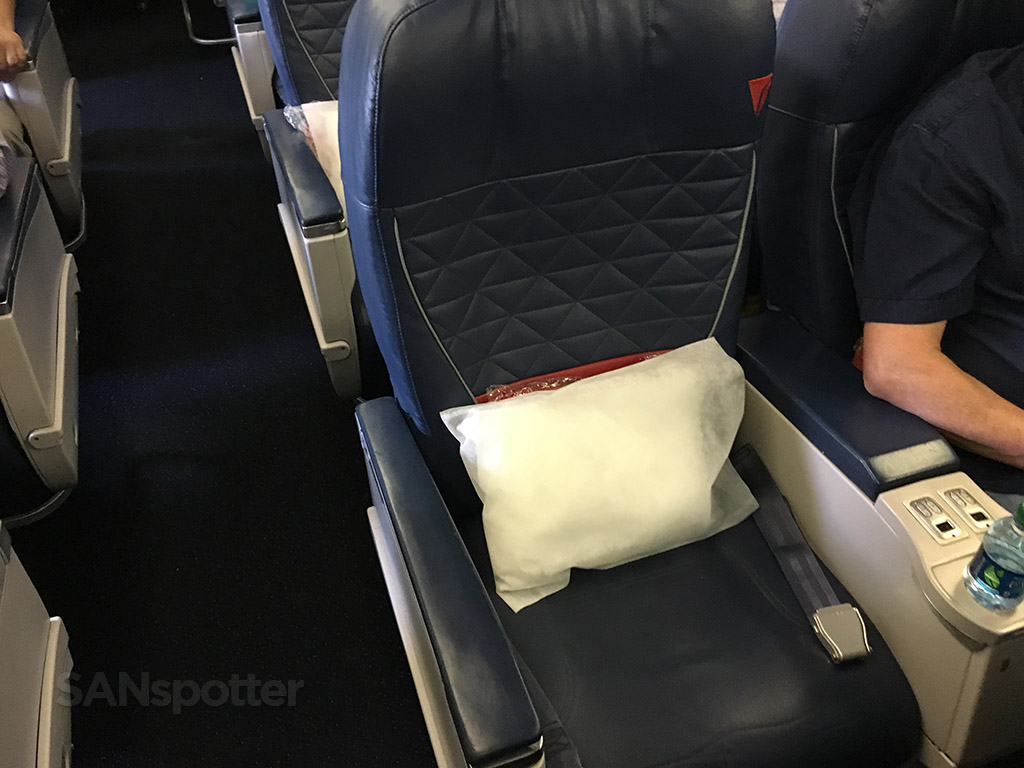 The boarding process was nothing out of the ordinary, though my first impression of seat 3D was not a good one. Have you ever sat in an airplane seat that felt loose and wouldn't stay fully upright? Yup – this one was one of those.
Not only would the seat back not stay fully upright, the seat cushion felt pretty sloppy and loose with a lot of movement in it. Welcome to the world of old airplanes!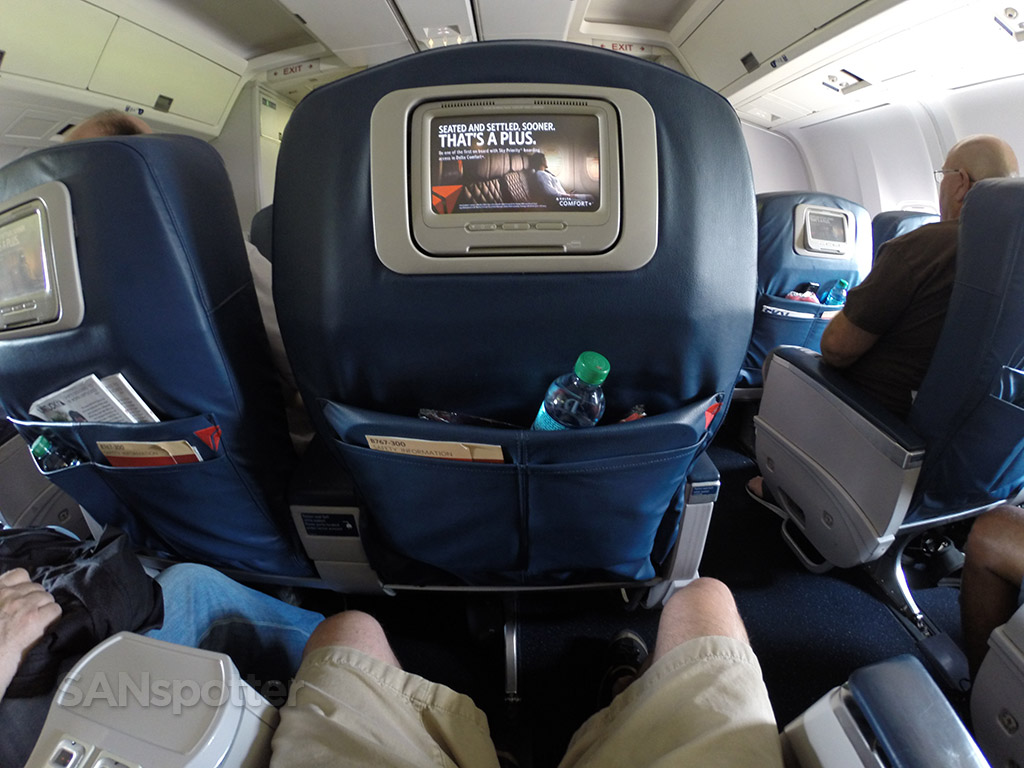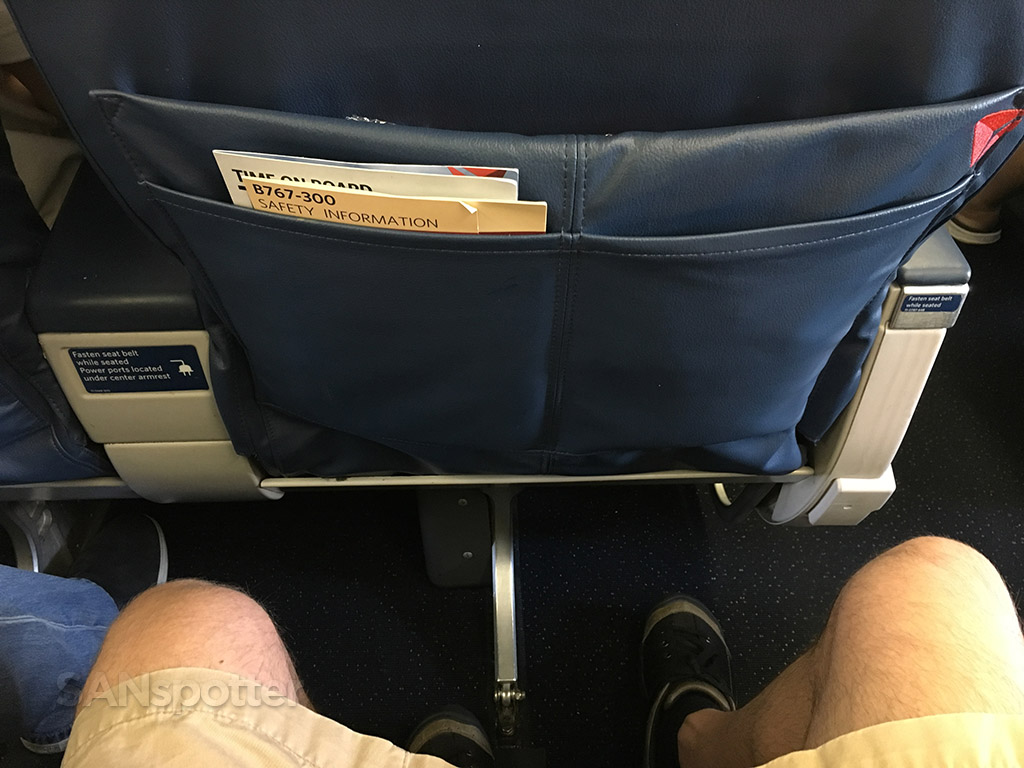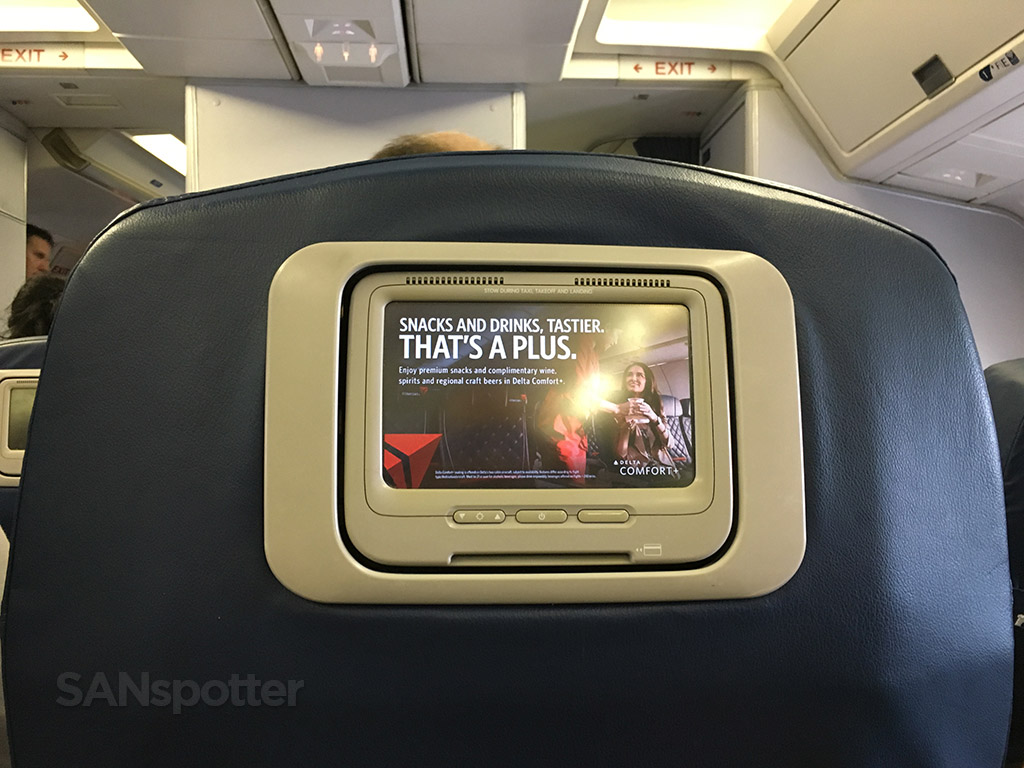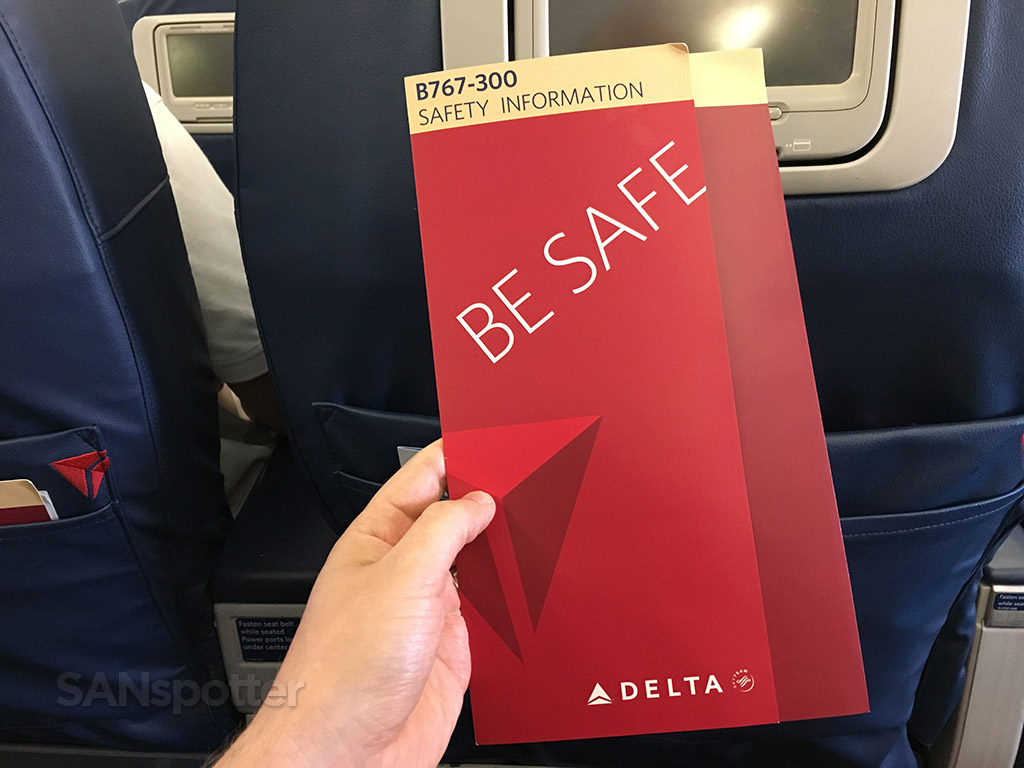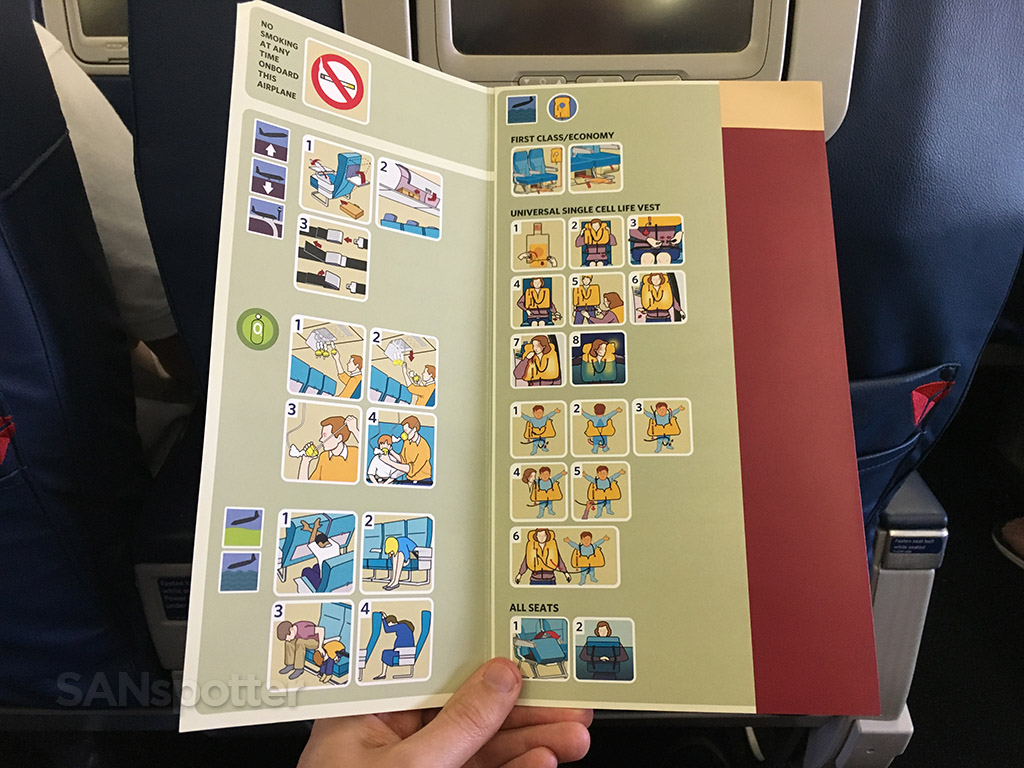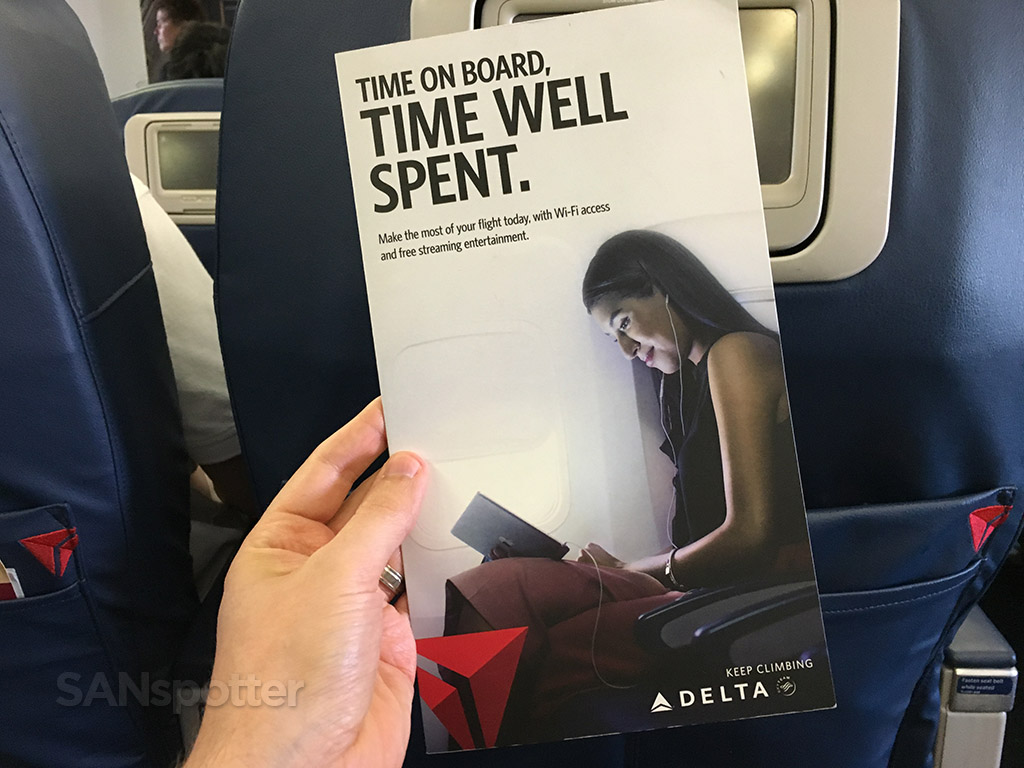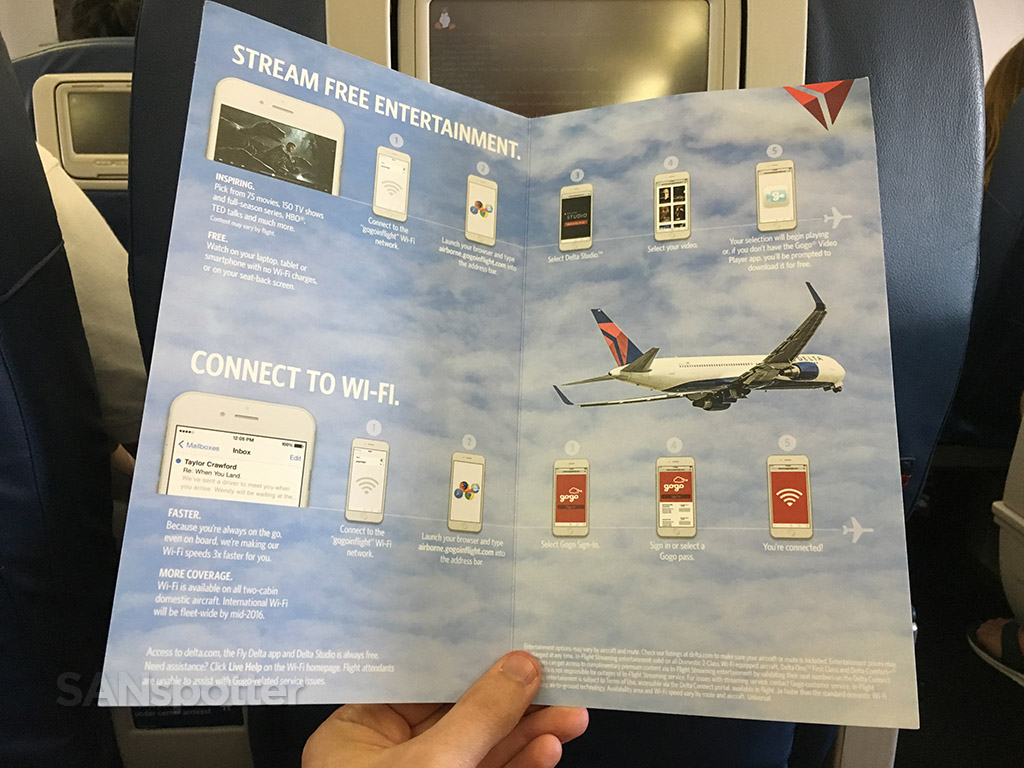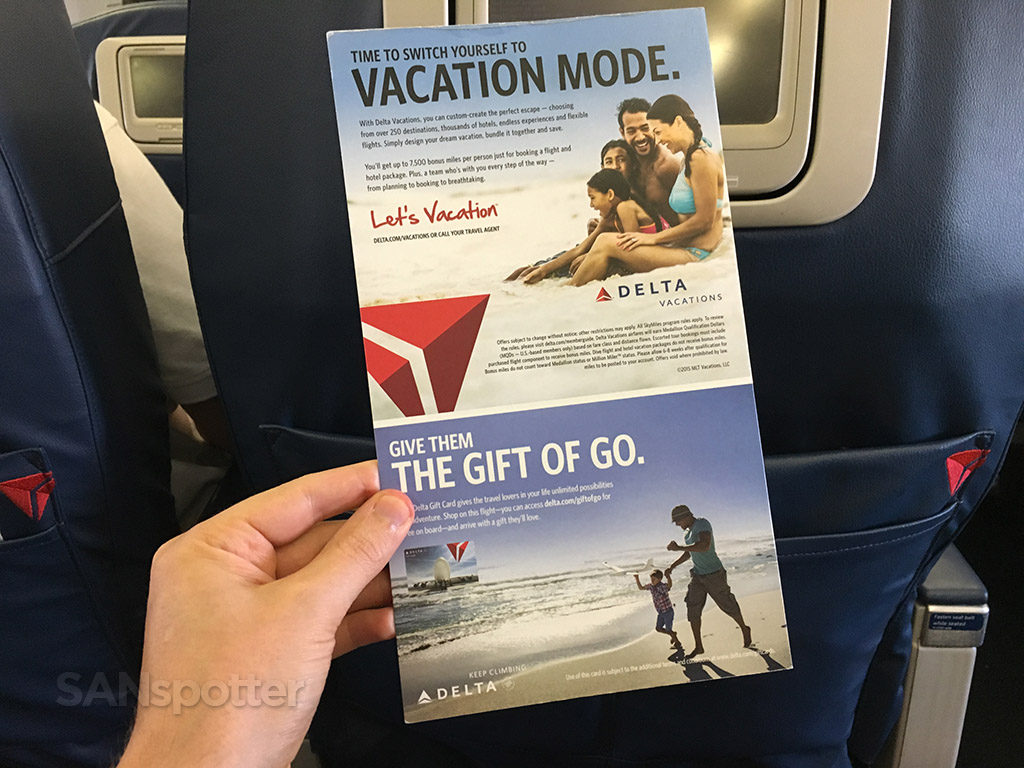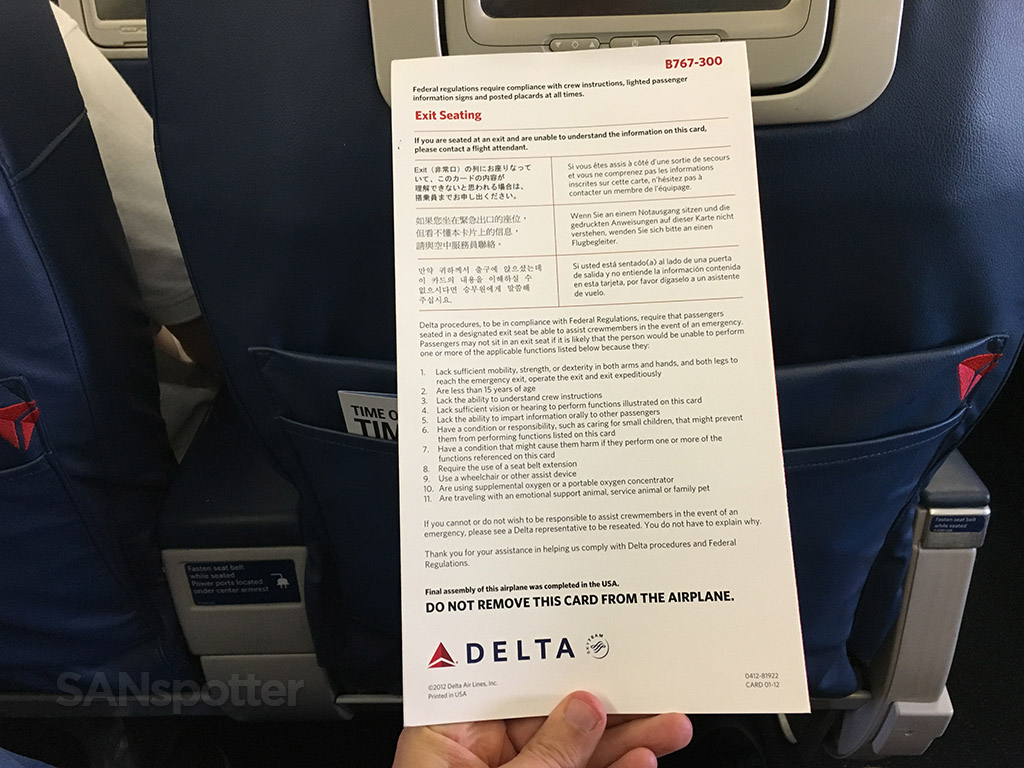 Pushback was right on time, and we were up in the air without delay – which is always something worth noting when flying out of an airport as busy as ATL. I've experienced ridiculously long wait times at this airport over the years, so I always have a bit of dread as we creep out to the runway at this place. But this time it was fast and smooth and we were on our way and headed west in no time at all.
As we were climbing out, the various chimes and dings were starting to make me feel nostalgic. This is hard to describe with words, but the way the sound of the chimes "echo" through the cabin on these old wide body airplanes takes me all the way back to the late 90's when I first started flying around the world on a regular basis.
That echo is also prevalent on the 747, but I've never noticed it on modern wide body aircraft like the A330, 777, 787, etc. Does anyone else know what I'm talking about? I'm calling it an echo, but another way to describe it is the various chimes located throughout the cabin being slightly out of sync.
The flight attendants began taking dinner orders shortly after departure, starting from the rear of the cabin first. This didn't really matter to me since I was seated in the middle row of the cabin (equal distance from both the front and back), so at least I knew that I'd get my first choice of dinner options.
Speaking of dinner options, the choices for this afternoon's flight were beef tenderloin or poached halibut. It seems the fish was the less popular option today, as that was all that was left by the time they got to the first row.
Hot towels were distributed at the same time the dinner orders were being taken, and the snack basket made an appearance right after that.
Drinks soon followed, and I killed some time while waiting for dinner by trying to connect my iPhone to Delta Studio via WiFi – but the connection was too slow and it took ages to get a single page to load. What is it with airplane WiFi performance?
I've never had any luck with it, probably because my attention span equals that of a house fly and I hate waiting for things that shouldn't require waiting for.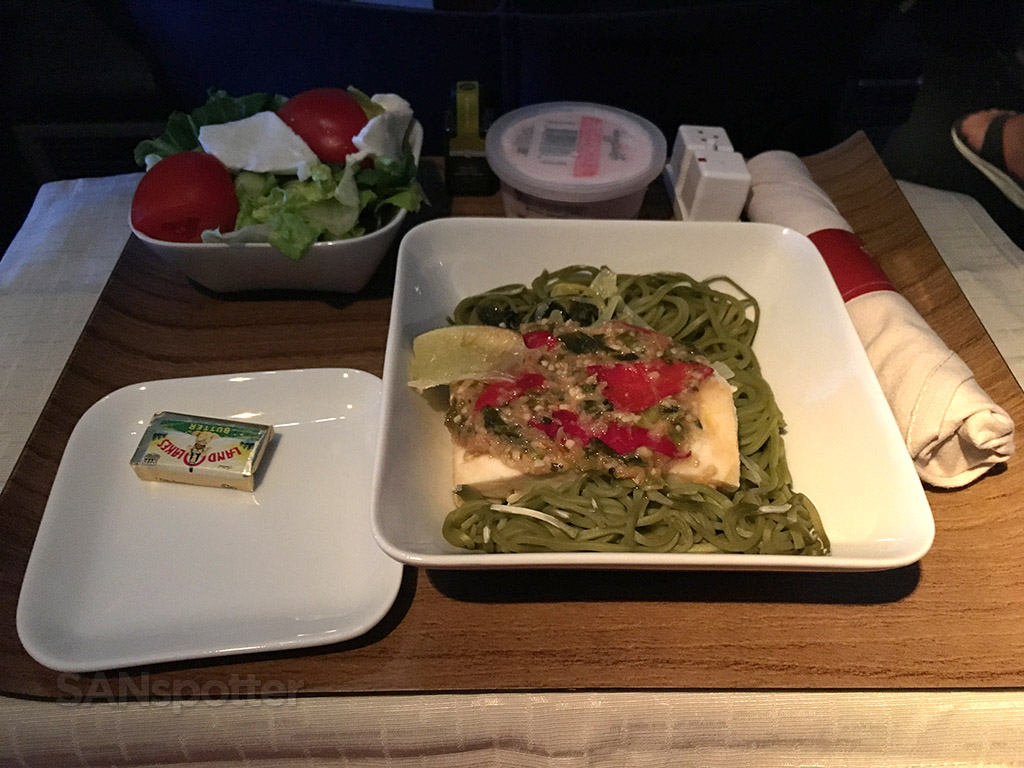 I eventually tried playing with Delta Studio on the personal video screen, but screen performance was abysmal and I couldn't even get it to respond to any input. Starting to notice a pattern here?
The broken seat, unusable WiFi, and a crappy touch screen may seem like I was having a miserable experience up until this point, but that was not the case at all. I was a perfectly happy AvGeek flying across the US in a vintage 767-300.
I eventually succumbed to feeling miserable though. Later on in the flight there was another passenger in the first class cabin (somewhere behind me, to the left) was watching a movie on their laptop without headphones and it was highly annoying.
Especially since it sounded like a high-engery kid's cartoon with lots of yelling and crashing and clinking and banging with explosions and farts and screams and…and…and…ugh. I found it hard to believe that nobody else complained about it.
On top of that, there were some other passengers in the row in front of me (to the left) that talked loudly for the entire flight. They just didn't shut up. They even got up and stood in the aisles for a bit, talking all the while, oblivious to everyone around them.
Luckily I was very tired from my time in Florida over the past week and I was exhausted enough that I was able to sleep for the last two hours of the flight. I assume the movie kept playing and the people kept talking during all that time, but thankfully I wouldn't know. How I managed to sleep through all that noise is a mystery to me…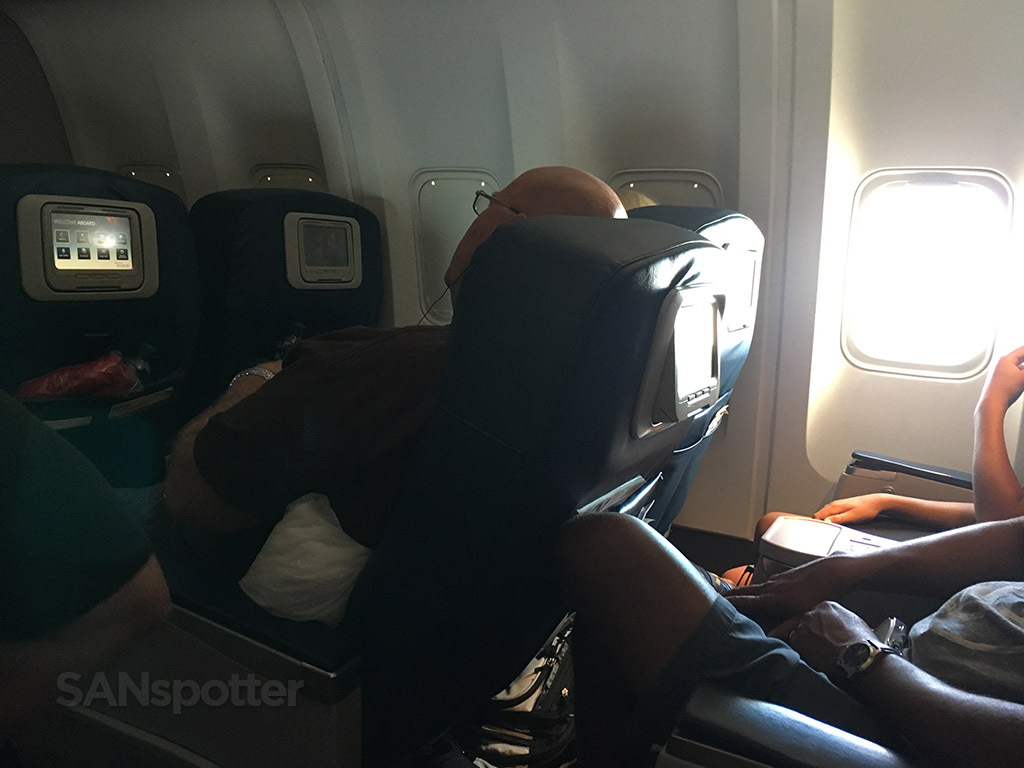 I woke up as we were well into our descent into SAN, the movie still blasting behind me, and feeling bummed that I wasn't able to enjoy the quiet and relaxing ambiance of first class in what I assumed would be my last Delta 767 flight into San Diego.
But then I remembered something I learned long ago, and that is how important it is to "just roll with it" when it comes to dealing with problems while traveling. No matter how much fun and exciting it is, there's no doubt that travel can be stressful at times so just dealing with things as they come (and brushing them aside) always makes the process easier to deal with. Trying to make everything perfect is a recipe for disaster!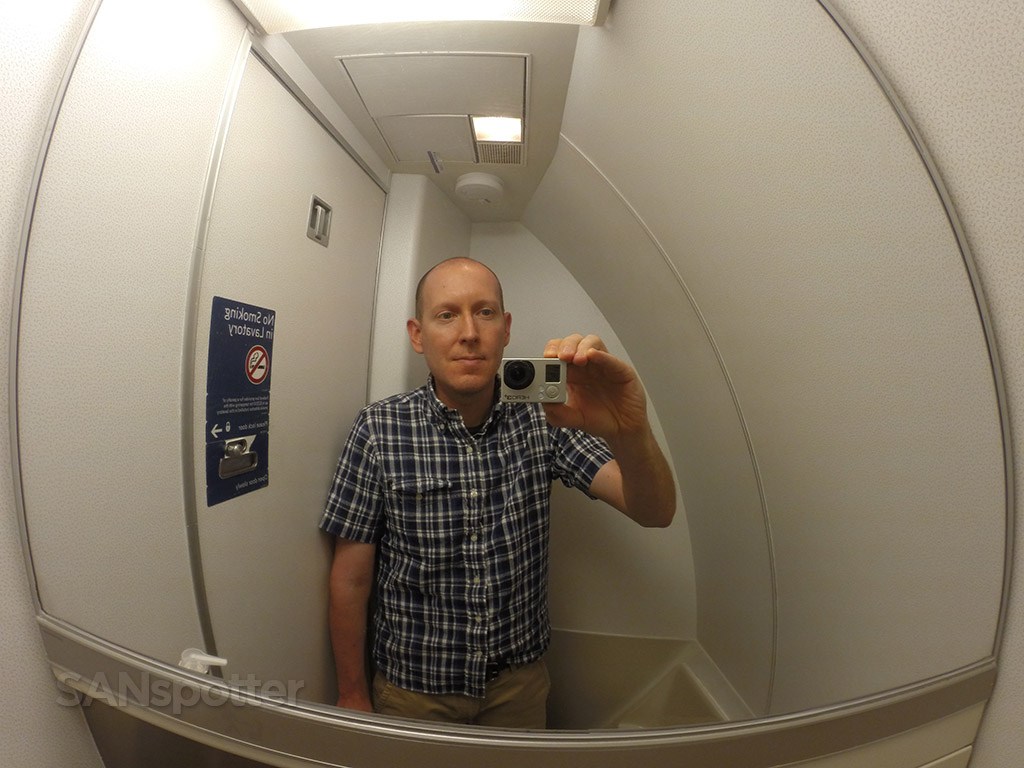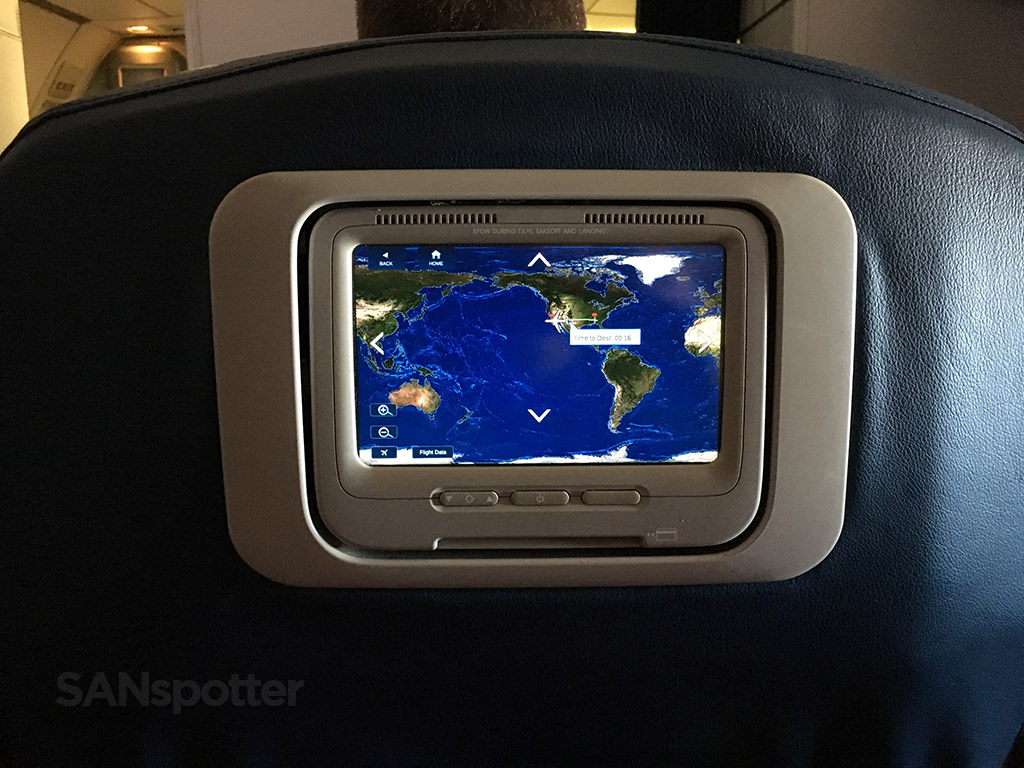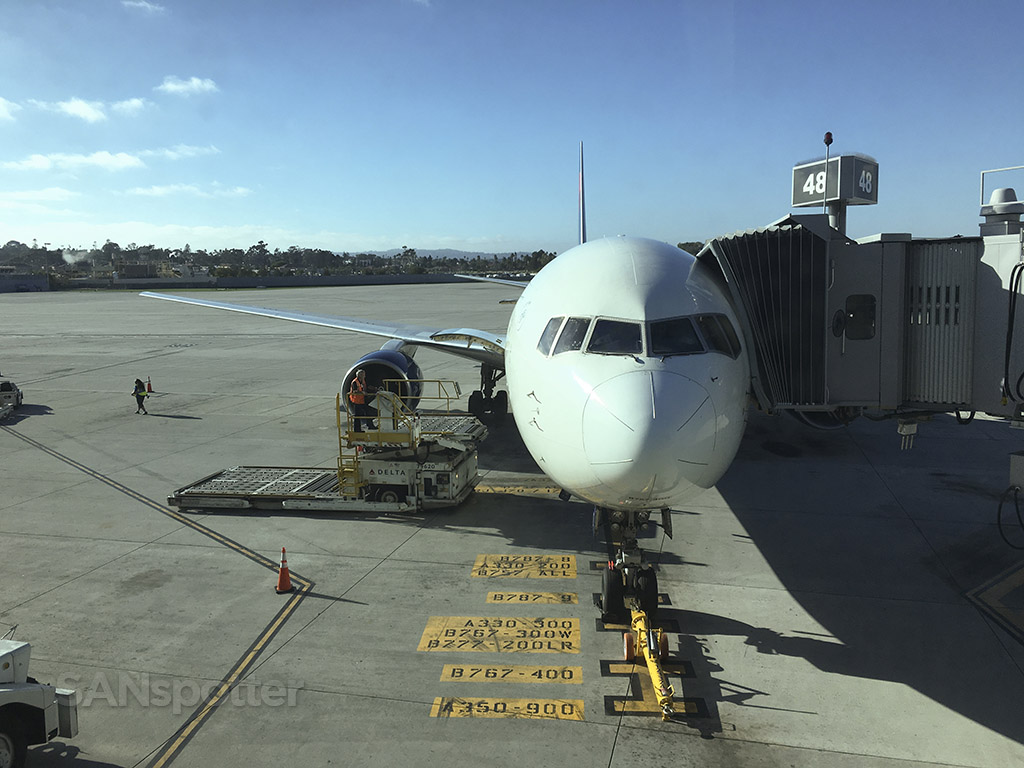 It was a beautiful summer evening at SAN upon arrival, and I made a quick detour to Phil's Barbecue located at the end of terminal 2 west to pick up some bbq chicken to take home for dinner. From there, I retrieved the box I checked from baggage claim, and then grabbed a taxi for the ride home.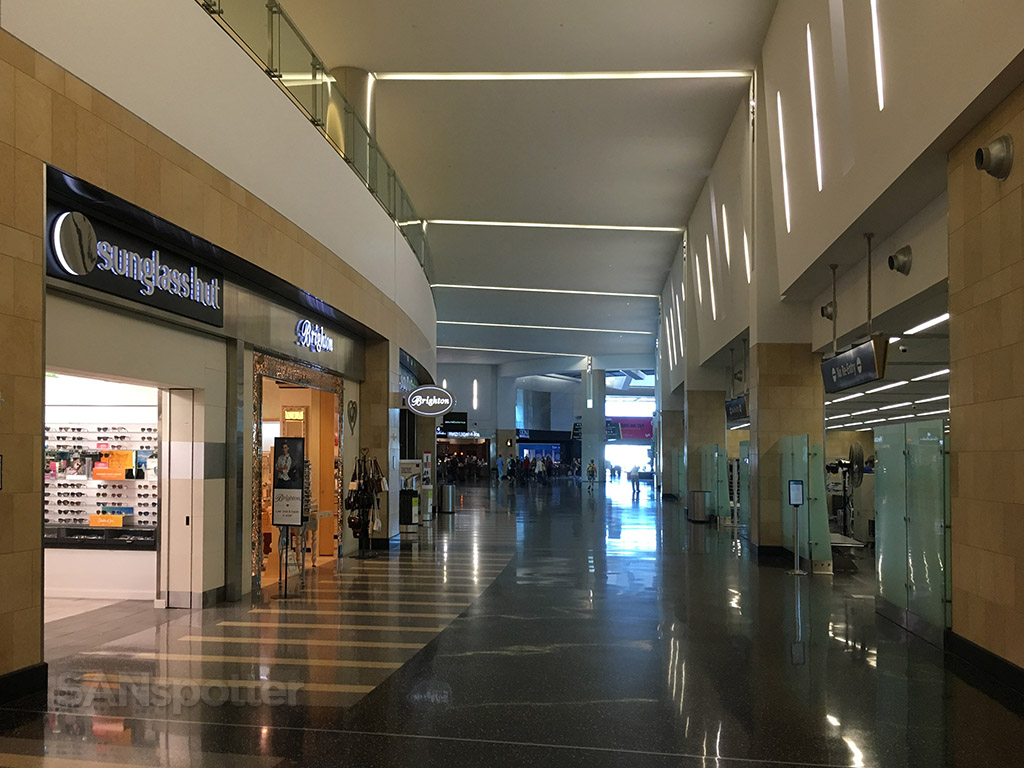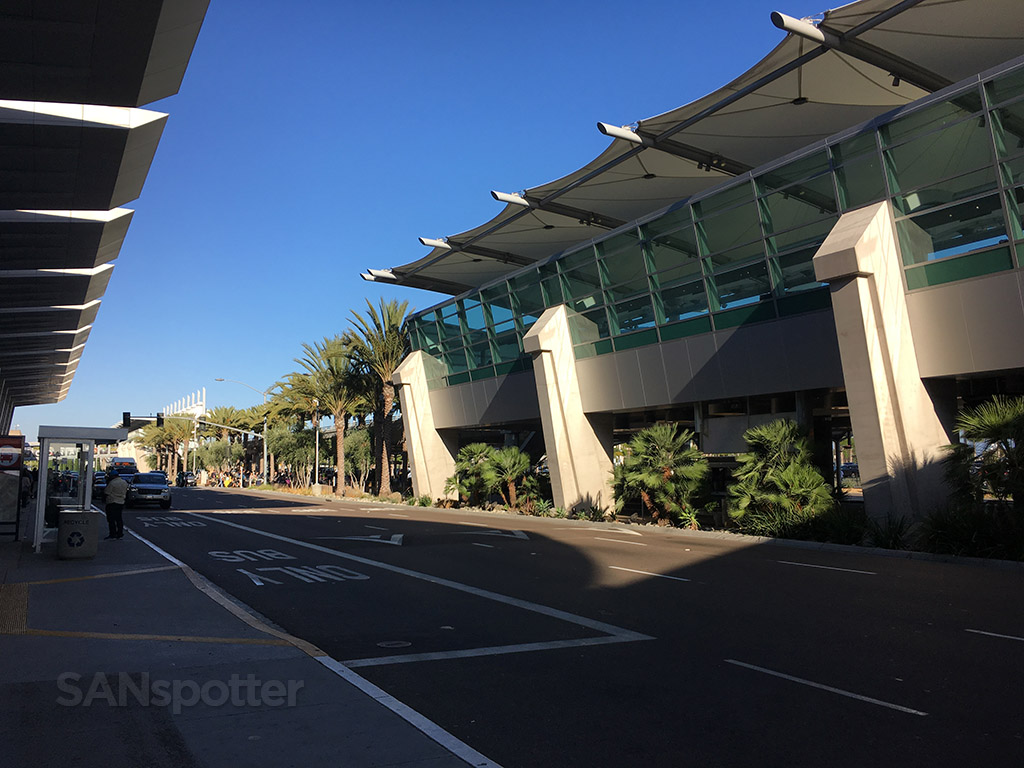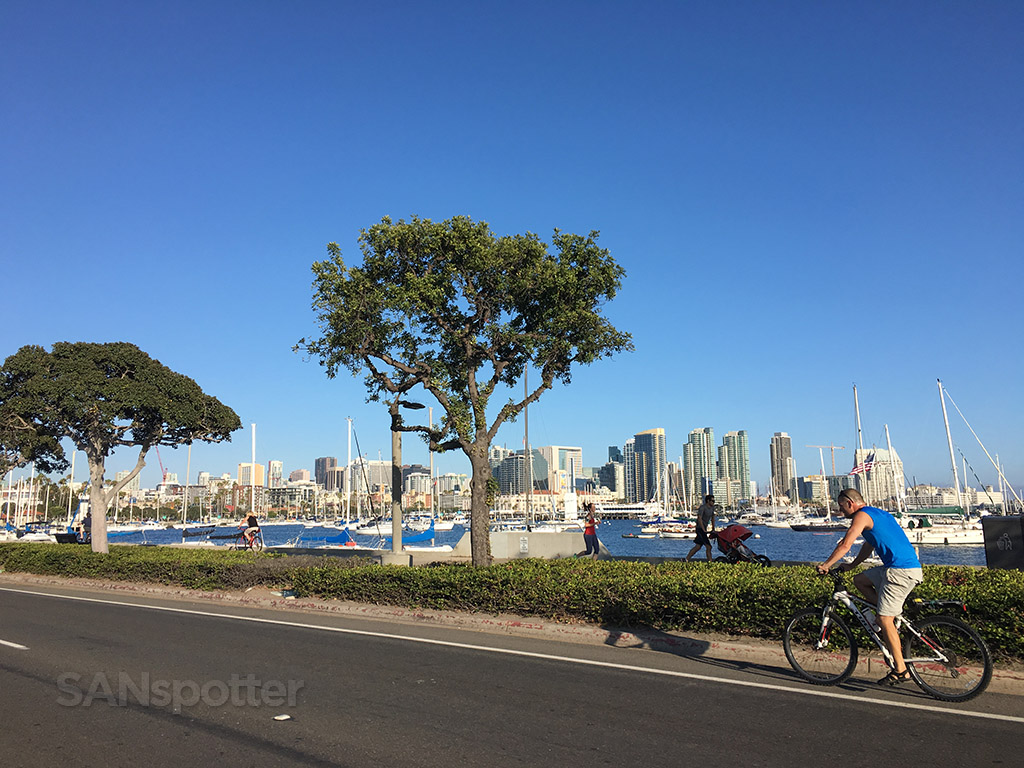 Thanks again to Delta for another series of great flights, and farewell to the domestic Delta 767 at SAN. It was fun while it lasted!