Of all the new aircraft types and have come online over the past few years, it's the Delta A220 that I've wanted to try the most.
It's got everything that I like when it comes to modern aircraft design: It's sleek, it has an incredible range for its size, and I really like the fact that it's just small enough to have a 2-3 cabin layout (as opposed to a 3-3 layout found on most other airliners).
Anyway, I finally had the chance to give the A220 a try between Denver and Salt Lake City on Delta Air Lines last February. For those of you who are too lazy to read this full review, all you need to know is that it's a nice little airplane.
Oh – and that (thanks to my carelessness), there's a Delta A220-300 flying around with orange-stained carpet at seat 26E. I'm really sorry about that.
DL1595
Denver, CO (DEN) – Salt Lake City, UT (SLC)
Saturday, February 13, 2021
Aircraft: A220-300
Registration: N306DU
Duration: 1 hour 43 minutes
Seat: 26E (Economy Class)
My full video review of the Delta A220-300
I specifically chose the Denver to Salt Lake City route because of how potentially scenic it would be. I had been looking forward to this flight for weeks, and I had all my video equipment set and ready to go to capture Epic Winter Scenery (TM) the entire way. Unfortunately, despite how cold it was, there was no Epic Winter Scenery to be found at either location.
The thing about creating airline reviews is that things are unpredictable. You have to stay flexible. Despite being frustrated about the lack of snow, I was pretty happy with the way that this video review of the Delta A220-300 turned out.
I especially liked the soundtrack of this one. As always, I get my music from Epidemic Sound, as they have the best collection of royalty free music for YouTubers of all kinds (not just travel vloggers).
Full transcript of the video, with loads of pics (and bonus content)
It was extremely cold in Denver this particular morning. Temperatures were hovering around 0°F with a windchill of about -30. For a delicate San Diegan such as myself, that hurt.
Arrival at the airport
I flew into Denver from San Diego on Frontier Airlines, and I arrived with just one hour to go before the scheduled departure time to Salt Lake City.
Don't worry. I'll explain the goldfish disaster later on, but first: welcome to another SANspotter airline review.
The boarding process for flight number 1595 to Salt Lake City
The most frustrating thing about this Delta A220 experience so far was the fact that I couldn't get a clear shot of the aircraft from the terminal windows. For all I knew, they could've swapped it with a CRJ-200 and I wouldn't of known it until I stepped on the plane. That would have hurt just as much as the cold temperatures. I'm delicate, ok?
My first impressions of the Delta Air Lines A220-300
Right away, it was easy to tell that I had stepped onboard a Delta aircraft. All of the familiar sights and sounds were there, right down to the blue vinyl seats with red accents. That's not a complaint by the way – I've always been a really big fan of Delta's stylish (and feature-rich) interiors.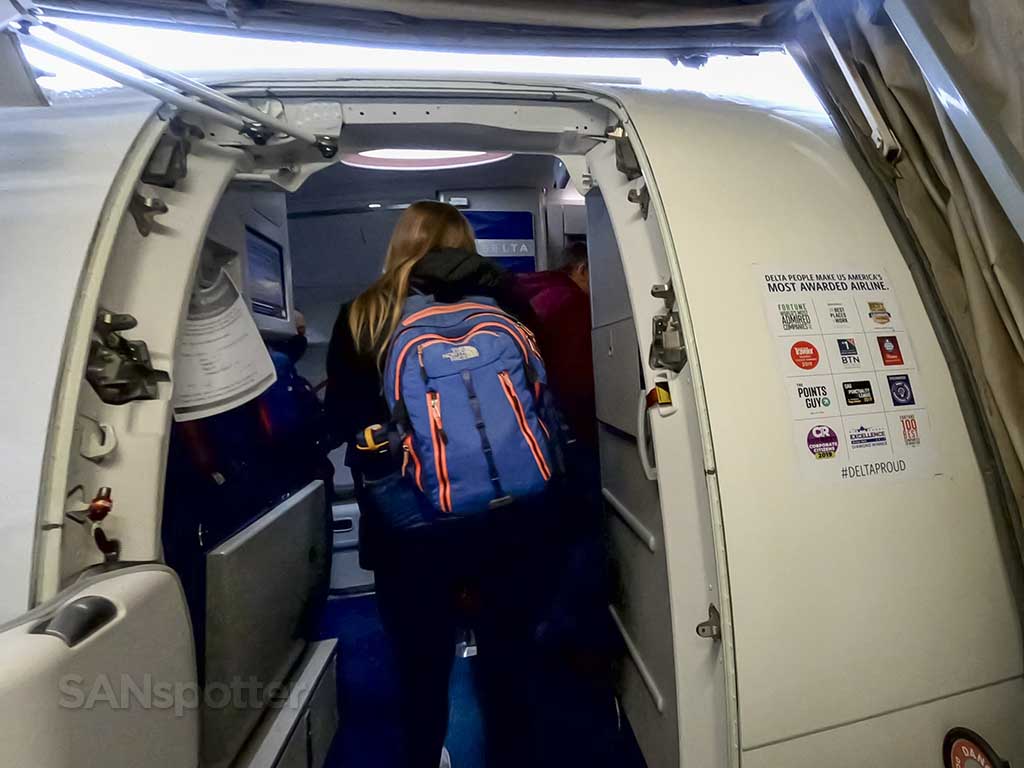 The departure out of Denver
Even though I was feeling bummed about the fact that the skies were overcast (and that there was no snow on the ground), I held out hope that Salt Lake City would be the winter wonderland I was hoping for. That being said, it's dangerous to expect too much.
Delta A220 in-flight entertainment
The best thing about Delta is that they are one of the few airlines left that pride themselves in offering video screens at every seat on every aircraft. The A220-300 is no exception.
Delta A220 cabin service
I was so excited to be on a Delta A220-300 that I wasn't even expecting to be fed anything on this short flight over to Salt Lake City. You can imagine my surprise when they started slinging the snack bags.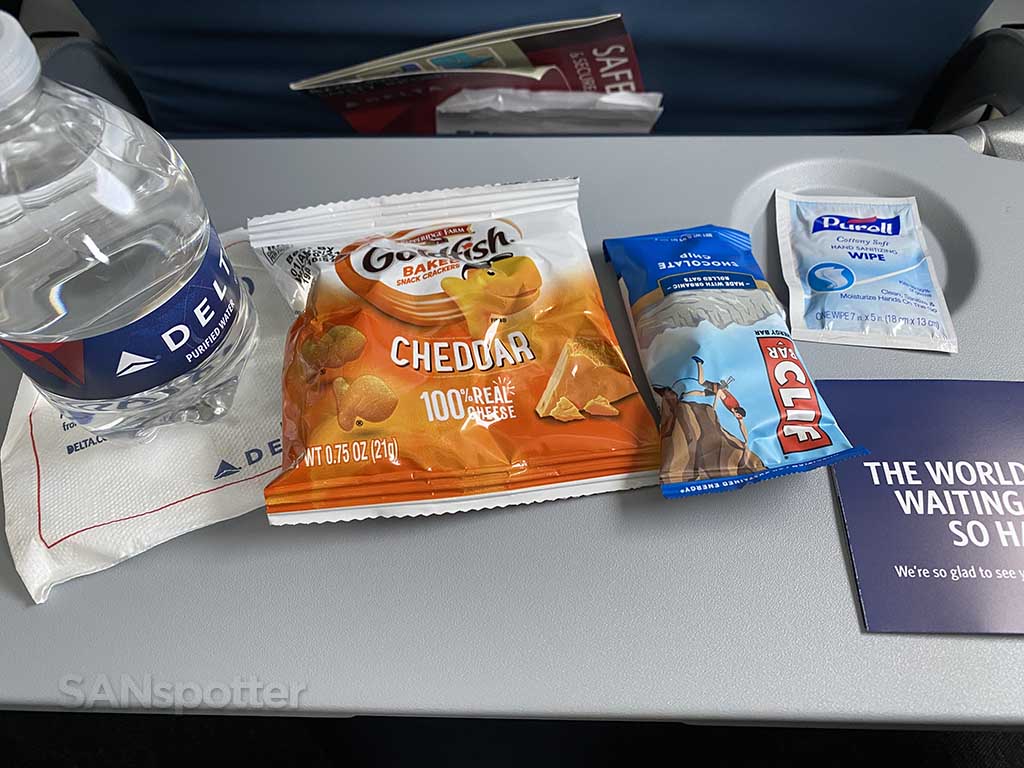 Delta A220 cabin comfort
All in all, I've got to say that the Airbus A220 is a really nice aircraft. It's small, but thanks to the 2-3 cabin layout, it feels just as spacious as a full-sized airplane. I could be totally happy fly on one of these on a transcontinental route from, say, New York to Los Angeles.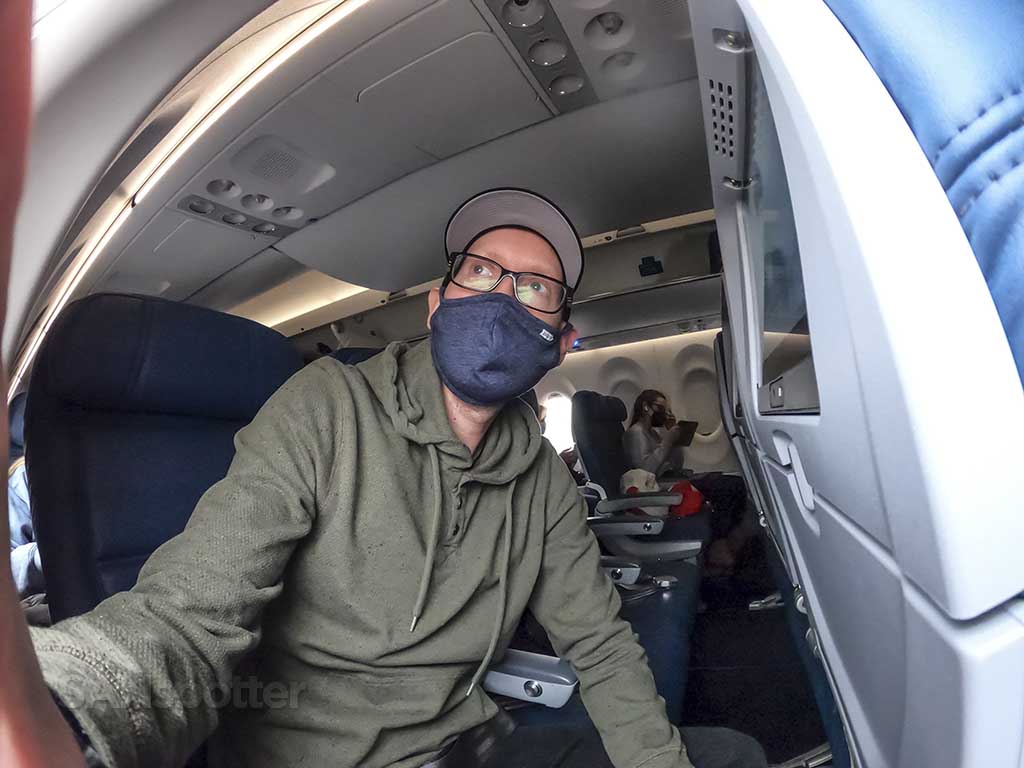 The arrival into Salt Lake City
As much as I would love to flood this section of the review with mind-melting pics of snowy peaks and glistening low-winter sun, Mother Nature let me down today. Oh well.
Pros and cons of Delta Air Lines A220-300 economy class
The good thing about anticipating this experience for so long was that it helped me to evaluate this experience on a much deeper level. Did it live up to my expectations? Here are the pros and cons:
Pros
The 2-3 cabin layout is really nice. Especially if you're traveling with only one other person, as you won't have to share a third seat with a complete (and potentially smelly) stranger.
Having video screens at every seat is extremely convenient. Not only that, they are large and some of the best I've ever seen in economy class on any airline.
There are power ports (both USB and electrical) at every seat. Woo-hoo!
The A220 is a relatively small aircraft (smaller than a typical A320 or 737), which makes for a shorter boarding and unloading times.
Cons
This is a very small aircraft to be flying on long routes over four hours. For some people (like me) it may not matter, but I can definitely understand how some may feel claustrophobic.
Bright orange goldfish crackers don't blend into the dark blue carpet very well.