Before I begin, I think it's important to give a quick lesson on the proper pronunciation of "VivaAerobus". All you white people out there like me probably think that it's pronounced exactly like it looks: "viva" "aero" "bus". Well, I'm here to tell you that you'd be wrong. The proper pronunciation is actually "viva" "aero" "booos" – and saying it any other way will immediately label you as an uneducated gringo who is probably on the way to a cheesy tourist spot like Cancun or something.
VB3148
Mexico City, Mexico (MEX) – Cancun, Mexico (CUN)
Saturday, September 16, 2017
Aircraft: A320-232
Registration: XA-VAU
Duration: 1 hour 42 minutes
Seat: 6F (main cabin)
I knew it was a risk booking flights on this airline based on all the negative reviews that I had read on the internet, so my expectations were very low in the days leading up to this trip.
One interesting thing to note about the pre-flight experience was the fact that VivaAerobus sent me a check-in notification three whole days before the flight. I was able to confirm my booking and check in at the 72 hour mark, which I thought was quite nice actually.
Unfortunately, the process wasn't very smooth at all. Long story short, their website would not let me print a boarding pass unless I changed the language to Spanish. Choosing the English version of the site would let me see my entire itinerary, but for some reason it would not show the button to print the boarding pass. I'm not entirely sure how I figured that one out, but it took a while and it ended up being a frustrating beginning to my experience with VivaAerobus.
My flight from Tijuana arrived three hours before the scheduled departure of this flight to Cancun, which was early enough for the flight to not even show up on the boards yet. Well, the flight was listed, but there was no gate assigned to it yet so all I could do was just sit and wait to see where I would have to go.
It ended up being quite a long wait as well, because the domestic terminal here at MEX isn't very interesting and there's not a whole lot to do if you don't have lounge access. This seems to be a common theme for Mexican airports. And whose bright idea was it to block the windows of this airport so you can't see out of it at all? It's the same way over in the international terminal, and it's highly frustrating to not be able to see out and watch airplanes to kill some time.
I'm of the opinion that a 1 hour layover isn't always enough time in Mexico City, but I would have happily been faced with that on this particular day. 3 hours was way too long!
Boarding was delayed about 15 minutes due to a late arrival of the aircraft, and it was pretty much a mess once they started the process of getting everyone onboard. There was no order at all, and since my Spanish is very rusty and I could understand very little of what the gate agent was announcing over the loudspeaker, I just stood in line like a clueless tourist and waited my turn to board.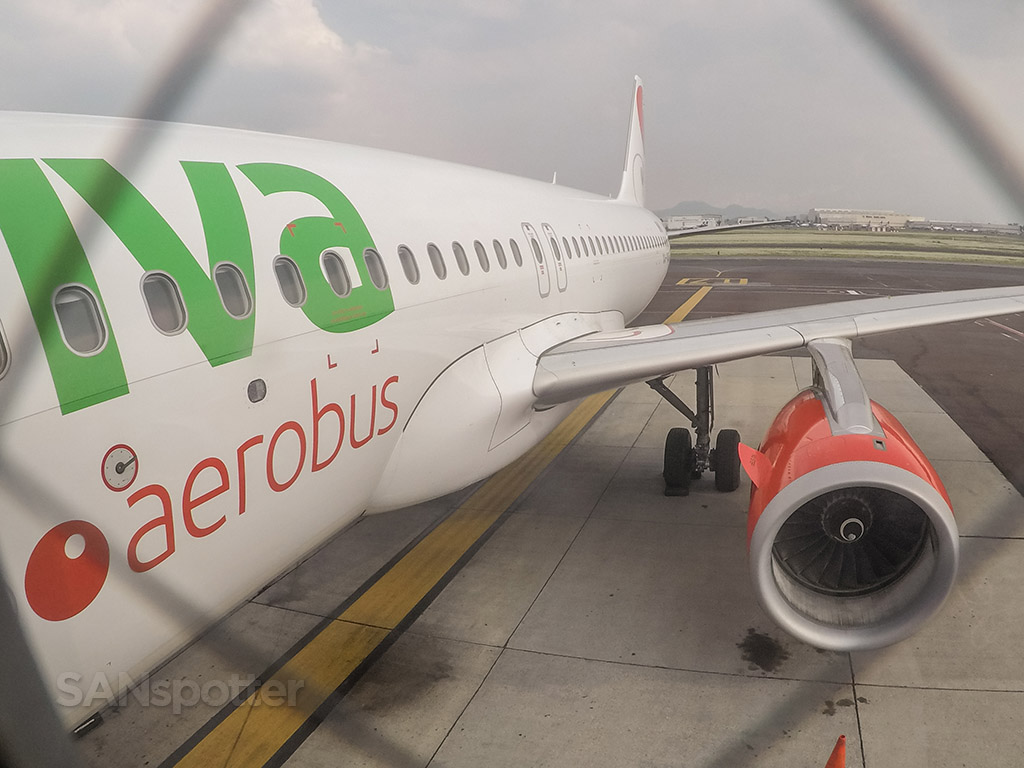 Once on the aircraft and in my seat, I was actually feeling quite impressed with the experience thus far. This particular A320 seemed to be quite new and very clean – not at all like anything that I was expecting honestly, so that was a pretty nice bonus. The flight was completely packed though without a single empty seat, so it still had a very bus-like feel to it. Oops, sorry, I meant "booos-like".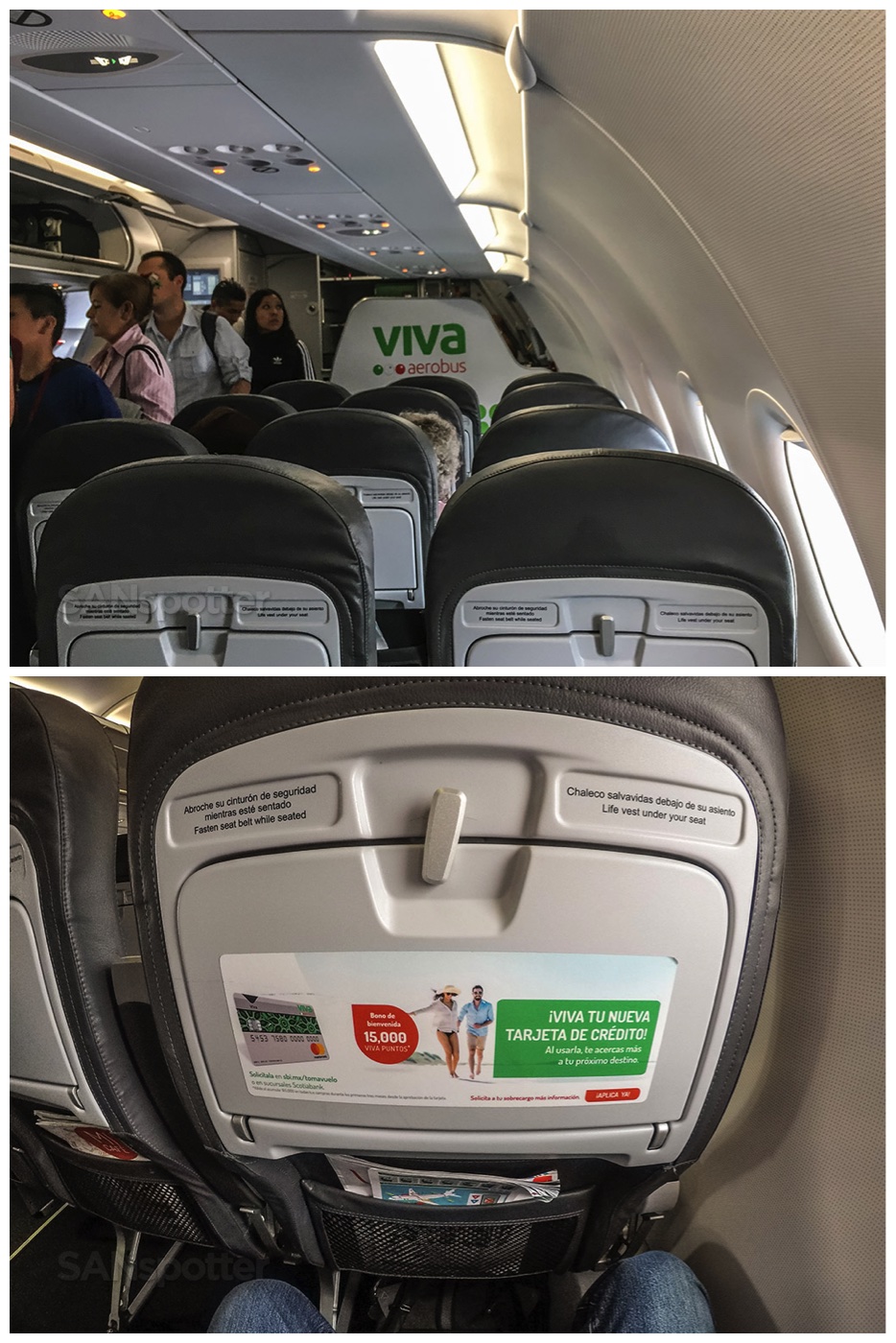 During the pushback and taxi up to the runway, I couldn't help but to feel thankful that both of my flights were relatively on-time today considering that this airport had been closed for nearly 3 hours earlier for Independence Day celebrations.
For an airport this large with the insane amount of flights there are in and out of here every single day, that's impressive. I can only imagine the insanity which would unfold if they closed ATL or ORD for three hours in one day. Mad props to the operation staff here at MEX for keeping everything running like a well-oiled machine.
Once in the air, the service started nearly immediately and it was exactly like I expected it would be. There was actually a pretty decent menu of food and drink options on today's flight, but if you wanted any of it you were going to have to shell out the pesos.
I wasn't that desperate, mostly since this was only a 2 1/2 hour flight and I was looking forward to a big meal in Cancun, so I just had fun looking at the menu without purchasing anything. It should also be noted that even if you want water, it comes at a cost. Nothing is free on VivaAerobus.
The in-flight entertainment on today's flight was courtesy of Mother Nature, and I'd like to say that she did a spectacular job dishing out some amazing scenery on the way over to Cancun this evening. We were treated to a beautiful sunset through big and puffy clouds, and it was easily one of the most scenic flights that I've been on a good long while. Unfortunately, it was completely dark by the time we landed, so I didn't really get to see any of the terrain around Cancun at all on the way in.
As I was walking off the plane and into the terminal at Cancun, I was thinking how silly it was for me to worry so much about flying VivaAerobus. Those worries were completely overblown in my opinion, and it ended up being a really nice flight with not a single issue other than the fact that we left Mexico City a few minutes late. The plane was clean, safe, and the entire VivaAerobus crew was professional and very kind. Why do people hate this airline so much? It seemed pretty good to me.
However, I do realize that maybe I just got lucky, so my return flight to Mexico City in two days will likely tell me whether or not this particular flight was just a one-off lucky thing, or if it was consistent with how this airline is actually run. Stay tuned to find out…