There comes a time in every airline reviewer's life when it becomes necessary to do a thorough United 737-900 first class review. After all, there are 136 of these things in the United Airlines fleet at the moment, so chances are good that there are a lot of people searching for this kind of thing.
In summary, the first class seats on United Airlines 737-900s are well past their prime. They look like they were plucked straight out of 2005, and they represent an era when fluffy pillow-like airline seats were just about as cool as Blackberry phones (and Nickelback).
Thankfully, the food has kept up with the times. The meal I was served on this particular flight from San Diego to Houston couldn't have been stored in a freezer for more than a year.
UA2472
San Diego, CA (SAN) – Houston, TX (IAH)
Sunday, June 26 2022
Aircraft: 737-924/ER
Registration: N37420
Duration: 3 hours 14 minutes
Seat: 4A (First Class)
My full review of United 737-900/ER first class from San Diego to Houston
Even though I have flown United 737-900 first class a bajillion times before (actually just three times), I've never done a comprehensive review such as this. Past experience reminded me not to get my hopes up, which actually helped to make this a decently pleasant flight.
Arrival at Terminal 2 West at the San Diego Airport
It seems that even when I'm trying to be casual and free-spirited, I still end up arriving at the airport way too early. This flight to Houston was scheduled to depart at 8:10 AM, but that didn't stop me from being dropped off at the entrance of Terminal 2 at precisely 6:42 AM. I'm basically physically (and mentally) incapable of showing up late for a flight.
The boarding process for flight number 2472 to Houston
I think I'm jinxed. It seems the shorter connection time that I have, the greater chance there is of my flight being delayed. I had a measly 45 minute connection scheduled in Houston after this flight, but wouldn't you know it, the boarding process for this segment was delayed by about 30 minutes. Frick.
Long story short, they were missing a flight attendant and they were scrambling to find another. They eventually found one (sans uniform) and we were suddenly back on track. Yeah, having a plain-clothes flight attendant on board seemed interesting, but I was more concerned about my impossibly tight connection at IAH…
Pro Tip
Save money by purchasing United MileagePlus miles
It's often cheaper to pay for a flight with miles than it is to pay with cash!
I usually purchase miles to pay for long haul business class on United and Star Alliance partners. It's generally cheaper that way.
Its a great way to top off your account balance if you're just short of the amount required for an award trip or upgrade.
You can buy miles for yourself or another MileagePlus member.
Buy Now
Note: I may earn a commission if you make a purchase, at no additional cost to you.
A detailed overview of United Airlines 737-900 first class seats
Anyone hoping to see fancy-pants first class seats in this United 737-900 review will be disappointed. The seats are very thick, very wrinkly, somewhat comfortable, and they're covered in a dark blue vinyl material tough enough to withstand pretty much anything our disgusting bodies would be able throw at them.
For what it's worth, I actually prefer the first class seats on the United A319 instead. Those are old too, but they are not as "vintage" as these monstrosities are.
The departure out of San Diego
It's hard to sit back and relax (just like the captain tells you to do in his welcome announcement) when you know that there's no way you're going to make your connection. I knew my connection in Houston was toast, but I vowed to forget about it and deal with it later. Morning departures out of the San Diego International Airport are always stunning, and this one didn't disappoint.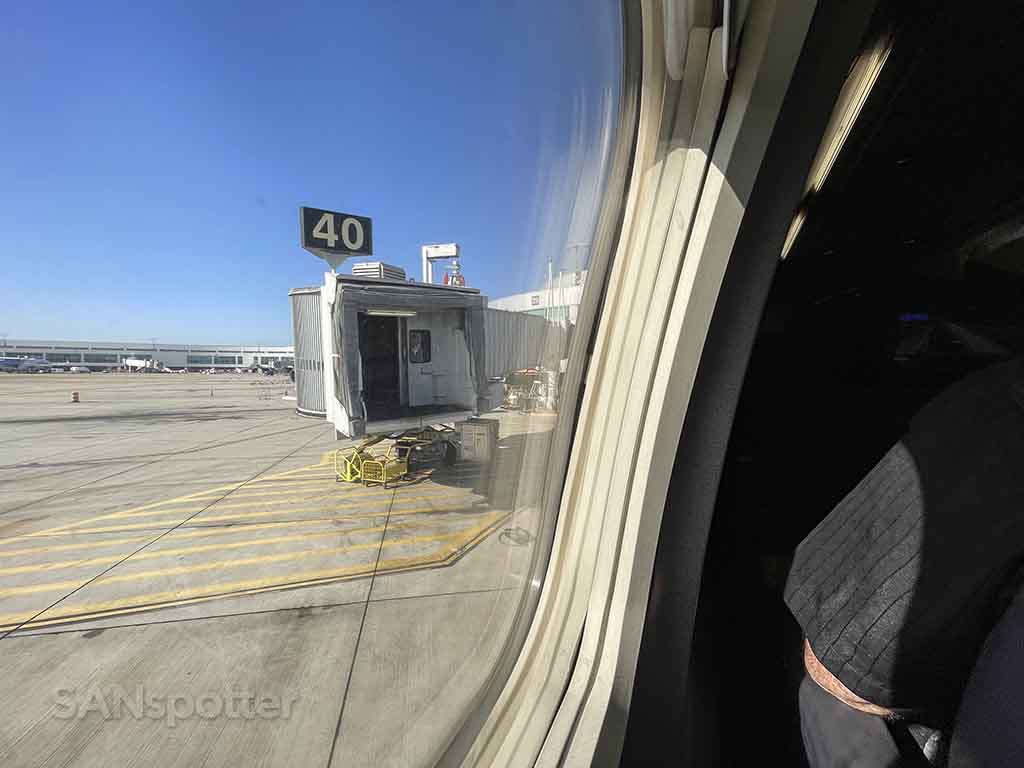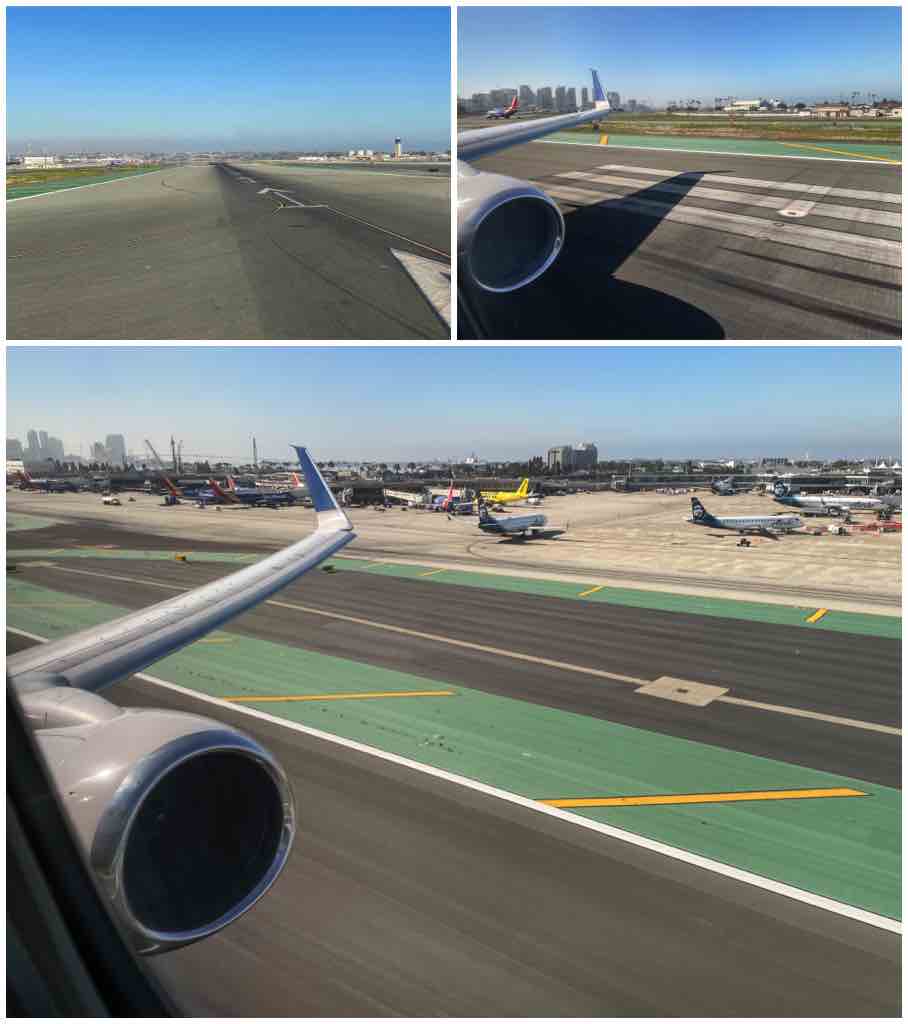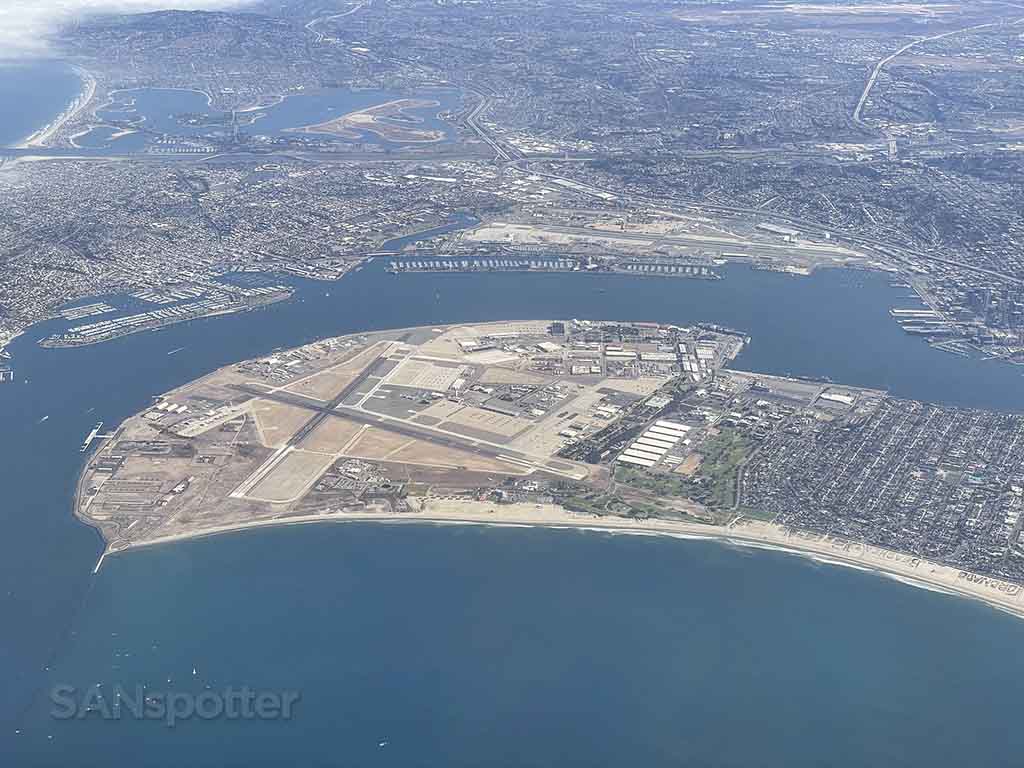 In-flight entertainment
For as old and out of date as these seats are, having a video screen at all was a nice little perk. The United in-flight entertainment product consists of a selection of live TV channels, movies, and music. That was very high tech back in 2005, and it's still fairly decent to this day.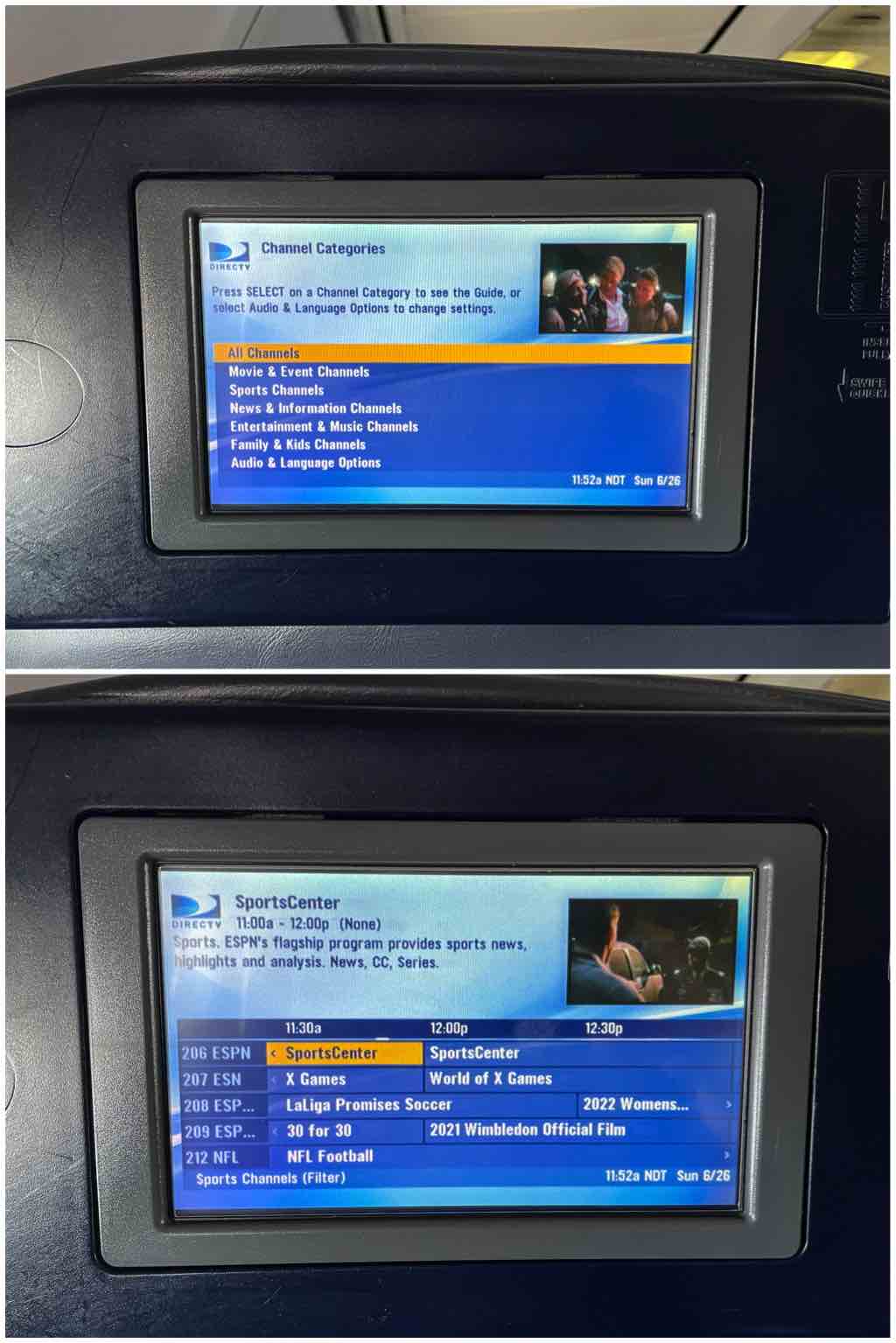 It should be noted that there is also a streaming video entertainment service available for anyone who prefers to watch content on their own device(s). This streaming content is completely free, and all you need to do is connect to the in-flight Wi-Fi to access it.
Speaking of Wi-Fi, it is available on the United 737-900. Costs vary, but you can expect to pay around $10-$20 to access it for the entire duration of the flight.
United Airlines domestic first class food is getting better!
I've been flying United first class quite a bit over the past year or so, with most of those flights occurring during breakfast hours. Most recently (in 777-200 Polaris business class), I came to the conclusion that United Airlines first class breakfast food isn't all that great.
The steaming hot plate of scrambled eggs (mixed with sausage and potatoes) that was served on this flight to Houston was a nice change of pace. For the record, I knew this was coming since it I was able to pre-select this meal online several days prior to the flight.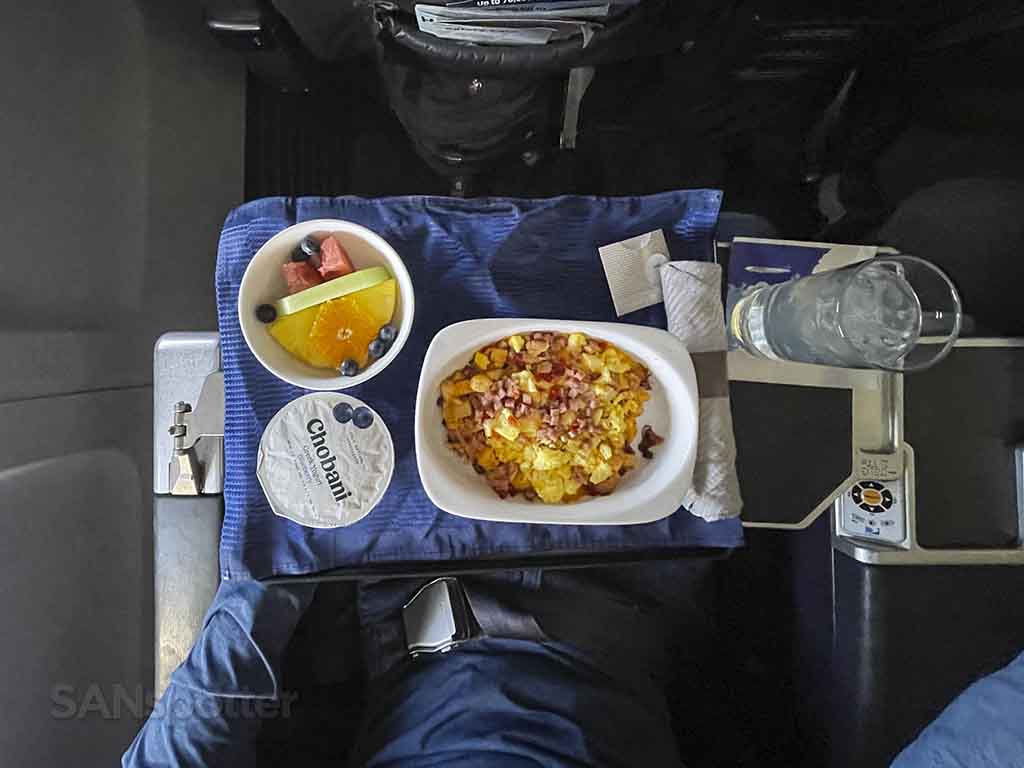 So what's the verdict? It was quite tasty – at least compared to some of United's most recent breakfast offerings.
Seat comfort
I can't think of any way of saying it delicately, so I'll just spit it out as naturally as it comes: these are terrible first class seats for any flight longer than 4 hours. My biggest gripe is the lack of lumbar support, which had my lower back throbbing in pain by hour number 2. Seat recline was decent though, which helped to alleviate some of the pain.
The arrival into Houston
As we began to descent into Houston, the cabin crew made an announcement stating that all connections were still valid. Thankfully, my connecting flight was delayed slightly, so my layover was going to be about 30 minutes. I knew from past experience that layovers of an hour or less are OK in Houston, so I just crossed my fingers and hoped for the best.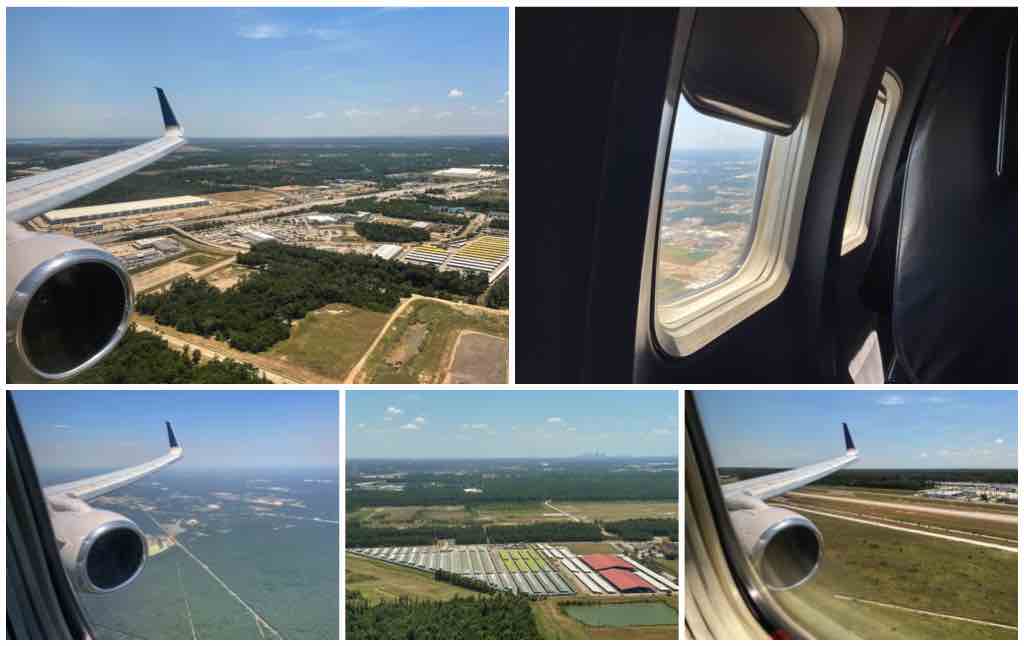 Pros and cons of the United 737-900ER first class experience
It's hard to be overly judgmental about the first class experience on these old united 737-900s. There's a new first class product coming to every plane in the United fleet soon, so it's only a matter of time before this particular review will need to be updated.
That said, this is a product that will be flying around for a few more years (at least). Therefore, until the new first class seats arrive, here are all the pros and cons of the current version:
Pros
Vintage domestic first class seats aren't necessarily a bad thing. The seats on the 737-900s are thick and fluffy – at least compared to the new-style first class seats that will be replacing them in the coming years.
Video entertainment is quite good. You won't have to worry about loading your devices up with content before for the flight (unless you're really picky about what you watch).
On flights over 2 1/2 hours in length, you will be served a full (hot) meal. The quality is fairly decent actually.
The cabin crew on this flight was great. They couldn't do anything to help make the seats feel any better, but they were happy to supply everything you would need to dull the pain (*cough*alcohol*cough).
Cons
Seat comfort! Ugh. To be honest, United 737-900 economy isn't all that much more uncomfortable.

Even though the selection of video entertainment is quite good, the hardware itself isn't up to current standards. It's not a touchscreen, and the remote is physically integrated into the armrest. Navigating the menus is more awkward than you can possibly imagine.