As I'm sitting here trying to figure out how to start this United Express CRJ-200 review, I can't stop thinking about how amazing it was that I actually made a conscious decision to book a CRJ-200 up to Los Angeles. Without sounding like I'm complaining too much (because nobody likes a complainer), it's the aircraft I hate more than anything else and I normally go really far out of my way to avoid them.
I hate them so much actually that I think riding a donkey up to LAX would be the better option. Both the CRJ-200 and donkey are small, stinky, and uncomfortable beasts – but at least the donkey has a friendly personality I can relate to. The CRJ doesn't care that it's windows are too low or that there's no space for carry on bags – as a matter fact, it doesn't care about me at all. The donkey on the other hand, is likely to be nice to me for giving it attention and hoping that I'm going to lead it to food and water.
I'm not really sure where I'm going with this intro, but I'm going to end it here since I've spent too much time trying to think of something clever and I need to get on with the trip report. Basically, all you need to know is that I like donkeys more than I do CRJ-200's.
UA5443
San Diego, CA (SAN) – Los Angeles, CA (LAX)
Saturday, May 26, 2018
Aircraft: CRJ-200 (ugh)
Registration: N917SW
Duration: 27 minutes
Seat: 4A (economy class)
Sitting in airport lounges can be fun and relaxing, but I get usually restless after a while and it's not uncommon that I leave with more than an hour to go before boarding for the flight begins. There was certainly no specific reason to leave the United Club as early as I did, but I had my fill and felt like walking around down in the main terminal for a while instead.
And never mind that I know this airport like the back of my hand and that I've been here too many times to count – it's just that I enjoy the experience of wandering around an airport (any airport) and I get a kick out of watching all the people come and go. Next to traveling, people watching is easily my number two hobby.
Today's people watching opportunities were decent, thanks to a young woman in the gate area for this flight who was very openly afraid to fly – and she let everyone sitting around her know it. I really felt bad for her since she was so visibly nervous and this was obviously the last place that she wanted to be (kind of like how I am when my dentist picks up a drill and tells me to "open wide"). Making it worse was the fact that she was a traveling to Las Vegas, and somehow she ended up on this flight to Los Angeles where she would connect to another little CRJ over to LAS. That's pain and suffering I wouldn't wish on anybody.
Why am I telling you all this? Because listening to her life story and all her problems was the main event while sitting there at the gate waiting to board this flight. No detail is too small to be left out of my trip reports – you should know that by now!
The boarding process started exactly on time, and I was on my way down the jet bridge within minutes thanks to my zone 2 boarding pass.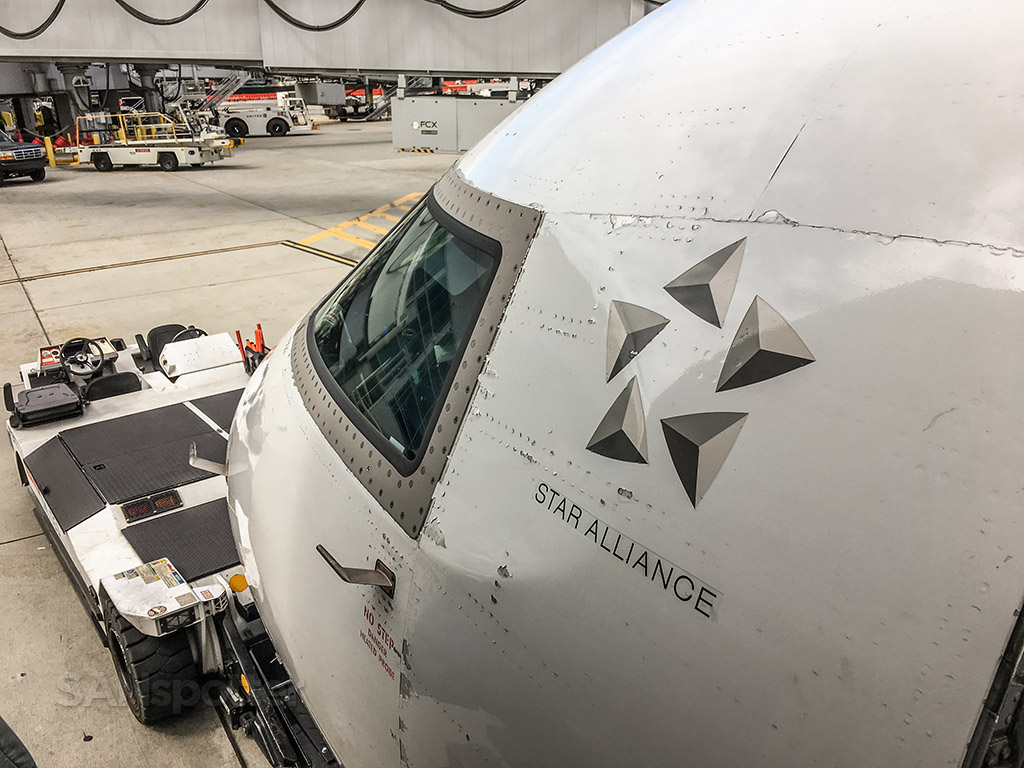 As I was stepping onboard, those horrific CRJ-200 flashbacks from years past came rushing back and I remember my last flight on one of these things just like it was yesterday.
Ducking my head as I stepped through the boarding door, staying crouched as I walked down the aisle to find my seat, feeling frustrated that there's no room for my carry-on bag either beneath the seat in front of me or in the overhead bin, and then still having to hang my head low as I tried to get a look out the window. Whoever designed this thing needs to be fired – or at the very least demoted to assistant line cook in the Bombardier kitchen.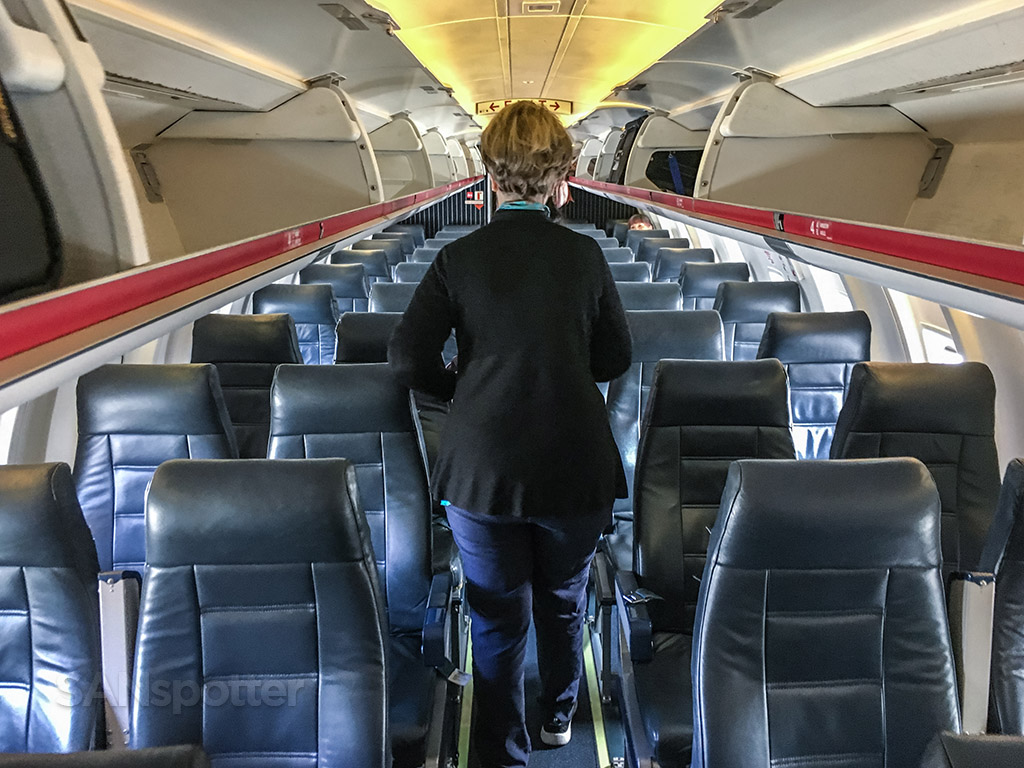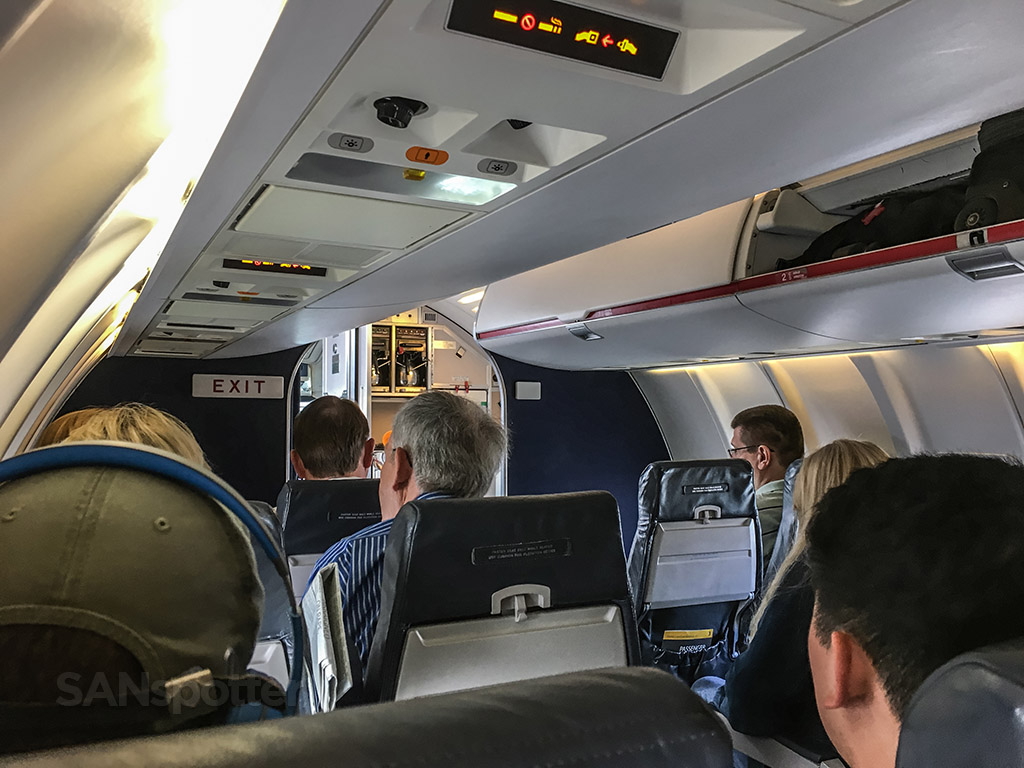 The flight looked to be completely full as the boarding door was closed, and just as that was happening the captain made an announcement that the weight and balance was all wrong and that he needed someone from the front to move to the back. Apparently there were some empty seats back there, but from where I was sitting this flight looked as if it was packed to the rafters. Come to think of it, that's not so difficult of a thing to achieve in a CRJ actually.
I felt as if I had won the lottery when the guy sitting next to me raised his hand and said that he would move. But then I immediately started wondering if there was something very wrong with me, to the point where he was just dying to get away at all costs. Was I smelly? Did it make him uncomfortable when my knee accidentally rubbed against his several minutes ago? Nah, he probably got freaked out when I was taking pictures of the safety card.
Quite frankly I didn't care all that much why he decided to move, and I was quite enjoying the feeling of having an empty seat next to me on this tiny little airplane. But then…*poof*! That feeling of absolute bliss was robbed from me in an instant when the flight attendant took the large guitar case from the guy seated one row ahead and strapped it in to that empty seat beside me.
So here we go into the awkward and dull section of the trip report. You see, these San Diego to Los Angeles flights are usually so uneventful and short that most of the action happens even before pushing off the gate. Once up in the air and on the way to LA, it all goes by in a (dull) flash – and then we land. Always. Nothing ever exciting happens on these flights and this one was no different. Here's the proof:
Sorry for the lack of text to go with the pics, but there's really not much to say about the in-flight experience between San Diego and Los Angeles. I suppose I could've transcribed the captain's welcome announcement, as well as what the flight attendants said when we landed, but it would be impolite of me to expect you to read it all.
It's a tough balance to figure out what to include and not to include in these reviews, but I've come to learn that pics speak louder than words and there's no point in trying to write paragraphs of content describing the fact that there wasn't even a drink service because the flight was so short.
But wow….I'm confident that I'd be able to write entire books about the experience of riding a donkey up to Los Angeles. If that ever happens, be prepared to do some reading!
OK, enough CRJ talk. Emirates A380 business class to Dubai is next!