I do believe that of all the hundreds of articles I've written here on SANspotter.com over the years, this Vietnam Airlines review makes me the hungriest. I'm actually sitting at Gatwick Airport in London as I write this, having just eaten one of the best breakfasts I've had in a good long time. I'm so stuffed that I couldn't eat another bite, yet thinking back on all the great food I ate the day of this flight is making me crave fried rice and pork dumplings in a way I can't physically understand.
Basically what I'm trying to say is that the food (both in the airport and on the plane) was better than the flight itself. If that's all you need to know, then…well…thanks for reading, and I'll be back again next week with another thrilling SANspotter trip report!
VN654
Singapore (SIN) – Ho Chi Minh City, Vietnam (SGN)
Monday, February 4, 2019
Aircraft: A321-231
Registration: VN-A608
Duration: 1 hour 36 minutes
Seat: 3G (business class)
Every once in a while I'm lucky enough to be on a flight so empty that getting video footage for it is super easy. Without giving too much away before you watch the video (or read the entire review below), I shared the business class cabin on this flight up to Ho Chi Mihn City with only one other person. That meant I was able to frolic about in a way I'm normally not able to when getting flight footage, so this video is loaded with lots of fun and different angles. I'm actually kind of surprised I didn't get a stern talking to by the local police upon arrival…
Considering how much I moved around the cabin on this flight trying to get the "perfect" shot, it was hard to resist going with silly circus music in some sections. Epidemic Sound has got soundtrack music for nearly any mood or activity (even silly frolicking), so the struggle was most definitely real.
This Vietnam Airlines review begins at the most amazing airport in the world (SIN)
Why is Changi Airport in Singapore so amazing? There are many reasons (the movie theater, wide variety of traffic, etc), but for me, it's IACO code (SIN) tops them all. I wouldn't doubt for a moment that the board of directors over at McCarran Field in Las Vegas are jealous as hell, and as far as I'm concerned, they've got every reason to be. It's gotta be one of the coolest IACO codes of them all. Right behind FAT and FUK of course.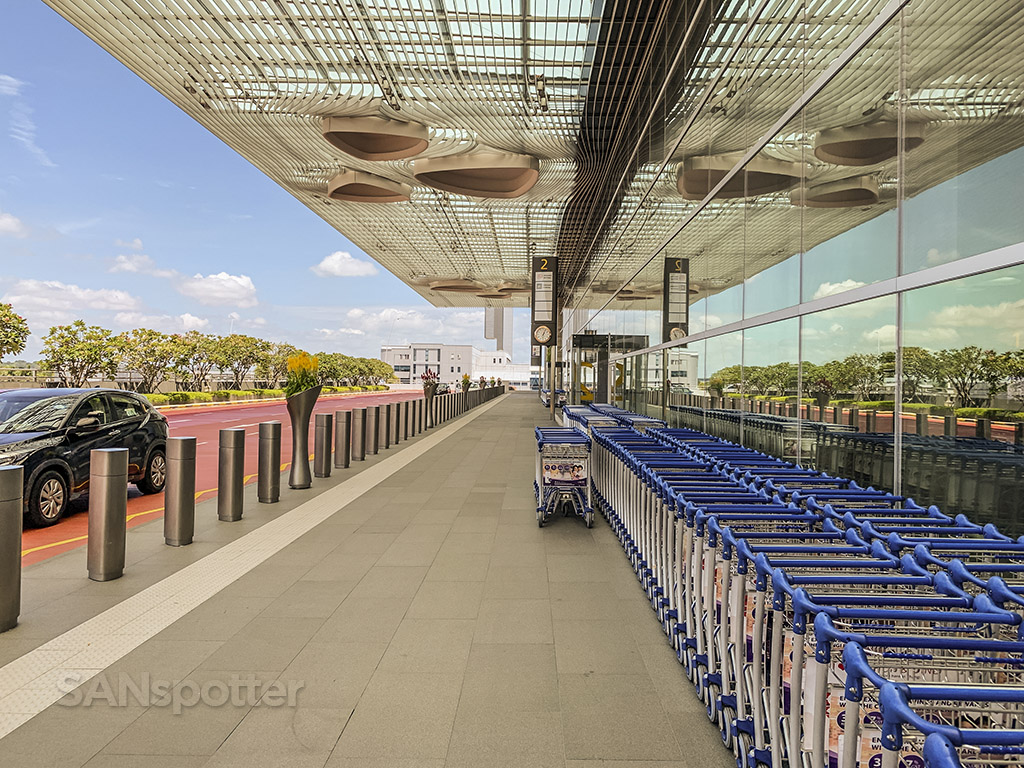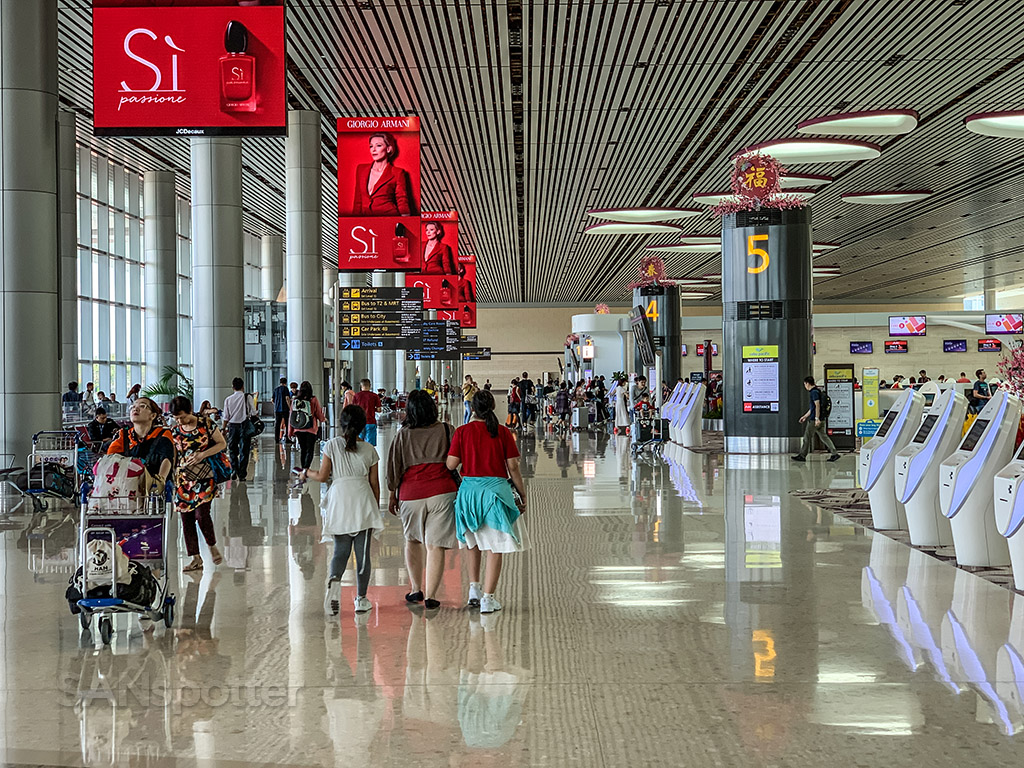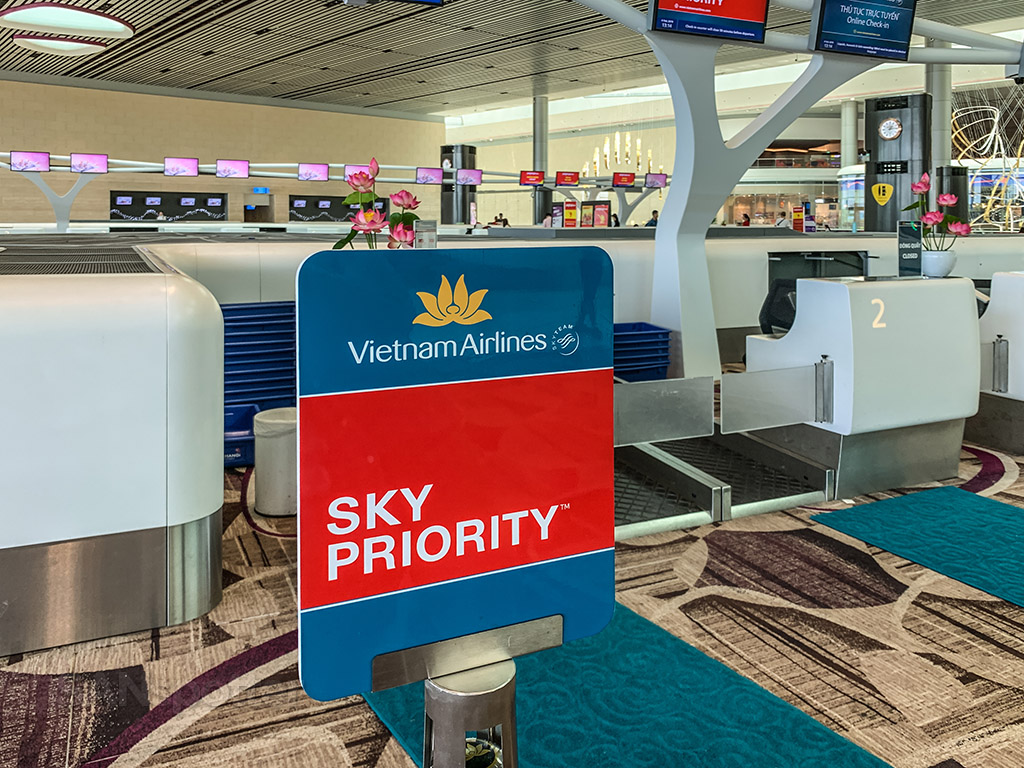 The other really amazing thing about Changi Airport is the food courts. Before security or after, the food courts in this place are on another level. I had a full meal before checking in, and another one immediately after. I'll spare you the pics (and details) since this is supposed to be a Vietnam Airlines review, but just know that it's critically important to arrive at this airport hungry.
As if I didn't already have enough to eat within two hours of arrival, I took advantage of the complimentary Plaza Premium lounge access that came as part of my Vietnam Airlines business class ticket. Note that all Priority Pass members (of which I am one) have access to this lounge anyway, but no matter. I'll take any reason I can get into a lounge. And once inside, I somehow mustered the strength to shovel even more unneeded calories into my mouth.
How I get into airport lounges
Access 1300+ airport lounges worldwide with Priority Pass
Access to over 1300 airport lounges around the world, regardless of airline flown or class of ticket.
Complimentary snacks, drinks, and meals.
Digital entry for instant access through the dedicated Priority Pass app.
Check it out!
Note: I may earn a commission if you make a purchase, at no additional cost to you.
Roughly 30 minutes before boarding, I ripped myself away from the food went back down to the main departures level to wait for boarding.
Vietnam Airlines A321 business class first impressions
Before going any further, now would be a really good time to put your expectations in check. This Vietnam Airlines review is focused squarely on the A321 short haul (regional) business class product. That means that any hope you have of reading about the latest and most technically advanced flat beds needs to be doused with a healthy dose of reality. Like, immediately. You'll get to see that stuff next week in my Vietnam Airlines A350-900 review, but for now, get ready for the recliners.
Hot towels were distributed while at the gate, as were the usual drink orders.
Based on the large group of people waiting in the gate area to board this flight, I had assumed it was going to be a full load up in business class tonight. However, just as it was with my EVA Air A321 business class experience from ICN to TPE two years ago, I found myself pretty much alone once the boarding door was closed.
I don't know very much about flight attendants, but it's pretty easy to recognize the fact that empty cabins make them really happy. The two nice ladies working the business class cabin this evening were two of the happiest and most relaxed flight attendants I've ever seen, and I had a pretty good feeling this was going to be a really positive Vietnam Airlines review as we started pushing off the gate.
Oh my God. More food!
Within minutes of departing Singapore, I could hear the clatter of dishes and silverware coming from the galley. And then I started to smell something cooking. This is normally the kind of thing that would make me do a little happy dance in my head (but never with my body because I've got no moves), but today all I could do was hold my head in shame for what was about to happen.
There were two meal options on this evening's flight up to SGN: Vietnamese or something western. I wasn't even remotely hungry enough to be curious about which each consisted of, so I went with the Vietnamese option with a shrug. Whatever. It's highly likely I wouldn't have eaten anything at all if I wasn't SANspotter (the nerdy trip report guy), but I needed the content for this blog and my YouTube channel so I had no choice. It wouldn't be a proper Vietnam Airlines review without it!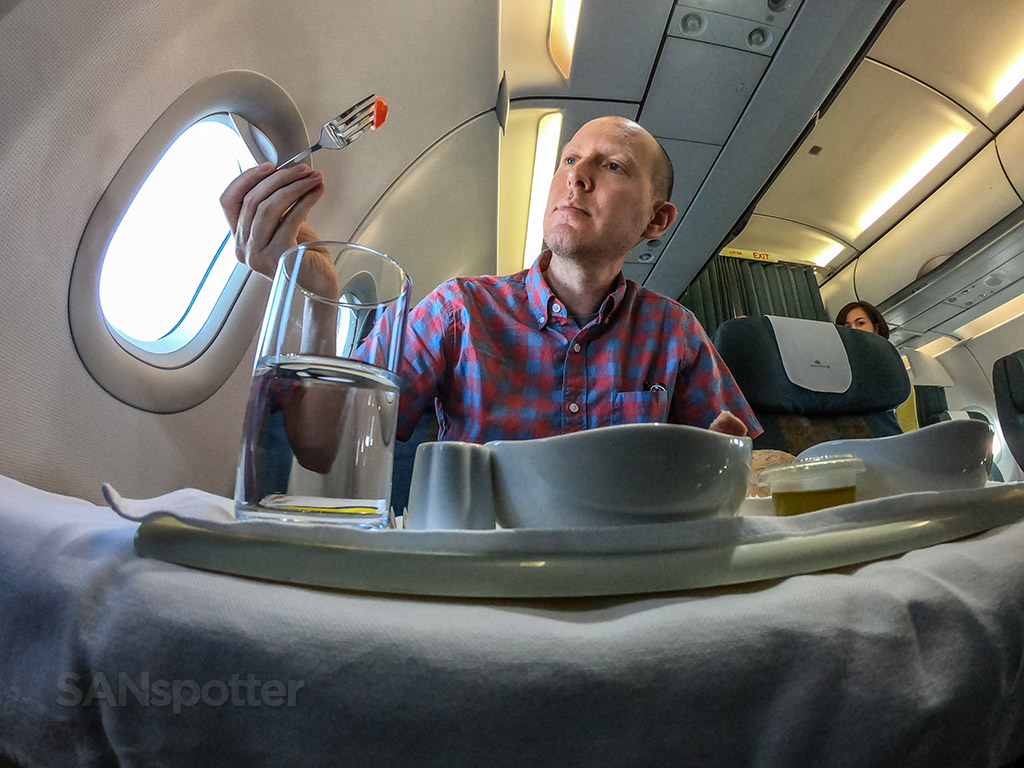 Was it the best business class meal I've ever had? Not by a long shot. It was basically a glorified economy class meal if I'm being honest, but the personalized attention from the flight attendants made it something really special.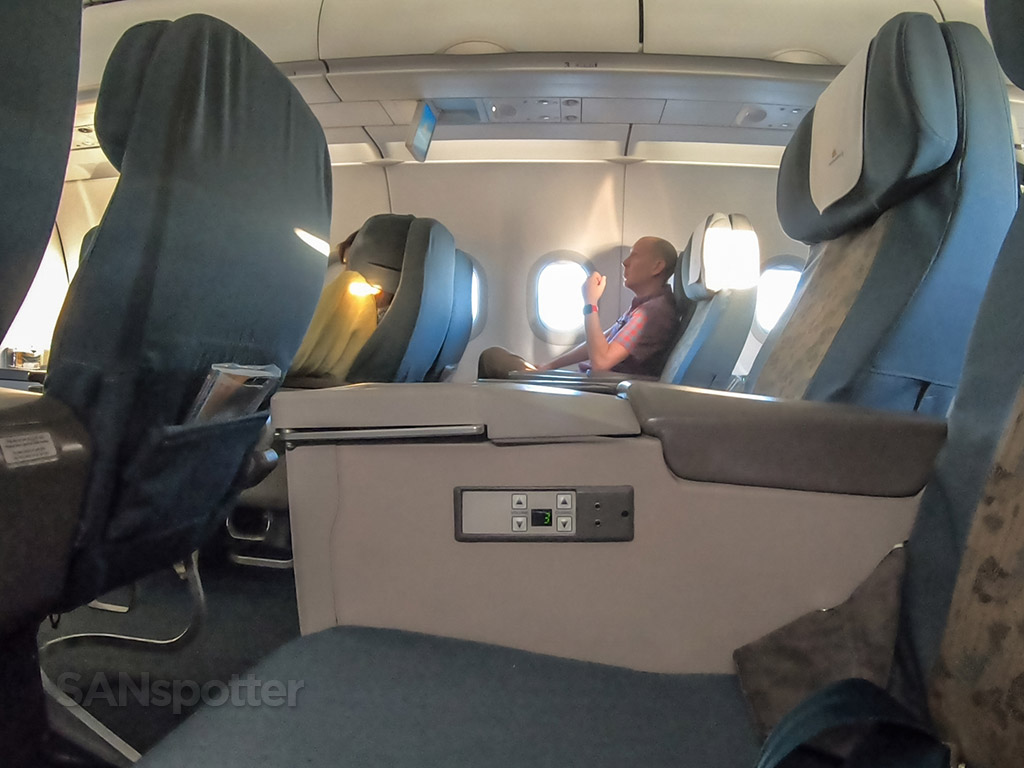 What would have made this Vietnam Airlines business class experience better?
Thinking of ways to improve a product is one of my favorite ways to write an airline review. No business class experience is perfect, and it's really easy to be a critic from the relative safety of my keyboard. However, I also know how important it is to set realistic expectations, and it wouldn't be fair to write this particular Vietnam Airlines review in a way that compares it against a flagship long haul business class product such as what is found on the Philippine Airlines 777-300ER.
That being said, I'm of the opinion that the business class seats on the Vietnam Airlines A321 are dated. I wouldn't expect lie flat seats in a regional business class product (like what can be found in Starlux business class), but even something along the lines of what can be found in QANTAS 787-9 premium economy or Hawaiian Airlines A321neo first class would be a huge improvement.
And to be fair, the regional business class products found on the Asiana A321 and EVA Air A321 aren't any better. If anything, Vietnam Airlines A321 regional business class is competitive in Asia.
Arrival into Ho Chi Minh City
Wanna know a secret? I was feeling a little bit apprehensive about flying with Vietnam Airlines (and through SGN) before this flight. It was an airline I knew absolutely nothing about, and on top of that, there was a bit of mental baggage that I had to deal with as well…
I've heard a lot about Vietnam since I was a child, as my father and two uncles were drafted during the war (well before I was born). Thankfully my father got to stay in the US, but both uncles weren't so lucky. Neither of them have ever talked to me about their experiences, but everything I've heard from other sources made it seem like Vietnam was hell on earth. And I'm sure it was for those who fought (on both sides).
Seeing Vietnam with my own eyes for the first time (if only breifly) was surreal. As I stepped off the plane, I couldn't help but to think what my uncles would have been feeling at that moment if they were here with me too. Worse yet, I tied to imagine what it must have felt like for all the freshly-drafted US Marines who arrived in Vietnam for the first time for the start of their tour of duty back in the 60's. War is hell no doubt.
Anyway, enough about that. This is a Vietnam Airlines review after all, so I'll try to end this on a happy and positive note. Which, now that I think about it, is a really easy thing to do. The people of Vietnam are so warm and generous. From the ground staff at SIN, to the flight attendants up in the air, and the ground staff at SGN, I was met with friendly smiles and "can do" attitudes from all.
Finally, if you're debating whether or not to fly Vietnam Airlines, all I can say is that you'd be a fool not to. This flight up from Singapore was darn near perfect, and I was especially convinced of how good this airline is after the amazing A350 segment that followed (SGN-ICN). You can read all about that one this time next week…