The more I travel, the more I learn really annoying things about myself. Most annoying of all is my natural tendency to get over-excited while booking trips and choosing flights which I will totally regret later, and this Vietnam Airlines flight from Ho Chi Minh to Seoul is a perfect example of that.
The responsible part of my brain did it's best to stop me from making an irrational decision. "Hey buddy…you realize that this flight departs at like midnight, right? You're normally dozing off by 9pm, so…are you really sure this is a good idea?"
My over-confident response: "Pshhhhh! I got this. I'm a hard core travel blogger yo, and hard core travel bloggers fly A350 business class!"
Not amused, Responsible Brain replied with: "Yeah, but…it arrives in Seoul at 6 ****ing AM. You know just as well as I do that you're gonna be hating life for not getting any sleep. Worse yet, I've got to listen to you complain as you struggle to figure out what to do until you can check into the hotel that afternoon. For the love of all that is holy, don't…"
*snip*
I didn't even let him finish before smashing that "purchase now" button with a sinister grin not unlike Calvin used to have when plotting a water balloon ambush against Hobbes.
VN408
Ho Chi Minh City, Vietnam (SGN) – Seoul, South Korea (ICN)
Monday, February 4, 2019
Aircraft: A350-941
Registration: VN-A888
Duration: 4 hours 15 minutes
Seat: 5A (business class)

Believe it or not, up until I put the video for this flight together a few days ago, I thought for sure that I didn't have enough content for it and that it was going to be a painfully short 3-minute disaster. As I eluded to in the introduction of this review, this was a difficult red eye flight without many of normally decent opportunities that come with international business class.
Thankfully, I discovered that I shot much more content for it than I remembered – and combined with an upbeat soundtrack from Epidemic Sound, it would be hard to guess that I was worried so much about it.
First order of business: checking out the Lotus Lounge
My arrival from Singapore on Vietnam Airlines flight number 654 was perfectly on time, which gave me just over 3 hours here at terminal 2 at Tan Son Nhat International Airport (SGN). I quickly realized that I was in for a very long wait just minutes after stepping off that plane, because this terminal isn't very large and there aren't very many quiet nooks and crannies to find exile in.
Thankfully all Vietnam Airlines business class passengers have access to the Lotus Lounge, which is located on the upper level near gate 22. Based on how small and overcrowded the main terminal was, I wasn't expecting much. But who am I to turn down a complimentary lounge visit?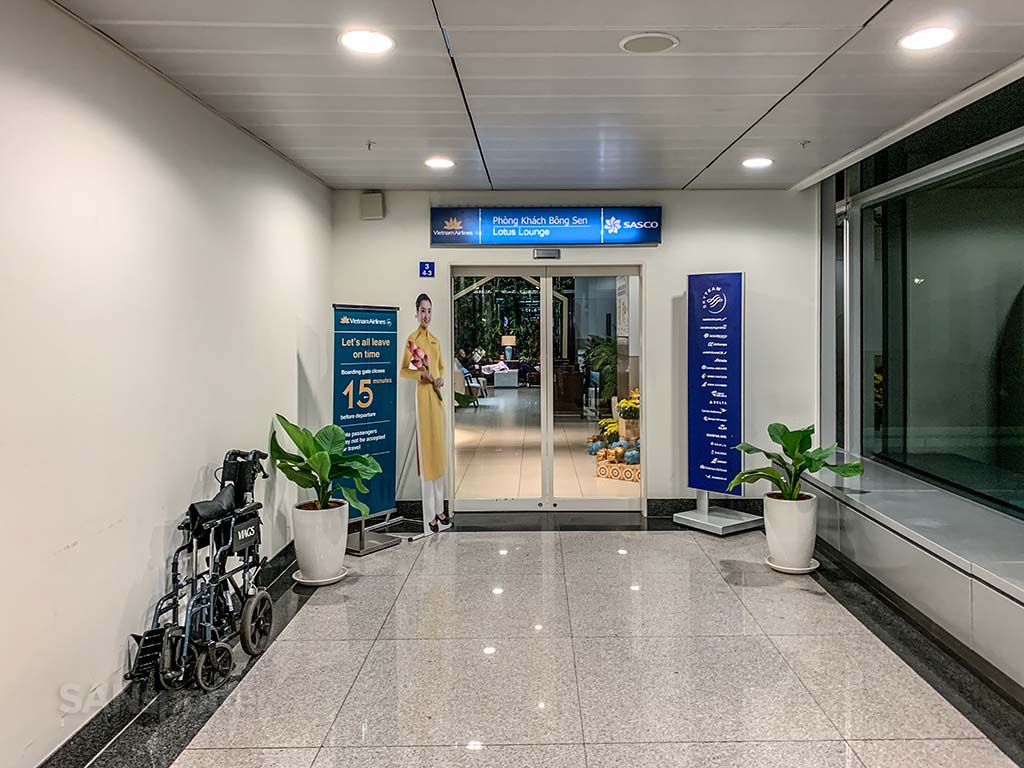 Long story short, I was completely blown away with the Lotus Lounge and how large and spacious it is. The amount of food available was impressive as well, which ended up being the most frustrating part of the experience for me since I had been inhaling embarrassingly large quantities of food all day and I wasn't even the slightest bit hungry. It would have killed me not to eat something though, so I went with two wedges of watermelon and a small glass of water. The meal of champions!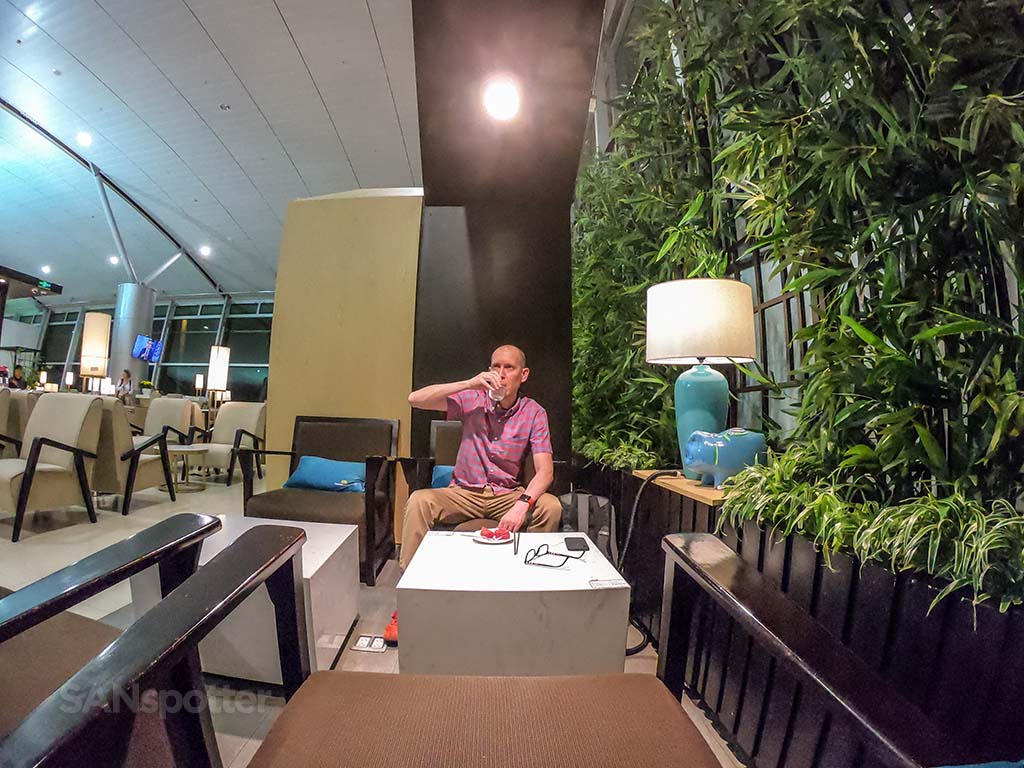 Huge props to Vietnam Airlines and the Ho Chi Minh Airport for putting together such an impressive business class lounge. They better watch out though, because I'm going to arrive voraciously hungry the next time I visit.
My first introduction to Vietnam Airlines A350 business class
I meandered back out into the main terminal approximately 30 minutes before boarding started, only to realize that there was nowhere to sit and I'd have to pace around a bit. That's perfectly fine by me actually, as I like to get the blood flowing before a long flight anyway. On top of that, it was getting late and walking around would prevent me from curling up in the fetal position and sleeping like a polar bear for 16 hours.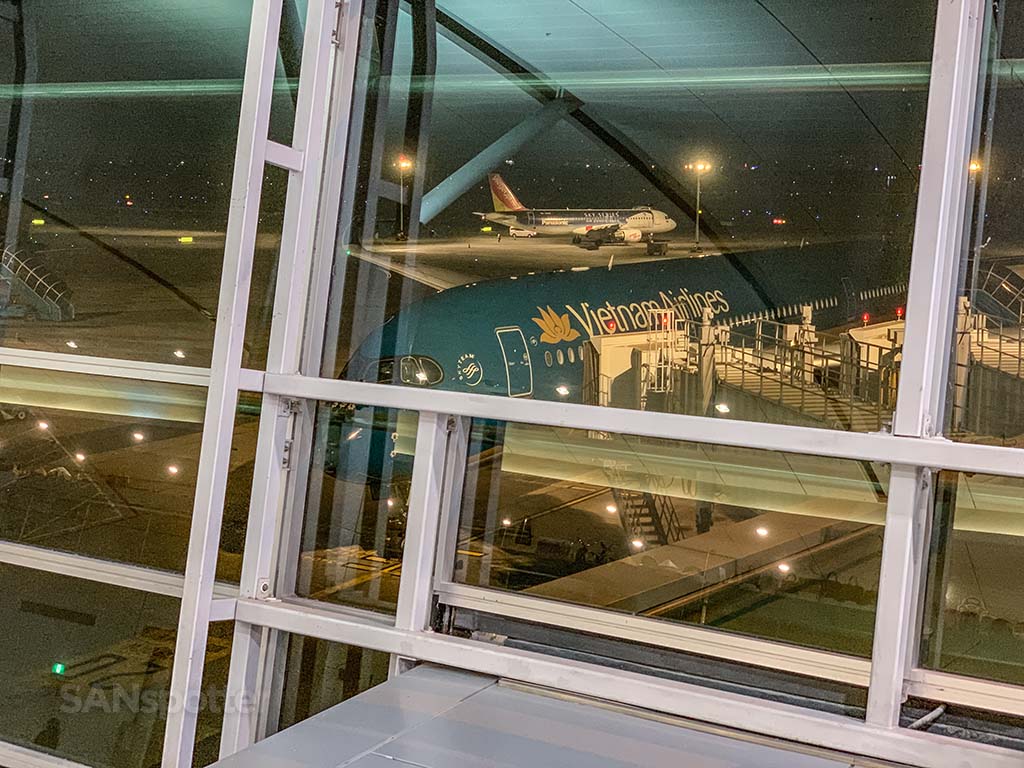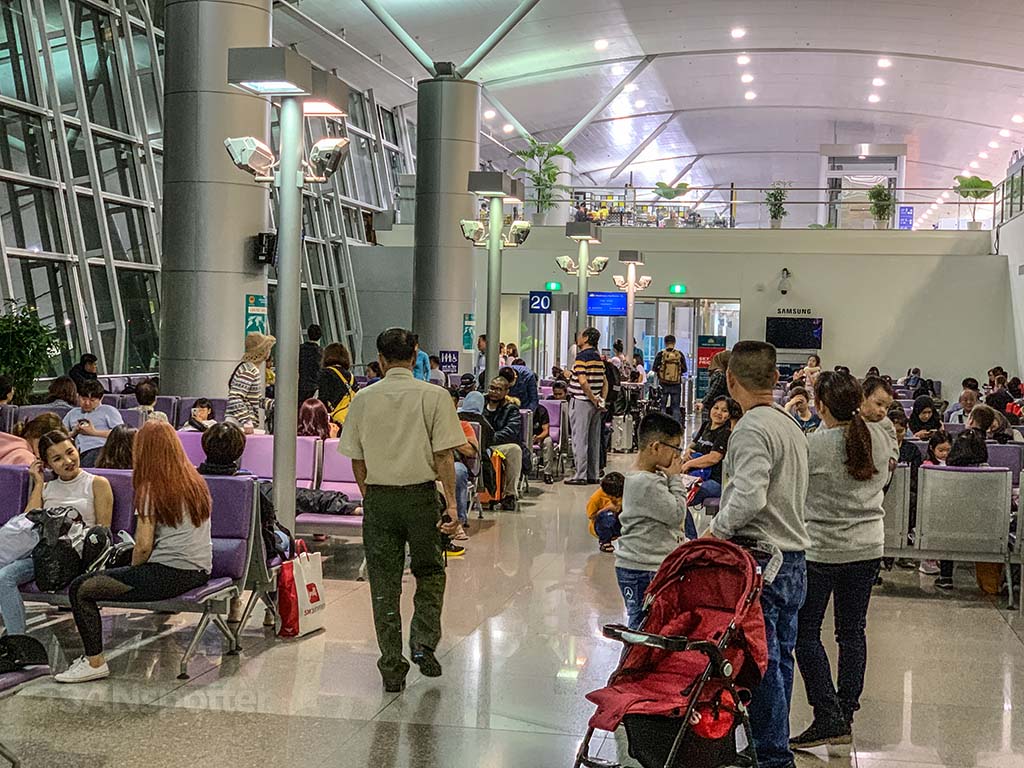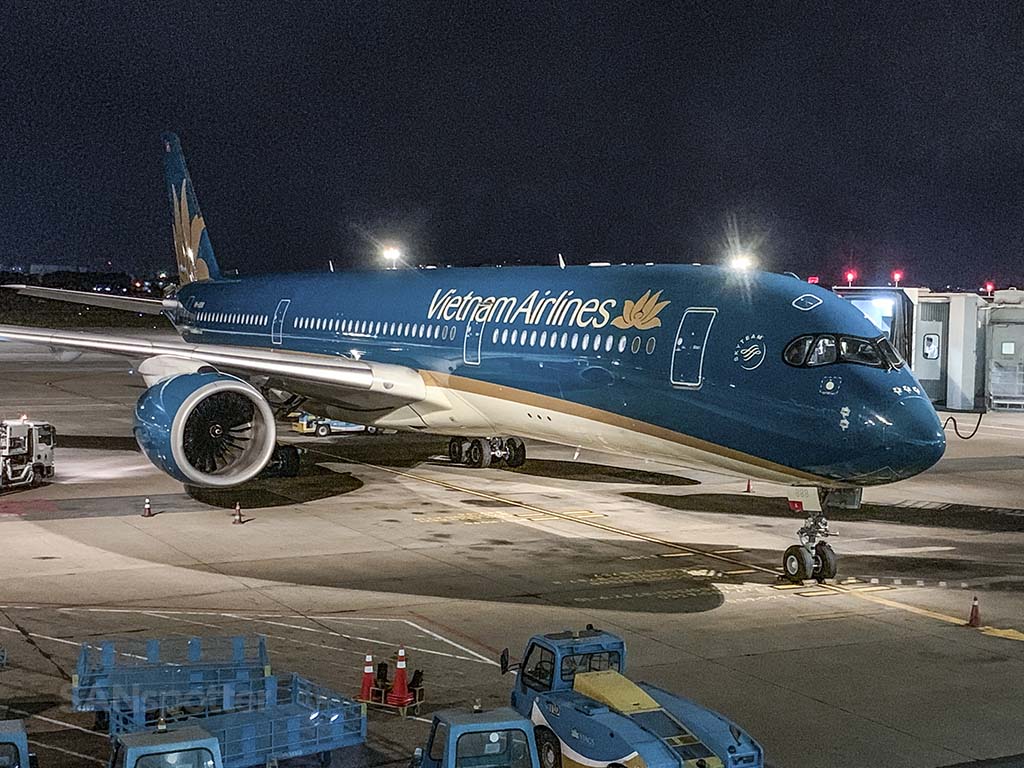 The fact that I was already standing when boarding was called meant that I was the first business class passenger through the gate tonight. Which is weird to me because in Asia, people seem to be more behaved during the boarding process and remain seated until their group is called. If this was somewhere in the US, I would have been trampled by everyone rushing the gate as soon as "families traveling with small children" were called.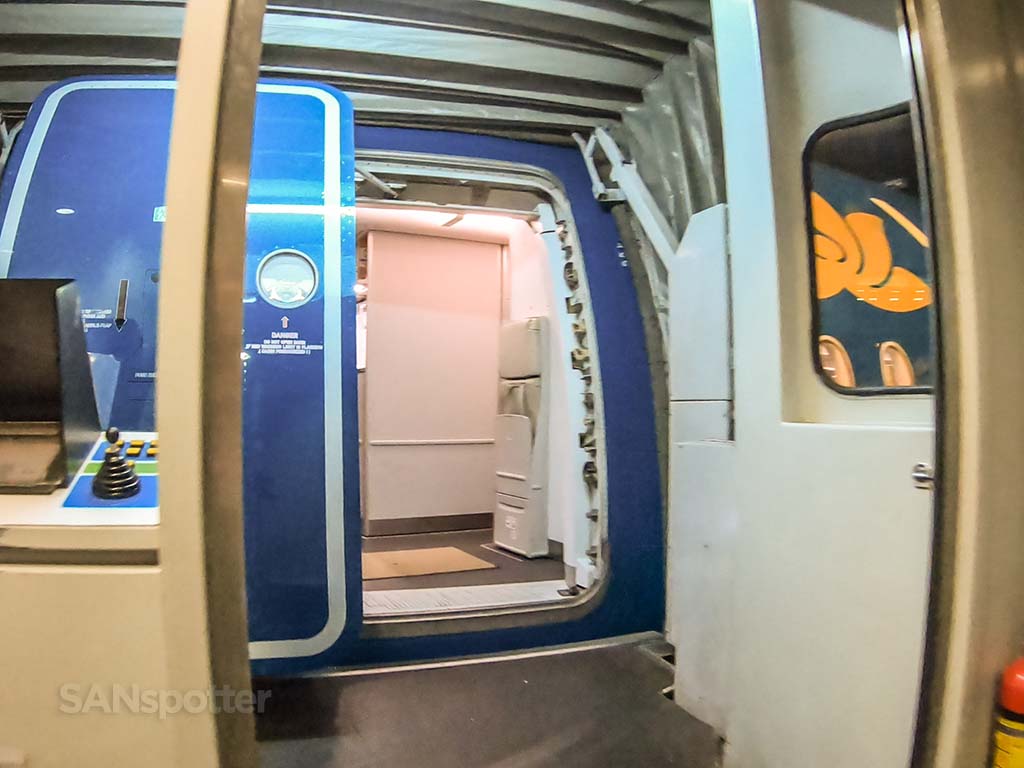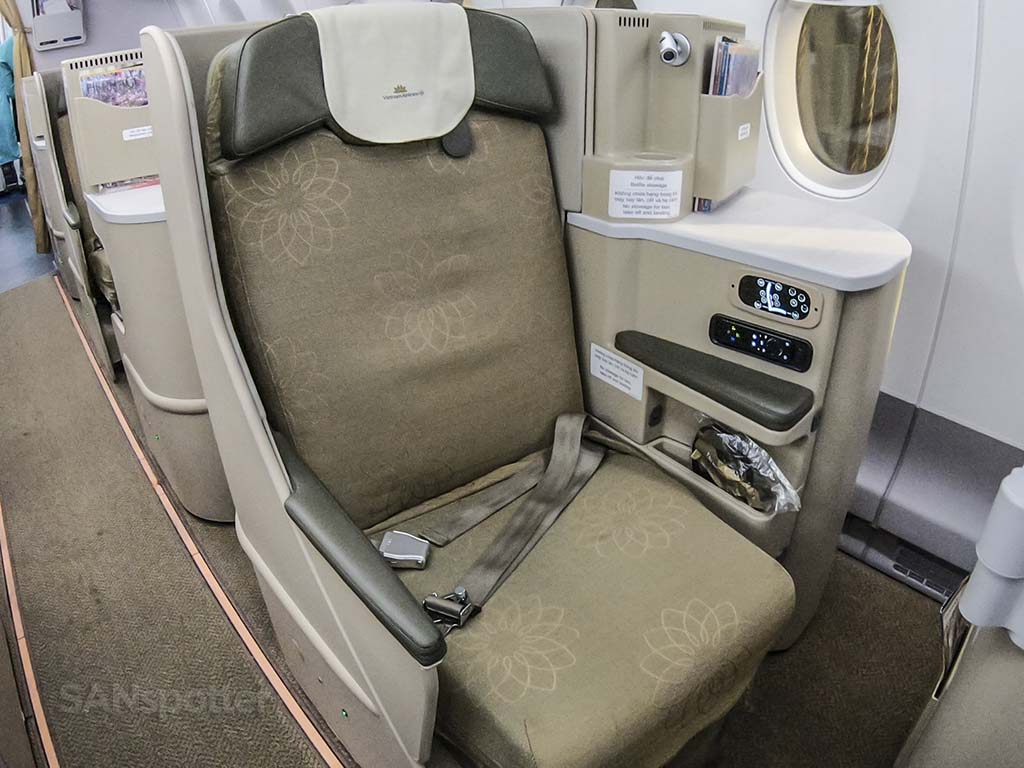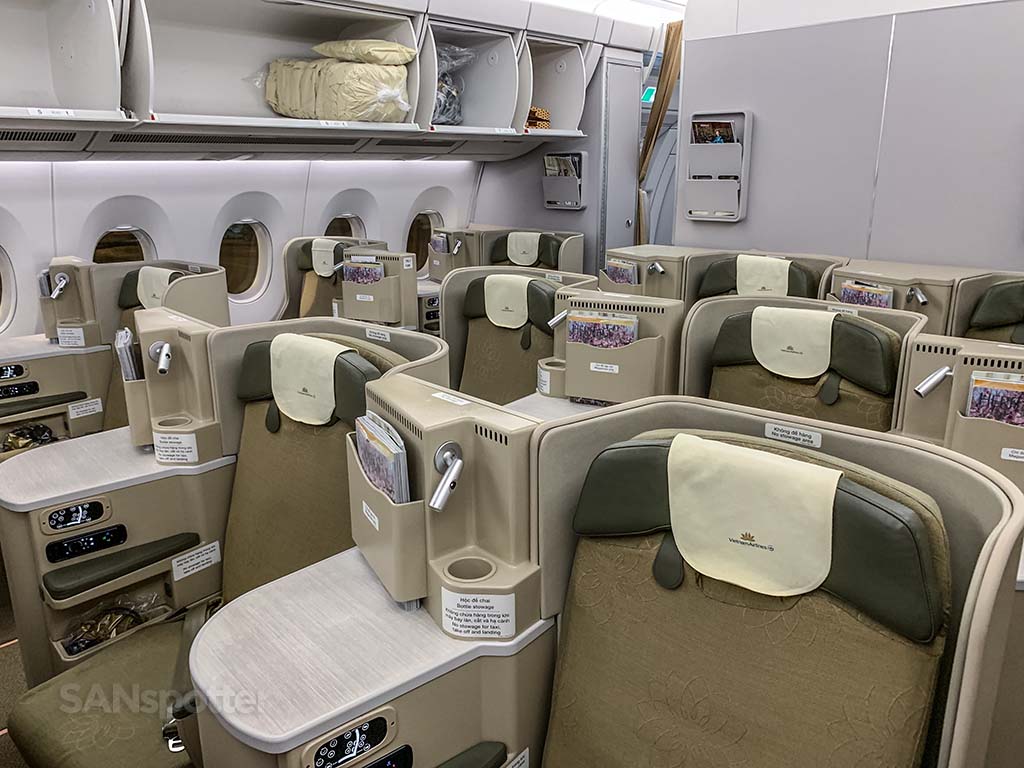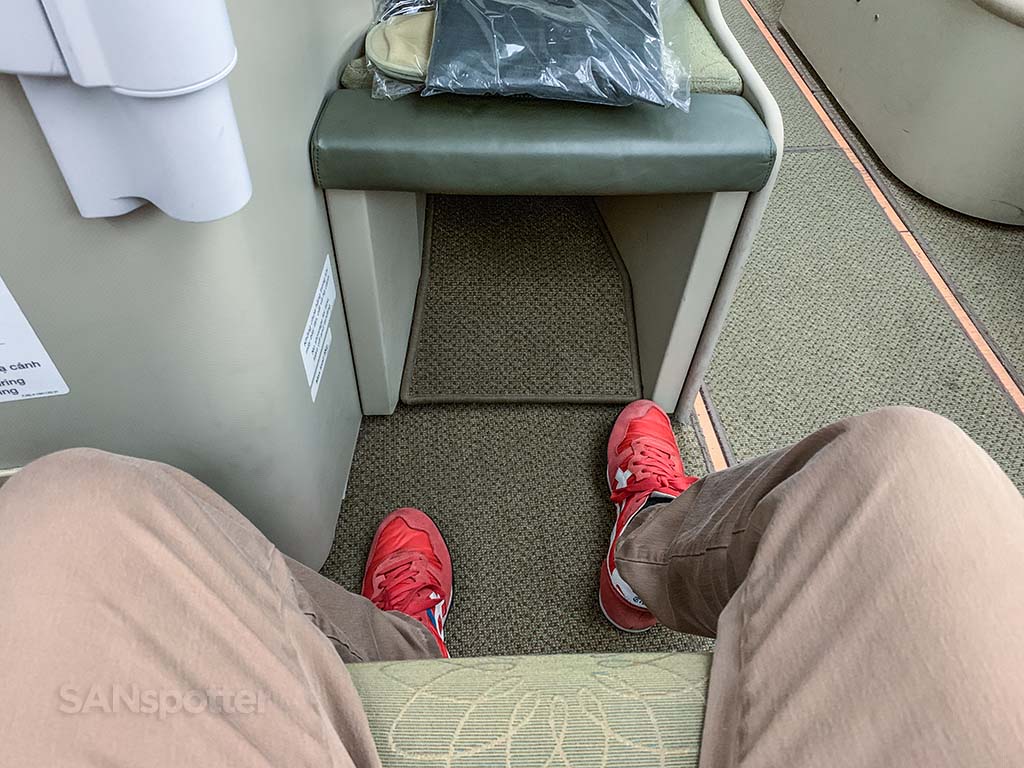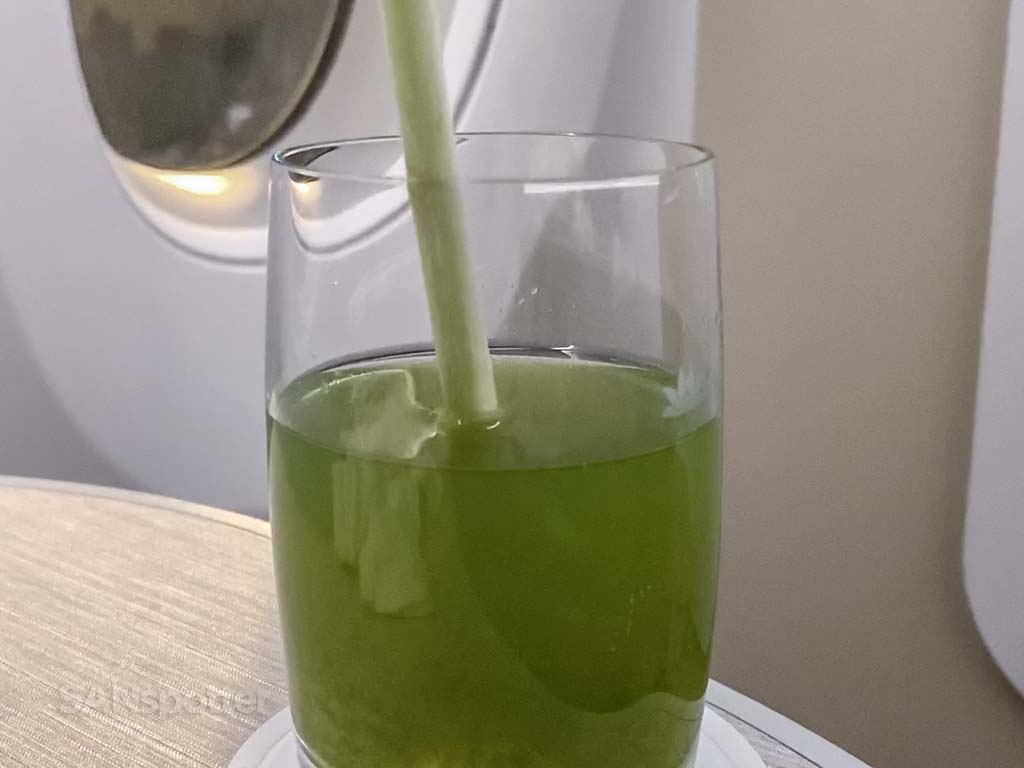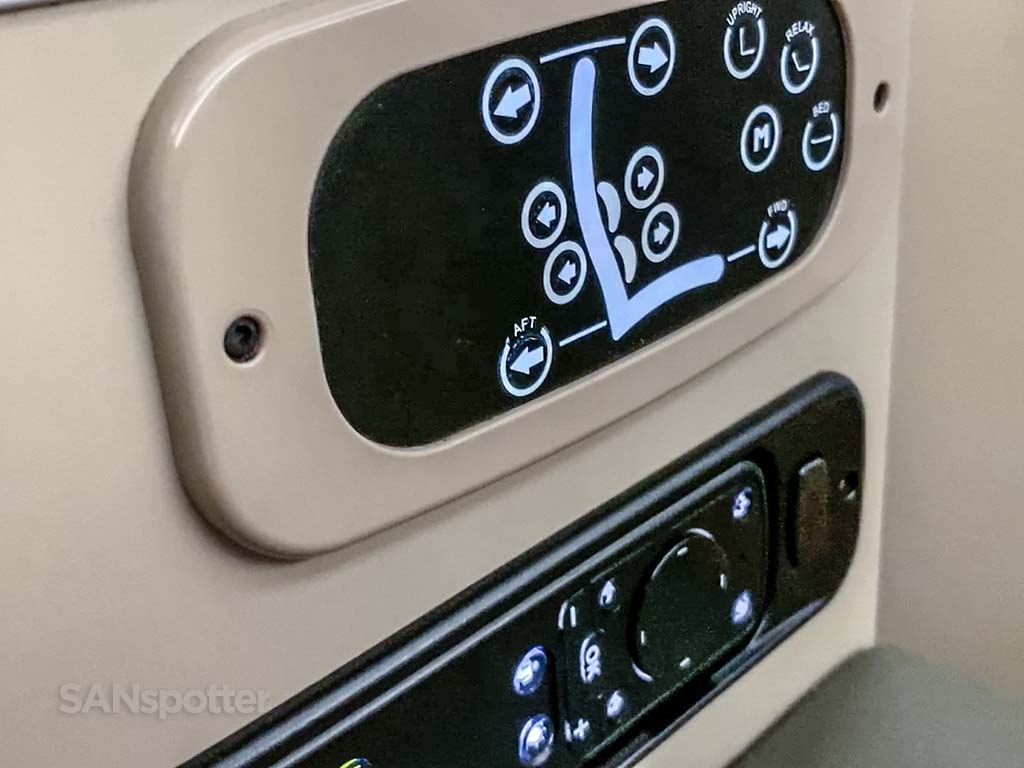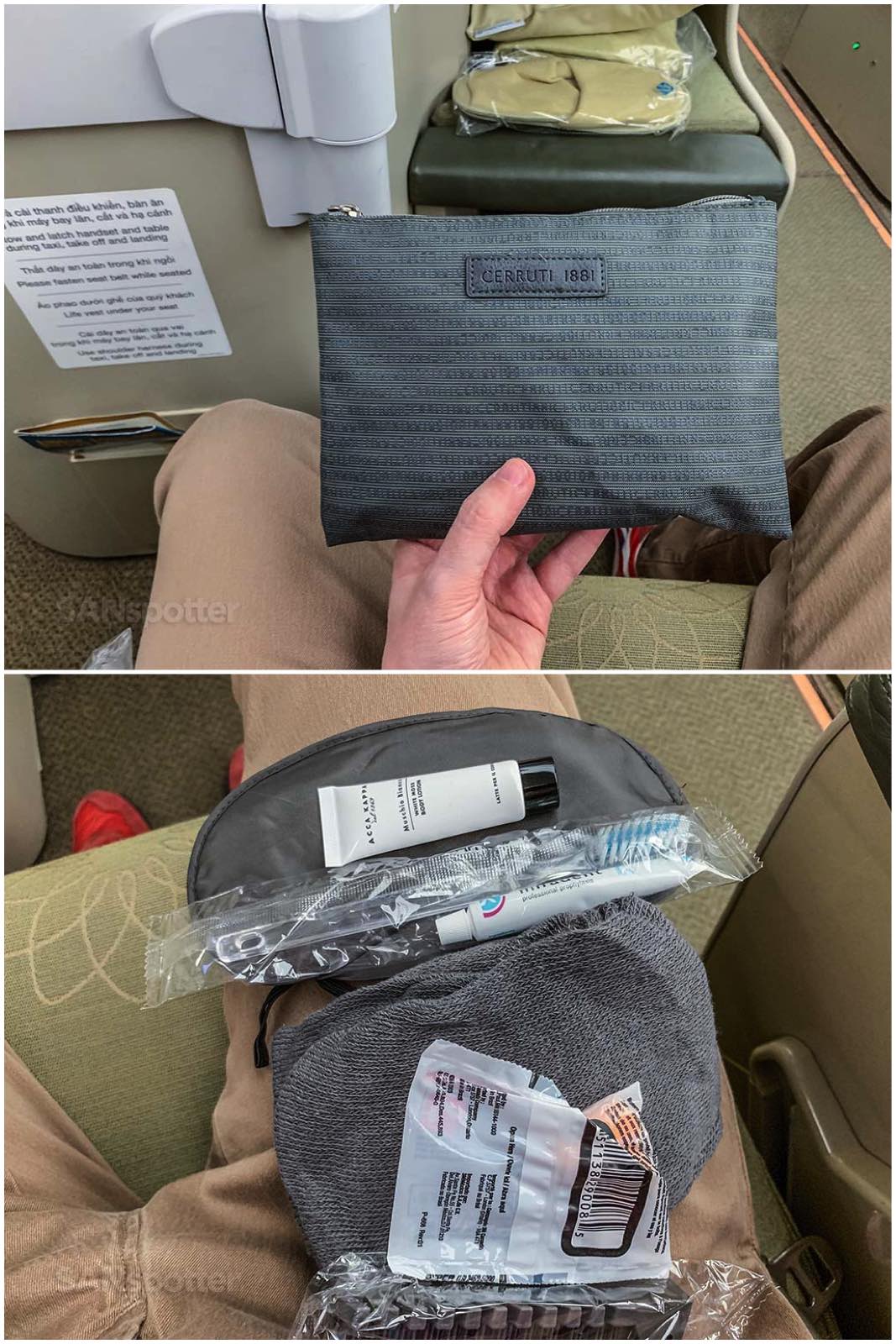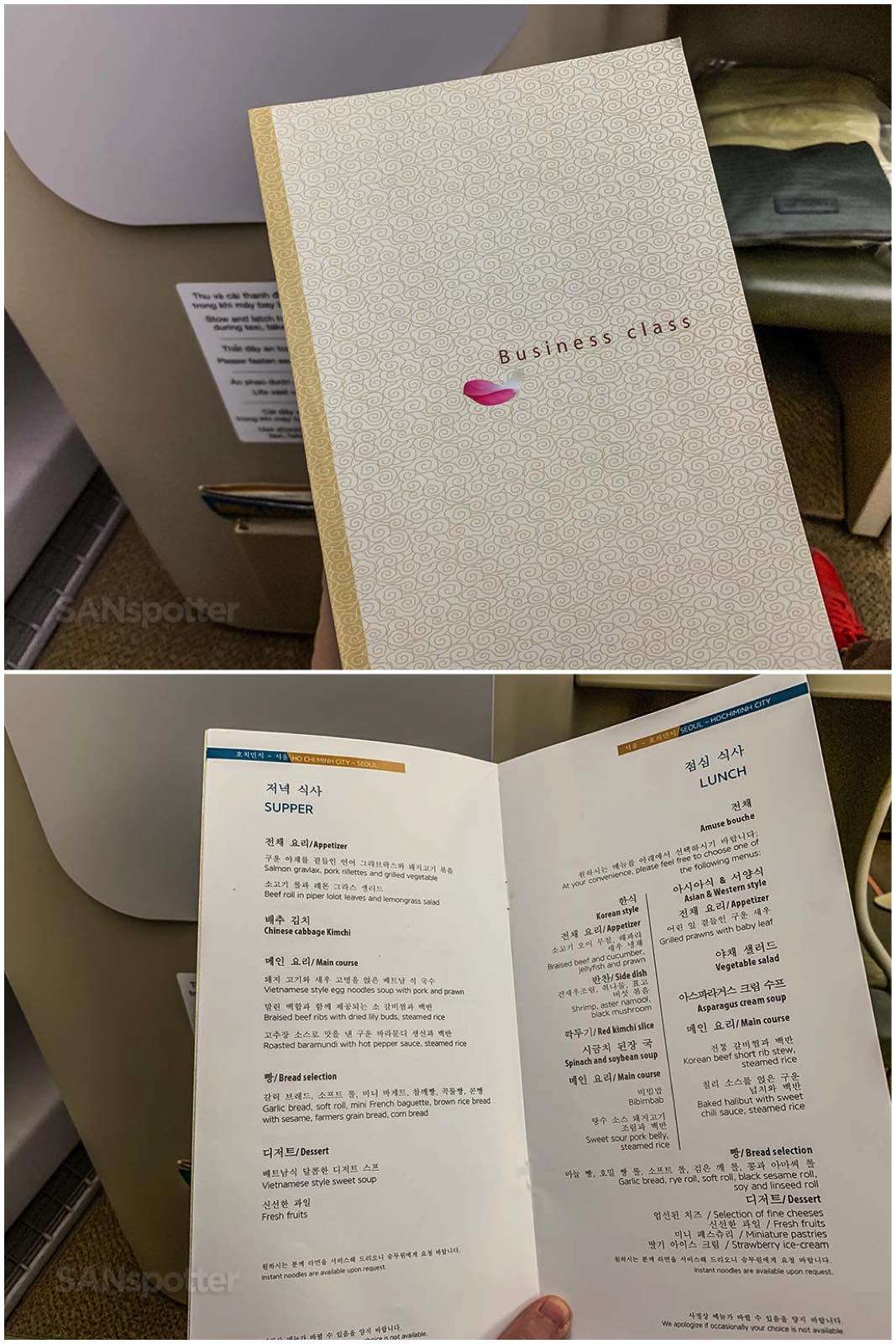 In summary, the Vietnam Airlines A350 business class product is light years ahead of their A321 regional business class product (as it should be). These A350-900's are the current flagship of the Vietnam Airlines fleet, so it seems only fitting that they feature their newest and most up to date business class offering.
Humble thoughts on the dinner service
To be perfectly honest, the combination of not being hungry in the slightest and feeling incredibly sleepy made the dinner service on tonight's flight somewhat lackluster. That's not to say that the cabin crew didn't do an amazing job – because they did. Especially given the fact that this was a relatively short red eye flight and they knew that most passengers wanted to sleep as soon as possible.
There was no snack or beverage service after departure, which was completely understandable. The flight attendants went straight for the dinner service, and despite a completely full business class cabin, were able to get everyone served in a very short amount of time. Once again, well done Vietnam Airlines!
I kind of felt bad ordering a meal knowing that I wasn't going to eat much of it, but…it's kind of required of me as an airline reviewer / travel blogger. I suppose I could have made friends with the people next to me and asked them if I could take pictures of thier food, but I didn't need to give them any more reason than they already had to think of me as a weirdo. They watched me take pics of the safety card for crying out loud, and likely told all their friends about it (while laughing hysterically) when they got home.
Sleeping in Vietnam Airlines A350 business class
There was only a bit over 3 hours of flying time remaining by the time the dinner service had been wrapped up, which was frustrating because I knew I needed at least 10 to reset my internal systems to the point where I wouldn't be on the brink of hallucinating. Ah, the joys of crossing time zones every day for a week straight…
Sleeping in Vietnam Airlines A350 business class is pretty good actually – as long as you've got more than 3 hours to do it. The seat configuration is 1-2-1, which makes it easy for solo travelers and couples alike to get comfortable. The only problem is that the seats are slightly staggered (as it is in so many other business class cabins), so there are two kinds of window seats: the good kind (against the window), and the not so good kind (those against the aisle).
I had a "aisle" window seat, which made sleep slightly more difficult since I woke up nearly every time someone walked past. I'm a terribly light sleeper (no matter how tired I am), and I'll wake up if someone so much as looks at me. I can only dream of sleeping like the dead.
Despite my frustrations, this was a perfect example of why I believe that the added cost of business class is worth it sometimes. I didn't get a lot of sleep, but I appreciated the little bit I got.
Why is Vietnam Airlines not winning awards left and right?
The two Vietnam Airlines business class experiences I had on this day (this one up to Seoul and the previous one from Singapore to Ho Chi Minh City) were nothing short of fantastic. The cabin crew on both flights were some of the friendliest and most helpful I've ever seen, the planes impeccable, and the food was pretty good too. Why aren't they getting the recognition they so rightly deserve?
At the time of this writing, Vietnam Airlines does not yet fly to the United States. They have announced their intentions to do so several times already, and now that they've got 787s and A350s with an extremely competitive business class product, it's only a matter of time.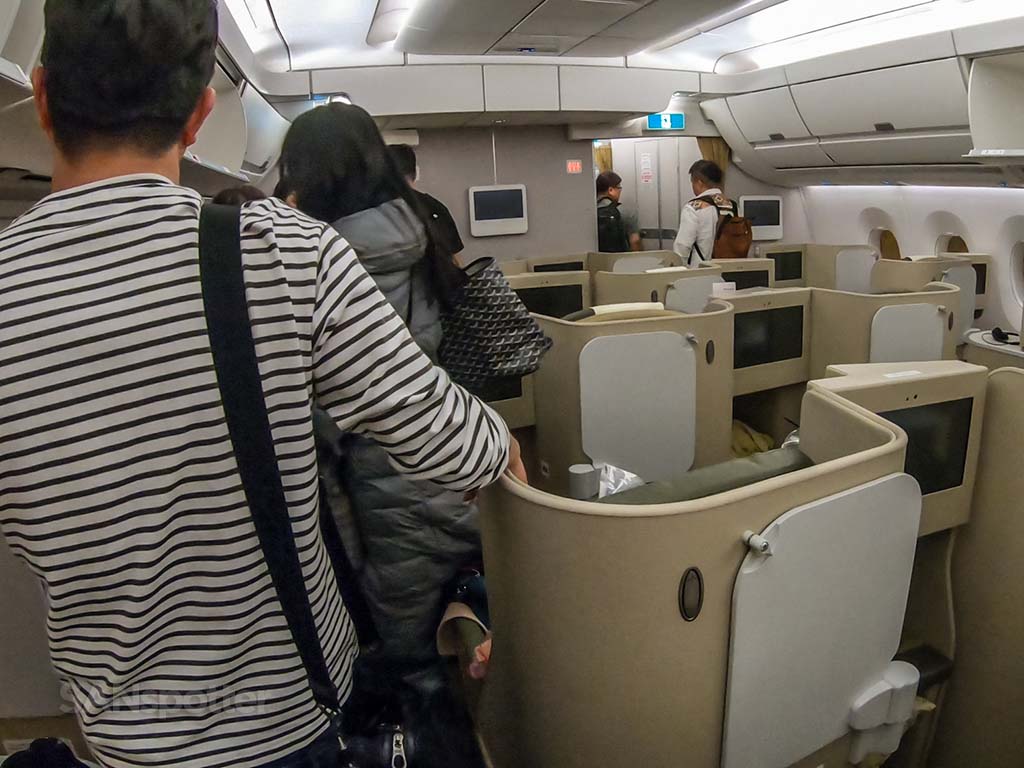 The question is: does Vietnam Airlines have enough brand recognition in the US to build a network of successful routes out of LAX / SFO / JFK to Vietnam? I Don't know. It'll be a struggle in the beginning I'm sure, but it's only a matter of time before others discover (just as I did) how good Vietnam Airlines really is. I wish them all the success in the world!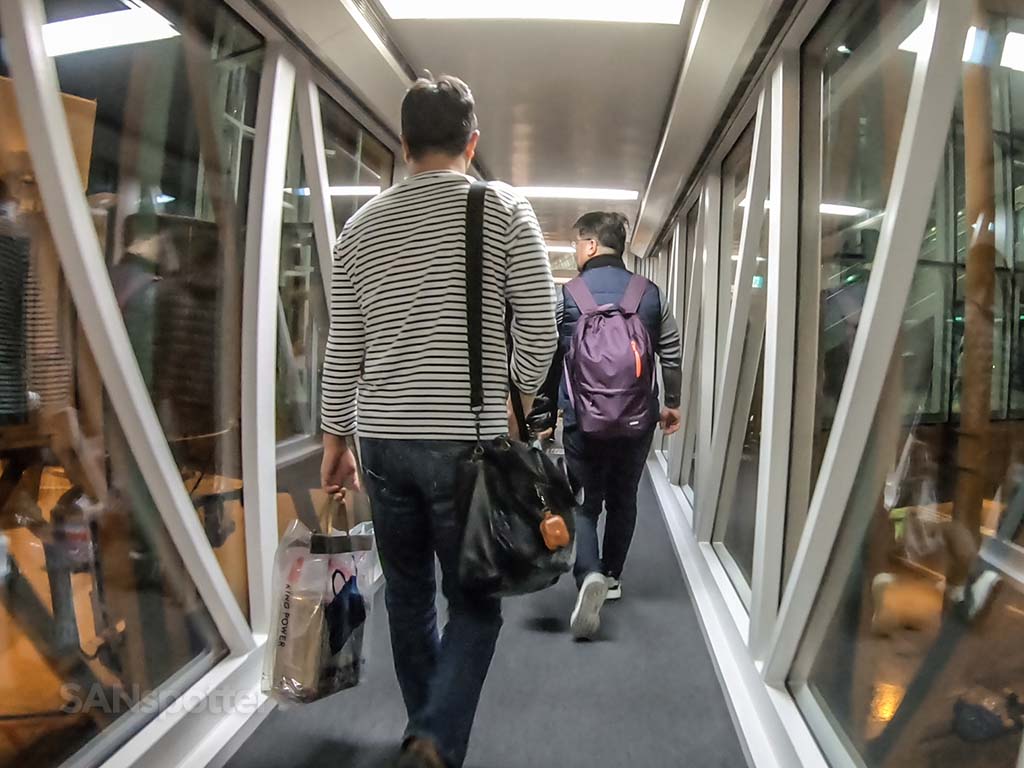 Finally, to close out this review, I owe Responsible Brain a big fat stinkin' apology. I'm sorry little buddy. One of these days I'm going to grow the hell up and start thinking things through before diving into uncomfortable stuff head first.
At least I had plenty of time to rest and prepare for my next flight, which you'll get to read about soon…