On paper, Delta 757-300 Comfort Plus sounds like a pretty sweet deal.
Not only do you get 5 more inches of legroom compared to basic economy, you'll get additional perks such as priority boarding, dedicated overhead bin space, premium snacks, and complementary alcohol.
The reality is that none of that really matters when you realize that they stretch the truth a little. Of course they provide all that stuff. However, on a recent flight from San Diego to Atlanta, I realized that they do an excellent job of half-assing it.
DL990
San Diego, CA (SAN) – Atlanta, GA (ATL)
Saturday, October 21, 2023
Aircraft: 757-351
Registration: N581NW
Duration: 3 hours 26 minutes
Seat: 17A (Comfort Plus)

My full review of Delta 757-300 Comfort Plus from San Diego to Atlanta
As a reminder, Comfort Plus is Delta's domestic premium economy offering. It's literally (and figuratively) the product that fits between first class and economy class.
Flying time between San Diego and Atlanta is just a tick under 4 hours (on average), which is the perfect amount of time to give it a proper go IMHO.
Arrival at SAN
First things first: shoutout to the Delta scheduling team for putting the 757-300 in the 7:30 AM timeslot to ATL. That's early enough to make convenient connections in Atlanta without having to wake up at an ungodly hour here on the West Coast. I was up at 5 AM, and at the airport by 6. Easy.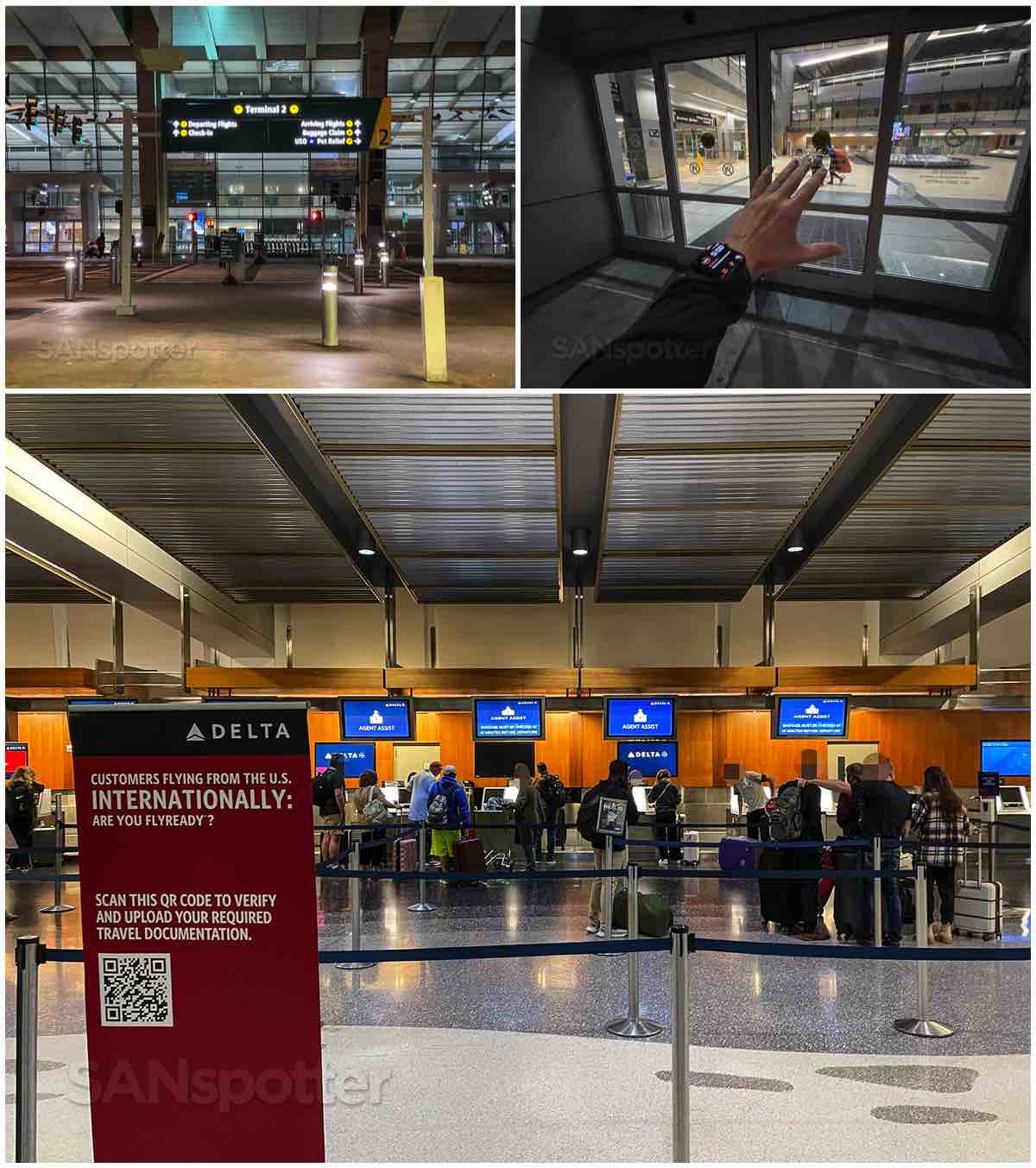 The boarding process for flight number 990 to Atlanta
Although boarding a Boeing 757-300 takes a while, having a Comfort Plus boarding pass comes with the added benefit of getting to be one of the first passengers on the plane. Behind first class and Diamond Medallions of course. Given how many seats there are on a DL 757-300 (234), you're still going to have to wait a while.
It's also worth noting that these Delta 757-300s haven't been fully updated with the newest interiors. Yes, the seats at the latest and greatest, but the sidewalls and ceilings are old school Boeing 757. Do be sure to check out my Delta 757-200 Comfort Plus review to see just how sweet the 757 looks with modern interior features.
Seat overview
The main benefit of the Comfort Plus seats is extra legroom (at least compared to economy class). If you read my Delta 757-300 economy review, you'll know that the extra legroom is very much appreciated.
It should be noted that legroom is similar to what you saw in my review of Delta 757-300 first class. Seat width is exactly the same as economy class though, so these seats are more beneficial for the tall (not wide).
The departure out of San Diego
I hate to say it (because I've got a major crush on the Boeing 757), but I was kind of shocked that we pushed off the gate right on time. These aircraft are getting on in years, and reliability has been trending downhill. Hence the reason the reason why Delta doesn't send these aircraft out to the West Coast very much anymore.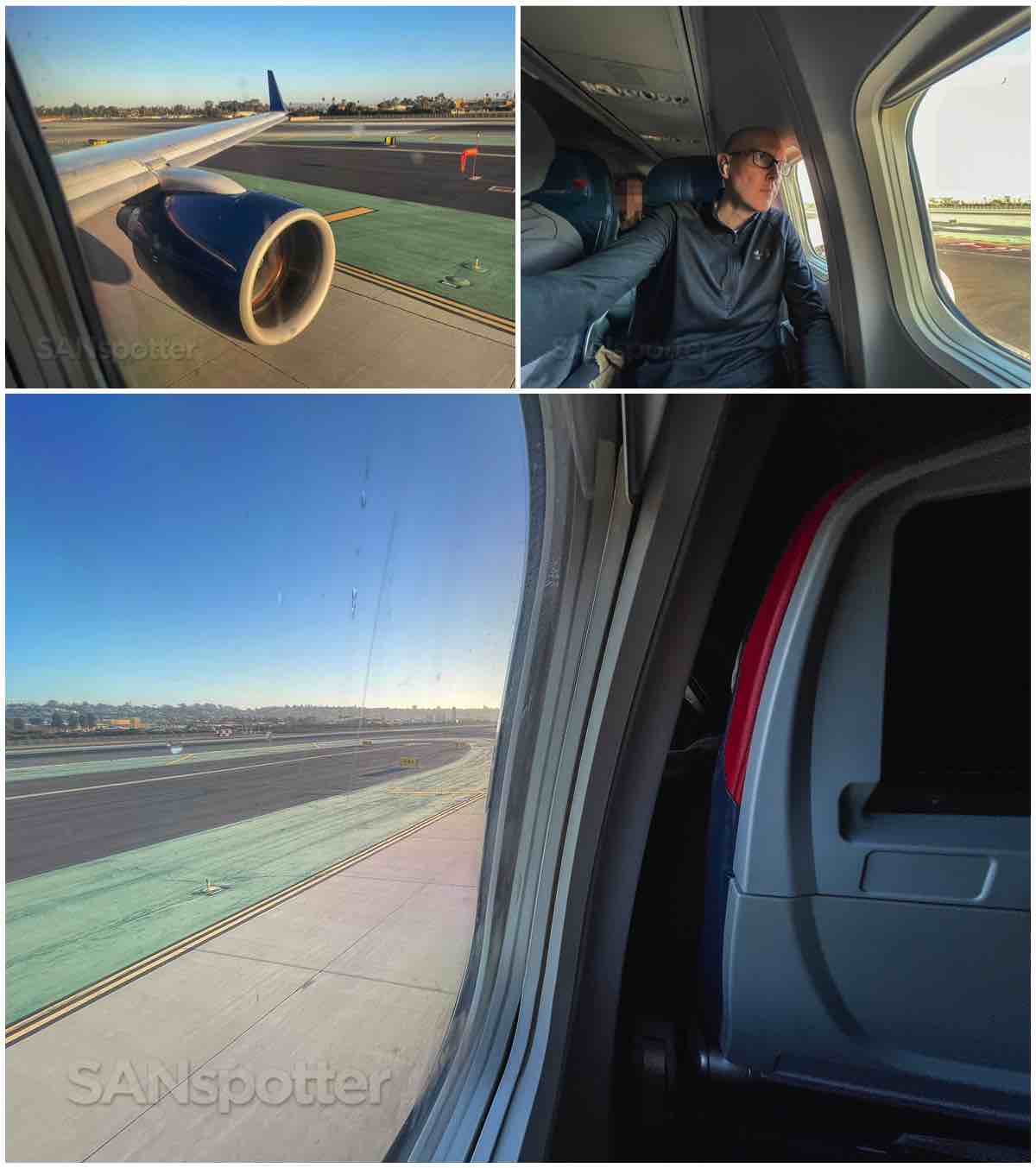 In-flight entertainment
Of course there are video screens at every seat. This is Delta, So why wouldn't there be? Just as you'll find on nearly any other Delta aircraft these days, the 757-300 Comfort Plus seats feature large video screens (crammed full of really good content).

The food
This is the part that really ticks me off about Comfort Plus. Delta advertises "premium snacks" as part of the Comfort Plus experience, but (in my opinion) they are anything but. The snack offerings on today's flight weren't even as good as what I was offered in JetBlue A321neo economy recently.
Complementary alcohol is a nice perk IMHO. Even though I didn't take advantage of it, I suppose that's all the reasoning some would need to pay extra for one of these seats.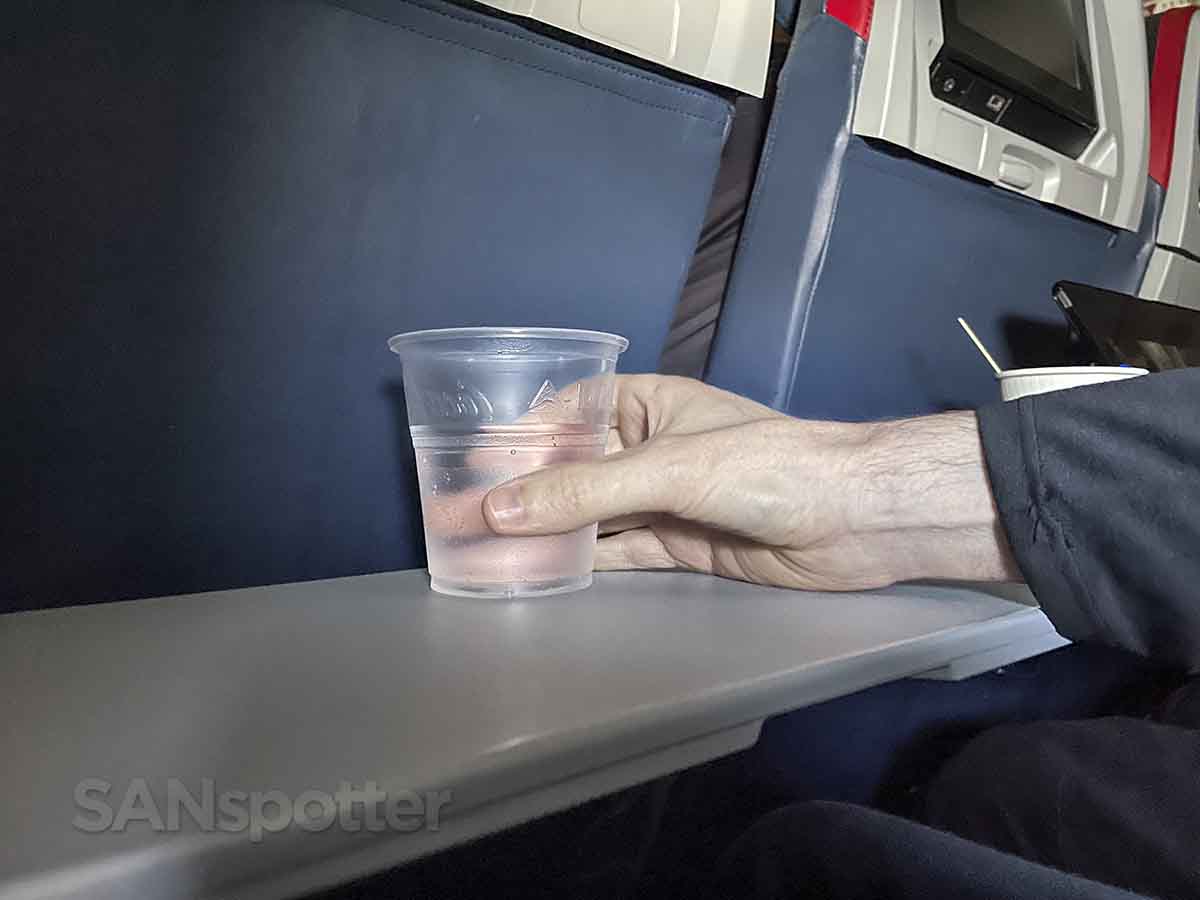 Seat comfort
If it wasn't for the extra legroom, this would've been a fairly miserable experience. Four hours on a 757-300 in economy class is rough enough, but being able to stretch out a bit does help to dull the pain. At least a little. Being able to cross my legs (without dislodging anything) was nice too.
As you might imagine, seat recline isn't any better than what you would get in basic economy class. At least that's what you should be imagining. Going into your next Comfort Plus flight thinking that the recline is going to be excellent would be foolish of you.
The descent (and arrival) into Atlanta
Remember what I said earlier about being shocked that we departed San Diego right on time? Well, I was even more shocked to realize that we were going to end up at ATL 23 minutes ahead of schedule. See? The Boeing 757 can do anything! #greatestairplaneever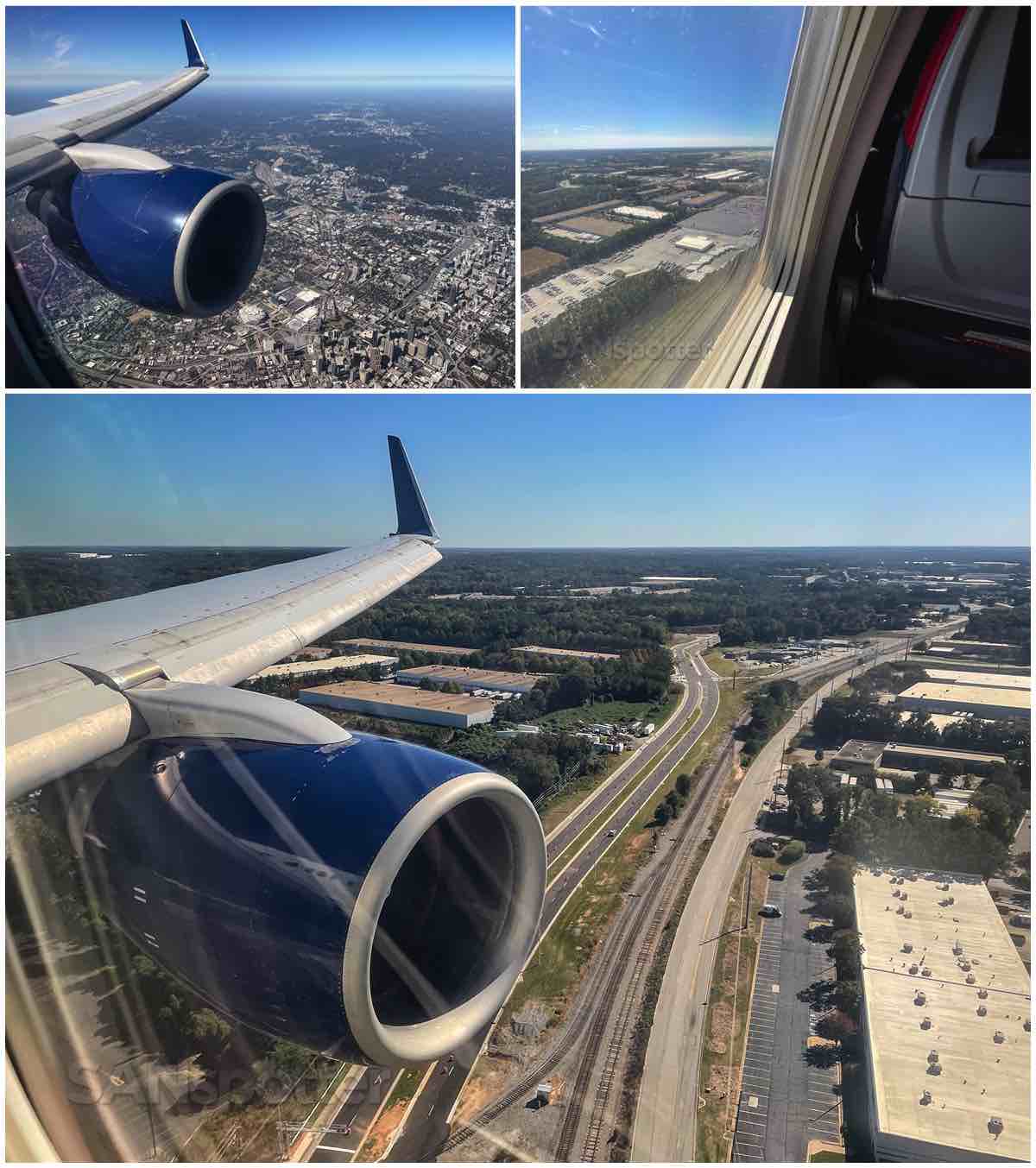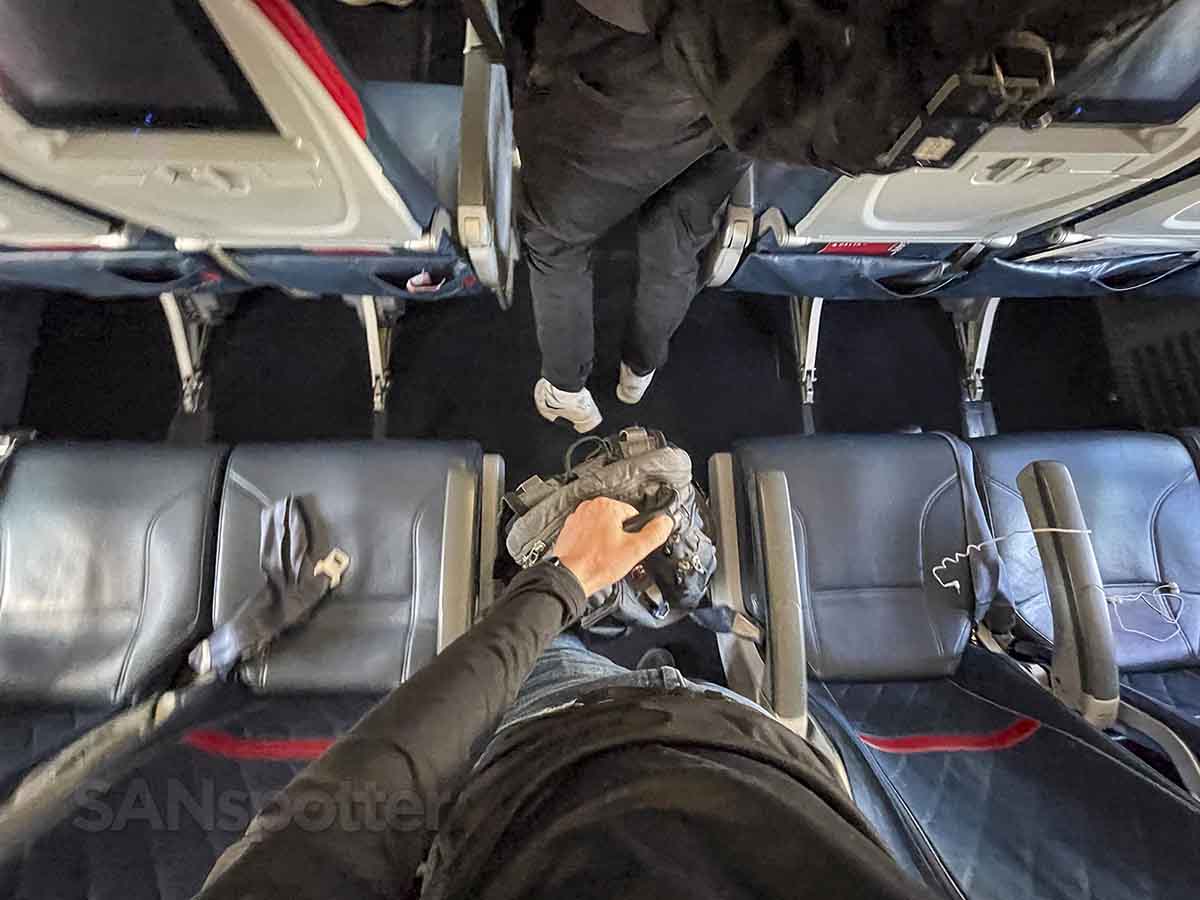 Pros and cons of the Delta 757-300 Comfort Plus experience
Honestly, there are only 2 reasons why you'd want to choose Comfort Plus over basic economy. The first is the extra legroom. The second is free alcohol (if you're into that sort of thing). The rest is meh.
Pros
The extra legroom is enough to make you completely forget about how hard (and narrow) the seat is.
Free alcohol. Drunkards rejoice!
Being seated near the front is especially nice on the 757-300 (the longest domestic aircraft in Delta's fleet).
Cons
The snacks they serve are barely any better than what you would get in regular economy class. Quantity is exactly the same.
Because of how narrow they are, the seats won't be beneficial to anyone who prefers width over added legroom.
Extras such as blankets, pillows, and noise canceling headphones are not provided on domestic flights. It's not that premium.