Note: this is an older review of an outdated business class product. Be sure to read my United 777-200 Polaris review to see what business class on the United 777-200 is like these days. It has greatly improved since this review was written!
---
As much as I loved being in Hong Kong, I was very much looking forward to my flights home to San Diego. As mentioned in the introduction to this trip report, I booked myself on an Air India 787 to Osaka, connecting to a United 787 to San Francisco. From there, it was going to be a United 737-800 to San Diego. I couldn't care less about the 737, but that Air India flight was the one I really wanted.
As you'll read below, it didn't quite work out that way. Instead, I was rebooked on a United 777-200 in BusinessFirst (business class) to Chicago. Dang it.
UA896
Hong Kong (HKG) – Chicago, IL (ORD)
Wednesday, September 23, 2015
Aircraft: 777-200
Seat: 10G (Business Class / BusinessFirst)
In true over-excited aviation geek form, I arrived at the airport way too early, but there was no way I was going to miss my first flight on Air India.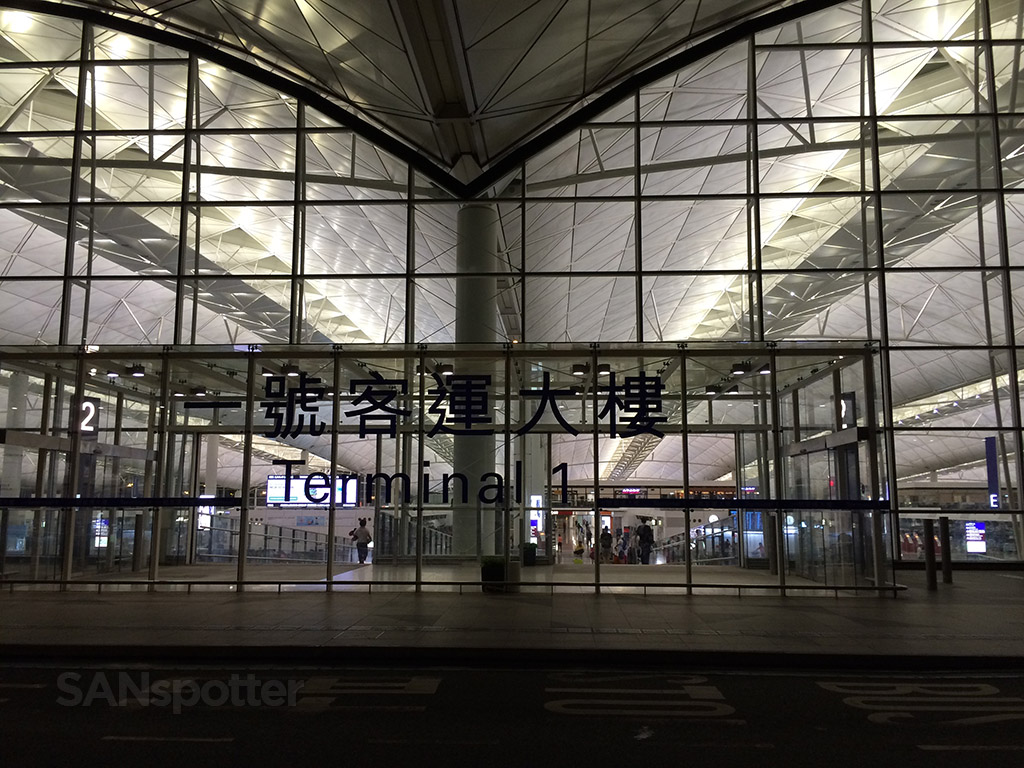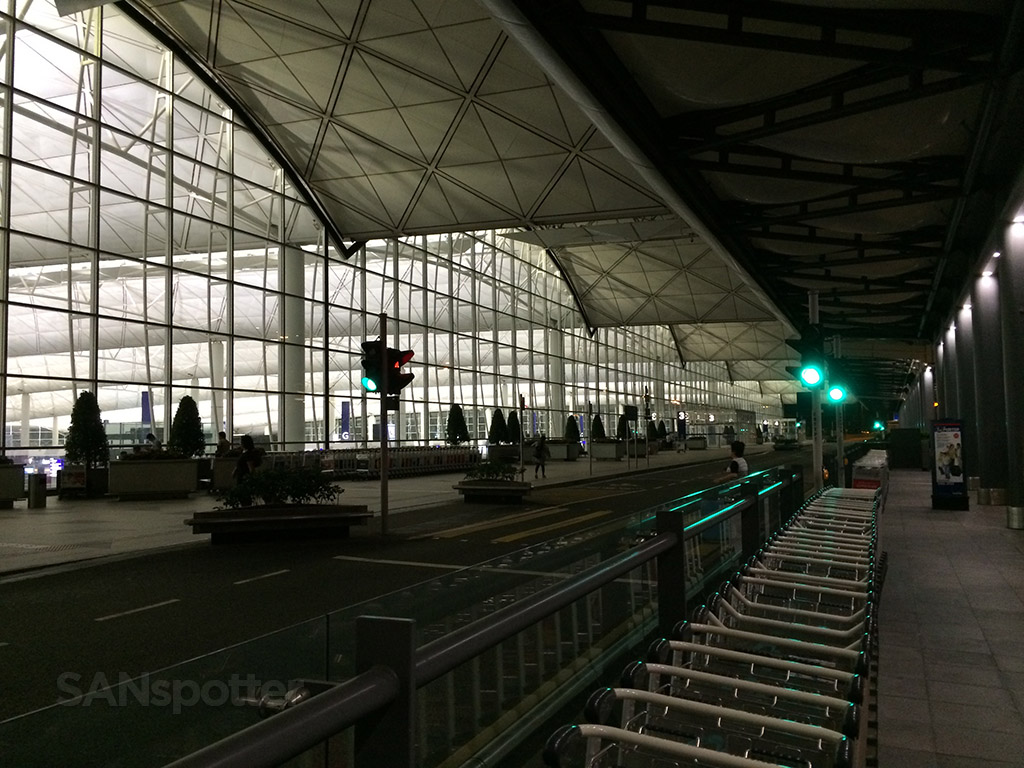 It was a long and boring wait for the ticket counter to open, but I killed time by walking back and forth for the entire length of the ticketing hall. On my third or forth trip across, I noticed that there were some other airlines with later flights that had already opened for check in. But not Air India. Not yet.
What was going on? It wasn't long after that when they posted a 3 hour delay for the flight. Damn! That would pretty much ruin my connection chances at KIX, but it didn't matter to me at that point. I wanted a ride on that Air India 787, and I didn't care about missed connections!
Despite the delay, the ticket counter opened and I got in line. And what a line it was. There were four agents checking passengers in, but for some reason they forced everyone to stand in a single file line that snaked through the ticketing hall. Weird, but oh well.
Then it got nuts. One of the Customer Service Representatives walked out into the queue and loudly proclaimed that the flight was massively oversold and they were desperately looking for passengers who could be rebooked on other flights. The crowd stirred and mobbed the man with questions, but I stood back, mute, trying not to be noticed. I wanted a ride on Air India dammit!
The orderly single file line was destroyed at that point, with everyone rushing the ticket agents and leaving me pretty much at the back of the pack now. Damn. I knew I would be standing in line for hours at that point, so all I could do was just laugh it off and deal with it.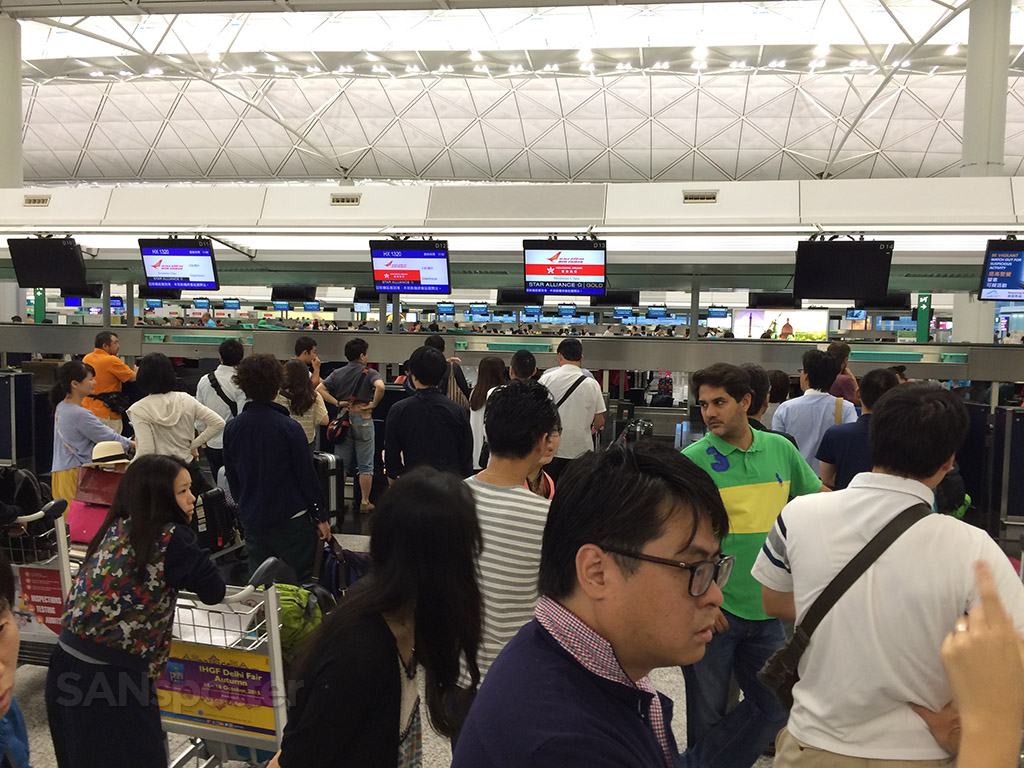 There was another man ahead of me in line looking just as frustrated, and we eventually started talking. He said that he flies Air India a lot and this chaos and confusion is nothing new to him. We had a good laugh about it, and it was cool to chat with him for a while about airline stuff while we waited.
We ended up being the last two customers in line – he got on the flight, but I didn't. The ticket agent took my passport, typed a few things into the computer, then handed it back to me and told me to go over to the United Airlines desk since the ticket was booked through UA. Seriously? I'm not going to get my first ride on Air India today? What a letdown.
I trudged over to the UA customer support desk and explained my situation to the agent. She got to work right away, typing a lot of stuff into the computer and making a handful of phone calls. She actually had to call Air India at one point, and I felt bad because I could see her getting frustrated with them. She was a genuine trooper though – holding firm trying to get me the best seat possible for my ride home.
After about 30 minutes of work, she offered me an economy class seat on United to San Francisco (I think it was SFO – not sure), or BusinessFirst through Chicago. Gulp. Chicago connecting to San Diego? I took the business class seat, and thanked her profusely for working so hard for me. She was so kind – and I wish I had a gift to give to her in appreciation for the time she spent trying to fix my reservation. She worked hard to get me that business class seat!
It had been one heck of a morning so far (arrived at the airport way too early + I lost my chance at that Air India 787), and I still had over 20 hours of flying ahead of me. Oh well – that's the way things go sometimes.
After a brief stop at the United Club, I wandered down to the main floor of the terminal to gate 69 – the departure gate for the flight to Chicago.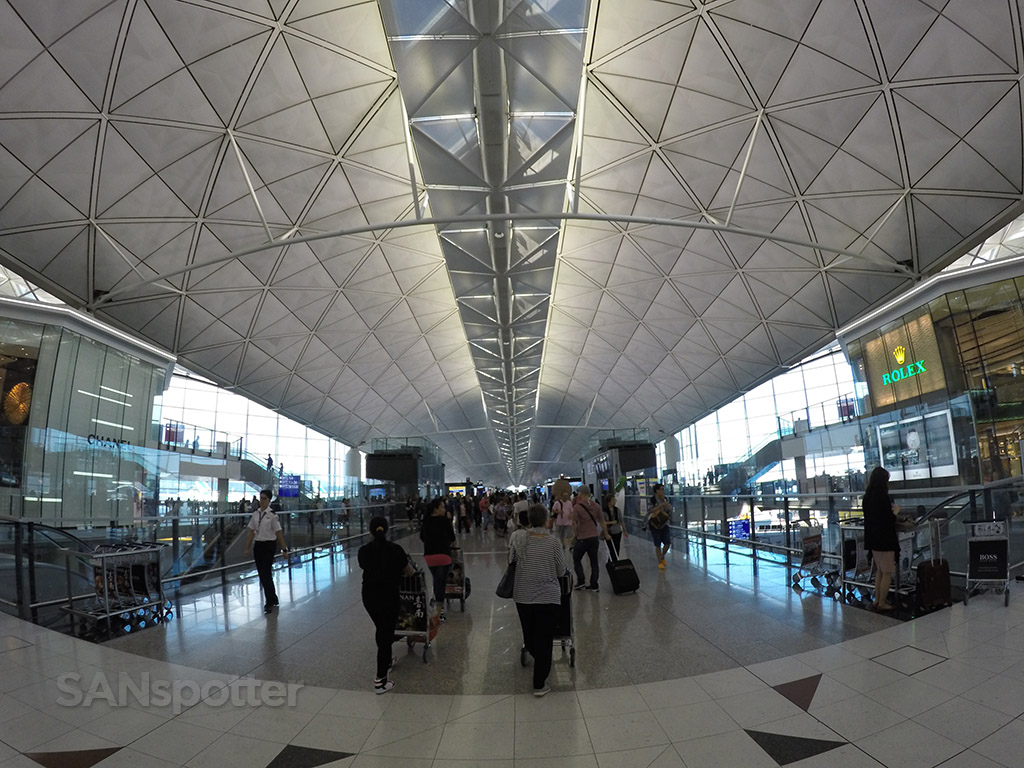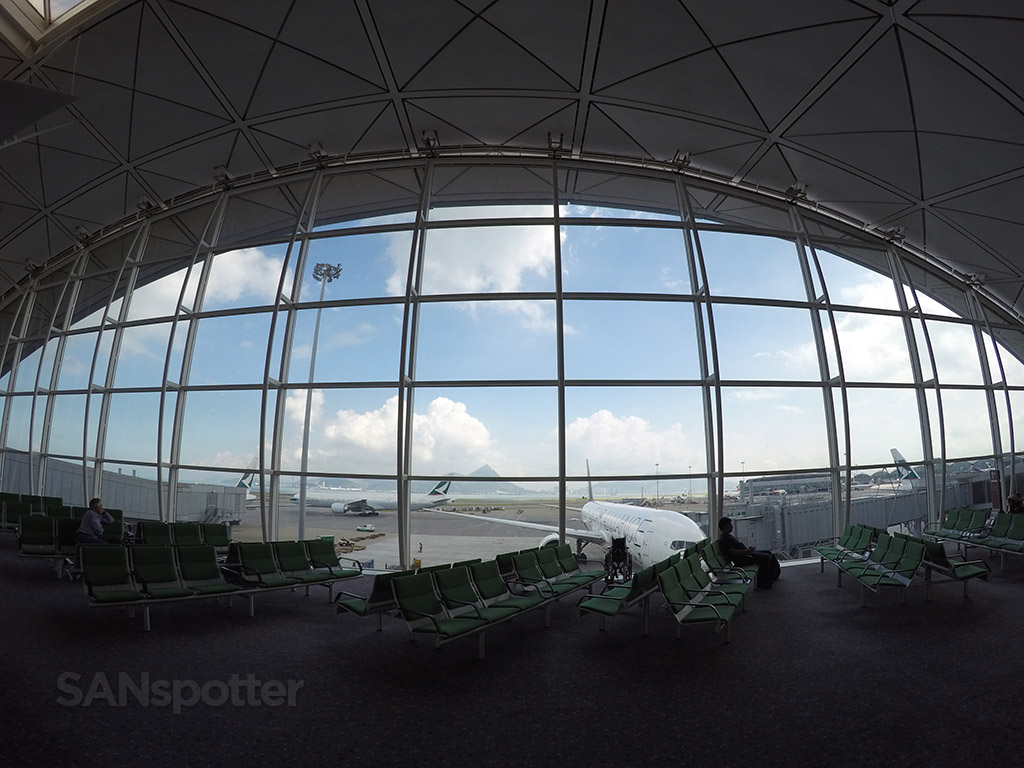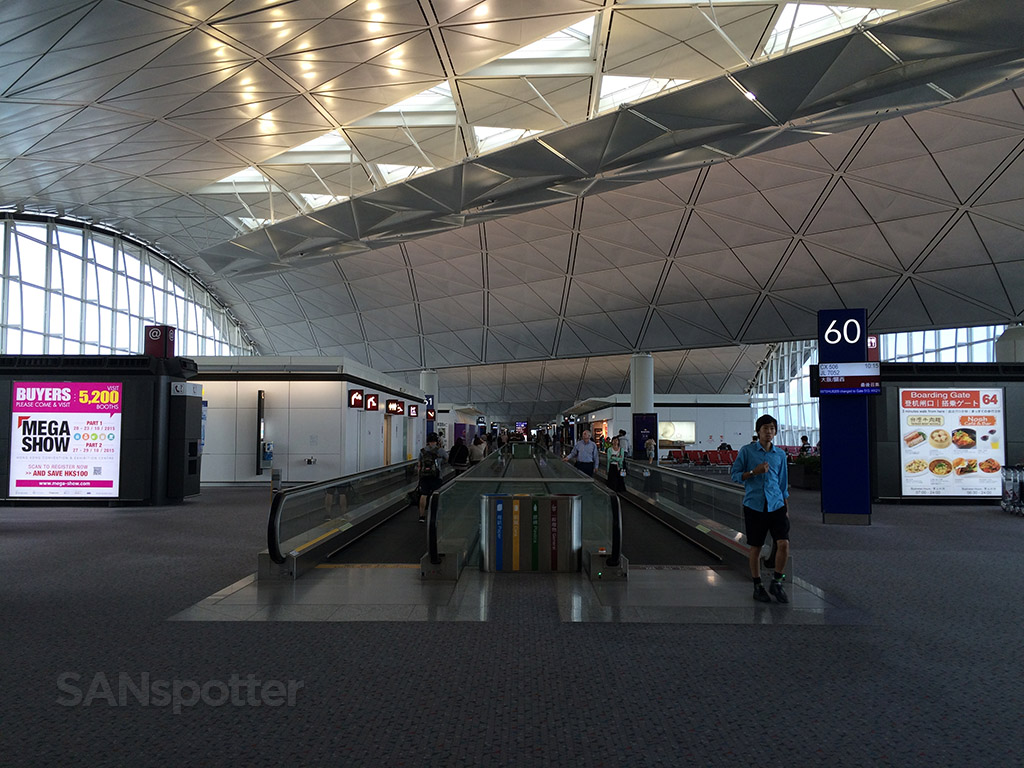 I still had about 30 minutes to kill before boarding, so I took the opportunity to record a time-lapse video of the 777 getting prepped for the 15 hour flight:
This would be my first experience with United Airlines BusinessFirst, so I was really anxious to give it a try. I've heard mixed reviews about it, but based on what I've seen on other flights, it didn't look so bad. Because of that, I wasted no time in gathering my belongings and boarding the aircraft when the time came. I've flown Chicago to Hong Kong (and return) in United Airlines economy class before and it was downright painful – and getting to experience it in business class was making me feel pretty good as I stepped onto that 777-200.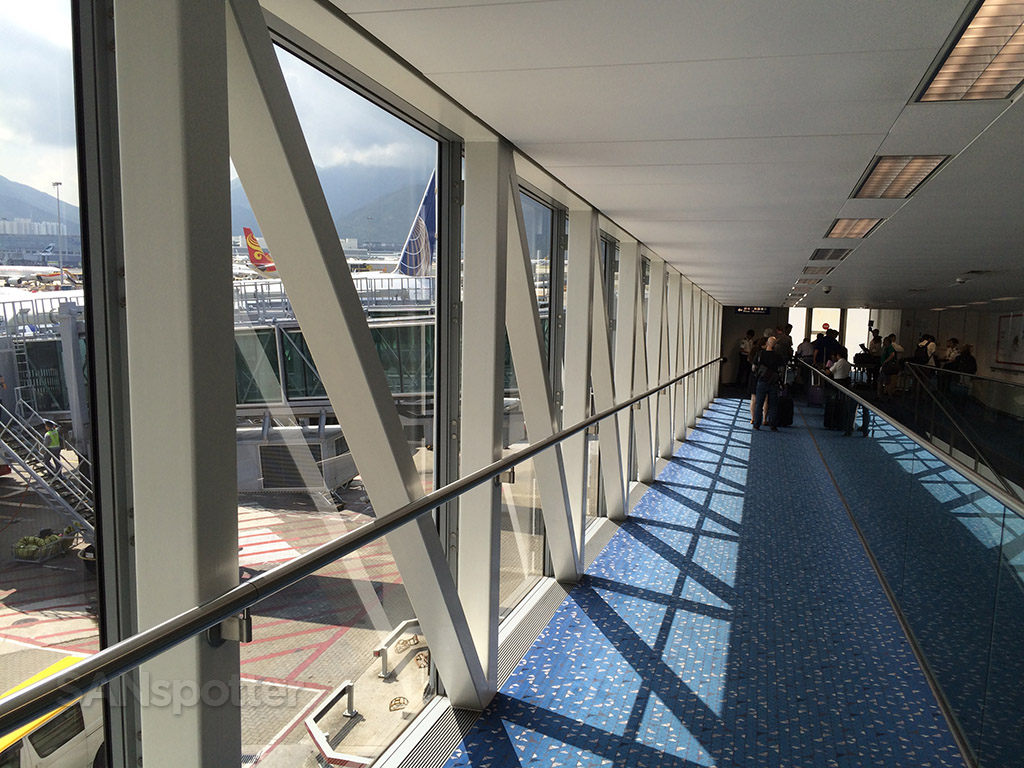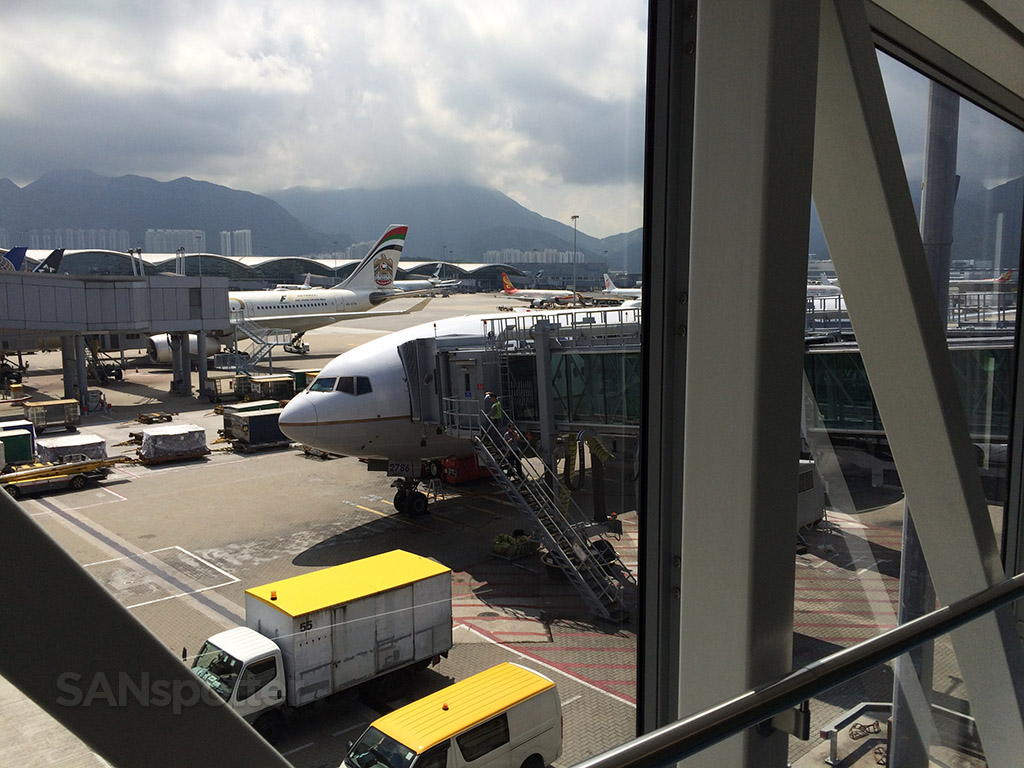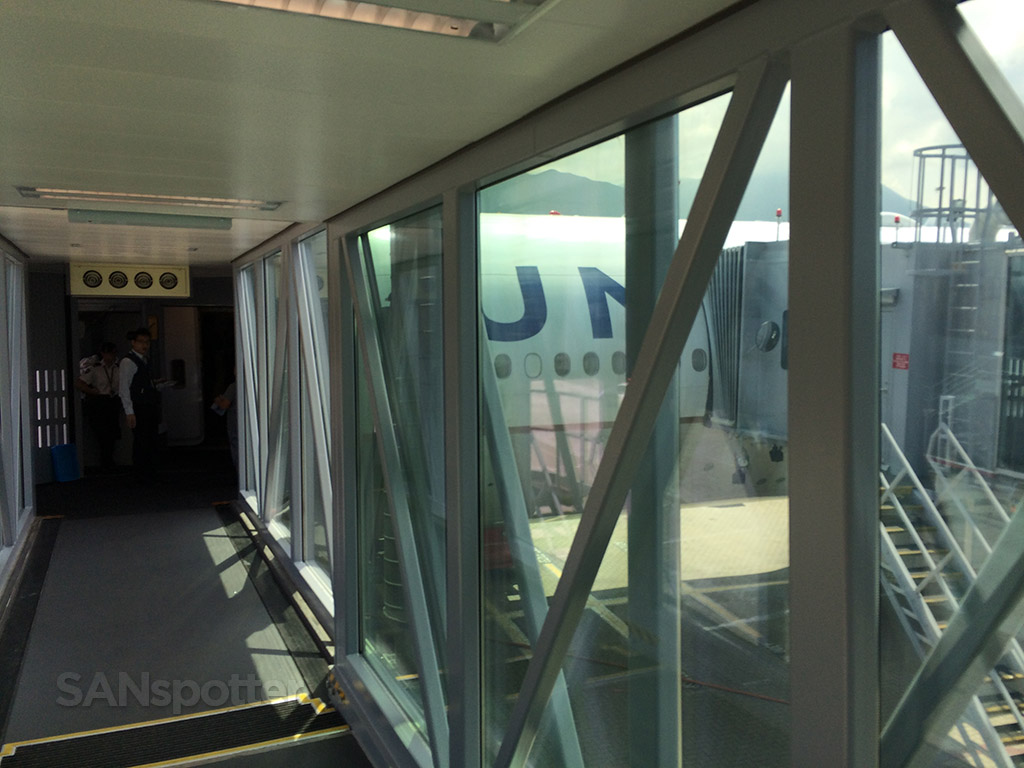 To cut right to the chase, my initial reaction when seeing my seat (10G) was: "really?". It looked like a glorified economy class seat, especially the way the cabin was arranged. BusinessFirst is a 2-4-2 layout on the 777, which is awfully economy-class like. That means there ARE middle seats, and I had one of them.
It looked like a middle seat, and it sure felt like one. This is a very tight layout, and United succeeded magnificently in cramming as many of these seats as they could onto that cabin. This tight layout also results in minimal storage space – there aren't many places to store personal items such as tablets and phones.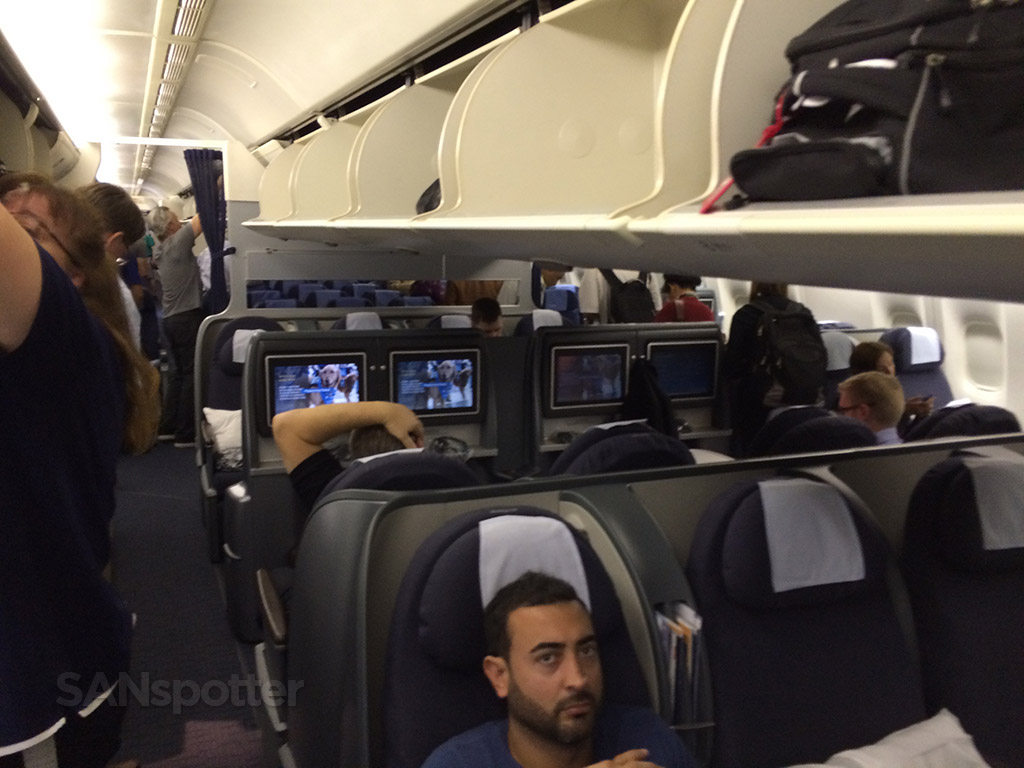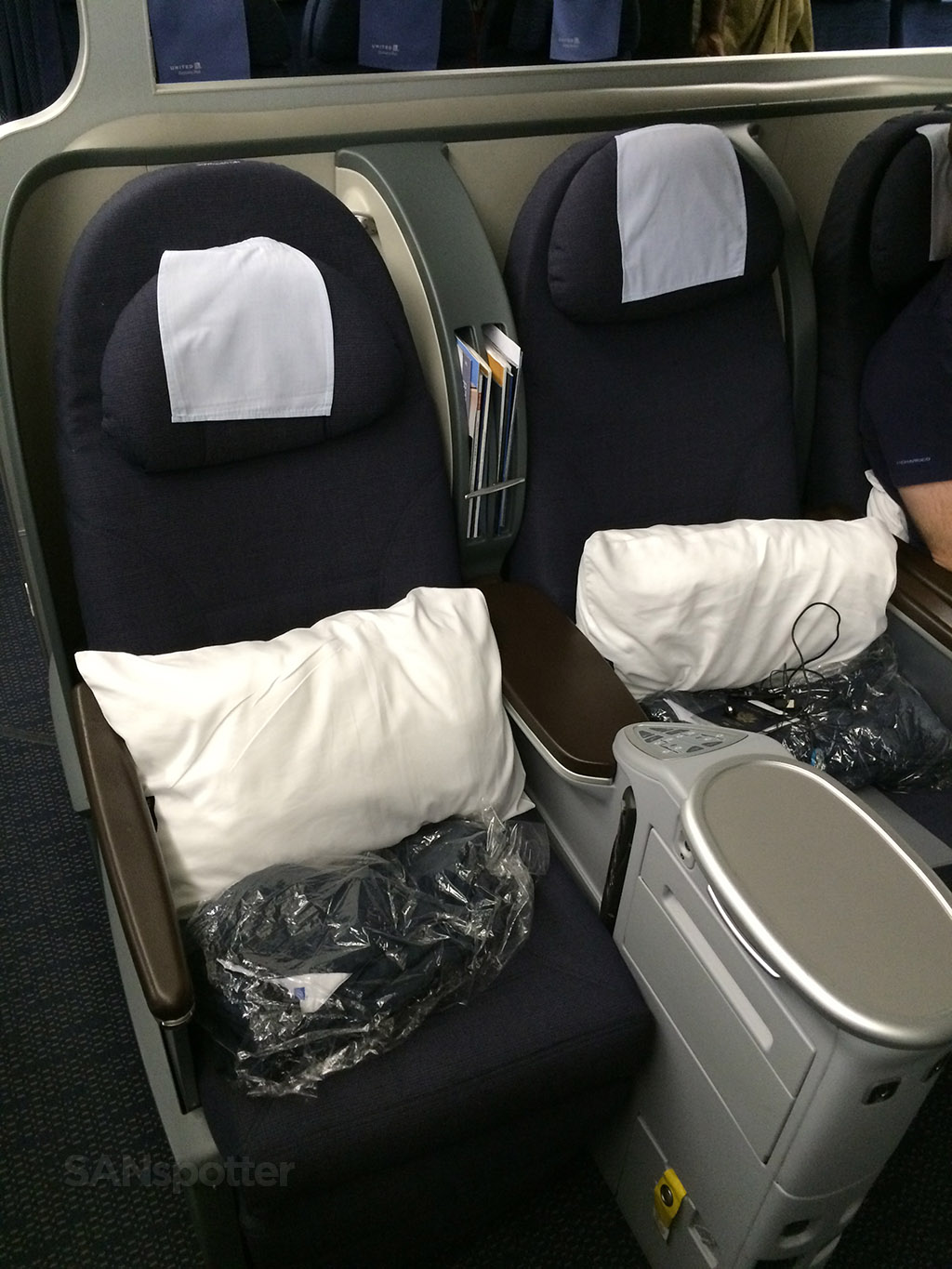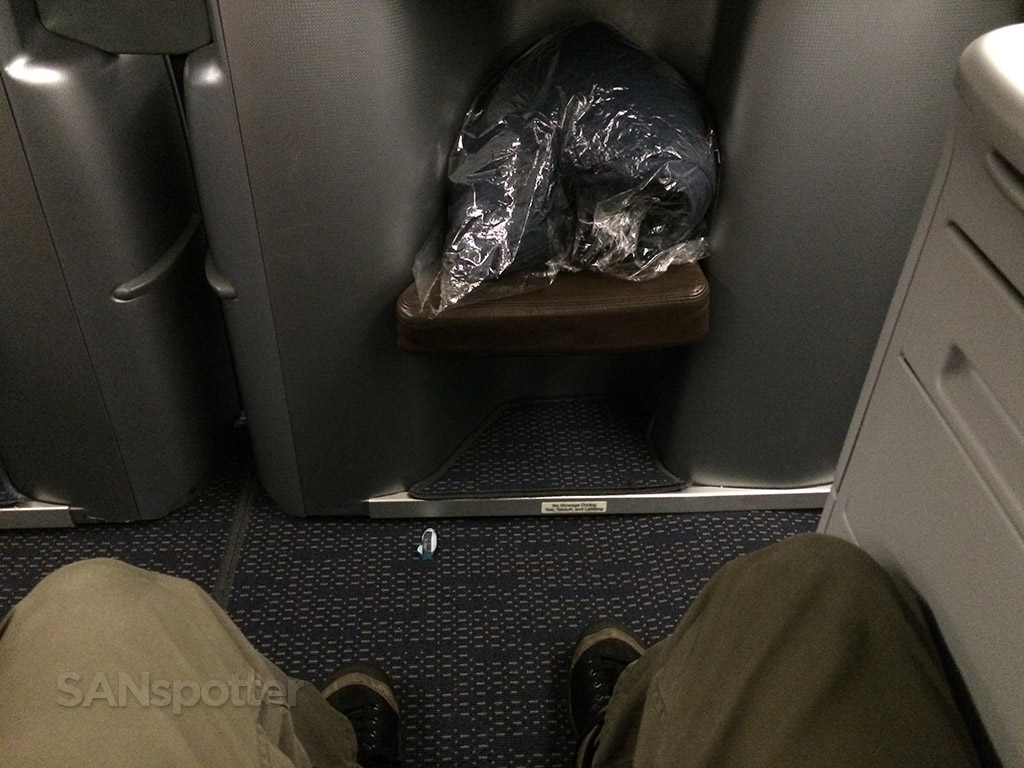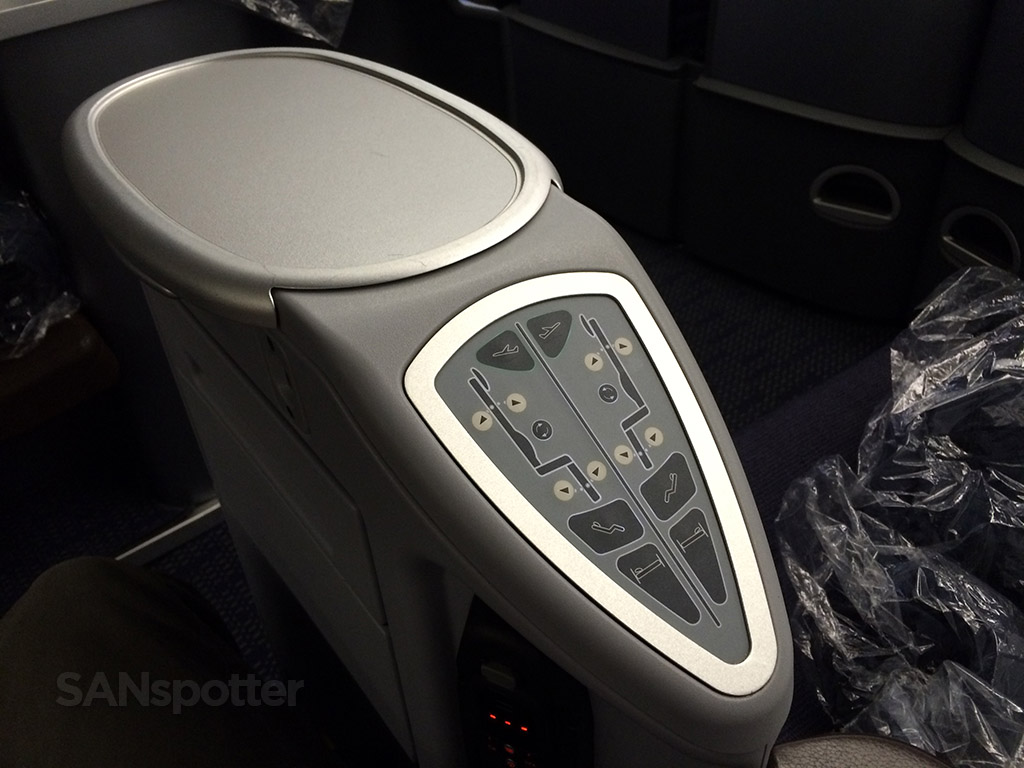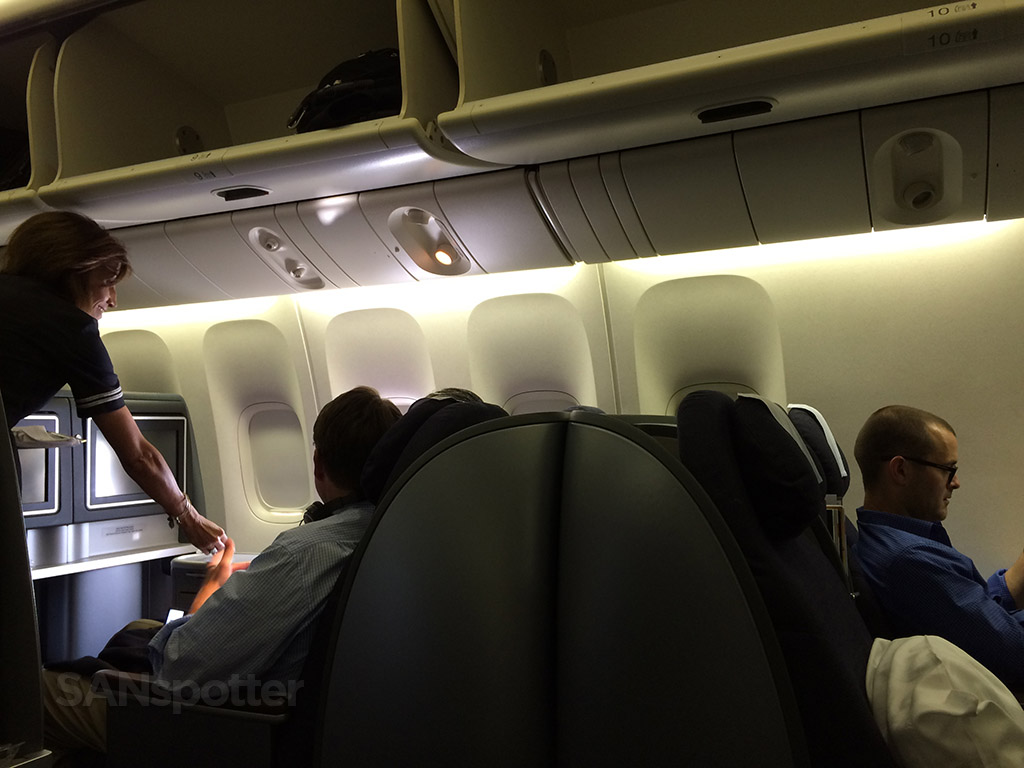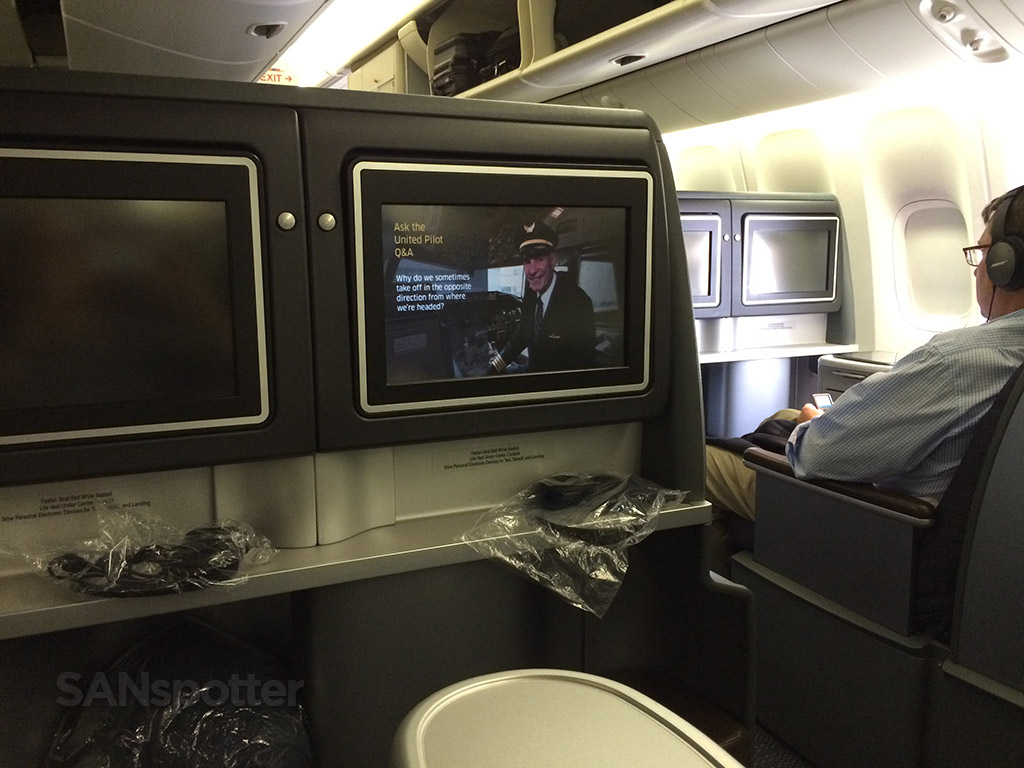 On the plus side, these are fully lie-flat seats with tons of leg room (if you aren't really tall, that is). Although a bit narrow, they are comfortable with a wide variety of adjustments sure to make anyone happy – it didn't take long for me to get situated and feeling cozy. And that's a good thing, considering the 15 hours of flying time ahead of us…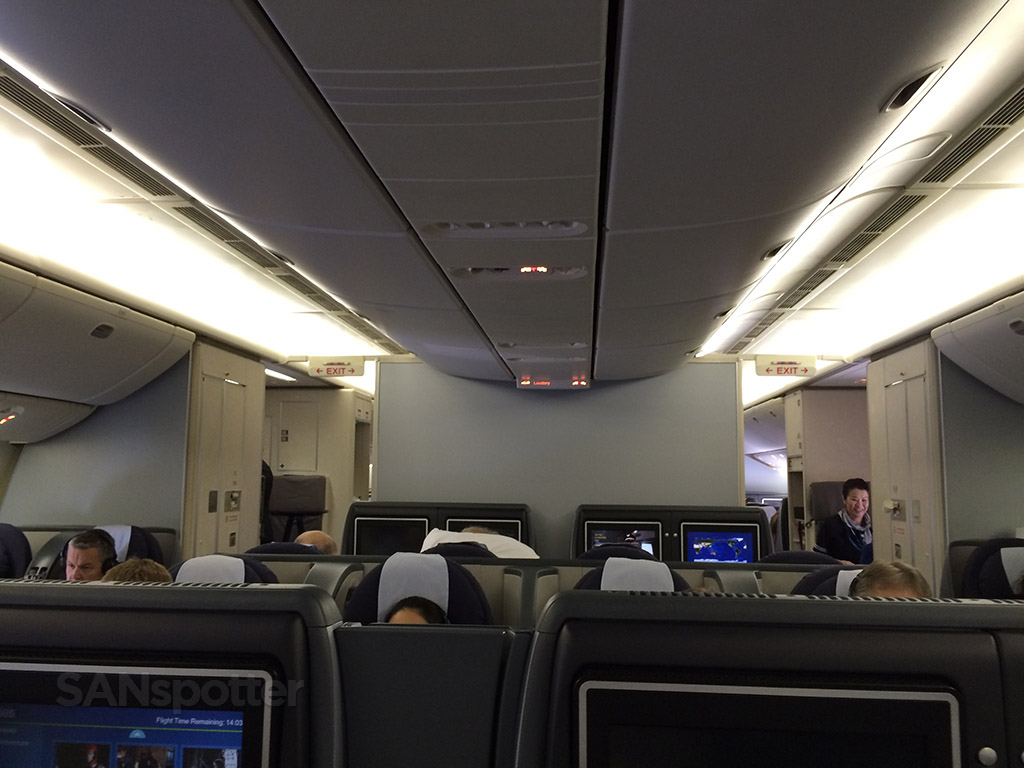 Being wedged into a middle seat far away from any window, I couldn't tell which runway we departed on – but I do know that we didn't have to wait in line for very long, which was nice considering how long this flight was scheduled to be.
Hot towels, menus, and US customs forms were distributed shortly after take off, and the lack of storage space meant having to fumble with these things as I tried to get organized. I should mention that the hot towels weren't hot. Lukewarm was more like it, but still refreshing nonetheless.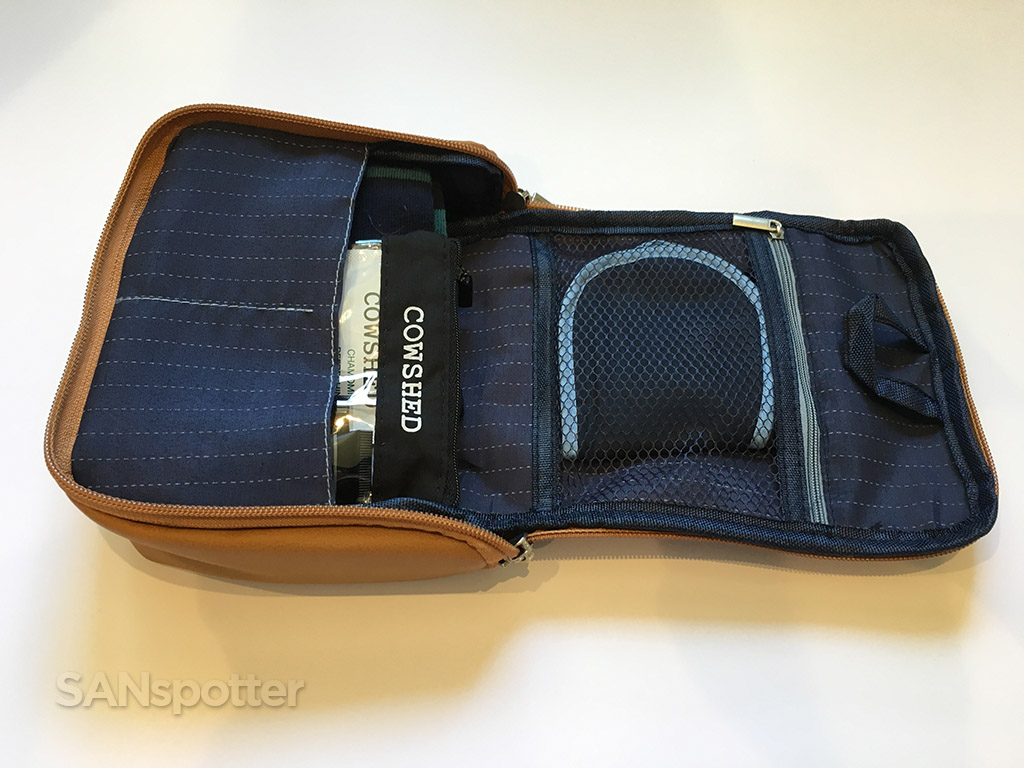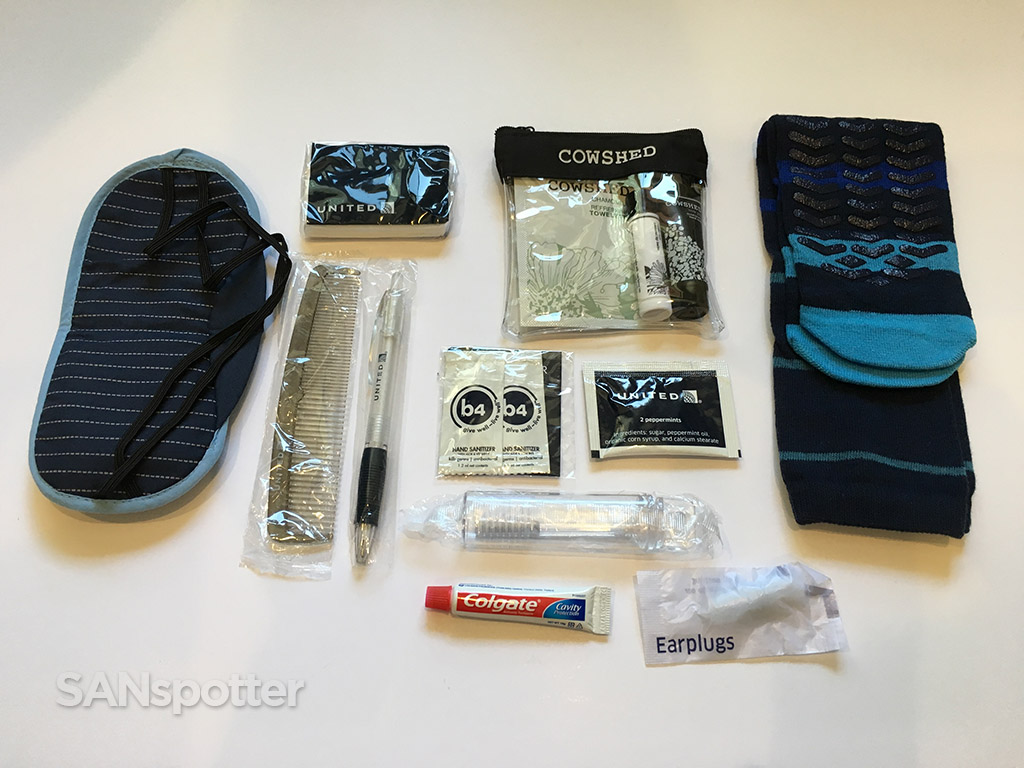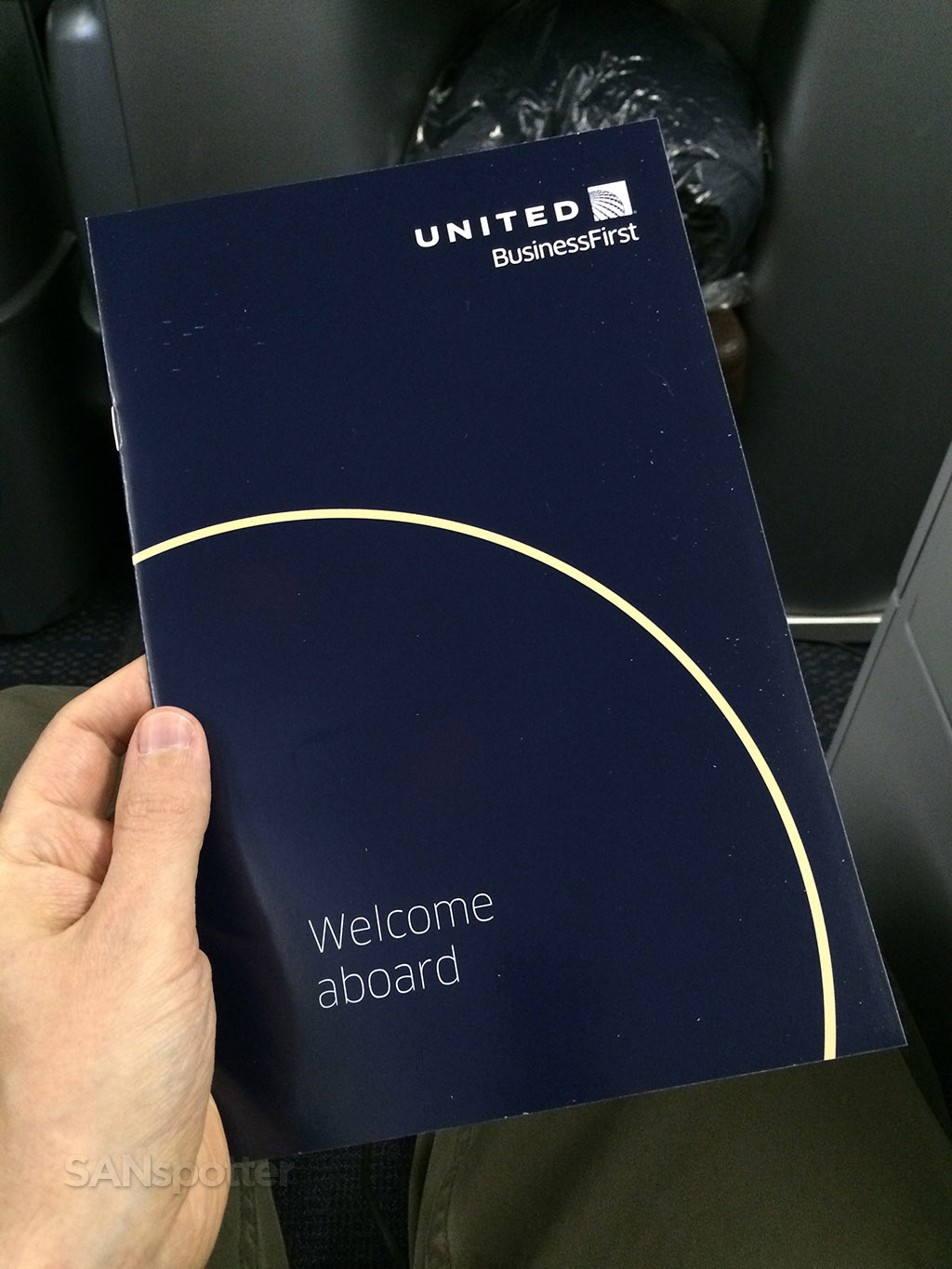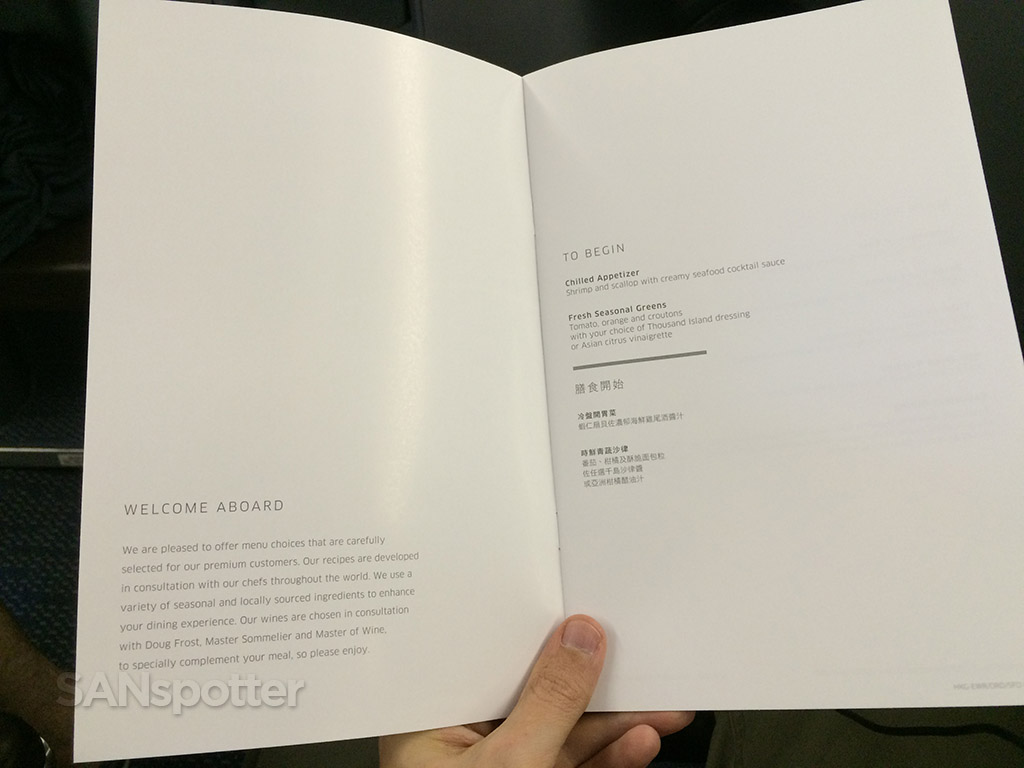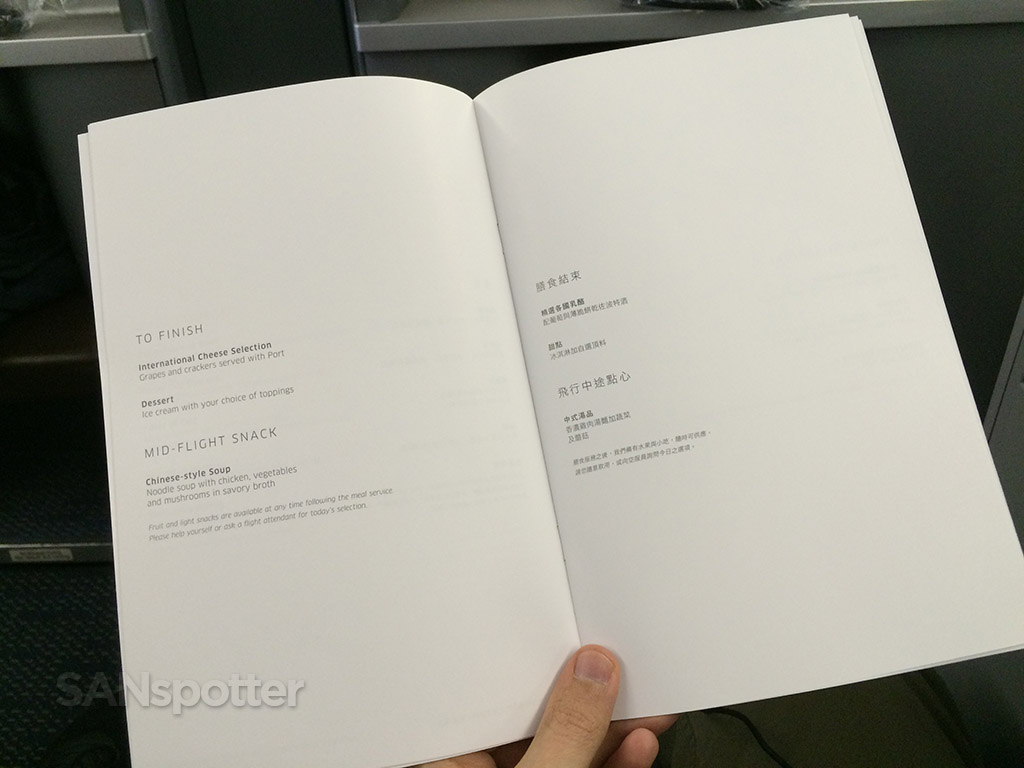 I watched episodes of Big Bang Theory (a series I discovered on my British Airways Club World flight from LHR to SAN in 2013) while enjoying the warm nuts and a glass of water. The lunch service began shortly after that.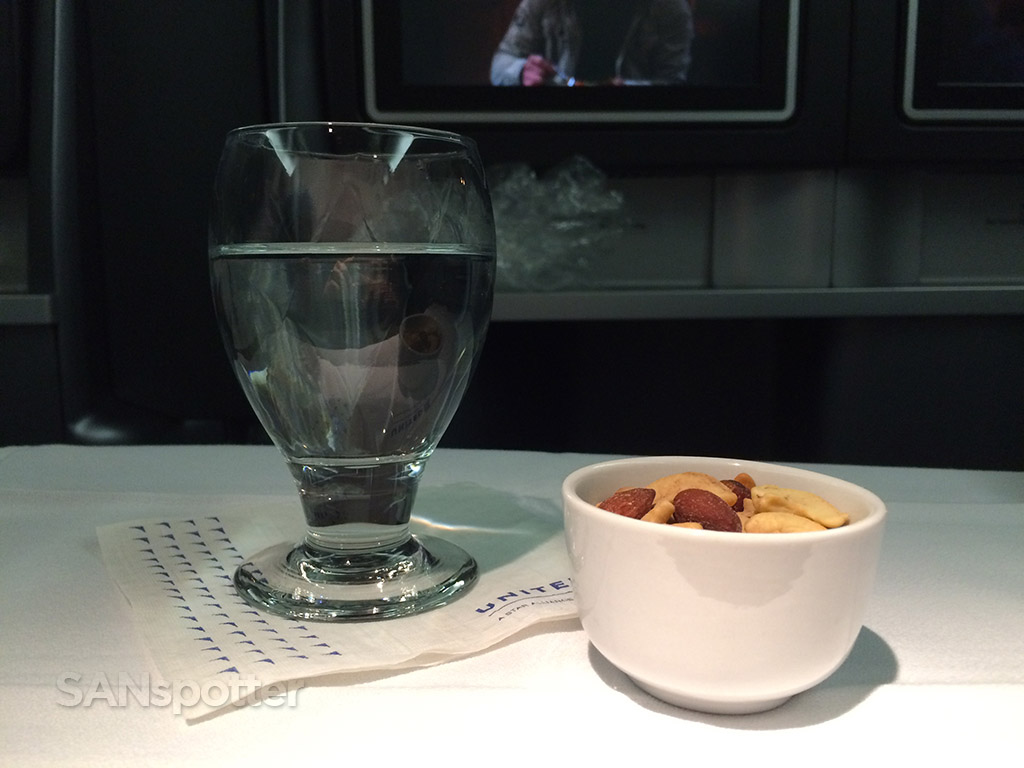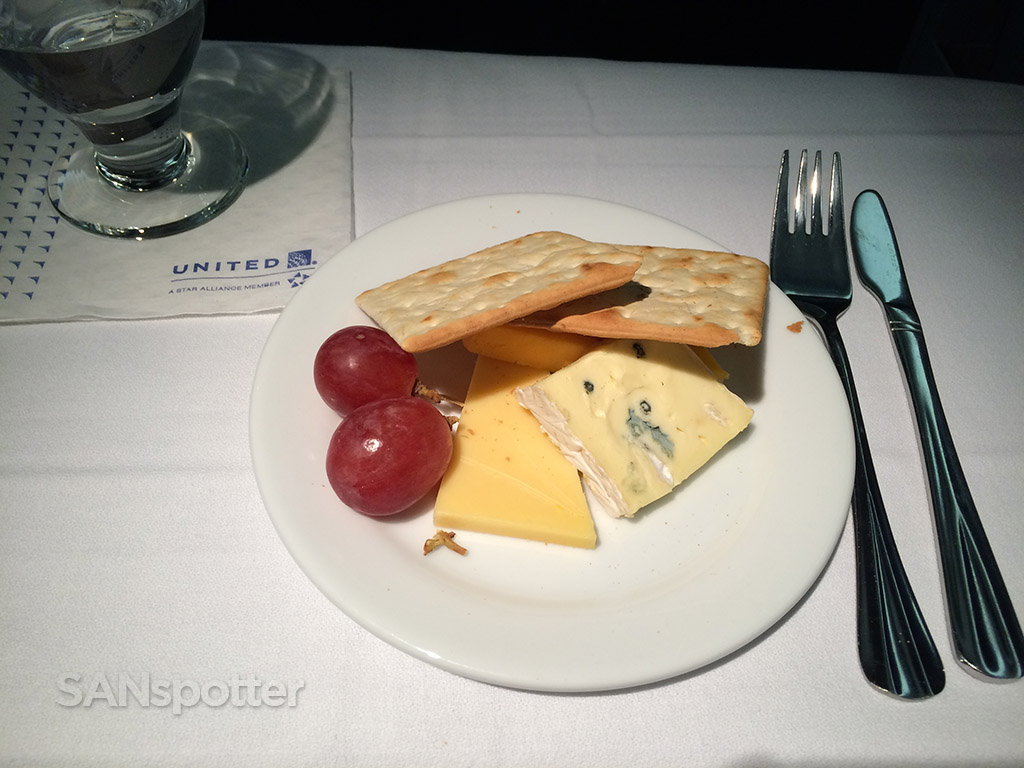 In addition to the cheese plate, I was offered an ice cream sundae. I had to decline though – I was thougrougly stuffed, and ice cream was the last thing on my mind at that point. It was a good meal, I was satisfied, and now…it was time for sleep. I didn't sleep well at all while in Hong Kong, and my body was starting to feel it. With still over 12 hours of flying time left, I figured it to be a perfect opportunity to catch up on all that lost sleep from the last few days.
And sleep I did. I slept like a rock, waking up with only a tick over two hours left before reaching Chicago. I'm pretty sure that was a new in-flight sleeping record for me. I don't think I've ever slept 10 hours on an airplane before! And it was good sleep too – I couldn't believe my eyes when I woke up and saw how much ground we had covered while I was asleep.
Breakfast was served with about 1 hour and 30 minutes of flying time left, and I went with the tried-and-true United Airlines omelet. If there's one thing about that omelet that I like, it's the fact that's it's consistent. It tastes the same every time I have it (no matter if it's economy class or first class), so I know what to expect going in. A little bit of comfortable familiarity is good sometimes, right?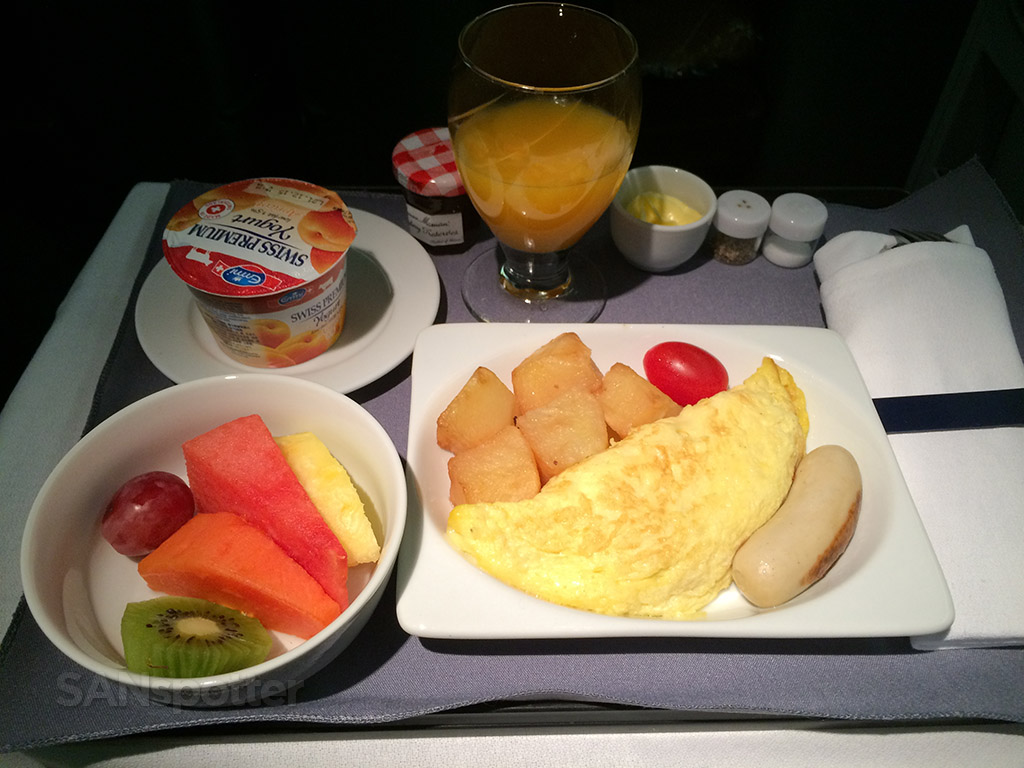 We dropped into Chicago on a beautiful and clear fall afternoon, and it actually felt pretty good to be back at O'hare again.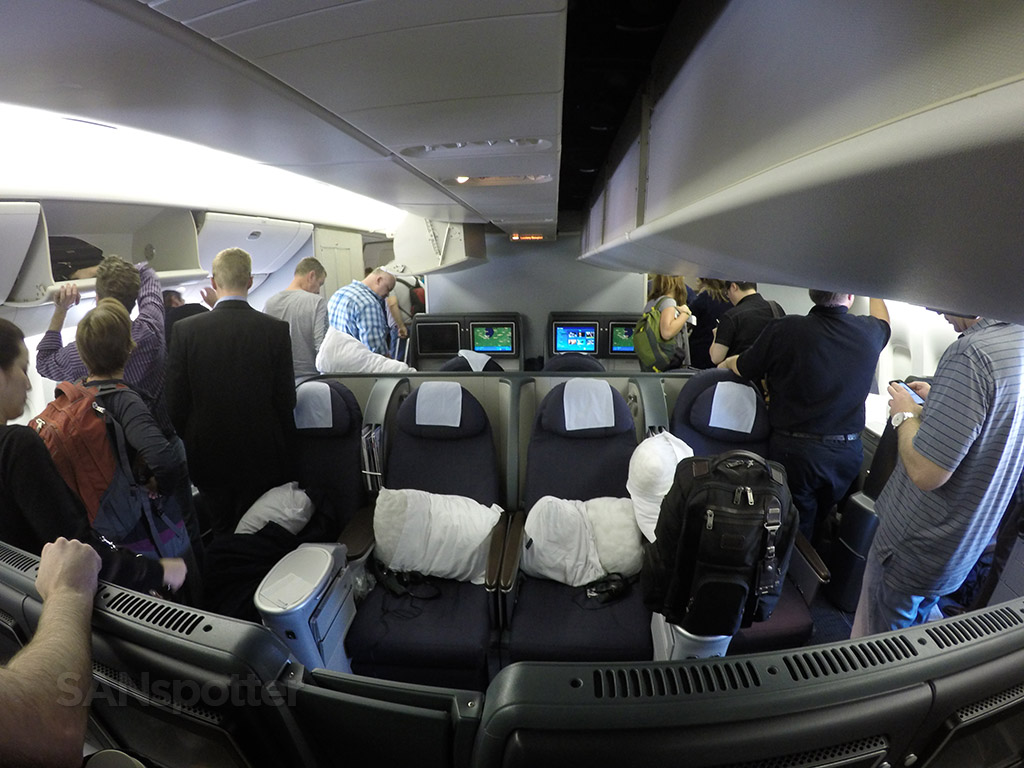 It had been a while, and ORD was the heart of my stomping grounds back in my aviation photography days in the early 2000's. I've spent countless hours there walking the terminals here taking pics in a former life, so it was good to get reunited, if at least for a few hours.
So that was my first experience with United Airlines BusinessFirst. It was ok. The seat was comfortable (proven by my 10+ hours of uninterrupted sleep), but the cabin felt so tight and cramped. And those middle seats. Middle seats in a business class cabin? If you can't deal with that, then UA BusinessFirst might be a premium product you want to avoid.