I've never told anyone this, but I've got a very detailed / top secret wishlist of airline reviews that I haven't done yet. Some of what is on this list (such as this Singapore Airlines business class review) makes total sense, and I can imagine you nodding your head in agreement with me as I tell you it's one that I've been dying to write.
Some of the others would likely make you think less of me (more than you already do), and therefore, the list is going to remain secret for the foreseeable future. Sorry. Normally I don't care what others think of me but it's kind of awkward seeing people snicker and laugh at me whenever I walk into an airport.
Anyway, I finally got the opportunity to try Singapore Airlines 787 business class in January, and, well…it was everything I hoped it would be.
SQ851
Guangzhou, China (CAN) – Singapore (SIN)
Saturday, January 25, 2020
Aircraft: 787-10
Registration: 9V-SCH
Duration: 3 hours 38 minutes
Seat: 19A (business class)
My Singapore Airlines business class review video
I know. I'm starting to fall out of sync again when it comes to posting my videos and corresponding written reviews here on the blog at the same time. I'd be thrilled if I could manage to do it on the same day – but considering how long both the videos and blog posts take to put together, it's a miracle that I can get them posted within 4 weeks of each other.
Anyway, I posted the video for this Singapore Airlines business class review almost three weeks ago, and it was honestly the most fun I've had making a video in a while. Not only was I getting the opportunity to fly Singapore Airlines for the first time, but doing it in business class was the icing on the cake. Singapore Airlines regional business class is quite good!
All music for this video (as well as all my other videos) was sourced from Epidemic Sound. Not only do they have one of the largest YouTube-friendly collections of music anywhere, there's lots of new stuff added every week. It wasn't difficult finding just the right music for every section of this video.
Full transcript of my video review of this Singapore Airlines 787 regional business class experience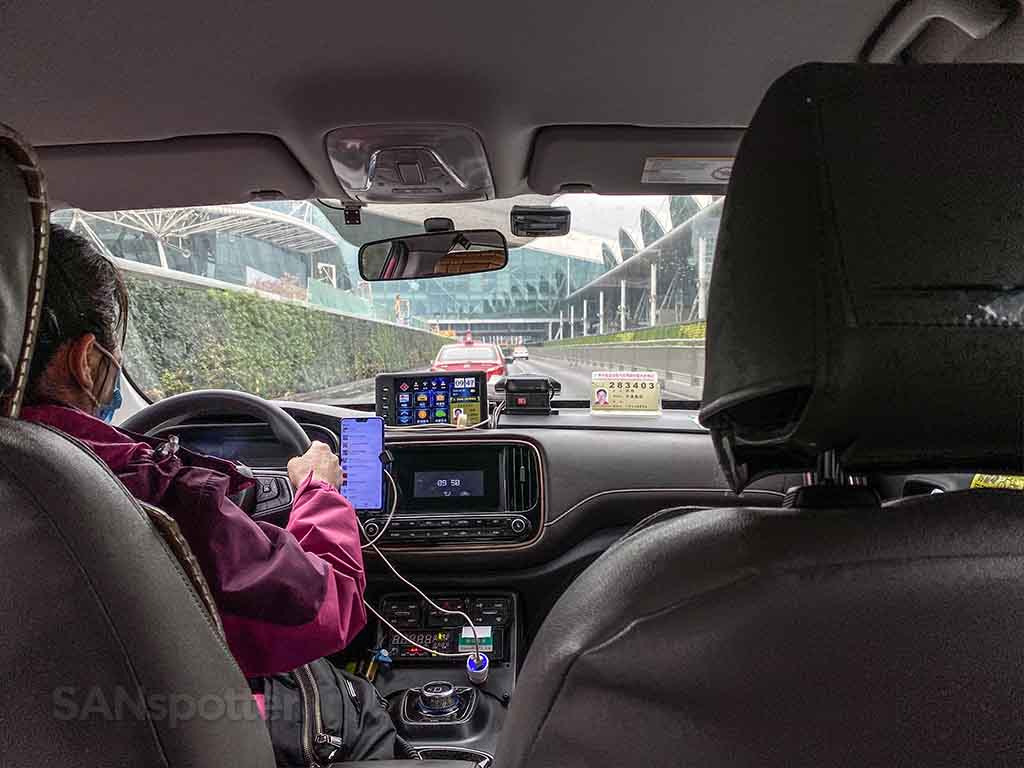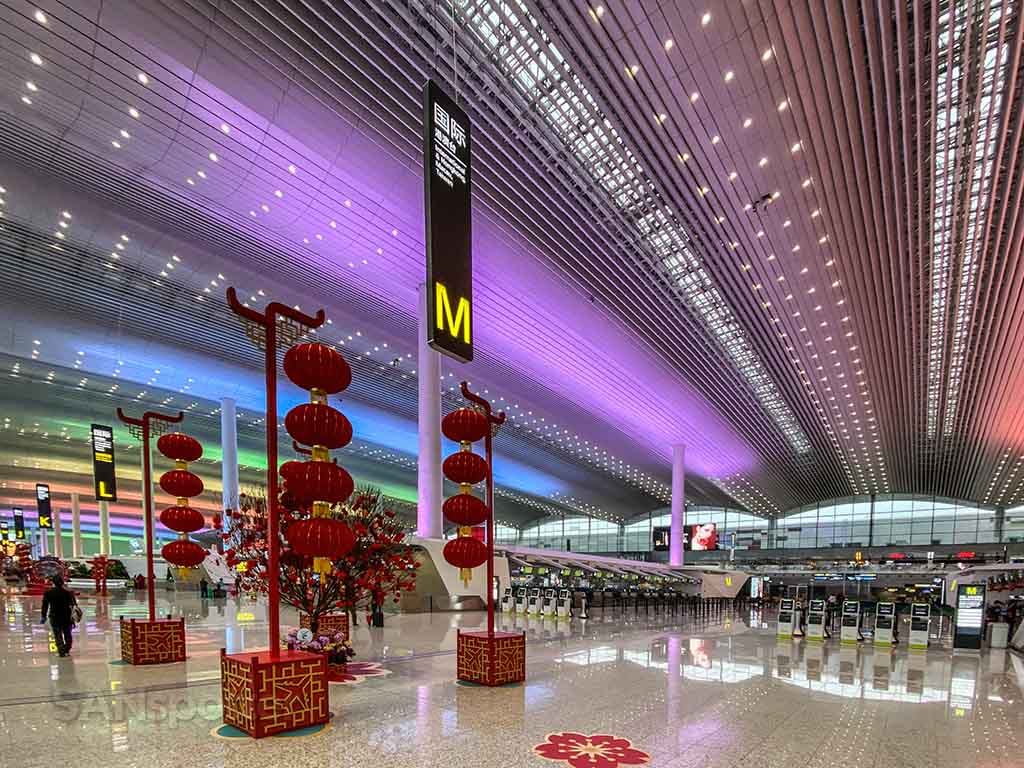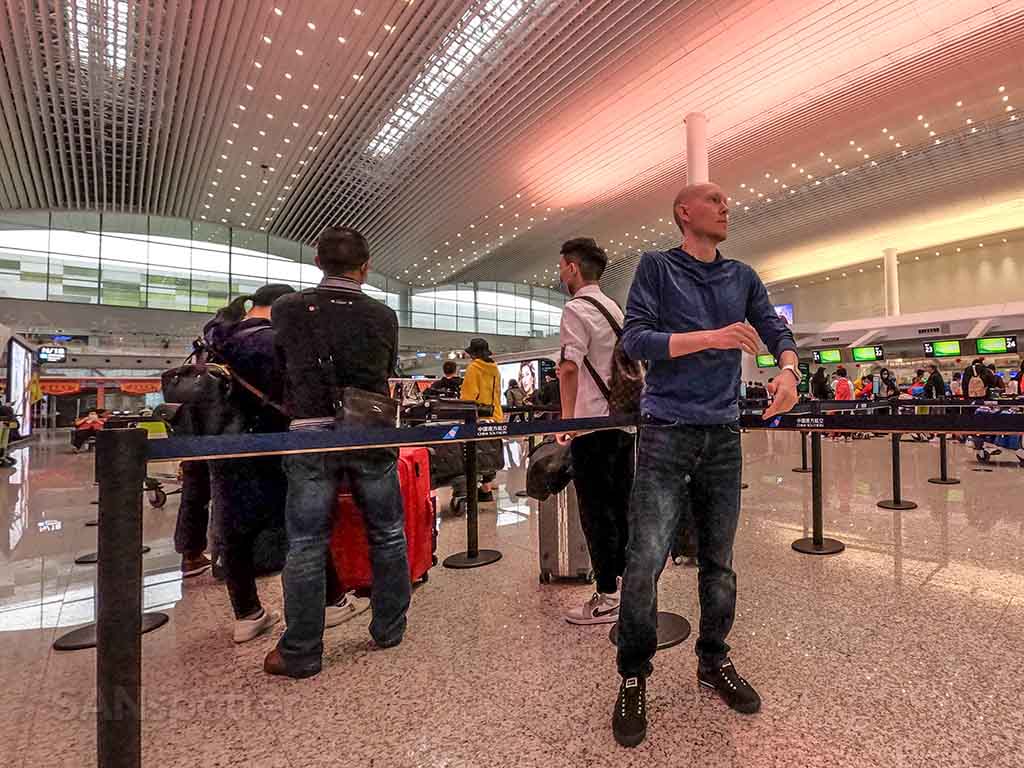 Lounge access for Singapore Airlines passengers at Guangzhou airport
How I access airport lounges
Get lounge access with Priority Pass – save up to 10%
Access to over 1300 airport lounges around the world, regardless of airline flown or class of ticket.
Complimentary snacks, drinks, and meals.
Digital entry for instant access through the dedicated Priority Pass app.
Check it out!
Note: I may earn a commission if you make a purchase, at no additional cost to you.
What is the Guangzhou airport terminal like?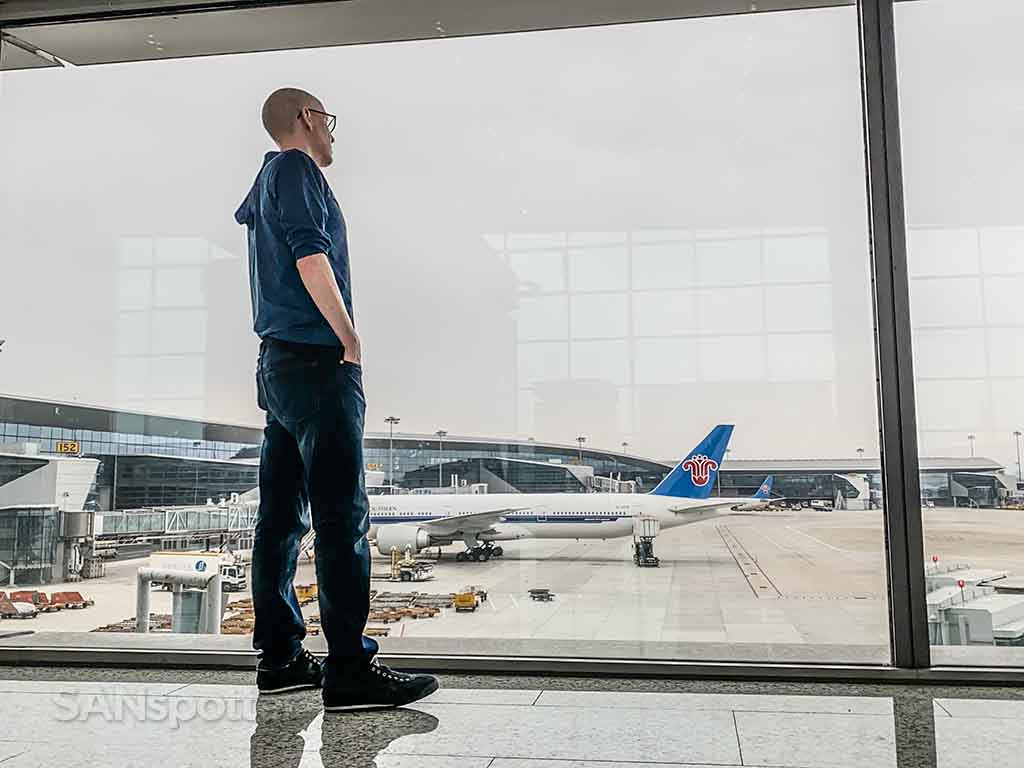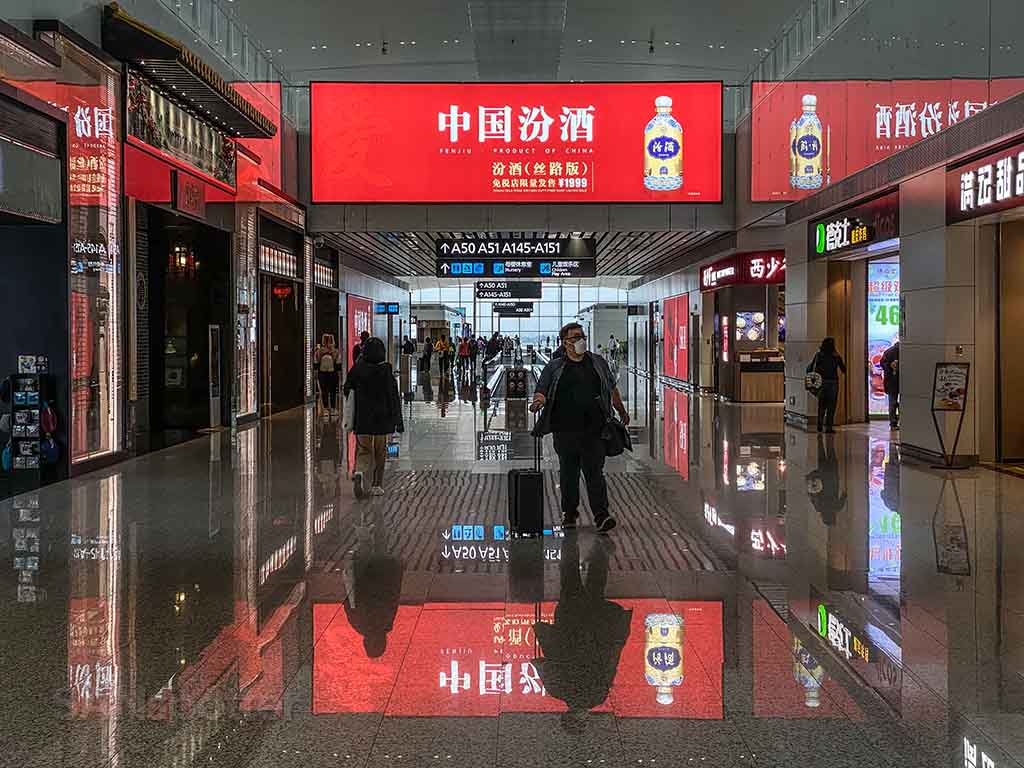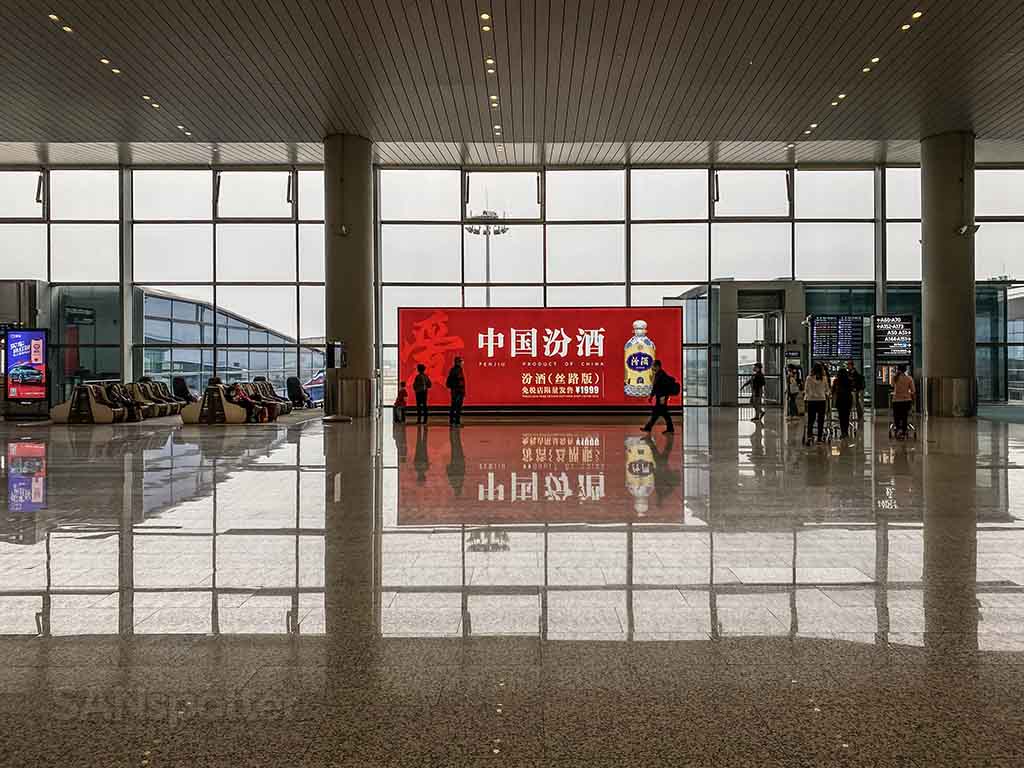 The boarding process
Boarding for this 4 and a half hour flight down to Singapore started about 10 minutes early, which totally caught me off guard because nearly half the plane was already onboard by the time I arrived back at the gate. I guess I'm not the only one feeling just a little bit anxious to flee the country today.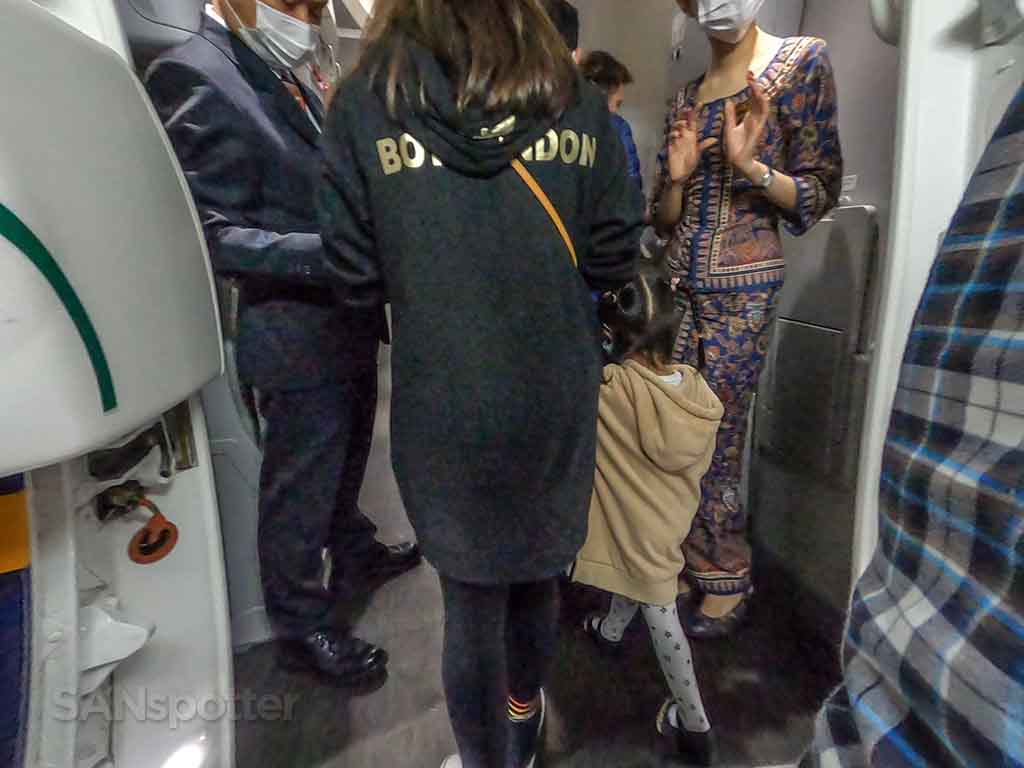 Singapore Airlines regional business class: first impressions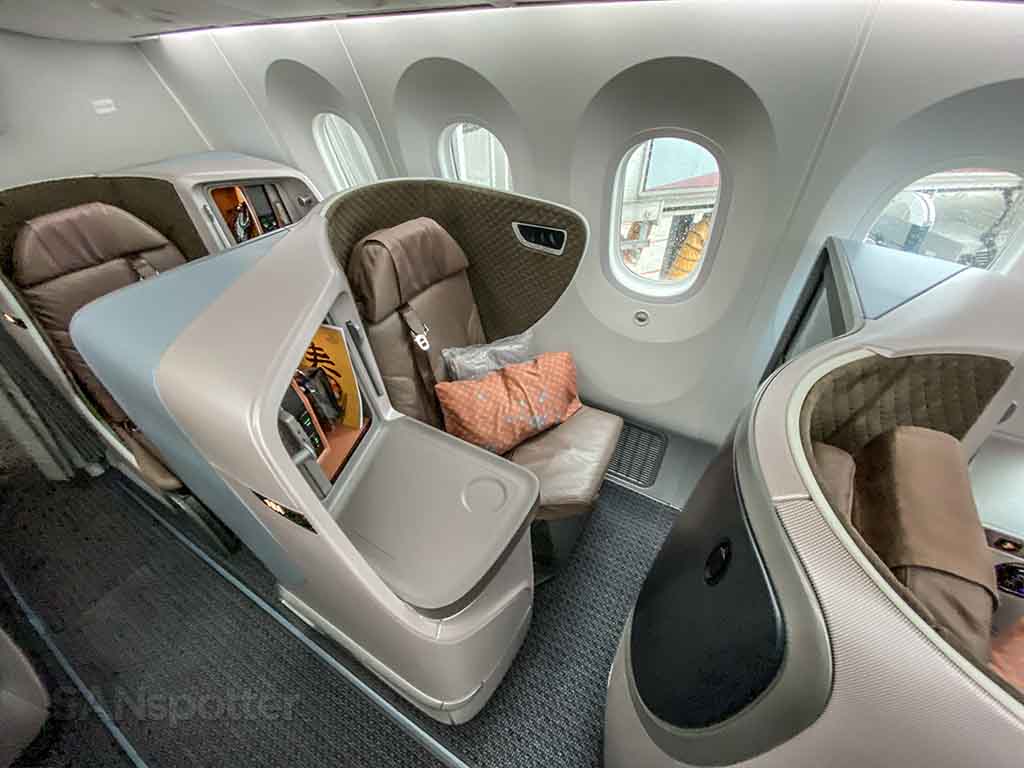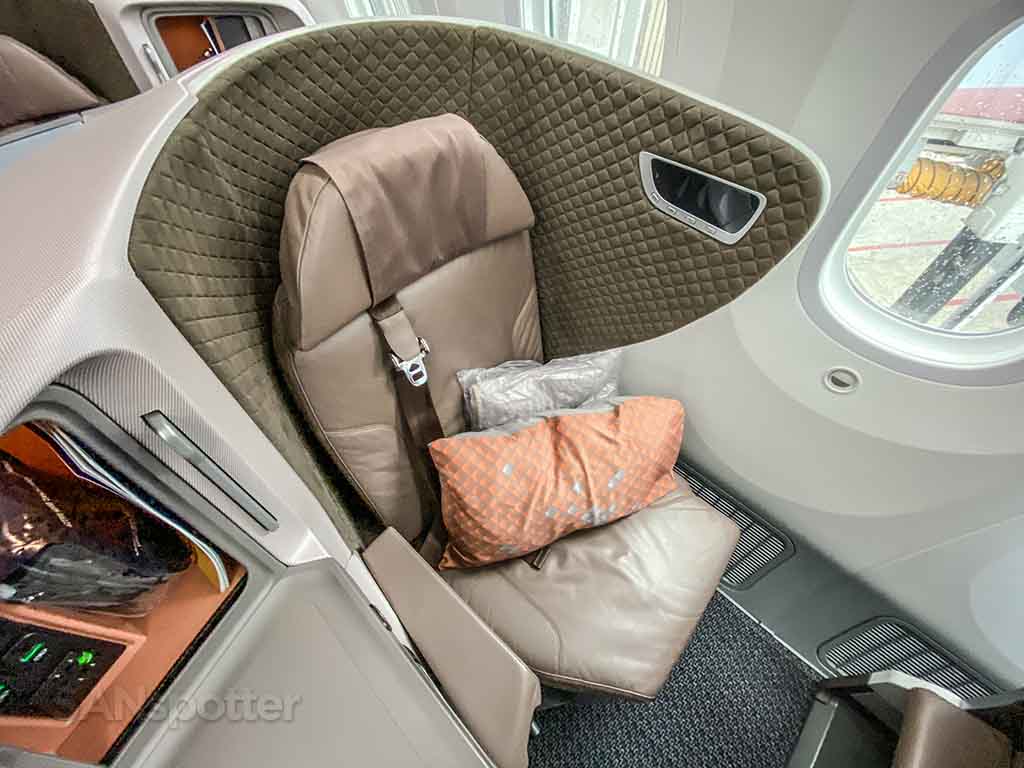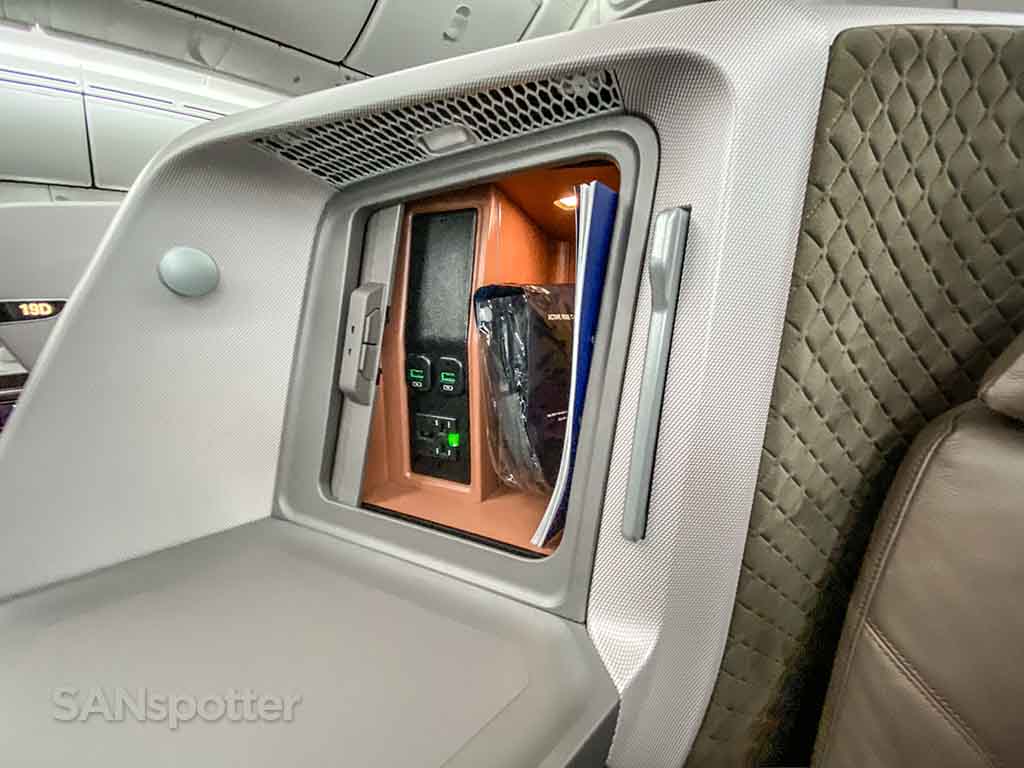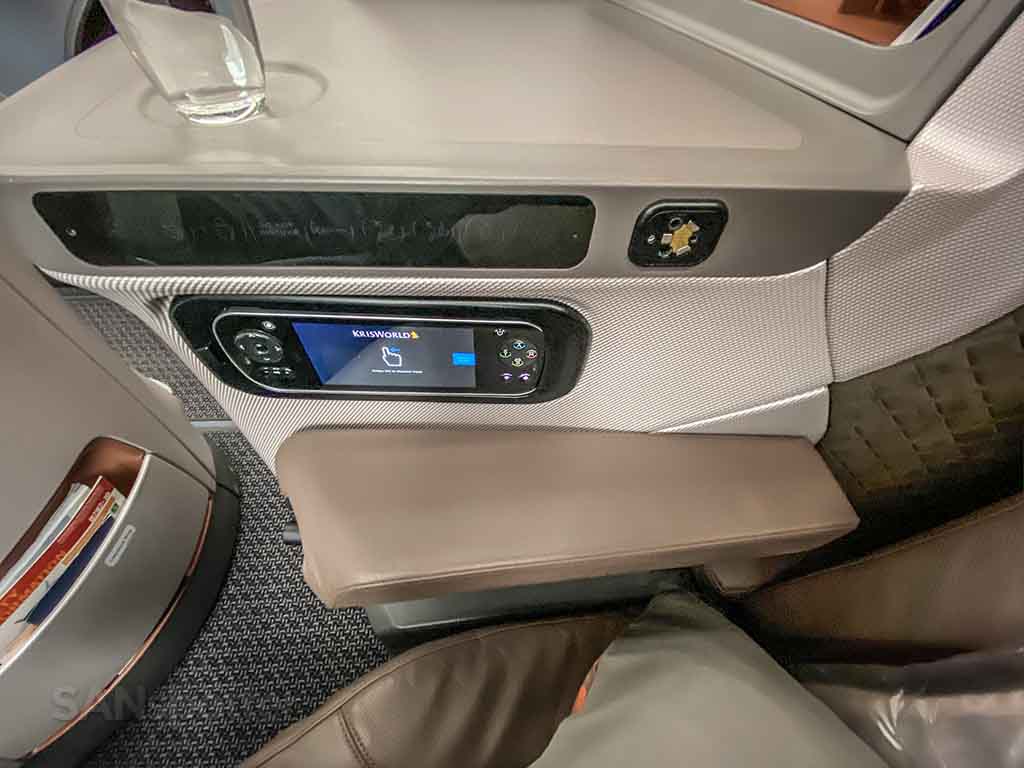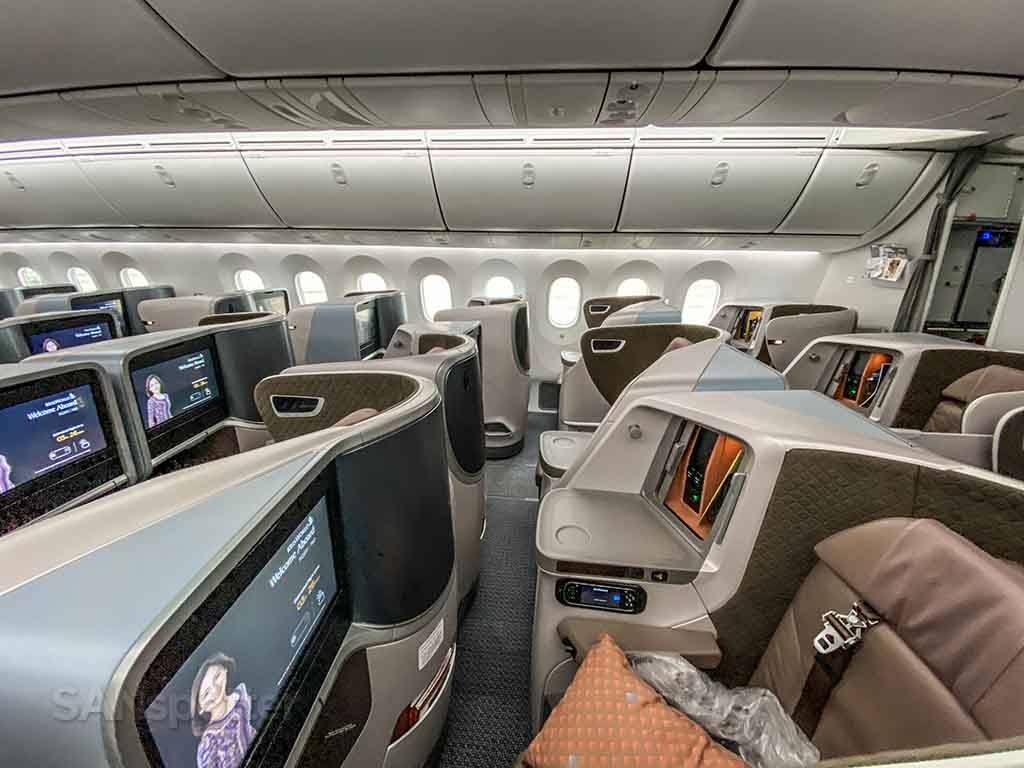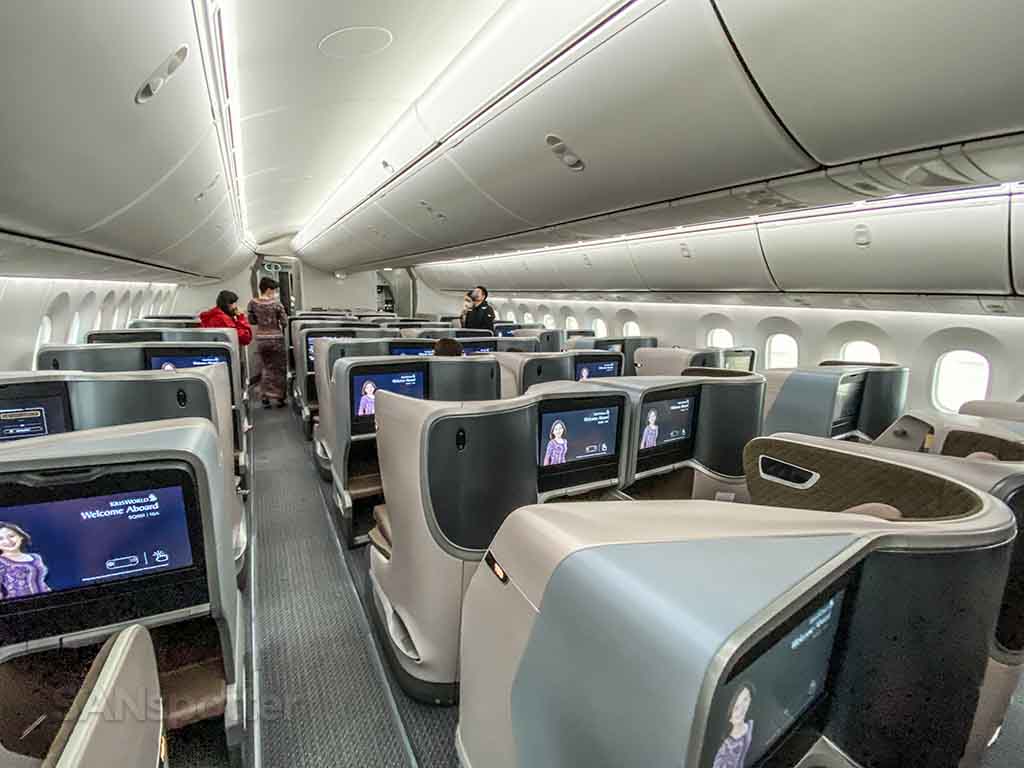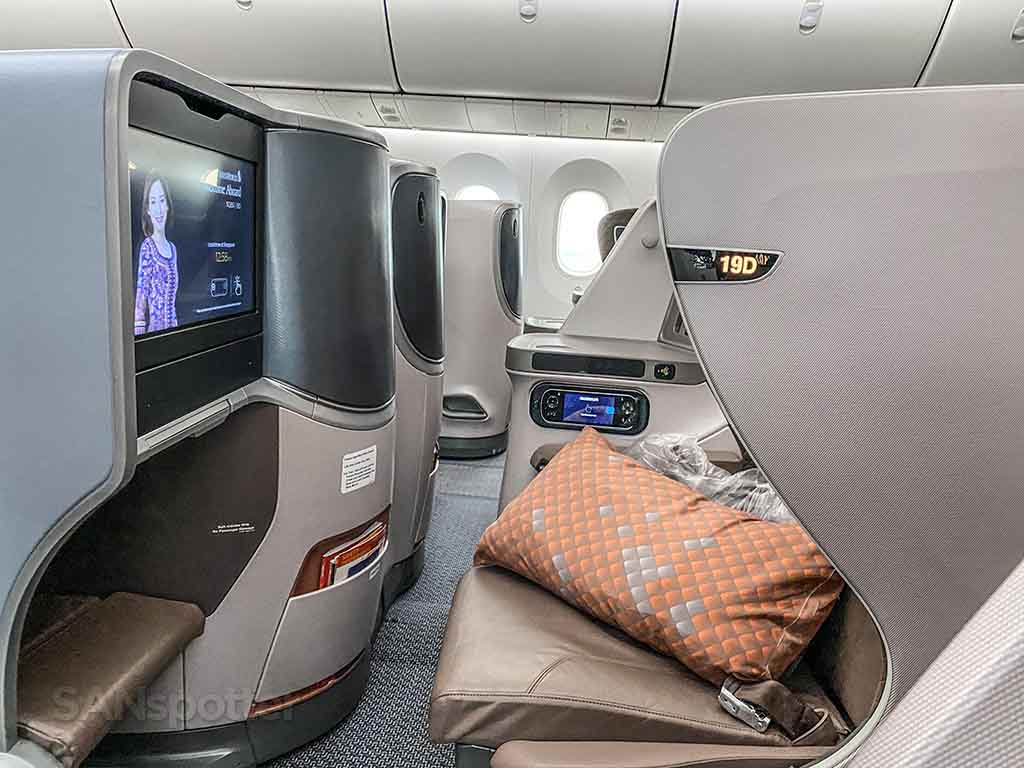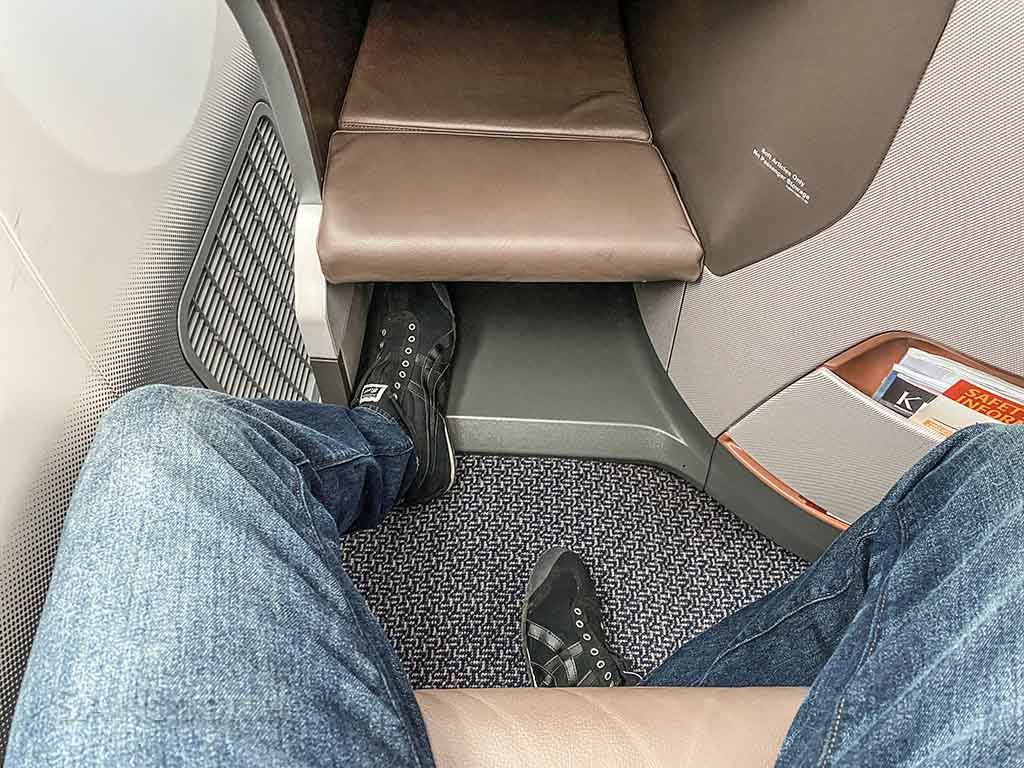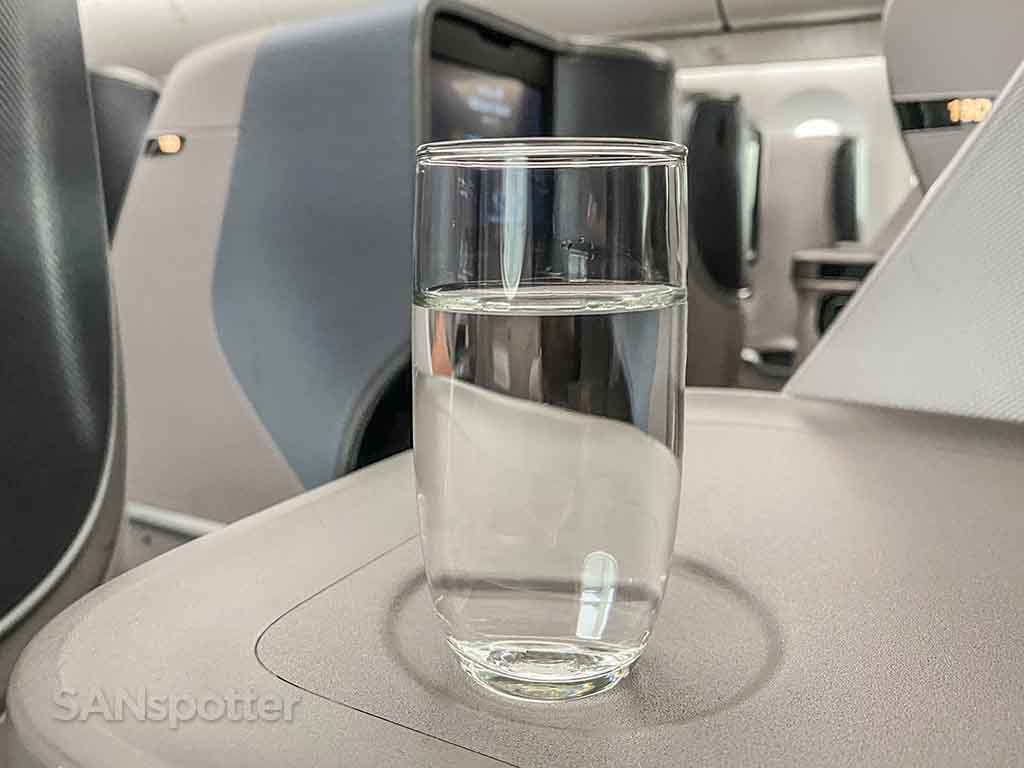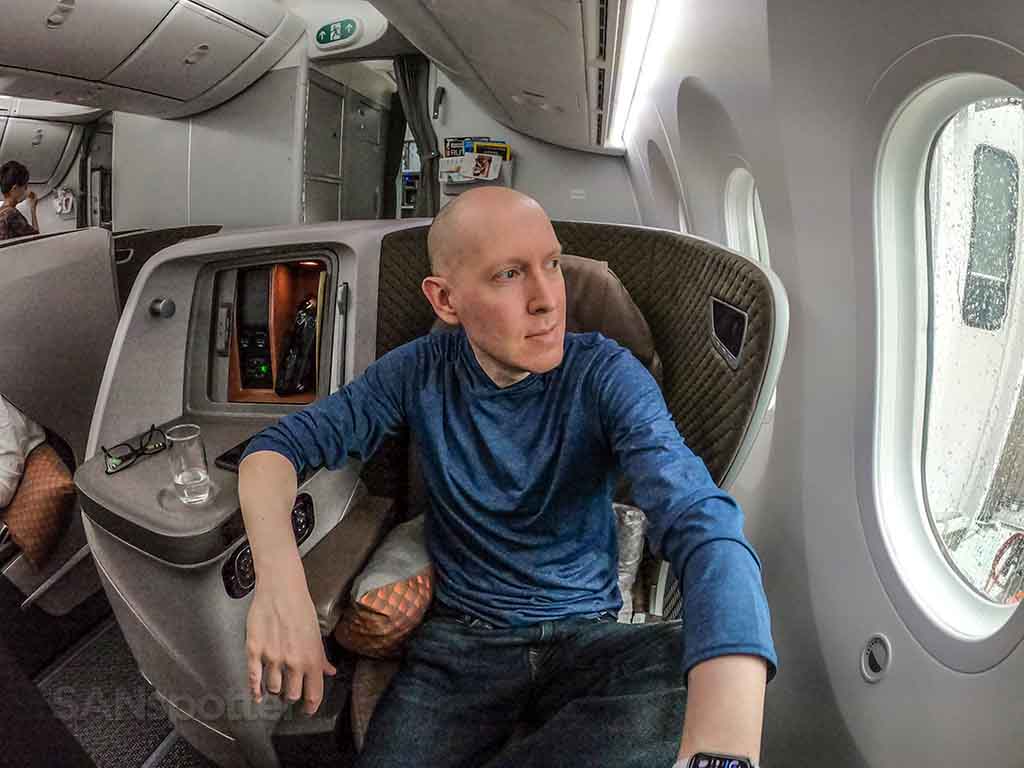 But seriously – even though I'm making jokes about the Coronavirus, you need to know that this entire situation breaks my heart and I'm just using humor as a coping mechanism. Sometimes humor is the best medicine, and it's something we all have inside of us if we choose to tap into it.
The departure sequence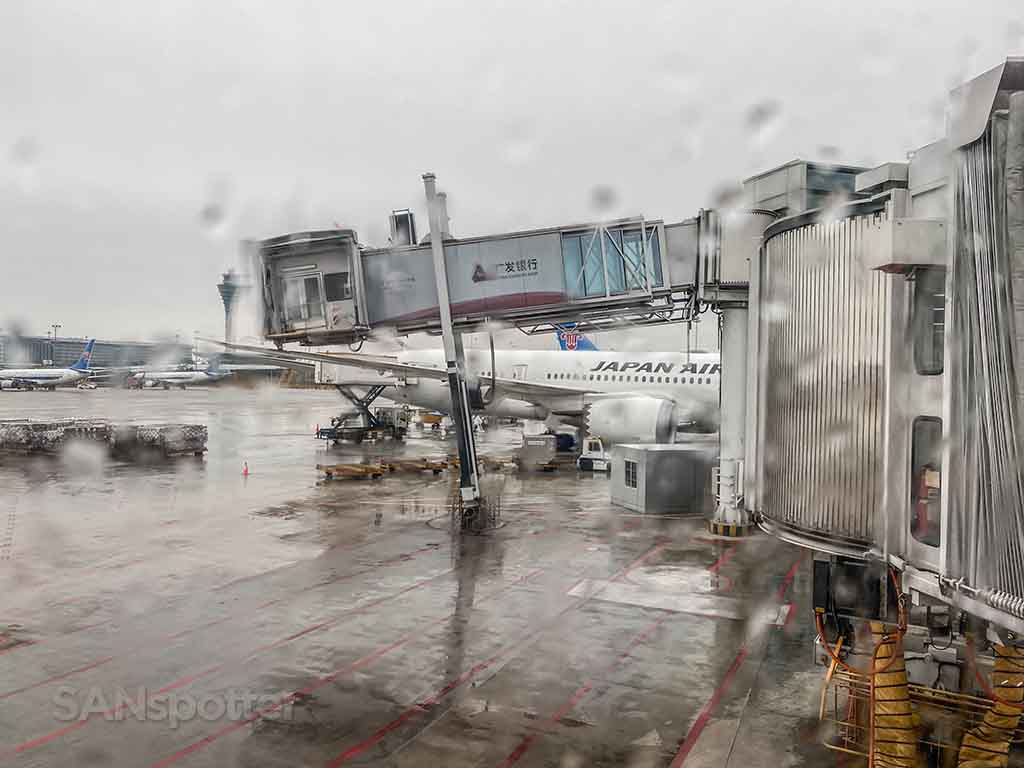 Singapore Airlines regional business class service
How is it possible that I've been doing airline reviews since 2013 and that this is the very first time that I've flown Singapore Airlines? I'm actually so late to the game that I'm not even sure the world *needs* another Singapore Airlines business class review.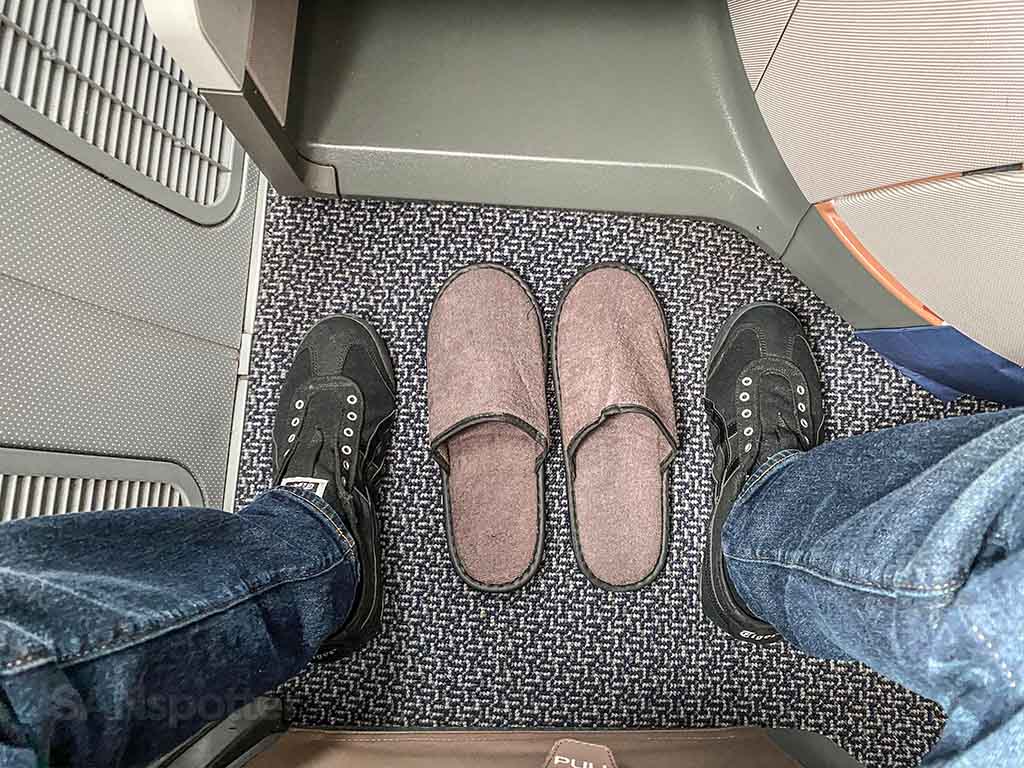 You ever get so excited that you shake uncontrollably and you nearly pee your pants? Actually, we were going through a bit of chop just as the appetizer was served, and it was little tough to hold the camera steady enough to convey the notion that I can indeed control my nerves when excited. (Note: you need to see the video for that to make any sense lol).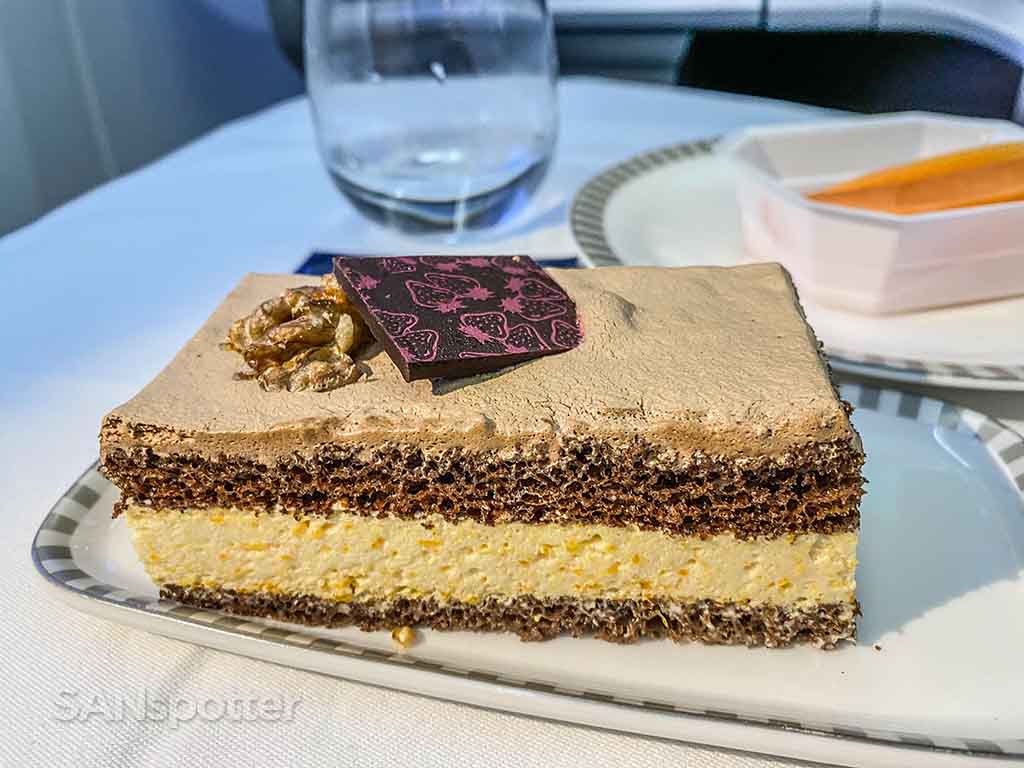 So there you have it. My first ever dining experience in Singapore Airlines business class, and it was honestly everything I hoped it would be. Now – if I can just cure myself of the crippling addiction to chicken and water!
The arrival into Singapore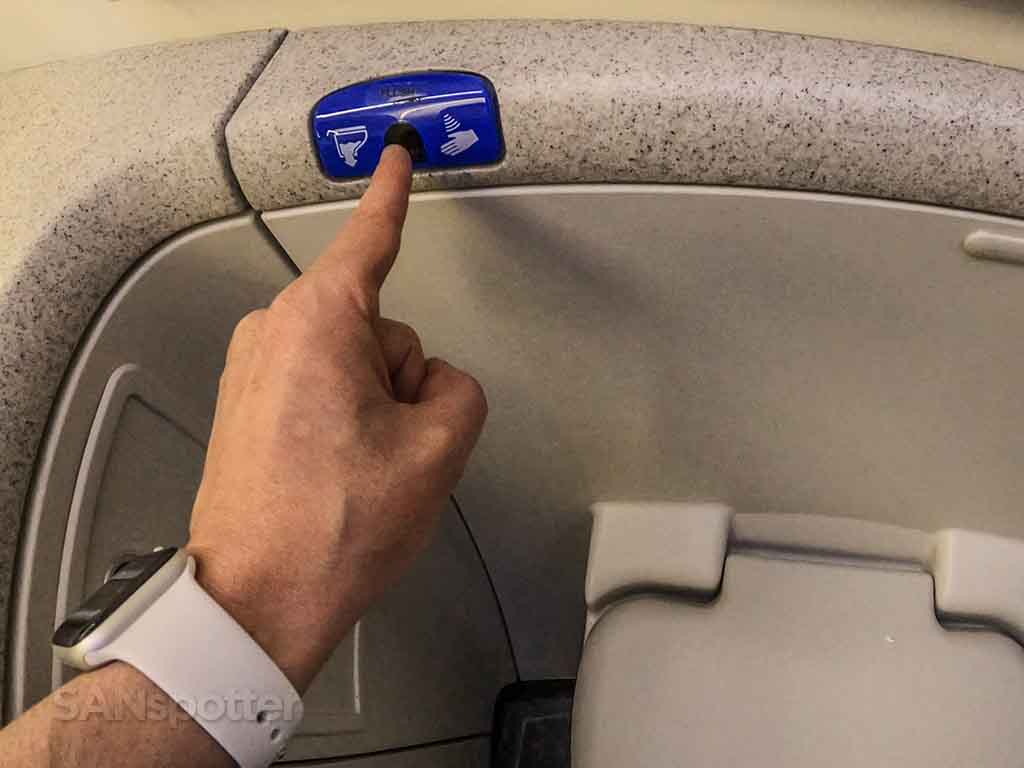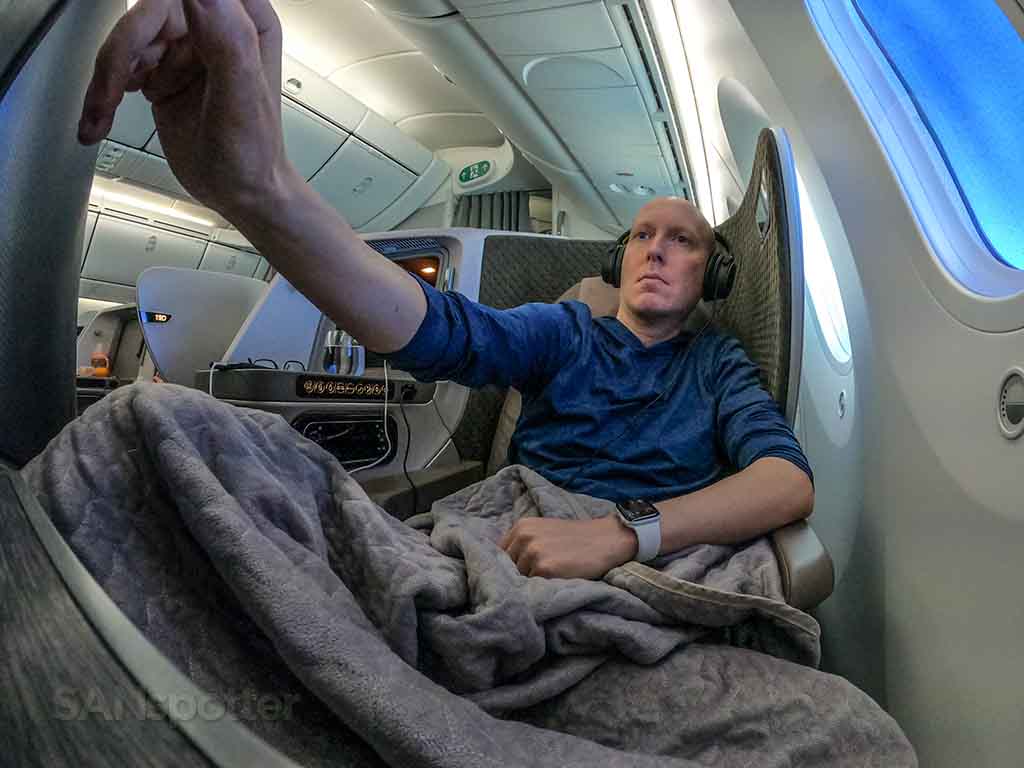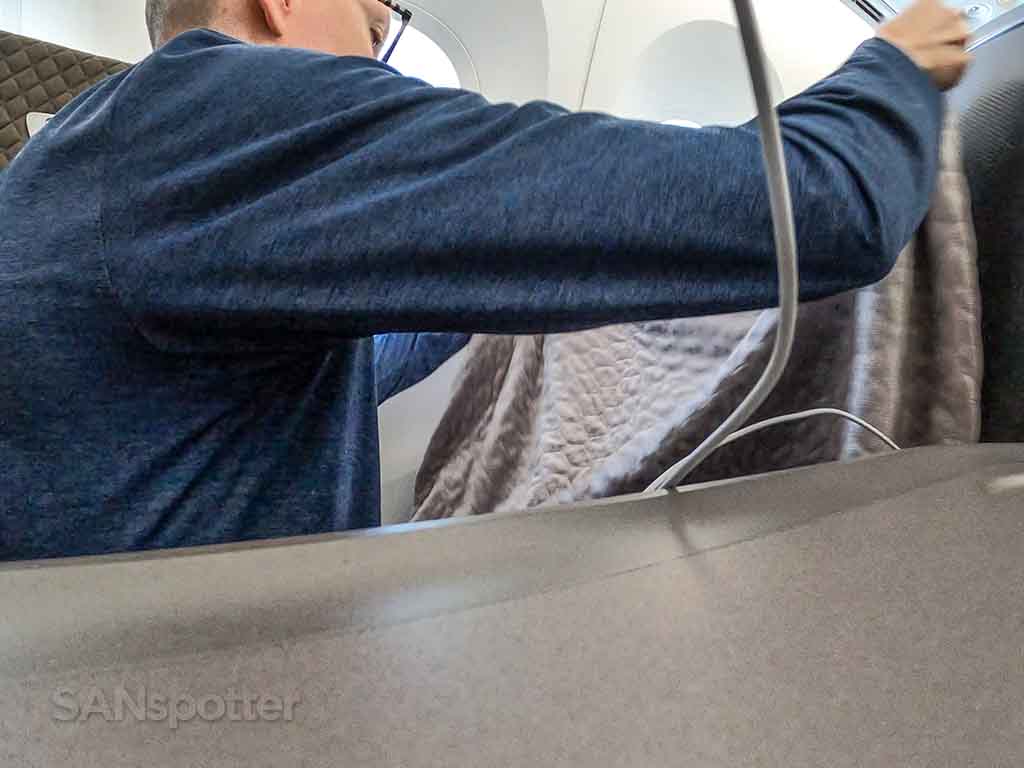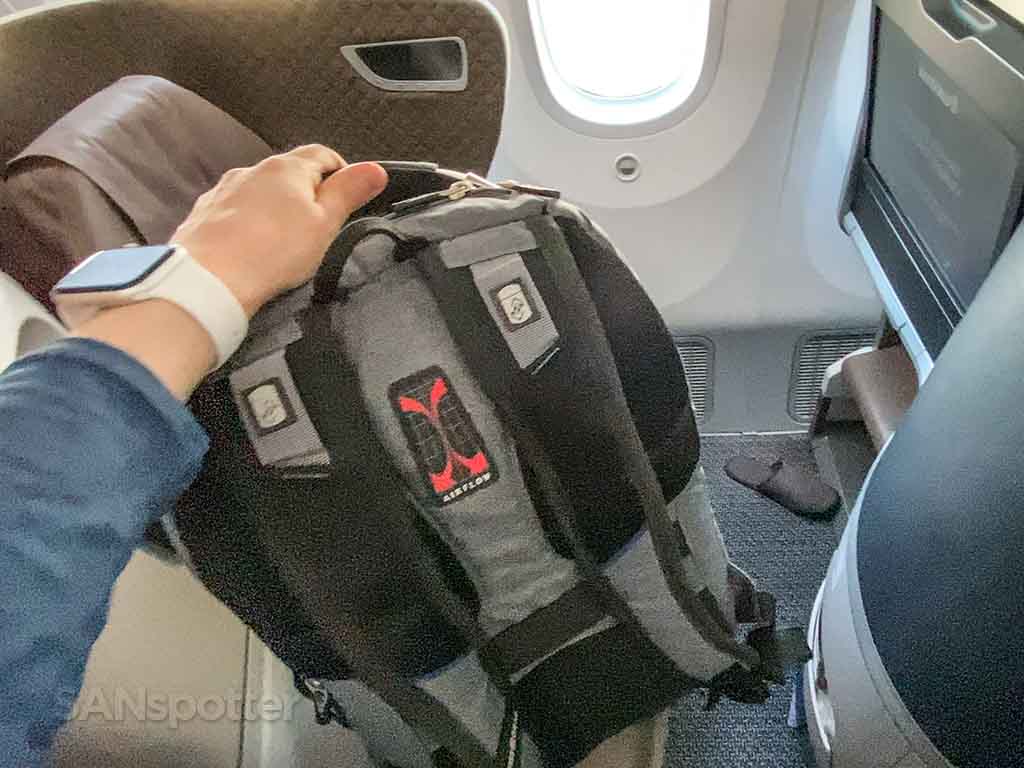 Thanks so much for watching, and do prepare yourselves for my next video, which is likely to contain a lot of idiomatic expressions. You know – things such as "Holy crap", "Holy mother God", and maybe even a "Holy ****" or two. Until then, that's for watching, and I'll catch you in the next one.
How much did I pay for this flight to Singapore?
The total price I paid for this ticket was $830.34, which I consider to be an absolute steal considering how good Singapore Arlines 787 business class is.
Unlike how I cashed in a load of Delta SkyMiles for my China Eastern and China Southern flights several days prior, I decided to go big and pay for this Singapore Airlines 787 business class experience out of my own pocket. No, I'm not rich or anything, but I had two things going for me as I was making this reservation:
The video I would be making for this flight was going to be sponsored by Surfshark. Not only does having a sponsor help to drive down the costs associated with booking airline tickets, I wanted to give them the most bang for the buck by producing the most interesting video possible. In general, business class review videos tend to get more views than economy class reviews.
Business class fares between Guangzhou and Singapore are not all that expensive actually. It didn't take much effort at all to stumble all over a handful of really attractive premium one-way fares on several different airlines.
To sweeten the deal, I used my American Express Platinum card to make the purchase, which always gives me 5X points on all airline ticket purchases. Combined with the 1,639 miles I earned for the flight itself (which I applied to my United Airlines Mileage Plus account), I earned an extra 4,150 miles thanks to my Amex card. Total points earned for this segment: 5,789.
How I pay for all my travel expenses
The American Express Platinum Card
100,000 welcome points (woo-hoo!)
Earn 5x points on flights and prepaid hotels
$200 hotel credit + $200 airline fee credit + $155 Walmart credit + $240 digital entertainment credit (and much more)
Transfer points to a wide variety of global airline and hotel partners
Sign me up!
Note: I may earn a commission if you make a purchase, at no additional cost to you.
Pros and cons of Singapore Airlines 787 business class
I'm a actually giggling slightly as I type this, because…well…come on. Do you have any idea how difficult it is to come up with a list of cons about Singapore Airlines business class? No, it wasn't a perfect experience, but I have no shame in saying that it was probably one of the best flights of my life. And that says something considering that I basically fly around the world for a living.
Still, this is a Singapore Airlines business class review, and I must do what I can to tell you both the good and the bad of what it's like to be wined and dined on their 787-10.
Pros
For a regional business class product, the seats on the Singapore Airlines 787-10 are remarkably comfortable. They are large, decently private, and cozy enough to be considered a competitive long haul seat.
The food was nothing short of spectacular. I actually enjoyed the appetizer more than I did the main dish, but everything I was served was perfectly prepared and quite satisfying.
Although somewhat cold (see below), the entire cabin crew was extremely professional and I felt as if I was in a fancy hotel or restaurant the entire time. I was greeted by name, and they were very proactive and attentive throughout the entire flight.
Cons
There was no snack service. For a 3 and a half hour flight, I would have expected to be served a light snack with a drink before they initiated the lunch service. They started right with the meal shortly after takeoff, and it caught me off guard slightly.
Not unlike a handful of other Singapore Airlines business class reviews I've read recently, the cabin crew seemed somewhat cold and disinterested on this flight.
I found the movie and TV catalog to be somewhat lacking. I'm a simple guy with adolescent tastes though, so take that for what it's worth.
Singapore Airlines 787-10 frequently asked questions
As you saw in the pictures and transcript above, the Singapore Airlines 787 business class experience is quite good. This is the regional business class product that all other airlines strive to offer, and up until the day of this flight I hadn't yet I experienced another airline that could do it better. However, I just flew Starlux business class a few days ago and, well, Singapore Airlines has got some competition on their hands. More on that later…
Here are a list of all the questions I've personally received from my audience in regards to my Singapore Airlines regional business class experience on the 787-10. Note that this only applies to the 787. Some of the answers to the questions below do not apply to other aircraft in the Singapore Airlines fleet such as the 777, A380, and A350.
Is Singapore Airlines business class good?
You bet it is. Even though I wasn't expecting much on a short regional route from Guangzhou to Singapore, both the hard product (seats) and soft product (food + interactions with the cabin crew) were excellent. For comparisons sake, I've had the opportunity to fly regional business class on EVA Air, Asiana, Starlux, and AirAsia X around Asia so far. Only Starlux was better, but they set the standard so high that even second place is very (very good).
As you saw above, I paid $830 for this flight, and I believe it was worth every penny. There's no better way of summing it up than that IMHO.
What do you get in Singapore Airlines business class?
If you're the kind of person who enjoys business class amenity kits, you might be disappointed with Singapore Airlines regional business class. There are no amenity kits distributed, which did come as a shock to me at first. However, you will still get slippers and noise cancelling headphones. There are also very thick blankets and large pillows provided, along with hot towel service (both before the meal and after).
A full menu (with several options to choose from) and free alcohol round out the service. To be honest, I didn't mind the lack of a formal amenity kit since I was still provided with everything needed to have a really comfortable flight.
Are Singapore Airlines regional business class seats comfortable?
Yes! Again, I'm speaking only in regards to their 787-10 product, but I found the seats to be feature-rich and comfortable enough for long haul. These are completely lie-flat seats, with huge video screens and a nice assortment of nooks and crannies for storage.
The individual seat controls are intuitive, and it didn't take me long to find a seating position I liked. This is especially important after gorging yourself on a huge meal and you need to position your body in a way that won't hinder digestion. After all – depending on the flight length, there might be more food coming later and it's in your best interest to make room for it. Ha!
Is the movie selection good?
I'm not a connoisseur of fine film or anything, but I found the movie and TV catalog on this regional business class product to be somewhat disappointing. As a matter of fact, this is probably my biggest complaint in this entire Singapore Airlines business class review.
I usually work (and sleep) on flights, and I was planning on doing both on this particular day – but for some reason or another I had a bad hankerin' to catch up on some movies I've been wanting to see and there wasn't much to satisfy me. What I found was mostly independent and Asian titles, which are fine – but not what I was in the mood for.
Don't worry – the long haul movie catalog is much better.
Is Singapore Arlines business class food good?
Instead of just saying "you bet it is", let me just say this: I've flown over 1.2 million miles so far, many of those in business class. The food on this flight from Guangzhou to Singapore was some of the best food that I've ever had on an airplane. If I had to rank it, I'd say that it's the 5th best business class meal I've ever had. How's that for being specific?
The only other business class airplane food that I've had that was better (up until now) was on Starlux, Qatar Airways, Asiana, and JAL.
Note that their meal services changes all the time, so do be sure to check out their latest in flight dining menus before your flight.
What is the best thing about Singapore Airlines regional business class?
Wow. What a question! And when it comes right down to it, it's the perfect one to end this Singapore Airlines business class review.
For me, it's the entire package. From the way the cabin crew greeted me by name, to wiggling my rear end down in that extremely comfortable seat for the first time, to eating what ended up being one of my top 5 business class meals ever – it was quite the experience.
There was nothing about Singapore Airlines regional business class that would make me stop and think about doing it again. If the price is right, you better believe you're gonna see me up in the pointy end of an SQ 787 whenever I need to get around Asia. Well, Starlux might be slightly more tempting if they fly the same route, but…you just can't go wrong with Singapore Airlines.