What the hell? Am I slowly losing my mind? How is it possible to go from a JetBlue JFK-SAN trip report directly to this JetBlue FLL-SAN segment without one of my usual trip report introductions to explain how I magically appeared in Fort Lauderdale with a need to get back to San Diego? Well, I'm glad you asked because I have a very good explanation for that!
I wish I could tell you something exciting, such as being drugged and kidnapped in Tijuana, then fighting my way free and walking barefoot all the way across Mexico before stowing away on an oil tanker headed for South Florida, but it wasn't quite like that. The reality was that I went to Florida to visit family over the holidays, and I decided to give myself a break and not do any trip reporting at all. There were no drugs or kidnapping involved. Sorry.
Oddly enough, it's impossible for me to step on an airplane these days and not document the entire experience by taking a million pictures. I truly had no intention to write anything about these flights to Florida and back over the Christmas break (you can see the full itinerary in my flight log), but just knowing that I had all the pics required to create a decent trip report of a product that I have not reviewed yet (JetBlue A320 economy) was eating away at me, so here we go…I guess.
B6529
Fort Lauderdale, FL (FLL) – San Diego, CA (SAN)
Sunday, December 31, 2017
Aircraft: A320-232
Registration: N509JB
Duration: 5 hours 18 minutes
Seat: 15C (main cabin)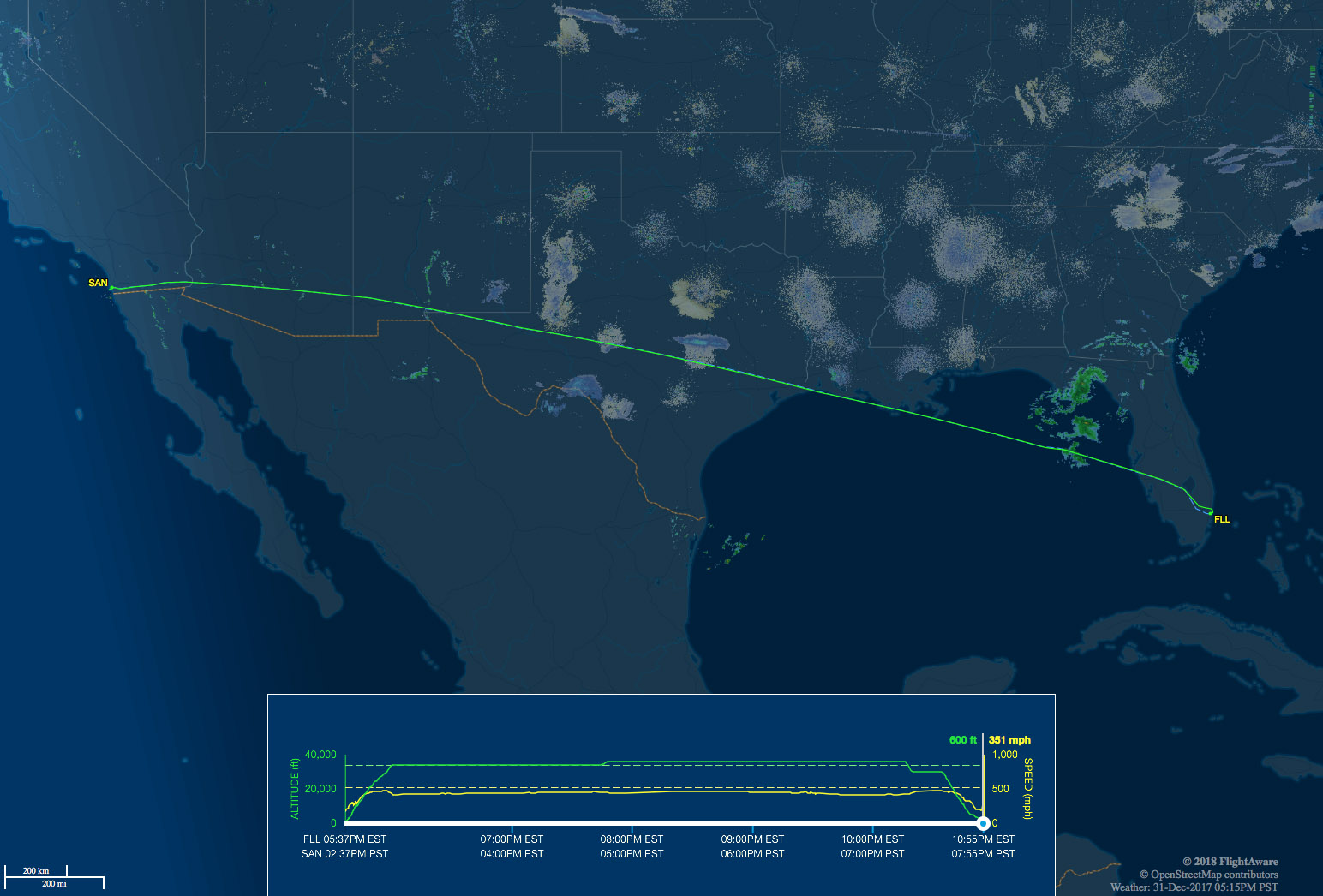 Not feeling like reading a crap ton of content at the moment? No worries! Here's a video I put together for this flight to San Diego, with music courtesy of Epidemic Sound:
This trip report begins with me arriving at the airport ridiculously early. Five hours early to be exact, which probably sounds ludicrous to any sane person – and I totally get it.
In my defense, I was actually looking forward to that time so that I could catch up on some of the trip report writing that I was falling woefully behind on at the time. The plan was to grab some lunch, and then to go find a quiet corner to sit with my iPad for four hours and hack away. It was gonna be perfect.
Using the word "perfect" and "airport" together in the same train of thought is usually a recipe for disaster, and I learned that lesson the hard way today. Keep in mind that it's been many many years since I've last flown through FLL, so I didn't really know what to expect once I got inside.
I'll just sum it up briefly in one word for you: pandemonium. Observant readers of my blog will know that I have yet to use that word in a trip report, but I'm totally unleashing it for this one.
The JetBlue terminal here at the Fort Lauderdale airport is just ridiculous. It's one of those kinds of terminals that has way too many flights going in and out of it than there should be, and it's just wall-to-wall people everywhere you turn.
It's loud, cramped, and I'm pretty sure it's on the edge of being in violation of the fire safety code at certain times of the day. So yeah – finding that quiet little corner spot to get some writing done was a lot more difficult than I anticipated it was going to be.
The final nail in the coffin of my clever plan to get some writing done was the fact that for some reason or another my iPhone and iPad simply wouldn't tether via bluetooth. Not many of you know this, but the only way I'm able to write so much is to use voice dictation software – otherwise my fingers would just crumble from overuse.
Unfortunately, voice dictation software requires an Internet connection, and I often tether the network signal of my iPhone directly to my WiFi-only iPad to do all my writing. The IT gods were frowning upon me today though, and it just wasn't working. Of course I could've used my phone directly to capture some of my thoughts, but that's difficult because I much prefer using the large screen of the iPad to see a more complete picture of what I'm writing.
Once I realized that I wouldn't be able to catch up on my trip reports, I was still faced with four hours of nothing to do in an obnoxiously overcrowded airport.
I wish I could tell you how I survived those four hours and managed to stay sane, but it was all a blur to me and it wouldn't be totally shocking to me if I actually blacked out a time or two during the wait for my flight. Come to think of it, sitting at FLL for four hours seems just as scary as being drugged and kidnapped in Mexico, so perhaps this isn't as dull of a story as I thought it was going to be. Isn't this exciting?!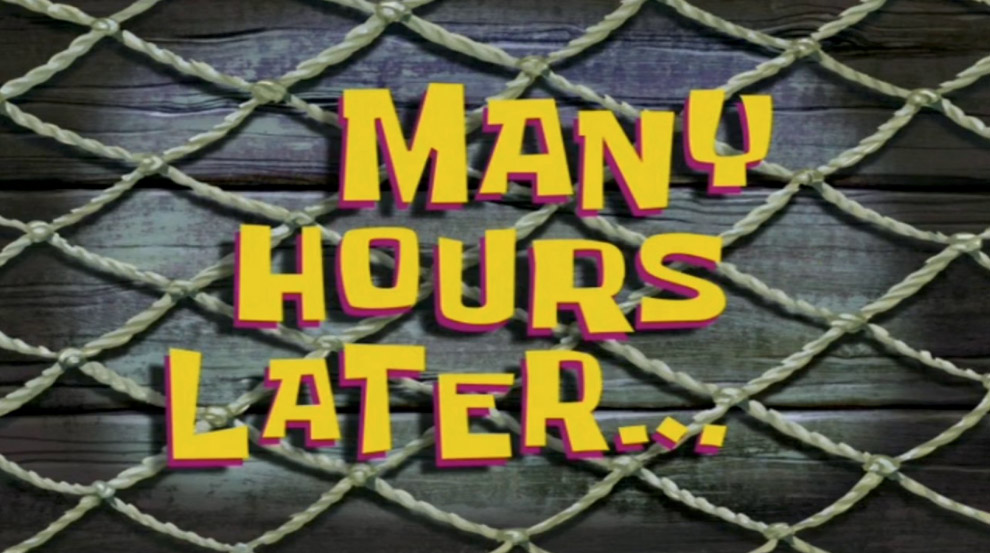 It probably goes without saying how excited I was when they finally started the boarding process for this flight to San Diego. Just hearing that electronic beep of the boarding pass scanner accept my ticket was music to my ears, and I walked down that jet bridge with a skip in my step and a strong desire never to visit this airport again. Well, it wouldn't have been so bad if I was only here for an hour or two, but anything over two hours is just downright cruel.
I had an aisle seat for today's flight, which was perfectly fine by me since I wasn't planning on doing any trip reporting anyway.
The first thing that I noticed upon sitting down was how much leg room there is in JetBlue economy class. Seriously, it's just as good as what you would find in premium economy on United or American domestic flights.
For some reason or another it seemed to be the same amount of generous legroom as I recall from my Even More Space JetBlue flight from Boston to San Diego over two years ago. So far so good!
My mood took a bit of a turn south once I realized that my video screen wasn't working. At all. As a matter fact, our entire row wasn't working. I wasn't totally bummed out by this, since I'm not much of a TV watcher on airplanes anyway, but still…you know how I am about watching the in-flight map.
Departure pics are going to be a bit thin for this trip report, as it's not easy to capture the action without others seated around me getting suspicious as to why I'm taking pictures of things in their general direction.
I haven't been labeled as a terrorist yet, but it's probably going to happen at some point and I'll need to think of a clever retort (other than "I'm a travel blogger yo") before I end up in Mexican jail for good.
Service on today's flight was generally good, and the flight attendants came by first checking on anyone who would like to order things from the menu. I actually had my eye on the yogurt, but the look of confusion on the flight attendant's face when I asked for it told me immediately that chances were not good that they had any in stock.
"Let me check in the back for you…" she said with a look of concern on her face, and walked to the rear of the aircraft and disappeared for a good 10 minutes. Other flight attendants came by shortly thereafter taking drink orders, and eventually I was told that no, there is no yogurt in stock on today's flight. Bummer. Pretzels it is then.
One of the things that surprised me about the snack service was the fact that the flight attendants did not use carts to doll out the goods. All service was done from hand-carried trays, except for the snacks which came in a basket.
That's kind of neat, don't you think? I've only seen that kind of service on smaller regional jets and not on anything as large as an A320. I should also point out that snacks were available for the entire flight in both the front and rear galleys.
Since my video screen was completely inoperable, I spent majority of the flight sleeping or just meditating with my eyes closed. The guy and the girl sitting next to me in the window and center seats seemed to be hitting it off quite well, and it was quite entertaining to listen to them get to know each other.
There was definitely a spark there, as they both seemed to have a lot in common with each other and there was a lot of flirting going on. That's basically all the entertainment I had all the way out to San Diego this evening.
45 minutes before landing, the flight attendants came by with the final snack service which simply consisted of bottled water. And that was perfectly appropriate considering that snacks were available for free in both the front and rear galleys for the entire flight. So it's not like we were all starving and on the edge of death or anything.
I'd love to post some amazing landing pics of a brightly lit San Diego skyline for you, but unfortunately it's just not gonna happen. Remember, I wasn't even planning on doing a trip report for this flight so I didn't even try to get somewhat decent pics of the landing process.
I promise that you aren't missing much anyway, because I'm sure it looked exactly like any other nighttime flight in economy that you've ever had. They're all basically the same anyway.
Once we docked at the gate, curiosity started to get the best of me and I was starting to wonder if that guy was ever going to ask that girl out. Now, I'm totally shy in these kind of situations myself, but I could just tell by her tone of voice and the way that she acted towards him that she totally would have said yes if he simply asked.
"Do it man!" was what I was chanting to myself inside my head as I was walking up the aisle and off the aircraft, and I was half tempted to turn around and do the asking for him. Unfortunately, I got so far ahead of them that I wasn't able to hear their final goodbyes and I really have no idea if they ever got together or not. I sure hope they did, as they sounded like they would be a perfect match for each other…
So there you have it. 2000 words about JetBlue A320 economy class that came darn close to not even happening at all. I apologize again for squeezing this one in out of the blue like that (haha, pun totally intended), but the next trip report is a big one and I promise that it will be in the normal SANspotter style – nerdy introduction and all. Get ready, because that one starts in just a few days…