Easily the most controversial aircraft of my lifetime, the Boeing 737 MAX was one that I vowed to stay away from for as long as humanly possible. And I really meant it too – at least up until I saw a really good price for a ride on a United 737 MAX 9 from Los Angeles to Houston back in February.
I know. It's a little scary to think that the opportunity to save a few dollars will completely void firm (and possibly life-extending) commitments I make for myself.
UA1946
Los Angeles, CA (LAX) – Houston, TX (IAH)
Saturday, February 20, 2021
Aircraft: 737-9 MAX
Registration: N27515
Duration: 2 hours 54 minutes
Seat: 9A (Economy Plus)

The video
The video that I put together for this United 737 MAX 9 review was fun. It was probably also one of the most nerve-racking of my life, since I wasn't exactly sure that I was ready to step foot on a MAX so soon.
Despite any nervousness that I had (whether it was warranted or not), it ended up being a lot of fun to document my experience of this flight. The Boeing 737-9 MAX is a really great aircraft to get footage of, thanks in part to it's amazing sound and beautiful split scimitar winglets.
As usual, the soundtrack for this video was sourced from Epidemic Sound. Yeah, it was a little difficult to stay away from choosing a horror-themed soundtrack, but I refrained from that and went with something cool and hip instead. Which is really easy to do when sourcing music from them (as I explained in my in-depth Epidemic Sound review).
Full transcript of the video (complete with all the pics and stupid commentary you know me for)
This was easily one of the weirdest flights I've had in a while. Not only was I am extremely excited to fly on the United 737 MAX 9, I was also a bit terrified as well. Just a little.
My arrival at LAX
I flew up from San Diego in United Embraer 175 first class in order to catch this flight. It was relatively nice and relaxing – at least until the moment we landed. I had a very short connection time, and I knew that I was going to hit the ground running as soon as I stepped off the plane. Combine that with being nervous about flying on the 737 MAX, and…ugh.
However, if you know me, you'll know that I've got the attention span of a fly, and there was no freaking way I would have lasted two years. I'm actually kind of proud of myself for going a whole week before caving in.
The boarding process for flight number 1946 to Houston (and my first ever ride on a United 737 MAX 9)
I guess I wasn't really sure what to expect here at the gate. The Boeing 737 MAX still has an awfully bad reputation, and I was curious about a handful of things:
How full is this flight going to be? Would it be obvious that people are actively avoiding the MAX at all costs?
What will the conversations be like? Will I overhear lots of people talking about the fact that this is a 737 MAX?
Will the gate agents make any specific announcements about this being a 737 MAX?
Most importantly, would I crack under pressure and be unable to step foot on this plane??
It was a weird feeling standing there at the gate area for sure, but to be honest it didn't seem all that different then any other flight to Houston.
My first impressions of the United 737-9 MAX
Despite this aircraft being in service for less than two months, it didn't have any of that sexy "new airplane smell" that I love so much. This is likely because this aircraft was actually built a year ago, and sat in storage while Boeing engineers worked to get the 737 MAX re-certified.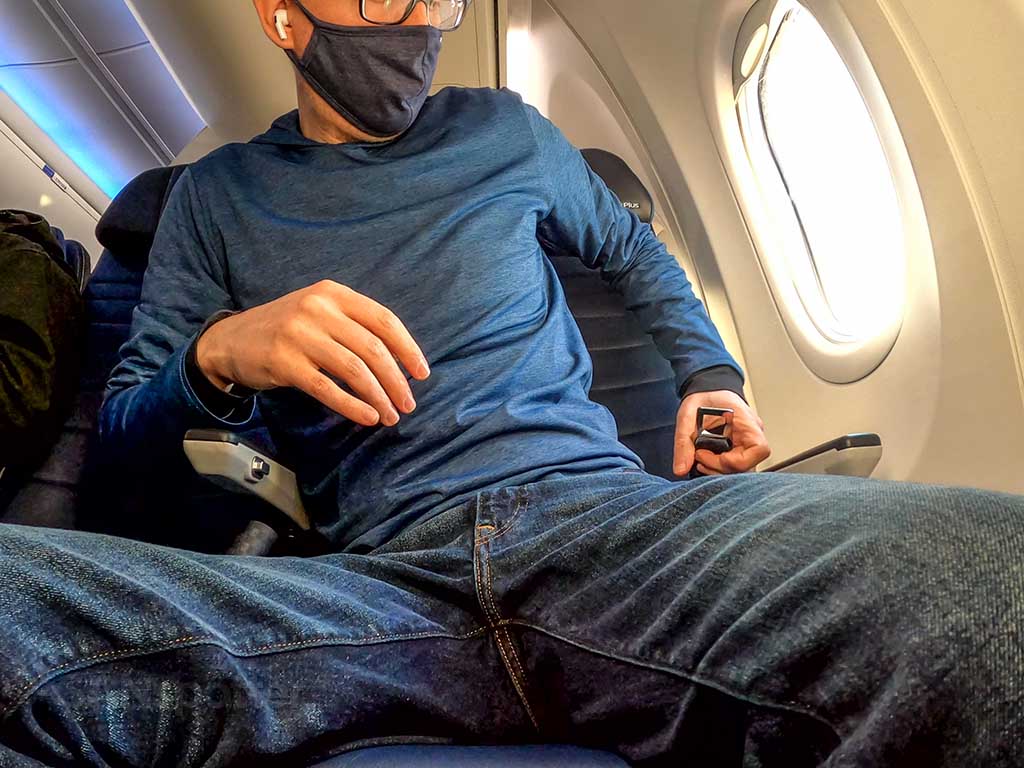 Pro Tip
Save money by purchasing United MileagePlus miles
It's often cheaper to pay for a flight with miles than it is to pay with cash!
I usually purchase miles to pay for long haul business class on United and Star Alliance partners. It's generally cheaper that way.
Its a great way to top off your account balance if you're just short of the amount required for an award trip or upgrade.
You can buy miles for yourself or another MileagePlus member.
Buy Now
Note: I may earn a commission if you make a purchase, at no additional cost to you.
What's it like to fly on a 737 MAX?
The takeoff process was really fun. The engines on the Boeing 737 MAX are a lot different than the engines found on other models of the 737, and they sound really nice as well.
What kind of snacks do you get in United Economy Plus?
Thanks to the COVID-19 pandemic still being very much in full rage, I wasn't expecting very much in terms of beverages and snacks on this flight. The good news is that I was expecting too little.
What kind of onboard entertainment do you get on the United Airlines 737 MAX 9?
Although there are no personal video screens in the seat backs, United does offer a very decent streaming entertainment option which is available via Wi-Fi. This streaming entertainment is complementary and viewable on your personal devices.
Final thoughts about the United 737 MAX 9 premium economy experience
You know what? All of the fears that I had about flying on the 737 MAX were more than just a little irrational. Time will tell if it is as safe of an airplane as Boeing claims that it is, but I quite enjoyed this flight between Los Angeles and Houston. Here's how the remainder of it went:
Pros and cons of United Airlines 737 MAX 9 Economy Plus (premium economy)
If it wasn't obvious by now, Economy Plus is just a fancy way of saying "premium economy." It's important to note that this is just domestic-quality premium economy – which means that it's basically regular economy class with a little more leg room.
For comparison's sake, United domestic Economy Plus is absolutely nothing like the international versions of Qantas premium economy or Delta premium economy. Just throwing that out there if it wasn't obvious already.
Pros
United Economy Plus (especially on the 737 MAX 9) is a really good deal. I paid just $35 to upgrade to one of these seats from a standard economy seat, so it's absolutely worth it for longer flights.
Leg room is fantastic. I am 5'10" tall, and I could easily cross my legs without touching the seat in front of me. People over 6 feet tall should feel very comfortable in these seats. It's almost as good as the legroom in first class (there are loads of pics in my United A319 first class review if you want to see how it compares).
Since the Boeing 737 MAX 9 is such a long aircraft, it means that the majority of the premium economy seats are forward of the engines and wing. In other words, these seats are generally quieter compared to seats located behind the wing.
Cons
Because United has made their Economy Plus seats so affordable, the chances of having an open middle seat next to you is slim to none. Especially on busy routes. In this case, you might want to read my list of tips for having an empty seat next to you if you want to increase your chances of it happening.
Being in the forward cabin of a very long aircraft means that it's a long way to the lavatories in the back. And no, the flight attendants will not let you use the lavatory located at the front of the aircraft. That one is reserved for first class passengers only.
What did United do to inform passengers that they were flying on a 737 MAX?
One of the things I was looking forward to the most about this flight was seeing how United handled the announcement of the aircraft type. Given how much bad press this airplane has received over the past two years (all of it justified IMHO), I was curious to know if they would:
Proudly proclaim it as their newest (and safest) airplane, or…
Not mention it at all
It turns out that there were no announcements regarding aircraft type at any time during the boarding process or the flight itself. However, there was this disclaimer on their website during the booking process:
Clicking on the link in that disclaimer led me to the 737 MAX resource and information page – which I've made a screenshot and posted below since I'm not sure how long they will be keeping this page on their website:
What do you think about the Boeing 737 MAX 9?
Interestingly enough, I never once overheard anyone aboard this flight say anything about it being a 737 MAX. I did, however, overhear a group of UA flight attendants talking about the MAX just after I stepped off the plane at IAH and was taking pics of it parked at the gate.
"Oh, look at that, it's a MAX!" one said to the others. They continued talking about it as I was walking away, and thinking back on it, I should've stuck around to hear if they were good comments or bad comments.
Anyway, what kind of thoughts do you have regarding the 737 MAX? I'd love to know in the comment section below!