Serving an average of 241,000 travelers per day, Los Angeles International Airport is the third busiest airport in the world. Even more impressive is the fact that 40% of those arrive on inbound flights from international destinations. That begs the question: exactly how long does it take to get through customs at LAX?
The average time it takes me (a US resident) to get through customs at LAX is 17 minutes and 57 seconds. Sometimes I can breeze through in a matter of minutes. Other times, it has taken me up to an hour and a half. Note that this time can the double or even triple for non-US residents due to extra security checks.
The good news is that I've learned how to game the system slightly over the years. There are definitely some things you can do to speed up the process, which I will explain in greater detail below.
This is how long it took me to get through customs at LAX (for my last 7 arrivals)
Even though SAN (San Diego International Airport) is my home base, LAX is a place I frequent often due to the high number of international flights available to and from all parts of the world. The following is a detailed breakdown of how long it took me to clear customs on my last 7 arrivals:
3pm arrival from DXB: 14 minutes
Perhaps I was feeling numb for just having just stepped off a 15 hour flight in Emirates A380 Economy class, but getting through customs upon arrival at LAX after this flight was a breeze.
The overflow lane to the far left when entering passport control had just opened up as I was walking in, and they herded me towards that direction. I only waited in line for several minutes before presenting my passport to a passport control officer.
"Long flight, eh?" he asked with a raised eyebrow (as if there was a giant piece of the pre-landing pizza still stuck to my chin). "A killer" I replied. He took one last look at my passport photo, then back at me, and welcomed me home. That was it.
In terms of standing in line to exit the customs hall , that took about five minutes. With only a backpack on my shoulders, they waved me through without even talking to me.
2pm arrival from VIE: 15 minutes
After a 12 hour flight in Austrian Airlines business class, I wasn't quite as mentally and physically demolished as I was after getting off that Emirates flight from Dubai.
I still hadn't applied for Global Entry at this point, so I stood in the main line with everyone else. As long as the line was (nearly half the room was filled), I was through within 15 minutes.
I was actually disappointed that the entire process moved so quickly. With over four hours to kill before my connection flight down to San Diego, a delay getting through customs would've been welcome.
4pm arrival from LGW: 15 minutes
It took all of 10 minutes to get through the customs process after my 12.5 hour Norwegian Air economy class flight from London.
The reason I was able to get though so fast was because this flight arrived in the late afternoon. This is a relatively slow time at LAX for international arrivals, so my flight was the only arrival at passport control when I arrived.
Standing in line to exit the customs hall took five minutes. Tops.
6pm arrival from LHR: 45 minutes
Again, another 12.5 hour economy class flight from London (although it was Air New Zealand economy this time). However, my experience at passport control and customs was really different. This flight arrived in the evening, along with a handful of other flights from both Asia and Europe.
It's a good thing that I had 3.5 hours before my connecting flight down to San Diego, because it took me about 45 minutes total to get through customs. Again, this was without Global Entry.
4pm arrival from DUB: 8 minutes
Why is it that I always seem to breeze through customs at LAX when I have a really long layover? Getting through the customs and immigration process after my 11.5 hour Aer Lingus economy flight from Dublin took just eight (freaking) minutes.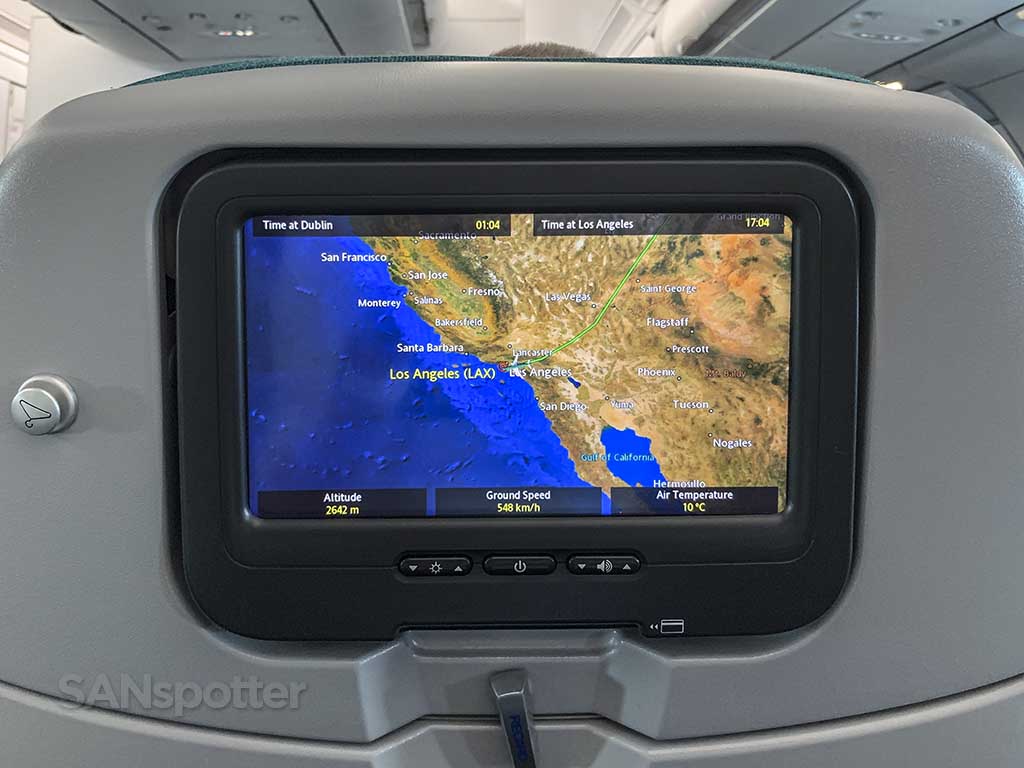 If I'm being honest, it ticked me off that I got though so quickly. You see, I had a 3.5 hour layover. Not only that, my connecting flight was departing out of terminal 3. And if f you know anything about LAX, T3 is one of the worst terminals for a layover in the history of the world (or at least it seems that way). It's tiny, cramped, and quite frankly, downright ugly.
7pm arrival from SIN: 20 minutes
Even before arriving, I just knew that getting through customs after my 15 hour Singapore Airlines A350 business class flight from Singapore was going to be difficult. This flight arrived during the evening rush-hour at LAX, mixed right smack-dab in the middle of a plethora of other international arrivals.
Global Entry got me through within 20 minutes, but the lines for everyone else seemed incredibly long. It would've taken an hour (at least). I'm sure of it.
7am arrival from TPE: 6 minutes
Oddly enough, despite arriving at the peak morning rush for international arrivals at LAX (in EVA Air premium economy from Taipei), I made it through customs within 6 minutes. It's not always this fast, but it's a pretty good example of why sometimes 1 hour layovers are enough time at LAX (even for international flights). If things are moving smoothly, you don't need lots of time!
My advantage was that this was right when the COVID-19 pandemic was starting to take its grip on the world, and flight schedules had already started being slashed.
The only other flight that arrived within minutes of ours was a Hainan Airlines flight from China. Those passengers were already in the passport control hall by the time I arrived.
To make matters worse, they were all sneezing and coughing in a way which had me more than a little concerned. I thought for sure I was going to get Covid right then and there.
Anyway, thanks to Global Entry, I was able to stay away from most of the hackers and sneezers and I was out of there within minutes.
Conclusion: getting through customs at Los Angeles International Airport is relatively quick and (*gasp*)…easy!
Despite what you may have heard about how long it takes to get through customs and immigration that Los Angeles International Airport, it hasn't been all that bad in my experience. With an average time of just 17 minutes and 57 seconds, it's one of the more efficient airports in the US in terms of processing arriving international passengers.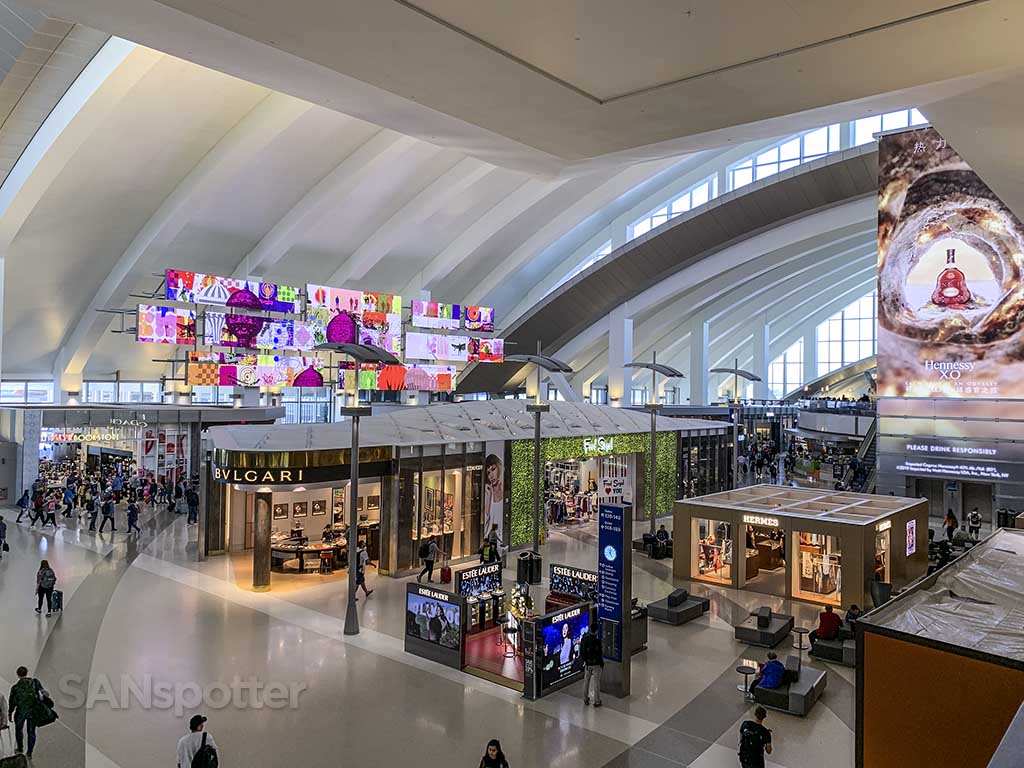 Yes, sometimes it'll take longer than other times, but just know that they run a pretty good system there. They know what they're doing. Just go with the flow and you'll be OK!
Bonus SANspotter points to you if you can beat my average time, BTW.
What is the process like for going through customs with the Los Angeles international airport?
Going through passport control and customs at LAX is a relatively simple process. Being one of the busiest airports in the world, they've pretty much figured out how to get mobs of people through as quickly and as stress-free as possible. Here's what it's like:
US residents with Global Entry
Global Entry, which is essentially a fast-track way of getting through customs at airports all over the world, was was one of the best things that ever happened to me as a frequent flyer. Here's how it works for US residents with Global Entry arriving at LAX:
Proceed to the Global Entry lane upon arriving at passport control
Use one of the available kiosks to scan your passport and input your information. Make sure to take the receipt it spits out afterwards!
Present your passport and that receipt to the officer, and he or she will waive you through after double-checking your information.
Retrieve your luggage, if any, and stand in line to hand your receipt to the customs officer at the exit on the way out. If you look suspicious, he or she will pull you aside and rummage through your dirty underwear. Fun!
US residents with the Mobile Passport app
Mobile Passport is very much like Global Entry, as it's essentially a fast-track way of getting through customs and immigration. The difference is that your documents still need to be verified by a passport control officer in one of the regular lanes. You don't get the advantage of using special lanes like you do with Global Entry.
The main advantage with the Mobile Passport app is being able to skip the long lines for the self-service kiosks that everyone else has to use. That will save you loads of time!
Anyway, here's the process for getting through customs at LAX with Mobile Passport:
As you're stepping off the plane, input all of your data (flight date, flight number, etc) into the Mobile Passport app on your phone.
Proceed to the Mobile Passport lane when arriving at passport control (this allows you to bypass the lines for the main self-service kiosks everyone else has to use).
Stand in line and wait to present your information to a passport control officer.
Once complete, retrieve your luggage and stand in line to present your receipt to the customs officer on your way out.
US residents (without Global Entry or Mobile Passport)
Going through the customs and immigration process as a US resident at LAX without any fast track programs such as Global Entry or Mobile Passport is just as easy as it is if you have them. The only difference is that it takes longer. Sometimes, a lot longer.
Stand in line to use an automated kiosk to scan your passport. On average, this will take approximately 10 to 15 minutes.
Present the receipt and your passport to the passport control officer. This process averages 10 to 20 minutes, depending on the length of the line. Most of the time, as a US resident, I've never been asked very many questions by the passport control officers. They usually just welcome me home and wave me on past.
Retrieve your luggage from the baggage carousel, and then go stand in line to exit customs.
Non-US citizens
The process for non-US citizens to get through customs at LAX is exactly the same as it is for US residents. Just know that the line moves relatively slower.
Not because there are more non-US residents compared to US residents going through customs at any given time. It's simply because of the fact that the officers are being a lot more thorough when checking documents.
When are the slowest times for going through customs at LAX?
Early mornings between 6 and 9 AM are extremely busy at LAX customs due to a steady stream of international arrivals from Asia.
Things are relatively quiet after that until around 1 PM. That's when the majority of the inbound European flights arrive. That lasts until about 4 PM or so.
Arriving at LAX on an international flight during these peak times will no doubt increase the time it'll take you to get through customs.
When are the fastest times for going through customs at LAX?
Mid-mornings and late afternoons and evenings are the best times to arrive at LAX if you want to get through customs quickly.
Keep in mind that there are always international arrivals happening at all hours of the day at LAX. However, mid-mornings and late early afternoons generally generally the slowest – which means that you'll get through the fastest.
Tips for getting through customs at LAX quickly
Although there's no way of guaranteeing a speedy passage through customs and immigration at LAX, there are 3 things that you can do to stack the odds of getting through quickly in your favor.
Sign up for Global Entry or Mobile Passport. Either of these will allow you to bypass the self-serve kiosks that everyone else has to use. Not only that, the lines for everything will be generally shorter. Make sure to read my Mobile Passport vs Global Entry comparison to help you decide which one is right for you. Honestly though, I recommend getting both.
Running to passport control after you get off the plane does no good. After all, LAX is one of the largest international airports in the world, and there are flights arriving from all parts of the globe at all hours of the day. Even though you may think that you'll be able to beat everyone else from your flight, chances are good that there are already hundreds (maybe even thousands) of other people already ahead of you in the queue at passport control.
If you can, choose a flight that arrives either mid-morning between 9 AM and 12 PM (or in the late and early afternoon from 4 to 6 PM). These are the times of day with the fewest international arrivals at LAX.
The moral of the story: when it comes to getting through customs at LAX in a timely manner, you have to go into it hoping for the best, but expecting the worst. That's the only way you're going to stay sane. Roll with the punches, and just be happy you have the freedom to travel at all!