Who's ready for a SANspotter-style Aer Lingus review? If the thought of such a thing frightens you, I do suggest clicking the back button on your browser now. For those that are feeling especially courageous, read on.
So yeah. I recently flew Aer Lingus for the very first time (EI145 to LAX) and even though I hate to admit it, I wasn't really expecting all that much.
The thing is, this is an airline that I've always considered to be somewhat plain and bland. Then again, people have been accusing *me* of being plain and bland for my entire life, so – perhaps this was a match made in heaven?
EI145
Dublin, Ireland (DUB) – Los Angeles, CA (LAX)
Sunday, September 22, 2019
Aircraft: A330-202
Registration: EI-DUO
Duration: 10 hours 0 minutes
Seat: 33G (economy)

The video
What can I say about the video I created to document this flight? It's slightly longer than many of my recent videos, mostly because there were so many things that I thought were worth covering.
I'll let you know that this video was in danger of being 20+ minutes due to all the footage I had shot for it. Yup, it's been a while since I went overboard gathering footage for one of my airline review videos – and it brought back a flood of memories about how I used to do that *every single time*. My quest for perfection is a mother******. lol
Anyway, thanks as always to my buds over at Epidemic Sound for proving killer soundtrack music.
Arriving at the Dublin Airport for my first ever Aer Lingus review
After a one night stay at the Radisson Blu (located adjacent to DUB), I made a beeline straight towards Terminal 2 just after 8am. Well, more specifically, I was making a beeline for Aer Lingus flight number 145 to LAX, but I needed to traverse through Terminal 2 to get there.
Before getting too far into this Aer Lingus review, how about a huge round of applause for the Dublin airport authority? Long story short, this terminal is amazing! Leaps and bounds better that what I experienced on my last visit here in 2005.
Inside the departures area of Terminal 2
Passing through the security checkpoint was lightning quick despite the number of US-bound flights departing this time of day. I'd estimate that the entire process took 25 minutes. Tops.
Since I wasn't expecting the food on Aer Lingus to be overly remarkable, I figured that kicking things off with a 3000-calorie traditional Irish breakfast was the most appropriate thing to do.
Turns out that I greatly underestimated the Aer Lingus culinary team, and…dang it! I'm getting ahead of myself here. More about the food later…
You know that healthy round of applause we all gave the Dublin airport authority just a moment earlier? All I'm gonna say is that it doesn't apply to the basement gates. It's tight down here.
On the plus side, there are big windows with really nice views of the action, and I arrived just in time to see my aircraft arrive. So, maybe a golf clap is more appropriate.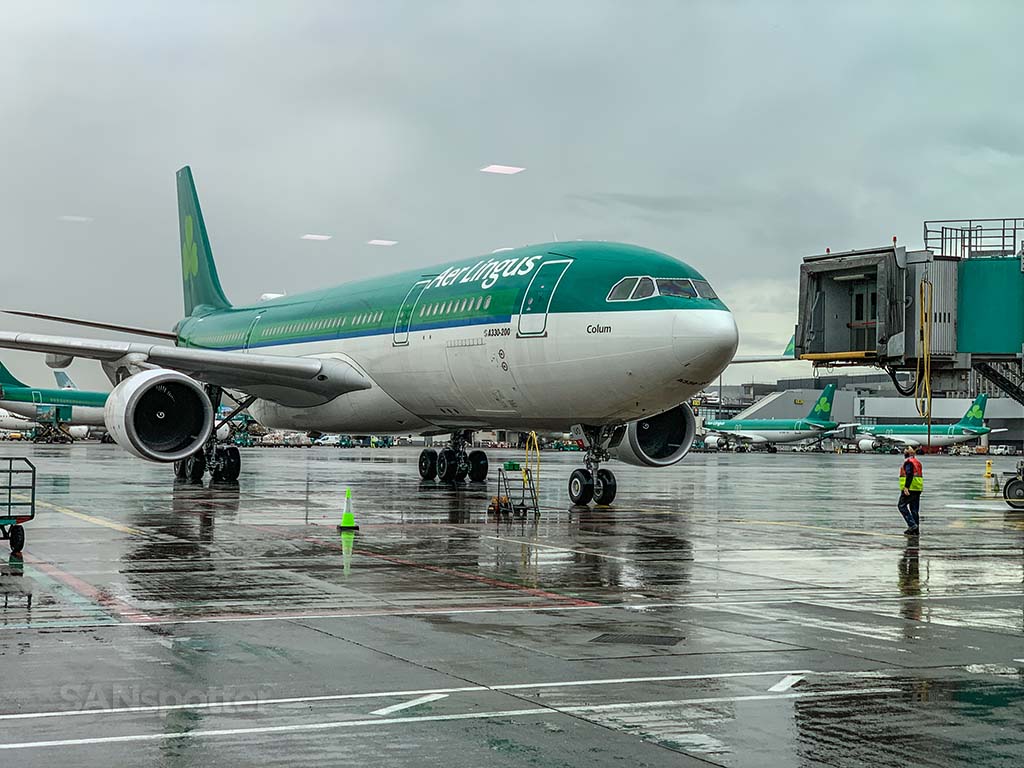 I still can't figure out why we were assigned a basement gate today. Level 2 of this terminal is quite large and very spacious, but for some reason or another we weren't allowed the privilege of being up there with everyone else.
Boarding EI145 to Los Angeles
If you're curious, the boarding process started exactly on time, and that 3000-calorie breakfast was starting to come back and haunt me in not so pleasant ways.
Today's aircraft over to Los Angeles is an A330-200, which surprised me considering how dense of a route it is. Wouldn't it make more sense to use a larger A330-300 instead? Again, since I'm not the guy who makes these decisions, excuse me while I go back to relishing. And stuff.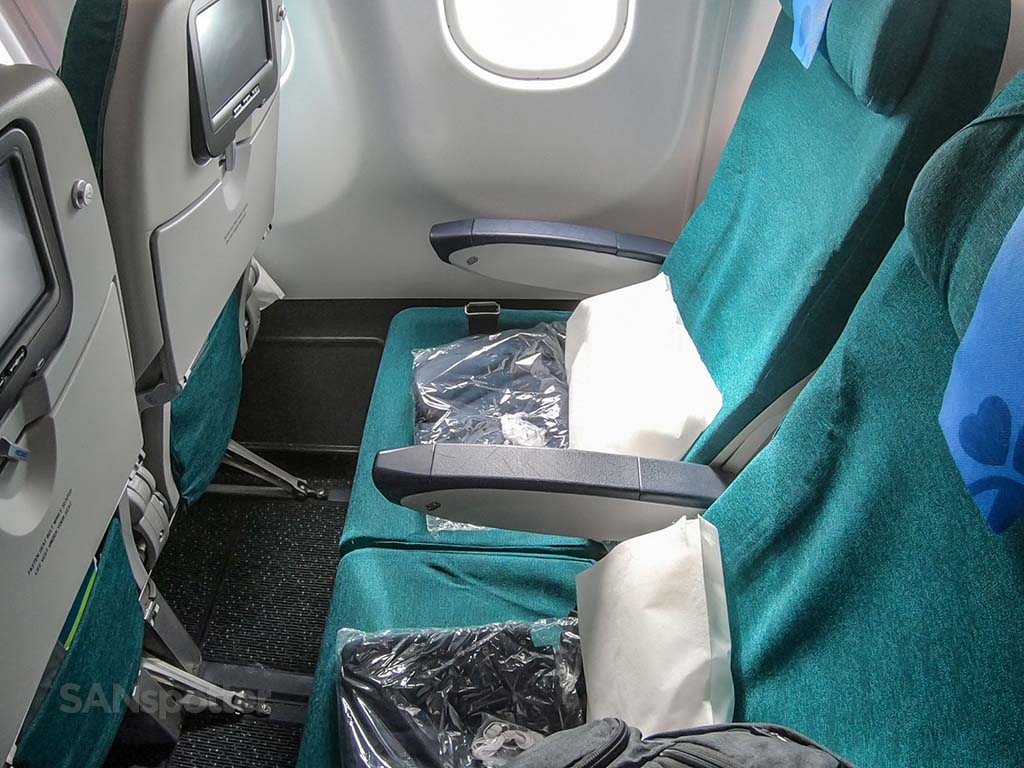 You didn't really think I'd take a window seat, did you? For the record, I love window seats just as much as anyone else, but not in long haul economy. Especially on days like today when the clearest and most direct route to the lavatory is preferred mandatory.
Anyway, as you can see, there are the usual pillows and blankets at every seat, and I was thinking that I liked what I saw so far. At least I thought so.
I'd also like to take a moment to say how impressed I am with this economy class cabin so far. I don't know. For some reason or another I was expecting these old Aer Lingus a330s to be extremely ratty and worn down, but this felt (and looked) like a brand new airplane!
The snack and first meal service
Well, there's no turning back now. We are in the air and officially on our way to LAX. So far, Aer Lingus is doing a dang good job of impressing me.
So. What's the deal with sour cream and chive pretzels in this part of the world? This is the exact same snack I got in British Airways A350-1000 premium economy a few days earlier, and I was really hoping to never see this stuff ever again.
Did you know that you can pre-purchase premium meals in Aer Lingus economy? You can, and you totally should. Why? Well, primarily because you will be served before everyone else. It's also business-class quality food served on *real* dish ware.
Also included with the premium meal is a free drink – I went with wine, but as I was recording the voiceover for the video I couldn't help to think that I missed a huge opportunity by not going with a thick Irish beer instead. You know, the kind that leaves behind a sloppy foamy mustache after every sip.
Anyway, as I mentioned earlier, this is the part of the review is where I give props to the Aer Lingus culinary team.
It was quite a good meal, and the only way I could have enjoyed it more was to not have gorged myself with that 3000-calorie full Irish breakfast just hours earlier. I feel…fat.
All the stuff that happened on EI145 between meal services
With the first meal service complete, it was time to settle in and get comfortable for a few hours of "nothingness". Thankfully, it's fairly easy to get comfortable here on Aer Lingus and those in-between hours weren't so bad.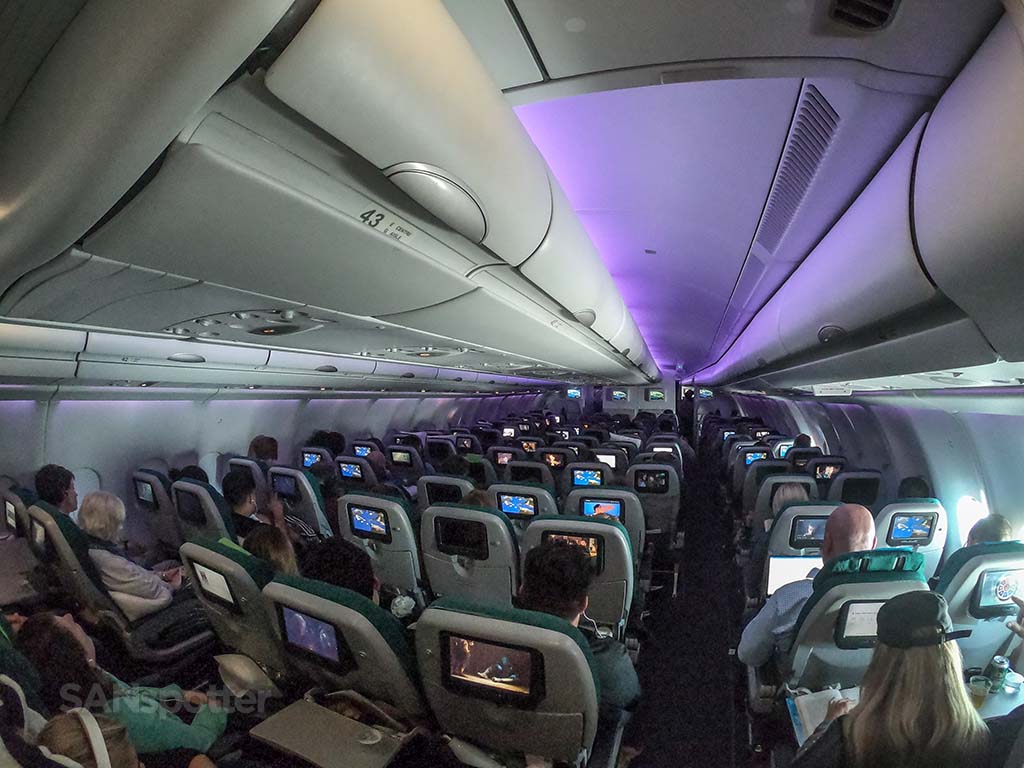 A little over half way through the flight, the flight attendants came through the aisles with little containers of vanilla ice cream. Uh oh. Now, don't get me wrong. I love ice cream just as much as I did when I was 6 years old, but airplane ice cream is always rock hard and impossible to chisel into for at least 20 minutes.
I just can't even imagine the horror of being trapped in a window seat spending the entire flight trying to calculate my water consumption vs it's relationship to cabin humidity and the eventual need to use the bathroom. I barely passed basic math in high school, and quite frankly, I'd rather not die of dehydration on an airplane.
Oh – and speaking of cabin humidity levels, this flight proved to me once again that I prefer the Boeing 777 for flights of this length instead of the A330. I'd recommend reading my in-depth A330 vs 777 comparison for all the details, but I will say that the low cabin humidity levels on the A330 wreak havoc on my sinuses.
One of the things I was looking for to writing about in this Aer Lingus review was the on-demand video menu system (similar to the system you saw in my Norwegian Air 787-9 basic economy review). Unfortunately, it didn't work during any part of the flight and I'm unable to provide coverage. Oh well. It probably would have been a boring sequence of pics of me ordering water – so you're not missing much.
The second meal service
Good news: the full Irish breakfast situation had dwindled into "non-issue" status as we rolled into the 8th hour of flight, and I won't be providing any "extra" lavatory footage for you today. You're welcome.
Arrival in Los Angeles and final thoughts
In what is possibly the most abrupt end to an airline review ever: welcome to Los Angeles! This flight went by in a flash, and I definitely could have endured another 3 hours no problem. I mean, "easy peazy".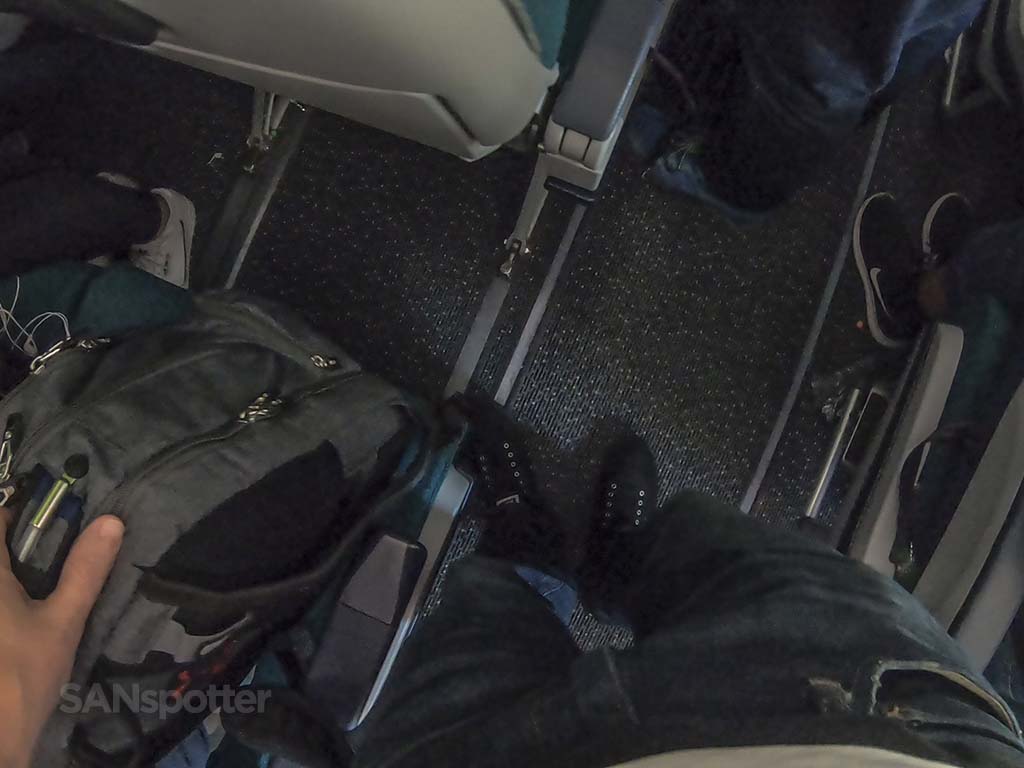 So, the question is: is Aer Lingus long haul economy something you should avoid? Absolutely not in my opinion, and if you do end up trying it for yourself, can you please do me a favor? Tell them that SANspotter is still feeling bummed about the lack of green mood lighting. Thank you.
Oh! I can't even believe that I forgot to mention one of the best things about flying to the US out of Ireland. And that is: preclearance of US passport control and customs.
Yup, it felt so freaking awesome to arrive at LAX just as if this were a flight from Fresno or something. Only problem now is that I had a three hour wait for my connecting flight down to San Diego…
Frequently asked questions about flying Aer Lingus
I figured that summing things up with a simple FAQ would be a fantastic way to end this. Essentially, since this is my very first Aer Lingus review, I want to be absolutely sure that I've covered all the bases and given you the all the information you'll need to make a proper judgment about this airline.
As a reminder, my FAQs (frequently asked questions) focus on the things you won't easily find anywhere else. These are the kinds of questions I know that many of you are asking, but are having a hard time finding the answers to. SANspotter to the rescue.
Do you get the full Irish experience on board an Aer Lingus flight?
To be honest, I would say that no – the Aer Lingus experience isn't all that Irish in my opinion. However, that's not necessarily such a bad thing. At least on this particular flight from Dublin to Los Angeles, there was no Irish boarding music, the food was not Irish at all, and there was nothing about the ambience of the cabin (such as mood lighting and cabin textures) to play up the Irish theme. Instead, everything was hip, modern, and very European.
Is the economy class food better than what other airlines are serving in economy class these days?
I realize that this particular Aer Lingus review was somewhat different in the sense that I had ordered a premium meal in lieu of the standard economy class offering. However, I did get a pretty good look at the slop that they were serving for free, and it didn't look all that appetizing.
If I had to compare with other airlines that I've flown recently, I would say that it was very similar (to style, quantity, and taste) to what I got in Air Tahiti Nui A340-300 economy last March. The good news is that it appeared to be much better than what I was served in Virgin Atlantic A350-1000 economy two months ago.
Why is Aer Lingus worth flying over any other airline?
This is an extremely difficult question to answer. I hate to say it, but I just can't think of any good reasons why it would be worth it to pay a little more to fly Aer Lingus. That's not to say that this is a bad airline. Hardly. It's just that it's somewhat generic as far as European airlines go, and I didn't experience anything on this particular flight that gave me the motivation to want to fly Aer Lingus more often.
They got me to Los Angeles comfortably, on time, and well-fed. The cabin crew was young, hip, and were extremely helpful.
Are there any reasons to avoid flying Aer Lingus?
Not in my opinion. As I just wrote above (and throughout this entire Aer Lingus review), I was generally happy with the experience and nothing stood out to me as being odd or incredibly frustrating.
I will say that it's probably not worth choosing this airline if you were seeing equal or better prices on Norwegian air or British Airways though. This is because Norwegian Air will generally give you better prices for the same level of service, while British Airways will give you the safety and security of a large network just in case things go wrong (such as cancellations delays bad weather etc).
Where is the best place to book the cheapest Aer Lingus tickets?
As it is for most of the flights that I booked these days, I found the cheapest fare for this flight from Dublin to Los Angeles on Google Flights. However, I've been having pretty good luck with ticket consolidators such as kayak.com lately. But no matter which service you use, be sure to set up price notifications that will alert you to significant price drops or special deals. That's the real secret to finding cheap flights.
What was the best thing about this particular Aer Lingus experience?
I'd have to say it was the premium meal that I pre ordered several weeks before the flight. I did it specifically because I wanted to create the most interesting Aer Lingus review possible, but it ended up being a great decision since it greatly enhanced the overall satisfaction of the flight for me. It was totally worth the extra cost.
What was the worst thing?
I'd have to say it was being relegated to the basement gates in Terminal 2 at the Dublin airport. I realize this isn't something that's applicable to everyone who flies Aer Lingus, but if you're unlucky enough to be flying out of the Dublin airport in Terminal 2, and your gate is on the lower level, it's going to suck. Bad.
The problem is that it's extremely tight and there is no where to find peace and quiet down there. Yes, there are stairs leading to the upper level (which is far more spacious and open), but it involves quite a bit of walking to get there.
What's the one piece of advice I would give to anyone who is flying Aer Lingus for the very first time?
Easy: don't expect a full Irish experience once onboard. It's essentially a European airline just the same as all the other European airlines.
I don't know. Maybe it's because I'm so used to the way of feeling like being in Hawaii whenever I step on board a Hawaiian Airlines aircraft, but I absolutely did not get that vibe when I stepped on board EI145 to LAX. I suspect this isn't a big deal for many, but I tend to enjoy my flight experiences more when the airline that I'm flying on is just oozing at the seams with it's national culture.