01. Introduction: the trip report that almost didn't happen
02. United Airlines A320 economy class San Diego to San Francisco
03. San Francisco Airport Marriott Waterfront
04. United Airlines A320 economy class San Francisco to San Diego
Unlike my flight from SAN to SFO the day before, I knew even before getting to the airport that I was going to write a trip report for this one. Not because I felt like the world needed yet another United Airlines A320 economy class review, but mostly because I had been shooting a ton of pics during this trip so far and it would have been kind of pointless to stop now. Besides, I really enjoy journaling and documenting things so it wasn't like it was a huge chore to take pics along the way. As I said before, taking pics of everything just happens naturally for me!
UA1900
San Francisco, CA (SFO) – San Diego, CA (SAN)
Sunday, February 26, 2017
Aircraft: A320
Registration: N430UA
Duration: 1 hour 10 minutes
Seat: 32A (economy class)
My decision to stay near the airport ended up being a good one, as it allowed me to sleep in a bit longer than I could have if I had chosen a hotel in the city. The icing on the cake was throwing open the curtains that morning to be see beautiful blue skies and a gorgeous sunrise. These kinds of crisp clear mornings are rare in San Francisco, so you can bet I was soaking it all in as best I could.
I took my time getting ready, and gradually made my way downstairs to catch the shuttle bus over to SFO. I love traveling on Sunday mornings – traffic is usually light, the crowds are thin, and the lines short. I don't think I've ever made it through security at this airport so quickly. I will say that it wasn't an instant passage though – I did have to wait in line a bit, but really, it was probably the shortest amount of time I've ever had to wait here. The day was getting off to a really good start!
First order of business was to find a healthy breakfast. There's so much good food in airports nowadays, but unfortunately, very little of it is actually healthy. No, chicken burritos don't count as healthy no matter what Chipotle says – the amount of sodium and…oops…I'm getting off track here. This isn't a food blog. I'll just say that I managed to find a really good bowl of oatmeal and an awesome place to sit and enjoy it. My "healthy breakfast" mission had been accomplished.
As I was walking around waiting for the flight to start boarding, I realized that I probably could have slept in for an extra hour if I really wanted to. I hate when that happens. I enjoy being in airports more than most other people I know, but there comes a point where I value sleep more than wandering around an airport I've been to a million times before. Oh well – I was expecting the security line to be longer than it actually was, so it wasn't a total mistake to get here as early as I did.
I was one of the first passengers in line as my zone number was called, and I trudged my way back to 32A in a manner similar to Indiana Jones slashing his way through a dense rainforest with a machete. This was a completely full flight so it took a while to get past all of the other passengers still getting situated in the rows ahead of me.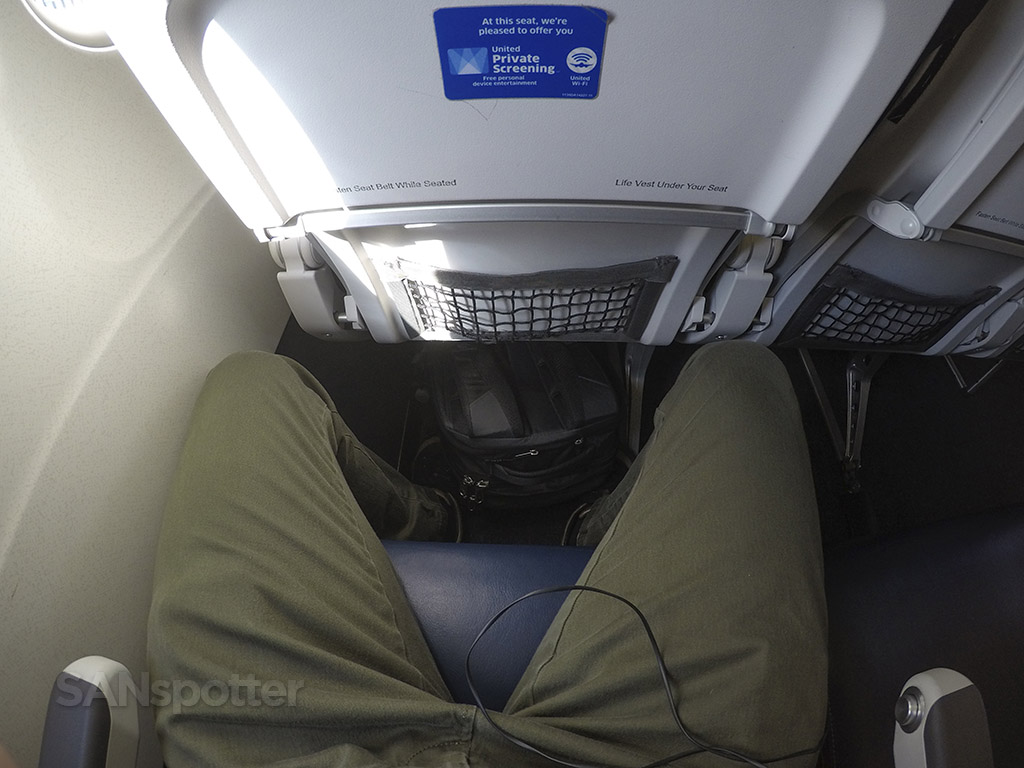 Even though the skies were completely clear over San Francisco this morning, I wasn't very excited about the picture taking opportunities that this flight would provide. We were scheduled to depart at 11am(ish) and arrive in San Diego at 12:30pm(ish), which is pretty much the worst time of day for in-flight photography thanks to the sun being directly overhead. As you recall, I had the same situation on my Delta Connection flight from LAX to SAN only a month ago. Clear blue California skies, but zero opportunity for juicy pics.
I will say that it was a beautiful departure off 1R though. We made a big left hand turn immediately after departure, and I was getting excited about the prospect of flying right over top of the city. Unfortunately, our turn was too tight, and we crossed the peninsula just south of it. Drat. That could have been the best picture taking opportunity of the trip right there, but it wasn't meant to be.
I managed to catch up on sleep during the entire way down, occasionally waking up to take pics out the window along the way. I even skipped the beverage service on this flight – I just wasn't in the mood, and I much preferred staying in my own little world pressed against the window.
It was beautiful and clear all the way down the coast to San Diego, but the clouds started to build as we began our descent. It always feels weird to arrive into SAN under gloomy skies considering that it's pretty much always sunny here. It just feels wrong to arrive home in overcast conditions, especially when coming from a very sunny place. I wonder what all the tourists feel when arrive into San Diego when the weather isn't so good? It's got to be a bit disappointing I'm sure!
So there you have it. My United Airlines A320 economy class trip report is complete. For as much as I complained about the experience, I think it goes without saying that traveling is my passion and I'm always as happy as a pea in a pod to get on an airplane (no matter what kind it is) to head off on another adventure. As a matter of fact, this ended up being a very nice trip up to the Bay Area, and I had tons of fun decompressing on my drive down to Monterrey.
Stay tuned for more – the next trip report begins very soon…