It didn't even occur to me until I was walking around SFO prior to boarding this flight that it had been nearly 5 years since I had last flown United A320 economy class. That's a long time considering how popular this aircraft is here in the US, and I've certainly done my fair share of domestic travel over the past year.
If I didn't have to look it up on my flight log, I would never have guessed it had been that long. I guess it goes without saying that I had no recollection at all as to how UA configures their A320's these days, so I was looking forward to this flight just to have a look inside and get familiarized with these birds once again.
UA576
San Francisco, CA (SFO) – San Diego, CA (SAN)
Monday, April 25, 2016
Aircraft: A320
Registration: N462UA
Seat: 30A (economy class)
After spending some time in the international terminal taking pics as the sun was setting, I made the long walk back over to the domestic terminal to board this flight. Yes, it was a long walk that took a bit of time, but all my connections here at SFO over the years have been paying off – I pretty much know how long it takes to walk from one gate (any gate) to another inside this airport! Stuff only an #avgeek like me can be proud of…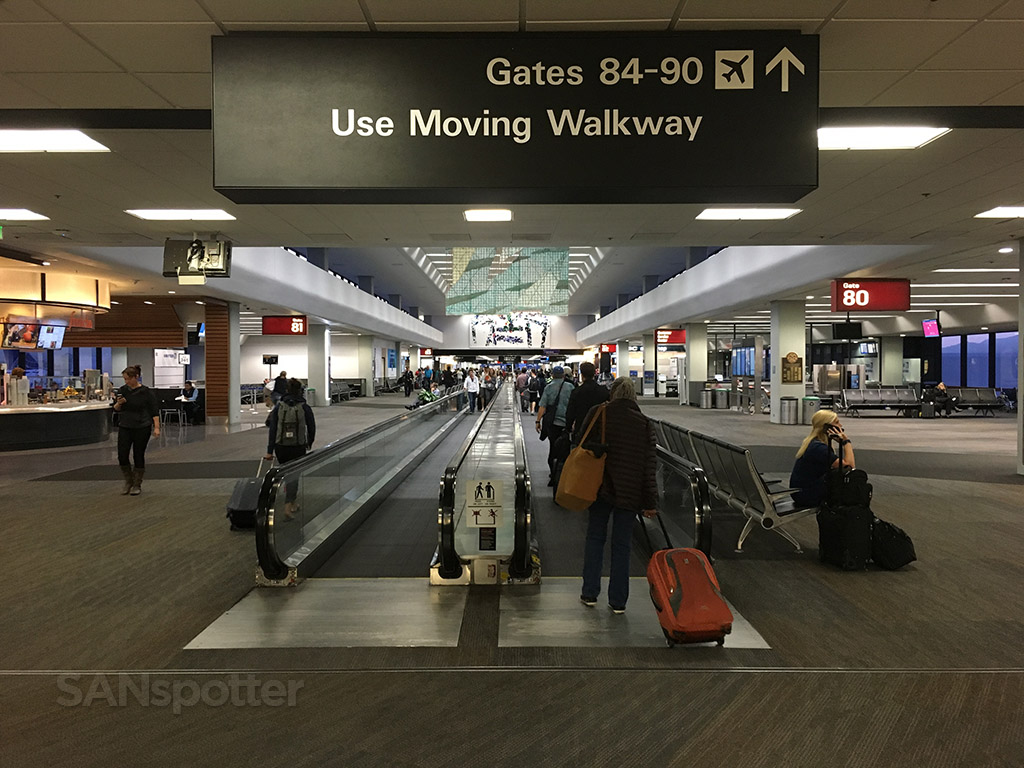 The departure gate for this flight down to SAN this evening was 87, and it looked pretty crowded once I arrived. Luckily I had boarding zone 1 today thanks to my Global First flight from ORD earlier, so being one of the first to board was a nice little perk to cap off my final segment of this trip.
Once onboard, I found what wasn't really all that shocking to me: slimline seats. US airlines are really bending over backwards to cram as many seats as they can into airplanes these days, and these seats are an unfortunate consequence of that. To be honest they aren't so bad for short haul segments like this flight down to San Diego, but anything over two hours becomes very uncomfortable IMHO. These seats look really cool, but they are uncomfortable.
The sun had already set by the time we pushed back from the gate, so that meant that traditional photography of the scenery outside of my window wasn't going to be possible tonight. Therefore, I had to get a little bit artistic with my shots and go full manual (high ISO, long shutter speeds, etc) – so please excuse the blur:
It was a quick and totally uneventful flight down to San Diego this evening, and I passed on the beverage and snack service since I ate pretty well on the ORD-SFO segment and I wasn't even close to being hungry. All they were passing out were those Stroopwafel's anyway, which I'm definitely not a fan of.
The descent into SAN was typical: fly right over the top of Los Angeles, hug the coast all the way down to Del Mar / La Jolla, turn inland and head over to Santee, then make the big gradual right hand turn westward back to SAN. I've done it so many times that I can close my eyes and tell you where we are just based on the turns we've made.
I attempted more pics during the approach and landing, despite how dark it was: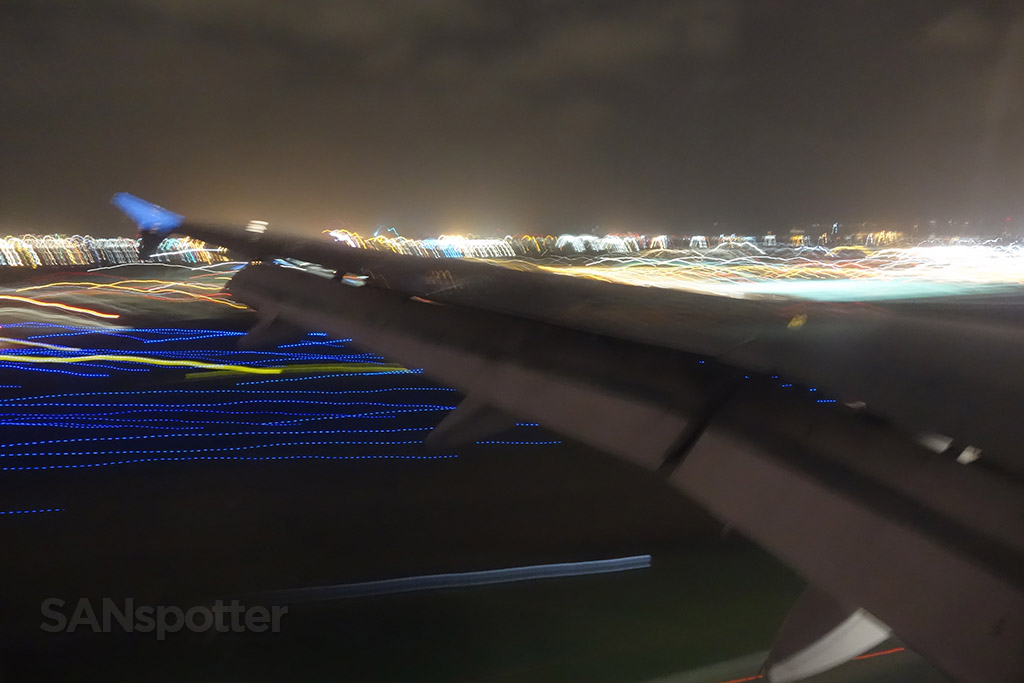 Once I was inside the terminal, it felt really good to turn off my camera for good. I had shot a lot of footage from this trip (over 60GB of pics and video!) and I was pretty much spent from documenting the entire journey.
Like always though, it felt good to be back home in San Diego so I could relax and take some much needed time off before my next trip. And if I learned anything from all this, it's that maybe next time (just maybe) I'm going to spring for first class on the United A320 instead of economy. Just thinking out loud…