For some reason or another I was anxious enough about trying a Big Front Seat on a Spirit Airlines A319 for the first time that I didn't even need the help of my alarm clock to get me up and out of bed at 05:10. That's just crazy, considering the whole point of getting up that early was to fly an ultra low cost carrier. Crazy, I tell ya!
But the truth is that I was a little bit excited. People seem to complain about Spirit Airlines more than any other here in the US, and I was finally going to see what all the fuss was about. Is it going to be a disastrous experience? Will I even survive? I wasted no time in getting my things together so I could find out, and I was out the door and headed down to the San Diego International Airport (SAN) by 05:40.
NK858
San Diego, CA (SAN) – Houston, TX (IAH)
Saturday January 24 2015
Aircraft: A319
Seat: 2A (Big Front Seat)
I love flying in late January. The holiday crowds are long gone, so there are plenty of parking spaces available and the lines are short. This morning was no exception. I found a parking space right at the entrance of terminal 2 east, and there was no waiting at the security checkpoint – at least right up until I walked up and got ready to hand my boarding pass and ID to the TSA agent.
A large family of 6 in the first class lane beat me to the podium by just a second or two, and wouldn't you know it, none of them were prepared. They all stood around digging out their passports and boarding passes, and all I could do was wait while the agent checked them one by one. Oh well. I wasn't in a hurry anyway, so it didn't bother me to wait.
I had about an hour to kill before boarding was scheduled to begin, so I just wandered around taking pics all over terminal 2 (east and west). I haven't been in terminal 2 east since last August, and I was surprised to see some nice updates. Basically, San Diego Airport food is finally decent!
The food court is completely new, the Starbucks at the end of the terminal is gone, and the entrance to the Airspace Lounge (which was eventually renamed to the Aspire Lounge) has been moved to the hallway that separates the east and west terminals. Things have definitely changed.
Boarding was called right on time, and I was curious to see if Spirit had any kind of special boarding process due to the fact that they are so strict on carry on bags. Especially for passengers like me who pre-purchased a carry on bag allowance. How do they police that?
The truth is that I really have no idea. They do separate boarding by zones, with only the zone 1 passengers being allowed to have a carry on. Perhaps that's how they do it – but it does seem like it would be easy to slip one by them if they aren't looking. That doesn't make me feel any better about paying $70 for having a carry on (small backpack) for all legs of this trip.
Once aboard the airplane, I was pleasantly surprised to see the quality of the Big Front Seat that I shelled out $95 for. Not too shabby! I was certainly expecting worse, so things were looking pretty good at this point.
Once boarding was complete, only 5 of the Big Front Seats were occupied, which surprised me a bit. Yeah, they are a bit pricy to pre-purchase like I did, but last minute upgrades are only $20 (or so) at the time of check in. This is a budget airline with budget-conscious travelers after all, so maybe it isn't really such a shocker.
The lead flight attendant was very cheerful and chatty on the mic, which was nice. She got a lot of laughs from the passengers, which is not such an easy thing to do so very early on a Saturday morning!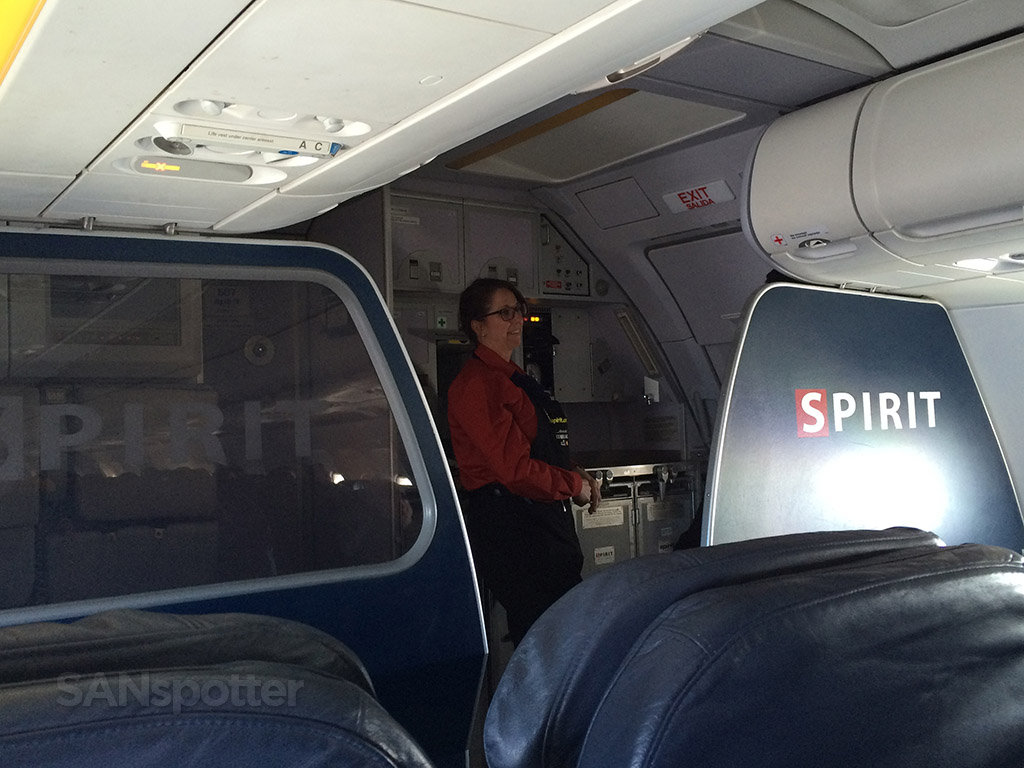 Speaking of no waiting, there was nobody in front of us for departure, so it was a pretty quick zip over the the threshold of runway 27. We didn't even stop when we got there, it was one continuous roll and we were off to Houston likety-split.
There was some pretty rough air over Southern California this morning, so it was a bumpy ride for the first 20 minutes of the flight. The captain tried to find smooth air at several altitiudes, but finally leveled off at 37,000ft and said that we'd just have to wait it out.
In flight service began even though it was so bumpy (and they were still strictly enforcing the seatbelt sign), and despite the fact that Spirit charges for everything (including water), I was surprised to see so many people order drinks and snacks. I passed on the in flight service, but I was bummed to discover that there wasn't a menu in the seat back pocket. I wanted to see what was offered!
I worked on this trip report for a bit before finally giving in to some shut-eye as we headed east. Although the air was smoothing out, my window was fogging up more and more which was making photography difficult as we started approaching Houston. There wasn't really all that much to take pics of anyway, as my side of the airplane was looking directly into the sun as made the turn for runway 27.
We landed right on time at 12:55pm, and from there it was a fairly long taxi over to terminal A. For some reason or another I thought Houston was a focus city for Spirit, but ours was the only NK plane there at the time. Not what I expected! I also didn't expect terminal A to be such a tiny and not-so-exciting place. The last time I flew through IAH was in 2005, but that was on Continental (now United) who has some pretty nice digs here. Not so much for all the other airlines I guess.
By the way, as gnarly as IAH may seem, it's actually a really nice airport for making connections. A 1 hour layover is enough time is Houston, so no need to stress yourself out if you've got a short stopover there coming up.
So…was that worth getting up so early for? Not really, but I was happy to add another airline to my flight log!